If you frequently shoot using a tripod, an L-bracket can be very useful, as it allows you to switch your camera to portrait orientation while holding it directly above the centre column for maximum stability. The 3 Legged Thing Alfie is designed for use with a range of Sony Alpha full-frame mirrorless cameras, and employs standard Arca-Swiss type plates that will fit many tripods. Specifically, the firm says it's compatible with the A1, A7 III, A7 IV, A7R III, A7R IV, A7R V, A7S III, and A9 II.
3 Legged Thing Alfie at a glance:
$129.99 / £109.99
Arca-Swiss type L-bracket
For Sony A1, A9 II, and most A7-series cameras
Works with articulated screens
Choice of three colours
Alfie is supplied in two parts, so first you need to assemble it. This simply requires undoing a couple of screws on the horizontal section, sliding the vertical bracket in place, and then fixing the screws back up again tightly. It's very easy and only takes a minute.
3 Legged Thing Alfie key features:
Tools included: 3 Legged Thing supplies a Toolz multi-tool in the box, along with two different sizes of hex key
Cable management: A slide-on bracket can be used to secure cables, which is especially useful with cameras that have micro-HDMI ports
Peak Design Capture compatible: An add-on adapter plate is supplied for use with the Peak Design Capture V3 system
Not just black: There's a choice of three colours available: Copper, Slate Grey, and Midnight (matte black)
The horizontal section has been custom designed to fit the camera as closely as possible, with a curved lip that matches the body's baseplate to prevent twisting. Meanwhile the vertical section is attached to a sliding arm that can fixed at three different distances from the camera body. You'll need to extend it if you wish to use a wired shutter release in portrait format, or to secure an HDMI cable in place using the supplied clip.
I tested Alfie on Sony's Alpha A7R IV and A7 IV bodies and found that it fitted both perfectly. You still get full access to the battery compartment and connector ports, while a cut-out in the vertical bracket allows extensive movement of the latter's side-hinged articulated screen. I also tried it on the older Alpha A7 II and discovered that it fits that camera pretty well, too.
It's not perfect, though. My biggest gripe comes with extending the vertical bracket: you have to undo a screw using a small hex key, slide the bracket and find the next position, and then screw it up again. It's fiddly, and I wouldn't want to do it in a hurry in the field. One solution would be to leave it extended, but that takes up space unnecessarily.
It's worth noting that the camera won't sit flat on a table with Alfie fitted, as that adjustment screw always protrudes below the bracket.
It's also apparent that, to provide access to all the ports, 3 Legged Thing has had to pare back the vertical section substantially, compared to its other L-brackets. As a result, it's particularly important to ensure your tripod's clamp bridges the cut-out for the screen. Otherwise, the bracket can flex noticeably.
3 Legged Thing Alfie: Our Verdict
For Sony Alpha users, the 3 Legged Thing Alfie is a nicely made L-bracket that works well, fitting the camera perfectly without obstructing any of its functions. It also has a few neat tricks that you won't get elsewhere. It's just rather pricey and fiddly to use.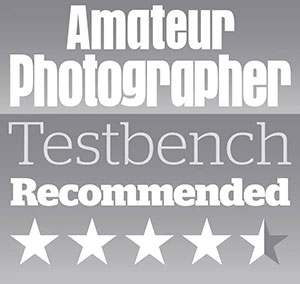 3 Legged Thing's L-bracket range
3 Legged Thing also makes the Freya for the Fujifilm X-T5; Gracy for the Fujifilm GFX100S and GFX50S II; Ollie for the OM System OM-1; Roxie for the Canon EOS R5, EOS R6 and EOS R6 Mark II; Zelda for Nikon Z5, Z6, Z6 II, Z7 and Z 7II; and Zaara for the Nikon Z9.
Meanwhile, its Ellie and QR-11 2.0 brackets are universal designs, which aim to fit a wide range of cameras. They're cheaper than matched brackets, but won't fit quite as well or offer the same specialist functionality.
---
Follow AP on Facebook, Twitter, Instagram, and YouTube.
---