Nikon Z7 Review: Introduction
Nikon Z7: at a glance
£3,399 body only
45.7MP full-frame BSI CMOS
New large diameter Z-mount
Works with F-mount SLR lenses via adapter
5-axis in-body stabilisation
£4,099 with 24-70mm lens and FTZ adapter
The late summer of 2018 has seen a complete transformation of the full-frame mirrorless market. In a sector that was until recently Sony's near-exclusive playground, the big guns of Canon and Nikon have both muscled-in on the action, introducing brand new systems and lens mounts within the space of a couple of weeks. Exciting times indeed for photographers.
In many respects, both firms have done very similar things, making large-diameter, short back-focus mounts that are touted to allow extra flexibility of lens design compared to the narrower Sony E mount. Their cameras are also SLR-style models that sport chunky handgrips, plenty of external controls, large high-resolution viewfinders and articulated touchscreens. Panasonic's designers must be pointing at the 4-year-old GH4 – arguably the first mirrorless camera to embrace this approach, when it was still deeply unfashionable – and muttering, "I told you so".
The first camera of this upstart generation to reach our hands is the Nikon Z 7. This top-end, 45.7MP model is designed to go head-to-head with Sony's highly-regarded Alpha 7R III, with a remarkably similar configuration and specification. As a first-generation product, you might think it would struggle to match Sony's design and technology, but you'd be wrong. Not only is the Z 7 a match for the A7R III, in many respects it equals or surpasses the D850, Nikon's best-ever DSLR. Indeed after using it extensively for a couple of weeks, I think it's not too much of a stretch to suggest that the Nikon Z 7 is one of the best stills cameras ever made.
Nikon Z7 review: XQD card
Before we start to find out why, though, let's address the Z 7's most controversial feature: its single memory card slot that accepts XQD media only. Some commenters are adamant this makes it a complete non-starter, because no serious photographer would consider a camera that can't back-up every file to two separate cards when shooting once-in-a-lifetime events. While there's a genuine point here for photographers who shoot weddings and such like, it misses the fact that not every user needs this ability, and alternative backup methods are also available.
As for XQD, Nikon's engineers are adamant that the decision to adopt this super-fast, robust format is essential to future-proof the Z system. Unfortunately it doesn't provide much practical advantage over SD today, and instead feels like an unnecessary indulgence that forces photographers to buy new memory cards and readers. A 128GB XQD card will set you back £230, compared to £55 for a UHS-II SD, which effectively makes the camera considerably more expensive.
Personally I think Nikon has made a mistake here, and I'd much rather have twin UHS-II SD card slots than that single XQD, or at least add an SD alongside it. But it's an irritation rather than a deal-breaker, and refusing to consider such a phenomenal camera on these grounds counts as cutting off your nose to spite your face.
Nikon Z7 Review: Features
In designing its new full-frame mirrorless system, Nikon has bowed to the inevitable and introduced a new lens mount. But not any old mount: the firm says that the fully-electronic Z-mount has the largest opening of any full-frame system, with its 55mm internal diameter able to accommodate super-fast lenses. A 16mm flange distance from lens to sensor affords extra freedom to optical designers, while a set of 11 electronic contacts enables rapid data transfer for fast, silent autofocus. Unusually the mount has four prongs rather than three; Nikon's engineers say that this is to maintain robustness of the larger-diameter Z mount and to make lens changes quicker, as the rotation angle for mounting and dismounting them is smaller than with the F mount.
Of course Nikon fully understands that it also has to appeal to its existing DSLR users, who'll be relieved to hear that that they can use any of their F-mount lenses via the FTZ mount adapter. I'll cover this in detail later.
Much like Sony when it launched its Alpha 7 system, Nikon is kicking off with twin bodies that share the same physical dimensions and design, but have different sensors and core specifications. The Z 7 is the higher-spec'ed of the two, boasting a 45.7MP back-illuminated full-frame sensor with 493 phase detection AF points covering 90% of the frame area. Its standard sensitivity range of ISO 64-25,600 is expandable to ISO 32-102,400 equivalent, and with Nikon's new EXPEED VI processing engine on board, it can shoot at up to 9 frames per second. Meanwhile the upcoming 24.5MP Z 6 will be a more affordable, general-purpose model.
Shutter speeds range from 30secs to 1/8000sec, with a flash sync of 1/200 sec. An electronic first-curtain option is available which should minimise the possibility of blurring due to shutter shock, but strangely reduces the highest speed to 1/2000 sec. It's also possible to set the camera to a silent mode which uses a fully electronic shutter, at which point the full range of speeds is available again. Unlike most other cameras, though, the electronic shutter doesn't offer any super-fast settings.
In a first for Nikon, 5-axis in-body stabilisation (IBIS) is built in, offering up to 5 stops of compensation for camera shake when shooting hand-held. Compared to the usual pitch and yaw correction that's provided by in-lens optical stabilisation, the IBIS can additionally correct for rotation around the lens axis, which is important when shooting long exposures or hand-held video. It also corrects for left-right and up-down movements, which can have a significant impact when shooting close-ups. When you use an F-mount lens with VR, the in-body and in-lens systems work together, with the lens correcting for pitch and yaw, and the IBIS compensating for rotation around the lens axis. However it's important to understand that all IBIS systems get increasingly ineffective with longer lenses, so don't bank on using it to stabilize old telephoto primes longer than 300mm.
Power is provided by an updated EN-EL15b battery, which is physically the same size as that used in the firm's high-end DSLRs, but which can now be charged in the camera via the USB-C port. The good news for DSLR users who already own EN-EL15a batteries is that these can also be used, although they still have to be charged externally. Nikon says you can expect to shoot approximately 330 shots with a single charge, but as always with mirrorless models, in practice you'll get many more if you shoot a lot of bursts, but fewer if you leave the camera powered on for a long time between shots.
Nikon has also included a range of useful extra photographic features in the Z 7. There's an Interval timer shooting mode, a Time-lapse movie setting that will make 4K or Full HD movies in-camera, and Focus shift shooting that facilitates stacking in order to achieve maximum image detail. This provides some handy extra abilities compared to the somewhat spartan Sony A7R III.
On the side of the camera you'll find a full set of connection ports. They're arranged much more sensibly than the latest-generation Sonys, with both audio connectors placed behind the same cover, which even folds up so you can plug in a microphone while keeping the headphone socket protected. Beside them, another folding cover lets you use an electronic cable release without revealing the HDMI and USB-C sockets.
When it comes to video, 4K recording is available at 30 frames per second, alongside Full HD at up to 120fps. Peaking and zebra pattern displays can be used to judge focus and exposure, while VR and Active D-Lighting are both available in 4K UHD. More good news for videographers is that the autofocus speed and tracking sensitivity can be adjusted during recording, and 10-bit footage can be output over HDMI using a flat N-log profile. The camera will sync with equipment that supports Atomos Open Protocol in 4K UHD, and Timecode output makes it easy to synchronise recorded footage.
Nikon Z7 Review: Connectivity and SnapBridge
Both Wi-Fi and Bluetooth connectivity are built-in, and Nikon says it's included a dedicated processor that should provide a more stable connection to devices running its SnapBridge app. The Wi-Fi isn't exclusively tied to SnapBridge any more, either, which means that in principle the camera should work with third-party Wi-Fi control apps.
When Snapbridge first appeared a couple of years ago it was pretty awful, but now at version 2.5, it's very much improved. It allows you to establish an always-on Bluetooth LE connection between the camera and your phone, which enables every single picture you shoot to be automatically transferred to your phone. The idea is that you can then browse through them and share your favourites just as easily as if you'd shot them on your phone in the first place.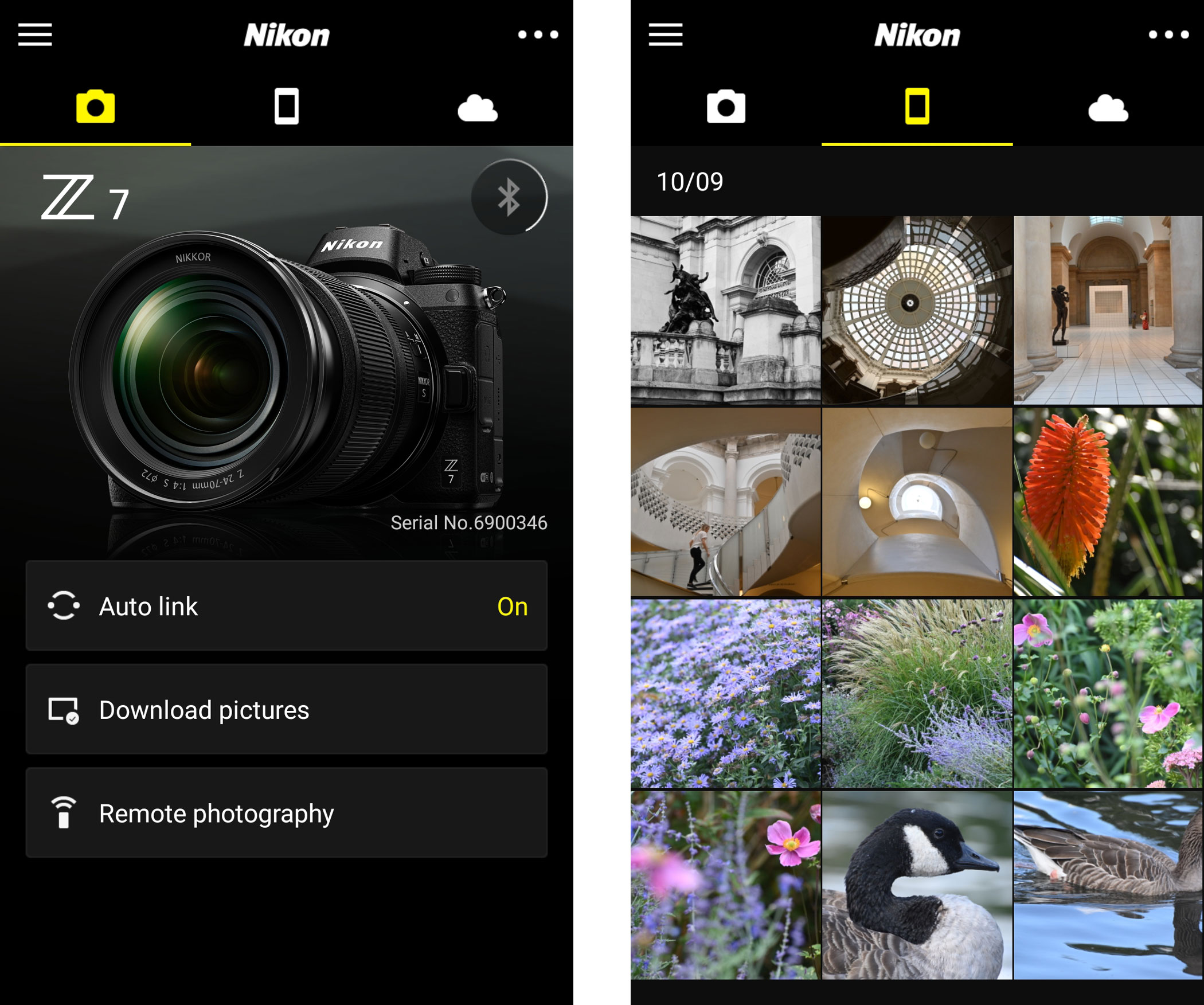 This auto link feature worked perfectly well with both my Samsung Galaxy Tab S tablet and my iPhone SE, just as long as Snapbridge was running in the background. However with my Huawei P20 Pro it simply didn't function at all unless the app was open in the foreground, and even then it was erratic.
If like me you don't want to clutter up your phone like this, but instead only want to transfer a select few images, then this is also on offer. For this purpose SnapBridge works absolutely fine, and because you no longer have to pair devices using Bluetooth first, it at last behaves sensibly if you want to switch between a smartphone and a tablet. You can also use your phone to control the camera over Wi-Fi, complete with a live view display and the ability to set the key exposure parameters remotely. This works perfectly OK, although there's a brief lag between pressing the shutter button on the app and the picture being taken. However there's no quick-and-easy Bluetooth remote option, as is offered by both Canon and Panasonic.
Nikon Z7 Review: Native 'S' Lenses
To go with the Z 7, Nikon has released three native Z-mount lenses. The 24-70mm f/4 S and 35mm f/1.8 S are available immediately for £999 and £849 respectively, while the 50mm f/1.8 S (£599) will go on sale in a month or two.
Nikon has also published a roadmap of upcoming lenses. In 2019 we can expect a further six lenses, including a 58mm f/0.95 S Noct, 20mm f/1.8, 24-70mm f/2.8, 85mm f/1.8, 70-200mm f/2.8 and 14-30mm f/4. By 2020 Nikon is hoping to have twelve optics in the lineup, adding a 50mm f/1.2, 24mm f/1.8 and 12-24mm f/2.8.
Nikon has shown mockups of some of these lenses: as you can see above, the 58mm f/0.95 Noct will be absolutely huge (it's also slated to be manual-focus only). At the other end of the scale, the 14-30mm f/4 is remarkably compact (which is a direct advantage of the mirrorless design), and if it's delivered in this form, looks like it should be a fantastic option for wideangle users.
Nikon Z7 Review: Build & Handling
In terms of design, the Z 7 will look instantly familiar to Nikon users. The control setup is reminiscent of the firm's high-end DSLRs, with twin electronic dials and a joystick for moving the focus point, along with familiar buttons for ISO, exposure compensation and AF-ON. The firm has clearly thought hard about how to position these controls around the smaller body, as they're all perfectly positioned within easy reach of your forefinger or thumb. The dials and buttons are every bit as good as we're used to on Nikon's high-end DSLRs, too. As a result, new owners will be able to pick up the camera and make the switch to mirrorless pretty much seamlessly.
Unlike Sony, Nikon hasn't been terrified of making the body large enough to be comfortable to use, so has added a really good-sized handgrip that feels like it should provide decent purchase even when you're using heavy lenses. This doesn't add too much extra bulk either; the Z 7 is 7mm wider and 5mm taller than the A7R III, meaning it's still substantially more compact than even the smallest full-frame DSLR. Build quality is everything we've come to expect from Nikon; the body employs a robust magnesium alloy shell that's made up of front, back and top covers, and is claimed to be weather-sealed to the same standard as the D850.
The Z 7's default control setup is perfectly logical, giving fingertip access to all of the most important settings that you might wish to change while looking through the viewfinder. However the camera is also highly customisable, so you can reconfigure it to match your personal preferences. For example it's possible to tailor the functions of the dials, or reassign the lens's manual focus ring to control aperture or exposure compensation. Many of the buttons can be reconfigured too, including two useful function buttons on the front beside the lens mount. What's more, the camera can be reconfigured independently for stills and video shooting.
In a first for Nikon, the onscreen i-menu can also be customized; it's also touch-sensitive. In fact the touchscreen is superbly integrated into the camera's controls, as you can use it to change most settings and menu options, along with specifying the focus area firing the shutter when shooting with the LCD. One thing you can't do is use the touchscreen to move the AF area when shooting with the viewfinder, but the joystick works so well that I'm not sure why you'd want to. Double tapping the screen in playback mode jumps to a 100% magnified view, which is useful for checking sharpness. Overall this makes the Z 7 one of the best-handling mirrorless cameras on the market, and a clear step above the Sony Alpha 7R III.
Nikon Z7 Review: Viewfinder and screen
When it comes to composing your images, the Z 7 includes a stunning 3.6-million-dot EVF with a huge 0.8x magnification, and which displays comprehensive shooting information against a black background on strips above and below the preview image. With high-quality optics that give a clear view right into the corner, even if you wear glasses, it's one of the largest and clearest I've used. Indeed it's noticeably better than even the A7R III's excellent finder in a side-by-side comparison. What's more, the EVF eyepiece protrudes far enough back that you won't get nose marks on the screen.
As expected the finder does a good job of previewing how images will come out, not just in terms of composition but also exposure, white balance and colour. Unlike the optical viewfinder of a DSLR, it can also show a truly accurate depth of field preview at both large and small apertures. A range of additional information can be displayed too, including a live histogram and electronic level display. Unfortunately, though, you can't view both at the same time, and the huge level display is really intrusive on composition. It's one of the few points Nikon needs to improve.
On the back you'll find a superb high-resolution 2.1M-dot touchscreen that can tilt 90° up and 45° down. It's impressively slim, adding little to the depth of the camera, but like all tilt-only units it becomes useless the moment you rotate the camera to portrait format. In this respect it's inferior to either the fully-articulated screen employed by on the EOS R, or the superb dual-hinged design that Fujifilm uses on its high-end cameras such as the X-T3.
A proximity sensor above the viewfinder can be used to automatically switch between the EVF and LCD. Annoyingly it's not disabled when the screen is tilted, but it's not overly-sensitive so it won't usually turn off the LCD during waist-level shooting. If you normally shoot with the viewfinder, it's possible to set the LCD to show a clearly-laid out status display incorporating the i menu either as black text on a white background, or vice versa. One significant improvement over Sony A7 models is that the viewfinder sensor doesn't keep the camera awake indefinitely, meaning the battery is much less likely to run itself down to zero when the camera is in your bag.
There's also an SLR-like top-plate screen, which shows key shooting info – shutter speed, aperture, ISO, battery power, drive mode and the remaining capacity of the memory card – using an OLED display that adapts to the ambient light conditions.
Nikon Z7 compared to Sony Alpha 7R III
Note: The images in this section show the Sony Alpha 7 III, which has a near-identical physical design to the A7R III 
The Nikon Z7's closest competitor is the highly-acclaimed Sony Alpha 7 III, which until now has been the unquestioned stand-out all-rounder among mirrorless cameras. But the Z 7 is every bit as good, with a similar feature set and image quality. Most photographers would be delighted with either camera, but dig down into the details and each has its own strengths and weaknesses.
In terms of layout, both adopt the same approach, with central viewfinders and tilting rear screens. Both have excellent control layouts, but crucially existing Nikon DSLR users will be able to pick up the Z7 and start using it right away, without having to learn new menus or control logic.
There are some key design differences. The Z 7 has a noticeably larger, more comfortable grip: it's deep enough to wrap all of your finders around, and isn't as cramped up against the lens mount. This makes the Z7 more pleasant to hold, especially if you want to use large lenses. Those two customisable function buttons on the front are really handy as well.
In this top-down view, you can again see how Nikon has managed to make a larger grip. Admittedly the Z7 is wider and taller than the A7R III, but not so much that it makes any practical difference. Another subtle difference is the way the Z 7's viewfinder protrudes further behind the camera, which means you don't get nose marks on the screen. Nikon's viewfinder is a bit better than Sony's too, being larger and clearer (although in truth there's not much wrong with the A7R III's).
Both cameras have tilting rear screens. The Z 7's is higher resolution and operates an superbly-integrated touch interface that lets you change almost any setting, or browse through images in playback. Sony has barely bothered putting any touch functions on at all; just focus area selection and touch shutter.
The Z 7 and A7R III both sport superb sensors; indeed arguably the two best currently available. You'll get stacks of resolution, huge dynamic range, and impressively low noise at high ISOs. Nikon claims that its larger-diameter lens mount affords lens designers more options, and its initial S lenses are indeed superb. However Sony has a much wider range of native lenses available right now, and its top-end G Master lenses are as good as anything you'll find. Nikon's biggest trump card is the ability to use F-mount SLR lenses via the FTZ adapter: existing Nikon users don't really have a viable option for using their lenses on Sony bodies.
Interestingly, Nikon seems to have noted many of the criticisms that have been aimed at the A7R III and addressed them on the Z 7. This includes neat little design touches like placing the headphone and mic sockets under the same cover, and using folding sections of each cover so you can plug in a microphone or cable release without exposing the other ports. It feels more like a camera that's been designed with photographers needs in mind.
Another area where this shows comes with autofocus. Nikon displays the active AF area in red, lighting up green when focus is achieved. Sony persists in drawing the AF area in a completely invisible grey, so you have no idea where in the scene it's placed when you're trying to reposition it using the joystick. Personally, I find this more important for everyday shooting than Sony's much-hyped Eye AF, which the Z7 lacks.
Finally, the A7R III uses two SD cards to record files, while the Z 7 has a single XQD slot. Nikon's engineers are adamant that XQD is the future, and I can see their point: the cards are much faster and more robust. The problem is that SD is still a very much better choice in the present, and two card slots are always better than one.
Nikon Z7 Review: Autofocus
While the Z 7 uses a sensor with very similar specifications to the D850, the big difference is that it adds on-chip phase detection for autofocus. This enables a hybrid AF system that uses phase detection for speed followed by contrast detection to ensure the highest accuracy. In all, 493 focus points are selectable, covering 90% of the image area. This may trump the Sony A7R III's 399 points, but isn't the highest number on the market, with Canon offering a staggering 5655 focus points on its EOS R. But the difference is practically irrelevant, as with the Z 7 you can still position the focus point wherever in the frame you need it. With S lenses I found AF to be exceptionally fast, essentially silent, and consistently accurate.
It's possible to select between four different focus area sizes, but most of the time I left the camera in its standard Single-point AF setting, which provides a relatively fine focus point that can be placed accurately on your subject even if you're shooting through a complex foreground. The smaller Pinpoint mode gives the ultimate accuracy, but is rather slow to move the AF area around using the joystick. Meanwhile the two Wide-area modes are probably best reserved for moving subjects that can't be reliably held under a single focus point.
Nikon also offers an Auto-area AF mode in which the camera will choose the focus point automatically. Here you can also enable face detection and subject tracking modes, with both working reasonably well. However this is one area where the Z 7 does lag behind both the D850, with its sophisticated 3D tracking AF, and the Sony A7R III's incredibly capable eye-tracking focus. For example when shooting models using face detection, I found the camera did a perfectly good job of understanding and following their movements, but couldn't consistently hold focus perfectly on their eyes. So if you shoot moving subjects a lot and need absolutely class-leading tracking capability, then it may be better to look elsewhere.
Nikon Z7 Review: Performance
The Z 7 may be the first model in a completely new line, but it really doesn't feel like it. Instead it behaves exactly as we'd demand from £3400 Nikon. The camera starts up in a fraction of a second and thereafter responds instantly to control inputs from the buttons, dials and touchscreen. At no point does it ever get in the way of what you're trying to do; indeed it's a fine example of camera that feel's like it's been crafted and engineered to help you get the shot.
The matrix metering is generally pretty reliable, although I often preferred to dial it down a touch to be sure of not clipping highlights. Of course one of the great advantages of mirrorless is that this becomes a matter of judgement based on the viewfinder preview, rather than guesswork as it is with DSLRs. Auto white balance is typically Nikon; it's very good at making whites appear pure white, if that's what you need, but it's not so great at producing a pleasing rendition of scenic shots on sunny days, giving JPEG images that are overly-cool for my tastes. Naturally you can address this by using a white balance preset instead.
With the Z 7 using a very similar sensor to the D850, it delivers images that are equally superb. At low ISOs that 45.7MP sensor captures oodles of detail and truly astonishing dynamic range, meaning that you can extract detail from deep into the shadows during raw processing, or via the Active D-Lighting control in-camera. Even at higher ISOs you can still underexpose to protect highlights and pull up extra detail later without being unduly swamped by noise. This level of malleability gives remarkable creative flexibility during raw processing, similar to what you'd get from the D850 or Sony A7R III.
I tested the Z 7 using both the 24-70mm f/4 S and 35mm f/1.8 S lenses, along with a selection of F-mount lenses via the FTZ adapter. Both of the native lenses are a good match to the cameras in terms of size and balance, as indeed is the upcoming 50mm f/1.8 S (which I was able to try during Nikon's launch event).
They're also superb optically; the whole point of the Z-mount is to be able to maintain sharpness into the corners of the frame even at large apertures, and the optics achieve this spectacularly. Don't think for a moment that because these lenses have comparatively slow maximum apertures, they're somehow inferior to f/1.4 primes or f/2.8 zooms for DSLRs, because in reality they're every bit as good as anything I've used on a DSLR, if not better.
One key feature of the Z7 is its in-body image stabilisation, which works with almost every lens you can mount on the camera. Again, it's remarkably effective for a first-generation version, helping you get sharp shots handheld under a much wider range of conditions. I found it routinely delivered at least 3 stops benefit, and sometimes rather more if you're able to take several replicate shots. For example, with the 24-70mm f/4 zoom I was able to get sharp images at shutter speeds as slow as ½ sec at 70mm, and 1.3sec at wideangle, both of which count as at least five stops worth of stabilisation. This adds a considerable extra string to your bow for low-light work. 
Nikon Z7 Review: Using F-mount lenses
Crucial to the Z 7's appeal is its ability to work with legacy Nikon F-mount lenses via the FTZ adapter. This costs £269 on its own, or just £100 when included in a bundle with the camera, which is surely the route most Z 7 buyers will take. Essentially it allows you to use any of your SLR lenses, regardless of vintage; however, as tends to be the case with the F mount, compatibility is complicated.
With AF-S and AF-P lenses that have built-in focus motors, the FTZ adapter counts as fully compatible, supporting autofocus, in-lens VR, and automatic aperture control. I tested it with the AF-S 70-300mm f/4-5.6G ED VR and the lens behaved near-perfectly, almost as if it were on a DSLR. However, the adapter doesn't have a built-in screw-drive focus motor, so it can't autofocus with D-type lenses; you have to focus manually instead.
In this case the camera will show a digital rangefinder display in the viewfinder, similar to that on its DSLRs, with left and right arrows indicating which way to turn the focus ring. When correct focus has been achieved, the focus point will light green in the viewfinder, rather than red. I found this worked really well with my AF 50mm f/1.8D, giving one of the best manual-focus experiences of any mirrorless camera.
Older manual focus lenses will still work quite happily, but as the adapter doesn't have an AI indexing tab for detecting the aperture, they're limited to being used in manual or aperture priority exposure modes, with the aperture set manually by the photographer. Likewise, the aperture setting can't be displayed in the viewfinder or saved in the EXIF data. To aid accurate focusing, you can activate a focus peaking display or magnified view: I assigned the latter to the OK button. However I've found that the huge, high-resolution viewfinder makes accurate manual focus remarkably easy, with the truly-accurate depth-of-field preview even at large apertures providing the kind of focus snap usually associated with manual focus SLRs.
To get the IBIS system to work properly with pre-AF lenses, the camera needs to know the focal length of the lens you're using. So you'll need to program all of your lenses into the Non-CPU lens data sub-menu, and recall the correct lens each time you change. This function can be assigned to a custom button for quick access, and the selected lens will be written into the EXIF data too.
Nikon Z7 Review: Image quality
The Z 7 obviously uses a sensor that's very closely related to that in the D850, which we previously found to offer class-leading image quality matched only by Sony's 42.4MP sensor. As a result the image quality is superb; indeed the only way to get better than this is to step up to medium format.
Image files include a vast amount of detail that's faithfully recorded across a huge dynamic range from the highlights to the deepest shadows, while high-ISO noise is kept extremely low.
Nikon Z7 Review: Resolution
Looking at raw files processed using Adobe Camera Raw, its evident that the Z 7 captures essentially as much detail as could possibly be expected from its 45.7MP sensor, which forgoes an optical low-pass filter for maximum resolution. At ISO 64 it achieves approximately 5000 lines per picture height, which is very impressive indeed. Resolution falls away gradually and monotonously as the ISO is raised, but still stays higher than most other cameras on the market could achieve. At ISO 3200 we can still measure 4400 l/ph, and over 4000 l/ph at ISO 12,800, which is the maximum you'll get from 24MP cameras. At the top standard setting of ISO 25,600, the camera still resolves in excess to 3600 l/ph.
From the crops above, multiply the number below the lines by 400 to calculate the resolution on lines per picture height. These were shot with the Nikon 24-70mm f/4 Z at 55mm and f/5.6.
Nikon Z7 Review: ISO and noise
At its base setting of ISO 64, the Z 7 renders our studio test scene with an extraordinary level of detail, vibrant colour, and barely any visible noise. But what's equally remarkable is how well this holds together as the sensitivity is raised; ISO 1600 images are very nearly as good. The very finest detail starts to blur at ISO 3200 which viewed on the pixel level, but this probably wouldn't be evident except in prints of A3 or larger. Even the highest standard setting of ISO 25,600 is surprisingly usable. However the extended higher settings are distinctly marginal (at the moment Adobe software doesn't even recognize ISO 102,400).
Nikon Z7 Review: Verdict
From the moment Nikon announced its intention to make full-frame mirrorless, the question was whether it could build the right camera to tempt its existing user-base to dip a toe into these exciting new waters. Indeed after its ill-fated 1 System, DL-series compacts and KeyMission action cameras, the firm simply couldn't afford to get this one wrong. Thankfully though it's delivered an absolutely stunning camera that feels like a thoroughbred Nikon, but which just happens to use an electronic, rather than optical, viewfinder.
Compared to the similarly-specified D850, the Z7 feels much leaner and more stripped-back. Nikon hasn't obsessed about making the camera excessively small, and as a result the body feels very comfortable in your hand and not too fiddly to operate. It looks and works just like a high-end Nikon should, and even the most diehard of DSLR fans will surely be tempted to pick one up just to give it a try. Those who do will find they can get just as good results as from the company's best-ever DSLR, but in a smaller and lighter package. Crucially, they'll also discover the significant benefits of in-body stabilisation and that superb viewfinder.
But how does the Z 7 measure up to its full-frame mirrorless peers? I'm a big fan of Sony's superb A7R III, but on balance I think the Z 7 is even better in many respects, thanks to its superb handling. There are areas where the Sony is still ahead, most obviously its superior continuous autofocus and tracking, along with the inclusion of two memory card slots. But not every photographer needs these features, and the Z 7 delivers image quality that's every bit as good at the A7R III while being distinctly more pleasant to use.
Indeed the Z 7 gives the impression that Nikon hasn't held anything back in a bid to protect its DSLRs, and instead has produced the best mirrorless camera it believes it can make right now, that will handle more-or-less like a mini-D850.  This sets it apart from Canon's EOS R, which feels more like a design experiment that's trying to be different for the sake of it. Naturally the Z 7 has its own foibles and irritations, but overall it gets considerably more right than it does wrong. Indeed for applications where its few specific weaknesses are unimportant, I think that on balance, it's the best camera on the market right now, either mirrorless or DSLR.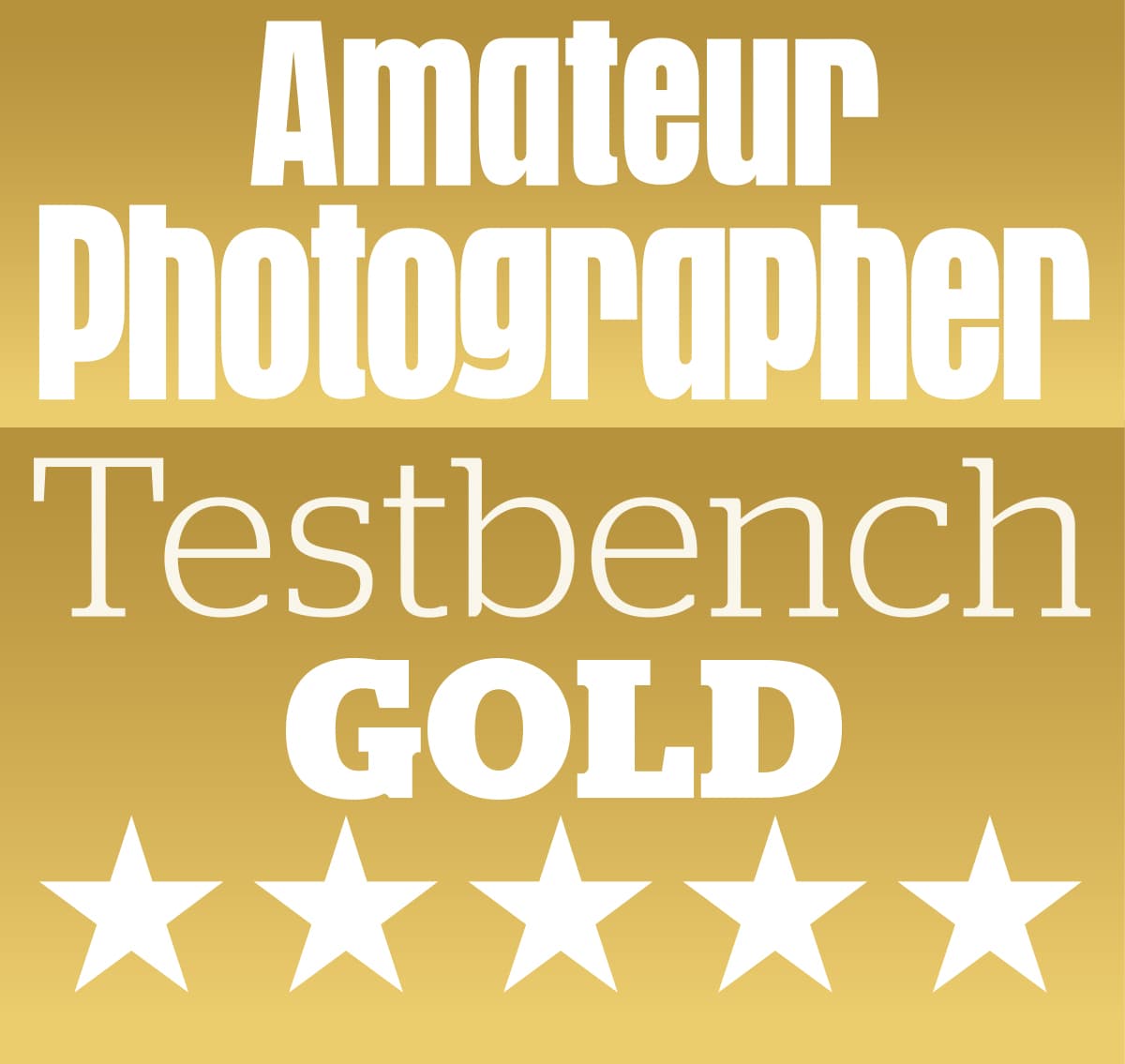 Nikon Z7: Full Specifications