Nikon Z6 Review: Introduction
Nikon Z6: at a glance
£2,099 body only (£2,199 with FTZ mount adapter)
24.5MP full-frame BSI CMOS sensor
New large diameter Z-mount
Works with F-mount SLR lenses via adapter
5-axis in-body stabilisation
12fps burst shooting
Single XQD card slot
In the months leading up to the launch of Nikon's Z-series, there was a lot of talk about Sony having the upper hand in the full frame mirrorless market. For Nikon to enter this segment and take on remarkably impressive cameras such as the Sony A7R III and Sony A7 III at their first attempt was a big ask, especially when you consider it has taken Sony three generations to get their A7-series to where it is today.
With it being make or break time for Nikon, the pressure was well and truly on to deliver something phenomenally good to the millions of Nikon faithful users who've stayed loyal to the brand they know and trust. With the Z 7 – Nikon's top-end, 45.7MP model that goes head-to-head with Sony's highly regarded A7R III, the manufacturer went above and beyond expectations, creating what is on balance the best high-resolution full frame camera on the market right now – a quite astonishing achievement for a first-generation product.
Not content with having just one model in the Z-series, Nikon has adopted a similar approach to how Sony entered the full-frame mirrorless market in late 2013 with the original A7 and A7R by releasing a second model to sit beside the Z 7 in the form of the Z 6. The two are identical in the way they share the same body design and use the same large-diameter, short back-focus lens mount, but the Z 6 is more of a general purpose model and presents a lower resolution sensor, less sophisticated AF system and faster continuous burst offering. This is welcome news for Nikon users as an update to the versatile D750 launched in 2014 has been long overdue.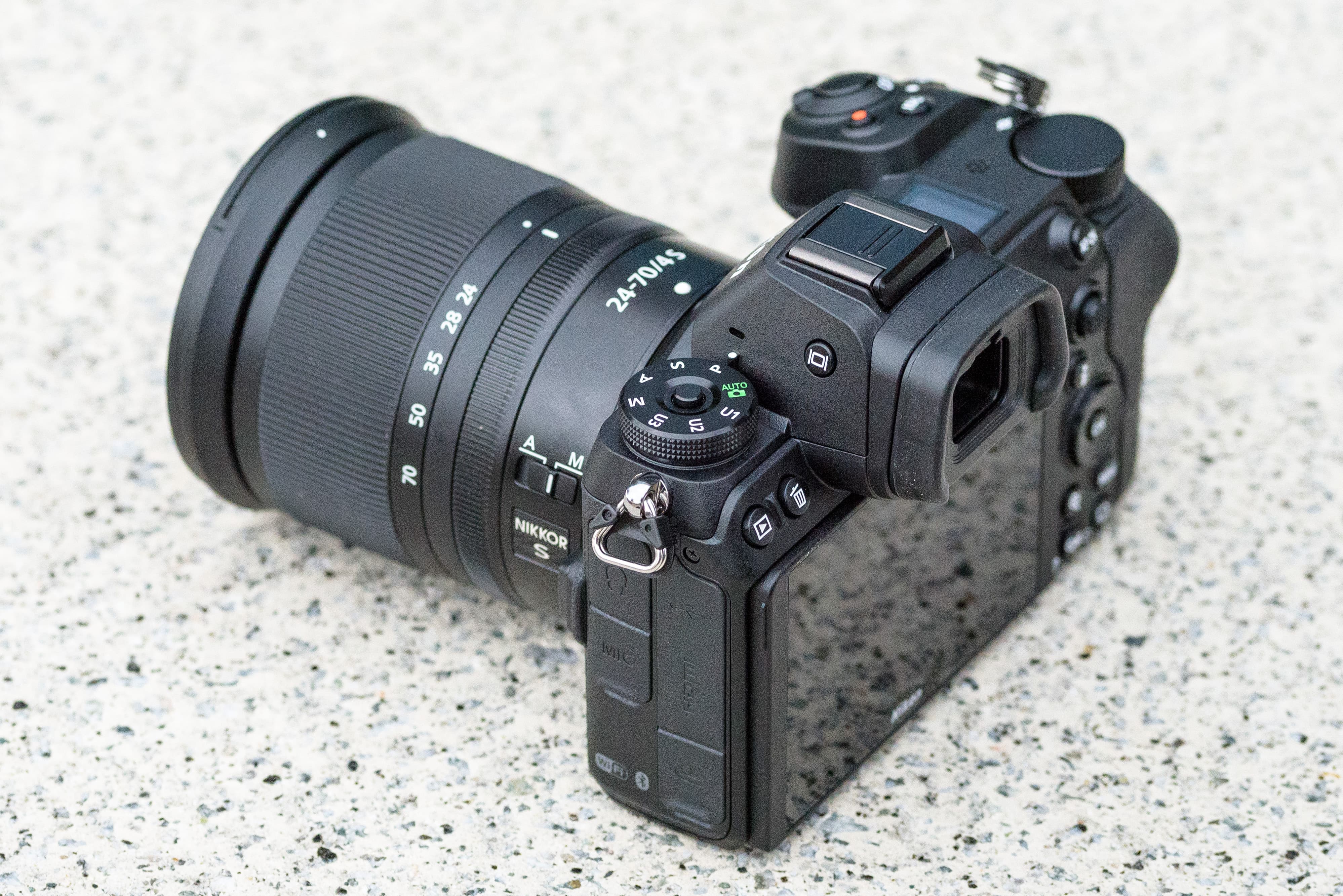 For anyone who doesn't require extremely high-resolution output and fancies a well-equipped full frame camera that presents a £1300 saving over the Z 7, the Z 6 is very intriguing. Does it have what it takes to knock the mighty Sony A7 III off the top spot as the finest full-frame offering for around £2000? It's time to find out…
Nikon Z6 Review: Features
Like the Z 7, the Z 6 introduces Nikon's new Z-mount, which has the largest opening of any full-frame system. With its 55mm internal diameter it's able to accommodate super-fast lenses such as Nikkor Z 58mm f/0.95 Noct that's due next year, plus with a flange distance of 16mm from lens to sensor, it gives Nikon's lens engineers greater flexibility in optical design going forward.
We can expect many interesting lenses to follow the three native Z-mount optics that are currently available and we're told no fewer than twelve lens will be available by the end of 2020. To maximise the strength of the Z-mount and reduce the rotation angle for faster coupling and uncoupling of lenses, the mount features four prongs as opposed to three. Nikon hasn't forgotten about the millions of people using FX lenses either, which are fully compatible via Nikon's FTZ adapter, which I'll touch on in more detail shortly.
The key difference between the Z 6 and Z 7 lies directly behind the Z-mount. Rather than employing a 45.7-million-pixel full-frame CMOS sensor, which is similar to D850's but with on-chip phase detection, the Z 6 features a 24.5-million-pixel full frame CMOS sensor. Unlike the Z 7 this chip has a low-pass filter, but like its sister model has a backside-illuminated structure to maximise its light gathering capability. With fewer photosites crammed onto the sensor, the Z 6 is able to offer a wider ISO range. Whereas the Z 7 shoots between ISO 64-25,600 (expandable to ISO 32-102,400), the Z 6 has a standard sensitivity range of ISO 100-51,200, expandable to ISO 50-204,800.
Nikon has united the sensor with its latest EXPEED 6 image processor – a combination that allows it to shoot a burst at up to 12fps. Compare this to the Nikon Z 7 and Sony A7 III and it works out at 3fps and 2fps faster respectively. Shutter speed ranges from 30secs to 1/8000sec with a flash sync of 1/200sec. The Z 6's silent shooting mode automatically engages the electronic shutter, however there isn't the option to shoot any faster than 1/8000sec. One peculiarity that we noticed on the Z 7, whereby the highest shutter speed is restricted when using the electronic first-curtain option, is the same on the Z 6. While it's handy having the option of enabling the electronic first-curtain to eliminate blurring caused by shutter shock, you'll need to make sure it's disabled if you'd like to shoot faster than 1/2000sec.
The Z 6's hybrid autofocus system combines contrast and phase detection points across 90% of its sensor's surface area. In total there are 273 phase detection points compared to the Z 7's 493 points, with the option to select every other point for faster AF point repositioning across the frame. The detection range of the AF system spans from -4EV to +19EV in its low-light AF mode and pinpoint AF is inherited to aid with precise focusing on small subjects in the frame. Other AF-area modes include single-point AF, the choice of two wide-area AF modes and an auto AF mode that ties in with the face detection and subject tracking modes.
Just as we've seen on the Z 7, the Z 6 includes 5-axis in-body stabilisation (IBIS), providing up to 5 stops of compensation for camera shake when shooting hand-held. Compared to the usual pitch and yaw correction that's provided by in-lens optical stabilisation, IBIS additionally corrects for rotation around the lens axis, which helps when shooting hand-held video or attempting shots at very slow shutter speeds. It also corrects for left-right and up-down movements, which can have a significant impact when shooting close-ups. Pair the Z 6 with an F-mount lens with VR using the FTZ adapter and the in-body and in-lens systems work together. Pitch and yaw is corrected by the lens, with the IBIS system compensating for rotation around the lens axis.
On the video side of things, the Z 6 is capable of in-camera 4K recording at up to 30fps using the full width of the sensor. Those wishing to experiment with slow motion can do so at Full HD at up to 120fps, while VR and Active D-lighting are both available in 4K UHD. Videographers will also be pleased to receive helpful aids such as a peaking display for accurate manual focus, and zebra patterns to avoid overexposure. Attractive video functionality doesn't end here. Autofocus speed and tracking sensitivity can be adjusted during recording, while 10-bit footage can be output over HDMI using a flat N-log profile. Microphone and headphone sockets are built in too and are located one above the other to the side of the HDMI, USB-C and accessory ports. Those who'd like to use the Z 6 with a shutter release cable will need to make sure it's accessory port compatible. Nikon's MC-DC2 (£35) is one example of such.
Other features worth mentioning include a time-lapse movie setting that can make 4K or Full HD movies in-camera, an easy to use interval shooting mode and the option to use focus shift shooting to create extended depth-of-field composites. Like the Nikon D850, the Z 6 offers a Natural Light Auto White Balance for optimal results in outdoor lighting conditions and in the standard AWB mode you get two options (AWB 0 and AWB 2) to accentuate warm tones or reduce them.
Equipping the camera with a single XQD card slot much like the Z 7 is a dubious decision by Nikon. While there's an argument that XQD cards are more robust than SD media, not having the option to insert a second card for spilling over or to use as a means of back up will be missed by many. To offer dual SD card slots like the Sony A7 III offers would have been our preferred option, not only for convenience but to also make a saving having to invest in new XQD memory cards, which are expensive. Choose a high-spec card such as a Sony XQD 64GB G series that we used with the Z 6 and you'll be looking at spending close to £180.
With regard to power the Z 6 uses an updated EN-EL15b battery, which fully supports in-camera charging via the USB-C port. Anyone who owns older EN-EL15a batteries will be pleased to hear that these can be used too, however they will need to be charged externally via a conventional charger. The claimed 310-shot battery life has nothing on the stamina we're used to from Nikon's full frame DSLRs, however with the MB-N10 battery grip that's currently in development users will be able to load two batteries and increase battery life to over 600 shots before a recharge is required.
Both Wi-Fi and Bluetooth connectivity are built-in, and Nikon has included a dedicated processor to provide a more stable connection to devices running its SnapBridge app. An always-on Bluetooth LE connection can be setup between the Z 6 and your phone too, enabling every single picture you shoot to be automatically transferred to your phone. Selecting the all-important 2MP mode helps speed up transfer times and saves on valuable storage space.
Nikon Z6 Review: FTZ mount adapter & Z-mount lenses
Unlike Canon who released three mount adapters for their new EOS R full frame mirrorless system, Nikon has just the one. The FTZ mount adapter allows any F-mount lens to be coupled to the Z 6 and costs £269 on its own, or £100 when it's purchased with the camera. The adapter is fully compatible with AF-S and AF-P lenses that have built-in focus motors, but for those who want to attach and use D-type lenses it's a case of these being manual focus only. As briefly mentioned, the Z 6 provides excellent manual focus aids including peaking and superb magnified views using the zoom buttons at the rear of the camera.
Three native Z-mount lenses have been made in the S-Line so far and we received all three with our review sample. These include the 24-70mm f/4 S (£999), 35mm f/1.8 S (£849) and 50mm f/1.8 S (£599). These will then be followed up by the 58mm f/0.95 S Noct lens and five other optics comprising a 20mm f/1.8, 24-70mm f/2.8, 85mm f/1.8, 70-200mm f/2.8 and 14-30mm f/4. Nikon hasn't been shy about letting us know what else is on the horizon and the published roadmap tells us we can also expect a 50mm f/1.2, 24mm f/1.8 and 12-24mm f/2.8 to arrive sometime during 2020.
Nikon Z6 Review: Build & Handling
Getting the right look, feel and balance to an entirely new system presents a serious challenge for camera manufacturers. With Nikon's expertise of producing DSLRs that feel as good in the hand as they are too use, I had high hopes they'd get it right and I'm glad to report they've nailed it. Nikon's design team has managed to strike the perfect balance between what feels natural to existing users while making it considerably leaner than their smallest full frame DSLRs.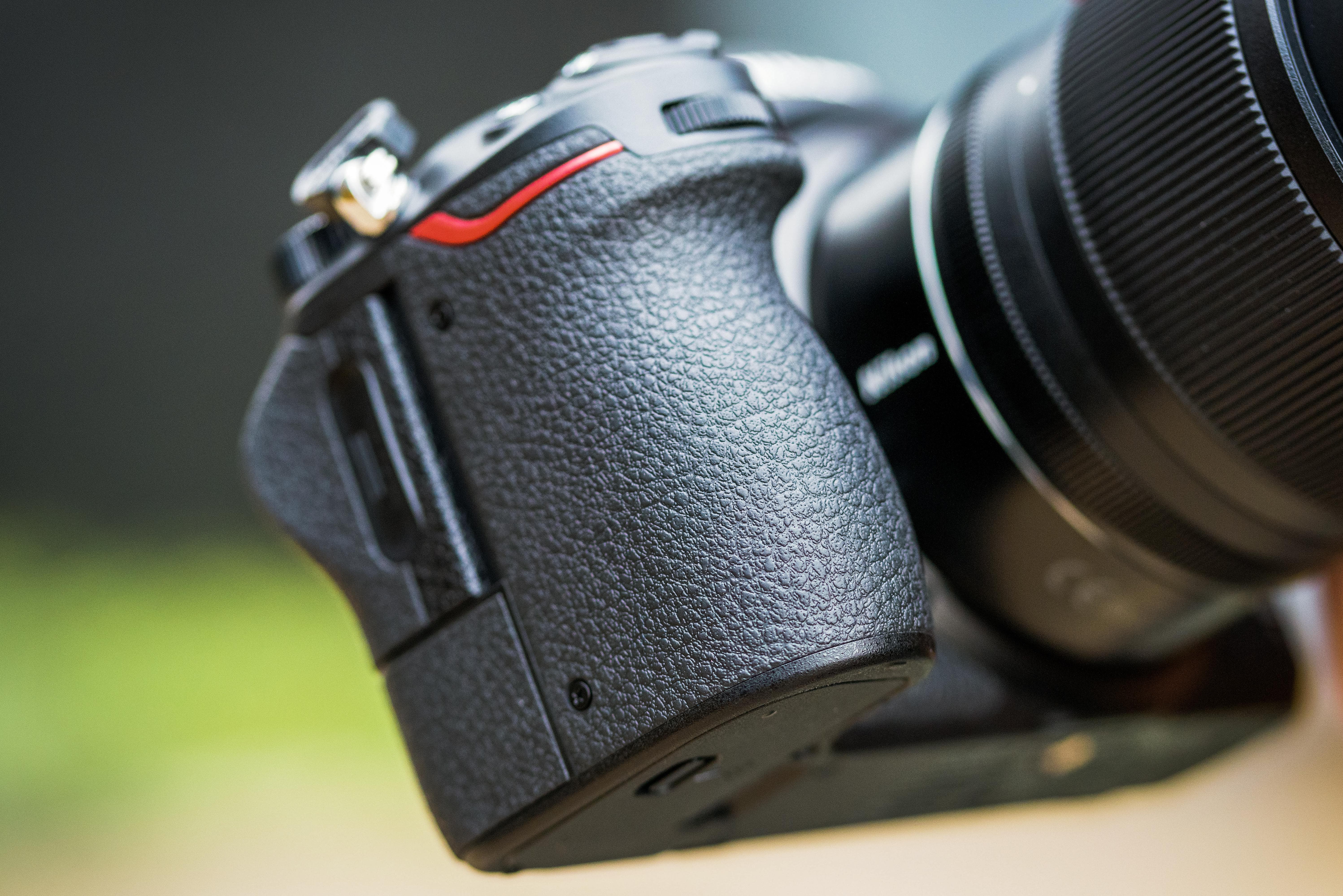 Viewed directly alongside the Nikon D750, it looks like the Z 6 has been in the gym shedding the pounds whereas its DSLR cousin has consumed a few cakes too many. There's a 165g difference in weight between these two cameras and Nikon has achieved this without needing to make the body so small that the handling is compromised. With a wonderfully sculpted handgrip and sizeable thumb rest, behind which the XQD card is stored, the Z 6 offers an extremely satisfying handling experience, which from the moment you pick it up feels more comfortable than the Sony A7 III.
Though it might seem a relatively minor thing, the rubberised texture of the grip on the Z 6 feels more secure in yours hands than the A7 III, especially when you're working with gloves or when your hands are wet. It isn't a mirrorless camera that handles best with small lenses either. As I discovered, the grip provides sufficient purchase to wrap your right hand around it firmly when working with long and heavy telephoto zooms mounted via the FTZ adapter.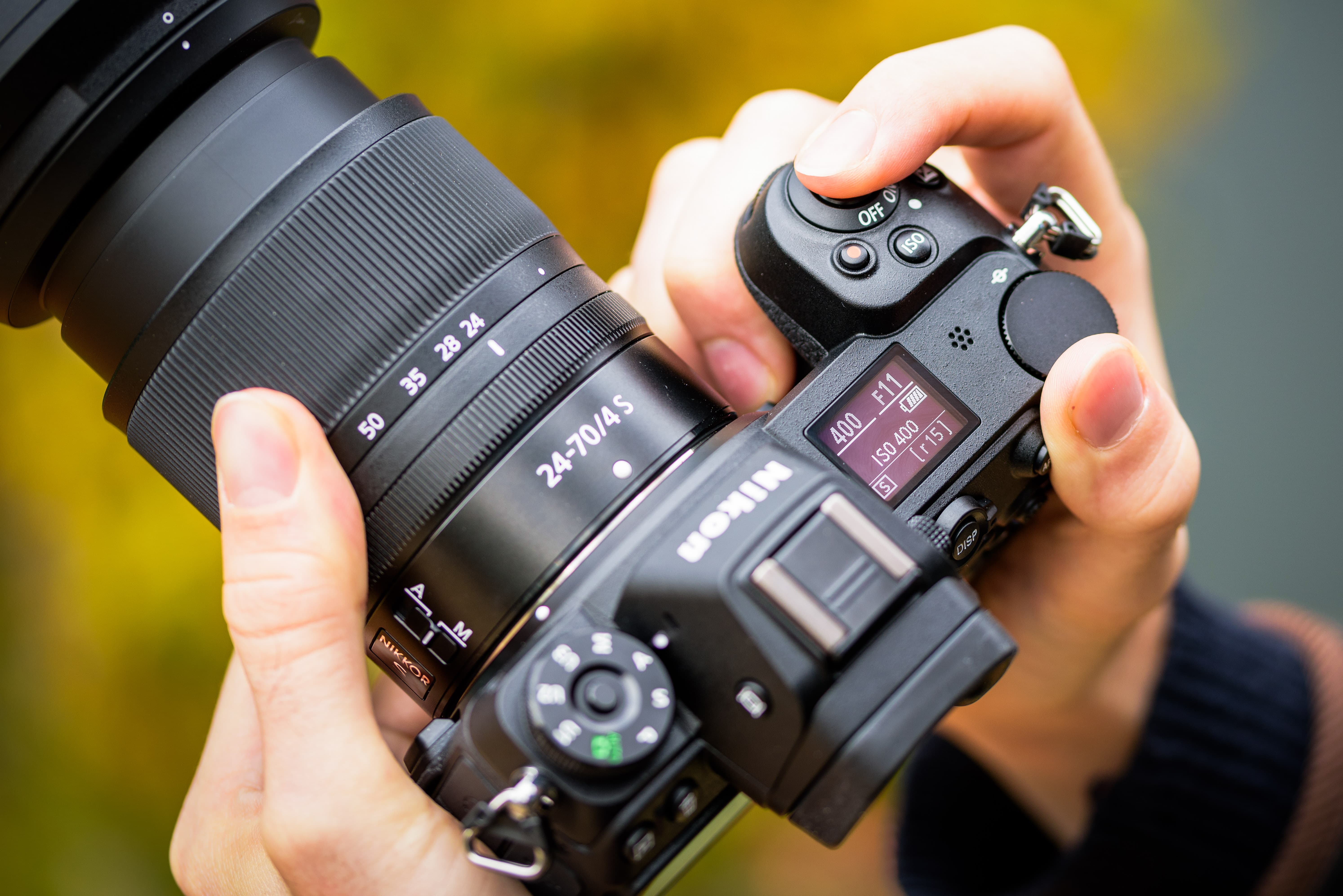 To give it strength and rigidity the Z 6 is built around the same magnesium alloy chassis as the Z 7, which is fully weather sealed to prevent moisture, dust and dirt penetrating through the body seams and damaging the internals. Nikon offers further reassurance by saying it's weather-sealed to the same standard as the D850, which I can vouch for being extremely durable having used it in persistent rain for hours on end without a hint of a glitch. Anyone who shoots regularly in the portrait orientation or would like to increase shooting stamina will appreciate that the MB-N10 battery grip provides the same level of dust-and drip-resistance as the body. In addition it supports USB charging using the EH-7P Charging AC Adapter, however unfortunately it was still in the development stage at the time of testing and there's no further news on its availability or price.
Existing Nikon DSLR users will love the way they immediately feel at home with the Z 6 in terms of its operation. There's not a great deal new to learn and by keeping the dedicated buttons and controls we'd expect to see on a camera of this level it saves you having to dive into menus or learn a whole new way of working.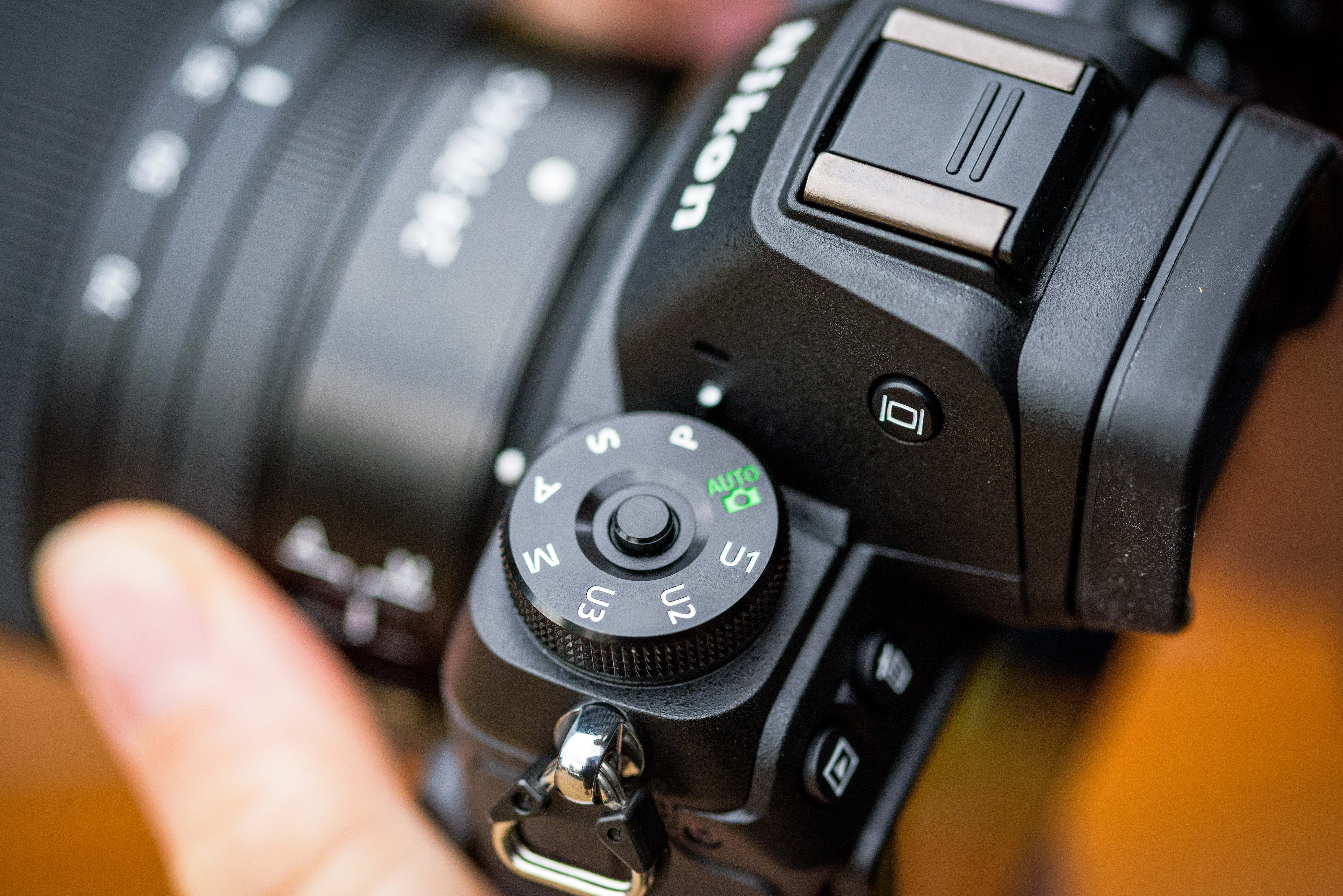 The mode dial is a located from the top left shoulder and needs the central lock button to be depressed as it's rotated as it can't be permanently unlocked. Rather than getting a drive dial beneath it, drive modes are loaded using a dedicated button below the menu button and are set with the front/rear thumb dials. You get a joystick that falls naturally under your thumb for shifting the focus point around the frame and its knurled texture helps distinguish it from the AF-ON button above.
Video mode is engaged from a stills/video switch that's in easy reach of your thumb. Inside this switch is the Disp. button to toggle through the various display modes that include a levelling function and histogram. The front and rear thumb dials are perfectly positioned for making quick exposure adjustments and the way the camera allows you to reassign the lens's manual focus ring to control aperture or exposure compensation is a nice touch.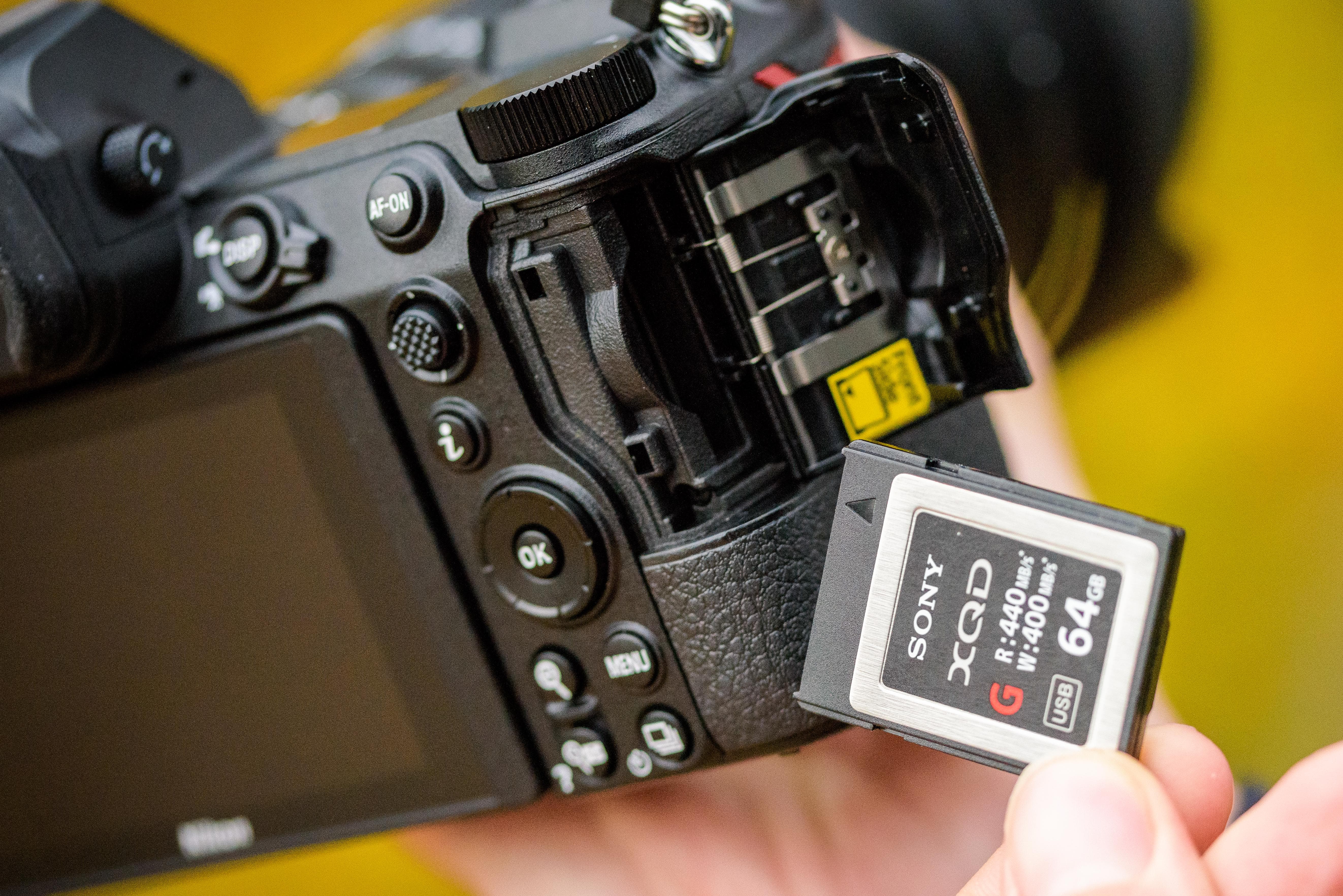 Up on the top plate the dedicated movie-record button only starts recording when you're in movie mode, but like many of the buttons across the body it can be assigned independently to stills and video functions. There's a conveniently positioned ISO button directly behind the shutter button, but I found the exposure compensation button a little bit too far off to the side for my liking. The addition of a top plate screen is another reference to DSLRs of the past. It doesn't permit being inverted to display black on white like some other cameras, however it reveals all the key shooting information you might want to glance down at such as shutter speed, aperture, ISO, battery power, drive mode and the remaining capacity of the memory card. Being an OLED display, it's also intelligent enough to automatically adapt to the ambient light conditions.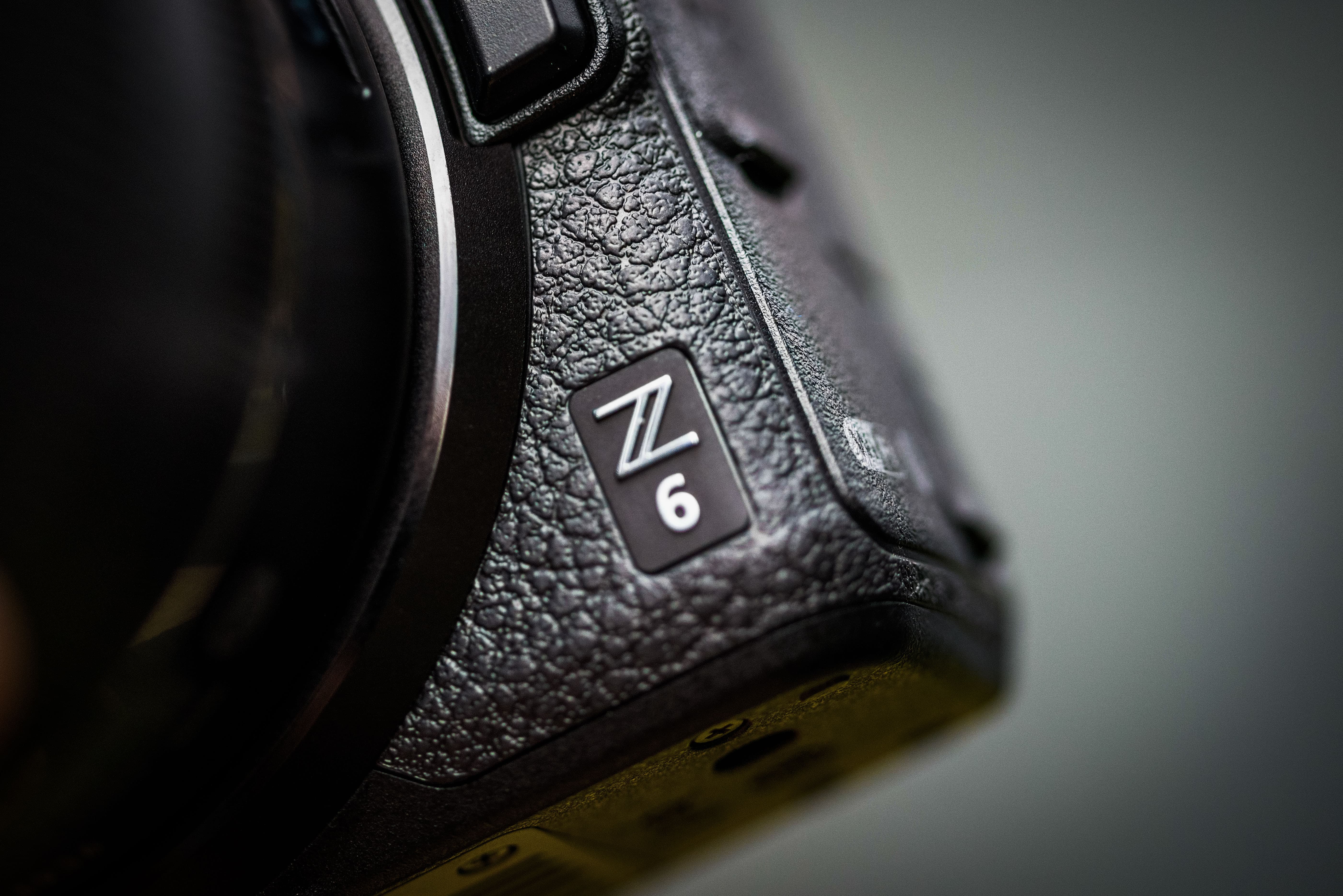 All things considered, the Z 6, much like the Z 7, offers the finest handling experience of any full frame mirrorless camera on the market right now. It fits the average size hand exceptionally well and when you add its pro-spec build quality to the pleasing feel of all of the buttons and controls, you have a camera that you simply don't want to put down and just want to keep using.
Nikon Z6 Review: Viewfinder & Screen
The similarities between the Z 6 and Z 7 Nikon Z 7 extend to the rear of the body. The Z 6 has an absolutely superb 3.6-million-dot EVF with 0.8x magnification, which displays comprehensive shooting information against a black background above and below the preview image. The EVF has a refresh rate of 60fps, displays a clear and sharp image and is noticeably superior to the A7 III's electronic viewfinder when you compare them side-by-side.
The EVF is a delight to use when you'd like to review images in bright conditions. It offers an accurate preview of how aperture affects depth of field and faithfully displays exposure, white balance and colour so you can be confident that what you're seeing is a true representation of how the image will look. Nikon DSLR users who have been used to optical viewfinders over the years can't fail but to be impressed by how good the Z 6's EVF is.
The screen is the same 2.1-million-dot touchscreen that you get on the Z 7. It tilts 90° up and 45° down for waist-level shooting, but can't be pulled out to the side to aid with portrait shooting from difficult shooting angles. This is where mirrorless cameras like the Fujifilm X-T3 and Canon EOS R have an advantage.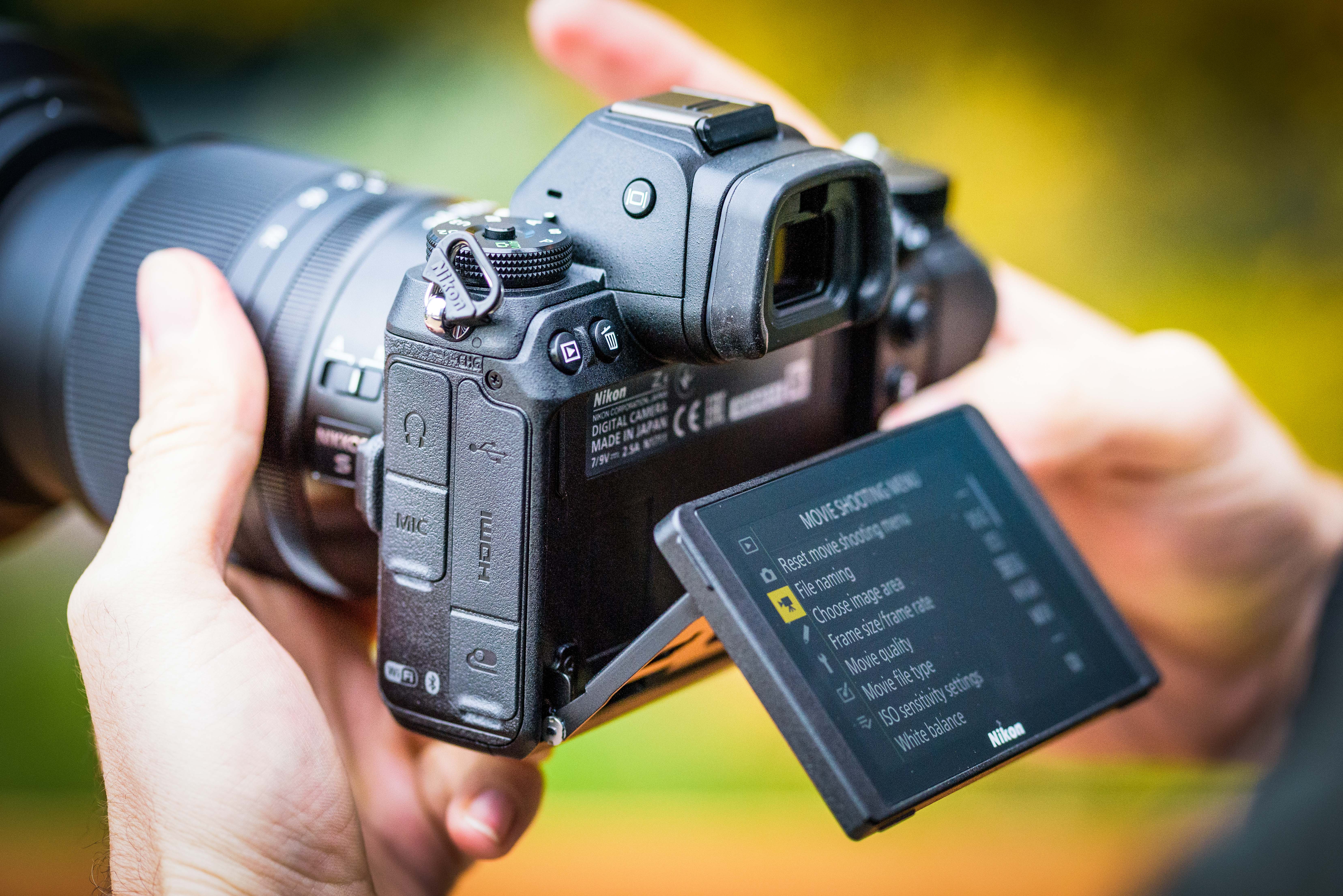 The screen is a nice slimline unit and adds very little depth at the rear of the camera. The sensitivity and precision of touch control is excellent when you're navigating the main menu and you'll rarely select the wrong setting from the 'i' menu as the icons are fairly large. Moisture can play havoc with the operation of some touchscreens, but this isn't an issue on the Z 6. Using the camera in the rain revealed the touchscreen operated no differently when it had water droplets on its surface than when it was dry.
Nikon Z6 Review: Performance
Nikon hasn't released any figures about how many frames the Z 6 is able to process in a continuous shooting scenario, so this was something I was keen to test. Loaded with a 64GB Sony XQD G-series memory card capable of a 440MB/s read and 400MB/s write speed, the Z 6 happily rattled out 200 raw files set to 5fps shooting in its low continuous shooting mode. Switching to high-speed continuous extended (12fps) saw this number reduce to 35 frames. With Raw and JPEG (Fine) selected, it managed 71 frames in high-speed continuous (5.5fps) and 28 frames when this was increased to high-speed continuous extended (12fps). It should also be noted that the maximum 12fps burst can only be achieved when the NEF (Raw) bit depth is set to 12-bit. In 14-bit the fastest the Z 6 can shoot at in high-speed continuous extended is 9fps. All in all, this commendable buffer performance is good news for anyone who regularly rattles out images at high speed and demands that their camera can keep up and not falter every few seconds.
The Z 6 backs up its high speed shooting with a fine focusing performance. A visit to a racetrack was the perfect opportunity to switch over to continuous AF (AF-C) and find out how well the camera responds to high-speed action. I found the Wide-area AF (S) AF-area mode most effective for tracking cars travelling directly towards the camera, with the Wide-area AF (L) and Auto-area AF modes proving to be more effective with subjects that appear larger in the frame. Reviewing my images in the EVF told me that the camera was delivering a high-success rate of sharp shots, with typically only three shots in a burst of 21 frames being out of focus or unusable.
For day-to-day shooting users are likely to use Single point AF in Single AF (AF-S) mode. The red AF target turns green to confirm focus has been achieved and with all focus points active is takes approximately 2.3secs to shift the AF point from one side of the frame to the other using the AF toggle. The way the Z 6 allows you to move the AF target diagonally is great for spontaneous focus point adjustments and by selecting the every other AF point option from the custom setting menu you'll find it's even faster to the shift the AF point around, albeit not quite as precisely.
In low-light I found that the Z 6 isn't as hasty at acquiring focus on its subjects as Canon's EOS R, so you'll need to be a little bit more patient. Saying that, its bright-green AF assist beam did a good job of offering some extra illumination on close subjects when it was needed.
In terms of battery life the claimed 310 shots per charge doesn't sound great on paper, but by carefully managing the power off delay options and switching off image review I found I was able to shoot closer to 400 shots before a replacement battery was required. Having the option to charge the battery in-camera via USB is great, however you will find it's sensitive to power supply. While it showed no problem being charged from mains and a 2A output using the supplied USB-C cable, the small orange LED that illuminates when USB charging is in progress didn't with some of the smaller 1A output power banks I tried. Plugging the Z 6 into my 5V output car charger using the supplied USB-C cable successfully initiated in-camera charging. Users can rest assured knowing it is possible to top up the power when on the move and driving between different locations.
Out in the field I found myself using the double-tap function on the touch screen to quickly inspect sharpness in playback mode. The way it offers a magnified view precisely where you tap is helpful and can save time hunting around the image. Using the Z 6 with a selection of F-mount lenses via the FTZ adapter also confirmed that performance and focusing is just the same as if they were paired to a Nikon FX-format DSLR. The only thing to watch out for is the way the FTZ adapter's tripod mount sits lower than the camera body. If you're using a Z-mount lens and have a tripod plate mounted to the bottom of the camera and then switch to using an F-mount lens via the FTZ adapter, you'll likely find the tripod plate will foul the adapter being attached and has to be removed first.
As for the Z 6's IBIS system, it's remarkably effective at allowing you to capture sharp handheld shots with slow shutter speeds and does a magnificent job of suppressing jittery shake associated with handheld movie footage. With the 24-70mm f/4 lens I managed to capture sharp still images at 1/5sec at 70mm, or 1/2sec towards the wider end of the zoom. If you find yourself shooting handheld shots at such slow shutter speeds it's advised to take several frames to increase your chance of getting a pin-sharp shot.
The Z 6's is impressive in other areas of its performance too. It starts up in just over a second of flicking the on/off switch and responds instantly to button presses and taps of the touchscreen. Generally speaking, matrix metering does a good job of analysing scenes and exposing correctly for them, but I did occasionally find myself dialling in -0.7EV exposure compensation to retain highlight detail in exceptionally bright scenes. When shooting outdoors, I opted to use the Natural light auto white balance mode, which I find produces more faithful colours closer to those seen by my eye than the standard Auto mode. For landscape shooters looking to resolve the most accurate colour straight out of camera, Natural light auto is highly recommended, plus it can help avoid the rather cool feel to images that has long been associated with Nikon DSLRs.
It was unfortunate that the Bluetooth pairing option on our review sample refused to work with SnapBridge installed on my iPhone SE. I ended up testing the Z 6 with an Android smartphone instead. Once setup, the always-on Bluetooth LE connection worked well and successfully pinged images across to SnapBridge one by one, with the option to continue doing so when the camera is switched off. It takes around 15-20secs between firing the shutter and the image you've taken automatically appearing in the app.
Pairing the Z 6 to my iPhone via Wi-fi and transferring images this way worked without problem. You get the option to select multiple files to transfer and you're prompted whether you'd like a downsized 2MP image or the full size image before you commit. It's possible to use your phone and SnapBridge to control the camera remotely too. You get a live view display that can be viewed in the portrait or landscape orientation and the ability to adjust key exposure variables and readjust the focus point. The app is basic and easy to use, however those who want to fire the shutter this way at a critical moment are likely to get frustrated by the momentary delay between pressing the shutter button on the app and the picture being taken.
Nikon Z6 Review: Image quality
For landscape photographers and anyone who demands a 45.7MP sensor capable of super high-resolution output, the Nikon Z 7 gets the nod over its sibling. For serious amateurs, enthusiasts, semi-pros and professionals who fancy a lower-resolution alternative that is well suited to a wider array of applications at lower cost, the Z 6 undisputedly makes the better buy. The sensor offers good scope when it comes to returning detail to dark shadowed regions and users will find they're able to push high into the Z 6's sensitivity range before noise becomes obvious and starts to encumber fine detail.
Nikon Z6 Review: Resolution
With Adobe Camera Raw and Lightroom yet to support the Z 6's Raw files at the time of testing, our files were processed using a beta version of Nikon's Capture N-XD software. The sensor resolves a level of detail on par with the Sony A7 III and what we'd expect from a 24.5MP sensor that is equipped with an optical low-pass filter to reduce the effect of moiré. At ISO 100, the sensor resolves 3200 l/ph. This drops to 3000 l/ph at ISO 800 and 2900 l/ph at ISO 3200. Detail remains high when more is asked of the sensor, with 2800 l/ph being resolved at ISO 6400. The level of detail beyond this point starts to reduce as noise becomes more prominent, however the sensor still manages 2600 l/ph at ISO 25,600 and 2400 l/ph at ISO 51,200. The big drop to 1900 l/ph and 1800 l/ph at ISO 102400 and ISO 204800 respectively highlights that these extended settings should be avoided at all costs.
Nikon Z6 Review: ISO and noise
A close study of our test images taken through the ISO range revealed a very impressive set of results, with shots taken at ISO 1600 being almost as flawless as those captured at ISO 100. Inspect files at high magnification and you'll notice very fine detail starts to be affected by pushing to ISO 3200 and ISO 6400, but both these settings yield useable results and users shouldn't shy away from using them when presented by low-light situations. If you're prepared to apply a little noise reduction in post, very acceptable results can also be achieved at ISO 12,800 as well as ISO 25,600 at a push. Push beyond this and the increased level of noise starts to have more of a dramatic affect on image quality so ISO 25,600 is best kept as your upper limit. The extended ISO 102,400 and ISO 204,800 settings should be steered well clear of; the greatly reduced level of detail is poor when compared to ISO 25,600 and ISO 51,200.
Nikon Z6 Review: Verdict
Nikon, much like Canon, has been late to join the full frame mirrorless market. With Sony being at the forefront of driving this segment forward over the last few years, and more and more photographers being tempted to make the switch to smaller and lighter A7-series cameras, there's been mounting pressure on Nikon to step up and deliver an answer.
After reviewing the Nikon Z 7 and now the Z 6, it's clear that Nikon has thrown absolutely everything into making the finest mirrorless cameras it can. The manufacturer is clearly no longer concerned about protecting its DSLRs having overcome the hurdle of allowing existing Nikon owners to make good use of their F-mount lenses via the FTZ mount adapter.
With the Z 6, Nikon has made its best general purpose, full frame camera ever. When I reviewed the Sony A7 III earlier this year, I didn't think any camera would be able to get close to what it offered for the money, but Nikon has somehow managed to pull out all the stops and do just that. The Sony A7 III has advantages of its own – it provides dual card slots for backup and offers class-leading AF tracking with Eye AF. Overall though, the Nikon Z 6 feels the more accomplished camera and a lot of this comes down to its sensational handling and robust build quality that is quite clearly in a league above what Sony offer at present.
Nikon DSLR users will be bowled over by the viewing experience of the large electronic viewfinder and how well the touchscreen integrates with the menu – another two areas where the Z 6 has advantages over the A7 III. Needless to say, with a budget of around £2000, the Z 6 at just £100 more than the Sony A7 III (or £200 with the FTZ mount adapter included) is what we consider to be the best full frame mirrorless camera you can buy at this price point right now.
While the Z 6 might have arrived too late for those who've sold their F-mount lenses and jumped ship from Nikon to another system, it's just what many loyal Nikon users who'd like to make the transition from DSLR to mirrorless have long been waiting for. It's not perfect in every way and hopefully we'll see Nikon squeeze a second SD card slot alongside the XQD card slot in the future, but overall the Z 6 is an astonishingly impressive camera for the money and is the full-frame camera to go for if you don't require the Nikon Z 7's super high resolution output.
It was one thing for Nikon to outdo Sony's A7R III with the magnificent Z 7, but to do the double and create the Z 6, which with all things considered is a better camera than the Sony A7 III, is quite a remarkable achievement. We take our hats off to Nikon, it's entered the full frame mirrorless market with quite a statement!