The AP team picks out the best compact cameras you can buy in 2023, including the Fujfiilm X100V, Ricoh GR IIIx, Sony RX100 VII and more.
The best compact camera marries the portable convenience of a smartphone with the photographic prowess and advanced manual controls of more sophisticated mirrorless or DSLR cameras. Compact cameras used to be thought of as cheap and disposable things; however, in recent years manufacturers have had to work a lot harder to compete with the convenient phone cameras everyone carries around now.
Consequently, the best compact cameras deliver things that a smartphone physically can't – a larger imaging sensor and a lens with sophisticated high-quality optics. With a compact camera, you can get images with greater sharpness, and quality than you would on a phone.
The large aperture on a compact camera's lens also allows for the use of artful effects like shallow depth of field to blur an image's background. There's a reason why classic compact cameras like the Fujifilm X100V have become so popular online lately – they deliver an imaging experience that a phone camera just can't quite replicate.
We've picked out the compact cameras we think deliver the best value for money right now, based on current prices and our extensive testing experience. Cameras come at a range of prices in this guide, with cheap and premium options included. We've focused on smaller compact cameras designed for travel, as opposed to big superzoom models – you can check out our guide to the best ultra zoom cameras if that's what you're looking for.
How to choose the best compact camera
If technical terms aren't your thing, don't worry. We've kept this buying guide simple, using easy-to-understand language everyone can follow. In this guide, we're not interested in comparing images pixel by pixel (if you want to see that sort of thing, check out our camera reviews). All the same, it is worth being mindful of a few key specs when picking your compact camera, so here they are, as simply as possible.
The sensor size and resolution are going to have a big impact on the final look of your image. With compacts, you're generally dealing with sensors in 3-4 sizes. From smallest to largest, they are: 1/2.3-inch, 1-inch, Micro Four Thirds, and APS-C. A larger sensor is generally better in terms of image quality, allowing for greater tonality and dynamic range. However, they cost more, and require larger cameras to house. Resolution, measured in megapixels (MP), refers to the level of detail in an image. More megapixels mean you can print images in higher quality, but it can incur more image noise, reducing quality in low light.
The other half of a compact camera is, of course, the lens. The focal range will determine how much you can zoom in and out. Big zooms will naturally give you more versatility, but it tends to come at a cost of optical quality. Indeed, some compacts like Fujifilm's fabulous X100V don't zoom at all, being equipped with a high-quality prime lens. These produce sublime images, but if you want to get close to a subject, you need to move your feet.
Other features are worth considering. Want to shoot fast action? Check how many frames per second the camera can manage. Think you'll be working in low light? A higher ISO range is your best bet. If you want to shoot video as well as stills, check the video resolution and frame rate. There's more to discuss, but the best way to get a feel for it is to take a look through the incredible compact cameras on offer right now.
In this unmissable buyer's guide we take a closer look at some of the best compact cameras that you can currently buy and give our expert recommendations about what each one is best for…
---
Best compact for action: Sony Cyber-shot RX100 VII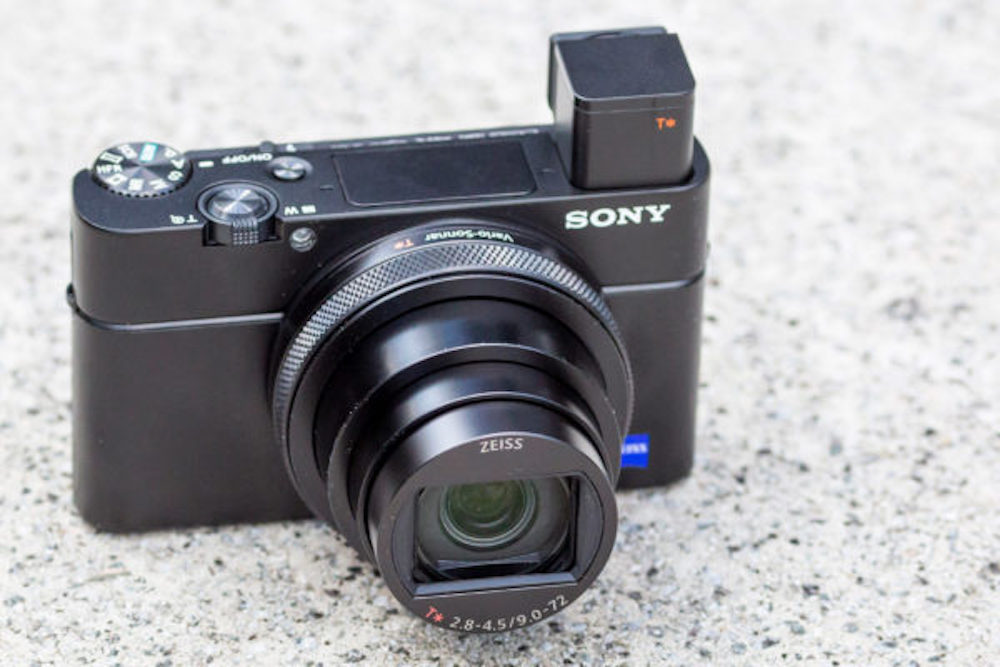 At a glance:
20MP Exmor RS CMOS sensor
24-200mm equivalent f/2.8-4.5 lens
20fps shooting
4K video recording
Price: $1,298 / £1,150
The ultimate offering in portability and overall image quality has to be the Sony RX100 VII. Sony's RX100 range is what introduced the one-inch sensor to the market, and the camera which others tend to follow. We're now in the seventh generation from the original camera, and the tech which is packed into this miniature marvel is quite something.
Not only do you have a one-inch sensor, you get a 24-200mm (35mm equivalent) lens which offers an f/2.8-f/4.5 maximum aperture. High-speed shooting is available – pretty incredible for a pocket camera – you can shoot at 24fps. The autofocus system is also pretty impressive, so you could conceivably use this camera to shoot sports and action.
Other exciting features include 4K video, in-built wi-fi and a tilting LCD touchscreen. You also get a cleverly hidden electronic viewfinder which pops out from the corner of the camera.
So, what's the drawback? Well – it's the price. You need to pay top whack to get all of these features in such a small package, and the RX100 VII currently retails for around £1,000. That's a heck of a lot of money to spend on a compact camera, but you do get something seriously impressive for your cash. If you don't have those kind of readies available, take a look at some of the older RX100 models – we have included one option a little later in this guide. 
What we like:
Excellent zoom range
High-speed 24fps shooting
Pop-up viewfinder
What we don't like:
Read our Sony Cyber-shot RX100 VII Review
---
Best all-rounder: Panasonic Lumix TZ100 / ZS100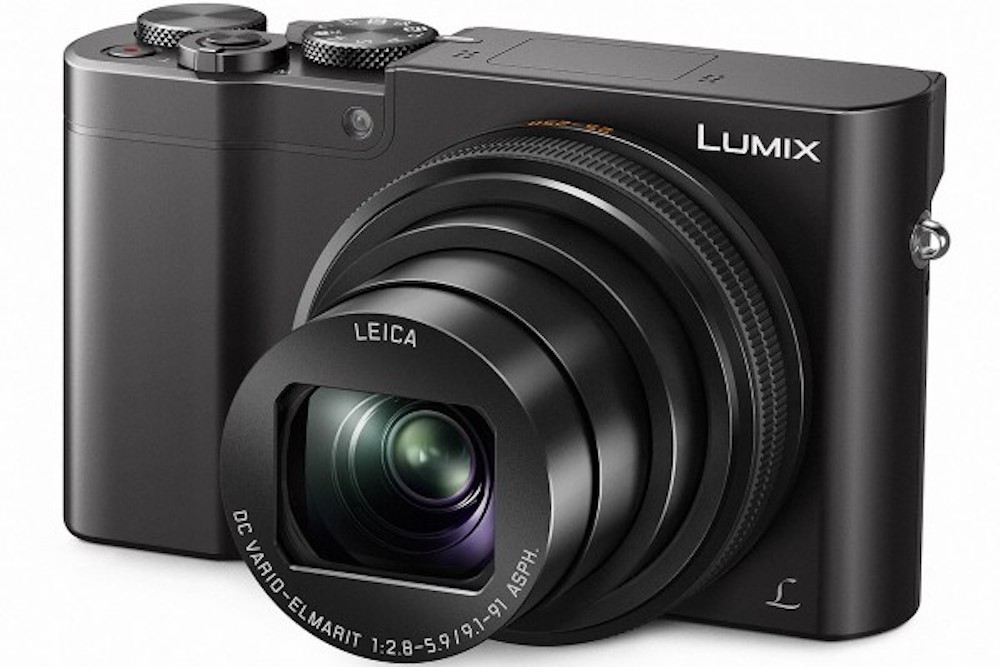 At a glance:
20.1MP image sensor
10x optical zoom lens, 25-250mm equivalent
4K video
5-axis image stabilisation
3-inch, rear LCD screen
Price: $497 / £389
In most cases, compacts which feature a large (one-inch) sensor, have a restricted zoom. However, Panasonic's TZ100 manages to bridge the gap between premium compacts and superzooms, with its 10x optical zoom offering.
While 10x doesn't get near the heady heights of the 30x or 40x zooms elsewhere in this list, the 25-250mm equivalent should be more than enough for most situations. Alongside this, there's a rich feature list which includes 4K video shooting, 10fps shooting, built-in WiFi and an electronic viewfinder.
The main drawback is a rather small electronic viewfinder, though it does offer a 1.16-million-dot resolution, but a 3-inch rear LCD with touch sensitivity helps with the handling. The screen is fixed, which is a shame when composing from awkward angles, but it did perhaps help to keep the overall size of the camera down.
Overall, this is a very likeable camera and it's probably the best compromise of all the cameras here – you get a bit of everything for your cash, and the price isn't outrageously high either. Image quality is very good, and while it's not going to match your DSLR, the fact that you can fit it into your pocket makes it particularly appealing as a travel camera.
What we like:
Pocketable form factor
Useful zoom range
Great value for money
What we don't like:
Small EVF
Fixed rear screen
Read our Panasonic Lumix DMC-TZ100 review
---
Best retro compact camera: Fujifilm X100V
At a glance:
26.1MP APS-C X-Trans CMOS 4 sensor
23mm F2.0 lens (35mm equivalent)
Hybrid Viewfinder (OVF&EVF)
3-inch, 1.62-million-dot, two-way tilting touchscreen
4K video at 30fps
Compatible with legacy conversion lenses
Price: $1,399 / £1,299
The Fujifilm X100V isn't just a good-looking camera, it also takes some excellent photos thank to a 26MP APS-C X-Trans CMOS sensor, and an updated lens design improves macro performance. The lens on the front is a 23mm f/2.0 prime lens, giving a 35mm equivalent (in 35mm terms).
You'll also find Fujifilm's latest Film Simulation modes, with a number of black and white film options, including ACROS, as well as the option to add a film-like grain effect to images, great for those gritty black and white street photographs.
There's a hybrid optical/electronic viewfinder that can give you the best of both worlds, and give you the true rangefinder camera experience. The touchscreen on the back tilts which can help with awkward angles, or when you want to 'shoot from the hip'.
If you're interested in recording video, then you'll find the camera has 4K video recording at 30fps, although the lack of image stabilisation may be a deal-breaker for some. The X100V is a gorgeous little camera that's as satisfying to look at as it is to shoot with. It has a special thing going for it in the way it inspires you to venture out and take pictures, as it's very easy it is to carry and produces great images.
What we like:
Gorgeous image quality
A pleasure to use
Stylish looks
What we don't like:
Expensive
Difficult to find
Read our Fujifilm X100V Review
---
Best pocket camera: Ricoh GR IIIx
At a glance:
24.2MP APS-C CMOS sensor
26.1mm f/2.8 (40mm equivalent) lens
100-102,400 ISO range
3-inch, 1.04m-dot, fixed touchscreen
Full HD video
Price: $996 / £899
The Ricoh GR IIIx, like the Fujifilm X100V, has an APS-C CMOS Sensor, which is impressive considering the compact size of the camera. It features a 26.1mm f/2.8 lens, equivalent to 40mm (in 35mm terms), and the camera has a clever 'Snap' focus system so you can quickly get shots without any delay from focusing, making it another great street camera.
The Ricoh GR IIIx is the latest digital iteration of the cult classic Ricoh GR film camera, and is designed to be a pocketable camera (weighing just 262g) that you can take anywhere. There's also built-in sensor-shift shake reduction, which moves the 24MP sensor on 3-axis to counter any shake.
There's a 3-inch touch-screen on the back, and you'll find dual command dials making it easier to change settings quickly. The GR IIIx handles really well. It has a rapid sub-one-second start up time, quick shutter response, comfortable single-handed operation and intuitive controls.
It's also worth noting that its excellent predecessor – the Ricoh GR III, which has a wider angle 18.3mm f/2.8 (28mm equivalent) lens – remains on the market from £689.
The Ricoh GR IIIx is a well positioned niche alternative to smartphones and big cameras, offering a wonderful mix of the two. There's enough in it to compel smartphone users considering a 'real' camera, and experienced photographers who want a 'proper' photographic tool in their pocket. But, first and foremost, it needs to deliver excellent image quality in any kind of light… and the GR IIIx achieves this thanks to the combination of its 24MP APS-C sensor, DNG raw capture and sharp 40mm f/2.8 lens.
What we like:
Fast, reactive focusing
3-axis stabilisation
Useful all-purpose focal length
What we don't like:
Quite a niche proposition
---
Best waterproof camera: Olympus Tough TG-6
At a glance:
12MP image sensor
4x optical zoom lens; 25-100mm (35mm equivalent)
Waterproof down to 15m, shockproof, crushproof, freezeproof
4K video
16 scene modes
Price: £379 / $499
Olympus has been making tough, waterproof, compact cameras for a very long time now, and it's culminated in the Olympus Tough TG-6, the sixth version of the premium waterproof camera.
Over the years it's been refined, with improvements made to image quality, video recording, and strength. You'll even find there's a range of accessories available for this camera that can improve close up flash performance or add extra protection to the camera.
The camera uses a 12MP sensor along with an f/2.0 lens which gives it an edge over entry-level waterproof cameras, and will help with the low-light conditions you find underwater. Thanks to the folded optics used in the construction of the lens, the camera has an impressive level of macro performance letting you get detailed close-up shots.
4K video recording is included. Fans of macro photography will be impressed by the built-in focus stacking, and there are some manual controls available for when you're shooting.
What we like:
Tougher than a tank
f/2 zoom lens
Useful macro modes
What we don't like:
Read our Olympus Tough TG-6 review.
---
Best compact for low light: Panasonic Lumix LX100 II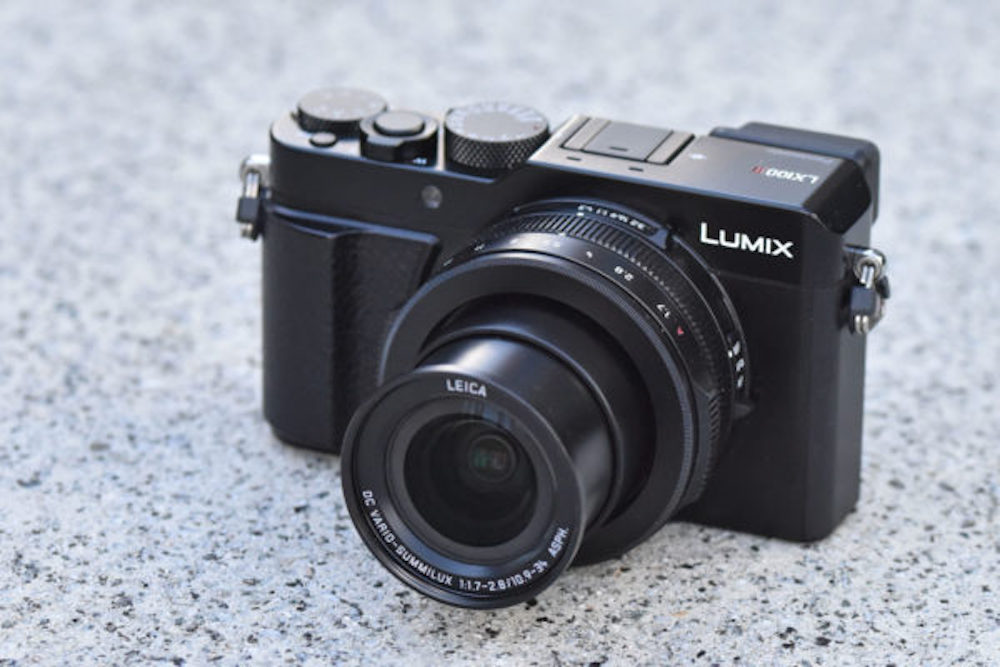 At a glance:
17MP Four Thirds MOS sensor
24-75mm equivalent lens, f/1.7-2.8
3-inch, 1.28M dot touchscreen
ISO range: 200-25,600 (standard), ISO 100 (extended)
Continuous shooting: 11fps max (5.5fps with AF-C)
4K video
Price: $797 / £799
The Panasonic Lumix LX100 II offers a multi-aspect ratio sensor, based on a Four Thirds sensor, and combined with a bright f/1.7-2.8 zoom lens with optical image stabilisation, you get a camera that can perform well in low-light shooting situations.
There's a 3-inch touchscreen, but unfortunately this doesn't tilt. You'll also find a high-resolution electronic viewfinder (EVF) with 2.76m dots.
The metal bodied camera benefits from a number of external controls and switches, and this makes it a great tactile camera to use, letting you set different settings even when the camera is switched off.
As you would expect with a premium camera, you can record 4K video, and the camera has built-in Wi-Fi so you can transfer images to your smartphone, as well as control it remotely. Despite coming out back in 2018, the Panasonic Lumix LX100 II remains a very versatile and easy-to-carry travel companion.
What we like:
Premium metallic construction
High-quality f/1.7 lens
Multi-aspect sensor
What we don't like:
Read our Panasonic Lumix LX100 II Long Term Review
---
Best value compact: Panasonic Lumix LX15 / LX10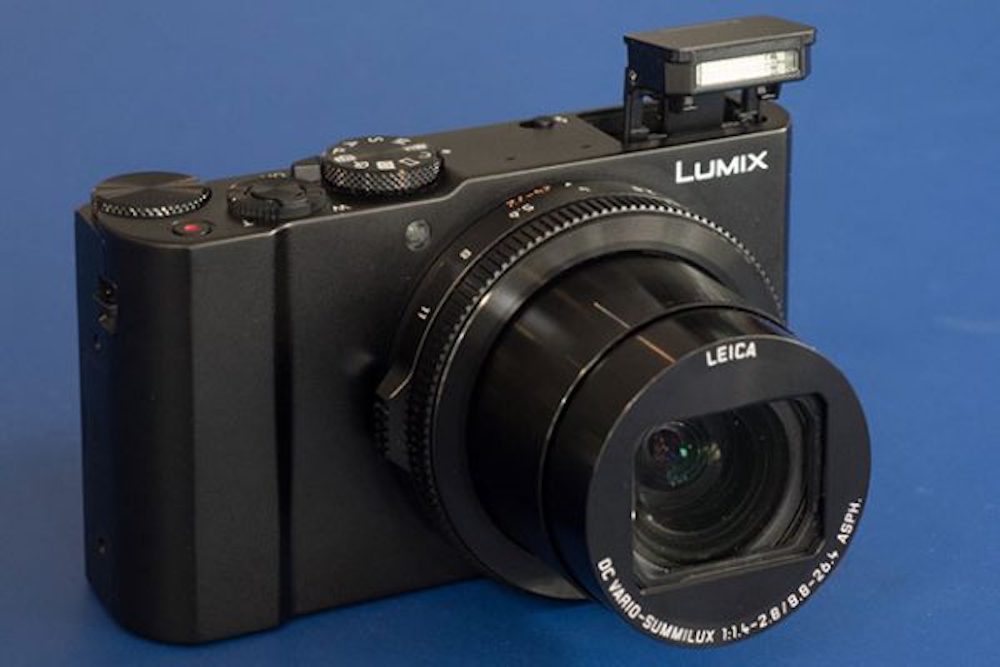 At a glance:
20MP, 1-inch sensor
24-72mm equivalent, f/1.4-2.8 lens
ISO range: 100-12,800 (extendable to ISO 25,600)
10fps shooting
5-axis hybrid image stabilisation
Price: $547 / £429
Aimed squarely at the Sony RX100 audience, the Panasonic LX15/LX10 is a small camera with a one-inch sensor and a 24-72mm equivalent focal length range. It goes one small step better than the RX100 V, offering a maximum aperture of f/1.4 at its widest angle, and then dropping to a still very usable f/2.8 at the far end of the zoom.
Unlike the TZ100, the screen on the LX15 is hinged, meaning you can tilt it to face forward – which is useful for selfies, but also opens up the opportunities to take other awkwardly angled shots.
This being Panasonic, 4K video and 4K photo modes are included with the LX15 – both of which are appealing to a wide range of people. One big downside here though, especially for enthusiasts, is the lack of a viewfinder.
The LX15 is another very likeable compact camera from Panasonic, which produces great images at a fraction of the price of the Sony RX100 VII. Depending on what you need from a camera, this could be the better choice if you don't want to spend too much.
What we like:
Clever 4K Photo modes
f/1.4 lens for low light
Screen can face forwards
What we don't like:
Read our Panasonic Lumix DMC-LX15 review
---
Best for YouTube and streaming: Canon PowerShot G7 X Mark III

At a glance:
20.1MP, 1-inch CMOS sensor
24-100mm equivalent, f/1.8-2.8 lens
ISO range: 125-12,800
Screen: 3-inch 180-degree tilting touchscreen, 1.04 million dots LCD
20fps burst shooting (8.3fps with AF)
Price: $749 / £699
Canon's PowerShot G7 X Mark II was an unexpected hit with YouTubers, with its combination of a high-quality 1-inch sensor and 24-100mm equivalent lens providing everything needed in one handy setup. Accordingly, the Mark III version leant into that, providing basically the same fundamental camera, but with uncropped 4K UHD video, a 3.5mm mic jack, and the ability to livestream directly to YouTube.
Photographers may be put off by the lack of a viewfinder; vloggers and YouTubers, less so. The 180-degree tilting LCD screen is very useful for selfies and self-taping, while the defined grip also makes the camera more comfortable to hold than its slim dimensions might indicate. The metal control ring around the lens is also comfortable to use, giving the G7 X Mark III a premium feel.
Image quality is excellent, in stills as well as video – it may be a vlogging camera first, but the G7 X Mark III is no slouch for photographers. If you are a hybrid content creator who wants a lightweight camera that'll do a bit of everything, the G7 X Mark III might just be it.
What we like:
Vlogger-friendly features
Excellent image quality
Feels premium
What we don't like:
---
Best premium travel compact: Sony Cyber-shot RX100 VI
At a glance:
20MP 1inch BSI CMOS sensor
24-200mm equivalent, f/2.8-4.5 lens
Pop-up electronic viewfinder
24fps shooting
4K video recording
Price: $1198 / £849
If you liked the look of the Sony Cyber-shot RX100 VIII in our top spot but felt it was a little out of your budget, why not consider the previous iteration in the series? The Sony Cyber-shot RX100 VI is a highly capable little pocketable compact that offers basically the same shooting fundamentals as the Mark VII, pairing a 20MP 1-inch sensor with a 24-200mm equivalent zoom lens, giving you a flexible little shooter that's great for travel.
The RX100 VI reliably captures sharp images throughout its entire zoom range, and the snappy autofocus system helps the user keep up a very good hit rate. Like a lot of RX100 cameras, it's a fiddly thing to use and the automated exposure system is excellent, so while you could fiddle with settings if you wanted to, you'll probably have a better time if you keep out of the camera's way.
This may seem a strange thing to say about a camera that is hovering around the £1,000 / $1,000 mark, but the RX100 VI really does produce sublime images. It's just not a super-tactile experience for those who like to be more involved in the shooting process – for that, you're probably better off with something like the Fujifilm X100V, featured further on in this guide.
What we like:
High-quality 24-200 zoom lens
Slim and pocketable
Price has come down
What we don't like:
Controls are fiddly and awkward
Battery life isn't the best
Read our Sony Cyber-shot RX100 VI review. 
---
Best travel zoom: Panasonic Lumix TZ90 / ZS70
At a glance:
20.3MP, 1/2.3-inch size sensor
24-720mm equivalent lens, 30x optical zoom
3-inch, 1040k-dot touch-sensitive LCD screen, tilts 180 degrees
0.2-inch, 1,166k-dot viewfinder, 100% field of view, 0.46x magnification
4K video recording (can get 30fps stills)
Price: $397 / £319
Panasonic's travel zoom compact builds on the successes of all that came before it. It features a 30x optical zoom, but in return for that large zoom range, you need to accept a smaller sensor than its one-inch comrade, the TZ100.
This is still among the most well-featured superzoom compacts on the market. As well as the huge zoom, you get an in-built viewfinder (albeit small), 4K video shooting, a touch-sensitive screen, manual controls, raw format shooting and a body which just about fits in your pocket.
A great choice for those looking for something to take on their travels, in low light it suffers by comparison to its larger sensor rivals. If you're mainly going to be using it on your sunny holidays, you shouldn't worry too much about that.
The Panasonic Lumix TZ90 was updated by the TZ95 / TZ95D with a slightly larger EVF and the addition of Bluetooth, but the TZ90 remains excellent value for money.
What we like:
Great feature-set
Fits in a pocket
Beefy zoom range
What we don't like:
Small sensor reduces low light performance
Read our Panasonic TZ90 vs Panasonic TZ100 comparison
---
Best compact for video and vlogging: Sony ZV-1
At a glance:
20.1MP 1-inch BSI CMOS sensor
25-70mm equivalent lens, f/1.8-2.8
ISO range: 125-12,800 (extendable to ISO 64)
3-inch, fully articulated touchscreen
4K video recording (25fps)
Price: $748 / £699
The Sony ZV-1 has been specifically designed to be an excellent compact camera for vlogging and video recording, and thanks to a 1-inch sensor, a high quality lens, and some video friendly features, it delivers the goods.
It features 4K video recording and specific video features to make vlogging even easier, with a 'Product Showcase' mode, as well as a Background Defocus switch. You'll find a multi-direction microphone on top, which is provided with a 'deadcat' that's designed to reduce wind noise, and a screen that can be turned around for vlogging and selfies.
Although it's clearly aimed at vloggers if there's one feature that might tempt serious photographers to try the ZV-1, it's the rare delight of getting a fully articulated screen on a pocket camera. This is something you'll usually only find on larger SLR-styled bodies, like the Canon G5 X and G1 X Mark III, which really stretch the definition of 'pocketable'.
If you want to use an external microphone you can, as there's a microphone socket on the side, as well as HDMI output. Overall, the ZV-1 is a really interesting little camera that takes RX100-series technology and gives it a video-centric twist. Its vlogging features generally work well, and appear cleverly targeted to its intended audience.
If you're looking for a vlogging camera with an ultra-wide-angle zoom, have a look at the new Sony ZV-1 Mark II. 
What we like:
Vlog-friendly feature set
Fully articulated screen
Comes with wind muffler
What we don't like:
---
We hope that's been helpful to you when choosing your next compact camera. Have a look at more buying guides here, and if you're looking for cheaper options have a look at our guide to classic compact cameras, as well as vintage digital cameras.