Ten years ago today, Sony launched the Alpha A7 and A7R, the vanguard of a mirrorless revolution that would change the camera market forever
On 16 October 2013, Sony announced the world's first full-frame mirrorless cameras, the Alpha A7 and Alpha A7R. This put in place a chain of events that led to the demise of the DSLR and established Sony's position as a serious camera maker. So, what were the A7 and A7R, how did we get to them, why did they matter, and what have they led to?
Mirrorless cameras weren't suddenly invented in 2013. They'd been around for a while, but principally as smaller-format, lower-cost enthusiast cameras. The Micro Four Thirds Panasonic Lumix G1 was the first mirrorless camera, arriving in September 2008, followed by the first APS-C model, the Samsung NX10 in January 2010 (remember Samsung?). Just a few months later, Sony's NEX-5 and NEX-3 arrived, which debuted Sony's mirrorless E-mount but used an APS-C sensor.
The Sony A7 and A7R were, however, the first full-frame mirrorless cameras, and were designed for enthusiasts and professionals, not just hobbyists. For years, DSLRs had ruled the roost for 'serious' photographers, and the new Sony models were the first to challenge this DSLR dominance.
Ten years later, mirrorless cameras have decimated the DSLR market, even in professional sports, press and wildlife photography, the traditional bastion of the big, tough DSLR design. Sony didn't do this entirely on its own but, with the launch of the Alpha A7 and A7R, the firm kick-started a revolution that quickly became unstoppable.
Once upon a time, mirrorless cameras were a technological oddity with a small but vocal fan base, while DSLRs were the de facto standard for serious photographers. Boy, what a change-around.
10 years of Sony A7 and A7R
Sony A7 and A7R 2013
The Sony A7 and A7R were not just the first full-frame mirrorless cameras on the market, they were also the smallest full-frame interchangeable-lens cameras by far. They were a camera double-act that continues to this day. The A7 was an affordable all-rounder aimed at advanced enthusiasts and professionals, while the A7R was a high-resolution camera designed for the highest standards of commercial work and image quality. Their successors today are the Sony A7 IV and A7R V.
But by the standards of modern Sony cameras, these were pretty primitive cameras. Neither had the in-body stabilisation we take for granted today, and their autofocus systems were at best functional and, in the case of the A7R, quite primitive. The Sony A7 did have a hybrid 25/117-point contrast/phase AF system, but the A7R was stuck with a 25-point contrast AF only system.
As for video, which is one of Sony's specialities today, both cameras were back in the dark ages, limited to Full HD resolution, though at up to 60fps.
In other respects, however, the A7 and A7R were impressive, and not just for their size. Even today, their resolution for stills photography is competitive. The 24MP sensor of the A7 is on a par with current entry-level and mid-range mirrorless models, while there still aren't that many cameras that can beat the 36MP resolution of the A7R, made even crisper by the lack of an anti-aliasing filter.
The Sony A7 and A7R were, however, just the first salvo. Very quickly, Sony was to pile on the power, performance, features (and lenses) that would sweep aside decades of SLR dominance.
Alphas weren't always mirrorless
Even in 2013 Sony didn't seem quite ready to throw its whole weight behind this new mirrorless technology. It was still new to the professional camera business after taking over Minolta and started with A100, A700 and A900 DSLR cameras (2006-2009) before developing a range of Alpha SLT models, which used a fixed semi-translucent mirror and a digital viewfinder. It seems odd now, but it made a kind of sense at the time. Sony launched a rapid procession of SLT cameras for beginners, enthusiasts and occasionally pros. In fact, the pro-level Sony A99 II (42MP, 12fps, 4K) was launched as recently as 2016 and only discontinued in 2021.
Within a few years, Sony went fully mirrorless. But it took rival makers five years to catch on, and it was only in 2018 that Panasonic, Nikon, and Canon launched their own full-frame mirrorless ranges. By then, Sony had a five-year head-start to develop its sensor, autofocus and video capture technologies, not to mention its full-frame FE-mount lens range. Its rivals have had to move very fast indeed to close the gap.
Sony A7S 2014
The Sony A7S introduced a third Alpha 7 line. If the A7R stood for 'resolution', then the A7S stood for 'speed' and 'sensitivity'. Its 12-megapixel sensor was borderline for stills photography, even then, but it excelled for low-light performance, and it was the first Sony A7-series camera to capture 4K video. Its 25-point contrast AF was unimpressive, though, and there were still few clues to the 'S' series' destiny as a video camera.
Sony A7 II 2014
The original Sony A7 was a decent performer, but the A7 II brought the first implementation of Sony's 5-axis in-body stabilisation system. The Sony A7 II is perhaps the first 'modern' Sony A7 model and is still on sale today. It lacks 4K video and fast burst shooting, but otherwise holds its own pretty well against newer cameras and is a terrific buy for beginners or students on a tight budget.
Sony A7S II 2015
Sony must have figured the original Sony A7S was a poor proposition because the very next year it was updated with the A7S II. This camera brought 4K video, though still in a limited form compared to today's cameras, much-needed in-body stabilisation and a far superior 169-point phase detect autofocus system. The A7S II was showing the potential that would lead to one of Sony's most powerful and successful product lines.
Sony A7R II 2015
Sony's second-generation A7 II cameras were all substantial improvements, but the A7R II was easily the most impressive, thrashing its predecessor in every respect. A new sensor boosted the resolution to a then-unheard-of 42.4 megapixels, the 25-point contrast AF system of the old model gained no fewer than 399 phase detect AF points, and the new model could even shoot good-quality 4K video in Super35 crop mode.
By today's standards, the A7R II's responses are perhaps a little sluggish, but its AF is effective, its resolution is still hard to beat, and it can even turn its hand to modern-day content creation. This was the first indication of just how much power Sony could cram into a single camera.
Sony A7R III 2017
The Sony A7R II was impressive enough, but then Sony turned expectations on their head again with the A7R III. We'd all got used to the idea that high-resolution cameras couldn't be fast, but then this happened. The A7R III's 10fps burst speed took it halfway towards sports camera territory, aided by an upgraded 425/399-point hybrid phase/contrast AF system. The A7R IIIA arrived in 2020 with a new rear screen but is essentially the same camera.
Sony A7 III 2018
It seemed as if the Sony A7R series was getting all the development. But the A7 III fixed that at a stroke, single-handedly defining a new breed of 'hybrid' camera equally capable at stills photography and video. A new 24MP BSI sensor, 10fps continuous shooting, 4K video, an advanced 425/693-point hybrid AF system and dual card slots made the A7 III a serious all-rounder at an affordable price.
Sony Alpha 7C or Sony Alpha 7 III – which is better?
Sony A7R IV 2019
Sony wasn't finished with its A7R series. The A7R III amazed with its combination of speed and resolution, but then the A7R IV did it again, this time with a new 61-megapixel sensor that is to date the highest- resolution sensor yet seen in a full-frame camera, equalled only by the Sigma fp L and Leica M11. A Sony A7R IVA model came later, the main difference being a higher-resolution rear screen.
Sony A7S III 2020
The Sony A7S III finally revealed the full potential of Sony's 'S' line. It inherited the high sensitivity and in-body stabilisation of its predecessor but dramatically raised the bar for video, offering 4K capture at up to 120p. The resolution remained at 12MP, but by now there were plenty of other Sony models for photographers and hybrid shooters – the A7S III was pitched at a new audience of vloggers and filmmakers who wanted cinema camera performance at mirrorless camera prices.
After a slow start, the A7S III platform has suddenly become a key part of Sony's video/cinema camera line-up. You can find the same underlying tech in its compact FX3 cinema camera, the more advanced FX6 filmmaking tool and the new ZV-E1 vlogging camera. In a way, though, its success at spawning ever more specialised and effective variants has made the A7S III feel somewhat redundant today.
Sony A7 IV 2021
The Sony A7 III had a long run as an all-rounder and perhaps the first modern 'hybrid' camera, but newer models were starting to make it look a little dated. The Sony A7 IV fixed that, with a new 33MP sensor offering significantly more resolution than rival models from other brands, much improved video capture including 4K 60p, and a new and more advanced autofocus system. It becomes Sony's best camera for enthusiasts and pros who need a well-balanced all-rounder at a sensible price.
Sony A7C 2020
The Sony A7C was a big design departure for Sony. Technically, it was very similar to the Sony A7 III, albeit with some enhancements, but it swapped the A7 series' DSLR-style design for a boxy rangefinder shape with the viewfinder in the top left corner. Sony was billing this as the smallest full-frame camera with in-body stabilisation, though much of this depended on its retracting 28-60mm kit lens. Fitted with regular full-size Sony lenses, its size advantage is far less apparent.
But what the A7C did bring was a fresh new look, a vari-angle rear screen and a choice of black or silver colour schemes. The vari-angle screen was welcome, though the 2.36MP EVF was distinctly small, and the single control wheel and cramped grip lessened the A7C's appeal. As we would see, though, Sony was committed to its new design.
Sony A7R V 2022
Is the Sony A7R V the culmination of Sony's high-resolution camera series? There is no sign so far that its 61MP resolution will be improved on, its 10fps continuous shooting speed is already deeply impressive, and apart from the crop factor needed to capture high-quality 4K video with such a high-resolution sensor, it's not bad for video either – especially if you have a bag full of APS-C Sony E lenses, which have a native 'Super35' crop anyway.
The key advance in the A7R V, though, is a new dedicated AI processor chip. This powers a new subject recognition and tracking system that marks another step forward in Sony's already legendary autofocus technologies. This has now filtered down to the APS-C Sony A6700 model and the new A7C II and A7CR variants launched in 2023. Even the flagship Sony A1 doesn't have this.
Sony A7C II 2023
Anyone wondering if the Sony A7C was just an experiment, soon discovered it was just a forerunner for two very interesting new cameras. The Sony A7C II effectively takes the technology from the A7 IV and packs it into a more compact body, though the handling is improved by the addition of a second control dial. This is the logical successor to the original Sony A7C, and is a substantial improvement.
Sony A7CR 2023
The Sony A7CR basically takes the 61MP sensor from the A7R V and crams it into the Sony A7C body, even including the dedicated AI processor. There is a bit more to it than that, of course, but that's the basic idea. It's like an 'R' (Resolution) version of the A7C concept. Externally, it's identical to the Sony A7C II and offers remarkable resolution in such a small camera body.
Sony Alpha A7CR in-depth review
---
10 years of Sony A7: How does Sony's Alpha line-up fit together?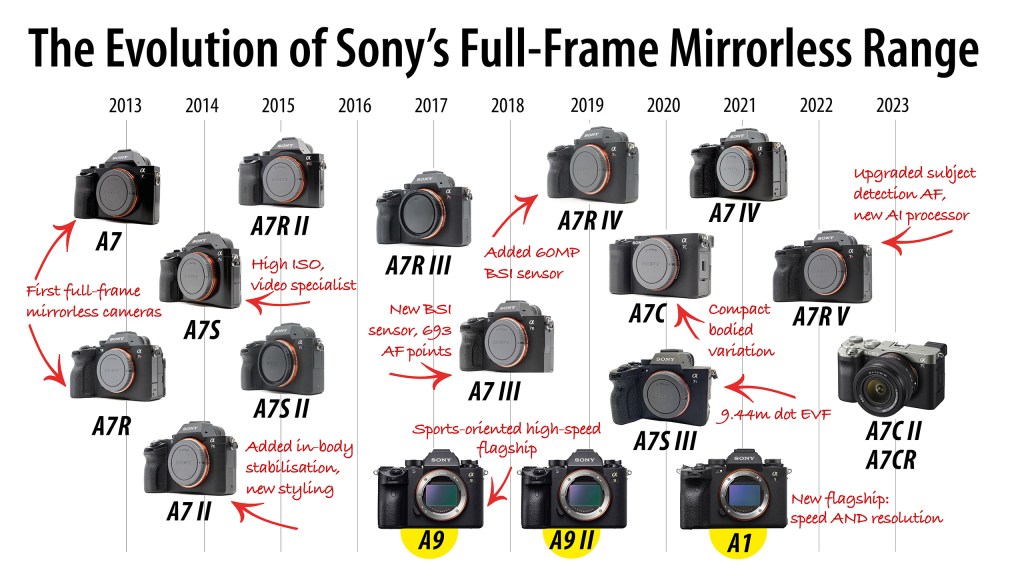 This article celebrates the ten-year anniversary of the Sony A7 camera range, but there have been other Sony cameras and variants that have been launched alongside these. So here's a quick guide to the different Sony 'families':
Sony A7 series
These are all-rounders that are both versatile and affordable. They don't have the highest specs, but they can tackle a wide range of jobs at an affordable price.
Sony A7R series
These are cameras designed for resolution above all else, though the latest 'R' models are also quite effective at fast action and video.
Sony A7S series
Originally marketed as 'high sensitivity' cameras, these are now video-specific models with advanced 4K capture. The 12MP sensor effectively rules them out for stills photography these days.
Sony A7C series
A new compact-bodied design that effectively takes the tech from regular Alpha cameras and crams it into a more compact, rangefinder-style body.
Sony A1
Launched as the ultimate flagship camera, the A1 combines 50MP resolution with blistering burst speeds and 8K video. It does not have the latest AI processor, though, and remains extremely expensive.
Sony A9 series
Equipped with a 24MP sensor and designed for outright speed and performance, the A9 and A9 II are overshadowed by the speed of the A1, and with no new model since 2019, it's possible this series will not be continued.
Sony A6100, A6400, A6700
Sony's recent release of the A6700 shows it is still committed to its APS-C A6000-series cameras, though perhaps with the emphasis these days on more advanced hybrid models.
Sony ZV series
These are adaptations of existing Sony mirrorless cameras that have been designed specifically for the vlogging market. They include the Sony ZV-E10 (based on the Sony A6000-series design) and the Sony ZV-E1 (based on the A7S III).
---
What's so great about mirrorless?
The original selling points were that they could be smaller, lighter and less complicated. Over time, though, it's become apparent that this is the least of it.
WYSIWYG viewfinders
A mirrorless camera uses a digital viewfinder that shows you exactly what the sensor 'sees', from exposure adjustments and live histograms to white balance changes and different in-camera picture styles.
Improved autofocus
The latest mirrorless cameras use hybrid autofocus systems every bit as fast as those in the best DSLRs, but with far wider coverage, better subject recognition and tracking and a wider choice of AF area modes. Better still, you only have to learn one AF system – with a DSLR, the AF system in the viewfinder is different from the one used in live view.
High-speed shooting
On a DSLR, 10fps is very fast, while on today's mirrorless cameras it's normal, even somewhat pedestrian. By eliminating a moving mirror and offering electronic shutters, today's mirrorless cameras can hit 20fps, 30fps even 60fps.
Better IBIS
On a DSLR, IBIS doesn't make a whole lot of sense because it can't stabilise the viewfinder image – only lens-based IS can do that. But a mirrorless camera with IBIS does stabilise the viewing image, and the best systems offer more shake compensation than lens IS ever did.
Better lenses
Mirrorless camera lenses don't have to be designed to allow for the thickness of a DSLR mirror box. This, the wider lens mounts, improved designs, and advances in lens manufacture have led to greatly improved lens performance.
---
Does Sony have the best lens range?
Sony certainly got a head start on its rivals with full-frame mirrorless lenses, and today has the most complete lens range, including a wide choice of zooms and primes, and both premium G Master lenses and more affordable G lenses.
But although they were much later to the party, Leica, Panasonic and Sigma (the L-Mount Alliance) and especially Nikon (Nikon Z) and Canon (Canon RF) have been quick to build up their own lens systems, to the point where Sony does not necessarily have a clear advantage for own-brand lenses.
However, Sony's very open approach to third-party lens manufacture means that there is a wide choice in third-party and specialist lenses from Sigma, Tamron, Samyang, Zeiss, Viltrox and others. Canon, for example, is clearly very ambivalent about third-party lenses, now apparently choosing to license only those lenses that don't compete with its own, and that aside, many third-party makers naturally concentrate on the formats that are most popular.
Given its five-year head-start over the rest, and its open attitude to third-party lenses, Sony cameras are probably the least restrictive in lens choice, particularly for those users who are interested in more offbeat 'artisan' or retro lenses. You can get adapters to fit practically any lens on a Sony camera.
---
More content:
Best full frame mirrorless cameras
The best mirrorless cameras you can buy
DSLR vs mirrorless: which is best?
What are the best small mirrorless cameras?
---
Follow AP on Facebook, Twitter, Instagram, YouTube and TikTok.