Is Sony's ultra-compact, lightweight full-frame Alpha body the perfect option for those people looking for their first 'proper' camera? Find out in our detailed Sony A7C review.
Sony Alpha 7C at a glance:
New price $1,598 / £1,699 body only
Used price $1,200-1,260 / £1,099-1,159 body only
24MP full-frame sensor
ISO 100-51,200 (50-204,800 extended)
2.36m-dot viewfinder, 0.59x magnification
3in, 921k-dot fully articulated screen
5-axis in-body image stabilisation
4K 30p video recording
Launched in 2020, the Alpha A7C sits at the bottom of Sony's A7 series of full-frame mirrorless cameras. The camera boasts many of the core features of the popular Sony A7 III but in a smaller body that adds a fully articulated LCD to a design that resembles Sony's range of APS-C sensor Alpha bodies.
The Sony A7C didn't replace the A7 III and instead represented a new strand of the firm's full-frame line-up. Sony has recently added to the family with two new compact full-frame models, the A7C II and the A7CR priced at $2,198 / £2,099 and $2,998 / £3,199 respectively. Check out our full reviews of the A7C II here and the A7CR here. These are some of the best Sony cameras in 2023 for enthusiasts and professionals alike.
The A7C, now joined by the A7C II, is Sony's response to competing 'entry-level' full-frame cameras such as the Canon EOS RP and Nikon Z5, which are designed to provide an affordable option for those who want to take their first steps into full-frame photography and the extra resolution it provides. This is a hotly-contested area, and now includes the Canon EOS R8 and APS-C Fujifilm X-S20. The Canon does not have IBIS, however, and the X-S20 has a smaller sensor. The Sony A7C remains a strong proposition with in-body stabilisation and a 24.2-million-pixel Exmor R BSI CMOS sensor paired with Sony's BIONZ X image processing engine, both of which power the Alpha 7 III.
Sony is obsessed with making small cameras, and with the A7C the company has gone back to the drawing board and come up with a new style of full-frame body design. At 124 x 71 x 60mm and 509g, the A7C is about the same size as the A7 III without its viewfinder housing, and 80% of the weight. In essence, the resulting Alpha 7C (for 'compact') places the 24.2MP sensor and core feature set from the popular Alpha 7 III into a flat-topped, rangefinder-style body that's very similar to the APS-C-format Alpha 6000-series of cameras.
Sony inevitably made some compromises to achieve the A7C's compact size, and it certainly raised some eyebrows with the A7C's £1900 launch price (body only) sitting higher than what the A7 III was then selling for. Even now, the camera retails for $1,598 / £1,699, which is about roughly equal to what the A7 III sells for. So the question becomes, is the smaller form factor worth those compromises? Is the A7C one of the best Sony cameras you can buy? The answer is: it's complicated.
Sony A7C: Firmware
Sony has consistently updated the A7C with new firmware each year since its release, most recently in February 2023 to support new video editing and tagging software. Previous updates have added USB streaming functionality and compatibility with Sony's Eye AF when filming video.
You can download all of the latest firmware from Sony's website.
Sony A7C: Features
In terms of its core imaging hardware, A7C boasts almost the same impressive spec list as its sibling. Its 24-million-pixel BSI-CMOS sensor offers a standard sensitivity range of ISO 100-51,200, along with extended settings from ISO 50-204,800. It's paired with the same Bionz X processor as used by the high-end Alpha 7R IV, which supports shooting at 10 frames per second with a 115-frame raw buffer, or 8fps with live view between frames. A new, smaller shutter unit provides a slightly slower top speed of 1/4000sec, but this can be extended to 1/8000sec by engaging silent mode.
The hybrid autofocus system makes use of 693 phase-detection points and 425 contrast-detection points that are arranged across 93% of the frame. All of Sony's class-leading AI-based autofocus technologies are on board, including Real-time Eye AF and Real-Time Tracking. Meanwhile the downsized IBIS unit promises 5 stops of stabilisation, just like the A7 III.
One trade-off for the camera's compact size is that it only includes a single SD card slot, in contrast to the dual slots found in most similarly priced full-frame models. Thankfully, it's compatible with the high-speed UHS-II standard. Given the target audience, I don't think the single slot is really a problem; after all, those who prefer the peace of mind offered by being able to back up images in-camera during an important shoot can still buy the A7 III.
Video can be recorded in either 4K resolution at up to 30 fps, or Full HD up to 120fps. Both microphone and headphone sockets are built in, positioned so as not to block the screen when it's set facing forwards for vlogging. Hybrid Log Gamma is available for displaying a wider range of tones on HDR TVs, along with S-log for those who like to colour grade their footage in post-production. However the camera can only output 8-bit colour, which limits its flexibility in this respect.
Sony has included both Wi-Fi and Bluetooth for connection to your smartphone via the free Imaging Edge Mobile app for Android and iOS. It's particularly easy to copy images across to your phone, by pressing the Fn button during playback and then firing up the app. It's also possible to connect your phone to the camera, browse through your images and copy them across, even when it's switched off and stowed away in a bag. However, it's unnecessarily complicated to set up the requisite always-on Bluetooth LE first time around, as you have to find and change multiple menu settings. Unfortunately there's still no in-camera raw conversion for adjusting your images before sharing them, either, which is something all of the other leading brands have been offering for years.
Remote control of shooting is available via a Wi-Fi connection, with a live view display and a decent array of settings available to change from the app. But inexplicably, you can't specify the focus point, and instead have to let the camera decide for itself, which is a really fundamental flaw. This is compounded by the lack of any provision to use a wired shutter release, as it means the A7C lacks a properly functional remote control. This is a pretty serious oversight for a camera body at this price.
Sony A7C: Focal points
Sony has managed to fit a full-frame sensor into a small body, but has made serious compromises along the way.
Power – The NP-FZ100 Li-ion battery is rated for an impressive 740 shots per charge with the LCD, or 680 using the EVF, and is charged via the camera's USB-C port
LCD – Sony has continued its conversion to fully articulated screens, but sadly hasn't included the excellent touch interface from its recent Alpha 7S III
Remote control – There's no option for using either a wired or infrared release, meaning the only form of remote control is via your smartphone's Wi-Fi
Connectors – Microphone, headphone, HDMI and USB-C ports are all found under hinged covers on the camera's left side
Hot shoe – There's no built-in flash, so you'll need an add-on unit for any supplementary lighting, such as the super-compact HVL-F82RM unit that Sony announced alongside the camera.
SD card – The single SD card is unusually positioned on the camera's left-hand side. It's compatible with the faster UHS-II standard.
Sony FE 28-60mm F4-5.6 compact kit zoom
To complement the A7C's small body, Sony has produced the compact, retracting FE 28-60mm F4-5.6 kit lens. It measures 67mm in diameter and packs down to just 45mm long, while weighing in at a mere 167g. By full-frame standards, this makes for an unusually portable package, but it isn't remotely pocketable.
Unfortunately, the lens offers very limited creative potential. Its zoom range, minimum focus and maximum aperture are all mediocre, especially when you bear in mind that it drops to f/5 just past the 35mm mark. Regardless of whether you want to shoot sweeping landscapes, shallow depth-of-field portraits, or revealing close-ups, it's equally unaccomplished. It does boast weather-proof construction, but from my experience, its exposed front element will just get covered in raindrops unless you source a 40.5mm hood.
Ultimately, there's little point in spending the money on a full frame system unless you actually gain the advantages that the larger sensor can offer – most obviously for low-light shooting and shallow depth of field. This lens delivers none of that. Personally I'd pair the A7C with small primes or f/4 zooms instead.
This highlights an inconvenient truth around the concept of compact full-frame: you still need relatively large-aperture lenses to achieve most of the real-world photographic advantages that the sensor can provide over smaller formats.
Sony Alpha 7C: Build and Handling
The A7C may notionally be Sony's entry-level full-frame model, but in terms of build quality it's anything but low-end. The firm has used a monocoque design, with the main components fixed to the weather-sealed magnesium alloy shell, rather than an internal chassis. As a result, it's a robust-feeling piece of kit.
The camera is available in a sort-of-retro silver and black finish, as well as all black. Its stepped top-plate is an aesthetic improvement over the boxy A6000-series models, but while I suspect Sony is hoping to garner flattering comparisons with Leica, it reminds me more of Panasonic's GX range.
The firm's obsession with downsizing has resulted in a handgrip that has clearly been designed to wrap around the NP-FZ100 battery as tightly as possible, which makes it rather small and cramped. There's also just a minimal hook to stop your thumb from sliding off the back, while the dimpled rubberised covering is rather smooth.
The grip still works OK, but the camera is certainly happiest with small lenses, and feels slightly unbalanced even with the firm's FE 24-105mm F4 G OSS, which is far from the largest lens it makes. There's no good reason why Sony couldn't have used a larger grip, as it would make no practical difference to the overall bulk once a lens is mounted.
Unsurprisingly, the most significant differences compared to the A7 III are to do with the design and control layout. Essentially the A7C is derived from Sony's APS-C mirrorless bodies, which isn't a good thing at all. It has relatively few physical controls, and tries too hard to shoehorn too many functions onto them. As a result, enthusiast photographers are likely to find it much more frustrating to use than its SLR-shaped siblings.
The main settings are controlled using a pair of electronic dials on the camera's back, one horizontal and one vertical, with the latter doubling up as a 4-way d-pad that gives direct access to ISO, drive mode and various image display modes. In a marked improvement over the A6100, though, these are now complemented by a dedicated exposure compensation dial. The movie button is also more conveniently placed on the top plate, and can be reassigned to control other functions in the stills-shooting modes.
Compared to the A7 III, there's neither a control dial on the handgrip under your index finger, nor an AF-area joystick. Instead Sony expects you to let its AI-based subject recognition take the strain, with a prominent AF-ON button on the back that's used to specify and lock onto the subject.
If you prefer to position the focus point manually, you have to press the button in the centre of the d-pad to change its mode, and then use the directional keys. Alternatively you can use the touchscreen to position the AF point. Either way, the net result is a camera that's almost entirely operated using your right thumb.
With the A7C designed to appeal to users stepping up to their first proper camera from a smartphone, it comes as a serious disappointment to find that Sony has failed to include the excellent touchscreen interface it developed for the recent Alpha 7S III. Instead, the touch interface is limited to specifying the focus area and magnifying the image in playback.
This compounds the restricted physical controls, and means users who want to take manual control will spend a lot of time pressing the d-pad buttons. You also get Sony's old, chaotic menu layout, rather than the much better organised one from the A7S III.
It's tempting to forgive the A7C's poor handling as a trade-off for its size, but it really didn't have to be this way. Other camera companies, including Canon, Fujifilm and Olympus, have shown that it's possible to make even smaller cameras that work much better. It's just a consequence of Sony's decision to aim the camera at inexperienced photographers.
Sony A7C: Viewfinder and screen
It only takes one look through the A7C's viewfinder to reveal the biggest compromise that Sony has made to achieve such a small body. It's tiny, with the 2.36m-dot unit providing a meagre 0.59x magnification. This means it's even smaller than the viewfinders found on entry-level APS-C or Micro Four Thirds models that cost a third of the price.
The EVF also has a very small surround, which means it's difficult to see in bright conditions. This is all compounded by the low quality of Sony's standard live view feed, which is prone to jagged lines and false colour. I'd recommend changing the Display Quality setting in the menu to High, despite the fact that this will reduce battery life.
Thankfully Sony's new-found enthusiasm for fully articulated screens continues, with a 3in screen that can be set to almost any angle. This provides a significant advantage over the tilt-only unit on the A7 III for stills, in that it can be used to compose high- and low-angle shots when you rotate the camera to shoot in portrait format. If you feel so inclined, it can also face forwards for selfies and vlogging. It has a 3:2 aspect ratio, which means you get a usefully larger preview image compared to the 16:9 screens used on A6000-series bodies.
As usual for mirrorless, Sony previews exposure and colour in the live view display. You also view at the shooting aperture, which effectively provides a full-time depth-of-field preview. Plenty of shooting information is available, including electronic levels and a live histogram. Annoyingly you can't show these at the same time, but instead have to cycle though multiple display modes.
Sony A7C: Autofocus
One area in our Sony A7C review where it's difficult to fault the camera lies with its autofocus. Sony has led the pack for several years in this regard, with its superb face- and eye-detection and subject tracking. If you spend a lot of time photographing people, these are hugely valuable features.
Out of the box, the camera is set to both choose the focus area, and switch between continuous and single AF, automatically. However I found that the best way to use it was instead to combine AF-C mode with Flexible Spot, which allows you to position the focus area as you see fit.
Then when you hold down the AF-ON button, the camera will lock on to the subject under your focus point and keep it in focus, even if it moves or you recompose the shot. This goes a long way to offsetting the lack of a joystick for positioning the focus point. When you're using the LCD for composition, you can simply tap on the subject that should be in focus.
Used this way, the A7C's autofocus works extremely well. It's incredibly good at locking on to the subject rapidly and decisively, and keeping it sharp. Its face and eye detection works brilliantly, although frustratingly you still have to switch in the menu between it recognising humans or animals, which means you have to decide on a shot-by-shot basis whether you prefer your family to your pets. This is one area Canon's latest cameras, or even Sony's own Xperia smartphones, work much better, as they're able to understand both simultaneously.
Sony Alpha 7C: Performance
Operationally, the A7C is a snappy performer. It fires up practically instantly when you flick the power switch, whose convenient location encircling the shutter button also makes it easy to maximise the battery life, with Sony's large NP-FZ100 providing excellent stamina. The camera reacts instantly to all the physical controls, but its touchscreen response is noticeably laggy.
The camera's metering and auto white balance systems are both quite competent, without being the best you'll find. As usual with mirrorless cameras, the accurate preview display makes it easy to judge when you'd like to apply some exposure compensation or adjust the white balance.
This is good news, as left to its own devices the camera has a tendency towards producing somewhat dull, bland colours in its JPEG output that can often be improved by selecting a preset or custom white balance. But if you're after excellent JPEG colour stright out of the camera, you'd be better off with the likes of Canon or Fujifilm; the A7C invariably gives best results when processing from raw.
On the other hand, the raw image quality is truly excellent. The 24MP sensor delivers more than enough detail to make large prints, and the dynamic range at low ISOs is immense, meaning that in high contrast situations you can exposure to retain highlights and pull up huge amounts of shadow detail in raw processing. High ISO image quality is also excellent, and I'd be perfectly happy shooting at ISO 12,800 as a matter of course, and even ISO 25,600 if necessary.
Sony's new compact IBIS system works fine, although it's some way off being class-leading. For example, using the kit zoom at 35mm, I was able to get consistently sharp images with a shutter speed of 1/4 sec, and occasional usable images at 1/2 sec too. This is quite creditable, but it can't match the best IBIS systems, which are now capable of stabilising hand-held exposures of a second or more.
Continuous shooting performance is particularly impressive, with the A7C happily rattling off a burst of 115 raw frames, or 90 in raw + JPEG mode, before slowing down. What's more, with a suitably pacey UHS-II card it'll clear the buffer in less than 15 seconds. Coupled with the excellent AF, this kind of performance is easily good enough for fast-moving sports and action, and well beyond what the majority of photographers are likely to need.
Sony A7C: ISO and noise
With the same excellent image sensor as the A7 III, the A7C delivers raw image quality that's easily a match for anything else in its class. It produces files that are free of visible noise up to ISO 1600, with just a little luminance noise creeping in at ISO 3200. However, in our Sony A7C review we found that colour and detail both remain strong on increasing the sensitivity further, with even ISO 25,600 being perfectly usable, which is pretty impressive.
At higher settings the quality quickly deteriorates, though, and while ISO 51,200 is usable at a push with careful noise reduction during raw processing, I'd steer well clear of the extended ISO 102,400 and ISO 204,800 options unless there were really no other choice. Below you can see 100% crops taken from our standard test scene to compare how the camera performs at different ISO settings.
Sony A7C: Verdict
There's no denying that the Alpha 7C can deliver fine images, thanks to its superb sensor and autofocus system. It's also clearly smaller than its SLR-shaped peers, especially when paired with its collapsible kit zoom. However this doesn't necessarily translate to a significant portability advantage; you can't just pick it up and drop it into a pocket, but instead it will just fit into a slightly smaller bag. The problem is that this modest size advantage comes with considerable design compromises.
The first casualty of Sony's downsizing is the abysmal viewfinder, which is smaller even than those on entry-level APS-C models that are a fraction of the price, and pretty much impossible to see in bright light. Secondly there's the horrible control layout, which requires you to continually wave your right thumb around the camera's back to change settings. You don't even get Sony's nice new touch interface from the A7S III, but its rudimentary older iteration instead, which makes no sense for a model that's supposed to be beginner-friendly.
Then there's the kit zoom, which precisely because of its small size, manages to negate most of the potential advantages of the full-frame sensor. If you're looking for nicely blurred backgrounds, or low-noise images in low light, it simply won't deliver. Instead, the A7C is a much better vehicle for compact primes such as Sony's lovely 35mm f/1.8, or small zooms like the 24-70mm f/4. But even these lenses will still be much more pleasant to use on a better-designed body, even if it is a bit larger.
This might all be forgivable if the A7C were cheap, but instead its price is in the same ballpark as the A7 III and fine alternatives include the Panasonic Lumix S5, the Lumix S5 II and Nikon Z6 II which aren't a whole lot more expensive. And I can't really see any situation where I'd recommend the A7C ahead of them. Ultimately if you want an excellent small full-frame camera from Sony, do yourself a favour and buy the A7 III instead.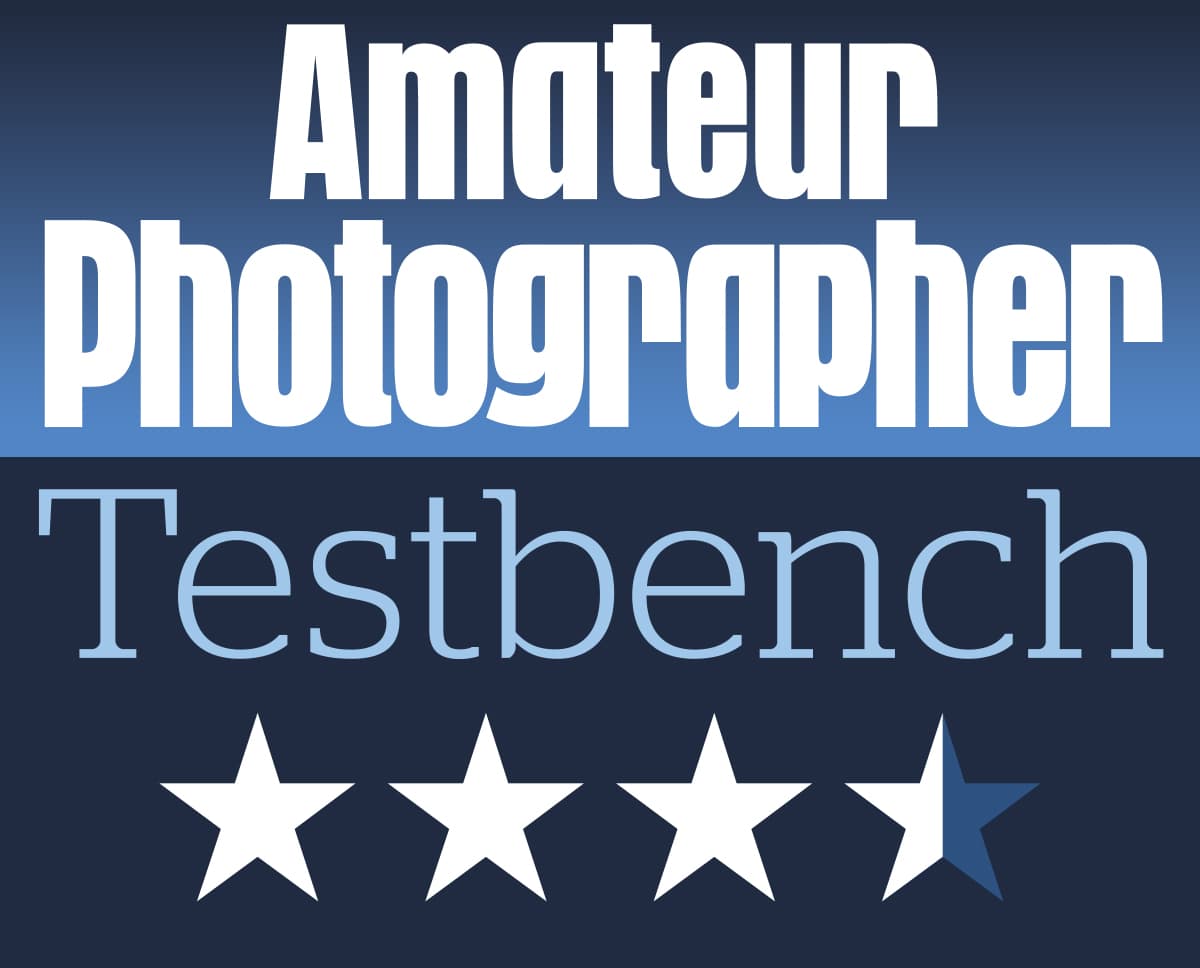 Read our detailed comparison between the Alpha 7C and the Alpha 7 III
Sony Alpha 7C: Specifications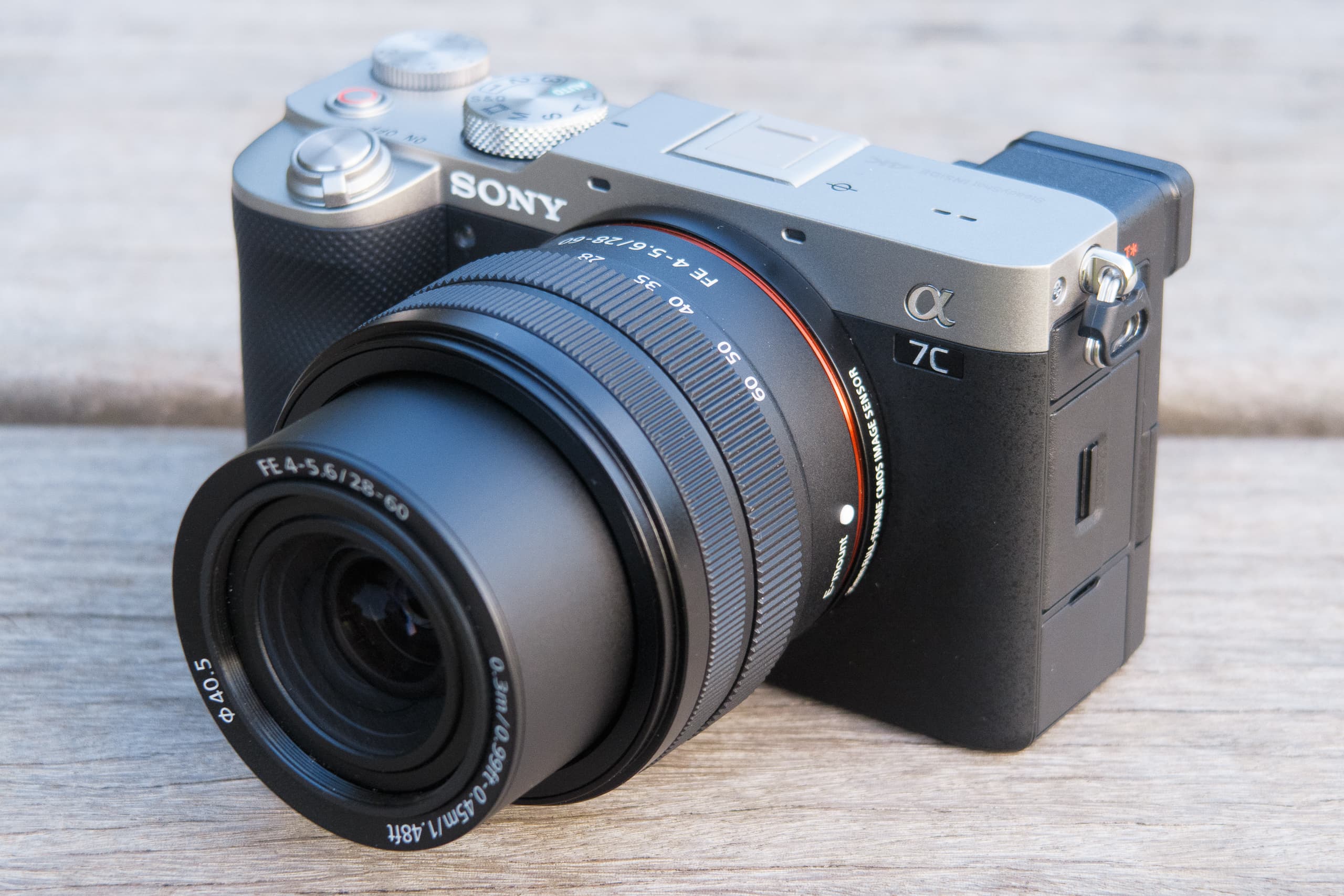 ---