Sony Alpha 7S II Review: Introduction
At a glance:
12.2MP full-frame Exmor CMOS sensor
ISO 100-102,400 (standard) 50-409,600 (expanded)
169 contrast-detection AF points
5-axis optical image stabilisation
4K video (100Mbps)
£2,500 (body only)
When Sony launched the Alpha 7 and Alpha 7R two years ago, the manufacturer was looking to target two different types of photographer. While the Alpha 7 was out to appeal to enthusiasts looking for a full-frame camera with an 'all-round' level of performance, the Alpha 7R was aimed at landscape and studio photographers who wanted to record the highest level of detail from Sony's 36.4-million-pixel full-frame sensor.
Not content with two models in the Alpha 7 series, Sony identified demand for a third Alpha 7-series model that would satisfy the needs of videographers who wanted to record 4K video – while also fulfilling still photographers' requests for a camera that could perform exceptionally well in low light. The Alpha 7S received high acclaim from those it was designed for. However, there were a few characteristics that could be improved – its autofocus system and handling being two examples. With the Alpha 7 and Alpha 7R now in their second generation, it was only a matter of time before Sony focused its attention on the Alpha 7S again in an attempt to make it even better. On first glance you'll notice that the Alpha 7S II is built around an improved body that's identical to the Alpha 7 II and Alpha 7R II, but there's plenty more to comment on besides.
Sony Alpha 7S II Review: Features
Unlike the Alpha 7R II, which improved on its predecessor by debuting the world's first back-illuminated full-frame chip with a 42.2-million-pixel resolution, the Alpha 7S II employs the same 12.2-million-pixel full-frame Exmor CMOS sensor found in the Alpha 7S. Although this pixel count seems low when compared to other full-frame cameras on the market, it has a significant advantage over sensors with a higher pixel density in that each photosite (or pixel) on the chip is larger. The combination of a large full-frame imaging sensor and larger pixels equates to superior light-gathering capabilities and unprecedented low-light performance – something that
is reflected in the Alpha 7S II's sensitivity range.
Like the original Alpha 7S, the Alpha 7S II has a sensitivity of ISO 100-102,400, with the option to expand it further to an astonishing ISO 50-409,600. The sensor teams up with Sony's Bionz X image processor and there's also the option to shoot in the 14-bit uncompressed raw format (also available to Alpha 7R II users via a firmware update). This is alleged to offer improved quality of tonal gradation and eliminate any compression artefacts.
In an effort to improve focusing, Sony has introduced what it calls a Fast Intelligent AF system. This shouldn't be confused with the Fast Hybrid AF system that features on the Alpha 7 II and 7R II. Instead of using on-sensor phase detection, the Alpha 7S II relies on contrast detection to acquire focus and provides 169 AF points in total. Each of the nine central points is divided into 16 segments to provide a higher concentration of AF points in the centre. With an f/2 lens attached, Sony claims it's possible to focus when light levels drop to -4EV.
Another feature that I expected to make its way into the Alpha 7S II is the 5-axis in-body image-stabilisation system that we've seen before on the Alpha 7 II and 7R II. The system compensates for the familiar pitch and yaw movements, but also corrects for movements of the camera vertically and sideways. The fifth axis corresponds to the rotational correction around the lens axis, which is crucial for video recording and ensuring high-resolution handheld images remain at their sharpest. The advantage of fitting this image-stabilisation system to the Alpha 7S II is that it allows users to dial in a shutter speed 4.5 stops slower than would otherwise be possible. In addition, it also opens up the possibility of shooting stabilised images no matter which lens is attached – whether it be a zoom with optical stabilisation built in, or a prime lens without.
There's more on offer, too. The Alpha 7S II features a newly designed shutter that's tested to 500,000 cycles and reduces mechanical front and rear-curtain vibration. The electronic front-curtain shutter is enabled via the main menu and above it you'll find the camera's silent shooting mode. Switching this on disengages the electronic front-curtain shutter and engages the Alpha 7S II's fully electronic shutter. With silent mode deployed it's possible to shoot in silence without disturbing a subject. However, unlike some cameras with an electronic
shutter, it's not possible to push the shutter speed past its 1/8,000sec maximum.
Another feature that's been updated is the viewfinder. The Alpha 7S II inherits the same EVF that impressed us on the Alpha 7R II, and although its 2.36-million-dot resolution suggests it's the same as that on the Alpha 7S, it has a larger 0.78x magnification.
Below the EVF there's an improvement in screen quality, too. The 3in, 1.23-million-dot display advances on the 3in, 921,000-dot display of old, offering 107° of adjustment up and 41° down when it's tilted. To keep the sensor free of imperfections, an anti-dust mechanism helps to dislodge any particles that may adhere to the sensor. There's Wi-Fi connectivity and NFC for instant pairing to compatible devices, and the micro USB interface at the side makes it possible to keep the battery topped up while you're shooting and conveniently recharge it when you're on the move. It's good to see Sony boxing its latest Alpha 7-series cameras with a pair of NP-FW50 batteries and each of these lasts for around 300 shots.
Sony Alpha 7S II Review – Video Functionality
The Alpha 7S II features a long list of impressive video specs, which is to be expected from a camera that will find its way into the hands of serious videographers. A key development is its ability to record 4K (3,840×2,160-pixel) movies internally rather than to an external recorder, which adds unwanted bulk to a camera set-up.
The Alpha 7S II records its 4K internally using full-frame readout without line skipping, to produce the highest-quality 4K footage possible. The XAVC S files are minimised in size using Long GOP data compression before being saved in the widely compatible MPEG-4/H.264 format.
There's more on offer too, not least the 120fps full HD recording option that's ideal for those who'd like to create 4x/5x slow-motion movies in post-production. To view some example footage of slow-motion recording on the Alpha 7S II watch our video below.
https://link.brightcove.com/services/player/?bctid=4615530417001
Advanced video functions that made their debut in the Alpha 7S are joined by even more options to ensure videographers have the very best latitude when it comes to recording and editing. The introduction of S-Log3 gamma is designed to offer better tonal reproduction from shadow to midtone (18% grey) than S-Log2 gamma and benefits from a 14-stop latitude. As well as the popular S-Gamut/S-Log2, there's also S-Gamut3.Cine to reproduce the wide colour gamut of the DCI-P3 colour space of digital cinema, with S-Gamut3 being best suited to archiving.
To complement these settings, the Alpha 7S II features a stereo headphone jack below its 3.5mm mic port, there's zebra patterning to reveal areas close to clipping, and focus peaking is available to aid focusing when the camera is used with manual-focus lenses. To take advantage of the XAVC S format users will require a Class 10 or higher SDXC memory card and the camera will prompt you to use a UHS Speed Class 3 card when recording at 100Mbps.
Sony Alpha 7S II Review – Build & Handling
The Alpha 7S II follows in the footsteps of the Alpha 7 II and 7R II with a similarly revised body layout. Each generation of Alpha 7-series cameras sees the build quality and handling improve, and compared to the original Alpha 7S, the Alpha 7S II's body is slightly chunkier, presenting a larger grip to wrap more of your hand around. The grip is not only improved in terms of size, but it's better sculpted too, and by moving the shutter button and encircled on/off button forward it improves comfort when shooting stills.
Long gone are the pesky front and rear dials the Alpha 7S inherited from the NEX-7, which are replaced by slimmer dials that don't click when they're rotated. The annoying lip that made it awkward to access the recessed menu and magnify buttons has also been addressed by placing these on a 45° angle.
My main reservation with regard to the handling of the camera is the position of the movie-record button. As I mentioned when I reviewed the Alpha 7 II and 7R II, it feels awkward having to pull your thumb away from the thumb rest to start and end recording. Thankfully, this is an easy fix by assigning the movie-record function to the AEL button. It's also possible to assign it to any one of the four custom buttons around the body.
The level of control on offer for reassigning different functions to different buttons is second to none – just as it is on other Alpha 7 models. The hardest part is remembering what you assigned to which button when you return to the camera after having not used it for a while.
It's useful to have ISO assigned to the four-way controller, which takes the place of the white balance button on the original Alpha 7S. Other refinements include a softer eyecup to the viewfinder, a locking-mode dial and a change to the way memory cards are inserted, which now slot in from the side of the body.
It's only when the Alpha 7S II is positioned alongside its forerunner that you start to appreciate the differences in terms of its finish. Sony has veered away from the smooth gloss finish of its predecessor, opting for a matt-black stealth finish instead. Other subtle details, such as its blackened hotshoe give the camera a smarter appearance, and in a similar fashion to the Alpha 7 II and 7R II, the Alpha 7S II employs top, front and rear covers made of magnesium alloy to give it a solid feel in-hand.
Despite it not being classified as weather sealed, the Alpha 7S II has dust and moisture-resistance measures in place to prevent any unwanted particles entering the body. These measures include protection around buttons and dials, as well as a double-layered structure that's designed to interlock the panels of the body tightly together. The extent to which this moisture resistance is effective is unknown, but I experienced no problems while using the camera for a prolonged spell in drizzle.
Like the Alpha 7 II and 7R II, the 7S II accepts Sony's VG-C2EM battery grip (£249). As well as providing three extra buttons for instant control over custom assign functions, it accommodates two NP-FW50 batteries to ensure you don't get caught short of power.
Sony Alpha 7S II Review – Performance
Venturing out on a winter's evening at dusk was a good test of the Fast Intelligent autofocus system and its ability to acquire focus in scenes with little contrast. Although it doesn't feature Sony's impressive Fast Hybrid AF system as found within the Alpha 7R II, the contrast-detection system the Alpha 7S II employs is competent at acquiring focus when the light levels drop very low. I didn't find the lock-on speed to be quite as responsive as Sony's Fast Hybrid AF system, but it's not slow or sluggish. I was half expecting it to struggle in the low-light scene I presented it with, but other than one occasion where a plume of steam engulfed the lens, it established focus on my subjects without any sign of difficulty.
Provided there's sufficient ambient light, the AF system does a good job of acquiring focus when recording video too. Hitting the movie-record button and focusing between near and far subjects revealed the Alpha 7S II is twice
as fast as the Alpha 7S in this department. This is welcome news for videographers and answers the criticisms of its predecessor's leisurely focusing speed when recording video.
Another feature that makes the Alpha 7S II such an impressive performer in low light is its 5-axis image-stabilisation system. The effect of this is so powerful that it's clearly visible on the rear LCD or through the viewfinder when shooting stills and recording video. It's particularly effective with the latter, turning what would otherwise be shaky handheld movie footage into smooth video that looks like it could have been captured with the camera mounted to a tripod.
In low-light scenes I had no trouble capturing sharp images of static subjects with 1/10sec shutter speed at 70mm. Taking the test further, I dialled in shutter speeds of 1/8sec and 1/5sec and continued to record sharp shots at the same focal length provided the EVF was braced against my eye. It was only when I reduced the shutter speed to 1/4sec and 1/3sec that I couldn't prevent camera shake creeping into my images.
The camera excels with regard to its video performance, too. The new S-Log3 profile is a hand-me-down from Sony's high-end camcorders and allows users to colour grade video to the same standard while preserving consistency between footage captured on different Sony cameras. In the past, the camera's Log settings have displayed a rather flat and murky feed, but to get around this Sony has added a gamma display assist function, where a filter is applied to the image displayed on-screen so you can view images with natural contrast while recording. I found this particularly helpful when monitoring images and checking focus.
Those who want to shoot slow-motion video at 120fps in full HD should also note that the sensor crops the image by 2.2x in this mode, but the results are spectacular. In other areas, the metering system produces accurate exposures and I used the zebra-pattern function regularly to ensure highlight detail was never lost. The viewfinder's colour is a little undersaturated when you compare it to the scene as viewed by your eyes, but it does refresh quickly and it's great to be able to raise the camera to your eye to inspect images and video in high-contrast conditions.
The Alpha 7S II does use its power quickly, though. With this in mind, you'll want to build up a collection of spare batteries to swap over at a moment's notice or look at an alternative solution – the Atomos Power Station being a good example.
Sony Alpha 7S II Review – Image Quality: Dynamic Range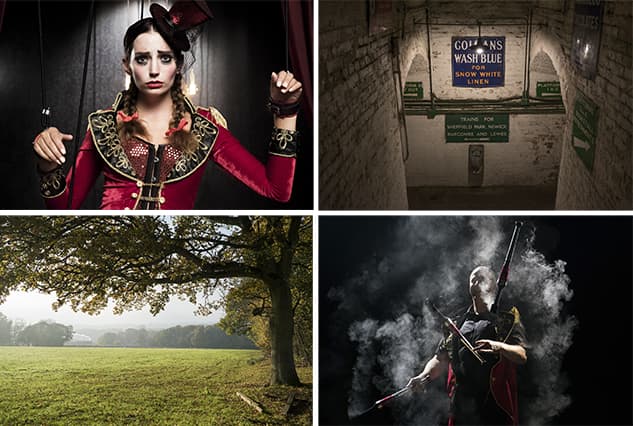 Dynamic Range
At its lowest native sensitivity setting, our dynamic range figures measured a highly impressive 13.3EV at ISO 100 – a similar readout to the 13.1EV figure recorded by the Alpha 7R II at the same sensitivity. As our dynamic range graph shows, the figures remain above 12EV up to ISO 800, dipping to 11.4EV at ISO 1,600. Pushing past ISO 1,600, results drop to 10.3EV and 9.3EV at ISO 6,400 and ISO 12,800 respectively. Shadow tones gradually get noisier when more is asked of the sensor, but figures remain above 6EV up to ISO 102,400, indicating there's great scope when it comes to pulling back shadow detail.
Sony Alpha 7S II Review – Image Quality: Detail and Noise
The big appeal for still photographers is the Sony Alpha 7S II's extensive ISO range. Those curious of how well the 7S II performs at its high sensitivity settings will be astonished by the sensor's capabilities and by how far the sensitivity can be pushed. As the opening shot to this review shows, it's possible to achieve acceptable results right up to ISO 25,600. There are signs of luminance noise and colour noise when you push the sensor to its extremes by entering its expanded settings, but provided you're vigilant and apply noise reduction carefully in post-production, it's possible to shoot at the 'mid-range' of ISO 6,400, 12,800 and 25,600 comfortably. Although the Alpha 7S II's sensor has nothing on that of the 7R II when it comes to the level of detail it resolves, our resolution results reveal the amount of detail that is resolved remains fairly consistent throughout the ISO range.
Detail
Unlike the Alpha 7R II, the 7S II employs an optical low-pass filter. Inspecting raw files under close scrutiny indicates the 12MP chip resolves a maximum of 2,400l/ph at ISO 100. While this is a long way from the level of detail we're used to seeing high-resolution full-frame sensors resolve, it's on a par with the original Alpha 7S. It attains the 2,400l/ph figure up to ISO 3,200, dropping only slightly to 2,200l/ph at ISO 6,400. The sensor maintains an impressive level of detail right up to ISO 25,600, ending up at 1,800l/ph at its ISO ceiling.
Noise
Converting our raw files using Adobe DNG Converter v9.2 and inspecting them closely at 100% enabled us to establish how well the camera performs through its ISO range. Images are very clean from ISO 100-1,600 and it's only when you push up to ISO 3,200 that luminance noise creeps in. You'll be hard pushed to notice this luminance noise at ISO 3,200 and ISO 6,400 unless you inspect the shadows in your images incredibly closely, and I found it possible to create clean results at these settings by increasing the luminance-noise-reduction slider to a value of 30 in Lightroom. Pushing up to ISO 12,800 and ISO 25,600 introduces more luminance noise, yet detail and texture remain high at both these settings. Users could turn to ISO 51,200 if needs must, but fine texture and detail do get lost. ISO 102,400, 204,800 and 409,600 sound impressive but they're best avoided.
Sony Alpha 7S II Review – Verdict
Although the refinements that have been made to the Alpha 7S II might not appear to be as revolutionary as those on the 7R II, it has come on a long way from the original 7S. The introduction of the 5-axis stabilisation transforms handheld shooting to the extent that it's possible to shoot sharp still images at as slow as 1/4sec and record extremely smooth video footage without always having to rely on a tripod. Videographers will like the improved autofocus speeds when shooting movies, but it's the ability to reduce the size and weight of a set-up by recording 4K internally and apply professional-grade profiles for greater latitude when editing that will impress most. Video quality is very impressive and the ability to record at up to 120fps is the cherry on the cake for those wishing to create slow-motion footage.
By opting for fewer and larger pixels, Sony has created a model that produces an incredibly high dynamic range and performs remarkably at high sensitivities. Users can confidently shoot at ISO 25,600 and preserve a level of detail that makes this setting usable – something that, combined with its quiet and durable shutter, makes it a strong candidate for wedding and wildlife photographers who like to work discreetly. Sports photographers are better off looking elsewhere – the 5fps burst and contrast-detect autofocus don't cut it for shooting the fastest action.
If you're into video in a big way, want a camera that performs exceptionally well in low light and one that handles significantly better than the original, then the Alpha 7S II delivers the goods. It's not without its pitfalls – battery stamina and a convoluted menu system being the main two. It gives those who've already invested in the Alpha 7 series another option, but it's fair to say the Alpha 7S II is a fairly niche camera so its appeal will be somewhat more limited than the Alpha 7 II and 7R II.
Sony Alpha 7R II Review – Full Specification