We've been reviewing lenses online since 2011, so we know a good lens from a bad lens. Here we pick out the best Nikon lenses for F-mount. If you're using Nikon DSLRs, these are the lenses you should be considering. 
---
Welcome to our guide to the best Nikon F-mount lenses. For DSLR photographers, the Nikon F system has one of the most diverse lens ranges around, dating back to the days of film SLRs. You're spoiled for choice as an F-mount photographer – so much so that, without help, it can be a little overwhelming to find the right lens for what you want to shoot!
To get the most out of one of the best Nikon DSLRs you'll need a sharp, well-built lens to attach to it. Choosing the right lens makes a huge difference to the look of your final image or video; indeed, it can be argued that it's even more important than the choice of camera. Lenses also vary quite wildly in price. There are certainly cheap ones available, but as with most things, you get what you pay for.
Can you use Nikon F lenses on mirrorless cameras?
With an adapter, Nikon F-mount lenses can be used with on Nikon mirrorless cameras, thanks to the FTZ mount adapter. In the majority of cases, you'll also get full functionality of autofocus and stabilisation.
Our list of the best F-mount lenses is based on the experience of our technical and review team. We've included a mix of lenses that can still be bought new, as well as some that can be found for a bargain price on the second-hand used market. Before we get into it, let's look at how to go about choosing your F-mount lenses.
How to choose the best Nikon F-mount lenses
Which is the best Nikon F lens for your DSLR setup? While this guide presents you with a broad selection of options, narrowing it down to one will depend largely on the subjects you plan to photograph. Different lenses suit different purposes. Here is a quick guide to the main considerations when picking a Nikon F lens.
DX or FX? You'll see these letters in the names of all Nikon F-mount lenses, and they refer to the sensor size of the camera they pair with. Nikon DSLRs come in two varieties – APS-C sensor (DX) and full-frame sensor (FX). A DX lens will create a smaller image circle, designed to fit a smaller APS-C sensor found on Nikon's DX series DSLRs, such as the Nikon D5600.
Prime or zoom? The main difference between these types is that prime lenses have a fixed focal length, while zoom lenses have a focal range that lets you get closer to, or further from your subject. With prime lenses, you get superior optical quality, so picking between the two types is generally a choice of sharpness vs versatility.
Focal length? Wide-angle lenses (around 8-35mm) are good for capturing expansive scenes like landscapes, and conveying scale in architecture. Standard lenses (40-75mm) provide a natural perspective, useful for street and documentary photography. Telephoto lenses (80mm and higher) are good for bringing distant subjects like wildlife into sharp focus, or flattering facial features for portraits.
Maximum aperture? This refers to the largest aperture setting a lens can offer – an f/2.8 lens has a maximum aperture setting of f/2.8. The lower the number (eg f/1.4), the larger the aperture, and the more light a lens can let in. This also allows for shallow depth of field, which is handy for portraits. Some zoom lenses have a variable maximum aperture like f/3.5-5.6 – this means the maximum aperture changes depending on how far zoomed in the lens is.
VR? The 'VR' acronym on Nikon F-mount lenses refers to Vibration Reduction, which is Nikon's name for its optical image stabilisation system. Image stabilisation keeps a lens steady when it's being used hand-held, allowing for the use of slower shutter speeds without the need for a tripod.
Here's our quick list of the best Nikon F-mount lenses you can buy…
Best APS-C DX lenses for Nikon:
Continue reading to find out why these lenses have been chosen:
---
Best Nikon lens overall: AF-S Nikkor 24-70mm f/2.8E ED VR
At a glance:
Full-frame (FX)
Minimum focus distance: 0.38m
Weight: 900g
Price: $2,096 / £1,719 (nikon.com)
Sometimes only the very best will do, and when it comes to standard zooms on a full-frame Nikon body, this is it. The latest version of Nikon's pro workhorse lens adds optical image stabilisation and uses an electromagnetic diaphragm, which provides much-improved functionality when shooting in live view or for video work.
With an array of exotic glasses and coatings, it's designed for use on the latest high-resolution DSLRs such as the 45.7MP Nikon D850. It can also be used with DX-format cameras, giving a 36-105mm equivalent range.
Super-fast autofocus and top-notch build quality round off a truly excellent package – in our full, in-depth review, we described this as, 'superb fast standard zoom that'll be perfect for a range of shooting environments.'
Pros
VR adds shooting flexibility
Hugely impressive autofocus
Excellent quality throughout zoom range
Cons
Some vignetting when wide open
Steep asking price
Read our Nikon AF-S 24-70mm f/2.8E ED VR review.
---
Best Nikon lens for landscapes: AF-S Nikkor 14-24mm f/2.8G ED
At a glance:
Full-frame (FX)
Minimum focus distance: 0.28m
Weight: 1,000g
Price: $949 used in good or better condition / £729 (nikon.com)
This lens is something of an institution in landscape photography circles. If you've perused a landscape photography competition shortlist within the past 10 years or so, you've definitely seen an image taken with it.
The Nikkor AF-S 14-24mm f/2.8G ED was first introduced in 2007, and it is quite simply a beautiful feat of optical engineering. It delivers images of outstanding sharpness thanks to its extra-low dispersion elements and the Nano Crystal Coating and Super Integrated Coating that have been added. It's also weather-sealed, and the constant aperture of f/2.8 gives you real creative freedom.
Sure, you don't get more modern features like lightning-fast autofocus and optical stabilisation, but landscape photographers don't really need them. The main thing that's likely to annoy landscape shooters is the fact that you can't attach filters to the bulbous front element. Workarounds exist, but they will add to the cost of the lens, so bear that in mind.
While it can be hard to find new, especially in the UK, the Nikkor AF-S 14-24mm f/2.8G ED can be picked up used for less than $999/£999, and is a steal at that price.
Pros
Outstanding optical performance
Constant f/2.8 aperture
Solidly built with weather sealing
Cons
Won't take screw-on filters
Pretty heavy
---
Best cheap Nikon zoom: AF-S DX 16-85mm f/3.5-5.6G ED VR (APS-C)
At a glance:
APS-C (DX)
Minimum focus distance: 0.38m
Weight: 485g
Price: $649 (new) / £349 (renewed) (nikon.com)
If you've outgrown the 18-55mm kit zoom that came when you bought your camera, this might just be the perfect upgrade. It offers a usefully extended zoom range, from 24mm equivalent wide-angle to 128mm telephoto, while providing a respectable optical performance that's aided by a fast ultrasonic-type autofocus motor and built-in image stabilisation. It's been on the market for almost a decade now, meaning good prices can often be had if you're prepared to shop around.
Pros
Excellent value for money
Broad, do-everything zoom range
Fast autofocus
Cons
Somewhat slow maximum aperture
---
Best standard zoom: Nikon AF-S DX Nikkor 16-80mm F2.8-4E ED VR
At a glance:
APS-C (DX)
Minimum focus distance: 0.35m
Weight: 480g
Price: from $599 / £499 (used) (nikon.com)
An upmarket version of Nikon's standard zoom, the AF-S DX Nikkor 16-80mm F2.8-4E ED VR commands an extra premium in terms of price. However, for the money, you do get a more generous maximum aperture of f/2.8-4. What's more, the price gap between the 16-80mm f2.8-4E and the 16-85mm f/3.5-5.6 has narrowed now that both are on the second-hand market. New, there would have been about $300/£300 between them; now it's more like $100/£100.
This makes the AF-S DX Nikkor 16-80mm f2.8-4E ED VR a highly tempting option, and as we noted in our review, it's an excellent lens all-around. Getting Vibration Reduction (optical image stabilisation), an electromagnetic diaphragm, a 5x zoom and the aforementioned generous maximum aperture, all wrapped up in a lightweight body. Our test results showed good centre sharpness, with some expected drop-off in the corners, especially at large apertures.
Pros
Reliable autofocus
Generally good image quality
Good price on used market
Cons
Plasticky construction
Some optical shortfalls at edges
---
Best Nikon tele zoom: AF-P DX 70-300mm f/4.5-6.3 G ED VR
At a glance:
APS-C (DX)
Minimum focus distance: 1.1m
Weight: 415g
Price: $396 / £349 (nikon.com)
Often the first lens DSLR users buy after the 18-55mm that came with their camera is a telephoto zoom. But there's a huge number to choose from, with Nikon alone offering six for its DX-format SLRs, distinguished only by opaque combinations of letters in their names.
The most up-to-date is the AF-P 70- 300mm f/4.5-6.3 VR: a compact, image-stabilised optic with a usefully long zoom range and the latest fast, silent AF-P motor for autofocus, that's also suitable for video work.
Being an AF-P lens, though, it's not compatible with Nikon DSLRs that were released five years or more ago. So if you use an older model, you'll need to buy the Nikon AF-S DX Nikkor 55-300mm f/4.5-5.6G ED VR.
Pros
Useful zoom range
Silent autofocus
Very good value
Cons
Doesn't work with some Nikon DSLRs
---
Best Nikon superzoom: Nikon 28-300mm f/3.5-5.6G VR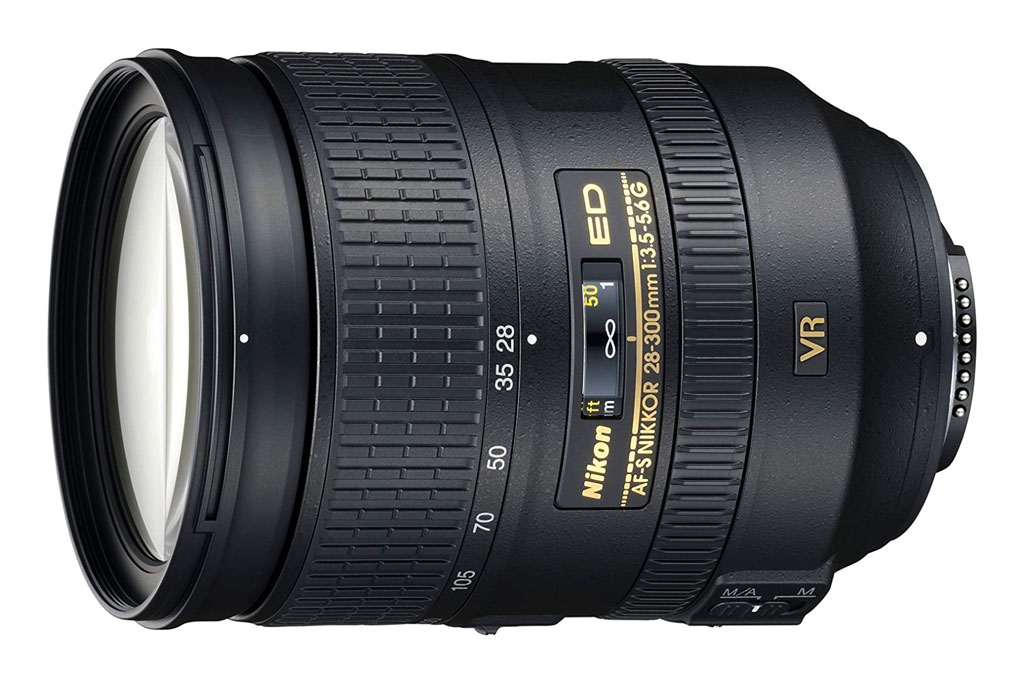 At a glance:
Full-frame (FX)
Minimum focus distance: 0.5m
Weight: 800g
Price: $554 used in good condition / £554 (nikon.com)
A discontinued lens that can still be picked up for a good price on the used market, the Nikon 28-300mm f/3.5-5.6G VR delivers unparalleled versatility for a Nikon DSLR user. It's one of the few superzoom lenses that's compatible with full-frame. Does it deliver the kind of optical quality you get from Nikon's prime lenses? No, of course not – but it does pretty well across the entire zoom range, and you won't have any problem shooting dynamic, striking images with it.
The thing you do have to live with is the rather uninspiring maximum aperture of f/3.5-5.6. This is part and parcel of keeping the lens to a sensible weight and cost, but all the same, those who want to create striking shallow depth of field or beautiful bokeh will want to look elsewhere.
We should also mention the Vibration Reduction (VR) functionality, which really does work well in low light. You can use much slower shutter speeds than you would normally and still get sharp pictures, which really cements the credentials of this lens as an all-in-one, carry-everywhere choice.
Pros
Good sharpness for a superzoom
All-in-one convenience
Effective Vibration Reduction
Cons
Pedestrian maximum aperture
No aperture ring
---
Best Nikon portrait lens: AF-S Nikkor 85mm f/1.8G
At a glance:
Full-frame (FX)
Minimum focus distance: 0.8m
Weight: 350g
Price: $476 / £489 (nikon.com)
If you want to take people pictures to another level, then a large-aperture, short-telephoto prime is the way to go. Nikon's AF-S 85mm f/1.8 is a good quality yet reasonably affordable choice, with fast autofocus and sharp optics. With a nine-bladed circular aperture, it can also provide very attractively blurred backgrounds.
The lens is equally suitable for use on full-frame and DX format DSLRs, giving a 135mm view on the latter. To get even better results, you'd need to invest in an 85mm f/1.4, with Sigma's 85mm f/1.4 Art DG HSM (£999) being a fine example.
Pros
Solid budget portrait lens
Produces attractive bokeh
Useful f/1.8 aperture
Cons
Not as sharp as some portrait lenses
---
Best Nikon wide-angle zoom: AF-P DX 10-20mm f/4.5-5.6G VR
At a glance:
APS-C (DX)
Minimum focus distance: 0.22m
Weight: 230g
Price: $306 / £349 (nikon.com)
Nikon users have long been crying out for a lightweight, inexpensive wide-angle zoom, and finally it's arrived in the shape of this 10-20mm lens. Optically it's OK, if not outstanding, but crucially, its built-in optical stabilisation (VR) is extremely useful.
Again, though, its AF-P designation means that it only works on relatively recent APS-C DSLRs, so check compatibility before you buy. Otherwise this is a great complement to a standard zoom for subjects such as landscapes, interiors, real estate, and architecture, where you'd like to squeeze as much as possible in the frame.
Pros
Excellent built-in stabilisation
Useful focal range
Cons
Not the sharpest
Not compatible with everything
Find more options in our picks of the best wide-angle zooms for landscape photography.
---
Best Nikon street lens: AF-S DX Nikkor 35mm f/1.8G
At a glance:
APS-C (DX)
Minimum focus distance: 0.3m
Weight: 200g
Price: $199 / £199 (nikon.com)
Large-aperture prime lenses allow you to shoot indoors without flash, or blur backgrounds for creative effect. Not only is this small 35mm prime one of the best Nikon lenses of its type for APS-C DSLR users, it's also very sharp. With a view roughly equivalent to a 50mm prime on full-frame, it's suitable for subjects from street photography to portraits.
If you want a lens that will also work on full-frame, you'll need the similarly-named Nikon AF-S Nikkor 35mm f/1.8G, but this costs almost three times as much. Other important things to know about this lens are its 30cm minimum focus distance, it accepts filters and adapters via a 52mm thread and accepts Nikon's HB-46 lens hood.
Pros
Excellent value for money
Impressive sharpness
Compact and lightweight
Cons
Doesn't work on full frame
---
Best Nikon 50mm lens: AF-S Nikkor 50mm f/1.8G
At a glance:
Full-frame (FX)
Minimum focus distance: 0.45m
Weight: 185g
Price: $216 / £175 (nikon.com)
For many years, 50mm primes (or 'nifty fifties') were sold as general-purpose lenses with 35mm film cameras, but they fell out of favour for a few decades. Recently, however, there has been a resurgence in their popularity for use with APS-C format DSLRs. They tend to be small, light and relatively cheap, yet very sharp, and perfect for shooting portraits.
Nikon's AF-S 50mm f/1.8G is a classic example of the type, and will also work on full-frame cameras. In our review of this lens, we found it performed well across the board. 'Improving on a classic design is often a difficult task, but it is one in which Nikon has succeeded,' was our verdict.
The lens has a 58mm filter thread and a construction of seven elements in six groups. Don't confuse it with the cheaper AF 50mm f/1.8D, which won't autofocus on Nikon's entry-level D3000-series or D5000-series DSLRs.
Pros
Curved aperture blades
Nice and cheap
Good sharpness
Cons
Some curvilinear distortion
Read our Nikon AF-S Nikkor 50mm f1.8G review
Find more 50mm options in our guide to the best 50mm prime lenses.
---
Best Nikon lens for wildlife: AF-S 500mm f/5.6E PF ED VR
At a glance:
Full-frame (FX)
Minimum focus distance: 3.0m
Weight: 1,460g
Price: $3596 / £3429 (nikon.com)
The Nikon AF-S 500mm f/5.6E PF ED VR lens is the lightest 500mm full-frame telephoto prime lens; the lens weighs just 1.46kg, making it lighter than most 150-600mm zoom lenses. The lens is light enough to shoot with handheld, and the Vibration Reduction system gives 4-stops of stabilisation.
The lens gives impressive image quality, as well as rapid focus performance, making it ideal for when you need a telephoto prime lens. When we took the lens to Lords Cricket Ground for a field test, we discovered just how well it delivers the goods: 'If I were a Nikon user planning to go on safari, I'd put my name down to hire this lens in an instant,' our reviewer said at the time.
Pros
Terrific optical performance
Fast focusing
4-stop stabilisation
Very light for this focal length
Cons
Read our Nikon AF-S Nikkor 500mm f/5.6E PF ED VR field test
---
Best Nikon lens for sports: AF-S 180-400mm f/4E TC1.4 FL ED VR
At a glance:
Full-frame (FX)
Minimum focus distance: 2.0m
Weight: 3,500g
Price: $12,396 / £10,999 (nikon.com)
If you have the budget, then Nikon's AF-S NIKKOR 180-400mm f/4E TC1.4 FL ED VR lens offers not only a 180-400mm telephoto zoom, but also features a built-in 1.4x teleconverter. With the price being over £10,000 it might be a lens you could look at hiring for special events.
It's worth noting that due to the weight, of 3.5kg, you might not want to carry it around for too long, and a monopod can help out here, as we discovered when we took it for a review at a bird-in-flight workshop. As we said at the end of our day's shooting, 'Nikon has created an absolutely sensational lens, it's just a shame that its high price will have the final say over the number of photographers who get to use it.'
It certainly delivers impressive image quality though with Vibration Reduction helping to keep shots steady, and for that it is to be commended.
Pros
Built-in teleconverter
Superb imaging performance
Cons
Very heavy
Very, very expensive
Read our Nikon AF-S 180-400mm f/4E TC1.4 FL ED VR field test
---
FAQ: Is Nikon discontinuing F-Mount?
We've reported on the number of Nikon F-Mount lenses that have been discontinued in recent years, with 35 F-mount lenses being discontinued. However, there are still a vast number of lenses available both new, and on the second-hand and used camera market. And just because a lens is discontinued, doesn't stop it from working, or indeed being a great performing lens. The newest Nikon DSLRs to be released are the Nikon D780 and Nikon D6 which were both released in 2020.
---
For more have a look at the latest news, lens reviews, and buying guides, or have a look at the best Nikon DSLRs, and the best Nikon mirrorless cameras.
---