We reveal the best Nikon DSLR cameras you can buy in 2023, and take a look back at some of the milestone models from the firm's history.
A good Nikon DSLR makes for a fabulous companion for any photographer. While mirrorless models in the Nikon Z-mount may be where the attention and development is going, there is very much still a place for the humble DSLR. With large optical viewfinders and rugged, grippable bodies, DSLRs hold a special place in the hearts of many a photographer. In this guide, we intend to show you why.
Nikon knows it, too. While the firm seems unlikely to bring out any new DSLRs, with the most recent release being the Nikon D6 back in early 2020, the firm has restated its commitment to staying in the DSLR game and manufacturing existing models for those who want them. And even when Nikon does discontinue a DSLR, it'll live on in the second-hand market. Some of the cameras on our list can be picked up in used stores for less than a quarter of their original asking price.
Find a good Nikon DSLR, pair it with some of the best Nikon F-mount lenses, and you've got a photographic setup that could last you a lifetime. We're picking out all the models we feel offer the best value for money in 2023 – and revisiting a few classics from the early days. But first, let's look a how to go about choosing a DSLR.
How to choose the best Nikon DSLR
As with any camera-buying decision, picking the best Nikon DSLR is about weighing up two factors – your budget, and what you want to shoot. You aren't going to get the best of all features in a budget camera, so it pays to prioritise the specs that will best suit you.
For instance, resolution  is best for making large prints of your images, so if this is something you want to do, pick a DSLR with a high megapixel count. However, higher resolution cameras tend to be slower as all those pixels require more processing power. So if you want to shoot fast action or wildlife, it's best to prioritise fast burst speeds.
A big factor with Nikon DSLRs is sensor size. You have two choices here – DX-format (APS-C) and the larger FX-format (full-frame). Bigger sensors give you greater dynamic range in images, the ability to create shallower depth of field, and upgraded low-light performance, with the main trade-off being that they are more expensive, and require larger camera bodies. Nikon offers plenty of DSLRs in both sensor sizes – see our full guide to APS-C vs full-frame for a complete run-down of the pros and cons of each type.
It was a tough challenge to narrow the huge list of Nikon DSLRs down to 12 seminal models – but we reckon we've done it. Here, we present the 12 best Nikon DSLRs ever made. First, we've picked out the DSLRs we think are best to buy in 2023 – both new and second-hand. Then, for the second part of this guide, we look back at a few of the the most important DSLRs in Nikon's history…
For more on the differences between camera types, see our guide to DSLRs vs mirrorless. And if this convinces you in another direction, we always have our regularly updated guide to the best Nikon mirrorless cameras…
---
The best Nikon DSLRs to buy in 2023
A Nikon DSLR can make for a fantastic investment for photographers and videographers at every level. Whether you're an absolute beginner or an experienced enthusiast, there will be a great Nikon DSLR pitched just at your level. If you're in a hurry, here is a quick list of the Nikon DSLRs we recommend buying, along with links to get the best prices:
While plenty of Nikon DSLRs have been discontinued, especially the lower-end models, they are still plentifully available, especially on the second-hand market. So, here we've compiled what we reckon are the best Nikon DSLRs you can buy in 2023, with options for every budget and ability level…
Best Nikon DSLR for beginners Nikon D3500 (2018)
At a glance
24.2MP APS-C sensor
ISO 100-25,600
1080p Full HD video at up to 60fps
11-point AF system
3-inch, 920K-dot LCD screen
Price: $499 / £449 with kit lens on release (current street price around $570 / £499 with lens)
If you're a beginning photographer looking to learn the ropes on a DSLR, the entry-level D3500 is one of the best buys you can make. Its array of impressive features still looks solid today, with a 24.2MP sensor, burst shooting at up to 5fps and an ISO range of 100-25,600 that enables the camera to cope well in dim lighting conditions.
Also, to help beginners and less experienced users get to grips with the camera's controls and thereby become more confident photographers, a handy Guide Mode presents a series of options to help people handle specific situations. The aim is to explain in simple terms how to use the D3500's settings to best effect and the Guide Mode offers a choice of 'Easy' or 'Advanced' shooting scenarios (more experienced photographers can bypass it altogether).
The D3500 also includes Nikon's Active D-Lighting processing tool, which is designed to lighten shadow areas and preserve highlight detail when you're faced with high-contrast scenes. The camera allows you to set Active D-Lighting to 'on' or 'off' settings.
The D3500 is also notable for having a great body design, a deep grip and an intuitive layout of controls that make it straightforward to use. This is further aided by a Quick Menu screen that flashes up on the LCD screen when you press the 'i' button on the rear of the camera – this provides quick and direct access to all of the key settings of the D3500.
Pros:
Guided modes great for novices
Well-designed body and controls
Solid all-around specs
Cons:
---
Best Nikon DSLR for enthusiasts: Nikon D780 (2020)
At a glance
24.5MP full-frame CMOS sensor
ISO 100-12,800 (extendable to 50-204,800)
51-point AF system (15 cross-type points)
12fps continuous shooting in Live View
3.2-inch, 2,360K-dot tilting touchscreen LCD
Price: $2,299 / £2,199 body-only on release (current street price around $2,196 / £2,120)
Launching in 2020, the Nikon D780 blended the best of mirrorless technology with good-old DSLR handling. It took the same sensor as was found in the mirrorless Z6, and placed it in a rugged body well equipped to stand up to the rigours of outdoor use.
As well as having a low-pass filter to eliminate moiré and backside-illuminated structure to maximise its light gathering capabilities across its ISO range, the sensor has 273 on-chip phase detection pixels to enhance its focusing performance in Live View. Again, this is said to be crossover technology from the Nikon mirrorless camera line-up.
The D780 also deploys Nikon's EXPEED 6 image processor which, amongst other things, helps to shoot at 7fps via the viewfinder. A shutter speed range of 30-1/8000sec should pretty much over all subjects (arguably bar speeding bullets) and the 180K-pixel RGB sensor inherited from the D850 helps to feed info to the ASF system for accurate and precise tracking of subjects.
For DSLR diehards the D780 offers a superb array of shooting options and choices for capturing all manner of subjects. When AP tested the D780 we gave it a Test Bench GOLD award and said in our original review that it was, 'a sensational camera that's built to a professional standard and is a sheer delight to use'… it really doesn't get much better than that!
Pros:
Fast phase-detection autofocus
Does very well in and out of Live View
Useful touchscreen control
Cons:
No AF joystick
No in-body stabilisation
---
Best professional Nikon DSLR: Nikon D6 (2020)
At a glance
20.8MP full-frame sensor
ISO range of 100-102,400
105-point AF system
Up to 14fps continuous shooting
Built-in GPS
Price: $6,499 / £6,799 body-only on release (current street price around $6,499 / £6,299 body only)
Nikon's flagship pro DSLR, and very likely its last, is the wallet-busting D6. As you might expect it has a hefty price but also a hefty amount of specs packed into it. The company describes the D6 as, 'Nikon's most powerful AF system yet' and says it 'will deliver incredible shots of defining moments… without fail.'
The truth is that pro photographers – especially news, documentary and sports photographers – want equipment that is reliable and that they can trust to get the shot every time. To help guarantee this the D6 has a new AF engine with 105 (all cross-type) AF points, Group-Area AF with more custom settings for subject tracking and an eye focusing priority setting in Auto-Area AF or 3D tracking. Later pro mirrorless cameras like the Nikon Z9 would built on this with futuristic AI-powered such as Subject-Detection autofocus. The D6's system may not have these kinds of bells and whistles, but it's very impressive nonetheless.
Powerful ISO performance is another key selling point. The 20.8 MP full-frame sensor works with the Expeed 6 processor to offer ISO 100-102,400 – this is impressive enough, but it can be expanded to an astronomical figure of 3,280,000. Other features include fast in-camera Wi-Fi image transfer (15% faster than the D5), Bluetooth connections, higher resolution displays for quick and easy viewing and a robust body.
Pros:
Does really well in low light
Fast shooting and reliable autofocus
Deep shot buffer
Cons:
Still very expensive
Much lower res than Z9
Discover more about the Nikon D6 pro DSLR
---
Best cheap full-frame Nikon DSLR: Nikon D610 (2013)
At a glance:
24.3MP FX format sensor
ISO 100-6400 (extended to ISO 50-25,600)
Optical viewfinder with 0.7x magnification
9-point AF system with nine cross-type points
6fps burst shooting
Price: $1,999 / £1,799 body-only on release (current street price around $400 / £360, used, body only)
Nikon's 2012 launch of its mid-range D600 DSLR seemed like thumping success at first blush – until users started to complain of dust and oil accumulation on the sensor. Nikon offered refunds and servicing for the cameras without ever really explaining what was causing the problem. Then, a year down the line, the D610 appeared – a camera that was basically exactly the same, except it bore a new shutter mechanism, and the dust/oil problem had mysteriously disappeared. Hmmm.
But that's enough ancient history – the Nikon D610 has been tried and tested for a decade now, and with used prices hovering at around a quarter of the original asking, it offers terrific value for money. It's a beautifully built camera, constructed from a blend of magnesium alloy and tough plastic, and it handles well with logically laid-out controls.
The 9-point autofocus is pretty dated by 2023 standards, but images captured with the full-frame sensor still look great. The level of detail we managed to capture in RAW files at low ISOs was impressive, and the camera generally acquitted itself well up to around ISO 6400 (we wouldn't recommend pushing beyond that unless there's really no alternative). Also, if you've started with an APS-C Nikon DSLR and have already acquired DX lenses, you can still use them on the full-frame D610 by engaging DX crop mode.
Was the Nikon D610 a hasty marketing exercise and an attempt to correct a mistake without really owning it? Yeah, probably. Is it still a great DSLR in 2023? You bet.
Pros:
Tremendous value on used market
Solid image quality
Lightweight build and sensible controls
Cons:
Dated autofocus system
Focusing very sluggish in Live View
Read our full Nikon D610 review to find out what we thought of this camera on release.
---
Best Nikon DSLR for wildlife: Nikon D500 (2016)
At a glance
20.9MP DX format sensor
ISO range of 50-1,640,000!
Up to 10fps continuous shooting
153-point AF system
3in, 2.36m-dot tilting rear LCD screen
Price: $1,999 / £1,729 body-only on release (current street price around $950 / £800 body only)
The headline specs of the D500 are, at first glance, quite astonishing – an extended top ISO value of 1.64million, a 153-point AF system and 10fps continuous shooting (up to 30 RAW frames and 90+ JPEGs). That combination of AF possibilities, speed and low-light shooting mark it out as a great camera for shooting wildlife or sports.
The D500's sturdy body is built from magnesium alloy and it has a variety of customisation options that let you assign certain functions to certain buttons – potentially very useful if you're shooting fast-moving wildlife or sport.
The 153-point AF system in the D500 was effectively inherited from the pro-spec D5 DSLR and it offers 55 user-selectable points with the rest devoted to help to assist with focus tracking on moving subjects. You can, however, switch to a 3D tracking mode that uses all 153 AF points and works in combination with a 180,000-pixel metering sensor that helps to track the main subject of your photographs.
When AP reviewed the D500 back in 2016 we said, 'It's difficult not to conclude that the D500 is the most accomplished crop-sensor camera yet made.' Whilst it may have been somewhat superseded, the high-spec and quality performance of the D500 have kept it relevant for many years after its launch.
Pros:
Versatile, customisable autofocus system
Very reliable metering
APS-C sensor extends lens reach
Cons:
Struggles in Live View
Relatively low resolution
---
Best Nikon DSLR under $500/£500: Nikon D5600 (2016)
At a glance
24.2MP APS-C format CMOS sensor
ISO 100-25,600
39-point AF system
SnapBridge for image transfer to tablets or smartphones
3.2-inch, 1.04million-dot LCD screen
Price: $799 / £799 with kit lens on release (current used price around $550 / £450)
The D5600 first catches the eye for its small design which, despite being polycarbonate, is robust enough and means you can easily carry the camera (and any accompanying lenses) quite easily. Indeed, handling is very good with buttons and controls that are well-spaced around the camera.
Dig a little deeper into its spec and you find the D5600 has a large, 3.2-inch vari-angle type LCD screen (with touchscreen control), a 39-point AF system (with a block of nine cross-type AF points in the centre) and a sensor that forgoes an optical low-pass filter – this helps to maximise sharpness and fine detail in images. On the AF side of things the camera is notable for its impressively rapid Live View AF.
Also of note on the D5600 is the Nikon SnapBridge technology, which allows photographers to link the camera to their tablets or smartphones for instant wireless transfer of images. You can also use Snapbridge to remotely control the D5600 and use a Live View feed.
Overall the D5600 offers very good image quality, with punchy JPEGs delivering accurate colours. Higher-sensitivity performance is a notable strength, even right up to ISO 6400. Although it's been on sale since 2016 the D5600 remains a more than capable option for enthusiast photographers.
Pros:
Great upgrade from beginer camera
Autofocus fast, even in Live View
Small, but tough
Cons:
No 4K
Focus can struggle to track moving subjects
---
Best Nikon DSLR for video: Nikon D7500 (2017)
At a glance
4K video at 30p, HD 1080p video at up to 60p
20.9MP APS-C sensor, 1.5x crop factor
ISO range of 100-51,200
Up to 8fps continuous shooting
3.2-inch, tilting LCD screen
51-point AF with 15 cross-type points
Price: $1,249 / £1,299 body-only on release (current street price around $800 / £720 body only)
The Nikon D7500 has an impressive array of specs that includes shooting speeds up to 8 frames per second, low light shooting at up to ISO 51,200 (and beyond) and a 51-point autofocus system that's perfect for locking on to moving subjects. The D7500 inherited its DX image quality from Nikon's more expensive D500 camera, so you're effectively getting the same image quality for less money.
In terms of movies, the D7500 offers the options of 4K/UHD shooting at 30p or Full HD 1080p video at up to 60p. Nikon's Electronic Vibration Reduction system will help to significantly reduce the possible effects of camera shake when you're shooting movies hand-held.
Also of note in the D7500 is the ability to connect the camera with your smart device using Snapbridge via Bluetooth low energy technology. You can sync photos to your device as you shoot and transfer movies manually via the camera's built-in WiFi system.
The D7500 offers a superb combination of high-speed image capture, trusty AF and great metering to ensure superb pictures are produced. Add to that its use of the lightweight DX lenses and you have a DSLR system that's versatile, easy to carry and reliable.
Pros:
Impressive video options
Effective stabilisation
Reliable autofocus system
Cons:
---
Best Nikon DSLR for portraits: Nikon D850 (2017)
At a glance
45.7MP full-frame sensor
153-point autofocus system
ISO 64-25,600 (expandable to 32-102,400)
Up to 7fps continuous shooting
3.2-inch, 2.26million-dot LCD screen with touchscreen control
Price: $3,300 / £3,499 body-only on release (current street price around $2,000 / £1.900 body only)
Since its arrival in late 2017 the Nikon D850 has been regarded by many as the company's best camera and, for some, it remains so today, despite the impressive slew of Nikon Z-series mirrorless cameras that have been launched in its wake.
The D850's headline specification is arguably its 45.7MP full frame sensor, which puts it close to medium format resolution territory but housed within a DSLR body.
The camera effectively inherited almost all of the AF features of the Nikon D5 DSLR that was primarily aimed at sports photographers, but the D850 is capable of capturing much more than sports action. It uses a backside illuminated sensor, which helps to increase the efficiency of the sensor, (thus improving low light performance), and improves peripheral image quality at the edges of pictures. The D850 also has no anti-aliasing filter, which allows for finer detail capture in images.
The D850, it still holds its head up very high amongst the best Nikon cameras, even though some years have elapsed since its launch. The fact that Nikon put a lot of top-line technology into the D850 means it remains a great choice for photographers across a variety of genres – wedding, sports, nature, fashion, portrait, landscape and more. It's a camera that, in full-frame DSLR terms, remains difficult to beat.
Pros:
High-resolution shooting
Is great at basically everything
Hardy construction
Cons:
Live View focusing is slower
Wireless connectivity can be clunky
---
Best DSLR for astrophotography Nikon D810A (2015)
At a glance
Modified infrared cut filter
36.3MP sensor
ISO 100-12,800 (expandable to 50-51,200)
3D noise reduction system
3.2-inch, 1229K-dot TFT LCD screen
Price: $3,000 / £2,500 (used)
The clue is in the camera's name – the A on the end of D810A hints that it's a DSLR that's suited to astrophotography. In fact, it's specifically designed for astrophotography thanks to a modified infrared (IR) cut filter that sits in front of the D810A's sensor – this is four times more sensitive to the H-alpha spectral line (a wavelength of approx. 656nm) than Nikon's 'normal' D810 camera.
This enhanced sensitivity to Hydrogen-alpha long-wavelength light means the D810A delivers an improved capture of infrared phenomena in the sky, such as diffuse nebulae. You can, of course, shoot night skies with other cameras but almost all of them aren't modified internally to help you to do so straight out of the box.
The Live View system, when in long exposure mode, allows you to preview an image equivalent to the one obtained at 30 seconds and also lets you zoom in by 23x to check focus and the scene in front of or above you. The camera's intervalometer can shoot up to 9,999 images in a sequence – potentially very useful for shooting time-lapses and star trails.
The fact that the D810A also has a 36.3MP sensor also helps in ensuring you're able to capture the night skies at high resolutions for high contrast images with minimised false colour. The D810A is a camera that opens up strange new worlds of picture-taking possibilities. Now discontinued, the Nikon D810A can be found on the second-hand market – but it tends to get snapped up very quickly.
Pros:
Specialised astrophotography camera
Lots of resolution
Live View preview is great for astro
Cons:
Can be challenging to find
And is expensive when you do
Discover more about the Nikon D810A
---
The best older Nikon DSLRs
Finally, we're closing out our guide with a selection of our favourite Nikon DSLRs throughout their entire history, from the very first days of digital SLR photography. These cameras may simply be too old for some users, lacking modern conveniences like stabilisation, subject-detect autofocus or even in some cases video. However, these are essential parts of DSLR history, and no list like this would be complete without them. Plus, at second-hand prices, the cameras in this section can be picked up very cheaply indeed – making some of them a credible option for users on a budget…
Nikon D1 (1999) – The first ever stand-alone Nikon DSLR
At a glance
2.7MP, APS-C sensor
ISO range of 200-1600
4.5fps continuous shooting (up to 21 shots)
Shutter speeds of 30-1/16,000sec
2-inch, 120,000-dot TFT LCD screen
The Nikon D1 seems somewhat quaint by the standards we hold cameras to today, with its 2.7P APS-C sensor, 4.5fps burst shooting and 2-inch LCD screen. However, at the time it had a number of clever advantages that saw it become a popular choice for pro photographers starting to make the jump to digital.
For a start, while the APS-C sensor meant taking a hit in image quality, the 1.5x crop factor it imposed upon lenses provides users with greater effective telephoto reach. On an APS-C camera, a 100mm lens behaves like a 150mm lens, and this can be hugely useful in the world of sports photography. Also, the legacy of F-mount meant that users had a huge range of lenses to choose from, and if they were already on board, all their old lenses would work.
That burst rate of 4.5fps, while it might sound tame next the blistering 120fps Nikon Z9, was pretty impressive for the time. The wide shutter speed of 30-1/16,000sec was also a welcome addition. It meant that sports photographers using the D1 could capture pretty much anything.
There were some unusual choices on the D1, like the decision to use the NTSC colour space. This is the system mostly used for American and Japanese TVs, rather than the conventional sRGB of Adobe RGB. It wouldn't be long before Nikon switched up.
Read about world-beating Nikon cameras
---
Nikon D3 (2007) – The first ever full-frame Nikon DSLR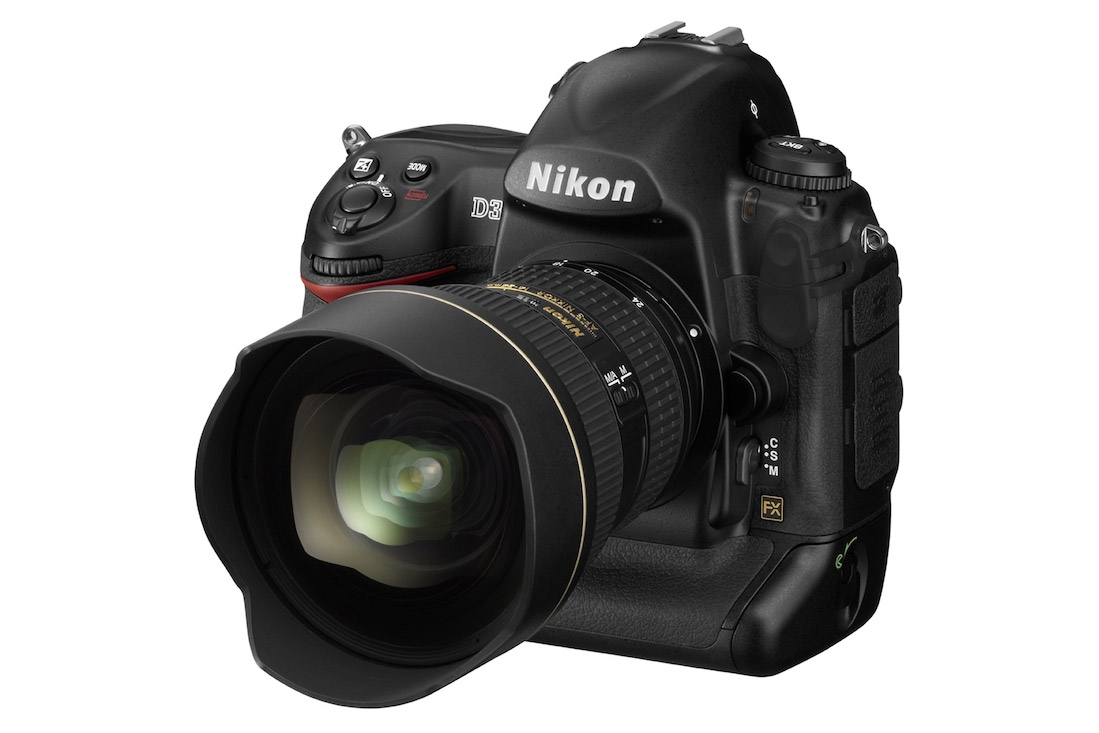 At a glance
Full-frame, 35mm equivalent 12MP CMOS sensor
Dual Compact Flash card slots
ISO 200-6400 (boost to 100-25,600)
9fps continuous shooting (11fps in DX mode without AF tracking)
3-inch, TFT LCD 922,000-dot screen
The Nikon D3 was a milestone all of its own – the first full-frame Nikon DSLR. Nikon called its new sensor 'FX-format', a name that would live on into its full-frame mirrorless Z-series cameras.
Pitched at professionals, the Nikon D3 featured the brand new EXPEED image processing engine, enabling such cutting-edge features as 9fps continuous shooting. Which is still pretty good even today, and helped cement the D3's popularity among professional sports photographers. It also featured a 5:4 ratio mode, and even had an overlay in the viewfinder to help you see what the 5:4 ratio would look like.
Other firsts for the Nikon D3 included Live View mode, enabling photographers to see what the camera was seeing in real time via the rear LCD screen. A 51-point autofocus system rounded out a compelling package. Also, the D3's magnesium-alloy body was rated for an impressive life of 300,000 shutter actuations, meaning professionals could get plenty of years' happy use out of it. And they did!
These days, the Nikon D3 can be picked up second-hand for less than £400 or $600. For that price, it's an absolute steal, especially for wildlife photographers. The camera would also later be upgraded to the D3S, which added among other things a video mode. Read our full Nikon D3S review to see what we thought at the time. A typical used price is around £50/$80.
---
Nikon D90 (2008) – The world's first DSLR with video shooting
At a glance
D-Movie mode for 720p HD video recording
12.3MP DX-format sensor
ISO 200-3200 (expandable to 100-6400)
Up to 4.5fps continuous shooting
3-inch, 920,000-dot TFT LCD screen
While the Canon EOS 5D Mark II was the camera that kickstarted the DSLR video revolution, it was technically Nikon who got there first. Pipping the 5D Mark II to the post by a scant few weeks, the Nikon D90 was capable of shooting HD 720p videos at a cinematic frame rate of 24p. Solidly built and designed for the upper mid-range 'prosumer' demographic, the D90 was an impressive DSLR all-around.
With a built-in autofocus motor, the Nikon D90 could use virtually all Nikon F-mount AF lenses in its AF mode – something of a novelty at the time. It inherited plenty of its tech from the D300 and D3 cameras, such as a 12.3MP DX-format sensor, an EXPEED1 image processor, a high-res 920K-dot LCD screen and a viewfinder covering 96% of the frame.
Ultimately, the Full HD 1080p resolution of the EOS 5D Mark II meant that it won over filmmakers, and took its place in history for ushering in the DSLR video era. But the Nikon D90 was still a highly commendable achievement in its own right. A typical used price is around £100/$130
Read our Canon EOS 550D vs Nikon D90 comparison
---
Text by Steve Fairclough, with contributions from Jon Stapley.
---
Related articles:
---