Nikon has a history of making a 20mm focal length lens going back to 1967 – or back to 1959, if you include the Nikkor-O 2.1cm f/4, which was introduced with the Nikon F, and Nikon's F-Mount. That early 21mm lens was severely disadvantaged as it had a rear element that sat deep inside the Nikon F body. This required the camera's reflex mirror to be locked up for the lens to be mounted and used. As a result, the viewfinder was completely blacked out, so a 21mm accessory viewfinder was also supplied to help composition.
As optical design and construction improved, Nikon was able to introduce a more conventional Nikkor 20mm f/3.5 lens in 1967, and in 1989 the first Nikkor 20mm f/2.8 autofocus lens appeared. This 12 elements-in-nine groups design was updated in 1994 to an AF-D version, and this lens remained current until 2014, when the AF-S Nikkor 20mm f/1.8G ED was unveiled.
Nikon AF-S Nikkor 20mm f/1.8G ED review – Features
The standout feature of Nikon's 20mm f/1.8 lens is the combination of a wide focal length and large aperture. Designed for 35mm full-frame cameras, the 20mm focal length should be enough to capture even the widest vistas – although while such wideangle views can look very dramatic when you are there, they often fail to translate into a good photograph unless there is something interesting filling the space in the foreground. With this in mind, the f/1.8 aperture can be used to create a shallow depth of field ensuring that only the foreground subject is sharp, with the background creeping out of focus. It goes against landscape photography rules that dictate everything in the image must be sharp, but using a shallow depth of field can make for some very interesting images.
Those who shoot starlit landscapes will also enjoy the advantage of the f/1.8 aperture.  Shooting such images, especially without introducing noise, relies on having a large aperture so that as much light from the stars can be captured as possible – the f/1.8 aperture should be able to capture both a dimly lit landscape and the stars. The old rule states that to keep the stars in the sky sharp, the exposure time should be no more than 600 divided by the focal length of the lens – a 30sec exposure should therefore be good enough when using a 20mm focal length.
The 20mm f/1.8 lens uses Nikon's Nano Crystal Coating to reduce flare and chromatic aberrations. There are two aspherical and two ED (extra-low dispersion) elements to ensure images are sharp and show minimal distortion.
Although the lens doesn't have Nikon's Vibration Reduction lens-based image stabilisation, this shouldn't be an issue because it is possible to shoot handheld with this lens at around 1/30sec and still get sharp images.
Photographers will be pleased that this lens features a quiet Sonic Wave Motor (SWM), as well as being rear focusing. This means that the front lens doesn't extend or rotate during focusing. This is a real benefit for users of filters such as polarisers or ND grads.
Nikon AF-S Nikkor 20mm f/1.8G ED review – Build and handling
Nikon users will immediately feel at home with this 20mm f/1.8 lens, as it offers all the familiarity of the current range of G-series lenses. There is a ribbed, wide focus ring with a small window showing the current focus distance. As usual, this is a little small and not too detailed, but in this digital age it isn't much of an issue as you can preview the focusing and depth of field via live view. A small switch on the side of the barrel quickly changes between manual and autofocus, and as you would expect, there is no aperture ring as the aperture is changed electronically via the camera. The lens has a 77mm filter thread and comes supplied with the slot-in HB-72 lens hood, but there is little else to say in terms of the exterior build of the lens.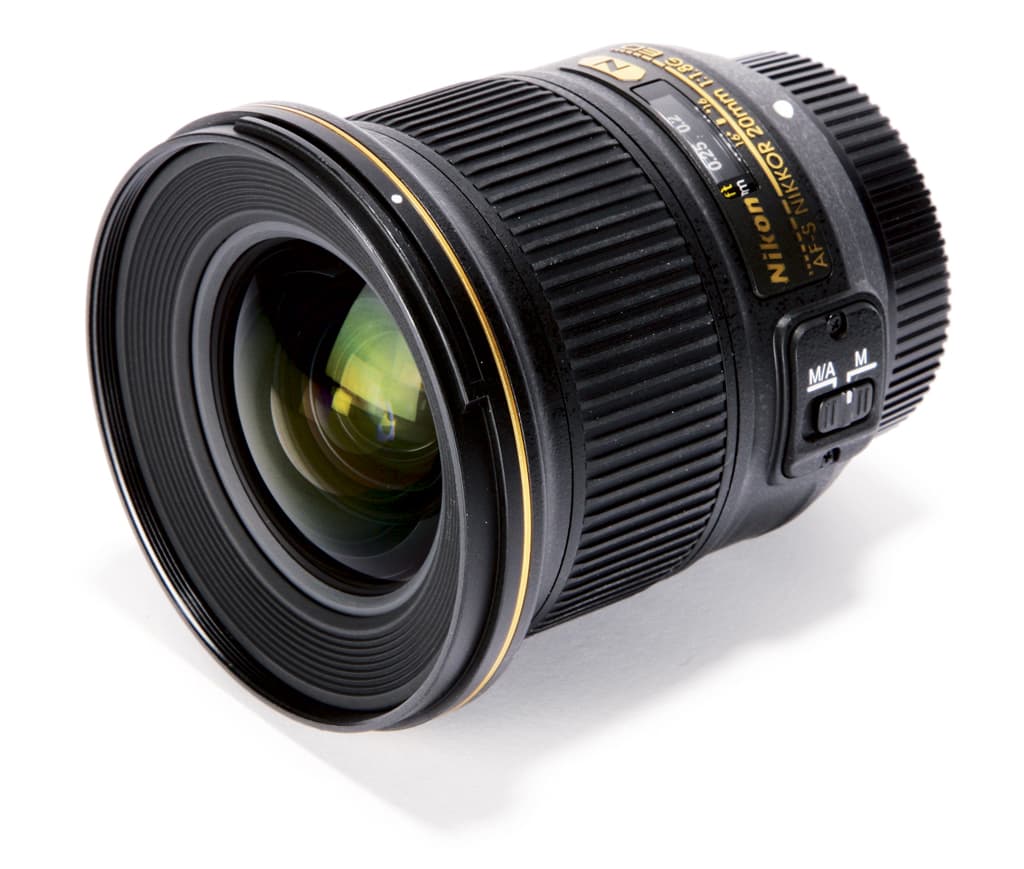 One noticeable quality is the size of the lens, along with its weight. Those 13 new elements are all larger than in the previous f/2.8 version of the lens, allowing in enough light to make the f/1.8 aperture possible. As a result, the 20mm f/1.8 lens measures 82.5 x 80.5mm compared to the 69 x 54mm of the AF-D 20mm f/2.8. This new construction also increases the weight from 260g to 355g.
However, the current trend for many lens manufacturers is one of quality over convenience – the Sigma 50mm f/1.4 DG HSM | A lens is a prime example of this. There are other 50mm f/1.4 lenses available that are smaller, lighter and much cheaper, but none can match the image quality offered by Sigma's Art optic.
For this test, I paired the AF-S Nikkor 20mm f/1.8G ED with the Nikon D750 and found they were good companions. The lens feels reassuringly solid, and manually focusing is relatively straightforward. Using autofocus was especially fast – even when switching from minimum to infinity it virtually snaps into focus – and the f/1.8 aperture allows a good amount of light for autofocusing, even in low-light conditions.

Nikon AF-S Nikkor 20mm f/1.8G ED review – Image quality
For landscape images, the 20mm f/1.8 lens delivers on its promise. There is very little curvilinear distortion, which is evidenced when selecting the automatic profile correction in Adobe Camera Raw or Lightroom. A press of the button makes a slight adjustment to the image, but it isn't severe at all. Those wishing to shoot architecture or interiors should also find the minimum distortion a real benefit.
Vignetting is present, as you would expect from a lens of this focal length, and can be noticeable even at f/8. Vignetting bothers some people, but I'm not one of them – it helps draw the eye to the centre of the frame, and it can be easily removed when editing.
In terms of sharpness, the corners do suffer when shooting wide open. However, by f/5.6 they are much sharper, and at f/8 it is only the very corners that have a noticeable drop in resolution from the centre of the frame.
Shooting right into the sun, some green/magenta chromatic aberration was noticeable. However, this was a very extreme test that I would have expected almost all lenses to fail. Even with the slight aberration, the 20mm coped admirably with the ordeal, and again, the benefit of modern technology meant the raw file was corrected with the press of a button, leaving no trace of it at all.
When using the 20mm lens on a DSLR with an APS-C-sized sensor it becomes the equivalent of a 30mm f/1.8, and it uses the very sharpest part of the imaging circle. Used in this way it will give you virtually edge-to-edge sharpness that is every bit as good as the very centre of the frame. Again, this is something that will appeal greatly to landscape photographers.
However, the aspect I most enjoyed was the f/1.8 aperture. Focusing on subjects that are very close to the lens – even as close as the 20cm minimum focus distance will allow – meant that I could be very creative when framing images. It offers something different for all types of photography, but it is perhaps those shooting video who will benefit the most, creatively, from this lens.
Nikon AF-S Nikkor 20mm f/1.8G ED review – Resolution
Our MTF tests reveal fairly typical behaviour for a fast prime lens. At f/1.8 the centre of the frame is quite sharp, but the edges are noticeably soft. Stop down to the lens's optimum aperture of around f/5.6 to f/8, though, and the lens performs very well. Smaller apertures will result in diffraction blurring.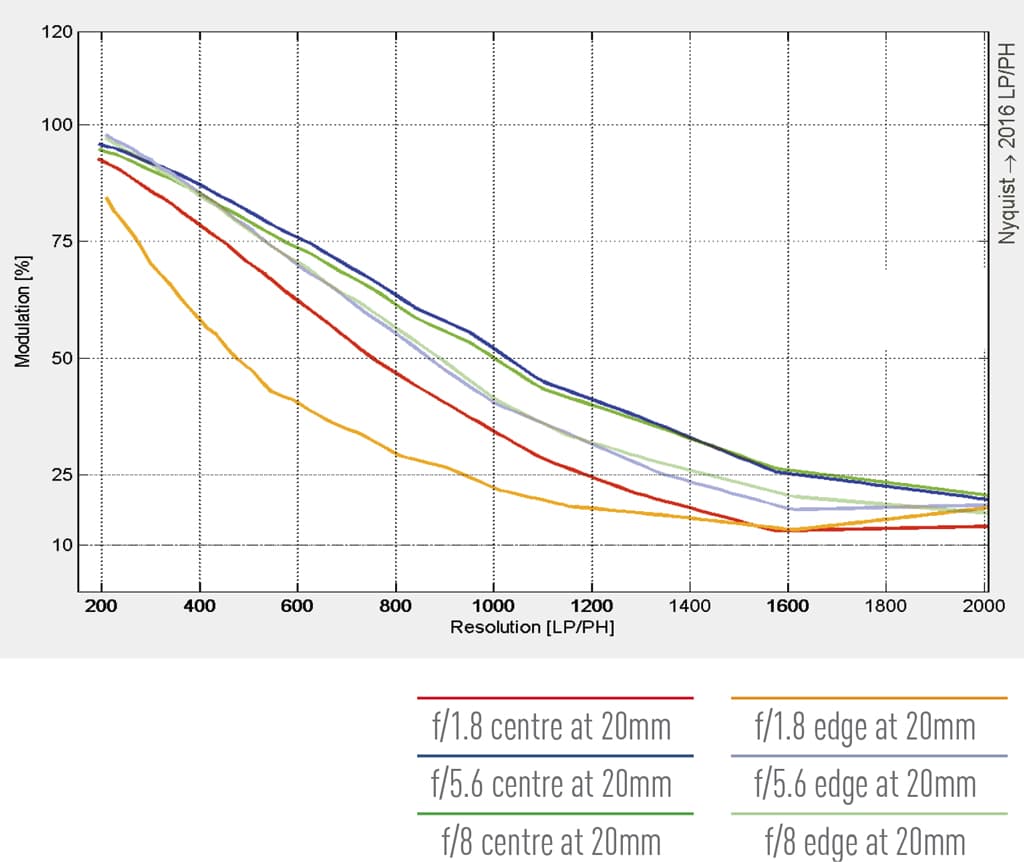 Nikon AF-S Nikkor 20mm f/1.8G ED review – Shading
As usual for a fast prime lens, shading is quite pronounced at maximum aperture, but our graph reveals a gradual fall-off profile across the frame that's unlikely to be visually objectionable in most circumstances. Stopping down reduces the effect considerably, with only very low levels of vignetting at apertures of f/4 or smaller.

Nikon AF-S Nikkor 20mm f/1.8G ED review – Curvilinear distortion
One big advantage of prime lenses over zooms tends to be better control over distortion, and that's evident with the 20mm Nikkor. A figure of -1.2% is indicative of mild barrel distortion. In many situations this won't be noticeable, but it can be easily corrected in post-processing for more critical subjects such as architecture.

Has the Nikon AF-S Nikkor 20mm f/1.8G ED been discontinued?
No, the Nikon AF-S Nikkor 20mm f/1.8G ED has not been discontinued, and is still listed as available on Nikon's website. It's available from major retailers, and is listed as in stock at B&H, and is priced at $796 / £799.
Nikon AF-S Nikkor 20mm f/1.8G ED review – Our verdict
Fixed-focal-length lenses seem to be flavour of the month right now, particularly with photographers looking for the best-quality optics to match the latest generation of high-resolution sensors. As such, the AF-S Nikkor 20mm f/1.8G ED should prove to be extremely popular.
In terms of resolution, the lens is excellent, particularly at f/5.6-f/8, with only the very corners of the image showing a slight blur. There is minimal curvilinear distortion given the focal length of the lens, and the vignetting and chromatic aberration aren't pronounced enough to be an issue. Besides, many of these issues are solved in-camera if you shoot JPEG images.
Those with Nikon DX cameras will be getting a fantastic 35mm (equivalent) f/1.8 lens, which will suit landscape and street photography. However, what I liked the most was the large aperture, as it really allows for some interesting shallow depth of field compositions.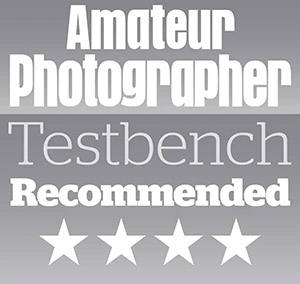 Find the best Nikon DSLR, or have a look at more of the best Nikon F-mount lenses.