Ever since digital SLRs first appeared with sensors smaller than 35mm film, there's been a question of how to shoot at wide angles. APS-C or DX-format cameras need purpose-designed lenses with focal lengths extending as low as 10-12mm, and to make them reasonably small and affordable, these are designed with smaller image circles, so aren't compatible with full-frame cameras.
It didn't take all that long for APS-C specific wide zooms to appear, but they've always been a bit more expensive than their 35mm film equivalents were. Nikon's AF-S DX Nikkor 10-24mm f/3.5-4.5G ED will set you back £700 or more, driving most users of the brand to buy third-party alternatives such as the £330 Sigma 10-20mm F3.5 EX DC HSM. Doubtless many looked on in envy when Canon announced its budget EF-S 10-18mm f/4.5-5.6 IS STM in 2014, which can now be bought new for around £200.
Now Nikon has replied, with the £329 AF-P DX Nikkor 10-20mm f/4.5-5.6G VR. With built-in optical stabilisation, at first sight it looks like an obvious buy for pretty much any Nikon DSLR user who doesn't yet own a wideangle zoom. Unfortunately it comes with a serious catch – as an AF-P lens that uses a stepper motor for autofocus, its back-compatibility with older cameras is rather limited. This is a strange misstep from Nikon that has no obvious technical explanation: the stepper-motor equipped Canon 10-18mm will work perfectly happily on all its APS-C DSLRs, right back to the introduction of the EF-S mount on the EOS 300D in 2003.
Nikon 10-20mm f/4.5-5.6 – Compatibility
According to the lens's instruction manual, it 'does not support' cameras that are more than five years old, namely the D4-series, D3-series, D2-series, D-1 series, D800-series, D700, D610, D300-series, D200, D100, D90, D80, D70-series, D60, D50, D40-series, D7000, D5100, D500, D3200, D3100, or D3000 models. So if you use one of these cameras, you can stop reading now and buy a third-party alternative instead.
With a few more recent models, the D5500, D5300, and D3300, you'll need to update the firmware to the most recent version for the lens work properly.
Nikon 10-20mm f/4.5-5.6 – Features
Despite the lens's small size, Nikon has employed an optical formula with 14 elements in 11 groups, including three aspherical elements to help minimise distortion. The aperture diaphragm uses seven curved blades, which means you can expect to see 14-ray sun-stars when it's stopped down. The minimum focus distance is just 22cm at all focal lengths.
Like its Canon equivalent, the 10-20mm's modest maximum aperture of f/4.5-5.6 isn't much to write home about. However it makes up for this by having built-in optical stabilization that Nikon claims will allow you to shoot at shutter speeds 3.5 stops slower than would otherwise be possible, without your images being ruined by blurring due to camera shake. As a result you can shoot hand-held in lower light compared to using a larger-aperture lens, although you'll still get motion blur if your subject isn't static.
At the front of the lens is a 77mm filter thread, and as with the vast majority of lenses these days, it doesn't rotate during autofocus, which makes the use of polarising or graduated filters easier. It's nice to see that unlike Canon, Nikon has supplied a large petal-type lens hood in the box, which can be reversed over the barrel when it's not in use.
Nikon 10-20mm f/4.5-5.6 – Build and handling
Weighing in at a mere 230g, and measuring 73mm long and 77mm in diameter, this lens is particularly small and light for an ultra-wide zoom. Indeed it's by far the most compact Nikon-fit option, and practically half the weight of the alternatives (including the only other stabilized option, the £580 Tamron 10-24mm F3.5-4.5 Di II VC HLD). To achieve this, unsurprisingly it makes extensive use of plastics in its construction, including the lens mount. However it still feels perfectly sturdily made, and far better than some older all-plastic budget zooms.
The lens has but two controls: a large zoom ring that covers most of the barrel, and a slim manual focus ring that's placed in front of it, just behind the point where the front flares out to accommodate the filter thread. Unlike most other Nikon lenses, it has no switches on the barrel to select between auto and manual focus, or turn image stabilisation on or off. Instead, you have to select the focus mode using either the focus mode switch on your camera, or the onscreen control panel for lower-end models that don't feature one. Meanwhile image stabilisation is turned on or off from the camera's menu – fortunately Nikon suggests that it's usually safe to leave it turned on all the time, including when the camera is on a tripod.
We've become used to this kind of switchless lens design on mirrorless cameras, but the difference is that it's usually been designed in from the start of each system, so is consistent across lenses and cameras. Existing Nikon owners who are used to having physical switches on all their other lenses will, I suspect, look less kindly on the idea. I didn't find it a problem when testing the lens on the Nikon D5600 body, as I just left AF and VR turned on almost all the time. It's not as nice as having physical switches, but personally I wouldn't see it as a deal-breaker either.
Nikon 10-20mm f/4.5-5.6 – Autofocus
As with its other AF-P lenses, Nikon has employed a stepper motor in the 10-20mm for focusing. This technology is borrowed from mirrorless camera systems, and in combination with internal-focus lens designs, allows for fast, silent and accurate autofocus. It's also more suitable for video than the ultrasonic-type motors that Nikon uses in its AF-S lenses.
In practical use the AF-P system delivers on all these promises. Autofocus is generally extremely quick and only barely audible, even to the photographer in a quiet room. During video recording it enables focus to be pulled from one subject to another with a much smoother effect than you'll get from typical AF-S lenses, and without operational noises affecting your soundtrack.
Manual focus is also available, and as always with stepper-motor lenses, it uses an electronically-coupled focus-by-wire system. This means that you can only focus the lens manually when the camera is turned on and the metering is activated, which might feel strange to many DSLR users. Compared to the bad old focus-by-wire systems of a decade ago, though, the manual focus ring has a much more positive feel to it, allowing extremely precise focusing.
Nikon 10-20mm f/4.5-5.6 – Performance
While it would be remiss to expect great performance from what is clearly a budget lens, it's also important to take into account that Canon's similar 10-18mm is quite highly regarded for its imaging prowess. Unfortunately, based on our review sample Nikon doesn't seem to have quite such a praiseworthy optic on its hands.
Image quality is far from spectacular: the lens is sharp enough in the centre of the image, but shows soft, smeared corners that only really sharpen up properly when the lens is stopped down to f/8 or f/11 in the middle of the zoom range. Examining the raw files also shows pronounced green and magenta colour fringing due to lateral chromatic aberration, but most Nikon DSLRs from the past decade will correct this in their JPEG processing, and it's a simple fix in raw development too. Barrel distortion is very evident at wideangle, and while this can also be fixed quite easily in software, it often has the side effect of persuading you to shoot at a crooked angle, so you might find yourself straightening horizons more often than you're used to.
On a more positive note, I found the image stabilisation to be pretty effective; I was able to get sharp pictures at shutter speeds as slow as 1/6sec fairly consistently, and even at 1/3sec by taking a few replicates. This is particularly handy for shooting interiors handheld, or cityscapes at dusk; it can also give interesting motion-blur effects to moving water.
Nikon 10-20mm f/4.5-5.6 – Resolution
Our Image Engineering MTF tests tell a story of a lens whose performance reflects its price. It's actually pretty sharp in the centre at 10mm, but the corners don't come close, even when stopped down considerably. The best overall performance comes towards the middle of the zoom range, with pretty decent cross-frame sharpness at 16mm and f/8. Zoom to 20mm and the corners deteriorate again, with the sharpest results at f/11.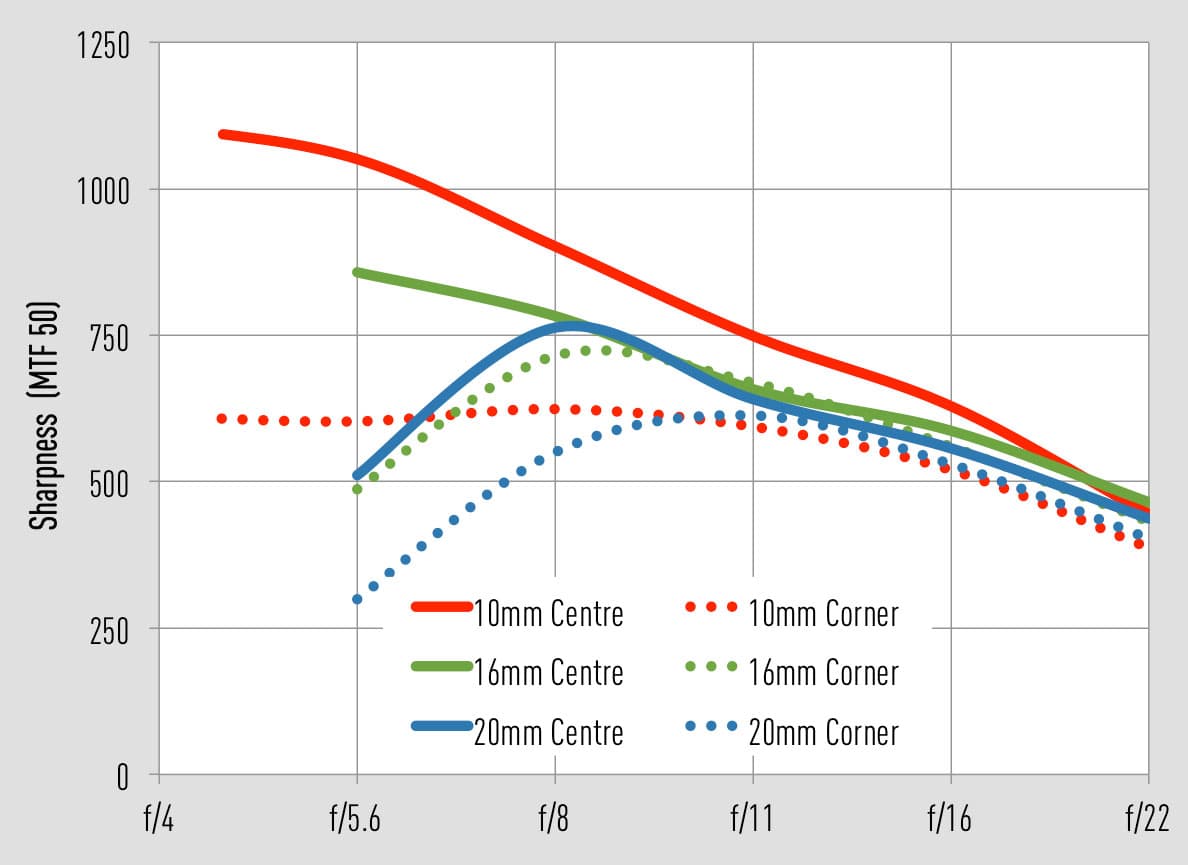 Nikon 10-20mm f/4.5-5.6 – Shading
It's no great surprise with a lens this small to see fairly obvious corner shading at the 10mm setting, but it reduces considerably on stopping down to just f/5.6, and is pretty much invisible by f/8. The effect also diminishes at longer focal lengths, with only a little falloff visible wide open at 16mm that again becomes insignificant by f/8. At the 20mm setting there's nothing to worry about at all.
Nikon 10-20mm f/4.5-5.6 – Curvilinear Distortion
The lens exhibits pretty typical distortion behaviour for a wideangle zoom. At 10mm, barrel distortion is quite considerable, and for geometric subjects such as architecture you'll probably want to correct it in post-processing. However it reduces quickly as you zoom in, with the lens providing almost perfectly corrected images from 16mm to 20mm.
Nikon 10-20mm f/4.5-5.6 – Verdict
To be honest, I was hoping for better things from Nikon's budget 10-20mm zoom. It delivers on the promise of a small, lightweight wideangle that's easy to carry when you want to travel light, and its image stabilization certainly comes in handy if you like to continue shooting handheld after the sun has gone down. But its rather lacklustre optical quality takes the shine off the experience a little once you get home and start examining your pictures.
I wouldn't dismiss the lens entirely, though. You still get all the pictorial impact that only an ultra-wideangle can give offer, and if you don't tend to stare at your pictures in detail onscreen or print larger than A4, its relative lack of sharpness is of little concern. Equally, an image that makes strong use of lighting and composition won't be invalidated by having slightly blurry corners. But while it provides a specific blend of light weight and stabilisation that Nikon users won't find elsewhere, other wide zooms will give sharper results.
If you own a recent Nikon DSLR and want an image-stabilised wideangle zoom, the Nikon 10-20mm is still worth considering. The Tamron 10-24mm f/3.5-4.5 Di II VC HLD is clearly a better lens, but considerably pricier, and if you can live without stabilisation I'd suggest looking at the Sigma 10-20mm f/3.5 EX DG HSM.