Nikon AF-S DX Nikkor 16-80mm f/2.8-4E ED VR: Introduction
Nikon's Z mirrorless system was launched in 2018 and since then the brand's focus has shifted away from its DSLR systems, a sector where it was once strongly represented in both full-frame (FX) and APS-C (DX) formats. It continues to have cameras available in both markets but the last DX-format DSLR to have been introduced was the D3500 back in August 2018. Click here to see our 12 Best Nikon DSLR cameras ever which includes FX and DX-format models.
With the smaller-format cameras came more compact lenses and the Nikon AF-S DX Nikkor 16-80mm f/2.8-4E ED VR was a welcome addition when it was released in 2015. However, it was discontinued in 2022 so its life was a fairly short one for a Nikon lens. Read here for more on Nikon's 35 discontinued lenses.
The DX Nikkor 16-80mm f/2.8-4E ED VR covered a really useful range – 24-120mm equivalent in the 35mm format – making it a great standard zoom with the benefit of a fast maximum aperture and VR. There remains a reasonable selection of dedicated DX-format lenses from Nikon and third party brands. The Nikon 18-140mm f/3.5-5.6 AF-S G ED VR DX has a wider 7.6x zoom range and costs $497 / £539 and if you want something with an even wider range, there's the now discontinued AF-S DX 18-300mm f/3.5-6.3G ED VR at $608 / £365 on the used market. Of course, it's worth remembering that FX F-mount lenses also fit and work fine although they are usually more substantial. We named our Best Nikon F-mount lenses in 2023 here.
Although no longer available new, on the used market the DX Nikkor 16-80mm f/2.8-4E ED VR can be had for around $394-454 / £334-379.
Nikon AF-S DX Nikkor 16-80mm f/2.8-4E ED VR: Features
Packed inside the relatively compact AF-S DX Nikkor 16-80mm f/2.8-4E ED VR zoom lens are 17 elements in 13 groups. These include four with extra-low dispersion (ED) glass elements to minimise chromatic aberration and three aspherical lens elements. The aspherical lens elements not only control coma and other types of lens aberration, but also correct the distortion in wideangle lenses.
Then there's the fluorine coating that helps repel water and dirt, and makes it easier to clean the glass without damaging the front element (if you're not using a UV or skylight filter on the front, that is).
As we've also seen with other recently launched Nikon lenses, the Nikkor 16-80mm f/2.8-4 features an electromagnetic diaphragm (denoted by the 'E' designation). This technology has been found on some of Nikon's lenses for a while, and is designed to provide highly accurate control of the rounded diaphragm blades to ensure more consistent exposures during continuous shooting. It's worth noting, though, that there are some compatibility issues if you're thinking of pairing this lens with an older DSLR, including popular models like the D200 and D90.
Speaking of diaphragm blades, it's perhaps a little disappointing to see only seven on this lens. Nine blades would have been better, as they tend to generate more pleasing bokeh thanks to the smoother circular shape they create.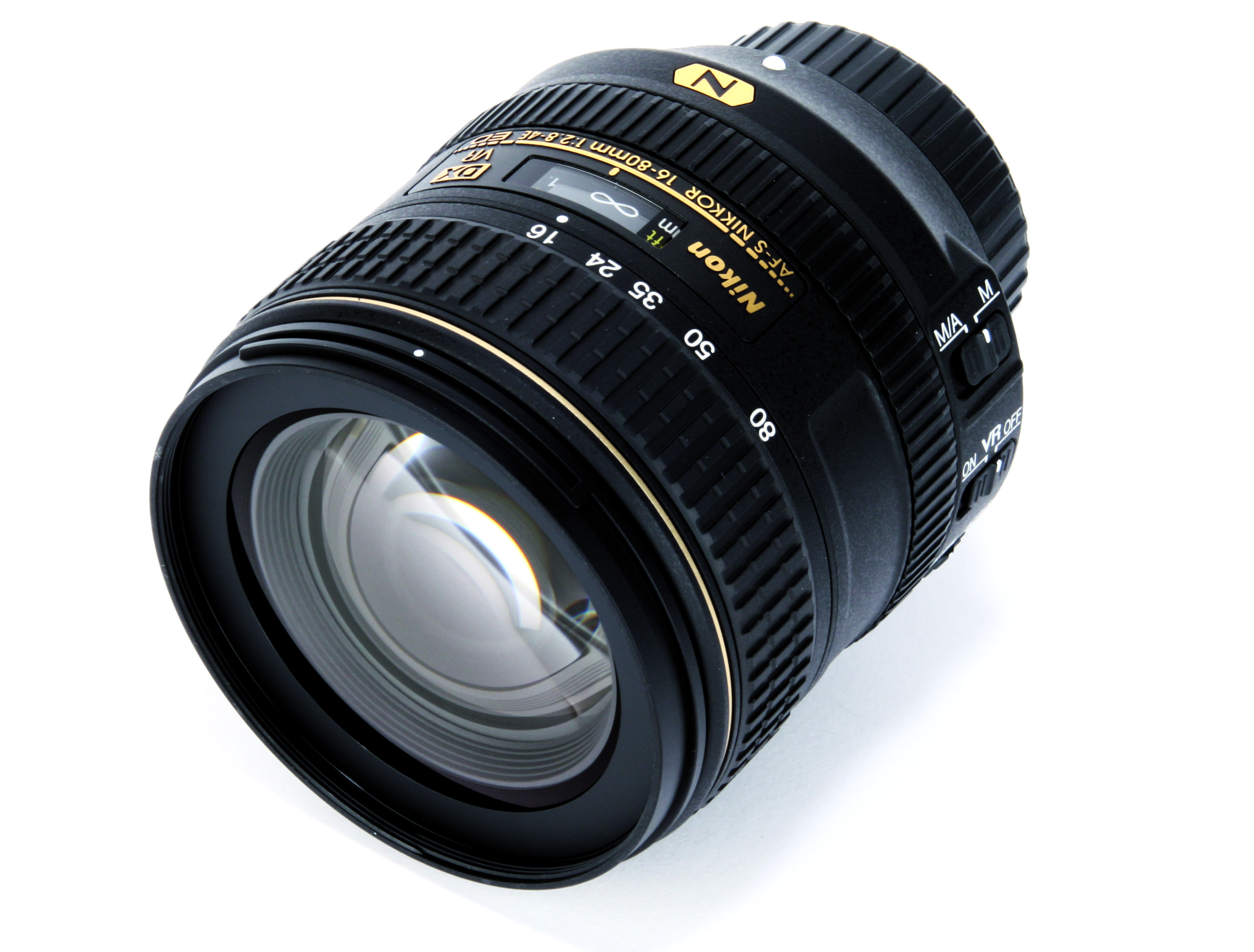 Nikon's Silent Wave Motor (AF-S) ensures that focusing noise is kept as quiet as possible, while the company's Vibration Reduction (VR) anti-shake system is also on board, allowing up to 4 stops of compensation. There are also two modes to choose from – Normal and Active, with Active more suited to situations when you're shooting from a moving vehicle, as the type of movement is different from that on a stable platform.
The 16-80mm focal length translates to a 35mm equivalent of 24-120mm on a DX-format DSLR, providing a broad focal range from decent wideangle coverage to moderate telephoto, making it versatile enough for a range of subjects. The maximum aperture may be variable, but it's still a welcome f/2.8-4, which, when paired with the VR system, should deliver plenty of flexibility under varied lighting.
The lens requires a reasonably large 72mm filter thread, but the inclusion of internal focusing means your polarising or ND grad filter won't spin round when you focus and the front element remains in a fixed position.
Nikon AF-S DX Nikkor 16-80mm f/2.8-4E ED VR: Build and handling
The exterior build of the Nikkor 16-80mm f/2.8-4 shies away from a metal construction in favour of high-quality plastic that is finished with a dappled texture that complements the company's DSLRs. However, there is a metal mount at the rear, and a nice touch is the inclusion of an O-ring seal around the mount to limit dust and water entering the camera. It's worth noting, though, that the lens doesn't pretend to be weather-sealed.
When you consider the 5x focal length packed into this lens, it is an incredibly compact model and weighs a modest 480g. When teamed up with a D7200, the balance of body and lens in the hand is good, although on smaller DX-format DSLRs it will probably feel quite front-heavy. The compact size of the lens means there's little space for a large zoom ring, but the one that's fitted is adequate, and its positioning towards the front of the lens means it falls to the hand nicely.
The slim manual-focus ring positioned further towards the camera body has a fine ribbed contour and rotates anti-clockwise from infinity to closest focus (0.35m), with a relatively smooth transition through the range. Between the zoom and manual-focus rings is a modest focus-distance-scale window, marked in both feet and metres.
On the side of the lens are three switches. The first is a switch that allows manual override of autofocus with minimal lag time and regardless of what AF mode you're using. Then there's the choice of switching the VR on or off, while the third lets you select between Normal and Active VR modes. These switches are clearly labelled, and the only issue that may arise is if you want to change one of these settings quickly with the camera raised to your eye because they are all identical.
Nikon AF-S DX Nikkor 16-80mm f/2.8-4E ED VR: Autofocusing
Thanks to the use of Nikon's Silent Wave Motor, focusing noise is virtually inaudible. When partnered with a D7200, focusing speed is also nice and snappy, locking on to focus quickly and accurately under a range of conditions, from early morning landscapes to fast-paced action shots.
Focusing isn't quite as instantaneous when jumping from either extreme of the focusing range, but it's still more than satisfactory.
Nikon AF-S DX Nikkor 16-80mm f/2.8-4E ED VR: Image quality
With an extensive 5x focal range running from wideangle to telephoto, there's a reasonable amount of strain put on the optics to deliver decent results, not only through the zoom range but also through the aperture range. Despite a few small issues, though, the AF-S DX Nikkor 16-80mm f/2.8-4E ED VR lens delivers a solid performance.
It's worth bearing in mind that when shooting subjects with critical straight lines, barrel distortion is present at 16mm. This became apparent when shooting a coastal scene, and trying to level the scene became impossible thanks to the slight bow in the horizon that was visible in the viewfinder. If you are prepared to adjust for this when shooting and then correct it in post-production, then shooting at f/11, though not the sharpest aperture, still delivers nice results with decent edge-to-edge sharpness and virtually no signs of vignetting.
When shooting wide open at 16mm, image quality does suffer around the edges of the frame. While centre sharpness is good, there is noticeable vignetting right in the corners of the image. However, this may only really be the case at f/2.8, with things picking up as you stop down the lens.
Barrel distortion disappears as you move through the zoom range, to be replaced by only minor pincushion distortion, which is a lot better controlled. There are still issues with vignetting and edge sharpness when shooting wide open, but as I experienced at 16mm, if you stop the lens down by 1 or 2 stops things improve dramatically.
Nikon AF-S DX Nikkor 16-80mm f/2.8-4E ED VR: Resolution, shading and curvilinear distortion
Resolution
At 16mm and f/2.8, centre sharpness is good but edge sharpness does suffer. However, this improves somewhat as you stop the lens down, with around f/5.6-8 delivering the best results for centre and corner sharpness. Beyond that, diffraction starts to become an issue. At 80mm, edge sharpness at f/4 doesn't match the centre of the frame, with f/5.6 delivering the sharpest results.
Shading
There's severe vignetting when using the lens wide open at f/2.8 and 16mm, but it starts to disappear when stopped down a little at f/4 before being well controlled beyond that. At 80mm, vignetting is slightly better controlled at f/4, although there's quite a drop-off at the edges of the frame. From f/8 onwards, though, things are controlled well.
Curvilinear distortion
At 16mm noticeable barrel distortion can be seen in our test results, with the straight lines of our chart bowing out towards the edge of the frame. This disappears as you move through the zoom range, replaced by pincushion distortion. This is noticeable in our charts at 35mm, although it doesn't deteriorate too much after that.
Nikon AF-S DX Nikkor 16-80mm f/2.8-4E ED VR: Verdict
The AF-S DX Nikkor 16-80mm f/2.8-4E ED VR is a well-specified lens with a versatile 5x zoom, 4-stop VR, electromagnetic diaphragm, relatively fast maximum aperture and compact form factor. Its overall performance is sound. Optically, its performance is solid without being outstanding, and we also saw decent performances from the autofocus and Vibration Reduction systems.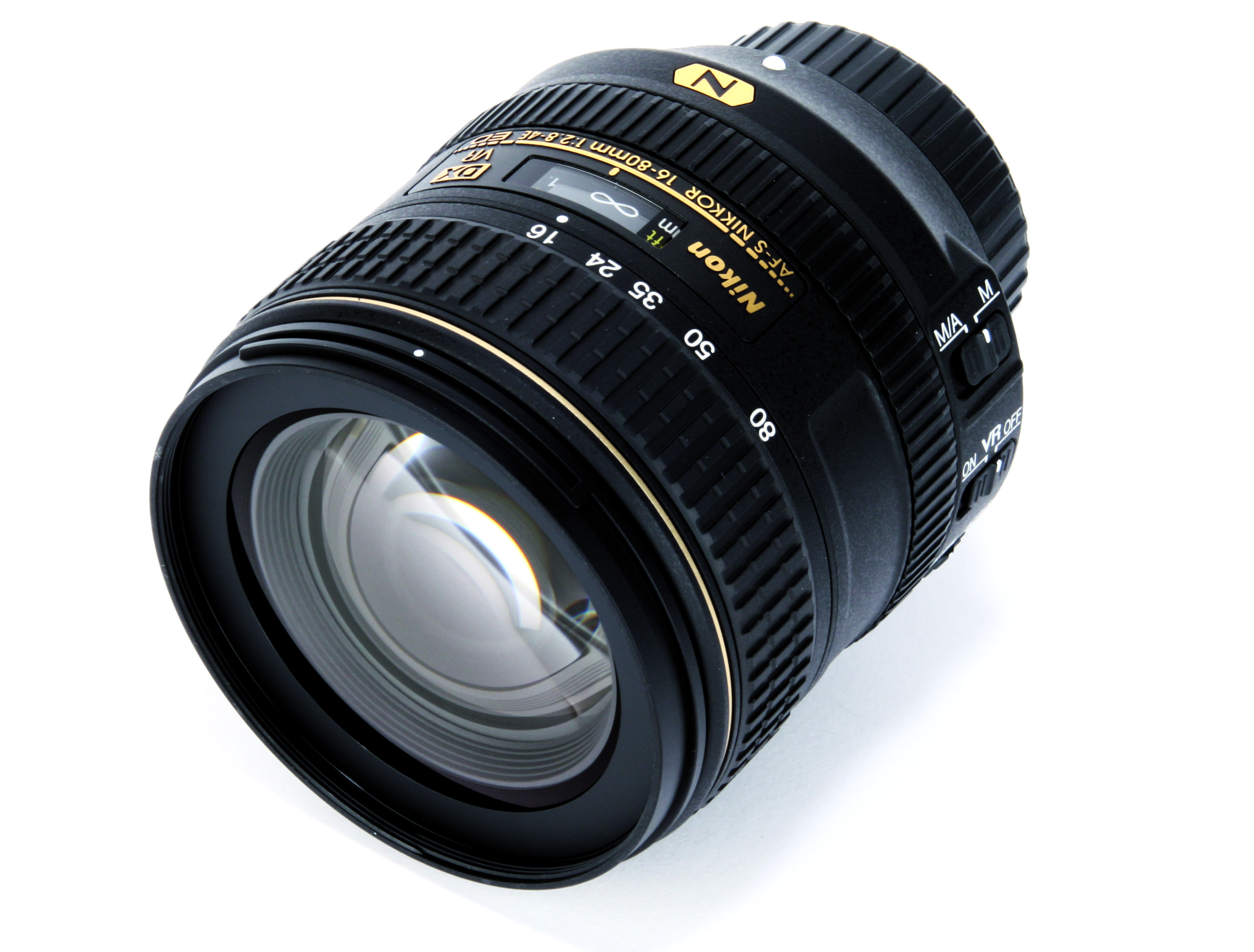 Overall, this is a decent lens with a lot of positives and a few negatives. If you want a standard zoom to partner your Nikon DX-format DSLR with a very useful focal length, for a used price in the region of $394-454 / £334-379, a good condition sample is worth seeking out.