Compact cameras, eh, who really needs them any more? We all carry a smartphone these days so for a compact camera to be worthwhile, it really needs to offer something a bit special. And, many of the best ones still do. In this buyers guide, we've put together a list of our favourite compacts that give you features and performance beyond what you get from a phone – however many cameras it has built-in.
---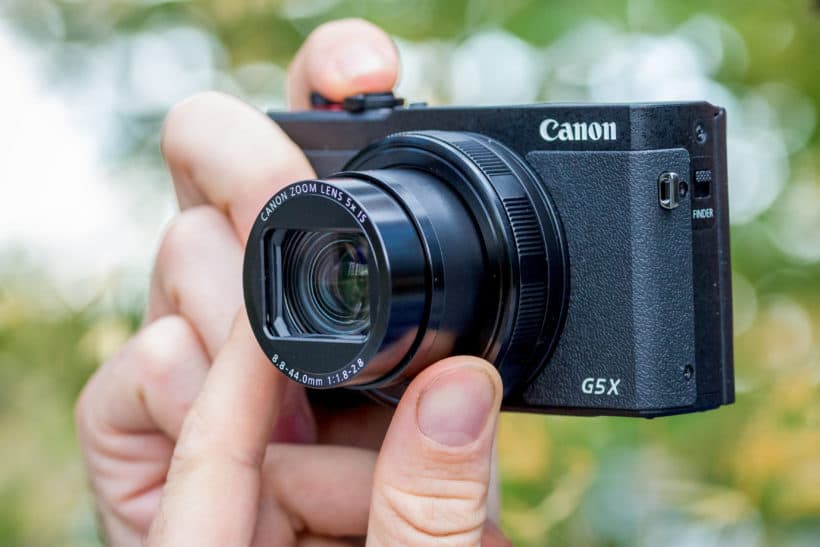 Launched at the same as the Canon PowerShot G7 X Mark III, which has much of the same technology, the PowerShot G5 X Mark II has the bonus of a pop-up 0.39-inch 2.36-million-dot electronic viewfinder, which is incredibly useful in bright sunlight or when you're trying to follow a moving subject.
With an effective focal length range of 24-120mm, the G5 X III's f/1.8-2.8 lens is also a little more versatile than the G7 X Mark III's 24-100mm f/1.8-2.8 optic.
The widest point of the lens is ideal for anyone wanting to shoot selfies or vlog with the G5 X II, and the 3-inch screen can be flipped up through 180° for viewing from in front of the camera. The main thing that you miss out on by going for the G5 X II rather than the G7 X III, is the G7 X III's ability to stream live to YouTube.
Key specifications
Price at launch: £899
Sensor: 1in, 20.1-million-pixel CMOS sensor
Output size: 5472×3648 pixels
Lens: 24-120mm equivalent f/1.8-2.8
Image processor: DIGIC 8
Shutter Speeds: 1-1/2000sec (Mechanical Shutter) 30sec-1/25600sec (Electronic shutter)
ISO: 125-12800 (extendable to ISO 25600)
Exposure compensation: +/-3EV in 1/3 steps
Drive Mode: Up to 30fps (Raw burst mode)
Video: 4K/30,25fps Full HD up to 120fps
Viewfinder: 0.39-type EVF 2.36 million dots
Display: 3in, 1040k dot tilt angle touchscreen
Memory Card: SD, SDHC, SDXC (UHS-I compatible)
Power: NB-13L (up to 230 shots)
Dimensions: 110.9×60.9x46mm
Weight: 340g (with battery and memory card)
---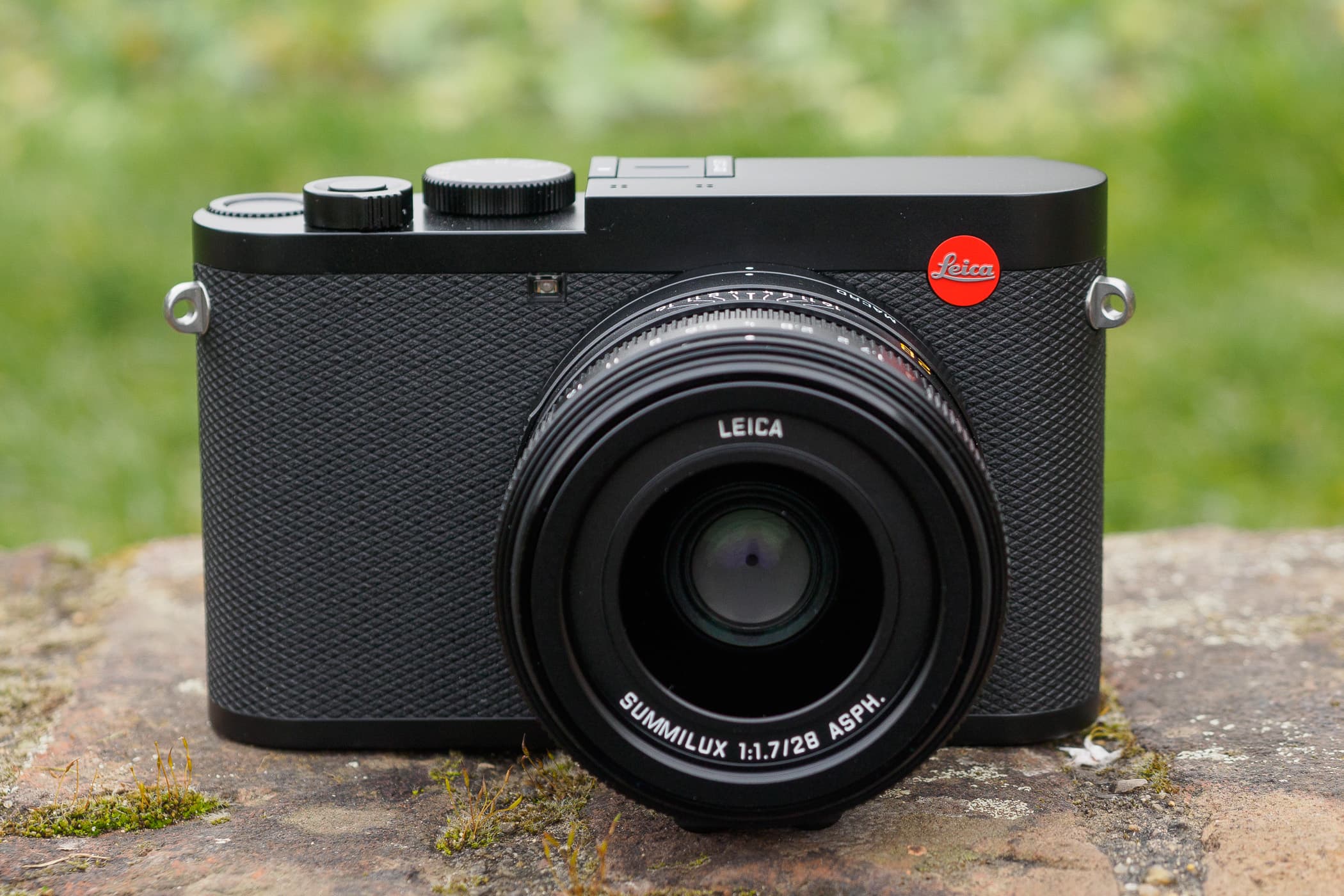 Compact cameras don't come much more special than the Leica Q2 – unless you count the Leica Q2 Monochrom, which is its black-and-white-only companion. Inside the Q2's incredibly well-built and understated body is a 47.3MP full-frame sensor, fronted by a superb 28mm f/1.7 lens. Together, they capture very high quality images with bags of crisp detail.
While the Q2 might look old school, it has some excellent modern technology, including a responsive touchscreen and a 3,680,000-pixel OLED electronic viewfinder which provides an excellent preview of images. There's also a decent autofocus system, which while not necessarily being the fastest currently available, is certainly more than sufficient for a camera of the the Q2's ilk.
Key specifications
Price at launch: £4,250
Sensor: 47.3MP CMOS, 24 x 36mm
Output size: 8368 x 5584
Focal length mag: 1x
Lens: Leica Summilux 28mm f/1.7 ASPH
Shutter speeds (mechanical): 120 sec – 1/2,000 sec + T
Shutter speeds (electronic): 1 sec – 1/40,000 sec
Sensitivity: ISO 50 – 50,000
Exposure modes: PASM, Scene
Metering: Multi, centre-weighted, spot
Exposure compensation: +/-3EV in 0.3EV steps
Continuous shooting (mechanical): 10 frames per second
Continuous shooting (electronic): 20 frames per second
Screen: 3in, 1.04m-dot touchscreen
Viewfinder: 3.68m-dot OLED, 0.76x magnification
AF points: 49
Video: Cinema 4K (4096 x 2160), 24fps
Power: Leica BP-SCL4 Li-ion
Battery life: 350 shots per charge
Dimensions: 130 x 80 x 91.9 mm
Weight: 718g inc battery
---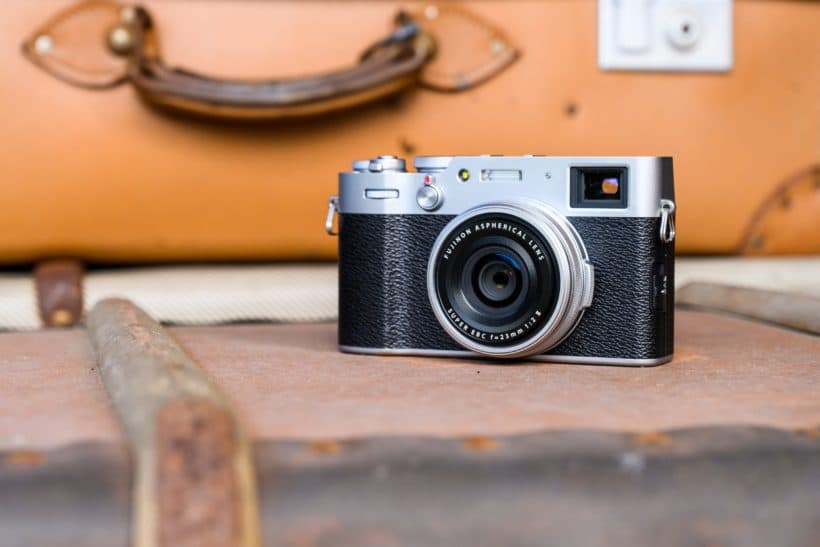 If you like the idea of a compact camera that draws on tradition, but you're not so keen on the Leica Q2's price tag, the Fujifilm X00V could be the solution. It's an APS-C format camera with a 23mm (34.5mm equivalent) f/2.0 lens.
Like the Q2, it has a shutter speed dial and aperture ring, but there are also dedicated dials for controlling the exposure compensation and sensitivity (ISO).
Also, the hybrid viewfinder can be switched between an electronic finder and a direct-view optical finder with modern benefits like parallax corrected frame lines and lots of settings information. This is paired with a tilting touchscreen, which is ideal for shooting above or below head-height.
The X100V uses the same back-illuminated 26.1MP X-Trans CMOS 4 sensor and quad-core X-Processor 4 engine as in the Fujifilm X-T3 and X-T4, which means it's capable of capturing superb-quality images.
Key specifications
Price at launch: £1,299
Sensor: 26.1MP X-Trans CMOS 4, 23.5 x 15.6mm
Output size: 6240 × 4160
Focal length mag: 1.5x
Lens: 23mm F2.0 (equivalent to 34.5mm)
Shutter speeds: 15min – 1/8000sec (mechanical shutter), 15min – 1/32,000sec (electronic shutter)
Continuous shooting: 11fps (mechanical shutter), 20fps (electronic shutter), 30fps (1.25x crop)
Screen: 3in, 1.62-million-dot tilting touchscreen
Hybrid Viewfinder: Optical 0.52x magnification, 95% coverage / electronic, 0.5in, 3.69m-dot OLED EVF
AF points: 425
Video: DCI 4K (4096×2160), 30p, 200Mbps, 10min
External mic: 2.5mm stereo
Memory card: 1x SD/SDXC/SDHC
Power: NP-W126S Li-ion
Battery life: 350(EVF), 420 (OVF)
Dimensions: 128×74.8×53.3mm
Weight : 478g (including battery and SD memory card)
---
Olympus Tough TG-6
The Olympus Tough TG-6 earns its name because of its ability to survive being dropped from a height of 2m, crushed by 100Kg, frozen down to -10°C and submerged in water down to 15m. Its rugged build means it can be used on the beach, dropped in the sand and taken below the waves. Those tough credentials should also make the TG-6 fairly childproof.
There are also Super Macro and Microscope modes with the former taking the closest focusing distance down to just 1cm from the lens and Microscope mode adding zoom capability so that objects are larger in the frame. So if you like to explore small underwater subjects, the TG-6 could be a great option.
Also, if you enjoy the outdoor life, the TG-6 is capable of shooting 4K video at 30 or 25p, while full-HD footage can be recorded at up to 120fps, which makes it a versatile choice for filming adventures.
Key specifications
Price at launch: £429.99
Sensor: 12MP 1/2.33-ich CMOS
Lens: 25-100mm equivalent f/2.0-4.9
Screen: 3-inch LCD with 1,040,000 dots
Focusing: TTL iESP contrast detection system, Single AF, Face Detection AF, Spot, AF
Tracking, Manual focus, Super Macro Mode
Closest focusing distance: 1cm
Exposure modes: i-Auto, Programme, Aperture priority, Custom shooting, Underwater,
Microscope, Scene Modes, Art Filter, Movie
Continuous shooting: 20fps for up to 14 raw files or until the card is filled with Jpegs, Pro
Capture mode at up to 10fps
Max video resolution: 4K (3840 x 2160) at 30p, 25p (approx. 102Mbps)
Storage: SD/SDHC/SDXC (UHS‑I compatible)
Dimensions: 113 x 66 x 32.4mm (without protrusions)
Weight: 253g (including battery and memory card)
---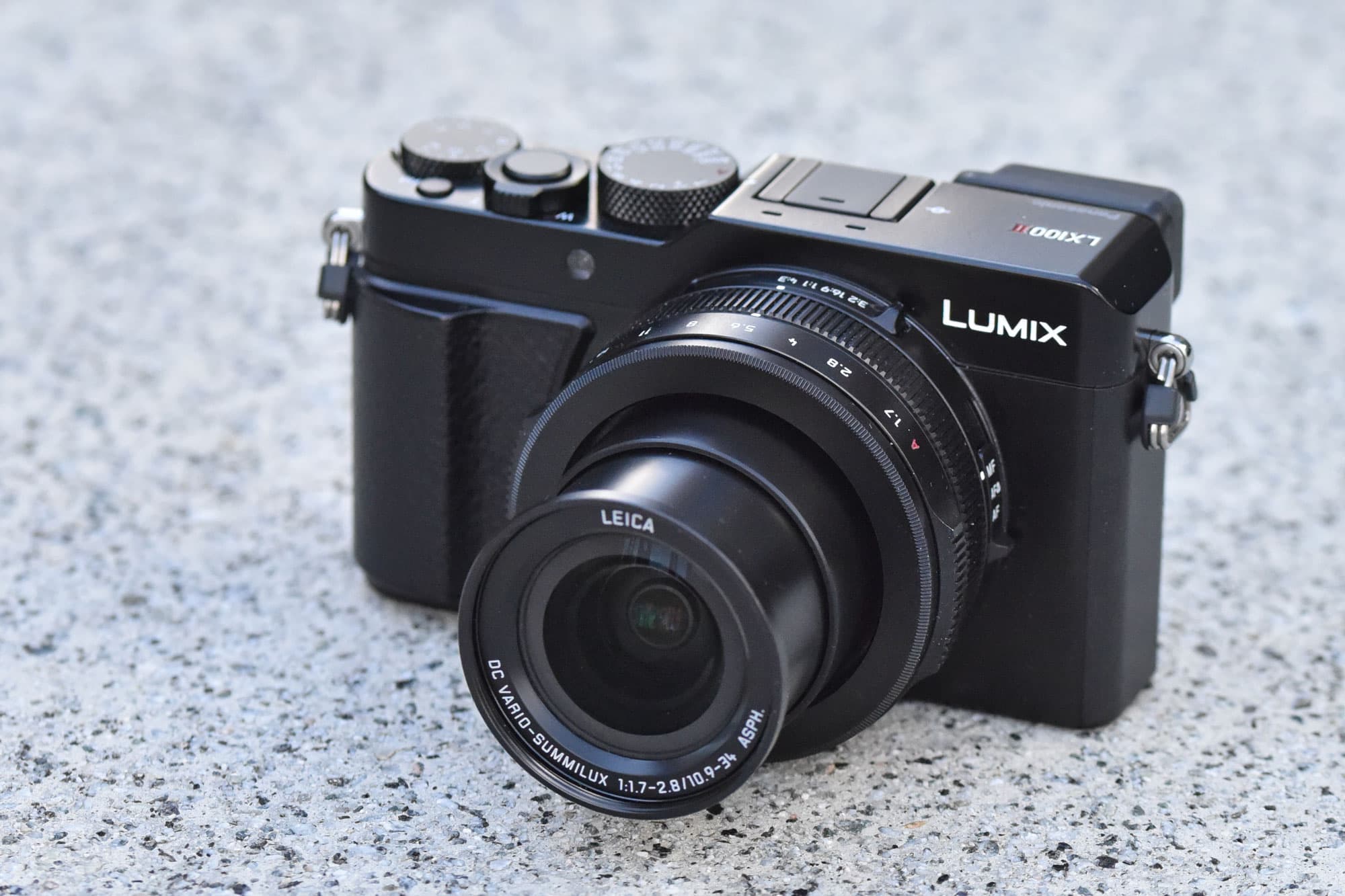 The Lumix LX100 II is another compact camera built along traditional lines with dials to set the shutter speed and exposure composition, and a ring for controlling the aperture. What makes it a bit different from the norm, however, is the fact that the sensor has a multi aspect-ratio design, There's also a switch on the lens barrel that lets you change between 4:3, 3:2, 16:9 and 1:1 ratios without the lens' angle of view changing.
Although the screen is fixed rather than tilting, the LX100 II really encourages you to be creative and there a host of filter effects plus fun options such as Time Lapse, Stop Motion and Multi Exposure modes available via menu. Panasonic's 4K Photo modes are also on hand to make it easy to capture stills of fleeting moments and fast action.
Key specifications
Price at launch: £749
Sensor: 17MP Four Thirds MOS
Lens: 24-75mm equivalent, f/1.7-2.8
Focal length magnification: 2.2x
Max output size (4:3): 4736 x 3552
Max output size (3:2): 4928 x 3288
Max output size (16:9): 5152 x 2904
Max output size (1:1): 3552 x 3552
Shutter speeds (mechanical): 60-1/4000sec
Shutter speeds (electronic): 1-1/16000sec
Sensitivity: ISO 200-25,600 (standard) ISO 100 (extended)
Exposure modes: PASM, iAuto
Metering modes: Multiple / Centre-weighted / Spot
Exposure compensation: +/- 3EV via dial, +/- 5EV via menu
Continuous shooting: 11 fps max, 5.5fps with AF-C
Viewfinder: 2.76M dot equivalent, 0.7x magnification
Screen: 3in, 1.28M dot touchscreen
Video: 4K (3840 x 2160) 30fps
External mic: No
Memory card: SD, SDHC, SDXC (UHS I)
Power: DMW-BLG10E Li-ion
Battery life: Up to 340 shots per charge
Dimensions: 115.0 x 66.2 x 64.2mm
Weight: 392g (including battery and card)
---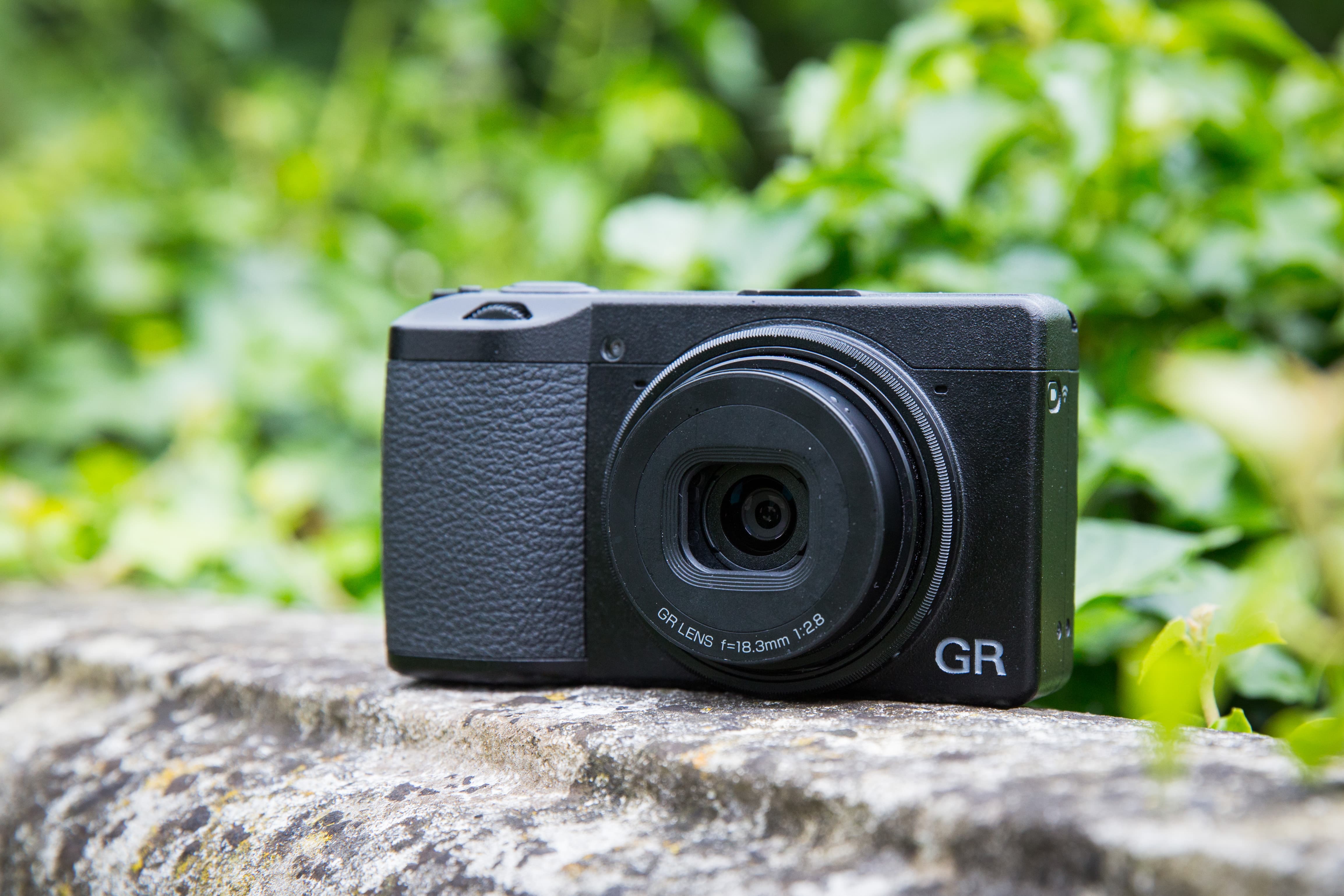 The Ricoh GR III transfers much of what photographers loved about Ricoh GR 35mm film cameras into the modern age. It's a neat compact camera with an APS-C format sensor, a high quality lens and limited range of features to keep the emphasis on the ket elements of photography.
Menu navigation is helped by the touchscreen, the autofocus system is responsive in good light, the image stabilisation system is effective and there's a nice collection of picture styles to give your images a particular look at the shooting stage, so you capture share-ready images.
It's quite a niche camera, but if you're looking for something simple that delivers great quality results, the GR III is a good choice as long as you buy a spare battery or two.
Key specifications
Price at launch: £799
Sensor: 24.2-million-pixel APS-C CMOS sensor
Output Size: 6000×4000 pixels
Focal length: 18.3mm (28mm equivalent in 35mm terms)
Aperture range: f/2.8-f/16
Crop modes: 35mm (15MP), 50mm (7MP)
Shutter Speeds: 30secs-1/4000sec, bulb (Limit by aperture setting f/2.8: 1/2500 sec, f/5.6 or greater: 1/4000 sec)
Image stabilisation: Sensor shift (3-axis)
Sensitivity: ISO 100-102,400
Exposure modes: P,A,S,M,
Metering modes: Multi-segment, Center-weighted, Spot, Highlight-weighted
Exposure compensation: +/-5EV in 1/3EV steps
Continuous shooting: 4fps
Face detection: Yes
Built-in ND filter: Yes, (2EV)
Viewfinder: Optional GV-1 (£149) GV-2 (£199) available
Screen: 3in, 1037k-dot fixed LCD touchscreen
Video: Full HD (1920×1080) at 60/30/24p
External mic port: No
Headphone socket: No
Memory Card: SD/SDHC/SDXC (UHS-I compatible)
Power: Rechargeable DB-110
Battery life: 200 shots
Dimensions: 109.4×61.9×33.2mm
Weight: 257g (including battery and card)
---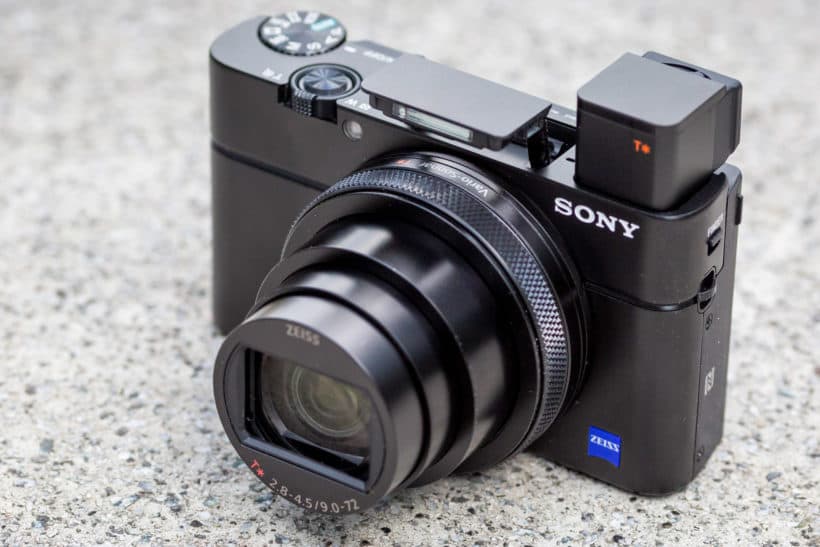 With an effective focal length range of 24-200mm, the Sony RX100 VII is a versatile yet pocket-sized camera with a 20MP 1-inch type sensor and an excellent autofocus system that can keep pace with moving subjects.
Its small frame incorporates a good-quality 2.36-million-dot OLED pop-up viewfinder, which unlike the Canon G5 X Mark II's viewfinder, doesn't require the rear element to be pulled out before you can use it. There's also a tilting touchscreen that can be flipped up through 180° to make it visible from in front of the camera.
Crucially, the image quality from the RX100 VII is very good, with lots of detail visible in low ISO shots and noise is controlled well up to around ISO 1600.  However, the menu and interface is rather complex, so it can take some time to access some of the features and fully explore the camera's potential.
Key specifications
Price at launch: £1,199
Sensor: 20.1MP Exmor RS CMOS, 13.2 x 8.8mm
Output size: 5472 x 3648
Focal length mag: 2.7x
Lens: 24-200mm equivalent f/2.8-4.5
Shutter speeds: 30-32/000sec
Sensitivity: ISO 100-12,800
Exposure modes: Auto, PASM, Scene, Panorama, Movie, High Frame-Rate
Metering: Multi, Centre weighted, Spot, Average, Highlight
Exposure compensation: +/-3EV, 0.3EV steps
Continuous shooting: 20fps
Screen: 3in 921,600-dot tilting touchscreen
Viewfinder: 2.36M-dot OLED
Autofocus points: 357 PDAF, 425 CDAF
Video: 3840 x 2160, 25 fps
External mic: 3.5mm stereo
Memory card: SD / SDXC / SDHC (UHS-I)
Power: NP-BX1 rechargeable Li-ion
Battery life: 260 (LCD), 240 (EVF)
Dimensions: 101.6 x 58.1 x 42.8 mm
Weight: 302g
---
Further reading
What are the best mirrorless cameras you can buy?
What are the best DSLRs you can buy?
---
To read more articles like this one subscribe to our print magazine today. You'll save money every week and enjoy having each issue delivered to your door! Click here.