Welcome to Smartphone Picture of the Week! Each week, we select and share the best of your smartphone photography in an online feature here on our website, and on our social media. This week's smartphone photograph is by Thomas Love, using an iPhone 13 Pro.
Thomas Love, iPhone 13 Pro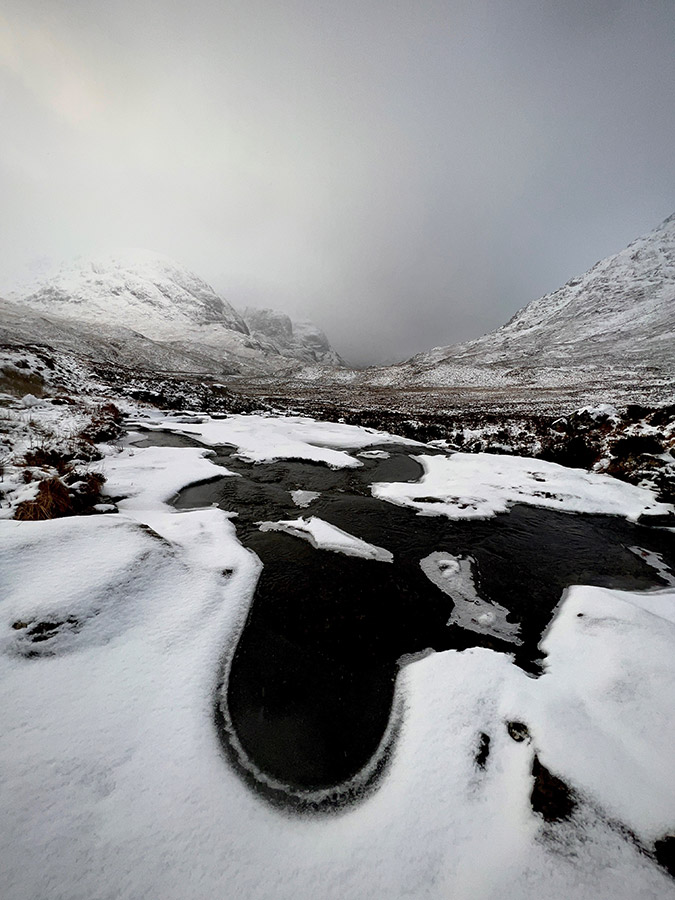 "I enjoy landscape photography and normally shoot with my Fujifilm X series cameras and various fuji lenses. But recently I've been trying more and more landscapes with my phone after reading photographer Jo Bradford's book smart phone smart photography.
I had seen the night before that snow was forecast for the area around Glencoe so I set off early from Glasgow and made the drive up to Glencoe. The day had started with some beautiful winter sunrises over Rannoch Moor, but as the day went on the snow showers were getting heavier.
As I was looking down the valley towards the three sisters mountain range from the partially frozen river coe another snow storm was building up and heading in my direction. I thought I would get some shots with my phone before heading home. I liked the shapes that the frost and snow had created in the river and wanted to use this as my foreground with the snow storm moving up the valley."
Social media:
Instagram: @theclashcityrocker
Twitter: @Tamlovephoto
Read our Apple iPhone 13 Pro Review here.
iPhone 14 Pro vs iPhone 13 Pro – Cameras compared
Submit your photos
Want the chance to feature here on our website and across our social media? All you have to do is share your smartphone photographs on social media with the tag #APSmartphonePicoftheWeek. You can also send in photographs to ap.ed@kelsey.co.uk with "Smartphone Pic of the Week" in the subject line.
We've rounded up the best camera phones for photography and the best camera phones you can get on a budget here.
Read our smartphone reviews here: Smartphone Reviews
Find out how to take better smartphone photos
See more smartphone photography guides:
How to take amazing portraits on a smartphone
Black and white smartphone photography guide
How to take great macro photos on a smartphone
Best camera phone accessories 2023
11 best smartphone photography apps to download now
Best used smartphones to buy in 2023
---
Further reading:
Samsung S20 Plus – Smartphone Picture of the Week
Sony Xperia 1 III – Smartphone Picture of the Week
iPhone 11 – Smartphone Picture of the Week
OPPO Find X5 Pro – Picture of the Week