However tough the times, photography really can help us through – as you'll see from these inspiring stories from readers, shared with Geoff Harris.
---
John Dearden
In February 2019 I took my kids to a seaside resort and I got jumped in an unprovoked attack. As I fell awkwardly against the car door, I broke the T12 vertebrae in my back. A subsequent operation went wrong I am now effectively paralysed from the chest down, and in a wheelchair. The police never found my attacker.
I was interested in photography before the attack but had two jobs, so my free time was limited. When I was initially bed-bound, however, I found I was taking more and more pictures of sunsets, as my bedroom faces west. I really enjoyed this and it prompted me to learn more about photography, through books and websites. I got my first 'proper' camera, a Nikon CoolPix P900, for my birthday and I also started to experiment with moon photography and astro shots. Landscapes and wildlife are now my passion, particularly shooting in zoos.
A much-needed respite
As a result of my experiences, I suffer from bouts of severe depression and anxiety. What's more, I've been told my condition is only going to get worse, leaving me fully paralysed. There is damage to my nervous system, then all the infections on top of it. But photography enables me to go into a different world, offering some escape – I get immersed in what I'm doing. The nerve damage means I am in constant pain, but photography is like a 'mind blocker' and I forget about the wheelchair. It's just me, the subject and the camera; getting absorbed in the editing also helps. I never had any artistic thoughts or aspirations before.
The Nikon was fine for moon shots, but I needed something more detailed for my animal pictures. I upgraded to the Olympus OM-D E-M1 Mark III as it's lighter and more ergonomic for me than a heavier model, while still taking great pictures. I use the 12-100mm and 100-400mm zoom lenses, and a 45mm f/1.8 prime.
Don't let it hold you back
I can hold the camera okay but I use a remote release and a monopod to help with higher-angle shots – otherwise, my shooting height is about three feet. The tilt screen helps, too. I also have a tripod and am currently saving up for a wider range of filters. I had to give up work, so my wife works now, but friends and family are very generous at birthdays and Christmas. I've also joined the Disabled Photographers' Society and am working towards getting the LRPS distinction.
Photography has been a lifesaver for me. I can't explain how beneficial it's been. I've also set up a YouTube channel to show that disability needn't hold you back, and my kids have got into photography too. It's our special time together.
See more at youtube.com/@jpdeardenphotography4206 and www.instagram.com/jpdeardenphotography/
---
Sandra Walding
I lost my husband Roger in June 2021 in a sudden and tragic accident. I'd been doing photography for 12 years and I love trying out new things, usually the weirder the better, but this made me think very differently. For a while, I just wasn't interested in photography any more, but my GP suggested I express my grief through my hobby. I thought 'how can you ask me to do this,' but I slowly began to see images that would tell the story.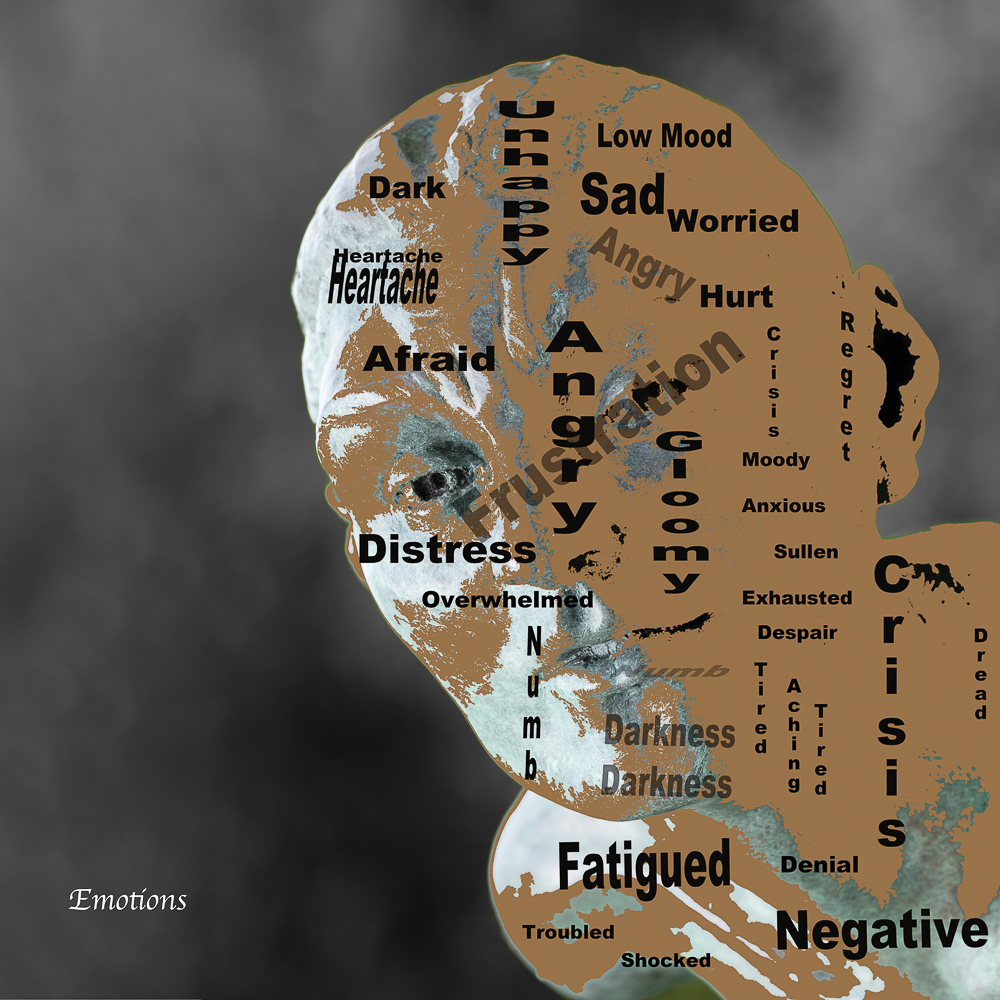 I didn't go out looking for things; ideas just came to me. I have been very well supported by my family and they have encouraged me to keep going. I then asked the local church if I could run my work as an exhibition and they agreed. The response has been amazing. My friends at Ross Photo Club have also been brilliant, with some of them helping out. There have been a lot of tears through this project, but also laughter.
My advice to others in the same situation would be to engage with your hobby. Don't just sit there, go out, take your camera and find a way of expressing your emotions. It's getting out that's important. If you don't want to express your emotions in the way I have, then decide on a project and get some ideas and inspiration online. Your mood will lift, although some days you will still be very sad. At the end of your project, you will have a great sense of achievement and with the help and support of your family and friends, it will all be worthwhile. With a little thought, you can achieve anything in photography.
See artspacecinderford.org/online-gallery and search for Sandra Walding.
---
Annemarie Farley
In August 2020 my husband Steve was diagnosed with cancer. We had no idea at the time it was terminal as he was adamant he didn't want to know.
As a flower and garden photographer, my creativity took a dive. Suddenly the one person I loved more than anything was battling stage four head and neck cancer that had spread to his lungs. Earlier in the year I'd been perfecting cyanotypes on glass with a non-gelatine emulsion but after the diagnosis, it seemed that there was no reason to carry on. No reason to create. A few months into Steve's chemotherapy I was looking at vintage lenses online. I saw images produced with a Helios 44.2 lens and that's when it all started. I bought one off eBay for £19 and one afternoon, when Steve was in bed from the awful effects of chemo, I reversed the front element of the Helios. I was hooked. I've always loved Impressionism, but this lens took it to a new level.
I started to experiment during the time I wasn't sat in the bedroom, with Steve. He was thrilled that I had something to play with. A purpose. All through that spring and summer I mastered the lens. I sat outside with Steve, holding his hand and making milkshakes as he could no longer eat food. It broke my heart to watch him fade. I did most of my research online but I couldn't find anything devoted to the lenses I loved so I started the Modified Camera Lenses Facebook group. We now have nearly 2,000 members and it gives me more pleasure than they will ever know. I also have multiple sclerosis, so photography has helped me to deal with illness, as well as loss.
See the Modified Camera Lenses Facebook page and www.flowerfoto.com
---
Patrick Stubbs
My father died in early December. He'd always encouraged me with my photography, entrusting me with his Olympus OM-1 for a few days when I was 12 or so, and bought me my first camera, a Cosina CT-1 when I was 13. Fast forward to 2004 and I set up my own photography business, specialising in weddings and portraits. He was my biggest fan and encouraged me constantly. I know he was my father, but I think he really did like my work – especially around lockdown when the business stopped, and I started to take more abstract photos of the local area. He kept on pushing me to do more with this recent work and loved it when a couple of articles were published.
I hadn't taken these abstract street photographs for some time as my 'normal' work photography kept me too busy, but the day after he died I felt the urge to get out there and get going again. I wandered around Folkestone for hours and loved every minute. I could feel him there with me, making comments about the shots I was taking. Basically, I've now decided to change the direction of my photography and do a lot more with my personal work – my dad is alongside me, and I hear him pushing me forward. I'm a photographer and it's in my blood, though I had thought about doing something else when times got tough. But I remember what he once said in an email, in bold letters – 'DON'T GIVE UP THE PHOTOGRAPHY'. My father also knew that photography is a healer. Any time I was feeling down, he would tell me to pick up the camera and get out – and photography is now helping me to get through his death. Wandering around with nothing else apart from my camera and my thoughts is the best way to process this loss. I find this difficult to explain, but I'm finding that the emotions I'm going through are really bringing my creativity alive.
See my website at www.patrickstubbs.com
---
Ray Tickle
I discovered photography seven years ago and totally fell in love with every aspect of it, particularly the learning curve. I've made many new friends through my pursuit of photography too. I'm the main carer for my elderly mother since my dad passed 12 years ago. She suffers from vascular dementia, so my sisters and I provide round-the-clock care. Every two weeks mum goes to stay with one of my sisters for the weekend, giving me a break from the heartbreak of watching a parent deteriorate to the point of not always being aware of who we are. It's mentally draining and the hardest thing I've ever done, but those two days out in the Lake District or Snowdonia with my Nikon Z7 give me a mental reset and keeps me going. The experience is often made even better by doing these things with some incredible friends that I've met through photography. The Jodrell Bank Observatory image on has also just won the 2022 Cheshire Life magazine photography competition.
See more on Ray's Facebook page and Instagram account.
---
David Colman
I moved to China in the summer of 2019, just as Covid started to hit hard. Luckily, I avoided the Wuhan lockdown as my family and I were in Shenzhen, but it also had a fair share of restrictions, and I experienced a lot of problems with the locals. They'd cross the street or pull their children away from 'the dirty foreigner', or shopkeepers would throw goods and change over the counter at me. It was a very difficult time.
My wife was then offered a job in a small city called Jiaxing, just outside of Shanghai. I still felt awkward going out alone and could only find part-time work in a local school teaching photography to children.
I decided that was no life and wanted to make something of my pictures of my time in a foreign land.
I made a bit of money from stock libraries but then one day, a neighbour showed me some photographs of women picking water chestnuts. Curious, I headed to the same lake as the sun came up one morning and took some photos, not my best, but they were unique. On that morning, women were using traditional barrels/boats for harvesting.
The city was holding a photo contest for ex-pats to celebrate the 100th anniversary of the Communist Party's first meeting, which was held on a boat on the same lake I'd photographed. My photo won joint second prize and was exhibited locally but I was then contacted by the Head of Foreign Affairs in Jiaxing. He not only thanked me for promoting the area but mentioned that the image had been featured on China Daily, the largest English-language portal site in the country. I was interviewed by local radio and national TV before returning to the UK in 2021.
For more of my images, check this link.
---
Lesley Jarvis
Photography has been a big part of my life since I was 15 years old. Fast forward to nearly four years ago, when my first child was born, the camera was set aside. Routine changed and with extra things to carry around, I began leaving my camera at home, instead taking snapshots on my mobile phone.
Last year we welcomed our second child but post-pregnancy, issues arose. After visits to my GP and the hospital, I was diagnosed with postnatal depression, irritable bowel syndrome (IBS) and anxiety.
I'd suspected IBS, but alongside my mental health struggles, I questioned my symptoms and the timing. Anxiety affected me in a very physical way, leaving me unable to care for my young children. I felt totally out of sorts and a failure as a parent.
My mother-in-law suggested picking up my camera again, so I did. I rekindled a lost passion and focused on my surroundings, putting into practice some of the advice from my mental health practitioner.
Living in the country means I have no shortage of photo opportunities on my doorstep. I took the leap to start my own business selling my photos. It's early days, but I've nothing to lose by sharing my love of nature. If the past year has taught me anything, it's to appreciate the simple things in life.
The support of family, friends, doctors and my passion of photography has pulled me through the darkest period in my life.
See more on my website, Facebook page and Instagram account.
---
Kathryn Polley
I've always used the camera as a therapeutic tool, but none more so than when my husband lost his job. It was a very dark period for our family.
I'd just started my degree at the Glasgow School of Art – which was an ambition I'd given up on at 18. I was relishing the opportunity to do something creative at last but I wasn't sure it could continue: we had three children, a mortgage and a home-improvement loan to repay and had no idea how we were going to survive. In the end, we decided that getting my degree would be good for my employment prospects and while I was immensely grateful for that, it did put pressure on me to succeed.
In the end, photography came to the rescue more than once. In the immediate aftermath, I used it to help process anxiety and panic over our situation, and again when we finally had to accept that we'd need to sell our house and drastically change our lifestyle. Photographing my family through this transition helped me to accept and embrace our new life.
The result was a project called Album Familia – a documentation of our adaptation to a new way of living. This family album didn't include the usual high days and holidays but covered the highs and lows of getting three teens through their final years of school and first year of uni, the grind of job hunting, the acclimatisation to a very different space, the questions about our future, and so on.
See more here.
---
Paul Feeley
Throughout my life, I've either witnessed or been directly involved in trauma and abuse, physically, mentally and emotionally. This culminated in September 2007 when I was the sole witness to a murder outside my own house in Manchester. For my own safety, I had to move home a total of six times and I lost contact with nearly all of my friends and family. By 2011 I was suicidal. After asking God why all this had happened to me, I started going to church. A parish priest I spoke to rang me up one evening and said they had a job. I was given a Panasonic Lumix bridge camera and told to take pictures of a concert in the church. I had no idea how to use the camera and was just snapping away, but it captured my imagination. I started to take pictures on my phone and then was given a Canon EOS 300V film camera.
As my skills progressed, I saved up and bought a Nikon D3100 (which I named Vera). Within days, I was learning how to use the manual settings and shoot creatively. One day in 2015, I went to take pictures of an incident outside Strangeways Prison. An inmate had got onto the roof and was protesting about conditions inside. This is where I met Joel Goodman, a well-regarded freelance photographer. Being hyper-vigilant because of my mental health, I had a sense the riot police were about to arrive, which indeed happened. I ended up spending the evening with Joel, talking about photography, what he does and how to improve. When a police drone later arrived, I grabbed Joel's camera and got some shots. We became firm friends. Since that chance meeting, what was just a hobby quickly turned into a new career as a photojournalist. As well as covering a lot of award events and other PR-related activities, I covered the immediate aftermath of the 2017 Manchester Arena bombing and other major stories around the region.
See more here.
---
Dr Marketa Zvelebil
I do not know if I would still be here without photography, it has helped me so much. Apart from photography being a passion, for me, it is also a form of meditation. My mind becomes so focused on the subject, the moment, and the action that all other thoughts disappear. At the age of six or seven, I became disabled. I went from an active tomboy girl to a sedentary nothing. Even then my father gave me an old camera, which occupied me a bit. Eventually, I had a successful career and managed to get enough physical mobility to do sports (in my own way) etc. Throughout all that time, photography was still a passion, but not a full-time activity due to time constraints.
A few years ago I had to retire due to my disability.  Thankfully, my camera was waiting for me. I dived fully into photography and took courses. Over the past year, photography has really proved to be a lifesaver. Apart from having to deal with an ill mother, an ill sister and my own declining physical abilities, in July my pet cat of 19 years died at home. Two days later my mother died. This painful loss was exacerbated by all the paperwork I had to sort out (as we were political refugees from the Soviet invasion of Czechoslovakia in 1968, we'd lived in many places). Without my camera, I do not know if I would have survived mentally.
See more photos here.
---
Rebecca Lammas
I've been diagnosed with autism and Attention Deficit Hyperactivity Disorder (ADHD), which makes me quite a 'hectic' person, with my attention going here, there and everywhere. I got my first camera about three years ago, and just having that bit of 'time out' where you can focus on being out in nature has helped a lot. Photography has brought me an inner peace – I am 45 now and have been searching for this my whole life. It's beena a way for me to express myself, my personality, and my creativity.
I'm also getting more involved in the photographic community – my boyfriend, Rob Pitt, is also a photographer but I've been out shooting with Mark Waidson, a highly experienced and talented photographer who has taught me in person and online. Autism makes you a bit of a loner so I haven't joined any actual clubs. My conditions do bring some benefits too: ADHD gives me the energy to climb mountains at sunrise, while autism enables me to lose myself in the details of what I am shooting. I've developed enough confidence to enter competitions too, and got through the first round of shortlisting in Landscape Photographer of the Year 2022.
See more of my work on Facebook and my Flickr site.
---
Richard Eyers
Two years ago I was an enthusiastic amateur, a member of a London photo society call it a society) and working long hours in an oil and gas company, having been there for nearly 17 years. I read Amateur Photographer, and entered a few competitions, but never saw photography as a potential career.
Then I started chatting to people like myself, who had chosen to go back to university to study photography and found it fulfilling and rewarding. In October 2021 I started a part-time online MA in Photojournalism and Documentary Photography at the University of the Arts London, fitting in study alongside work and family commitments. And then it all went wrong. I started to break down in January of 2012 and was written off work with depression. I ended up quitting my job last August.
Over the last few months, working with and photographing people has become an important part of my recovery.
And I did this with the total support of my family and friends. I'm now feeling much better, and although not yet fully recovered, photography is playing an enormous part in my recovery. I've discovered breadth and depth in photography that I never imagined, started exploring ways that I can make money from what I love, and have felt able to do some consultancy related to my old job again too. Back in April, I bought a 2005 camper van which gives me the freedom to travel and photograph where I want.
See more of my work here and on Instagram.
---
Further reading:
---