Olympus OM-D E-M1 Mark III: At a glance
£1600 body only
£2200 with 12-40mm f/2.8; £2500 with 12-100mm f/4
20.4MP Four Thirds sensor
18fps shooting with C-AF
121-point phase detection AF
5-axis in-body stabilisation
Extensive weather sealing
It's been a little over three years since Olympus released its high-speed OM-D E-M1 Mark II, a camera that we liked a lot due to its pacey performance, excellent handling, and incredibly effective in-body image stabilisation (IBIS). Last year, the firm followed up with the E-M1X, a higher-end model with an integrated vertical grip for use with large lenses, and some really clever new features. It's an impressive camera, but due to its bulk and £2,200 body-only price, inevitably of niche appeal. Now the firm has revisited the smaller form factor with the E-M1 Mark III.
At first glance, the new model looks very much like its predecessor, with essentially the same core specifications and body design. Externally, the biggest update is the addition of a joystick for selecting the AF area. But the most important upgrade is inside, because the E-M1 Mark III debuts a brand new processor, the TruePic IX. This allows the inclusion of some of the best new features from the E-M1X, including LiveND that mimics the effect of neutral density filters up to 5 stops, and a hand-held high-resolution multi-shot mode that outputs 50MP images. But it also boosts many other aspects of the camera's operation, making the Mark III a rather more significant upgrade than it first appears.
At £1600 body-only, the Mark III is distinctly aimed at serious photographers. Compared to other fast-shooting, weather-sealed models with IBIS, it costs £50 more than Fujifilm's impressive-looking new X-T4, and £200 more than the Sony Alpha 6600. It's about the same price as the full-frame Nikon Z 6, and £150 less than the Sony Alpha 7 III. As always with Micro Four Thirds, the question we need to address is whether it offers sufficiently high performance to offset the image-quality disadvantage of its smaller sensor.
Olympus OM-D E-M1 Mark III: Features
On the whole, the E-M1 Mark III's core specifications are unchanged compared to the previous model. Olympus has stuck with the familiar 20.4MP Four Thirds sensor, which is about half the area of APS-C sensors, and a quarter that of full-frame. It provides a standard sensitivity range of ISO 200-6400, and extended settings covering ISO 64-25,600, but with the risk of highlight detail clipping at the lower end. On-chip phase detection supports 121 autofocus points covering most of the frame, all of which are cross-type.
The camera also boasts the same blistering speed as its predecessor, being capable of shooting at 18 frames per second with continuous AF using its silent electronic shutter, or at a phenomenal 60 fps with focus fixed, and with a vast 286-shot raw buffer. In its Pro Capture mode, it can continuously buffer 35 frames when the shutter button is half-pressed, then record them to card when it's fully depressed, allowing users to record fleeting, unpredictable moments when they usually wouldn't have time to react. Even when using the mechanical shutter, it'll shoot at 15fps with focus fixed, and 10fps with C-AF. The mechanical shutter affords a fastest speed of 1/8000sec, increasing to 1/32,000sec with the electronic shutter.
Dual SD card slots are included, allowing files to be backed up on important shoots; however only one is of the high-speed UHS-II standard. It's possible to configure the slots to work in pretty much any way you might need: either sequentially, as a backup, or record different kinds of files to each. It's really easy to switch between cards in playback, too: simply hold down the play button and spin the front dial.
One of Olympus's most noteworthy features is its 5-axis in-body image stabilisation (IBIS). Thanks to the use of the same gyrosensor as the E-M1X, this is claimed to be world's most effective, being rated to a barely believable 7.5 stops with the firm's optically stabilised lenses, and 7 stops otherwise. This counts as an improvement of up to 1.5 stops over the Mark II, which was already a standout performer.
The IBIS unit also enables an 80MP tripod-based multi-shot mode, in which the camera takes eight frames while moving the sensor fractionally between each, enabling both full-colour sampling at each pixel location and a higher-resolution image to be constructed. Thanks to the TruePic IX processor, the Mark III also gains the 50MP hand-held multi-shot mode from the E-M1X. This works on a different principle known as super-resolution, whereby tiny differences between multiple frames are used on construct a higher-resolution image. It's not quite as effective as the tripod mode, but it's more practical.
In addition, a huge array of useful features is on board. Focus bracketing is available with selected lenses, and it's possible to create a focus-stacked composite image in-camera. A sophisticated intervalometer comes complete with the option of generating 4K 30p timelapse videos internally.
Several features are exclusive to Olympus, including the aforementioned Live ND; in-camera correction of perspective distortion, previewed live in the viewfinder; and a Starry Sky AF mode which is capable of autofocusing on stars for astrophotography. You also get Olympus's uniquely useful Live Bulb, Live Time and Live Composite modes, which take the guesswork out of long exposures by allowing you to watch the image build up while the shutter is open.
Turning our attention to video, 4K recording is available at up to 30fps, while Full HD can be captured at up to 120fps. A new OM-Log400 option enables easier colour grading in post-production, aided by a View Assist function that displays a standard BT.709 colour gamut onscreen. Both headphone and microphone sockets are built-in, with the latter positioned so that it hinders the screen's rotation as little as possible.
Bluetooth and Wi-Fi connectivity supports both pairing with a smartphone or tablet via the free Olympus Image Share app, and wireless tethered shooting from a computer running Olympus Workspace software. In-camera raw conversion allows you to edit your images before sharing them via your phone. One minor irritation is that, despite the addition of an always-on Bluetooth LE connection, the app's simple shutter release still relies on Wi-Fi, which takes much longer to fire up and connect.
Olympus OM-D E-M1 Mark III: Focal points
It may look the same as its predecessor, but the E-M1 Mark III packs in plenty of new features too.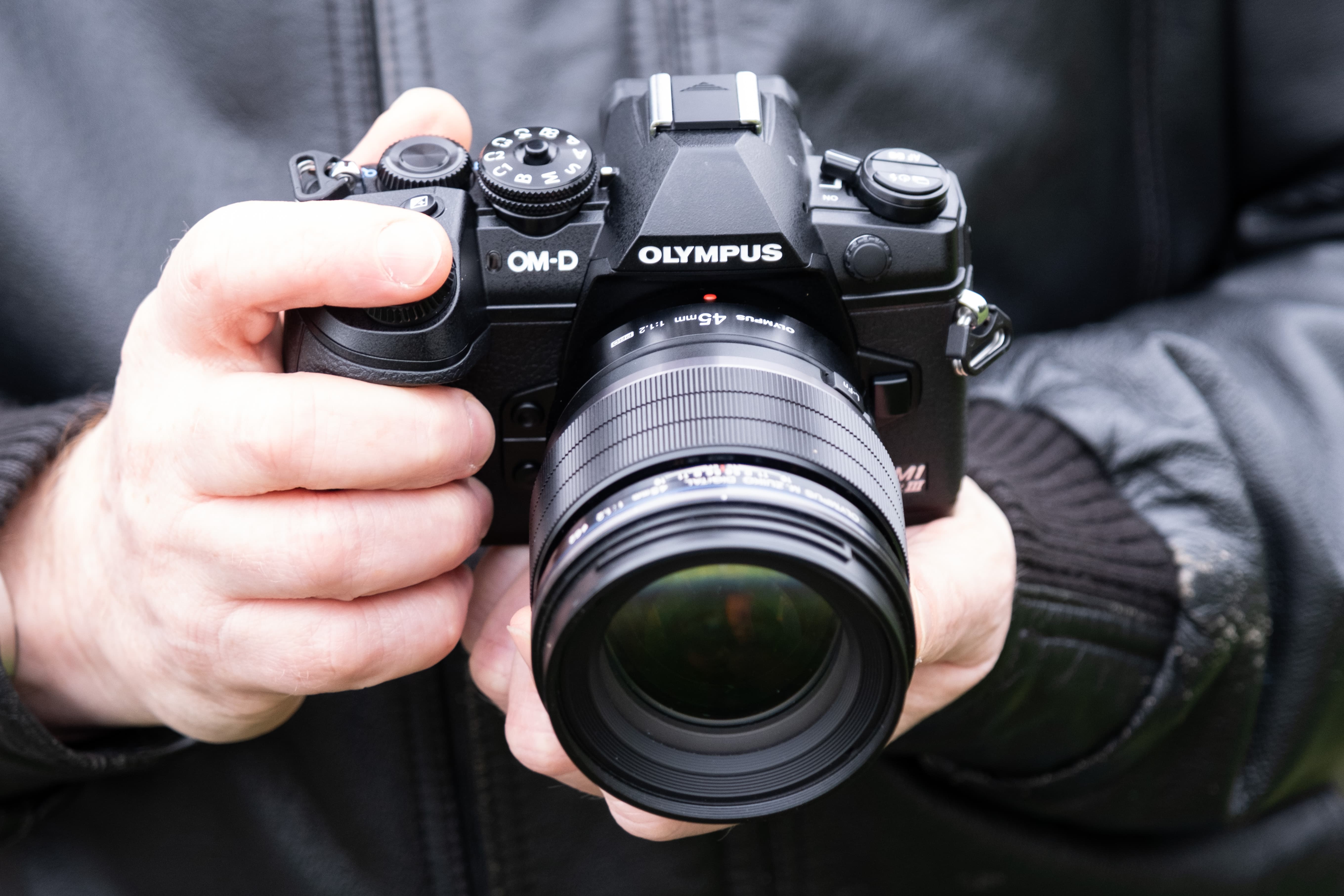 The most notable external improvement is the addition of a joystick for selecting the focus area. It can also be used to navigate menus and change settings.
The camera can be powered during shooting using a USB-C Power Delivery compatible powerbank. Alternatively the battery can be charged using any 3A USB supply when the camera is switched off.
A new B position on the mode dial gives easy access to Olympus's uniquely useful long exposure modes, and there's a fourth user-customisable C position too. The iAuto and Art Filter positions have disappeared.
A 2.5mm remote release socket sits behind a chunky rubber cover on the handgrip, and works with Canon- and Pentax-compatible wired releases. Headphone, microphone, HDMI and USB-C ports are all found on the other side.
The two SD card slots can be configured in practically any fashion required. It's possible to use them sequentially or simultaneously, and choose which file types to record to each.
The E-M1 Mark III is compatible with the same HLD-9 grip as the Mark II, which should please existing users. However while the grip replicates the main shooting controls, users have to make do with a d-pad to move the AF point during portrait-format shooting.
Olympus OM-D E-M1 Mark III: Build and handling
Externally, the E-M1 Mark III is extremely similar to its predecessor. It's an SLR-shaped camera with a fully articulating screen and a tall, sculpted handgrip that makes it exceptionally comfortable to hold and use. Practically every available surface is covered in controls, giving direct access to all the most important settings. The new AF area joystick counts as a very welcome addition; it displaces the Info button to below the d-pad on the back, which has the knock-on effect of moving the menu button across to the left shoulder.
Aside from that, buttons, dials and switches are found in all the same places, although a few have changed their functions to more closely meet the expectations of serious photographers. The button behind the shutter release is now earmarked for exposure compensation, while that on the right shoulder is given over to ISO, as on the recent E-M5 Mark III. These updates mean that the camera handles brilliantly out of the box, with pretty much everything you need at your fingertips. A new status display shows all the key settings clearly at a glance on the LCD, but sadly can't be used to select and change them – you have to use the far more complex Super Control Panel instead.
This being Olympus, practically all the controls can be re-configured according to your personal preferences. I swapped the functions of the two electronic dials that are used for changing exposure settings, and set the movie button to access magnified view when shooting stills, but that's all.
Four custom camera set-ups for specific shooting situations can be saved to the C positions on the mode dial; I'd use one for shooting fast action, and another for working with manual-focus lenses. One really neat touch is that you can specify whether or not each C mode should remember any changes you make while using it, so the camera doesn't revert to the previously-saved setup whenever you turn it off and on again.
Olympus has also placed a strong emphasis on durability. The shutter is rated to 400,000 cycles, matching the E-M1X and double that of the Mark II. The body is comprehensively weather-sealed, with IPX1 certification, and can be paired with a wide range of similarly protected, high-quality lenses from both Olympus and Panasonic. I used it in some pretty heavy rain during the course of testing, which it shrugged off as no more than a mild inconvenience. Large buttons and dials make the camera perfectly easy to operate when you're wearing gloves.
One area where Olympus lags behind some other brands comes with regards to the touchscreen, which offers relatively limited functions. It can be used to browse images during playback, to reposition the focus point when you're shooting, and select settings on the onscreen super-control panel. But you can't use it to navigate the menu or change most settings – instead you have to use the joystick or d-pad.
The menu is also as vast and dense as ever, but mercifully the E-M1 Mark III inherits the E-M1X's My Menu system for organising your frequently accessed settings. You'll certainly need to take advantage of this is make best use of many of the camera's advanced features, but the good news is that it's particularly easy to set up.
Olympus OM-D E-M1 Mark III: Viewfinder and screen
A decent viewfinder is essential on a camera aimed at serious photographers, and Olympus has stuck with what it knows best, equipping the E-M1 Mark III with a 2.36m-dot panel that offers a very respectable 0.74x equivalent magnification. While this doesn't match the 3.69m-dot unit used on some other similarly priced mirrorless models, including the Fujifilm X-T4, it's vastly better than the Sony A6600's EVF, which provides a similar spec on paper but is let down by a low-resolution live view feed. For following fast-moving motion, the frame rate can be set as high as 120fps, although with an inevitable impact on battery life.
By default, Olympus previews exposure, while balance and colour processing live in the viewfinder, while a button on the camera's front engages depth of field preview. Many photographers find this preview to be an invaluable advantage of mirrorless cameras, but it's not always ideal, for example in very high-contrast lighting conditions. In this case, you can switch to simulated optical viewfinder (S-OVF) mode, which imitates the view you'd get using a DSLR, with lower contrast and more muted colours.
The rear screen is a familiar-looking 1.04m-dot 3in fully articulated touch-enabled LCD. Once again, this is a little out of date in terms of resolution, with the X-T4 sporting a 1.62m-dot unit, but it's sufficiently bright and detailed to get the job done. As with the viewfinder, you can choose to overlay gridlines, electronic levels and a live histogram in any combination you prefer. The side-hinged design enables the screen to be set to almost any position for shooting at high or low angles, or face forwards for selfies or vlogging. The main disadvantage is that it doesn't work well with L-brackets for tripod shooting.
Olympus OM-D E-M1 Mark III: Autofocus
On the face of it, the Mark III's 121-point phase-detection AF again looks very similar to its predecessor's. In terms of numbers, it's outclassed by the X-T4 and A6600, both of which boast 425-point systems. But in practice, you can place a fine focus area practically anywhere you want within the frame, making the real-world difference somewhat academic.
For shooting moving subjects, where it can be difficult to keep a single AF point positioned over the target, it's possible to select groups of 5, 9 or 25 focus points. As on the E-M1X, users can now define up to four custom groupings too, not just in terms of the number of focus points used, but also how finely they can be moved around. So if you expect a subject to appear in a specific area of the frame, it should be possible to set up and position a custom group appropriately.
While the Mark III doesn't inherit the subject detection AF found on the E-M1X, which can be set to focus only in cars, trains or planes, the addition of the TruePic IX processor means that it gains clear improvements in face and eye detection AF. It reliably recognises and follows faces and eyes even at acute angles and in difficult lighting conditions.
Overall, my lasting impression of the Mark III's AF is that it works very well. It nailed focus on almost everything I pointed it at, from rapidly approaching planes to erratically moving birds. It's not quite as good at instantly acquiring focus then keeping every single frame pin-sharp as the very best AF systems, but often you'll only see the difference when zooming-in on images onscreen. I found that starry sky AF worked reliably too, although with the caveat that London isn't the necessarily best location to test it, because only the brightest stars are visible to target.
Olympus OM-D E-M1 Mark III: Performance
I've been shooting with the E-M1 Mark III for longer than we usually get to test cameras, and the more I've used it, the more impressed I've become. Essentially, everything just works really well. It's an incredibly quick and responsive camera that's unfazed by almost anything you might ask of it, and which delivers great-looking images.
Indeed the combination of excellent ergonomics and responsive operation mean that this is a camera that rarely gets in the way of the shooting process. Metering and auto white balance are both very reliable, which means that the camera routinely gives great-looking JPEG files, aided by Olympus's signature warm, vibrant colour rendition. So it's a great choice if you don't want to spend all your time processing raw files.
Olympus's in-body image stabilisation is implausibly effective, especially when used in combination with one of the firm's IS lenses. It's possible to shoot hand-held at shutter speeds that would be inconceivable with other cameras; for example using the 12-100mm F4 in the wider half of its range, I routinely found myself using speeds as long 4 seconds. This is an extraordinary accomplishment that fundamentally changes the way you can work. For example, when shooting static subjects hand-held in low light, it allows you to keep the ISO low to minimise image noise. Alternatively you can use long shutter speeds for creative blurring effects without needing a tripod.
High-resolution multi-shot is very usable, too. The tripod-based 80MP version requires impeccable technique to ensure that the camera is held completely still, but delivers fantastic levels of detail. However it's the hand-held 50MP version that really stands out: it reproduces visibly more detail than single-shot mode, while also giving much cleaner image files.
It still doesn't quite match a high-resolution full-frame camera, though, not least because anything that moves between frames will give visible blurring, and potentially multiple ghost images. But Olympus's processing renders this in a relatively attractive fashion, with none of the ugly pixel-level artefacts seen in earlier iterations. The big caveat, though, is processing time, with the camera locking up completely for 10 seconds or so after shooting. The 100% crops below show how image size and detail rendition increase in each mode – click the image to see the original.
All of the other special features work too, and expand the range of images you can shoot without always having to relay on further accessories or extensive post-production. Live ND is brilliant for extending shutter speeds for motion-blur effects, and can often be used hand-held, while keystone compensation is great for correcting converging verticals when shooting architecture.
Close-up photographers will appreciate in-camera focus stacking, which allows you to increase depth of field while keeping backgrounds nicely blurred.  There are just so many features to get your creative juices flowing, once you've worked out how to access and use them.
Of course the elephant in the room is the relatively small sensor, and how it impacts on image quality. The E-M1 III inevitably lags behind its peers in terms of resolution, dynamic range and high-ISO noise, but in context you can still make a detailed A3 print, recover at least three additional stops of shadow detail in raw processing at low ISOs, and happily shoot at ISO 6400. It's up to each photographer to decide whether this counts as good enough.
Olympus OM-D E-M1 Mark III: Image quality
With its 20MP Four Thirds sensor, the E-M1 Mark III delivers very similar image quality to both its predecessor and the E-M1X, meaning that it's capable of recording easily enough detail for an A3 print.
The smaller sensor does mean that it lags behind its rivals for image noise when compared ISO-for-ISO, but in some situations this can be offset by its outrageously effective image stabilisation. While you'll get best results at ISO 1600 and below, I'd happily shoot at up to ISO 6400 as a matter of course.
Olympus OM-D E-M1 Mark III: Resolution
At low ISOs, using the Olympus 60mm f/2.8 Macro at f/4, the E-M1 III cleanly resolves at least 3600 l/ph. However, some image artefacts become visible at higher frequencies. Noise only starts to have a clear negative impact at ISO 1600, with resolution dropping to around 3500 l/ph. By ISO 6400 this falls to about 3100 l/ph, before plummeting to 2600 l/ph at ISO 25,600. Olympus's JPEG processing gives slightly lower resolution in a bid to reduce artefacts and noise. From the 100% crops below, multiply the number below the line to calculate the resolution in lines per picture height.
Olympus OM-D E-M1 Mark III: ISO and Noise
There's little to fault with low-ISO images, which display strong colour and plenty of fine detail with no visible noise. A little luminance noise creeps in at ISO 800, but you'll only see it when viewing files close-up onscreen. However by ISO 3200 noise is having a much stronger impact, with fine detail disappearing and colour suffering too. At ISO 6400, image quality is still perfectly acceptable for smaller output sizes, and more than good enough for social media use. ISO 12,800 can give acceptable results in black & white, but I'd steer clear of ISO 25,600 as far as possible.
Olympus OM-D E-M1 Mark III: Verdict
On paper, the E-M1 Mark III looks so similar to its predecessor that it could easily be mistaken for a rather underwhelming update. But the reality is more interesting than that. It may have essentially the same sensor, core specifications and external design, but the real star of the show is the new TruePic IX processor. Thanks to the extra horsepower it brings, almost every aspect of the camera feels uprated and improved. Meanwhile the addition of the AF-selector joystick elevates the Mark III to being one of the best handling cameras in its class.
Also, let's not lose sight of just how impressive that spec sheet is. This is a camera that you can routinely hand hold at shutter speeds of several seconds; that can shoot at 60 frames per second in full-resolution raw, while capturing 35 frames before you can even react to what you see in the viewfinder; and that can autofocus on stars.
In short, this is a camera that lets you take pictures that would be practically impossible with almost any other, particularly when shooting hand-held. The great futurologist Arthur C. Clarke once said that any sufficiently advanced technology is indistinguishable from magic, and I can only assume that when he coined the phrase, he'd just got out of a time machine with the E-M1 Mark III.
Of course with full frame being flavour of the month, it's tempting to assume that Micro Four Thirds has had its day. But the system offers considerable advantages of its own, particularly in terms of size and weight. It's not the best option if you regularly make very large prints, are after shallow depth of field, or frequently shoot moving subjects in low light; then you'd be better served by a larger sensor. But it's a great choice if you want to carry a large range of lenses without breaking your back, and long telephotos in particular.  The E-M1 Mark III delivers on the system's promise better than ever before, giving genuinely high-end performance in a relatively small body. It's the camera that the E-M1X should have been all along.
Ultimately, choosing a camera is all about compromises, and Olympus has prioritised mobility over raw image quality, then thrown in as much technology as possible to compensate. The result is a superb camera that, for serious photographers looking to minimise size and weight, may just be the perfect choice.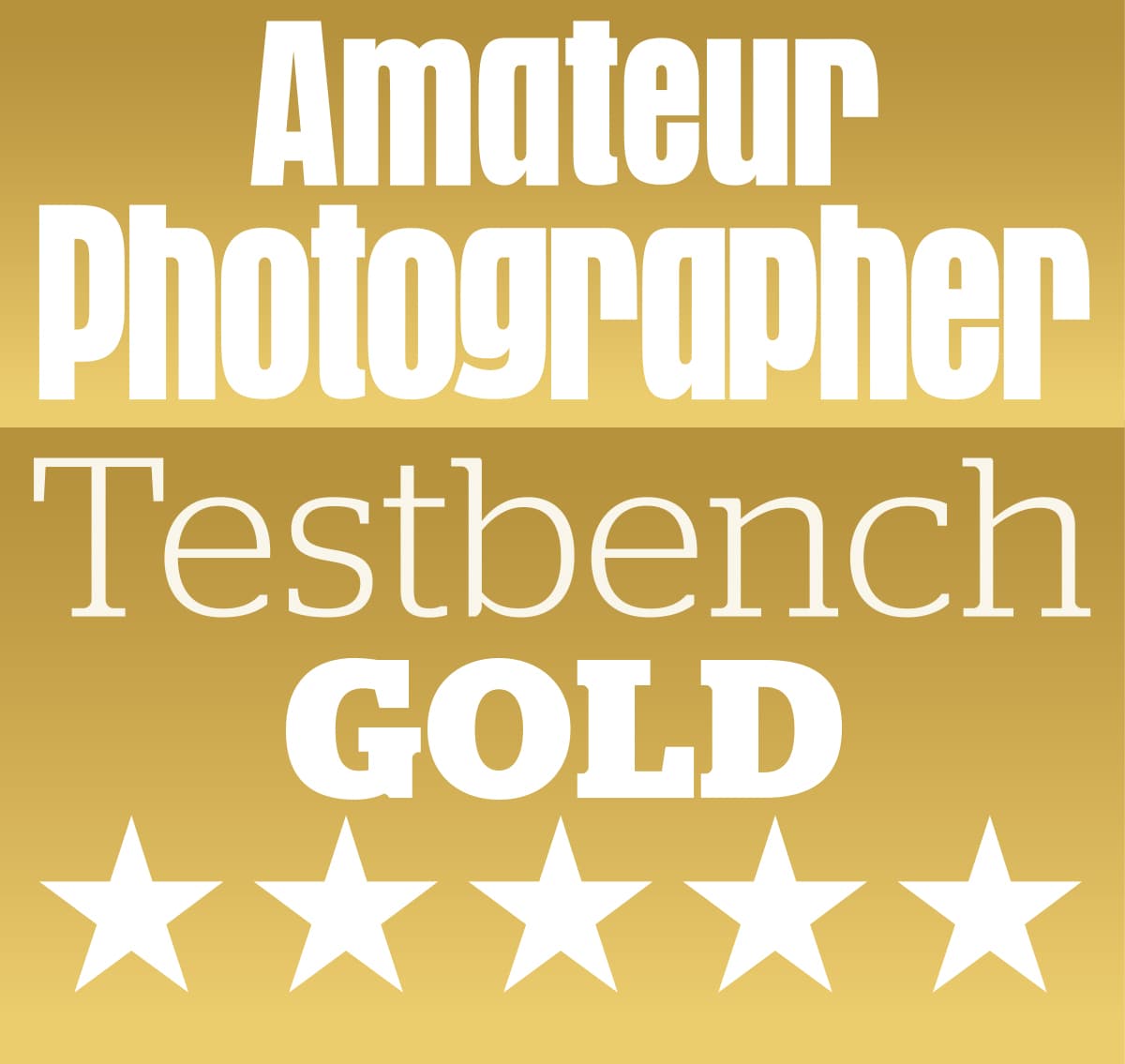 Olympus OM-D E-M1 Mark III: Specifications