Introduced with a new ultra-wide-angle XF 8mm f/3.5 lens, the 26.1MP Fujifilm X-S20 offers high-resolution video recording, at up to 6.2K at 30p, 4K at 60p, and FullHD at 240fps. Designed to be suitable for all types of users, whether that's content creators, videographers, or stills shooters.
The X-S20 is priced at: $1299 / £1249 body only, £1349 (with 15-45mm lens), £1599 (with 18-55mm lens), and available 29th June 2023.
Fujifilm X-S20 Features – A wolf in sheep's clothing…
The X-S20 follows on from the Fujifilm X-S10, and is Fujifilm's mini-DSLR styled camera, designed to be easy to use, but feature packed, with in-body image stabilisation (IBIS), a top mode dial, and dual command wheels. This is in comparison to the X-T series, which feature more traditional shutter, ISO, and exposure compensation controls.
The X-S20 sits above the X-T30 II, but below the X-T5, and with a larger grip it is suitable for a wide range of shooting, including using larger lenses, whilst maintaining a relatively compact size that makes it suitable for travel and video use. One area where the X-S20 misses out, compared to the X-T5, is in weather-sealing, as the X-S20 is not weather sealed.
Introduced with a body-only RRP of £1249, this is a 25% price increase over the body-only RRP of the X-S10, which was £949/999 when introduced.
The camera uses the same battery as the X-T4 / X-T5 (and X-H2/s) cameras, giving an improved battery life compared to the X-S10, this gives up to 800 shots with economy mode enabled, or 750 shots on normal mode.
The 26.1MP X-Trans CMOS 4 sensor features a back-illuminated (BSI) design, and is joined by the X-Processor 5 for improved power efficiency.
At first glance, the design looks very similar to the X-S10, but on closer inspection I found the grip to be ever so slightly larger, so slight, that you'd barely notice. The top shutter release button and surrounding on/off switch has been altered slightly and is slightly larger, with updated top buttons for ISO and Q buttons.
The camera weighs in at 491g (with battery and memory card), and as expected, continues to offer five-axis in-body image stabilisation (IBIS) ,which is said to give up to 7.0 stops of image stabilisation. (Tested with the XF 35mm F1.4 R lens). This gives it an advantage over the X-T30 II, which lacks IBIS.
AI based subject-detection auto-focus has been added, which Fujifilm say is equivalent to the X-T5. This detects a wide variety of options, including animals, birds, automobiles, motorcycles and bikes, airplanes and trains. It can also detect insects and drones!
6.2K/30p video is recorded at 4:2:2 10-bit, internally, and there's a 3.5mm microphone / headphone jack on the side. An optional tripod grip, the Fujifilm TG-BT1, is available.
Key Features at a glance:
26.1MP APS-C X-Trans CMOS 4 (BSI) sensor
In-body image stabilisation (IBIS)
Upto 6.2K/30P, 4K/60p, 1080/240p video, up to 360Mbps
AI based autofocus system
ISO 160 – 12,800 (standard), ISO 80 – ISO 51,200 (extended)
60min – 1/4000sec (mechanical), up to 1/32,000sec (electronic)
30fps continuous shooting (electronic, 1.25x crop), 20fps (electronic, blackout free), 8fps (mechanical)
2.36m-dot EVF, 0.62x magnification, with eye-detection and dioptre adjustment
1.84m-dot vari-angle 3.0inch touch-screen
Single SD card slot – UHS-II compatible
3.5mm headphone jack
Up to 750 shots (normal) 800 shots (economy mode)
Uses the NP-W235 battery from the X-T4/X-T5
127.7 x 85.1 x 65.4mm, 491g (with battery and memory card)
Improved battery life is just one of the new updates found in the X-S20, and the battery is charged in-camera using the provided USB Type-C cable, and AC power adapter (USB).
Enhanced AI based subject detection auto-focus is available, as mentioned. This can be manually selected in the menus or will automatically detect the subject when the camera is in Auto mode. You'll also find face and eye detection, as expected, however this is in a different menu, and does need to be manually selected, unless you're using the Auto mode.
Subject detection can be set to animals, birds, cars, motorcycles, bicycles, airplanes, trains, insects and drones. You'll need to select birds for insects, and airplanes for drone detection.
Phase detection focus works down to -7.0 EV* (with an XF 50mm F1.0 lens attached), or down to -4.0 EV* using contrast detection (using the same lens), according to Fujifilm's own testing.
All these other features come as standard with the X-S20
When I say standard, I mean, they're they the same features you get with every new X-series camera, the incredibly popular Film Simulation modes, with 19 provided on the X-S20. These include Provia, Velvia, Astia, Classic Chrome, PRO Neg Hi, Pro Neg Std, Classic Neg, Nostalgic Neg, Eterna/Cinema, Eterna Bleach Bypass, Acros (+ Ye/R/G Filter), Black and White (+ Ye/R/G filter), and Sepia. There are options for film grain effect, as well as Colour Chrome Effect, and Colour Chrome Blue.
Dynamic range options include DR100, 200 and 400, as well as HDR modes up to HDR800+. The HDR mode combines a number of shots to improve dynamic range, but results can look unrealistic at times.
Using the in-body image stabilisation system dust can be removed from the sensor, using ultra-sonic vibration. Wi-Fi and Bluetooth are built-in, and this works in combination with the new Fujifilm XApp.
Video features at a glance:
As the video features are significantly updated, it's worth having a closer look at these here:
6.2K/30p 4:2:2, 10-bit, OpenGate
4K 60/30/25/24p
FullHD 60p (LP), High-speed FullHD up to 240p
F-Log2, said to give up to 13+ stops of dynamic range
ATOMOS compatible – giving 12-bit Apple ProRes RAW, up to 6.2K, 29.97fps
Blackmagic Design Video Assist 12G, supports Blackmagic RAW, up to 6.2K, 29.97fps
3.5mm headphone (right), 3.5mm microphone jack (left)
ISO125-12,800 (standard), ISO 25,600 (extended)
MicroHDMI port
The new Vlog mode is designed for recording yourself, as well as giving quick on-screen access to product priority focus, as well as a background defocus mode, face/eye detection, self-timer, IS mode, and high-speed mode.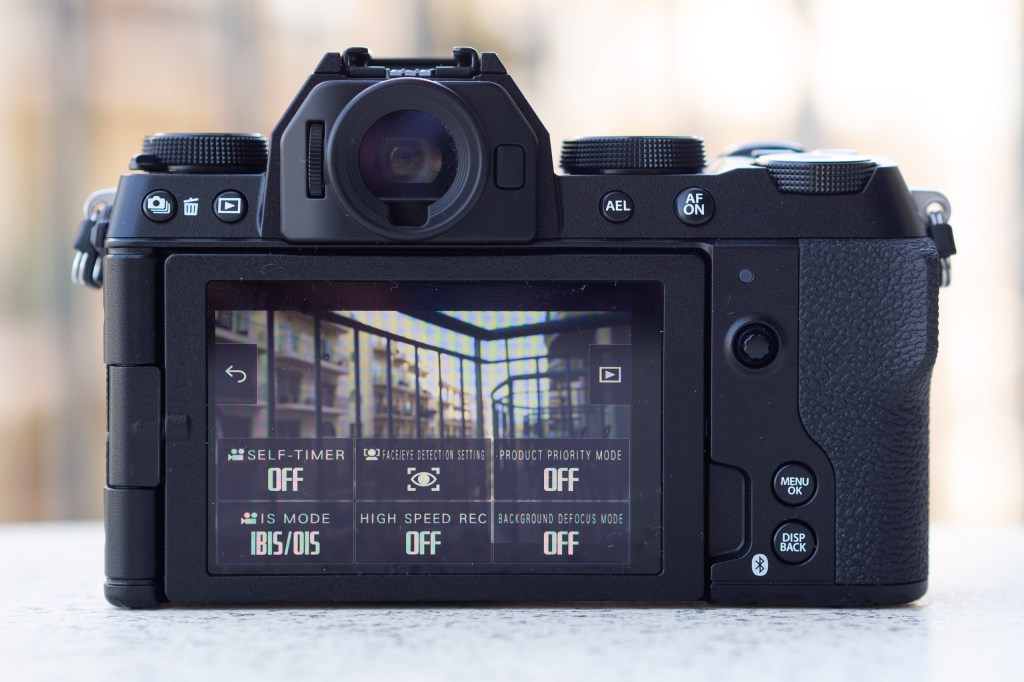 Fujifilm X-S20 Vlog mode quick access settings let you shoot face/eye detection, product priority mode, as well as background defocus mode. Photo Joshua WallerUSB-Type C supports webcam use, without the need of additional software, and you can use film simulation modes while live streaming or in online meetings (should you wish). In addition to this 4K/60P resolution live streaming is supported, and works straight out of the box, with no need for a capture card or any additional software.
A range of frame rates are available, including (29.97, 25.00, 24.00, 23.98 at 6.2K) and this can be recorded internally to SD card. The camera also records DCI-4K, 17:9, 4K 16:9, and FullHD (17:9/16:9) at resolutions from 23.98 up to 59.94p. High-speed video recording is available at FullHD (17:9/16:9) resolution at 100p, 120p, 200p, and 240p. An additional video resolution of 5.2K 16:9 is available if using HDMI raw output.
FullHD video is recorded with no crop, or a 1.29x crop with high-speed FullHD. CINE / 4K video has a 1.18x crop (above 29.97fps), with no crop at 4K 29.97fps (8-bit only). 6.2K video has no crop. Switching on DIS, Digital Image Stabilisation adds a further 1.1x crop, when available (4K/FullHD only).
Video recording time is said to be up to 95mins (FullHD, actual), or up to 150min (FullHD, continuous, with external power).
There are four Custom settings on the mode dial (C1, C2, C3, and you guessed it, C4). These can be set to be either stills or movie, and then you can save custom settings for each of these, whether you want these to be setup for video or stills is up to you.
On the back, there are two screw holes, plus a hidden (covered) connection, and this lets you connect the optional cooling fan that was introduced with the X-H2s.
When recording a red tally surround / red frame indicator is shown on the screen, and there's also an orange tally light on the rear of the camera, so the person behind the camera can see the recording status even when the screen is facing forwards. If the screen isn't facing forwards, then a front tally light can also be switched on. These can all be switched on/off as needed.
The new auto subject detection function detects a subject and tracks it with continuous AF. This works when shooting stills and video.
Fujifilm X-S20 Handling
The X-S20 features dual-command dials in the usual position, both front and back, making these easily reachable for adjusting settings. Unlike some Fujifilm cameras these don't push in, and therefore can't be clicked in to adjust additional settings.
There's a third command dial on the top left of the camera, and this is used for adjusting the Film Simulation mode on default settings (except in the Filter mode, where it is used to choose the different toy/effect filters) – this can be customised to your choosing.
In fact almost every button can be customised (excluding the Drive, Playback, Menu and Disp. buttons), so that you can setup your camera exactly how you desire. You can use the Q (Quick) menu button to gain quick access to common settings, but most of the time this may not be needed, as there are a variety of external buttons and dials available.
The menu system is logically laid out, but can take some time to master and navigate, simply due to the vast array of options and settings available. There is also the slight annoyance whereby an option will become greyed out, and no longer available for selection, but the camera will not explain why the option is greyed out. This is something I've seen on other cameras, whereby the camera will explain why an option is unavailable, so it's a shame it's not available here. There are also a vast number of options, and it might be time for someone to add the ability to search the menu system with an on-screen keyboard.
In terms of build quality and construction the camera is, for the most part, made out of plastic. This fees very sturdy in almost all areas, with perhaps the only potential weakness found in the pop-up flash, which can bend slightly when open and squeezed. As the flash is unlikely to be used in this way, this is of very little concern.
The rubber surround around the electronic viewfinder (EVF) is not particularly deep, and in comparison to the deeper eyecups on even budget DSLRs, this feels a little like a cost cutting. Luckily for those who wear glasses and want to use the EVF more regularly, there are optional eyecups available from third parties, as well as dioptre adjustment. However, the viewfinder does provide very accurate colours, and can be particularly useful to use when shooting in very bright sunny conditions.
The 3inch screen features an increased resolution of 1.84m-dots when compared to the X-S10. The  touch-screen can be tilted forwards, and adjusted to almost any angle you can think of. It provides a good view, with accurate colours, although there were times when it was difficult to see the screen clearly in very bright sunny conditions, and this can make it more difficult to judge the exposure accurately. There are options to increase the brightness in the menus, and this helps with visibility.
Auto-focus
The X-S20 features the AI based auto-focus system from the X-H2, X-H2s, X-T5 series, but with additional subject detection, this can be turned off if needed, but can detect a number of different subjects when in use.
Using the AUTO mode enables a new auto subject detection AF and scene detection feature that is designed to automatically detect the subject as needed, automatically switching between people and animals, planes, trains and automobiles, and the other subjects the camera can detect. The camera will also automatically choose the best film simulation (seemingly randomly), as well as the best dynamic range settings. This means your photos can look wildly different from shot to shot, and whilst you can switch off the automatic film simulation, you can't switch off the automatic dynamic range settings.
The reason why this is worth mentioning is that in all the other modes, you still have to manually switch between either face detection OR subject detection, and then when you do select subject detection focus, you have to manually set the subject you'd like the camera to focus on. This is a real shame, as you never know when you're suddenly going to see an animal appear, and this can result in you missing the shot. It would be amazing if you could simply set subject detection to automatic, in all camera modes, and not just the Auto mode.
Side note: There is a workaround to this, as you can assign 'Face detection' to a custom button, and 'Subject detection' to another button, and this then gives you a quicker way of switching between these focus modes.
Apart from this slight complication in using the cameras new subject detection AF system, the auto-focus is generally very reliable, very quick, and for the most part does what you want it to, as long as you've got it on the right settings. If you don't have it on the right settings, then you can miss shots, or miss the focus point.
Fujifilm X-S20 Performance
This is where we look at the images produced by the camera in detail to assess image quality, including colour reproduction, sharpness and detail, noise levels, exposure, and dynamic range amongst other factors. Click any sample image to view the full-size version of the image.
The Fujifilm X-S20 gives great JPEG images with pleasing colour reproduction, and can be trusted to deliver consistent results time and time again. The exposure system can be relied upon, and although tempting to adjust exposure compensation to adjust the look of an image, it is generally rarely needed.
The only time when image colour and dynamic range was unpredictable was when the camera was set to Auto mode, as this switches on Auto Film Simulation, as well as auto dynamic range options, and this meant that shots could vary wildly from one to the next.
Contrast is quite high on default settings, with the Film Simulation by default set to Provia/Standard. The levels of contrast can be adjusted by altering a variety of settings, including the Film Simulation, the dynamic range options, as well as the highlight and shadow tone curves. For a softer look, Astia is a great option, but for more people the default settings work really well.
Auto white balance can be relied upon, giving great results time and time again. You can, of course, use any number of the preset white balance modes, but with auto white balance offering Auto, Auto white priority, and Auto ambience priority, it's easy enough to quickly setup the camera to your own personal preferences.
Low-light performance
Even when shooting in dark conditions, the noise performance of the camera is impressive. Shooting at ISO640 gives very low levels of noise, as can be seen above. It's not until you get to ISO3200 that you start seeing noise more clearly. However, we found that noise was very well managed, and isn't an issue.
The image below is a test of both low-light performance, as well as being a challenging shot to take due to the vast differences in bright and dark areas. This is the JPEG image straight from the camera with no further processing.
As we go higher up the ISO range, noise does increase, as is to be expected. Using ISO12,800 gives an image with noticeable noise, particularly when viewing the image at 100%, however, we'd still be happy to use this ISO speed, as the results still look good. Higher than this and we might want to avoid using the images, but your needs may vary.
Video quality
Video quality is very impressive, with sharp detailed footage, as well as pleasing colours, accurate focus, and good exposure control. Image stabilisation is a little weak on default settings, using just IBIS and OIS (with the 18-55mm lens), and therefore we'd need to use the additional Digital Image Stabilisation (DIS), or a gimbal or tripod to get more steady footage. This also means that video footage can look quite wobbly when walking and talking to camera.
When using the Vlogging mode, it appears as though you have to choose product priority focus before you start recording, which is frustrating if you wanted to switch back to face detection half way through the video. Wind noise can be an issue when using the built-in microphones, but this could easily be remedied with a 'dead cat' or an external microphone setup.
The ability to plug the camera straight into a USB Type-C socket and for webcam use, is impressive. Particularly as you don't need to install any software, and you can select resolutions up to 4K, with 60fps available. This will make this a perfect option for anyone who wants to live stream on Twitch or YouTube.
Value for money
To simplify alternative camera recommendations, we are looking at how much alternative cameras cost that offer in-body image stabilisation, as this is going to make a big difference to the quality and stability of video recorded when vlogging. Therefore, these are some of the closest alternatives we've found, including the Canon EOS R7, Panasonic Lumix GH5 II, and OM System OM-5.
The Canon EOS R7 is priced at £1449 body only, which is noticeably more than the X-S20, but does offer weather-sealing. In terms of compact APS-C lenses suitable for vlogging, the Canon EOS R7 offers almost none.
The Panasonic Lumix GH5 II is available for £1199 body only, and features IBIS, as well as a range of video features, but is quite a lot larger than the X-S20.
The OM System OM-5 is priced at £1199 body only, for just a little bit more, the X-S20 is perhaps more feature packed in terms of video, and goes beyond the resolution for both stills and video, although the OM-5 does offer weather-sealing.
The GH5 II and OM-5, as part of the Micro Four Thirds lens ecosystem, offers a vast range of lenses, compact, small, premium, take your pick.
If you don't need IBIS, for example, you're going to be using the camera primarily on a tripod or other support, then this opens up your options further, so have a look at the best cameras for video. If you mainly want a camera for photography, then there's the cheaper Fujifilm X-S10, or the more expensive Fujifilm X-T5 to look at.
Fujifilm X-S20 Verdict
With a proven track record of exceptional image quality from the 26.1MP X-Trans CMOS 4 sensor, the X-S20 builds on this success by providing a camera that is both highly skilled for stills photography, as well as videography.
If you already have the X-S10 and are primarily a stills photographer, then the X-S20 may be overkill for you, but for the budding or experienced videographer, vlogger, and live streamer, the X-S20 hits it out of the park, with a cracking set of video features that really takes it to the next level.
You can start off in the Vlog mode, and work your way up to more advanced video needs, and you'll find that the X-S20 continues to give you advanced video features including raw video output. For those that want a high-quality streaming camera, this is set-up and ready to go straight out of the box!
The main question will be whether the price, and particularly the small electronic viewfinder, makes the X-T5 a better bet for stills photographers. If you're a glasses wearer, and/or primarily like to shoot with an electronic viewfinder, then the somewhat small EVF on the X-S20 is perhaps the only negative I could find. For some this will be a deal-breaker, for others, it will be a non-issue, particularly if you're a videographer and going to be using the screen only.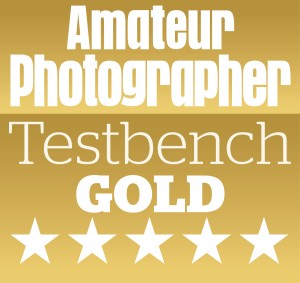 For more options have a look at the best Fujifilm X-Mount lenses, plus have a look at the best Fujifilm cameras.
---