The Canon EOS R6 was announced at the same time as the EOS R5; then Canon's mirrorless flagship. Naturally, the EOS R5 grabbed most of the headlines, with its 45MP sensor, 20fps shooting and 8K video recording. But its premium price tag ($3899 / £3899 at time of launch) meant that most full-frame Canon shooters (myself included), plumped for the cheaper 20MP EOS R6 all-rounder, priced body only at $2499 / £2599 at launch.
It's now $1,999 / £1,669 body only. For comparison's sake, the recently introduced Canon EOS R6 Mark II is $2,299 / £2,779 body only. For more options have a look at the best mirrorless cameras.
As the market leader in DSLR cameras, it was no surprise that Canon took its time committing to full-frame mirrorless. But once it did, its commitment was total and we haven't seen a new Canon DSLR since the EOS-1D X was announced in early 2020 and it has been wall to wall mirrorless cameras and lenses ever since.
So, how has my time with this camera gone?
Canon EOS R6 at a glance
New $1,999 / £1,399 body only
New $2,299 / £1,919 with RF 24-105mm f/4-7.1 IS STM lens
Used $1,699- £1,337 body only
20MP full-frame sensor
ISO 50-102,400 (native), 204,800 (extended)
20fps continuous shooting
3.69m-dot EVF, 0.76x magnification
3in fully articulated touchscreen
5-axis in-body image stabilisation
4K 60p video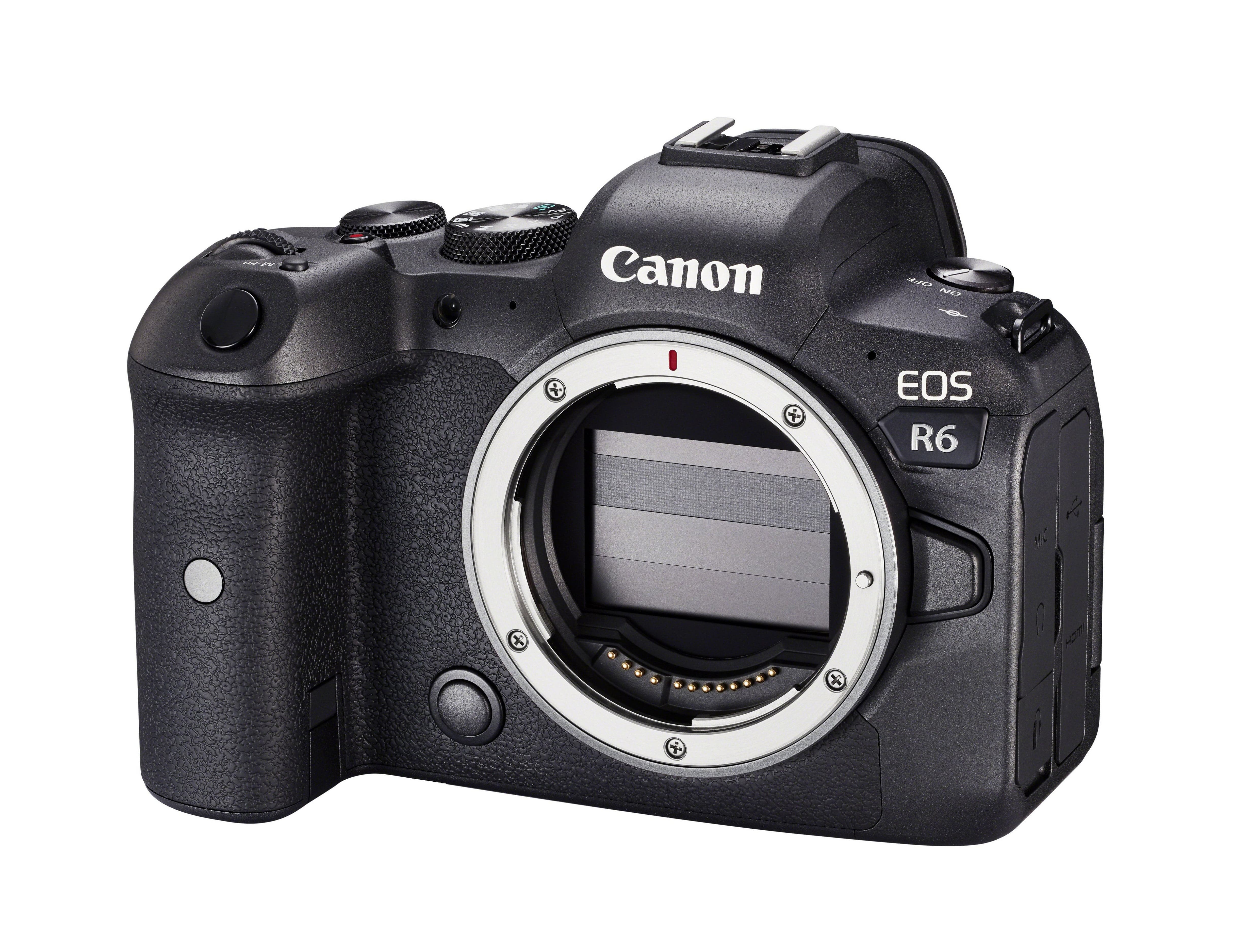 Canon EOS R6: First impressions
Over the years, I've owned a huge number of Canon EOS cameras; too many to count but the list includes every 5D, both 7Ds, a 6D and many cameras from the XXD line, such as the 40D, 80D and 90D. Whenever I've taken on a new body, the change in handling has been seamless, but I have to admit that the R6 took a little relearning.
The smaller, slimmer body has less space for controls and too few buttons for my liking. Unlike the EOS R and R5, it also lacks a top plate LCD. I didn't realise how much I used this until I found myself glancing down at the EOS R6, only to be reminded that this feature is absent, sadly.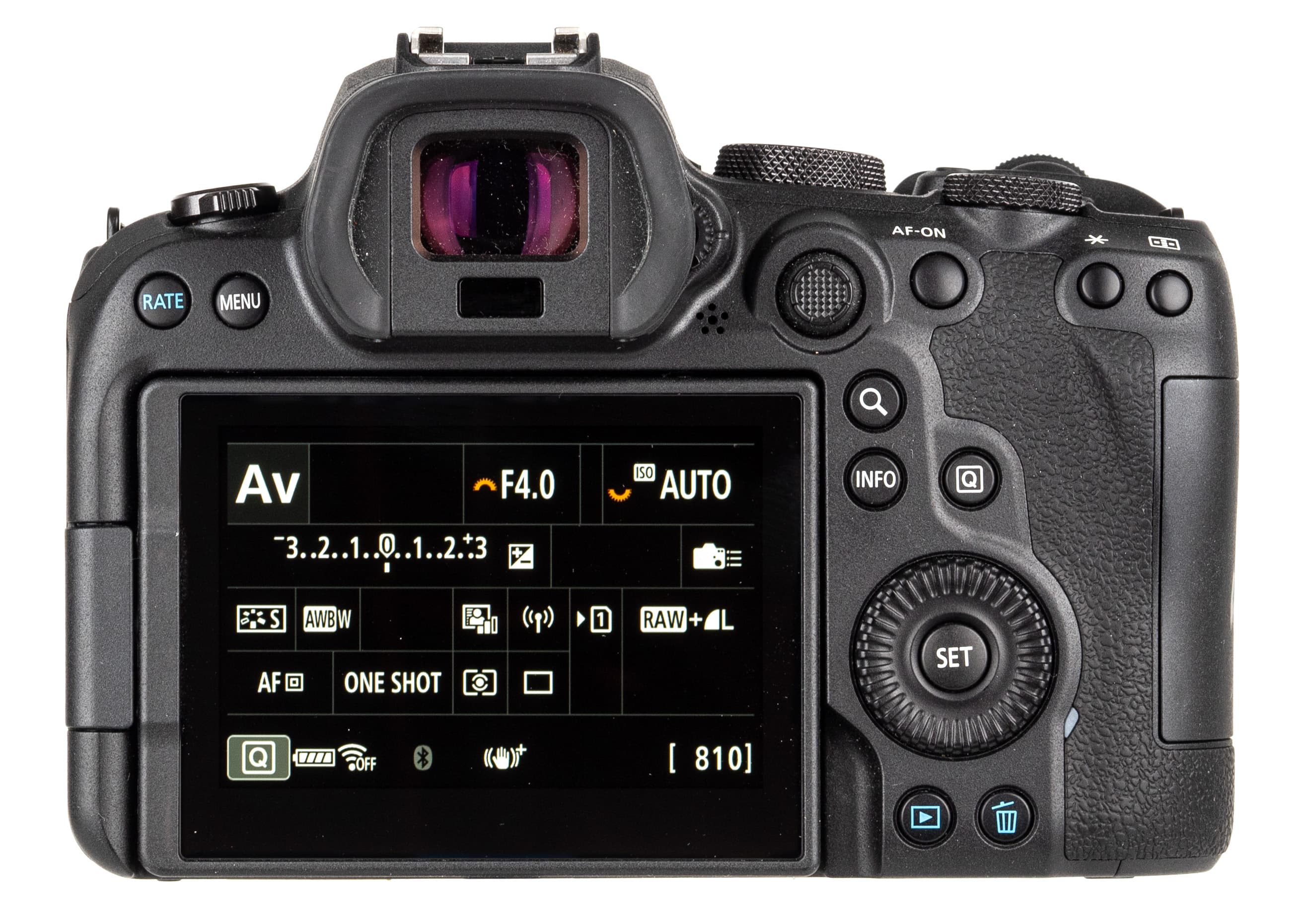 What's more, I had to get used to the lighter and more compact body. The EOS R6 body at 680g is over 200g lighter than the 890g EOS 5D Mark IV. It's smaller in the hands too, with the R6 measuring 138 x 98 x 88mm compared to the larger EOS 5D Mark IV (151 x 116 x 76mm). On the other hand, only two out of the nine lenses I own are RF mount, and the extra weight and length of adding the EF-RF Mount Adapter to accommodate my EF lenses takes some getting used to.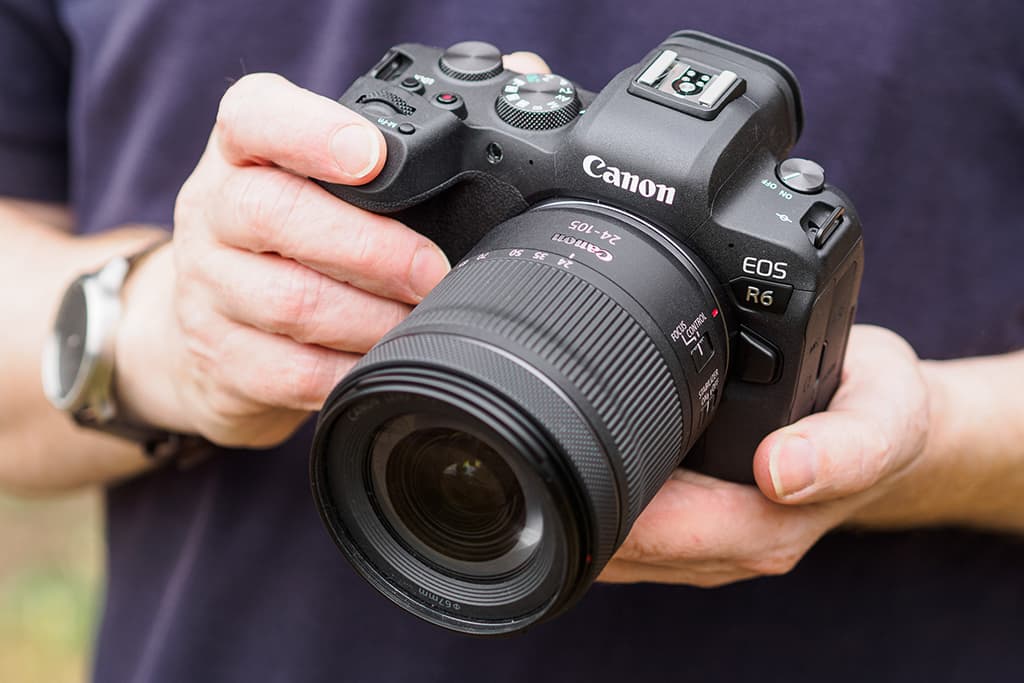 I must be honest and say that I find the feel of the camera somewhat underwhelming. The texture and surface of the body materials feel less premium than with the Canon EOS 5D Mark IV as I was used to. just feels less pro-spec and components like the battery compartment flap trouble me.
That said, having used the camera intensely from new, I can verify that the EOS R6 has worked faultlessly despite being exposed to the odd rain shower.
Canon EOS R6: Plenty of deal-makers
The advantages that the mirrorless EOS R6 boasts over Canon's DSLRs are mainly to do with focusing and speed.
However, the vari-angle LCD is also an absolute game-changer for me and allows me to compose low viewpoint images in a trrice without lying down on the ground to squint through a viewfinder.
The touch-focus function on the sensitive LCD is a dream to use and I found the accuracy of tapping on a subject, with the focus system then picking up exactly what I intended, was seriously reliable.
In fact, the focus system as a whole is a massive leap forward. For sports photography, I leave the Face Detection mode on and my hit rate of sharp shots is ridiculously high. It's not completely infallible and dark scenes do make things harder, but in all my photography, it delivered a hit rate of more than nine out of ten.
To fine-tune your focusing system further, the R6 offers a number of preset case studies that will change the behaviour of the servo mode; for example, there's one to track subjects while ignoring possible obstacles, and another that instantly focuses on subjects suddenly entering AF point coverage. It's worth spending an afternoon trying out each one to see how they work for your style of action photography.
The EOS R6's AF has improved further with a number of firmware updates; the latest firmware is 1.8.2. In firmware 1.5.0 head detection was improved to support helmets and goggles in winter sports, and Vehicles was added to Subject to detect in the AF tab to support detection of cars and motorcycles in motorsports; spot detection is also available to pick up on the helmet of the rider/driver. Eye detection stability and AF tracking with moving subjects was enhanced further in 1.5.2.
It is, however, the burst speeds available from the R6 that will really push DSLR photographers to make the leap, as the R6 serves up 12fps in burst mode or a rapid 20fps option when the user switches to the silent electronic shutter. The advantages of such a mode to wildlife photographers are obvious, enabling them to capture fast action sequences without distracting or spooking subjects.
Shooting multiple fast burst sequences will be a draw on battery life; the R6 is rated at 510 shots using the LCD, or 380 shots with the viewfinder. But the good news is that while the R6 ships with the newer LP-E6NH, it can also take the older LP-E6N batteries from Canon EOS DSLRs such as the 5D Mark IV and the 90D, so if you're transitioning across to mirrorless you won't have to rush out and spend big on extra batteries.
Is the EOS R6 fast and accurate enough to be a genuine alternative to Canon's pro-spec EOS-1D X cameras? I would say yes and, if the small form factor bothers you, photographers can also consider pairing the camera with the Canon BG-R10 grip, which retails at around $349/£379 and will also extend shooting time thanks to the extra battery.
What's more, the final deal-maker is the long overdue provision from Canon IBIS (in-body image stabiliser) and I found the five-axis system performed exceptionally well. Pair the EOS R6 with an IS lens and you can get up to eight stops of stabilisation, which is hugely useful when shooting with long focal lengths above 200mm, or in low light. Canon DSLR shooters who have been denied IBIS for so long may need some time to trust the system because you can capture sharp shots that were simply unattainable before.
Canon EOS R6: Impressive image quality
When it comes to sensor resolution, 20.1 million pixels doesn't sound like a lot, especially when the R5 offers 45MP and its successor, the EOS R6 Mark II, has 24.2MP. But the EOS R6 still delivers a file size of 5472×3648 pixels – easily enough to create A3 prints or for heavy cropping with small in the frame shots. In reality, that should be enough for enthusiasts and professionals alike, and the actual quality of the imagery is clean and impressive with that Canon colour science we've always known and loved.
With a native ISO range of 100-102,400, the R6 is well set to record images in low light. While few will consider shooting at the highest end of the range, the sensor handles noise incredibly well, with little sign of degradation even at ISO 40,000. Raw files hold a huge amount of tonal data, enabling shadows to be revealed and highlights recovered.
This again nudges the camera's performance into the pro-spec arena, surpassing what you'd get from an entry-level full-frame camera. As the icing on the cake, the EOS R6 offers both standard Raw and the smaller C-Raw files, which take up less space on your SD cards or hard drives with no loss in quality.
Canon EOS R6: A true hybrid?
Many of the creatives who handed over the cash for their EOS R6 when it was launched will have been just as interested in the camera's video specifications as its stills technology. This is a genuine hybrid machine that will fit neatly into a filmmaker's kit set-up.
Offering 4K video at 60p enables videographers to use this footage at half-speed, opening up the option of ultra-high-quality slow-motion sequences. Of course, you can also take advantage of the Full HD 120p for even slower footage. Make no mistake, the lightweight build makes the R6 an excellent 'run and gun' option for filmmakers looking to shoot light.
At launch, the camera shipped with Canon's C-Log 1 profile, but firmware update v1.4.0 added the Canon C-Log 3 option, enabling more creative options when grading footage. The combination of ports for headphones and external mic, the vari-angle LCD to touch and focus on a subject, and the high-resolution footage combine to make this a fantastic video option. What's more, the dual SD card slots enable simultaneous recording to both cards.
It's possible to grab 8.3MP JPEGs from 4K footage if you wish to, but for me the greatest benefit of the R6 comes back to the Dual Pixel AF, which proves insanely accurate and speedy during video capture, even with fast-moving subjects in the frame or when the Face Detection AF is activated by a subject in the scene. The R6 is so good at video, I find I'm using it as much, if not more, than my C70 cinema camera. On a big production, it's easy to use the two cameras in conjunction, both of which I keep set to the C-Log 1 profile.
Canon EOS R6: Long term verdict
A photographer's opinion of the EOS R6 will depend on which previous camera they measure it against. Do I prefer it over my old EOS 5D Mark IV? Yes, absolutely. Despite the drop in megapixels, the improvements such as the vari-angle screen, burst speed and video features tick many of the boxes I was looking to fill.
Yet there are still niggles that make me wish Canon had just pushed a little harder with the R6, although its price has fallen from its launch price to $1,999/£1,669 body only. Chiefly amongst my grumbles is the quality of the body materials, but this argument is easily countered by the benefits of its low weight. This may be a full-frame camera, but I can even use it on my Ronin SC gimbal to shoot super-steady footage.
The EOS R6 has powerful rivals lined up against it. The Nikon Z6 II and Panasonic Lumix S5 II sell at $1,977/£1,709 and $1,998/£1,899 respectively. Both offer more resolution – 24.2MP – and impressive video skills, and that applies especially to the Lumix S5 II.
Among diehard Canon users, many photographers (including professionals) will still be priced out from picking up the EOS R5, which costs $3,399/£3,595 body only, but the EOS R6 Mark II is a competitive $2,499/£2,509 body only.
In short, the EOS R6 is a fantastic camera, packed with features that make a tangible difference out in the field. It can cut the mustard for enthusiasts and professionals alike, and for stills as well as video. But if you are a long-term Canon EOS 5D-series DSLR user, it might possibly leave you wanting just a little more. That said, the EOS R6 is still available new and of course there's the money-saving pre-owned option.
Read our full Canon EOS R6 review
Find more great cameras in our guide to the best Canon mirrorless cameras, the best full-frame mirrorless cameras. Also, make sure you have a look at the best Canon RF-mount lenses.
---
Follow AP on Facebook, Twitter, Instagram, YouTube and TikTok.