Whether it's vlogging, making content for a YouTube channel, or just sharing private footage with family and friends, sound quality matters. We have all heard the wind, muffled voices and other unwanted noises in amateur videos. It doesn't have to be this way. Here's our guide to the best-value audio accessories for video.
Smartphones and cameras that record video capture sound with built-in microphones. These integral mics are convenient enough but, sadly, produce low quality audio. Built-in mics are not high spec and produce an indistinct or muffled sound – even in ideal conditions. Wind noise is especially problematic and, annoyingly, they pick up the sounds of the camera being operated and handled.
In other words, in-device audio recording is really only fit for notetaking and reference. The good news, however, is that there are external mics of many types and for any budget. Even a basic add-on mic can greatly enhance sound quality. There are many accessories that can help, too.
The best-value audio accessories for video – your need-to-know guide
Microphone essentials
A huge range of microphones exists to suit all situations. Top end broadcast-level kit is expensive, but our focus here is on products that suit enthusiast creators and vloggers without breaking the bank.
For convenience and discretion, the lavalier or 'lav' mic is tough to beat. A small device that clips onto the speaker's lapel (or thereabouts), it's then plugged directly into the camera or computer – or a transmitter elsewhere about the person.
Wireless mics for use with phones and tablets are available. Wired mics need a cable with the correct connection to suit the recording device. Most cameras have a 3.5mm mini-jack socket for microphones and headphones, and connecting cables come with different endings. For a mobile phone you will need a TRRS mini-jack cable. TRRS stands for "Tip-Ring-Ring-Sleeve": these are the four conductors in the cable. Cameras take the TRS (Tip-Ring-Sleeve) jack.
A look at the jack pin shows the difference:
A popular device is the dual lav mic eg the Røde Wireless GO II and Joby Wavo Air. In this type, the microphone and transmitter are combined as one unit. Although a little bigger – so more obvious in-shot – they are versatile and can accept an external lav mic. This gives the option of working it either way. The signal from the mic/transmitter is sent wirelessly to the receiver, which is plugged into the device or camera.
The working range of such devices can be considerable – from 50m upwards – so they're perfect when the speaker is moving around, and for long distance commentaries. For crisp, clear results, position the lav mic within a handspan (9 inches or approx.) of the mouth (and certainly no more than 12 inches); also, make sure it is free of clothing for a clean signal and to avoid rustling noise.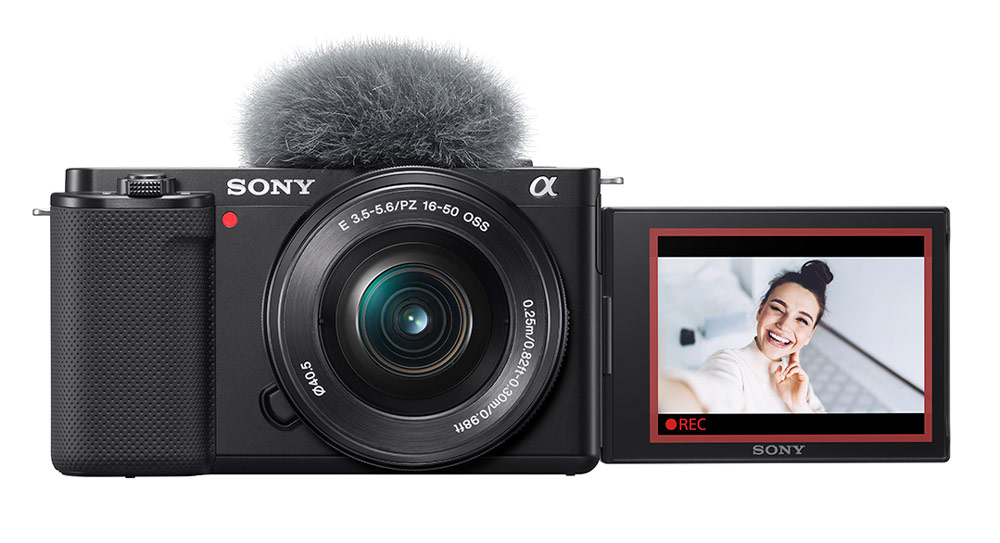 The full-frame Sony ZV-E1 costs £2300 / $2875 and is aimed at vloggers. Shown here fitted with its dedicated furry windshield to reduce wind noise. Picture credit; Sony
Shotgun mics and windshields
Speaking of unwanted external sounds, even the gentlest breeze can render outdoor video recordings unusable. To minimize this, the mic is best covered with a windshield, muff or 'dead cat' made from open cell foam or synthetic fur. The windshield might be part of the mic's integral design made from metal or plastic. Many mics combine smart design with an extra physical shield to the same effect.
The lav mic is popular for shooting on location and for interviews, but the keen video shooter has other options besides. The shotgun mic is a long thin microphone that can be mounted on-camera, or used off-camera on a stand, or with a boom arm. Such mics have a unidirectional pick-up pattern, making them most sensitive in one direction, ie front of the mic, although they are sensitive to the sides and behind too.
When a shotgun mic is used on the camera's hot-shoe, the speaker needs to be centrally positioned in the frame for the best results. Its narrow pick-up region will cause a noticeable drop in signal if the speaker drifts off axis.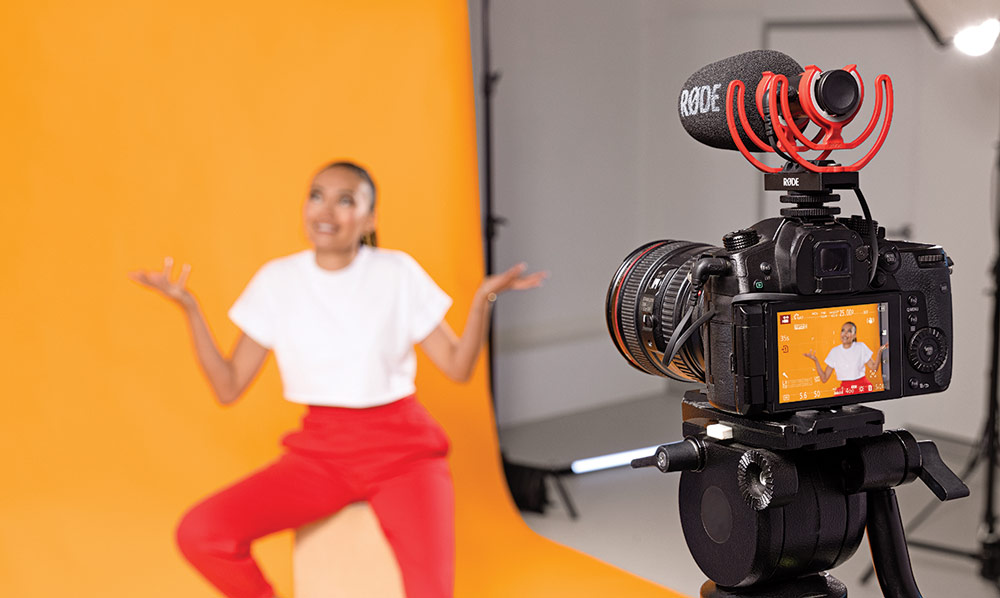 Different scenarios need different mics for the best results. For vlogging indoors an on-camera mic like the Røde VideoMic is a good option, while a lavalier wireless set-up would suit location shooting. Picture credit: Røde
Desktop mics
For adding a voice-over, streaming and for podcasting, you need a desktop mic in addition to a shooting mic. You may already have a suitable one for home use or working that you can utilise.
Microphone pick-up, or polar patterns determine how much of the signal is picked up from different directions. These vary, so will require some research depending on the nature of your video priorities. For on-camera vlogging, I find a cardioid or super-cardioid is good. Adding commentary from behind the camera can be well-served by a bi-directional mic with front and rear sensitivity. For general shooting, a sub-cardioid mic with a wider front focus works well.
Mics are very sensitive to sound generated by vibration. This can be averted by holding it in place with stretchy elastic absorbers in a shock mount to absorb the vibration. This is optimal whether on-camera, or on a stand or desk. I find that these can slip out of position, so it's worth checking that absorbers are correctly fitted and gripping the mic properly before you start recording. Some mics come supplied with a dedicated shock-mount. Third-party options are available from brands including Rycote, Smallrig and Røde.
Headphones
Listening to output on a camera's tiny speaker is ineffective on location. A pair of headphones is much more practical. If these are too big for your circumstances, earphones will suffice. However, not all cameras are equipped with a headphone port, and it is only with more recent, higher end and vlogger-oriented models that the feature comes as standard. Check the options on your kit.
If a dedicated port is not provided, your camera may enable connection via the USB-C port and a 3.5mm mini jack adaptor.
If there is no headphone port, enthusiasts can check audio in other ways. For example, an optional HDMI monitor can be plugged into the camera, and these have headphone ports. Alternatively, use a separate audio recorder with an external mic attached.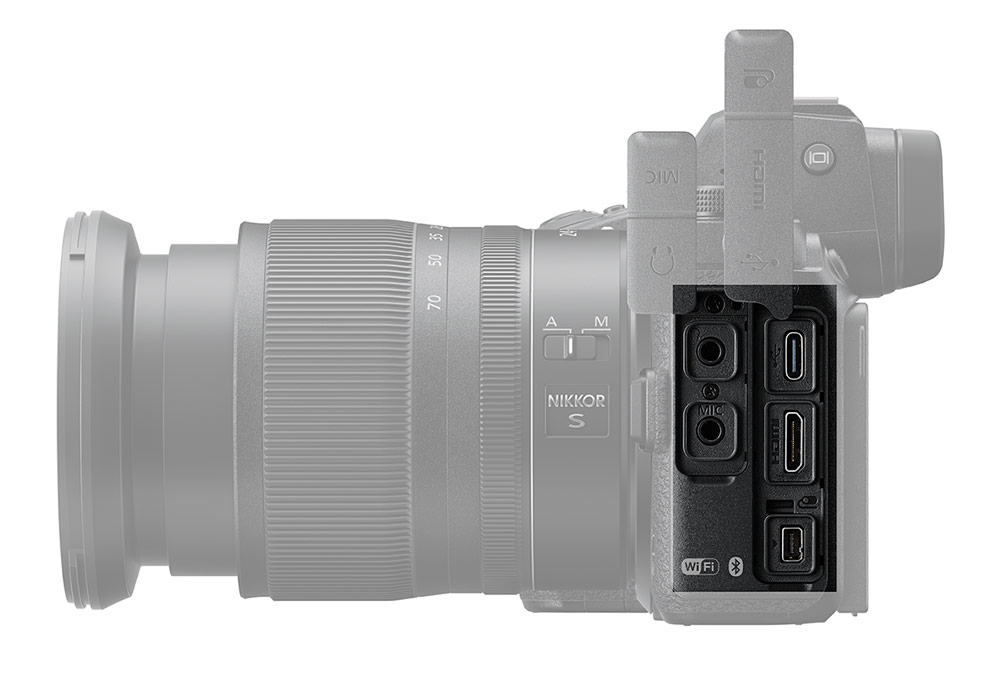 The Nikon Z6 II has both microphone and headphone 3.5mm ports, alongside HDMI and USB-C ports. A camera with an on-board headphone port is the most convenient solution for most people; models with this feature include the Canon EOS R6 Mark II, Fujifilm X-H2S, Nikon Z6 and Panasonic Lumix S5 II.
A suitable pair of headphones need not cost a fortune. Audio quality needs to be just good enough to check recordings and what the mic is picking up. Comfort is not critical, given that they are for occasional rather than constant use on location. They could come in for some wear and tear on location, so I would resist expensive headphones there. Our advice is to buy a decent, good value pair for location use and invest in a higher-quality pair for home studio use.
Read on for our pick of the best value audio accessories for video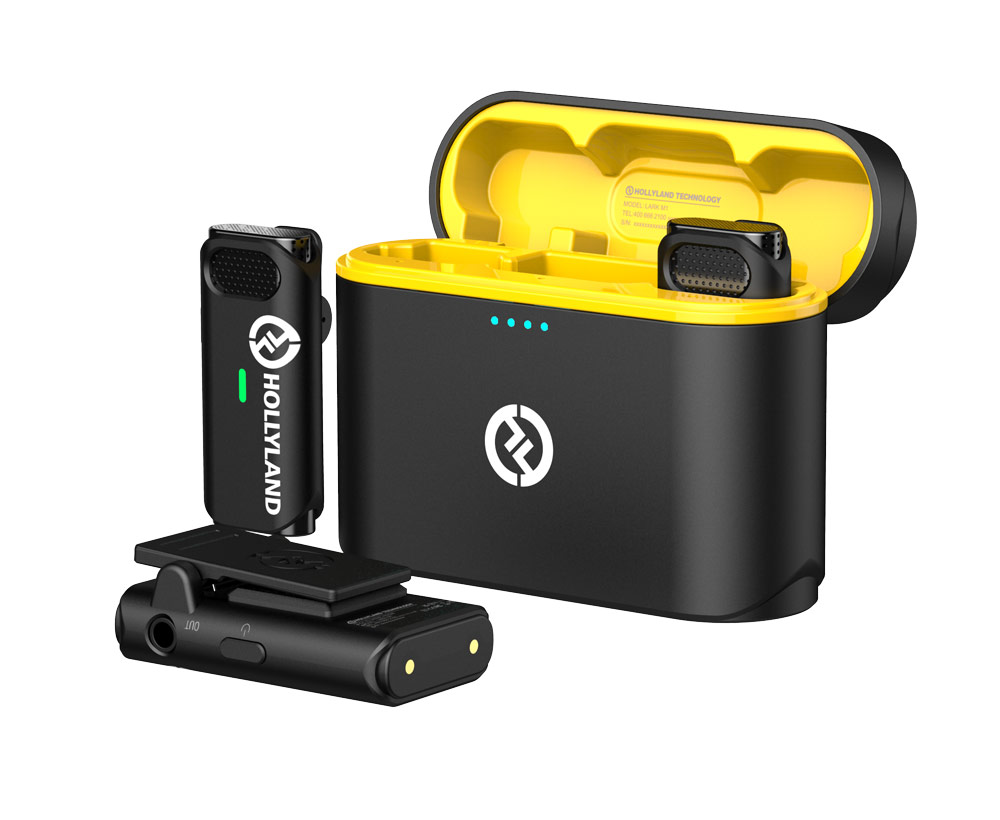 1.Hollyland Lark M1 wireless microphone
At a glance
The Hollyland Lark M1 is a truly compact wireless mic system available in two variants: the Solo with one transmitter and one receiver, and the Duo (above) which consists of one receiver and two transmitters. The transmitter has an integral mic while the duo kit comes with a matching charging case.
The Lark M1 system uses the 2.4Ghz bandwidth and features Adaptive Frequency Hopping (AFG) and HearClear noise cancelling to filter out annoying ambient sounds. Fully charged, units have an eight-hour life and a working range of up to 650feet/200m. Charging is via USB-C. The charging case of the Duo does the job in 1.5 hours and can recharge the TX/RX units twice.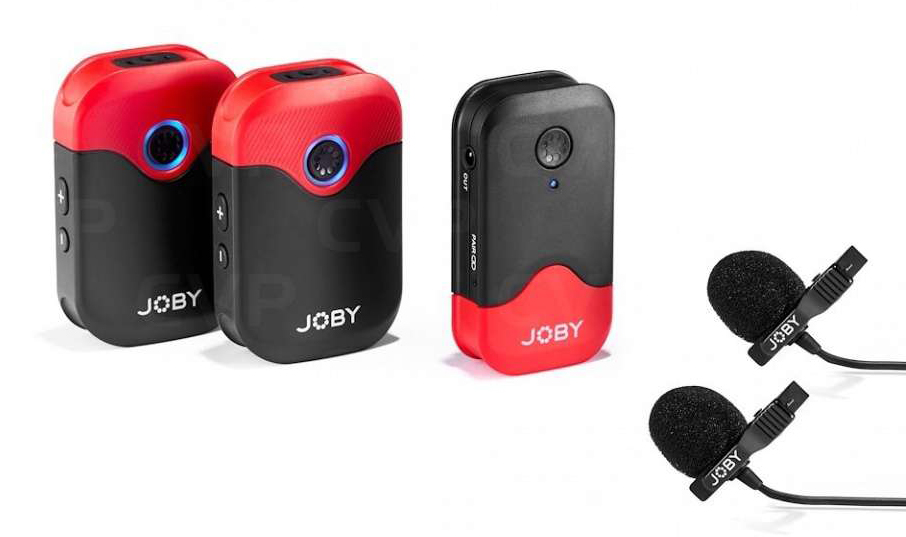 2. Jobo Wavo Air
At a glance
Joby's Wavo Air kit comes with all the essentials for a versatile, high quality wireless mic system. The outfit includes one receiver and two transmitters with integral mics with windshields. If you prefer wired lav mics, two of these are supplied too, complete with foam windshields. TRS-TRS and TRS-TRSS cables are also provided for camera and smartphone use. All three units are USB-C rechargeable and once fully charged will deliver up to six hours of working life. The Wavo Air system is easy to use and pair instantly when powered up. The result is excellent audio clarity that is up to 50m working range.

3. Røde VideoMic NTG
At a glance
Pricing: $249/£239
User level: beginner to intermediate
Website: Rode.com
The VideoMic NTG is a versatile shotgun mic that will deliver an impressive performance where and whenever you need it. On-camera, its highly directional pick-up pattern delivers a natural, transparent sound. This is enhanced by an innovative tube design featuring acoustic perforations along the length of the mic. For recording voice-overs and podcasts the VideoMic NTG is a highly capable USB mic too. In USB mode, the 3.5mm jack doubles as a headphone output for auto-monitoring.
A range of supporting features help you get the best audio in all situations. There's a high-pass filter, high frequency boost to enhance detail and an infinitely variable gain control to tailor output to your devices. The 3.5mm output port is auto-sensing which means no fuss when you change from using your camera to a smart device. The mic comes with a shock-mount.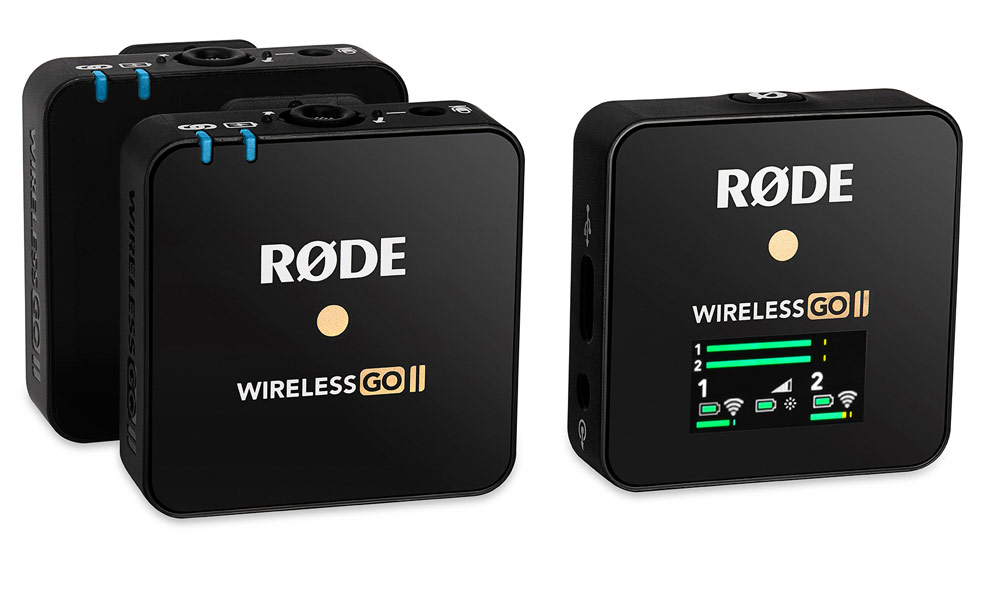 4. Røde Wireless GO II
At a glance
Incredibly compact and versatile, the Røde Wireless GO II outfit comes with a dual channel receiver and two transmitters. Series IV 2.4GHz digital transmission and 128-bit encryption produce clean, stable audio even in challenging RF environments with a 200mm line of sight operating range. It is also universally compatible with cameras, mobile devices and computers.
The system also has on-board recording with up to 40 hours of internal memory so if your device's recording gets corrupted, you have a back-up. The on-board rechargeable lithium-ion battery give up to seven hours of working life.
With its pro-level sound quality, user friendly nature and incredibly versatility, this is an excellent mic system and it's supported by a desktop and mobile companion app which helps you enjoy its full potential without fuss.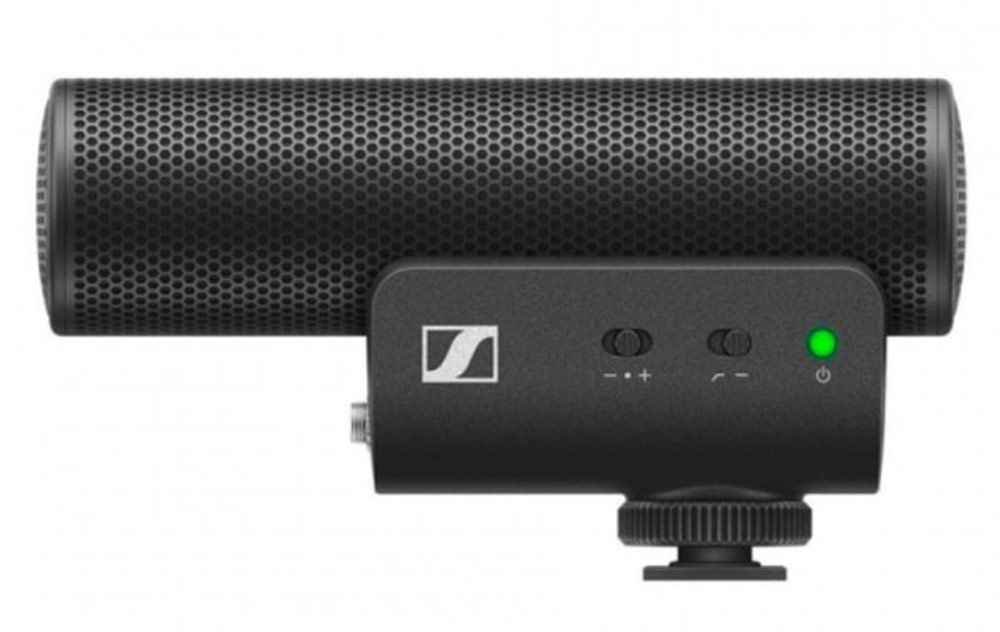 5. Sennheiser MKE 400
At a glance
Designed for vloggers and content creators, the Sennheiser MKE 400 is a compact, lightweight shotgun mic with a super-cardioid sensitivity pattern; so it's most responsive to where it is pointing. It delivers audio with impressive clarity and a low-cut filter helps minimise wind noise and a three-step gain sensitivity switch lets you adjust the mics' responsiveness for different situations. There's also a built-in windshield and shock-mount to reduce camera-handling noise.
The MKE 400 suits use on DSLR and mirrorless cameras, but also comes supplied with locking 3.5mm TRS-TRS and TRS-TRRS coiled cables so you can apply the mic's talents to your mobile devices too. Another plus point if your camera does not have a headphone port is that the MKE 400 has a 3.5mm headphone monitoring port. This allows direct audio checking, and sound levels can be adjusted with an integrated volume control.

6. Beyerdynamic DT 240 Pro headphones
Pricing: $70 /£55
User level: beginner to intermediate
Website: www.beyerdynamic.com

Attractively priced, these high-performing, compact and robust headphones are equally happy in the studio or out on location. They are friendly with most devices requiring little amplifier power for decent volume. This makes them perfect for use with laptops, smartphones and cameras.
User comfort rates highly too. The ergonomic headband and specially designed ear cups are comfortable for extended listening while eliminating sound leakage. Handily, the ear pads and cable are replaceable, so the product has a potentially long working life.
Sound quality, as you would expect from Beyerdynamic. is first rate. Clean well defined deep bass, smooth mid-tones and clear treble are produced. Offering good value, comfort and decent performance, the Beyerdynamic DT 240 Pro headphones are ideal for the vlogger and video maker.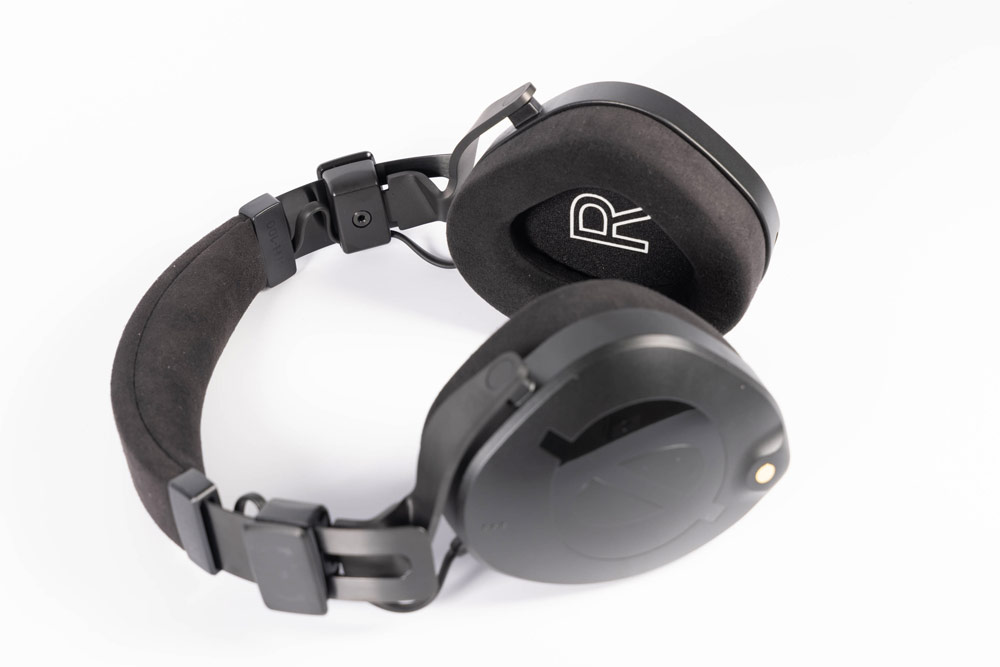 7. Røde NTH-100 headphones
At a glance
Røde is a renowned brand for mics and relatively recently has branched out into headphones. The NTH-100 is an impressive pro over-ear headphones perfect for mixing, recording and podcasts. Their great sound is thanks to custom-matched 40mm dynamic drivers in over-ear closed-back ear-cups that give very good isolation from external sounds and no leakage.
Also, low impedance and high sensitivity make the NTH-100s easy to drive from any interface and mobile device. They aren't especially compact, but are good value and sound great. The luxurious Alcantara cushions, coupled with Røde's CoolTech gel, make them super comfortable for long periods of editing and daily listening.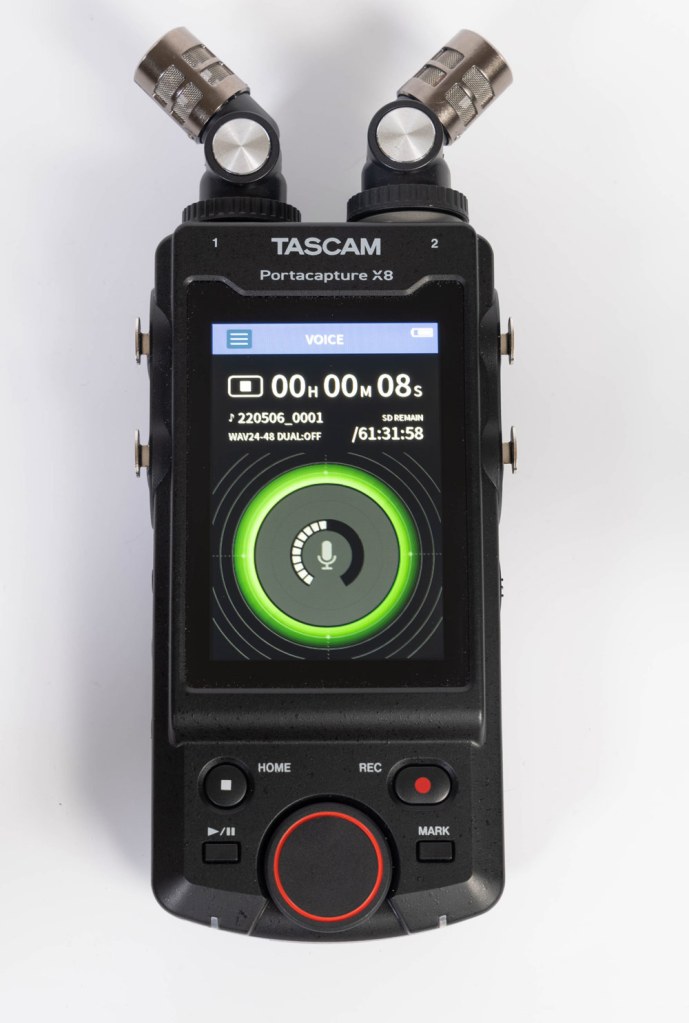 8. Tascam Portacapture X8 recorder
At a glance
This a powerful highly featured, multi-track audio recorder suitable for all sorts of audio applications – and is designed to be easy to use. After start-up, the device shows the Launcher which lets you quickly pick the best settings for the situation with presets – voice, podcasts, music – you can start recording without having to dig deep into the Portcapture's features. Alternatively, go fully manual and record up to six audio sources and a stereo mix.
Premium dual A/D converters with 32-bit floating point resolution enables wide dynamic range recordings, so can cope with very loud or deathly quiet sources. The levels can be edited without impacting the signal-to noise-ratio, so output quality remains high.
The unit comes with two high-quality condenser mics as standard, and these can be arranged in A-B or X-Y pick-up patterns. Adding the optional Bluetooth adapter gives you wireless control via the Portacapture Control app.
---
Further reading
---