They say the best camera is the phone you have with you and smartphone cameras are always in our pockets so why not invest in a few accessories?
Smartphone photography has come a long way and the sensors inside today's models are capable of producing professional-level imagery and video. More and more people are using smartphones to capture content and it's not hard to see why.
Lightweight, convenient and super discreet, smartphones can be used as a single camera or as part of a more pro-orientated rig to capture any sort of imagery or movie you can think of. Better still, as soon as the content has been captured, it couldn't be easier to then upload your photos and video to social media platforms, sharing your vision with the world.
With so much focus on smartphone photography, and the genre becoming more and more credible, it's no wonder that the demand for accompanying accessories has been met and now there is a huge choice of gear out there to pair up with your smartphone. There's a huge variation in both the kit available and the budgets for these products, but what is clear is that there are accessories to suit every budget and fulfil every need.
Below, we'll round up our picks for the best smartphone accessories for photography, but first, let's take a look at the different types of accessories you can buy for your camera phone.
What are some accessories you can buy for your smartphone?
Mini tripods
Just like when you use your mirrorless camera to capture long exposures, there will be times when it can be hugely advantageous to use a tripod with your smartphone. Now, because smartphones weigh much less than bigger cameras, mini tripods are an excellent solution to provide stability and keep your camera still, while still being small and portable.
Along with being important when shooting long exposures, mini tripods can be used to hold the camera while capturing selfies or group pictures and they are essential when capturing time lapse video footage where it's critical the smartphone stays still.
Stabilisers
A stabiliser (or gimbals as they are also called) are powerful and hugely useful accessories that bring a host of big benefits to smartphone users shooting stills or video. Most come with built-in extension rods so you can capture wider fields of view or shoot stills from an aerial viewpoint.
However, it's video footage that really benefits from a gimbal as most offer a three-axis system to correct for any pitch, tilt or yaw so that you can move around while still capturing smooth footage. Most gimbals also pair up with a companion app to unlock further features and functions such as follow focus and tracking.
Lights
Any smartphone photographer who has shot in low light conditions will tell you that darkness can compromise image quality. The solution is to invest in a light, but with smartphone photography, you don't want heavy, bulky kit so the trick is to source small, power LED lights that can illuminate your subject with flattering light without creating a heavy payload.
---
Best camera phone tripods and mounts
Gimbal / Selfie stick for smartphones: DJI Osmo Mobile 6
$218 / £145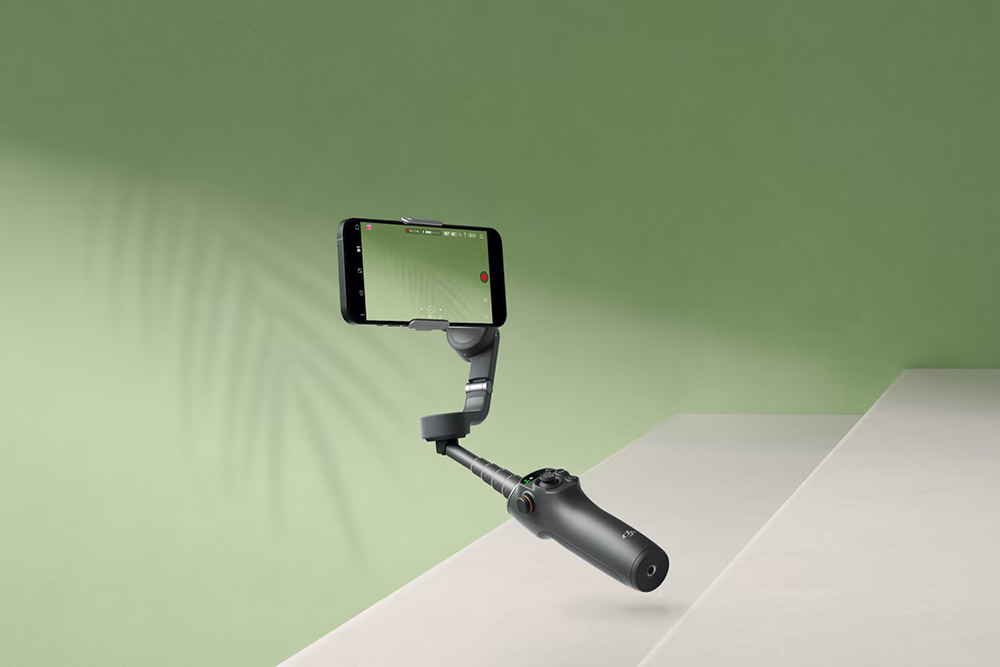 Most photographers will be familiar with DJI for its range of industry-leading drones, but the brand also makes amazing accessories for smartphones and the Osmo Mobile 6 is the latest to be available to smartphone photographers. Best described as a handheld stabiliser gimbal, the Osmo Mobile 6 folds down to a portable, travel-friendly package that can be opened up and used when the right photo moment presents itself.
Featuring a built -in extension rod to increase the distance between you and your smartphone when capturing wider selfie shots, there's a huge amount of tech built-in to this three-axis stabiliser, including DJI's Active Track 5.0 technology, which will allow you to follow a subject around for smoother video footage. Despite all this tech, the Osmo Mobile 6 tips the scales at just 309g.
Pros:
Packed with high tech features
Lightweight package
Cons:
More expensive than rivals
---
Mini tripod: Manfrotto Pixi EVO 2 mini tripod
$45 / £42
While photographers using mirrorless cameras need to cart around big, heavier tripods, smartphone photographers can do things the easier way and the EVO 2 is one of the best mini tripods around to pair with your phone device. Capable of supporting up to a whopping 2.5kg, the mini tripod offers two different leg angles to give stability on uneven ground.
With a choice of three colour combinations, the aluminium build is lightweight yet robust and the EVO 2 even offers the ability to tilt the device a full 90 degrees so smartphone photographers have the choice to shoot in landscape or portrait modes.
Pros:
Rugged design
Two leg angle options
Cons:
Additional phone clamp needed.
---
Gimbal / Selfie stick: DJI OM 5
$129 / £95
Now that it has been superseded by the Osmo Mobile 6, the OM 5 (note the different way DJI names its smartphone gimbals) is now a much more budget-friendly route into smartphone supports.
Offering a three-axis stabilising gimbal to allow you to capture smooth video footage or sharp long exposure stills, the OM 5 features an innovative magnetic design, enabling the smartphone to be clipped in and out of the gimbal at lightning speed – important if you are racing to capture a special movement.
Despite a 215mm extension rod that turns the gimbal into a selfie stick, the OM 5 folds down to just 174.7×74.6×37mm – perfect for those who are perhaps travelling and don't have a lot of space to spare for photo gear. Thanks to a USB-C charging port, it takes just 1.5 hours to charge to full and offers an operating time of 6.4 hours.
Pros:
Useful extension rod
More affordable than newer models
Cons:
Magnetic design may not suit all
Read our DJI OM 5 Smartphone Gimbal review.
---
LED light: JOBY Beamo Mini LED light
£65
As the saying goes; let there be light and the solution to this is to invest in a Beamo Mini length for your smartphone photography. Designed to minimise flaws and produce flattering skin tones, the lights feature not one but two cold shoe mounts so they can be added to smartphone rigs and they even have a magnetic backing.
The great thing about these flights is their robust build; in fact they are both waterproof and rugged so you should have no qualms about using them in harsh weather conditions. At full power, the light offers 1000 lumens and power can be ramped up in five steps. JOBY offers these clever lights as single items, two-light kits and bundled with its mini tripods.
Pros:
Waterproof and rugged design
Bright output
Cons:
Better suited to smartphone rigs
---
Gimbal / Selfie stick: Zhiyun Smooth 5S
$164 / £164
If you are looking for a bells and whistles accessory for your smartphone photography, this could well be it. The Smooth 5s is a three-axis smartphone gimbal that takes things to the next level.
Not only will it keep your smartphone steady when shooting stills and video, but it also features a powerful built-in 650 Lux luminance LED light to illuminate subjects close to the gimbal. Along with the built in light, the 5S can also accommodate two more additional lights, essentially enabling creators to film single-crewed.
Other features include a integrated joystick to help you manoeuvre the smartphone at your pleasure and dials and mode buttons so you can quickly access different features. The 5S offers a number of built-in creative modes so you can get creative; including a panorama option that will move the camera automatically to shoot multiple frames before merging them together.
Pros:
Innovative LED lights
Built-in creative modes
Cons:
May be overkill for some users
---
Gimbal / Selfie stick: JOBY Smart Stabilizer
$145/£79
JOBY is better known for its range of mini tripods, but did you know the brand also makes a gimbal for smartphones too? Priced at the entry-level point of the market, the JOBY gimbal comes with a mini tripod, carry bag and features a telescopic handle that extends out to 7 inches to help provide wider-angle compositions.
The battery lasts up to 10 hours and you can even charge up your smartphone from the gimbal using the included cable, enabling you to keep going with your smartphone photography. Weighing 428g, more features can be unlocked by accessing the free Smart Stabilizer app, including focus tracking options.
Pros:
Affordably priced
Companion app
Cons:
---
Slider: JOBY Swing Phone Mount
$190 / £158
Here's a clever accessory that will appeal to smartphone content creators that wish to capture professional-looking timelapses, videos and B-roll. Designed in partnership with Syrp, the device connects via the JOBY motion app and can be programmed to move, adding motion to your timelapse creations.
A battery life of up to three hours, the Swing mount offers a linear travel distance of 38cm and can support a payload of 600g, which should cover all but the heaviest of smartphones. Other features include a built-in bubble level to ensure straight horizons and there's also a Ballhead 1K and GripTight phone mount accessory bubbled into the package.
Pros:
Innovative design
Companion app
Cons:
Limited appeal or stills shooters
---
Gimbal / Selfie stick: Zhiyun Smooth Q4
$119 / £101
Smartphone gimbals don't have to be big or bulky and the Q4 is one of the smallest packages on the market. Tipping the scales at just 370g and measuring just 181x107x56mm, this is a gimbal you can fold down and carry around in your jacket pocket. Despite being small, the Q4 offers a max operating time of 15 hours – more than enough for most photographers who are heading into the city to capture some fun content.
The design is far more simplified than the more pro Zhiyun Smooth 5S but the Q4 does boast a 215mm extension rod to shoot from a wider angle and a multi-functional control wheel enables quick operation and switching between modes.
Pros:
Folding design
Long battery life
Cons:
---
Mini tripod: Manfrotto Pixi Mini Tripod with Smartphone clamp
$50 / £48
When travelling light is the absolute key for your smartphone photography, but you still need a tripod to keep things steady, the Pixi Mini from Manfrotto could well be the answer. Small enough to fit in the pocket of your jeans and highly affordable, the lightweight build of this mini tripod disguises a robust build that will stand up to the knocks and bumps of everyday use.
The Pixi Mini features a push-button mechanism that enables the small ballhead to be manoeuvred to suit whichever composition you need and there's a 1/4 thread to pair up with the phone clamp attachment that will hold your smartphone securely in place. Weighing just 170g, this mini tripod can hold up to a whopping 1kg – just in case you need to start adding to the rig with accessories such as lights.
Pros:
Tiny design for portability
Robust and lightweight
Cons:
No extension rod for wider angles
---
Flexible tripod: GorillaPod Stand PRO
From $69 / £69
If there's a more versatile support for smartphone photography out there than the GorillaPod then I don't think we will find it. This innovative tripod features malleable legs that can be flexed into positions to make use of supports you didn't think would be possible. Wrap the lens around a tree, a fence post or even the frame of a bike – the possibilities are endless.
Built with premium ABS plastic and stainless steel and weighing 244g to keep it light and portable, the GorillaPod PRO measures just 5.5×7.5x31cm and is best described as the swiss army knife of smartphone supports. There are bigger versions of the GorillaPod available but this model hits the sweet spot on both price and design for smartphone photography.
Pros:
Innovative design
Affordable price-point
Cons:
Some may not like the design
---
Related articles:
---