It's that time of year again, as the AP Awards 2023 are announced! As a weekly magazine Amateur Photographer tests more software and accessories than any other UK publication and our tests are widely respected around the world for their independence, quality and depth.
Consequently, the AP Awards, which have been an annual highlight in the photography calendar for over 40 years, are held in higher regard within the global camera industry than any other UK award.
The products selected here are the most technologically advanced ever produced – we're truly spoiled for choice – but our thorough testing identifies the strengths and weaknesses of each, to help you choose which one is right for you, and which really are the finest in their class.
See our pick of the best lenses of 2023 below.
---
AP Awards: The Best Lenses of 2023
Wideangle Prime Lens of the Year
Sigma 20mm F2 DG DN | C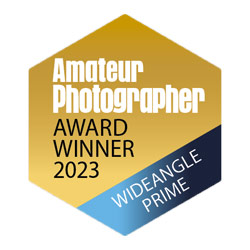 Designed for full-frame mirrorless cameras, this large-aperture wideangle prime is available for L-mount and Sony E-mount cameras. As part of Sigma's I series line-up, its boasts an all-metal barrel made from precision-cut aluminium, with weather-sealing for greater durability. Yet it's still relatively compact and light in weight.
Operationally, the lens benefits from a dedicated aperture ring with distinct clicks at one-third stop intervals, along with a physical AF/MF switch. The aperture ring is perfectly placed in the centre of the barrel for easy operation by your left thumb and forefinger. This tactile design makes the lens a pleasure to shoot with, in a way that's often missing from modern autofocus optics.
Image quality is excellent, with a fabulous level of sharpness across the frame. Both flare and chromatic aberration are kept in check extremely well, while out-of-focus backgrounds are attractively blurred when shooting at close focus distances. Likewise autofocus is quick, silent, and accurate.
With its winning combination of excellent optics and top-notch build and operation, the Sigma 20mm F2 DG DN | C is a fine choice for photographers shooting subjects such as landscapes, architecture, and interiors.
Why we like it
Excellent performance
Lovely metal construction
Tactile controls
Weather sealing
Read our Sigma 20mm F2 DG DN C review.
---
Prime Lens of the Year 2023
Fujifilm Fujinon XF 23mm F1.4 R LM WR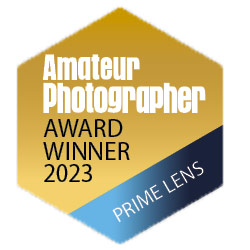 Fujifilm has recently been updating many of its older XF lenses with improved designs. Replacing the XF 23mm F1.4 R from 2013, and built for use on the firm's APS-C X-system cameras, this optic provides an angle of view equivalent to a 35mm lens on full-frame. As a result, it's suitable for a broad range of subjects. Its large maximum aperture is useful for shooting in low light or when a shallow depth-of-field is desired.
Compared to its predecessor, it's an improvement all round, giving increased sharpness thanks to a new 15-element, 10-group optical design. Weather-resistant construction provides reassurance for outdoor shooting, while the aperture ring gains a push-button lock to hold it in the A position when using shutter priority or program modes. Last but by no means least, a linear motor for focusing provides fast, accurate and quiet AF.
Optically the XF 23mm F1.4 R LM WR is a superb performer, combining impressive sharpness with attractively blurred out-of-focus backgrounds. Indeed, it's a lens that you can happily use at any aperture setting without having to worry about optical aberrations or a lack or sharpness. It's a great choice for X-system users looking for an everyday large-aperture prime.
Why we like it
Superb optical performance
Aperture ring with lock button
Weather-sealed construction
Read our Fujifilm Fujinon XF 23mm F1.4 R LM WR review.
---
Wideangle Zoom of the Year 2023
Sigma 16-28mm F2.8 DG DN | C
While the latest full-frame mirrorless cameras come with significant technological advantages, the downside is that the lenses for them are often larger and much more expensive than their older DSLR equivalents. However, this large aperture ultra-wideangle zoom bucks the trend, providing high-quality optics in a relatively compact design. It's available for L-mount and Sony E-mount cameras.
By limiting the focal length at the long end, Sigma has managed to make a zoom that starts at an ultra-wide 16mm and offers a constant f/2.8 maximum aperture, yet measures just over 10cm long and weights 450g. In fact, it's lighter than most 16-35mm f/4 zooms, despite gathering a stop more light. What's more, it's more affordable than its direct competitors.
Images are sharp and detailed across the frame, even when shooting wide-open at F2.8. Similarly impressive results are achieved both at the 16mm end and when zoomed in to 28mm. Sigma has also made intelligent use of in-camera correction for distortion, vignetting and chromatic aberration to deliver clean, geometrically accurate images. For those in the market for an ultra-wide zoom, the Sigma 16-28mm F2.8 DG DN C comes highly recommended.
Why we like it
Great image quality
Excellent value for money
Relatively compact and lightweight
Large maximum aperture
Read our Sigma 16-28mm F2.8 DG DN C review.
---
Standard Zoom Lens of the Year 2023
Sony FE 24-70mm F2.8 GM II
When Sony first started making premium lenses for its full-frame mirrorless cameras, a common concern was they were too large and heavy. As a result, they often felt unbalanced on the firm's small camera bodies. In response, Sony has now started to release second-generation optics that combine improved optics and updated functionality with substantially reduced bulk.
Its latest standard zoom exemplifies this approach, being almost 16mm shorter and 200g lighter than its predecessor, while boasting sensational optics and gaining additional controls. This is, in fact, the smallest and lightest 24-70mm f/2.8 available for any full-frame mirrorless system, at 696g and less than 12cm long. Yet in terms of sharpness, the lens is nothing short of outstanding, being entirely usable at maximum aperture and all focal lengths. This makes it the perfect match for the firm's high-resolution Alpha 7R-series cameras.
Operationally, there's the welcome addition of an aperture ring with click-stops at one-third intervals, which can also be switched to smooth operation for video work. A zoom torque control has also been added, offering a choice of smooth or tight operation. Naturally the lens is weather-sealed and offers pro-level high-speed autofocus. It's pricey, but you really do get what you pay for.
Why we like it
Stunning optics
Relatively small and light
Extensive controls
Rapid autofocus
Read our Sony FE 24-70mm F2.8 GM II review.
---
Telephoto Zoom Lens of the Year 2023
Nikon Nikkor Z 100-400mm f/4.5-5.6 VR S
Nikon has recently spent a lot of time building up an arsenal of telephoto lenses to complement its flagship Z9 full-frame mirrorless camera, with pro-spec 400mm f/2.8, 600mm f/4 and 800mm f/6.3 primes all appearing in quick succession. But while these super-expensive optics certainly have their place, we were wowed by the firm's 100-400mm zoom, which combines a versatile focal length range with lighting fast autofocus and superb glass.
Key features include fully weather-sealed construction and optical stabilisation promising up to 5.5 stops of shake correction. There's a full suite of controls, including two pairs of customisable function buttons and a dial for changing exposure settings. A small display on top of the barrel shows focus distance, aperture or focal length.
Overall, the lens puts in a very pleasing performance and it's easy to recommend it to Nikon users in search of a top-quality telephoto. It's a great companion to the Z9 for those who require the versatility of a zoom without compromising on performance. As the icing on the cake, if you need to go longer still, the lens is also compatible with Nikon's 1.4x and 2.0x teleconverters, bumping up the maximum focal length to 560mm and 800mm respectively.
Why we like it
Impressive image quality
Rapid autofocus
Versatile zoom range
Compatible with teleconverters
Read our Nikon Nikkor Z 100-400mm f/4.5-5.6 S review.
See more Nikon Z-mount lenses in our guide to the best Nikon Z-mount lenses.
---
Make sure you have a look at the best cameras and lenses available in our buying guides, as well as the other AP Award winners!
Tell us what you think on social media, using the hashtag #APAwards2023
See last year's winners here: AP Awards 2022: The Best Lenses
---