In its infancy, the Sony Alpha 7 series fell short of offering its users a wide range of lenses. As is often the case with any new camera system, it took time for the full-frame FE mount to establish itself, but now, a couple of years down the line from the launch of the original A7 and A7R, Sony Alpha 7 users find themselves much better catered for.
One area of the lens line-up that we've been patiently waiting for the manufacturer to address is the absence of zoom lenses capable of shooting faster than f/4, and up until recently, photographers wishing to couple faster zooms to an Alpha 7-series body have needed an adapter to use either Sony's own A-mount lenses or those from manufacturers such as Canon or Nikon. It has been a long time coming, but it's encouraging to see Sony launch a series of faster full-frame FE mount lenses labelled 'G-Master' (GM) lenses, which are designed to sit above the current 'G-series' range. Currently, there are three lenses that make up the GM line-up. The first of these under the spotlight is the Sony FE 24-70mm f/2.8 GM and we'll be following up with reviews of the new Sony FE 85mm f/1.4 GM and Sony FE 70-200mm f/2.8 GM OSS as they arrive in the coming weeks.
Sony FE 24-70mm f/2.8 GM – Features
Compared to the smaller and lighter Sony Carl Zeiss Vario-Tessar T* FE 24-70mm f/4 ZA OSS – a lens with an optical construction of 12 elements in 10 groups – this new optic sports a more complex design comprising 18 elements in 13 groups with nine aperture blades. When you consider how many additional internal elements it has over the older model, it'll come as no surprise that what we're looking at is a significantly larger and heavier lens.
Towards the front of its internal construction is a newly developed extreme aspherical (XA) lens element, which is joined by one extra-low-dispersion (ED) and one super extra-low-dispersion element. The new XA lens element is said to deliver exquisite corner-to-corner sharpness, with the ED and Super ED elements keeping axial and lateral chromatic aberration in check. In addition, Sony has used its Nano AR coating on the front and rear elements to suppress spurious reflections that can cause ghosting and flare when shooting towards the light.
Like Sony's FE 35mm f/1.4 lens, this zoom uses a direct drive supersonic motor (SSM) to provide smooth and quiet autofocus. It's claimed that the focus motor offers a 0.01mm precision of focus group placement and if it performs as silently as the FE 35mm f/1.4, it'll have great appeal with those who'd like to shoot movies as well as stills. As is expected from a premium optic with a premium price, it's resistant to dust and moisture, offering users peace of mind in poor weather conditions.
Improving on the design of the 24-70mm f/4 ZA OSS, an AF/MF switch is found on the side of barrel, the hood features a release button to prevent it being inadvertently released in its forward facing or reversed position, and there's a zoom lock that can be engaged at 24mm to prevent the zoom extending. The lens accepts filters and adapters via an 82mm thread and to tie in with the release of the lens, Sony has also produced two new screw-in filters – the VF-82MP MC protector and VF-82CPAM Circular PL filter. These aren't cheap, however, and at the time of writing were available for £160 and £280 respectively.
Sony FE 24-70mm f/2.8 GM – Build and handling
There's no getting away from the fact that the Sony FE 24-70mm f/2.8 GM is a brute of a lens. It's a monster when you compare it to the older Sony FE 24-70mm f/4 ZA OSS and to offer an impression of size, it's larger and heavier than Canon's EF 24-70mm f/2.8L II USM and is only fractionally lighter than Nikon's AF-S NIKKOR 24-70mm f/2.8E ED VR lens. It weighs a hefty 886g on the scales and you'd assume it's a lens designed for a DSLR, not a compact system camera if you were to glance at it from afar.
I was sceptical about how such a large and heavy standard zoom would handle on a Sony Alpha 7-series camera. It did make the A7R II feel very front heavy and in an effort to offset this imbalance I found myself supporting the full length of the barrel of the lens in the palm of my left hand for every shot other than those that were taken using a tripod.
The barrel of the lens strays away from the smooth finish of old and is now textured to complement the body finish of the A7 II, A7R II and A7S II. From the rear of the lens looking forwards, the diameter increases towards the front, with the manual focus ring ever so slightly larger than that of the zoom ring. Unlike many lenses that engrave or print focal length markings flat onto the barrel, the engraved markings are added where the zoom ring steps up. This allows the user to use their non-viewfinder eye to refer to the focal length of the lens directly from behind the camera – something I found to be quite beneficial.
The zoom and manual focus rings use similar ribbed rubber grips, but there's enough distance between the two to decipher which is which without having to look. The zoom ring offers sufficient resistance to prevent the lens creeping under its own weight with the camera pointing downwards, and it requires less than a quarter of a rotation to shift the focal length from 24mm to 70mm or vice versa. The large MF/AF switch is well positioned and quick to locate, and directly ahead of it, beyond the focus ring and below the 'G' branding, you'll find a focus lock button. This can be used to lock the focus at a moment's notice and prevent the lens refocusing in any AF mode for as long as it's continually depressed. The manual focus ring operates incredibly smoothly and the overall quality of the fit and finish must be commended for being made to an exemplary standard.
Sony FE 24-70mm f/2.8 GM – Image quality
Those contemplating buying this lens will be pleased to read that it performs as well as its price suggests it should. It resolves a mesmerising level of detail and comparing the results taken on this lens against those taken on the Sony FE 24-70mm f/4 ZA OSS revealed there's no contest as to which is the superior optic. In isolation, the detail resolved by the 24-70mm f/4 lens seems acceptable, but it's not until shots are viewed side by side that you realise the sharpness of this lens is in an entirely different league.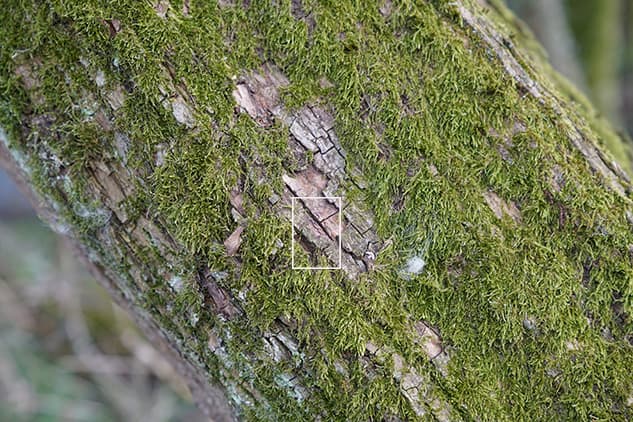 Running the lens through our lab produced a strong set of MTF curves that tell us it's super sharp at the widest end of the focal length and only slightly softer when you push through the zoom range. Centre sharpness peaks around f/4 at 24mm, with corner sharpness improving all the time the lens is closed down towards f/8. The sharpness in the centre at 70mm doesn't quite match the figures recorded at 24mm or 50mm, but it improves when the lens is closed down towards f/5.6. As a general rule, the sweet spot of sharpness is found between f/5.6-f/8 and it's only as you start to push beyond f/11 that the introduction of diffraction sees the level of detail tail off.
With all lens compensation switched off on the camera, I did identify some purple and green aberrations, but the fringing that appeared along branches of trees were quickly dealt with in Lightroom. Vignetting isn't a major cause for concern at mid to full telephoto lengths, but is more obvious when the lens is used wide open at 24mm. Corners appear approximately 1.5EV darker than the centre of the frame when the lens set to f/2.8 at 24mm and to banish this from wideangle images you'll ideally want to stop the lens down by one or two stops. Barrel distortion at 24mm disappears quickly as you move through the zoom range, but is replaced by pincushion distortion as you push towards 50mm and 70mm.
Resolution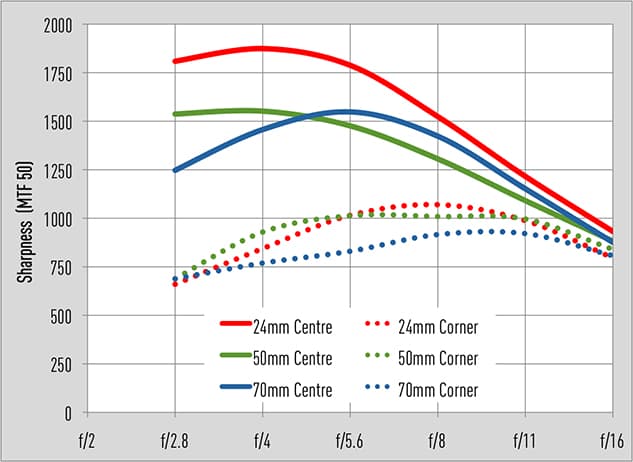 Our Applied Imaging tests show the lens is super-sharp in the centre at 24mm, with corner sharpness peaking at f/8. Sharpness in the centre isn't quite as high at 50mm or 70mm, but a close inspection of the graph reveals that edge sharpness improves considerably when it's closed down towards f/5.6 and f/8. The sharpest results on this lens will be captured between its f/5.6-f/8 sweet spot, with diffraction softening the finest details beyond f/11.
Shading
The lens displays obvious vignetting when the lens is wide open at 24mm, with the corners appearing approximately -1.5EV darker than the centre of the frame. This improves to -0.8EV at f/4 and beyond this it shouldn't be a concern. Vignetting is less dramatic at longer focal lengths, with corners appearing approximately 0.5EV darker than the centre at f/2.8 and is absent at f/4 and beyond.
Curvilinear distortion
At 24mm, there's some noticeable barrel distortion present, with the straight lines of our test chart bowing outwards. This distortion starts to disappear around 30mm, with pincushion distortion becoming ever more prevalent as you push towards 50mm and 70mm. Users will want to tick the Enable Lens Profile Corrections option in Lightroom and Camera Raw to remove curvilinear distortion, but at the time of writing a profile for the lens wasn't currently available.
Sony FE 24-70mm f/2.8 GM – Our verdict
When we first heard news of the FE 24-70mm f/2.8 GM, we knew it was a lens that had great promise. After extensive testing, both in the field and the lab, I'm pleased to report it's exceptionally sharp and has been optimised by Sony's engineers to resolve sensational detail in combination with Alpha 7-series full-frame cameras. What's more, the AF performance is hasty and it goes about its business in a fast and silent manner.
Optically, the lens delivers some really impressive results. It behaves much as we'd expect from a premium 24-70mm zoom, with super-sharp results in the centre at wideangle and only slightly softer results at full telephoto. The corners of images do appear softer at large apertures and to achieve optimum sharpness between the centre and edge, users will want to work between the lens's sweet spot, which is typically found between f/5.6-f/8 across the focal length range.
The sharpness produced by the lens is stunning, but the trade-off for this impressive image quality is size and weight. With no form of optical stabilisation in the lens, users will find themselves turning to Sony's in-body stabilisation to prevent handshake that could result from handholding such a heavy optic. Although it's not a lens that complements the compact aesthetics of the Alpha 7 series, those who view image quality as a priority ahead of practicality aren't likely to give its size and weight a second thought. If Sony's other G-Master lenses are anywhere near as good as this one, the future seems very bright for Alpha 7-series users and the appeal of the system continues to go from strength to strength.