Bringing in some extra money is always a good option if you have the capacity. Even if you don't have time to make video content full-time, it can be an excellent way to add a secondary stream of income.
Video content is still the fastest growing form of content consumed online, with the podcast sector making a huge contribution to that trend. But where do you start? How do you decide which type of video content to focus on? And which platforms should you be focusing your efforts on when looking for the best ways to make money from video online?
This article will cover three areas of focus when it comes to making money from video content; What to make, where to share it and how to make money doing so. Of course there is no one size fits all approach, so this article contains just a few tips and strategies that you may want to consider as you get started. As fellow creatives, we can help each other find success in our respective fields by supporting each other as a community.
Make money from video – Revenue
If you can build a dedicated audience or community around you or your content, there are a number of ways to monetise that attention, even if you only don't have tens of thousands of followers. Once you've decided on your content stream and managed to build an audience, you will be able to start approaching brands for paid collaborations and if you're diligent in speaking about and tagging the right brands, some of them may even start reaching out to you too.
Affiliate marketing through unique payment links is an easy way to begin exploring secondary content streams from your video content. One common approach, which is particularly popular on YouTube is to simply list all of the equipment that you use in the description area of your videos. If you sign up to a service like Amazon Affiliates, you can get trackable links for every product they sell. You'll make a small commission everytime someone makes a purchase after clicking a link you've shared.
If you're ready for a more direct strategy then product placements, feature showcases and video sponsorships are all potentially lucrative ways to transform your audience numbers into money. One of the key things that brands are looking for is authentic connections and community, rather than hoards of unengaged followers who are unlikely to respond to ads and promotions. This is why a small, dedicated following can be more valuable than a huge, disconnected and generalistic crowd.
What to shoot – Content Streams and Placements
Picking a content stream that serves a specific audience and is easy for people to understand is a great way to give you some focus. One of the biggest challenges is deciding what to do, followed by how to get started. Answering the "What" is a matter of looking at two things: What is currently out there? And what particular interests, skills or experience do you have that you can build content around? Perhaps you've specialised in one particular area of photography or video? Or perhaps you have an interest or talent outside of photography/video, like live music, gaming, finance or food?
If you can hone in on a field or interest that you love and create content around that, it will make it much easier for you to come up with video ideas and to make them regularly. There are two keys to success; originality and most critically, consistency. People need a reason to come to you and they need to know that if they keep coming back, they'll regularly find useful, entertaining and/or engaging content.
Below are some examples of content streams that may be worth considering.
1. Tiptorials
Tips and how-to content are a fantastic way to build a faithful following of other creatives who are keen to learn more about their craft. If you've ever wondered "How do I…" you can guarantee that someone else has too. So why not create a channel for exploring different creative techniques. Showing people the hero result and then breaking it down with a clear step-by-step video, walking people through your process.
One of the best things about these types of videos, is that they can serve as evergreen content, which regularly brings people back to your channel. It's also great for SEO if you can find common things that people are searching for tips on. If you come up regularly in search, it will help your platform grow at a much faster rate.
2. Vlogging
Vlogging is by no means a new form of content, but it's still a very popular way to generate a following. If you're travelling to interesting places to create content, even locally, use the opportunity to take people on a journey throughout your day. People love authenticity and to feel like they have an insight into the lives of people they admire or aspire to be like. As a creative, try to imagine what other creatives may want to see and invite them into your creative world.
Interested in becoming a vlogger? Check out our best vlogging tips and how to get started.
3. Special interest
Do you have a professional career, passion or experience outside of photography and videography?
If so, have you considered sharing your expertise around that subject? Many of the highest earners on social media aren't actually camera people, but rather they've amassed a following around a special interest that they have.
Gaming, beauty, food and travel content creators are great examples of this. Many of them picked up cameras for the first time, typically starting with a mobile phone or webcam, in order to create content around their chosen subject. They then learned the skills that we already have, on the job, despite never being interested in video content or video editing previously.
Their audience shares their passion for the subject and follows them for their reactions and insights. This type of audience is more concerned with the substance of the content and less concerned about the look or even sound quality of it. This is where people like us have a great advantage. You already know how to deliver good looking content. You just need to turn your camera and your microphone to a subject that you have a special interest in and build around that.
4. Stock Video
Maybe you've considered stock before and decided against it. Or perhaps you'd tried it and found the return underwhelming. Well the world of content moves fast and with the number of video-literate clients around today, there's most definitely a need for more, high-quality and unique stock content. Let me share two critical tips that may help you capture winning stock content, picked up from conversations I've had with the founders of two iconic stock agencies; Yuri Arcurs (peopleimages.com) and Christina Vaughan (culturacreative.com).
First tip: Be meticulous and pay attention to the details. Often when I'm searching for stock content, I have to dismiss otherwise ideal shots, because of small details that ruin them. For example; attention grabbing trash in the street, poor exposure or shaky camera movement.
Second tip: Embrace your unique perspective, capture people and places around you. Work with families and models in your local area to increase your chances of creating stock content that's unique and sellable. Even if it's only at a local level, there will be companies, magazines and organisations in your city, county or country that need content featuring people and places that are relatable to their audiences. Avoid the trap of trying to create generic, white space stock content that's already saturated the market.
Also, shoot 6K open gate (full sensor readout) or higher, if you have a compatible camera. It will give potential buyers more options to crop your content to suit their projects. There's a big gap in the market for stock video content that works vertically.
5. Community opportunities
While we're on the subject of keeping things local, why not look around for local community based organisations and projects that need content filmed regularly. Consider reaching out to local theatre troupes, colleges, councils, charities, theatre schools, religious organisations and so on.
These types of groups will typically be underfunded and may not be able to pay your regular day rates. However, this will not always be the case, and with the ones that are tighter on finances, speak with them to see if you can lock in some regular filming and/or editing opportunities throughout the year for a discounted rate.
That way, you have a consistent amount of money guaranteed upfront and you can start filling your calendar. Off the back of these establishments, there will also be individuals who may need your video services for things such as self tapes and life events. One of my longest standing clients (and now friend) came from his colleague seeing me filming at an event. Through that connection he asked if I could create his son's Bar Mitzvah invite video for social media. It turned out he was the CEO of one of the most successful luxury recruiting firms in the country and I've worked with his company ever since.
6. Music Videos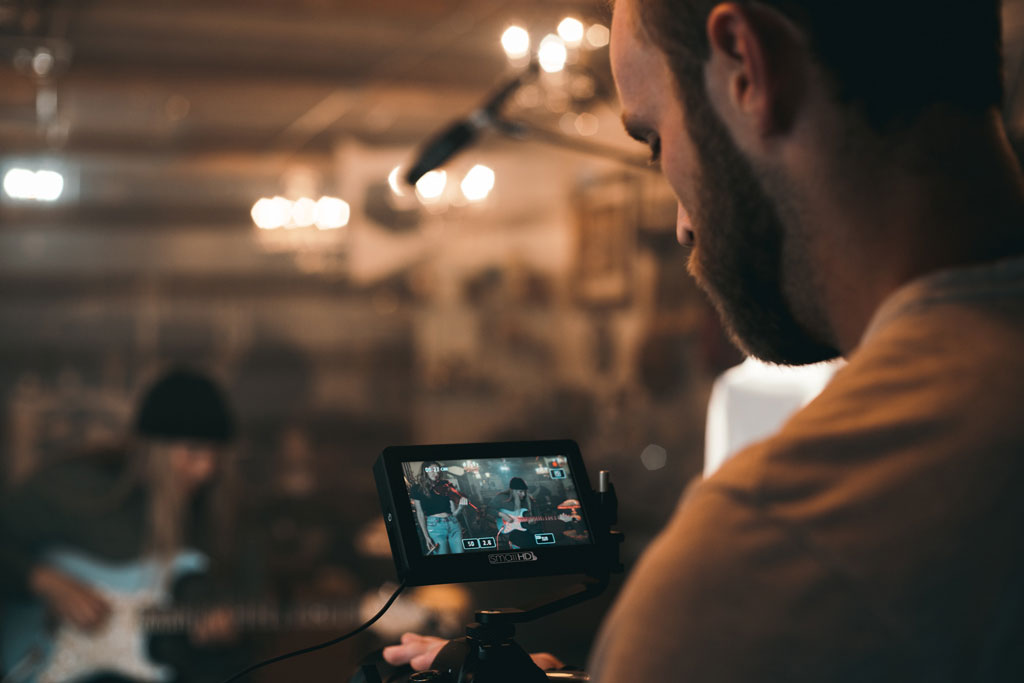 The golden age of record labels forking out for big budget videos is long gone, most music artists work independently these days. However, this also means that these independent artists are keen to work with smaller or one person productions to create music videos, because they're often paying for the content out of their own pockets.
Social media has created an unquenchable thirst for content, so looking for artists and offering your services is a potentially great avenue to build up a small client base of talented people who you can shoot for at a lower price than they'd get if they went to a larger production company.
7. Other content creators
As content creators progress in their careers and brand opportunities grow in number, many of them look to hire other videographers/editors who can help them churn out the relentless stream of content required to keep a popular channel going. If you're in the early stages of building your own channel or haven't even started, this is a great way to get into the regular practice of shooting and creating videos for a large audience.
As I mentioned previously, many popular content creators aren't camera people or editors by trade, so at a certain level, they will be only too happy to hand that work to someone else and focus on doing what they really want to do; present content about their special interest subject. As is often the case, it can't hurt to reach out and you'll get paid to gain valuable experience on the job if you can find someone who needs your services.
Make money from video – Speaking engagements
As you establish yourself as an expert in your field, you can explore opportunities for speaking engagements or conducting workshops. These could be streamed online or in person. If you can build a following and a reputation by doing this on your own, brands are more likely to notice and reach out to you. Brands are always looking for engaging hosts and experts to join panels and chair events, so this is a fruitful area to focus on.
But brands aren't the only organisations to consider approaching. I left University 13 years ago and I still get invited to speak to students about journalism and the creative industry that I work in today. Try reaching out to education establishments that you've been part of and see if they'd be interested in having you speak or hold a guest lecture.
Sharing your knowledge and insights at conferences, universities and industry events is a great way to earn for two reasons; the money can be good, but it also helps you further establish your credentials as an expert, expand your network and in turn bring in higher paying engagements.
Platforms – Where to share your video content
Now that we've covered some potential content streams and revenue types, let's discuss platforms where creators are finding success in monetising their video content.
YouTube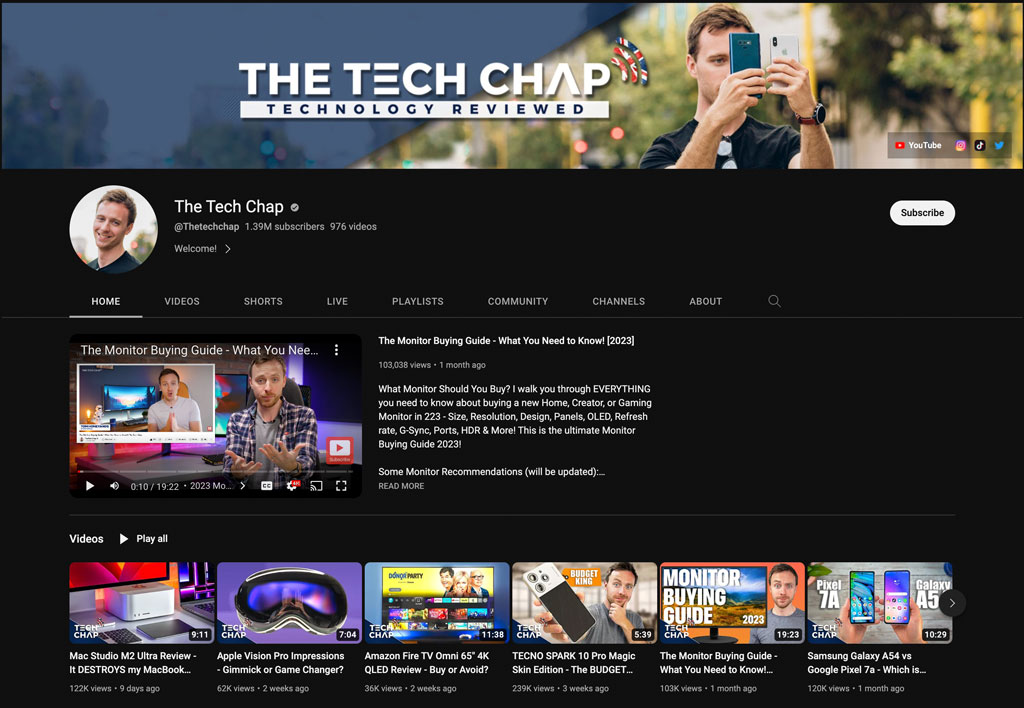 The obvious one is YouTube as they've made more multi-millionaires out of content than any other platform on the planet. If you have a minimum of 1000 subscribers and 4000 hours of video views in the past twelve months, you can turn on video monetisation.
With access to monetisation, the ads that YouTube plays before and during your content can prove quite lucrative and the payout amounts increase as the size of your channel increases, so as we've established – it pays to grow your audience. It can take a while to build a YouTube channel up to the level where it pays. But if you bear in mind the tips I've shared above, especially regarding targeting a specific audience and being consistent, you should hopefully see those gains compound over time.
One of the good things here is that if you meet the requirements, all you have to do is keep making content that works for your channel. YouTube handles the ad placements and payments automatically.
TikTok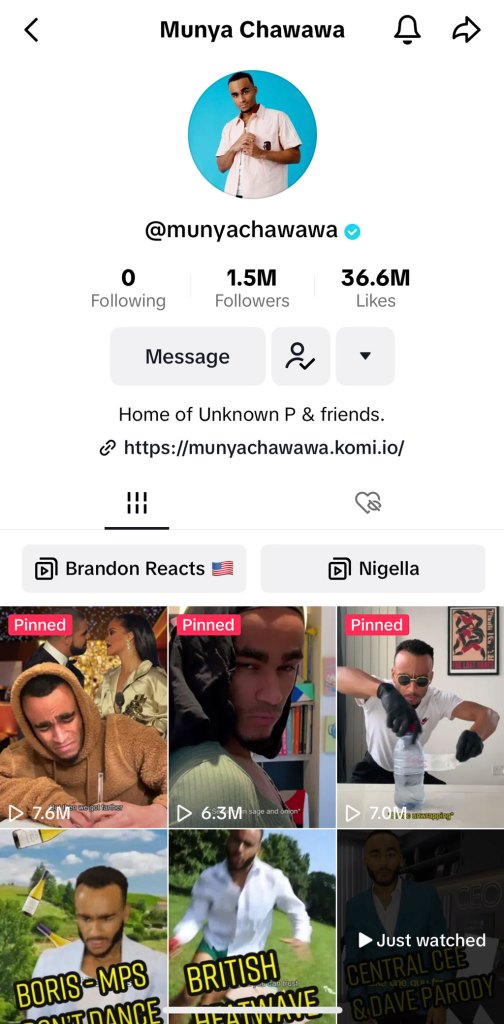 The meteoric rise of TikTok cannot be overstated. It has come out of nowhere and allowed millions of creators to turn their passions, whether that's for dance or comedy, or sharing crazy factoids and social commentary, into real monetary income.
One of the reasons TikTok has proven so popular with creators and with brands alike, is that it is excellent at learning and understanding its users and then surfacing an addictive stream of tailored entertaining and engaging content. Something that Facebook/Meta has been trying and failing to achieve consistently for over a decade now.
The three main monetary opportunities I see on TikTok right now are; drop shipping products or fashion items, merchandise that you've created and/or branded yourself and lastly, sponsored content. But it's also worth noting that TikTok currently has a Creator Fund that is designed to financially incentivise accounts with over 10,000 subscribers and over 100,000 video views per month, it's a high bar, but another potential stream of income to aim towards.
Instagram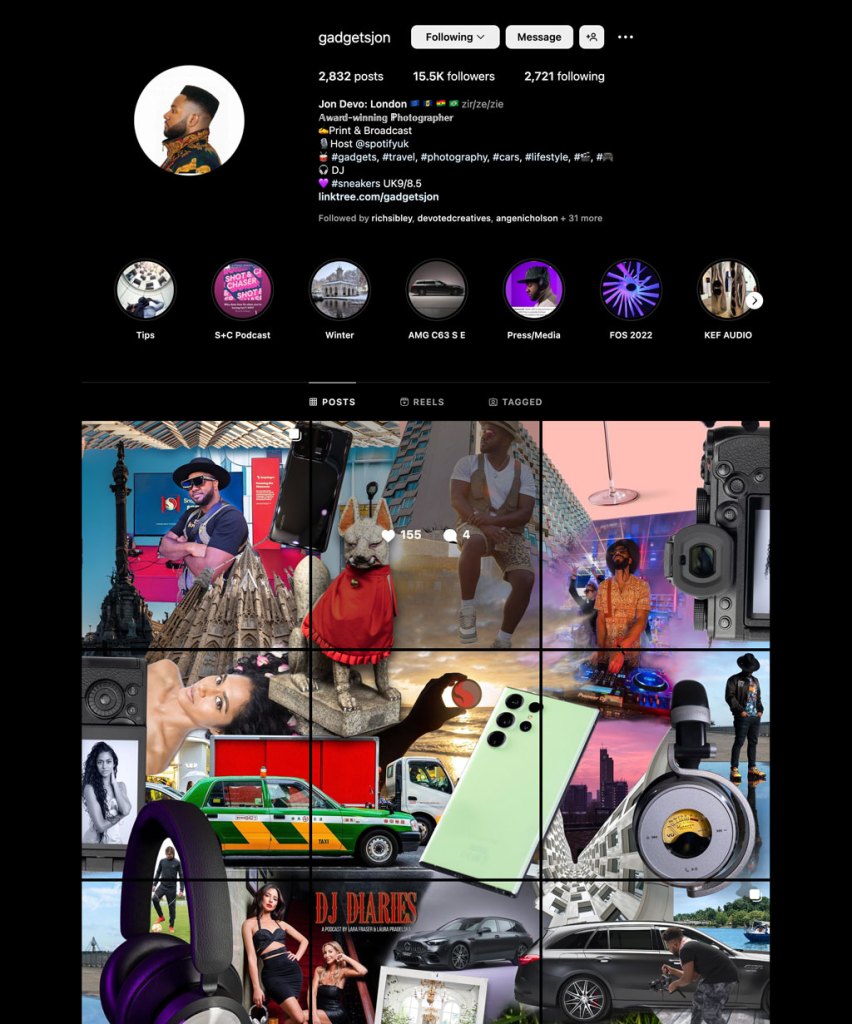 While Instagram's attempts at rewarding its biggest creators on its platform have been abysmal at best, brands still very much value a well managed Instagram page with a decent following. For that reason, Instagram is still a potentially useful place to have a presence, although with its throttled reach and engagement, it can be an arduous and frustrating platform to grow an audience.
If somehow you manage to get to a respectable audience size, usually in the 3000+ region to begin seeing brand opportunities open up, you can take advantage of the fact that most brands have an active Instagram presence. This is one of the platform's main points of appeal over others. Brands are more likely to find and connect with users on platforms where they're already focusing their marketing resources. Meta/Instagram is still, for now, the number one platform for digital marketing spend right now.
Pro Tip: Reach out to brands of products/places/brands that you've already demonstrated an interest in. It makes it easier for them to see how your audience might respond to you doing more targeted content around their product. It also shows an authentic interest and looks better than approaching, cap in hand with nothing tangible to show them that's actually relevant to their brand.
And in typical copycat fashion, Instagram recently launched a subscribe feature that allows creators to offer paid subscription fees for exclusive content, just like Twitter and other platforms like Substack and Patreon. Instagram is also rumoured to be launching a Twitter competitor within or alongside Instagram, which will also likely seek to offer exclusive monetisation opportunities.
Twitter
That neatly brings us onto Elon Musk's town square, Twitter. Since being taken over by the publicly known world's richest man, Twitter has been seeking ways to bring in cash. One of the ways it is doing that is by trying to borrow some of the reward methods deployed by YouTube and buymeacoffee.com model platforms. Buy creating a Twitter tip jar and subscription offering that creators can exploit for extra income, in return for exclusive content.
This could be a great place to include content streams like Tiptorials and Special Interest video content. Particularly as Twitter works to become a more video-friendly platform, one that thankfully still favours landscape video first.
Showcasing your work on a website and social media
And that's it. As I said, there are many ways to make money from video online so I hope the suggestions above at least provide you with a few starting points. But finally, I must say, before you attempt any of the approaches mentioned, I strongly recommend you get a website that you can direct people to so they can see your work, read a little about you and contact you.
There's no point in touting for business if you have nothing to show people when they ask for examples of your work. If you don't have a website and don't want to build one, a well curated and up-to-date Vimeo or YouTube page, where people can see what you do will do a job. But crucially, make sure people can contact you easily on all of your work-related profiles online, by using the same username on all platforms, as it'll make it easier to share. Mine is just @Gadgetsjon everywhere.
---
Related content:
---
Follow AP on Facebook, Twitter, Instagram, YouTube and TikTok.