This Sony Carl Zeiss Vario-Tessar T* FE 16-35mm f/4 ZA OSS review is for one of Sony's older lenses, launched soon after its full frame A7 and A7R models. It's still on sale today, however, and at pretty compelling prices when compared with newer own-brand Sony ultra-wide zooms. With a typical price of around $1000 / £1150, its good value for a constant-aperture ultra-wide zoom.
However, since those early days, Sony has launched a lot of ultra-wide zooms lenses, so that while the Vario-Tessar T* FE 16-35mm f/4 ZA OSS was the only option to begin with, there are many alternatives today. They include the ultra-wide Sony FE 12-24mm f/4 G and its even more expensive (and exotic) Sony FE 12-24mm f/2.8 G Master, the premium quality Sony FE 16-35mm f/2.8 G Master and the compact Sony FE PZ 16-35mm f/4 G for filmmakers.
There now plenty of third-party alternatives too, including the Sigma 14-24mm f/2.8 DG DN Art, Sigma 16-28mm f/2.8 DG DN Contemporary and Tamron 17-28mm f/2.8 Di III RXD. The Vario-Tessar T* FE 16-35mm f/4 ZA OSS is still the cheapest ultra-wide zoom from the Sony stable, but it's up against even cheaper third-party rivals.
For more, see our guides to the best Sony E mount lenses and the best Sony cameras right now.
Sony Carl Zeiss Vario-Tessar T* FE 16-35mm f/4 ZA OSS review: features
Unlike some other premium zooms in the FE range, the 16-35mm lens has an f/4 aperture. Although some will bemoan the lack of an f/2.8 aperture, its omission is quite logical. First, a wider maximum aperture would make the lens physically larger, which would defeat the point of a small system. Second, a 16-35mm lens is unlikely to be used for portraits or street photography and will instead find its home with landscapes, architecture and interiors. For such disciplines, the shallow depth of field and extra stop of light afforded by an f/2.8 aperture is largely unnecessary. The lens also features optical image stabilisation, although it isn't quite as necessary as when using a longer focal length and can be turned on and off in-camera. All current Sony bodies have in-body stabilisation anyway.
Sony Carl Zeiss Vario-Tessar T* FE 16-35mm f/4 ZA OSS review: build and handling
Weighing 518g and measuring 78 x 98.5mm, this new wideangle zoom is fractionally larger in every dimension than the similarly-styled Sony Carl Zeiss Vario-Tessar T* FE 24-70mm f/4 ZA OSS lens, which measures 73 x 94.5mm and weighs 426g. The 16-35mm follows the same design as the other Carl Zeiss FE lenses, with a minimal, industrial finish that uses the DIN 1451 typeface.
The construction is everything you would expect of a Carl Zeiss lens, with a solid all-metal finish, including metal ribbed zoom and focusing rings. I found that the zoom barrel, and the focusing ring, have a good level of resistance, with a very smooth motion. Focusing is done electronically rather than mechanically. However, the glide of the focus-ring rotation and the gearing of the motor means that manually focusing is very precise and fluid enough for video capture.
Optically, the lens is made of ten elements in 12 groups. Of these elements there are five aspherical types, including the front 'advanced aspherical' lens, as Sony calls it. These elements help to reduce curvilinear distortions and aid edge sharpness, while three extra-low dispersion elements help to prevent chromatic aberrations. As would be expected, the lens uses Carl Zeiss's famous T* multi-coating to aid light transmission, and reduce flare and internal reflections, all of which helps to improve colour and contrast over an uncoated lens.
Sony Carl Zeiss Vario-Tessar T* FE 16-35mm f/4 ZA OSS review: in use
There are two key factors to consider when buying a wideangle zoom. The first is the usefulness of the focal-length range, while the second is the quality at the corners of the image. As far as focal length goes, the 16mm setting is very good, and realistically is about as wide as most photographers will want to shoot.
In terms of image quality, I did notice some coloured fringing along high-contrast edges. This is most noticeable towards the edges of the image when shooting at f/4 at the 16mm setting. The aberration is significantly reduced when the aperture is stopped down to f/8, and it is also less noticeable when using the 35mm end. Thankfully, in this digital age, the fringing is easily reduced using raw-conversion software, so it should be of no concern to those who capture raw images. If you shoot JPEGs, the aberrations can be reduced in-camera by switching the Correct Chromatic Aberration custom setting to auto. This sub-menu of the Alpha 7 cameras can also be used to correct distortion and vignetting.
You would expect a lens with the Carl Zeiss badge on it to produce extremely sharp images, and the 16-35mm lens doesn't disappoint. In the centre at 16mm, the lens is as sharp as the 24-70mm f/4 zoom. As you move to the 35mm focal-length setting, the edge is just taken off the sharpness slightly, but the centre resolution is still excellent. What is most impressive is the performance of the lens when wide open. Stopping down to f/5.6 gives images a little more bite, but stopping down once more to f/8 makes virtually no difference.
At the edges, there is obviously a drop in resolution. However, the only real degradation is in the very corners, and the performance seems just as good, if not better, than other, similar full-frame wideangle lenses.
Sony Carl Zeiss Vario-Tessar T* FE 16-35mm f/4 ZA OSS review: image quality
Sony Carl Zeiss Vario-Tessar T* FE 16-35mm f/4 ZA OSS review – Resolution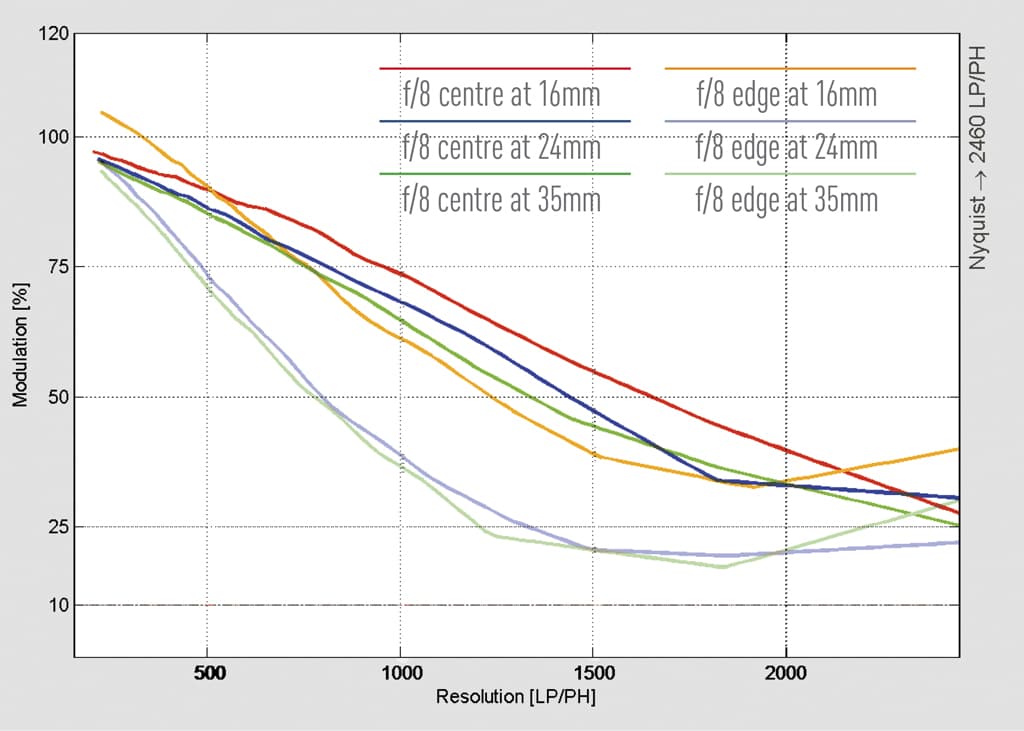 Our MTF tests reveal a lens that's sharpest at wideangle – just as a wide zoom should be. Edge sharpness is highest at 16mm, and decreases significantly on zooming in. This is partly due to field curvature, with the corners focusing at a different distance to the image centre.
Sony Carl Zeiss Vario-Tessar T* FE 16-35mm f/4 ZA OSS – shading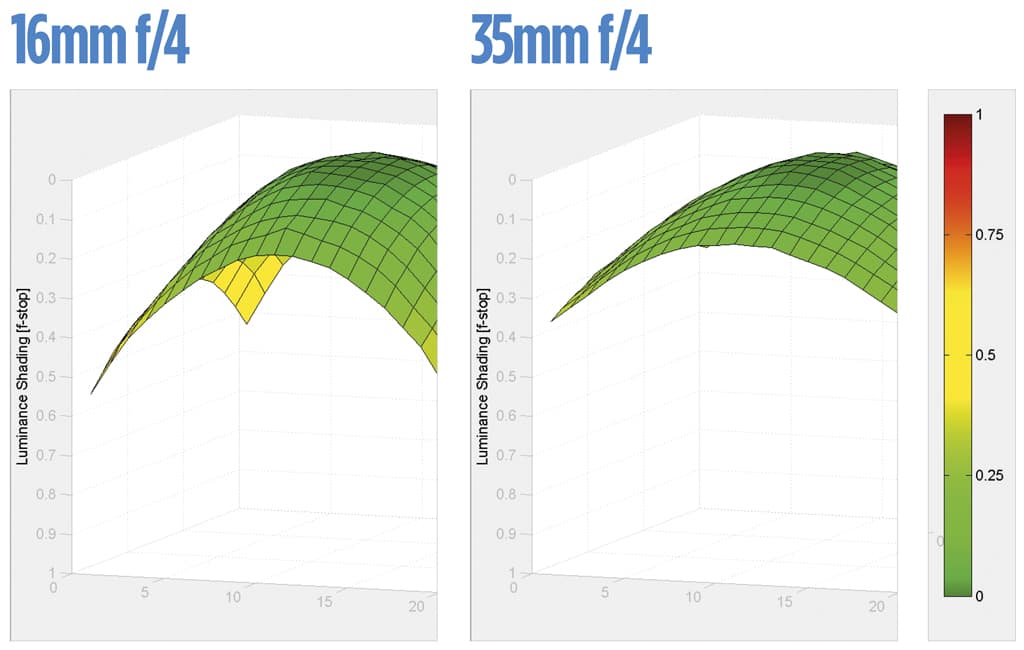 Lab tests show that vignetting is worst with the lens at 16mm f/4, which is pretty much what we'd expect. However, the fall-off is quite gradual across the frame, which makes it visually unobjectionable. Zooming in, or stopping down, reduces the vignetting effect.
Sony Carl Zeiss Vario-Tessar T* FE 16-35mm f/4 ZA OSS – curvilinear distortion
One advantage of wideangle zooms is that they generally produce less distortion than general-purpose 24-70mm optics, and the 16-35mm is no exception. There's visible barrel distortion at wideangle, and a little pincushion distortion at 35mm, but neither is really severe. Of course, it can be corrected in software when necessary.
Sony Carl Zeiss Vario-Tessar T* FE 16-35mm f/4 ZA OSS review: verdict
As the Sony FE system is still in its infancy, the Sony Carl Zeiss Vario-Tessar T* FE 16-35mm f/4 ZA OSS lens finds itself in the curious position of being the only real option for those wanting a super-wideangle
lens. Of course, it is possible to use Sony A mount or even third-party lenses, but the reality is that this 16-35mm optic produces images that will certainly match the sharpness of these lenses. Yes, there is a drop-off in resolution at the very corners of the frame, but this is a compromise that the laws of physics and current optical design can't avoid, unless you want the lens to be significantly larger in size.
Those photographers who want a wideangle zoom should be very pleased with this Sony Carl Zeiss 16-35mm f/4 lens, but those who will make little use of the 16mm setting may do better to buy the 24-70mm f/4 lens, or wait to see if Sony produces a 24mm fixed lens at some point in the future.
Sony Carl Zeiss Vario-Tessar T* FE 16-35mm f/4 ZA OSS review – full specification