The Canon EOS 850D / T8i was first launched back in 2020, but it's still an interesting choice for keen beginners who like the DSLR design or owners of older Canon DSLRs looking to upgrade.
Of course, the EOS 850D / Rebel T8i now finds itself in the middle of a decisive shift in the marketplace, away from the mechanically more complex film-era SLR architecture towards the smaller, simpler mirrorless form-factor and electronic, rather than optical viewfinders. Read our article on DSLR vs mirrorless cameras for a more in-depth comparison.
The Canon EOS 850D / T8i is certainly one of the best Canon DSLRs even now. It does, however, use some older sensor and AF technologies that were perhaps adequate when this camera was launched but look dated now, and these particularly affect its video capabilities, and hence its appeal to a new generation of hybrid content creators. It can shoot 4K video, but only with some serious limitations.
In terms of the mirrorless alternatives, it's up against some very good and more recent models, including the Nikon Z 50 and the Fujifilm X-S10, and also from within the Canon camera range itself, notably the EOS R7, EOS R10 and even the EOS R50. So how does it measure up against this new-fangled competition?
Canon EOS 850D / Rebel T8i: At a glance
$1114 / £919 body-only; $1211 / £999 with 18-55mm IS STM lens
24MP APS-C CMOS sensor
ISO 100-51,200 (extended)
Up to 7.5 frames per second
4K video recording
Fully articulated touchscreen
Canon's cameras are numbered according to their user level and price. Canon's triple-digit DSLR series – and this is one of them – has a long and distinguished history. In the US this is the Rebel series. Back in 2003, the original EOS 300D was the first affordable DSLR for non-professional users, a price breakthrough that kick-started the decisive shift by enthusiast photographers from film to digital. The EOS 850D marks the line's twelfth generation. At current prices it's good value in the US, but does look a little expensive in the UK, where more recent mirrorless cameras tend to give you more for your money.
NB: The EOS 850D is the EOS Rebel T8i in the US and EOS Kiss X10i in Japan.
The EOS 850D sits between the smaller entry-level EOS 250D / Rebel SL3 and the enthusiast-focused EOS 90D in Canon's line-up. It follows on from the EOS 800D from 2017, with the main updates being the addition of face-detection autofocus when using the optical viewfinder, faster continuous shooting, and the addition of 4K video recording (albeit with significant limitations). It also effectively replaced the slightly higher-spec EOS 77D, combining aspects of both cameras. Take a look at the best Canon EF lenses to get an idea of just what is available for these cameras.
Canon EOS 850D / T8i: Features
Like its predecessor, the EOS 850D / Rebel T8i is based around a Canon-made 24MP APS-C sensor which offers a standard sensitivity range of ISO 100-25,600, that's expandable to ISO 51,200 via a custom function. It gains a DIGIC 8 processor, which is responsible for various boosts in performance and brought the EOS 850D closer into line with its mirrorless EOS M50 stablemate. However, this has since been refreshed with the EOS M50 Mark II and then effectively superseded with the RF mount EOS R50, while Canon's DSLR development appears to have drawn to a close.
Nevertheless, this camera employs the 34-year-old EF mount, making it compatible with a vast array of lenses from both Canon and third-party makers such as Tamron and Sigma. It's typically best paired with lenses that are specifically designed for APS-C cameras, including Canon's EF-S range. This is because the 1.6x crop factor of its APS-C sensor means that full frame Canon EF lenses have their angle of view considerably reduced, and that standard zooms and wide-angle lenses for this camera really need to be designed for the smaller sensor.
Live view
Being a DSLR, the EOS 850D is practically two cameras in one. When you shoot using the optical viewfinder, it employs dedicated sensors for metering and autofocus. Press the small button beside the viewfinder to switch it into live view, with a preview shown on the rear screen, and these tasks are taken over by the main image sensor, in exactly the same way as mirrorless cameras work. Five years ago, this would have brought inferior performance, but advances in sensor and processor technology mean that the EOS 850D now offers higher specs in live view, though not at the same level as the latest mirrorless cameras.
With the optical viewfinder, the camera employs 45 autofocus points that cover approximately two-thirds of the image width, and one-third of its height. All of these are of the cross type, meaning that they can focus on both horizontally and vertically-oriented detail. This AF system works together with a 220,000-pixel metering sensor, which is capable of detecting faces within the scene and automatically selecting the most appropriate focus point.
Face detection and subject tracking
Switch into live view and the camera changes to a 143-point autofocus system powered by Canon's Dual Pixel CMOS AF technology, which provides phase detection at every sensor pixel for rapid, decisive AF. Again you get face detection and subject tracking options, but the big difference is that this now works across practically the entire frame. Because it's using a vastly higher resolution sensor, the subject detection also has much more detailed data to work with. The Dual Pixel CMOS AF in this camera, though, is several development steps behind the systems in Canon's latest mirrorless cameras. Worse, it's not available for 4K video recording, though it is used for recording at full HD resolution.
Continuous shooting is available at 7 frames per second using the viewfinder, increasing fractionally to 7.5fps in live view. This is impressive for a DSLR at this price, but its mirrorless competitors are even faster. Canon's own EOS M50 Mark II can shoot at 10fps, while the Nikon Z 50 goes one better at 11 fps.
What does it lack?
While Canon has provided all the core features you'd expect, there's not a lot in the way of advanced options. There's an array of scene modes optimised for different subjects, along with an array of image-processing filters. You can adjust images in-camera after shooting, with the option of applying a range of presets, or reconverting raw files in-camera. But you won't find such things as silent shooting, or a built-in intervalometer. Disappointingly, you can't charge the battery via the micro USB port. These are things we've started to take for granted, so it's a sign of this camera's age.
Video
Turning our attention to video capture, the EOS 850D gains the ability to shoot in 4K at 30fps. But this comes with some serious drawbacks. Firstly, the video is recorded from a central region of the sensor, which imposes a significant 1.6x crop. So to get any sort of wideangle view, you'll need to acquire an ultra-wide zoom such as Canon's EF-S 10-18mm f/4.5-5.6 IS STM.
Even worse, Dual Pixel CMOS AF is inactivated, leaving the camera reliant on contrast detection alone, which doesn't work anywhere near as well. On the whole you're better off sticking to Full HD, which facilitates 60fps shooting without a crop, along with much better phase-detection autofocus. On paper, the EOS 850D / Rebel T8i does offer 4K video, but it can't match the capabilities of more modern mirrorless alternatives.
Connectivity
On a more positive note, Canon has provided excellent smartphone connectivity. Both Wi-Fi and Bluetooth are built-in, with the latter capable of providing an always-on low-energy connection. This allows you to use your phone as a remote shutter release, simply by firing up the Canon Camera Connect app. Alternatively you can get full control over the camera settings via Wi-Fi, along with live view and the ability to select the focus area by tapping on your phone's screen. It's also possible to geotag images using your phone's GPS while you're out shooting.
When it comes to sharing your images, you can either transfer every image automatically to your phone, or browse through them and selectively copy your favourites across, even when the camera is turned off and stowed away in your bag. It's all neatly designed and works very well, although Android users may need to tweak the app's power management settings to prevent the phone from dropping the Bluetooth connection.
Canon EOS 850D / T8i: Focal points
Canon has built a DSLR that works better in live view than when using the viewfinder
Flash: The built-in flash has to be popped up manually. It has a guide number of 12 at ISO100 and works with lenses as wide as 18mm. The hot shoe will take more powerful external units.
Battery: Battery life is one area where DSLRs still lead mirrorless models, with the LP-E17 promising 810 shots per charge, dropping to 310 in live view. However it can only be charged externally.
Connectors: A 2.5mm port accepts Canon's RS-60E3 wired remote control, and there's a 3.5mm stereo mic socket too. Both are placed so as not to block the screen movement. You also get HDMI and Micro USB ports.
EF-S lenses: Canon offers a small but well-judged range of affordable, lightweight APS-C lenses that are a good match to the EOS 850D, including a 10-18mm wideangle, 55-250mm telephoto, and 24mm f/2.8 pancake prime. See our guide to the best Canon EF lenses
Mode dial: This is notably simplified compared to previous models, with the various subject-optimised scene modes consolidated to a single position.
Screen: This can be set to almost any direction, including for high or low angle shooting, or facing forwards for when you want to include yourself in the picture.
Canon EOS 850D / T8i: Build and handling
By DSLR standards, the EOS 850D / T8i is pretty small and lightweight. However, compared to APS-C mirrorless alternatives such as the Nikon Z 50, Fujifilm X-S10 or Canon's own EOS M50 Mark II, it's decidedly bulky; indeed, it's similar in dimensions to many full-frame mirrorless models. However, this has the advantage of providing space for a large, comfortable handgrip and plenty of external controls, most of which are clustered around the handgrip for easy access. The bulkier design of DSLR cameras like this one is perhaps one reason why they continue to be popular.
Plastic body shell
Like other DSLRs at this price point, the EOS 850D / T8i is primarily constructed with a plastic body shell. But as usual for Canon, it feels nice and robust in your hand. You can't expect it take a battering like a pro-level camera can – for a start, it's not weather-sealed – but you shouldn't have to baby it too much, either. The grip has a textured, rubberised coating with a well-defined space on the back for your thumb.
On the back is a small vertical rear dial that's used to set exposure compensation (or in manual mode, the aperture), along with an AF-ON button for back-button focusing. The other rear controls have been cleaned up compared to its predecessors, with a single Q button above the rear dial instead of the previous cluster of three buttons, which makes it easier to use when holding the camera up to your eye.
Button configuration
With its rear dial doubling up as a d-pad, compact-camera style, the EOS 850D provides direct external access to almost every major camera setting. There's a well-placed ISO button behind the front dial, nestling between two other buttons for toggling between AF area grouping modes, and turning the rear LCD on and off. Meanwhile the d-pad gives access to AF, white balance and drive modes, along with image-processing Picture Styles. Unfortunately that rear dial is decidedly small and fiddly, and as I found on some chilly winter days, particularly difficult to operate when you're wearing gloves. It feels completely out of keeping with the rest of the camera.
Customisation
Canon has provided a small degree of customisation to tweak how the controls work to fit your preferences. For example, it's possible to disable autofocus activation when you half-press the shutter, leaving it controlled solely via the AF-ON button, which many photographers prefer for shooting moving subjects.  Also, the SET button can be assigned to activate exposure compensation, which can be useful when combining Auto ISO with manual exposure.
Beginners get a nicely designed guided user interface that does a reasonable job of explaining the various functions, while more advanced users can switch to Canon's standard screens and menus, which are quicker to use once you've got the hang of them. The rear screen shows a clear and comprehensive status display of the camera's settings, while a press of the Q button enables you to select and change them. There's no top-plate status LCD as on the previous Canon EOS 77D, but I can't say I missed it.
Focus point repositioning
The camera's biggest operational flaw lies with its slow and clunky method for moving the focus point when you're shooting with the viewfinder. You first have to press a button on its right shoulder, then use the d-pad or control dials, which requires a lot of thumb movement. This approach worked OK when Canon first introduced multi-point AF in the 1990s with 3 or 5 points, but is much less satisfactory when you have 45 to choose from. Unfortunately, you're not allowed to repurpose the d-pad to move the AF area directly.
When you enter live view, the camera radically changes how it works. Now, the d-pad is used to move the focus area, which is an odd decision giving that it's quicker and easier to use the touchscreen. The functions assigned to its buttons are still easily accessed via the Q Menu, but this now looks and works completely differently too. Meanwhile, the AF area selection button engages magnified view. Essentially, this reflects the fact that Canon tacked live view onto its existing DSLR interface back in 2008 and has never quite harmonised the two modes of operation since. Compared to mirrorless cameras that switch between viewfinder and LCD operation seamlessly, it's a perpetually jarring experience.
Canon EOS 850D / T8i: Viewfinder and screen
For many photographers, the viewfinder is reason enough to choose a DSLR over a mirrorless model. There is, the argument goes, nothing quite like seeing the world though a large, bright, clear optical viewfinder. This may well be true, but unfortunately the EOS 850D's pentamirror finder is none of these things. Instead, with just 0.51x magnification and 95% coverage of the image area vertically and horizontally, it's small, dim and inaccurate. Pentamirrors are a cheaper alternative to traditional pentaprism designs, and visibly inferior.
Optical viewfinder vs EVF
Compared to even the entry-level EOS M50 Mark II's electronic viewfinder, it's like peering down a tunnel and trying to make out a distant vista. If you compose your images precisely while shooting, chances are you'll find extraneous elements creeping into your files that you really wanted to exclude because of the viewfinder's less-than-100% coverage. You can of course crop these out afterwards to match your original composition as seen in the viewfinder, but it's a pain and you'll end up with 21.7MP files.
You do at least get a decent amount of settings information, along with the option to display gridlines and a single-axis electronic level. But with no live histogram or exposure preview, you just have to hope for the best with regards to metering, and apply exposure compensation in difficult lighting based on guesswork and experience. Press the depth-of-field preview button on the lens throat, and the finder goes darker still, so you'll be hard pressed to visualise what it's meant to be showing.
Composing via the screen
Switch into live view, and the viewing experience is transformed. The rear LCD gives a 100% accurate preview of your composition, while also reflecting the current exposure and colour settings. You can judge exposure compensation based on both the preview image and a live histogram, which can be set to display in RGB as well as brightness. When you press the depth-of-field preview button you can also see what's actually going on with regards to front-to-back sharpness. It's a much better means of composing your images.
Another advantage of using live view is that the fully-articulated screen allows you to shoot at high or low angles in both portrait and landscape formats. All of the camera settings can be changed using Canon's superb touch interface, which is quick and intuitive to use. The touchscreen is superbly responsive, and its sensitivity can be boosted for use with gloves.
Canon EOS 850D / T8i: Autofocus
Arguably, the EOS 850D's split personality becomes most acute when it comes to autofocus. Canon has clearly designed the viewfinder and live view systems to look as similar to each other as possible, but in practical use, they behave quite differently. Crucially, in live view the camera can focus on subjects almost anywhere within the frame, while being able to track them more accurately, too. In other words, it works better when it's pretending to be mirrorless. In some ways, this Canon DSLR perfectly demonstrates the advantages of mirrorless.
Selecting autofocus
In both viewing modes, Canon has provided a superficially similar set of four focus-area selection options, which are toggled through using a button in front of the mode dial. You can also choose between one-shot AF for static subjects, and servo for those that move. A third AI Focus option auto-switches between these when it detects subject movement, but it's only available when using the viewfinder. Another oddity is that the viewfinder and live view AF settings are treated independently, so if you change them for one viewing mode, this won't be reflected when you switch to the other.
When using the viewfinder, you can select between single point, 9-point zone, 15-point large zone and auto area selection modes. In the zone modes the camera's 45-point AF is effectively divided up into three blocks of 15, left, centre and right, and your selected AF zone can't straddle these blocks. This limits further the flexibility with which you can position the focus zone. If you shoot portraits using auto area mode, the camera will choose the focus points that cover your subject's face, but won't specifically pick out their eyes in the way more sophisticated systems will.
Focusing in live view
Switch to live view, and you now get spot, 1-point, zone, and face detection/tracking modes. In effect the first three provide different sizes of AF area, which you can position freely around the frame, aside from at the extreme edges. The tracking mode also covers the same wide area and is very much better at identifying and sticking to your subject. Unsurprisingly, though, it's not as ludicrously capable as the AI-based system Canon has included in its much more expensive EOS R6 and EOS R6 Mark II, which are capable of focusing specifically on the eyes of animals and birds.
If you stick to using relatively small-aperture zooms, then you shouldn't have too many autofocus problems in either mode. The camera focuses quickly and decisively, and continues to work well in dim indoor lighting.  However if you use a fast prime such as a 50mm f/1.8, then the AF is liable to be slightly off when you're using the optical viewfinder, particularly if you choose an off-centre focus point. In contrast, the on-sensor AF that's used in live view is consistently more accurate.
Canon EOS 850D / T8i: Performance
As you'd expect from the twelfth generation of its line, the EOS 850D / Rebel T8i is for the most part a refined, reliable camera. It fires up almost instantly when you flick the power switch, and responds instantly to all of the controls. I'd turn off image review after shooting, though, as it inflicts an annoying interruption on live view shooting.
Both metering and auto white balance are generally reliable, which means that the camera mostly delivers well-exposed images without any troublesome colour casts. Canon's JPEG colour is as excellent as always, being punchy and saturated but not overblown, while the firm's Auto Lighting Optimiser (ALO) does a fine job of balancing light and dark areas of the image more naturally.
Protecting highlight detail
When you're shooting with the viewfinder in bright daylight, the metering can be a little prone to blowing out detail in bright highlights, so it can be wise to apply some pre-emptive exposure compensation. At low ISOs you can easily lift two or three stops of shadow detail in raw processing without noise being a problem, so it pays to bias your exposure to protect highlight detail. However when you switch to live view, the camera performs just that bit better, with barely any exposure missteps at all.
Continuous shooting is impressive, with the camera meeting its specified speed in my tests. Its buffer is very creditable, too; I was able to shoot 37 frames in raw + JPEG mode before the camera slowed down, which increased to about 60 using the space-saving CRAW format. Switch to recording JPEGs only, and the camera will happily fire off a couple of hundred files in a row at full speed.
The only caveat is that you have to wait while your images are written to card before you can change secondary settings, so it pays to buy a fast SD card if you expect to shoot a lot of bursts. For sports and action shooting, in practice the camera is likely to be limited more by its ability to maintain focus.
Canon EOS 850D / T8i: ISO and Noise
We've seen this sensor and processor combination in previous Canon models, including the mirrorless EOS M50, and it brings no great surprises here. It delivers fine image quality at low ISO settings, with strong, attractive colour and plenty of fine detail. Noise starts to become visible at ISO 800 when examining image files up-close, but it's only at ISO 3200 that it starts to have any obvious impact on fine detail. But I'd still be perfectly happy using this setting as a matter of course.
There's a visible drop-off in quality at ISO 6400, though, and while ISO 12,800 is perfectly usable for smaller reproduction sizes, it's probably as high as you'd usually want to go. By ISO 25,600 both colour and detail have deteriorated dramatically, while ISO 51,200 is barely usable.
Below are 100% crops of our standard test scene, taken from raw files processed using  Adobe Camera Raw.
Canon EOS 850D / T8i: Verdict
With a dearth of new DSLR models over the past few years, it's been a long time since I last reviewed one (2017, in fact). So shooting with the Canon EOS 850D / Rebel T8i has been an interesting experience. On one level, it's an impressively refined and capable camera, and if you're a glass-half-full person, you might conclude that you're getting the best of both worlds. After all, this is a DSLR that boasts many the best features of a mirrorless camera when it's switched into live view.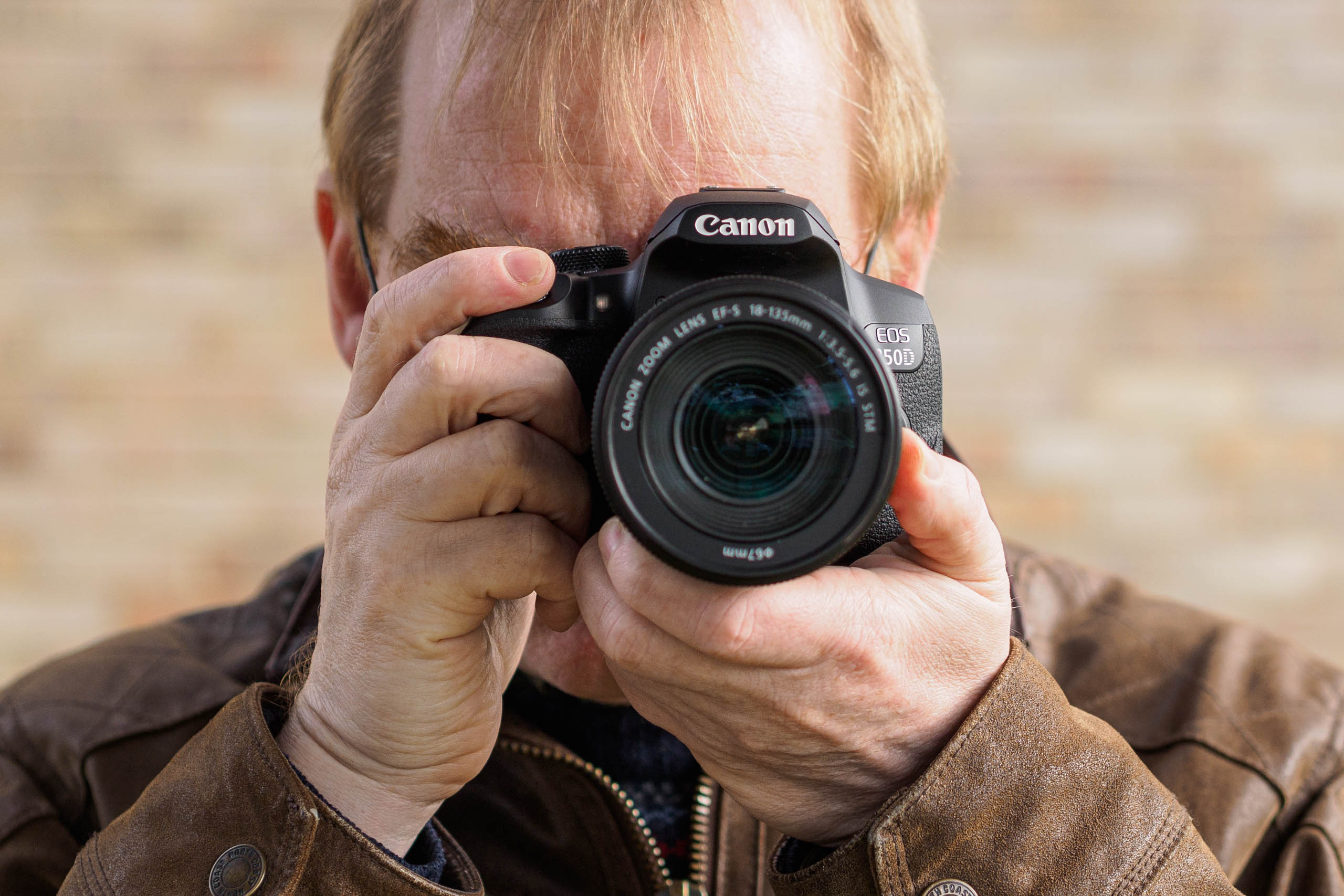 The thing is, though, that the EOS 850D / Rebel T8i actually works better in live view in almost every respect. In DSLR mode, it's let down by its tiny, inaccurate viewfinder; in other words, the one asset that's supposed to weigh decisively in its favour. So arguably, you're getting the bulk of a DSLR without its single biggest benefit. You do still get impressive battery life, but it's really not that hard to buy a spare if you choose a mirrorless camera instead.
Ergonomics
Ergonomically, the design is also something of a let-down for viewfinder shooting. The rear control dial is too small and fiddly, while AF point selection is slow and awkward. Compared to the beautifully-sorted Fujifilm X-S10, for example, the EOS 850D / T8i simply isn't as pleasant to use for adjusting creative settings on a shot-by-shot basis. Ironically, it gives better access to a range of functions that you're unlikely to change as often.
Final thoughts
Ultimately, the EOS 850D / T8i is about as good as you'll get from a DSLR at this level, but feels outdated compared to its smaller, slicker mirrorless competitors. Canon has really bitten the bullet, though, and built a series of SLR-style APS-C mirrorless models using its RF lens mount with models to appeal to beginners and enthusiasts. These are so capable and so much more technically advanced than the EOS 850D / T8i, that this camera's only real advantage now is its access to a large line-up of EF-S lenses.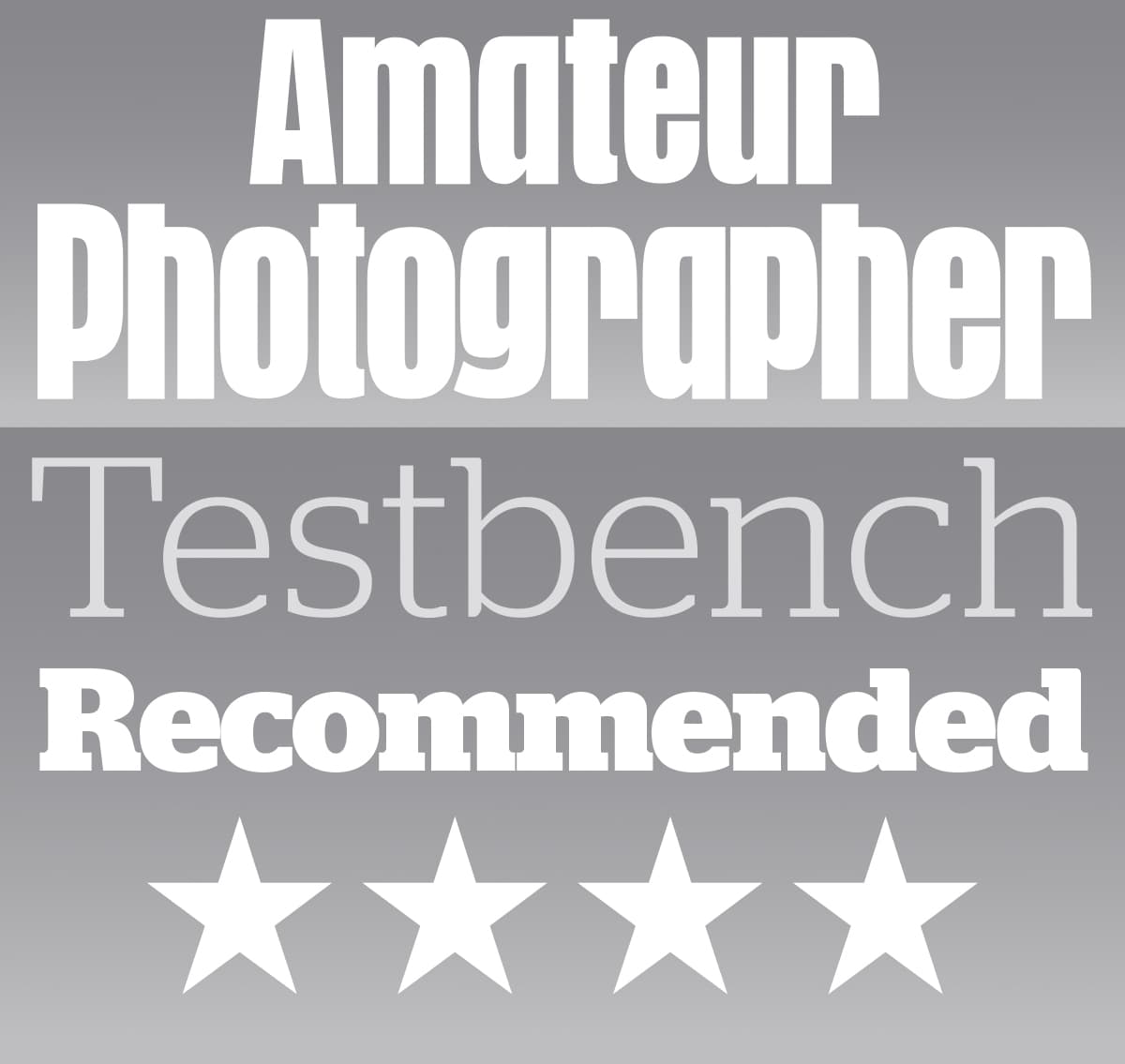 Find more great Canon DSLRs in our guide to the best Canon EOS DSLRs you can buy!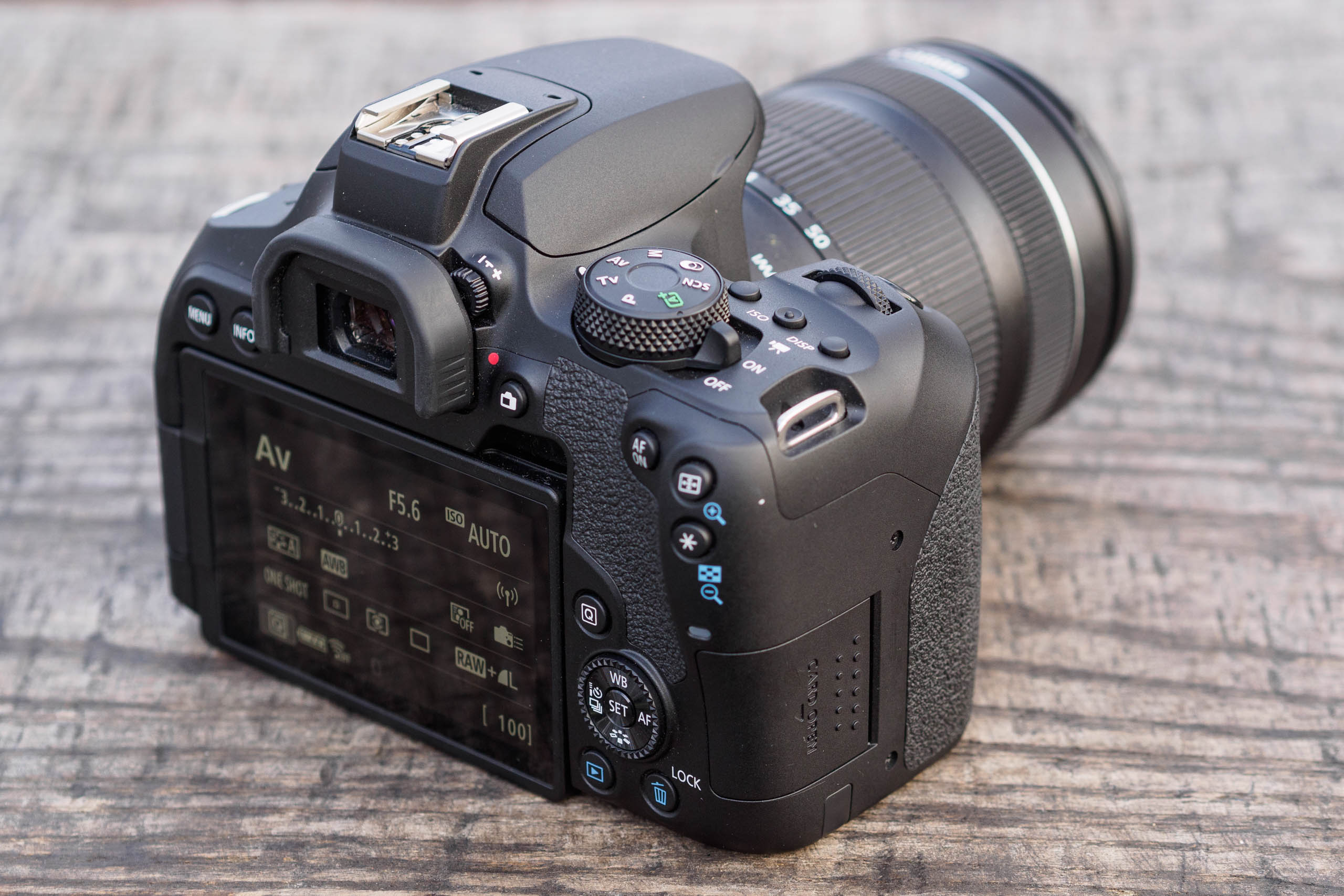 ---