The winners of APOY 2023 Round Four, Landscapes are in! Here are the top 10 images uploaded to Photocrowd with comments by the AP team and our guest judge
Landscape photography regularly tops the charts of favourite genres among amateur photographers, and it's easy to understand why. Simply being outdoors in the landscape, contemplating the scene, challenging ourselves to produce something fresh and new, and being at the mercy of the elements can be everything from exhilarating to contemplative.
Developing an appreciation of light and its impact on the land's contours and curves is one of the most satisfying aspects of this type of photography, and learning how to distil everything into one frame is an ongoing learning process. Landscape can be everything from an epic, breathtaking scene to a tiny abstract detail in a rock; it can be a long exposure that strips back a composition to its most basic elements; and it can be something that allows us to see the world anew. Our top ten from this year's landscape round are all deserving of their place in this competitive category.
APOY 2023 Landscapes Top 10
APOY 2023 Landscapes Winner
1. John Seager UK 100pts
DJI AIR 2S, 22mm, 1/730sec at f/2.8, ISO 110
What a stunning image, and the runaway winner of this round, with eight of the nine judges placing it in their top ten. We rely on photography to give us a different view on the world, and that's exactly what John's drone shot of the Cono de Arita in Argentina does. It plays with our sense of perspective and scale, while his choice of time of day is perfect. Shooting when the light is so low has created a shadow that almost looks like a compass point taking the viewer to… who knows where? An outstanding shot.
2. Nguyen Tan Tuan, Vietnam 90pts
Canon EOS 5D Mark IV, 70-200mm at 200mm, 1/500sec at f/3.5, ISO 320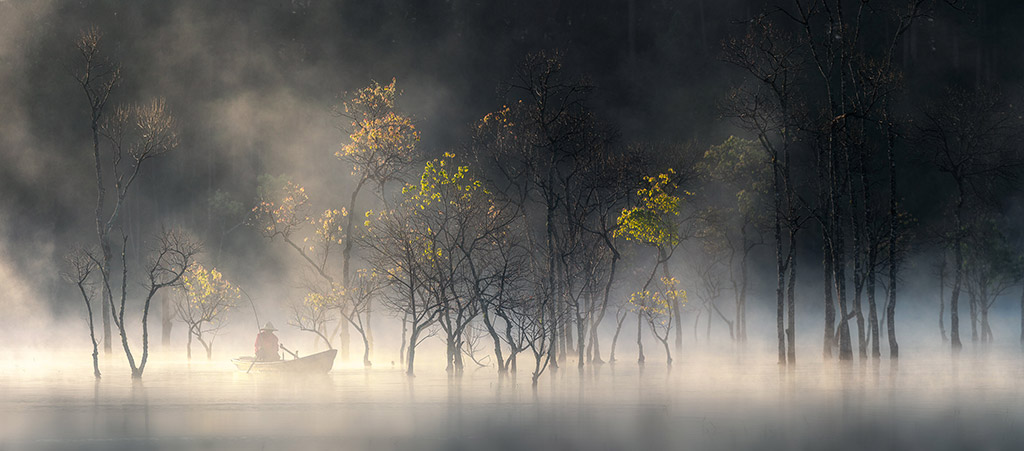 Guest judge Lizzie Shepherd says: 'I was immediately struck by the sheer beauty and overall sense of calm portrayed in this image. It made me wish I had been there. There is a wonderful rhythm, with the groupings of trees, and the fisherman within, perfectly spaced. The side lighting and mist provide both depth and atmosphere, and the combination of warm and cool tones has been beautifully handled.
Repeated viewings give so much more to enjoy as the smaller details reveal themselves. The wonderful relationships and echoes between the trees, with just a faint outline of those in the distance. Even the fishing rod seems to mimic the shape of the small tree to its right; and the fact that the boat is visually connected to this same tree and the rod just kisses the tree to the left all add to that sense of harmony.
Yet there is also a sense of the unknown, with the darker areas on the right-hand side of the image, just adding a touch more mystery. It's
a beautifully crafted photograph.'
3. Tony North UK 80pts
Nikon D500, 11-16mm at 12mm, 211sec at f/3.2, ISO 1250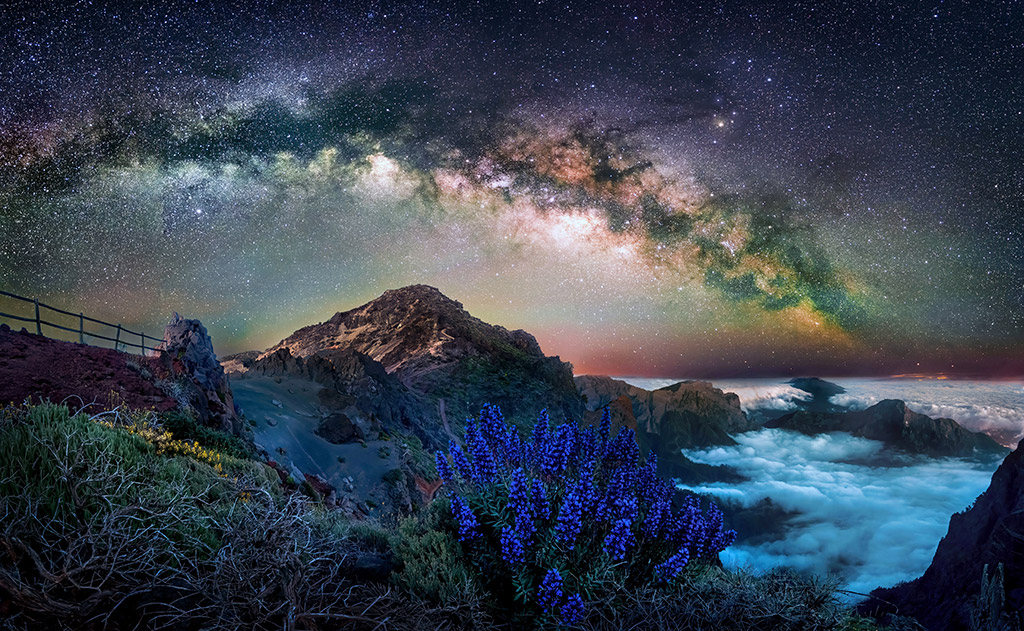 We see a fair few photographs of the Milky Way, but this is a particularly spectacular example. Tony has photographed it while on a trip to La Palma in the Canary Islands, and what's so good about it is the amount that's going on in the frame – he hasn't been so focused on the stars themselves that he's forgotten about the rest of the frame. The clouds creeping into the right-hand side of the image are almost spooky in their progress, while the intensely purple Blue Tajinast flowers in the foreground help anchor the scene and reflect the colours of the sky above. Well worth the effort it must have taken to get the shot.
4. Lynn Fraser, UK 70pts
Canon EOS 5D Mark IV, 100-400mm at 400mm, 1/320sec at f/6.3, ISO 100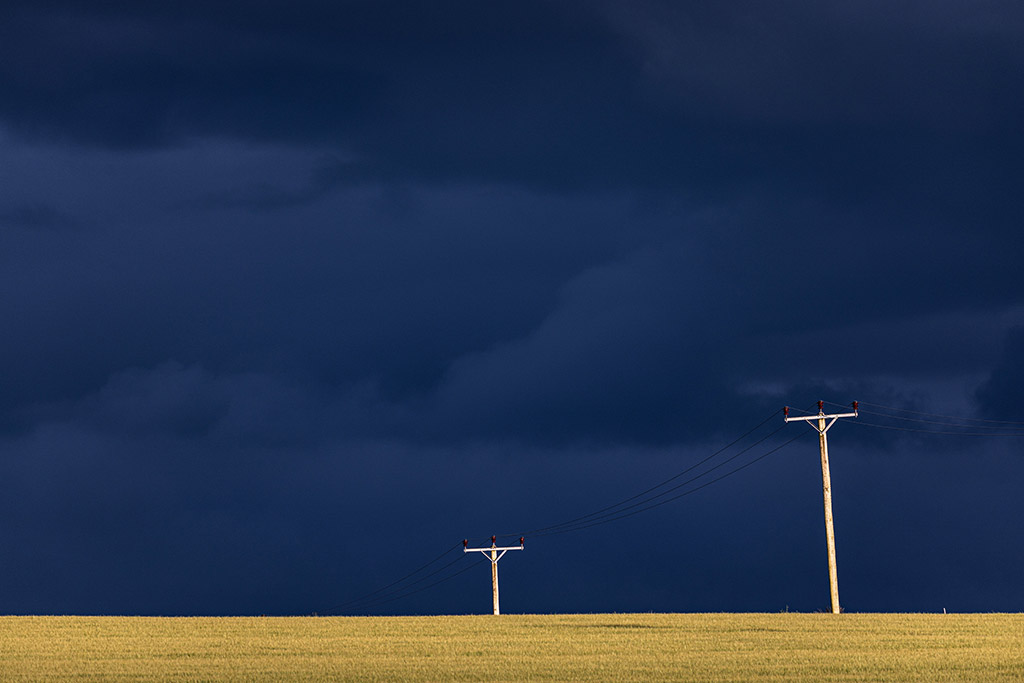 As Lynn herself says, you don't always need to travel far for a dazzling shot – and this was taken from her back step! The frame needs nothing else, as it's all about that astonishingly deep azure sky, with the gold strip at the bottom and the two pylons to give context and scale. Gorgeous.
5. Ashley Kennedy, UK 60pts
Canon EOS 2000D, 24-105mm at 24mm, 20sec at f/8, ISO 100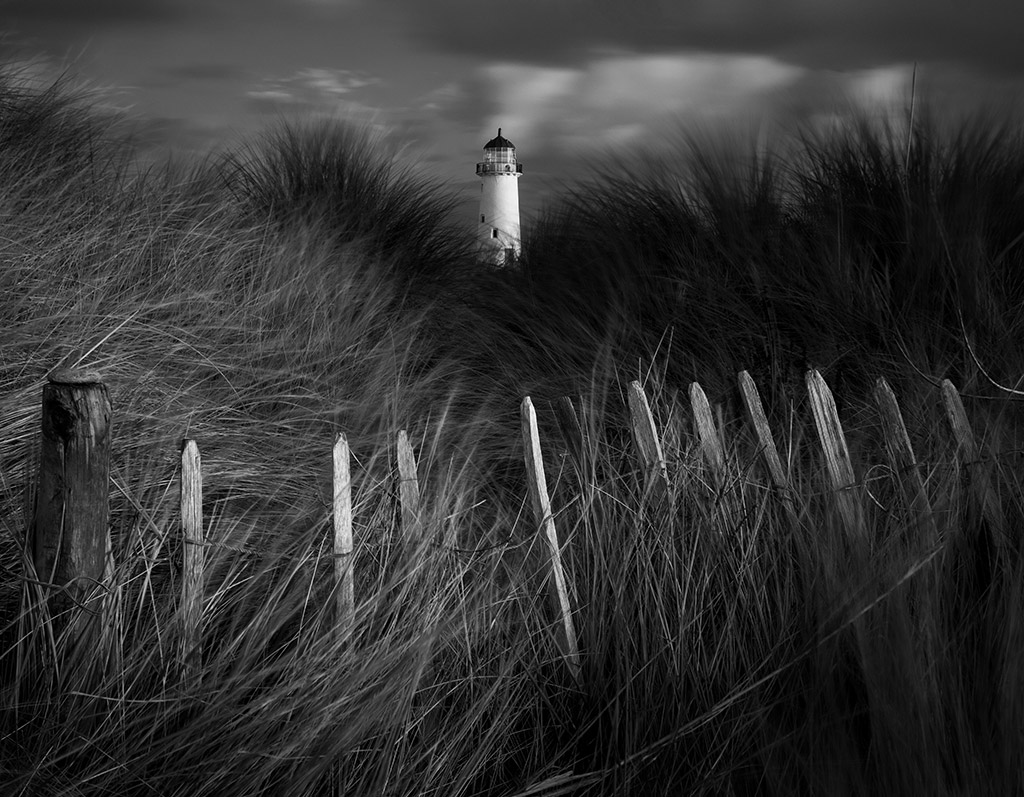 Ashley has employed a 10-stop ND filter to excellent effect, capturing a balanced combination of movement and sharpness. We have all the drama of the scudding clouds set against the fence, and although it's small in the frame, there's no doubt the lighthouse is the star of the show.
6. Ian Asprey, UK 50pts
Nikon Z 7, 14-30mm at 14mm, 0.6sec at f/10, ISO 64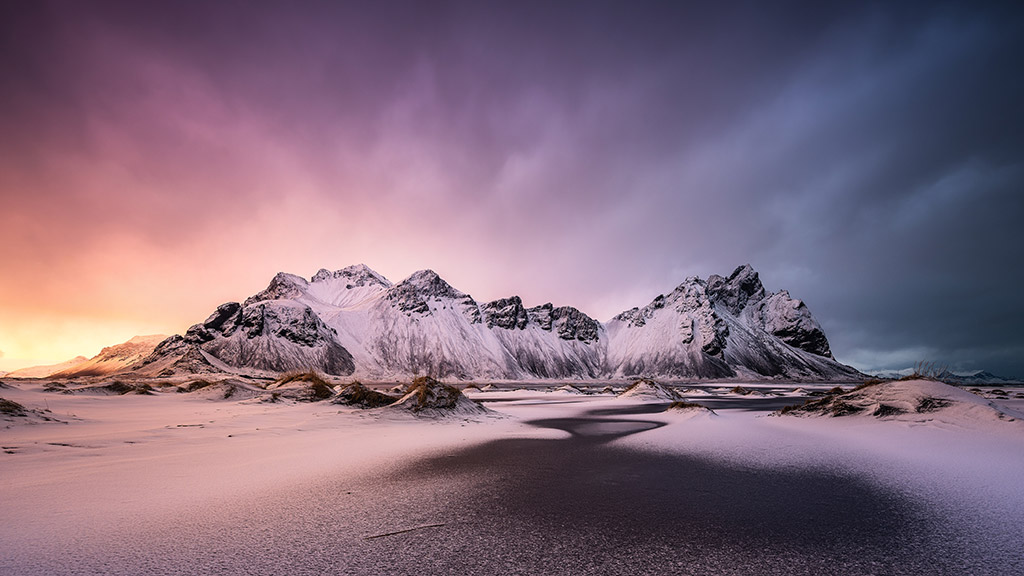 The iconic Icelandic mountain of Vestrahorn will be a familiar one to most of us by now. Ian has captured a memorable moment that transports the viewer right into the snow and ice – complemented by the fire in the sunset sky. The gradation from pink to blue as the eye travels across the frame is spectacular, while the black 'path' leads us directly to that recognisable jagged peak.
7. Nigel Watson, UK 45pts
Canon EOS 7D Mark II, 24-105mm at 24mm, 1/1250sec at f/7.1, ISO 640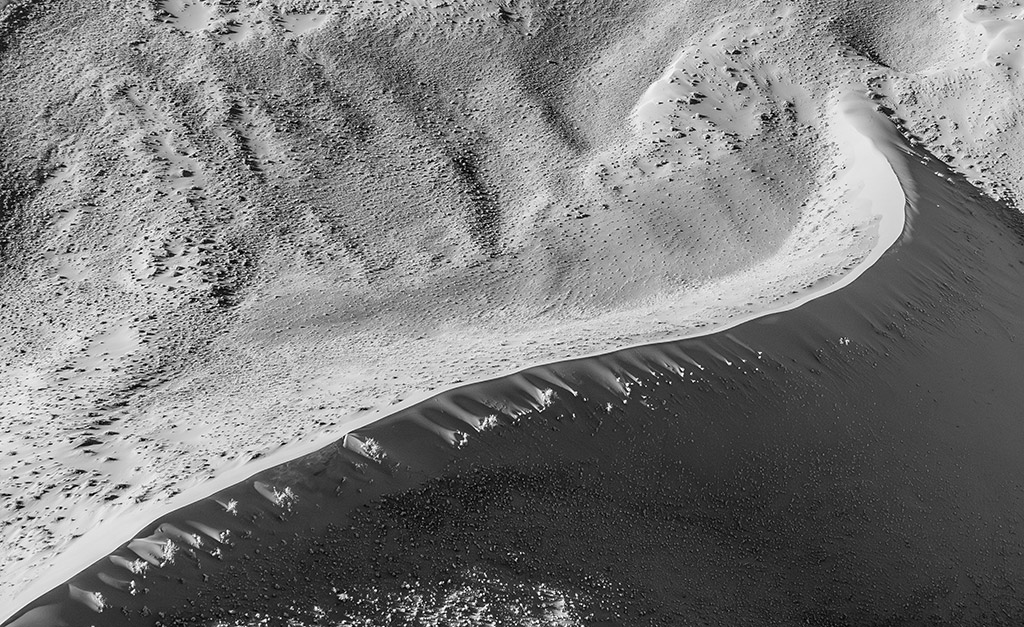 Thanks to the clever and thoughtful conversion to black & white, there's a real feeling of mystery about this image. It would be easy to imagine we're looking at a close-up of a snowdrift when in fact the picture is an aerial shot – taken from a light aircraft – of Dune 45 in Namibia. Nigel has met the challenge of framing in such a situation extremely well, with the curve of the dune leading the eye from bottom left to top right, while the contrast created by the early-morning light gives a sense of depth and dimension.
Nigel is also the highest camera club scorer in this round!
8. Laura Simons UK 40pts
DJI FC3582, 24mm, 1/1250sec at f/1.7, ISO 130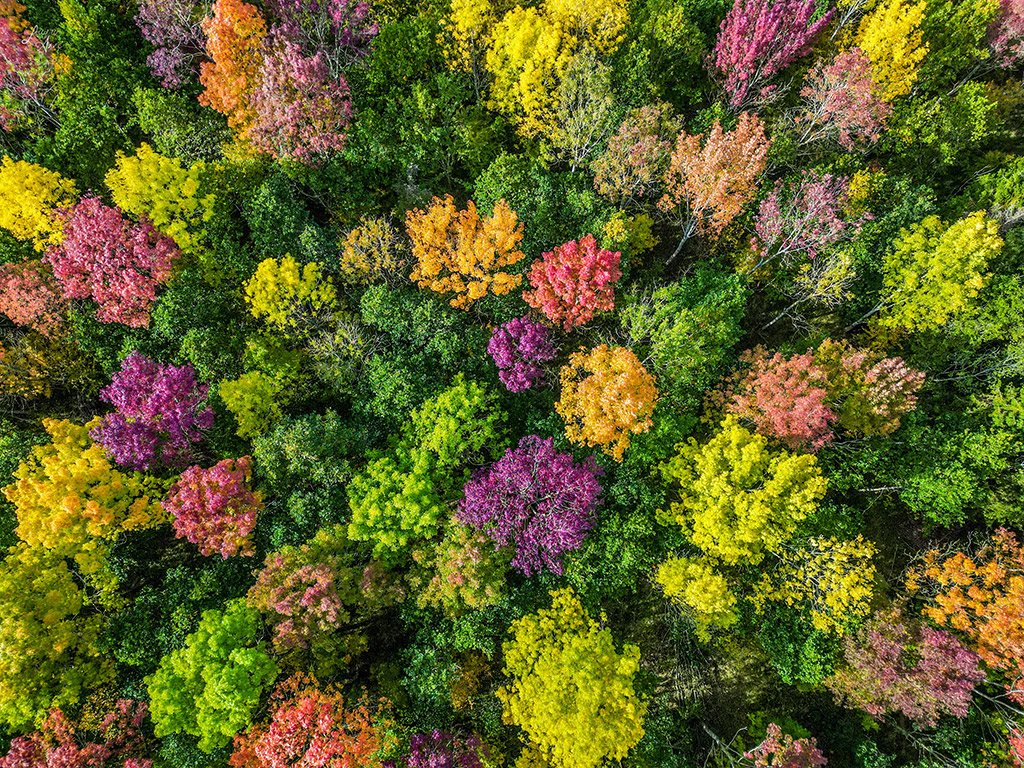 Sometimes an image doesn't need a defined focal point. In a case such as Laura's picture here, of Biss Wood, which is a nature reserve in Wiltshire, it's all about simply filling the frame with a riot of colour, and she's fulfilled that aim to great effect. It's easy to imagine that the explosion of green, gold, purple and orange bursts out of the confines of the frame and continues for miles. It's one of those pictures where the more time the viewer spends with it, the more they see. Lovely work.
9. Helen Trust UK 35pts
Canon EOS 5D Mark IV, 16-35mm at 16mm, 10sec at f/2.8, ISO 3200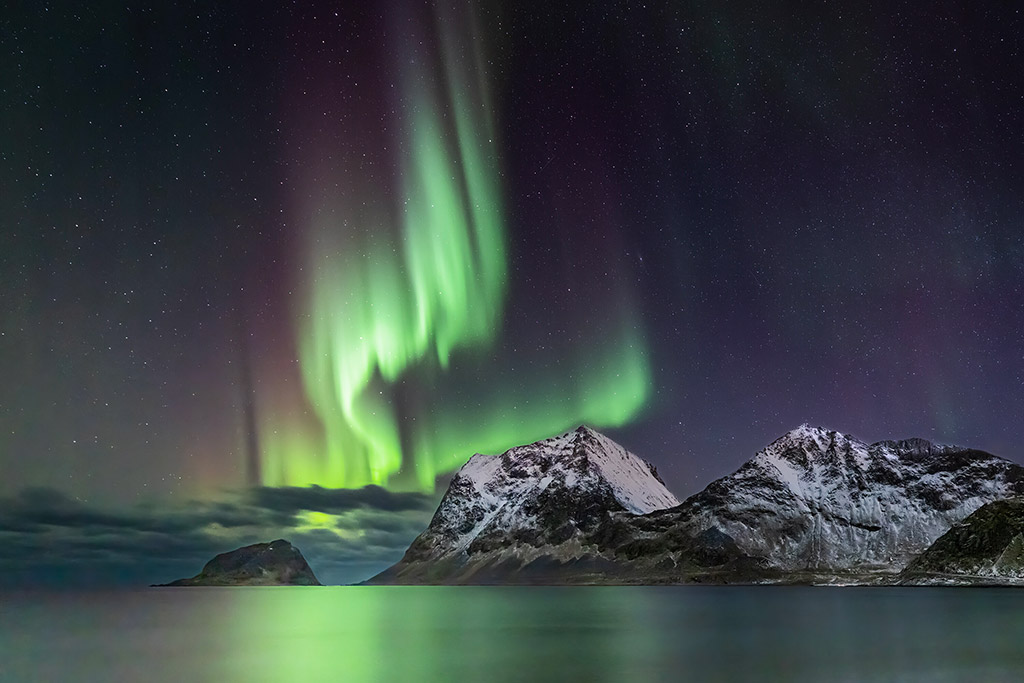 If you're going to the Lofoten Islands, you're going to want to see the Northern Lights, and Helen was rewarded with a spectacular lightshow that she's captured beautifully. The wisp of green that appears to erupt from the clouds shows you don't need to fill the frame with the lights
in order to capture a memorable image. Sometimes, as here, a little less is more.
10. Heather Bodle UK 30pts
Panasonic FZ1000, 36mm, 1/400sec at f/8, ISO 200
It's easy to assume that only dramatic landscape images will catch the eye of the judges, but it can often be the quiet, serene examples that stand out – as is the case with Heather's capture of birds taking flight at Derwentwater in the Lake District. The birds' silhouettes, though tiny in the frame, stand out wonderfully against the softness of the morning mist, with the mountains peeking through beyond. A magical shot that deserves its place in the top ten.
---
Young APOY 2023 Landscapes winner
Matteo Botta, Switzerland 100pts
DJI FC7303, 1/200sec at f/2.8, ISO 100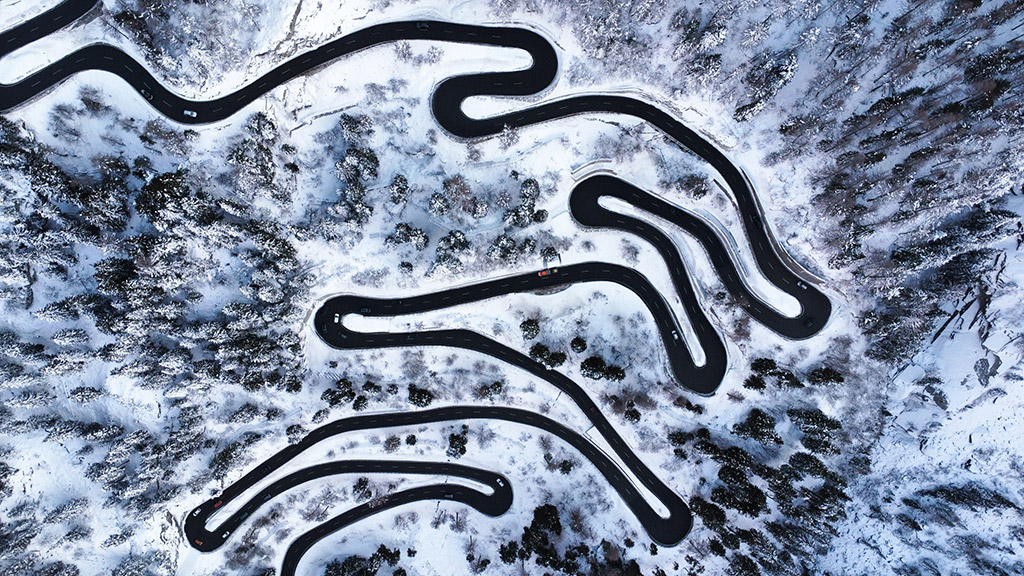 Fifteen-year-old Matteo flew his drone in -15°C temperatures in order to capture this superb shot of the Maloja Pass in the Swiss Alps. The road appears like a black ribbon that's floated down on to the snow-covered mountainside – look closely and you'll see toy-sized cars tackling the treacherous route. Matteo has framed the shot extremely well, making it memorable and a worthy winner.
See the top ten and shortlist from the Young APOY 2023 Landscapes round.
---
APOY 2023 Camera club competition
Brian Dicks, UK 10pts
Sony A350, 18mm, 1/60sec at f/8, ISO 200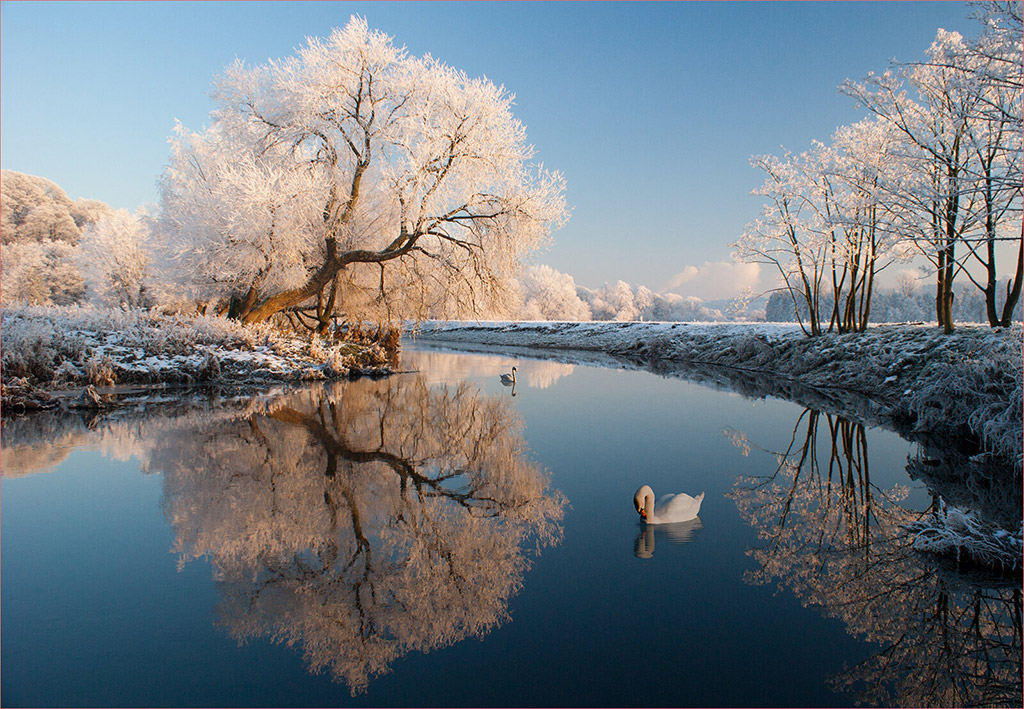 Brian, who is an active member of Stafford Photographic Society, was rightly shortlisted for this atmospheric and chilly winter scene, shot at the River Trent. He earned ten points for his camera club, which currently lies sixth on the leaderboard with 80 points overall.
---
The APOY 2023 leaderboards so far after Round Four, Landscapes

There's been a bit of jumping about on the main leaderboard this month, with John Seager, who won this round, leaping into first place out of almost nowhere. Lynn Fraser, who was also outside the top ten last month, now finds herself in second place, which goes to show how rapidly things can change – not to mention the importance of entering as many rounds as you can.
Matteo Botta's win in Young APOY has also propelled him into the top ten, while the very top of that leaderboard remains unchanged. As for camera clubs? What can we say? Launceston CC is pulling ahead impressively, but all it takes is a win or two from those lower down the leaderboard for that to change.
See the full leaderboards here.
---
Winning kit from MPB
The gear our winners used can be found at MPB
Taking fifth place, Ashley Kennedy used a Canon EOS 2000D / Rebel T7 for his striking shot of Talacre Lighthouse. Released in 2018, the camera features a 24.1-million-pixel APS-C sensor, nine-point AF system, wireless functionality and an ISO range of 100-6400. It also features six picture styles. When reviewed in AP, it was described as a 'solid entry-level camera', and it can be picked up at MPB for between £234 and £269.
For his Vestrahorn sunset image, Ian Asprey shot with a Nikon Z 7, which was described in AP as a 'stunning debut'. It features a 45.7MP full-frame BSI CMOS sensor, shutter speeds from 30secs to 1/8000sec and built-in 5-axis in-body stabilisation (including correction for rotation around the lens axis. Its review in AP described the camera as feeling 'like a thoroughbred Nikon'. This excellent camera can be found at MPB for between £1,299 and £1,599, depending on condition.
Heather Bodle shot her atmospheric image with a Panasonic FZ1000. This premium bridge camera has a 20MP 1in MOS sensor and 16x Leica DC Vario-Elmarit optical zoom lens with a focal range equivalent to 25-400mm. Receiving four stars when reviewed in AP, it was described as having 'excellent build quality' and offering 'advanced and comprehensive features straight out of the box'. Find it at MPB for between £124 and £329.
To browse the extensive range of stock at MPB, visit www.mpb.com
See our pick of the best cameras and wide-angle zoom lenses for landscape photography.
---
APOY 2023 Round Six is now open for entries! Submit your best architecture photographs here.
Best photography competitions to enter in 2023
Further reading:
A guide to great coastal and seascape photography
Guide to moody woodland landscape photography
How to capture moody monochrome landscapes
Complete guide to outdoor light in photography
Transform landscapes with square format
---