Panasonic Lumix DMC-FZ1000 review – Introduction
Panasonic has a long history of delivering high quality video performance across its digital camera line-up. It's G-series of CSCs has seen some impressive video innovations, most recently in the form of the GH4 which took the crown of being the first CSC to boast 4K video capture.
The new FZ1000 benefits from this heritage and sees Panasonic set new ground once again, with the model being the first bridge camera to feature 4K video capture thanks to the utilisation of a larger-than-average 1in, 20.1MP CMOS sensor.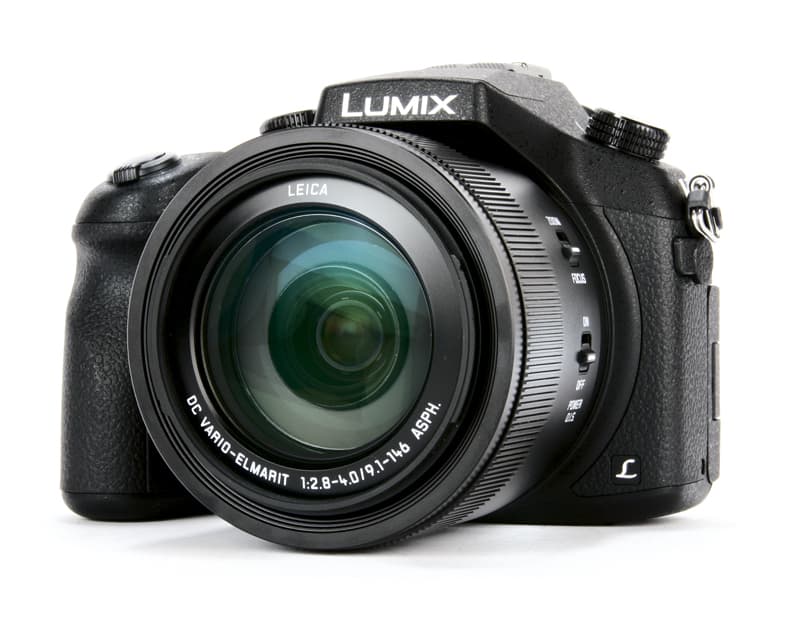 The FZ1000 also features a host of typical bridge camera characteristics, including a reasonable zoom and DSLR-esque controls.
The question is; is the Panasonic Lumix DMC-FZ1000 solely the preserve of video shooters, or does it deliver a complete shooting experience?
Panasonic Lumix DMC-FZ1000 review – Features
As you might imagine, the real headline feature of the FZ1000 is the camera's capacity to shoot 4K video. If you're unfamiliar with 4K; it's the new ultra high resolution image video capture that's four times the resolution of full HD video capture.
This high resolution video capture is made capable by the inclusion of a new quad-core Venus IV processor.
If you're not taken by the video potential of the FZ1000, then consider this – when shooting 4K video on it's possible to grab 8MP 3840 x 2160 still images from slow motion review, presenting a new way to capture individual frames.
All of this high resolution work is made possible by the larger than average 1in, 20.1MP sensor. This sensor also allows for an extensive ISO range which covers 125-12800 in its conventional setting and extends to ISO 80 to 25600.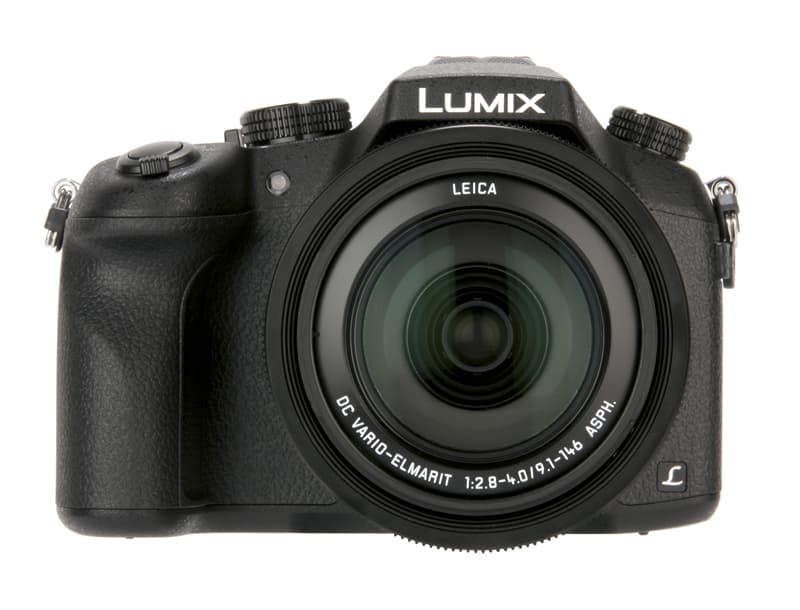 The new sensor and processor combination also allows for some impressive operational speeds. Panasonic claims that the FZ1000 will shoot 12fps in its burst mode, while also featuring improved AF performance that the manufacturer claims is some 275% faster than its FZ200 stablemate.
In terms of the camera's optics the FZ1000 is not quite as impressive as the aforementioned FZ200, although it still has a zoom to compete with a range of bridge cameras. The model sports a 16x optical zoom covering a focal range of 25-400mm in equivalent terms and one which is comprised of Leica glass.
Other eye-catching features including the models EVF. The FZ1000 inherits the impressive 2.36-million dot OLED viewfinder seen in Panasonic's flagship CSC; the GH4. The LCD screen measures in at 3in and features a resolution of 921k-dots, as well as being of the vari-angle variety.
As you might expect for a new camera from Panasonic, the FZ1000 features full Wi-fi functionality, while one welcome feature is the ability to edit raw files in-camera and output to JPEGs, dispensing of the need to do so on a computer.
Panasonic Lumix DMC-FZ1000 review – Design
As is traditional for a bridge camera, the FZ1000 features design more akin to a DSLR than a compact.
It measures in at 137 x 99 x 131mm and weighs 831g, making it slightly larger than some competing models such as the RX10 (although it does feature an optical zoom twice as extensive as this rival).
The FZ1000 carries the bulk and weight well thanks to pleasing ergonomics and a substantial handgrip, meaning that in the hand it feels comfortable and not overly weighty.
One surprising omission from the camera's specification is a touch screen. That being said, the body does cater well for shooting adjustments on the cameras body via a host of physical controls.
These include some five customisable Fn buttons alongside a host of dedicated controls offering quick access to key shooting functionality such as exposure modes, exposure compensation and ISO control.
The model also benefits from the presence of a lens ring. This feature can be adjusted to control either the camera's zoom or manual focus, although it's somewhat disappointing that it doesn't cater further adjustment to control to other key functionality such as exposure compensation or aperture control.
All in all, the range of physical controls and their clever placement, along with the ergonomic design, means that the FZ1000 is a pleasure to use and is relatively simple to do so.
Panasonic Lumix DMC-FZ1000 review – Performance
Image: Here the two extremes of the zoom lens can be clearly seen
Panasonic makes some pretty bold claims with regards to the FZ1000's AF performance in comparison to some of its stablemates, with the manufacturer stating that it focuses 275% faster than the FZ200.
Such claims are made possible thanks to the implementation of a new defocusing contrast detection method and a 49-area AF system.
In practice the FZ1000 delivers impressive focusing results, and during testing there was rarely an occasion where the camera didn't deliver prompt and accurate focusing.
There are a host of focusing modes available, including a macro setting which allows for focusing as close as 3cm, while the manual focusing mode is helped by the lens ring adjustment option.
Unfortunately the lens ring doesn't cater especially well for the second of its functions, namely controlling the camera's zoom. It seems to zoom faster the slower you turn it, somewhat counter intuitively, and as such it's often preferable to use the dedicated zoom slider by the shutter release.
The model's Wi-fi functionality also performs well, while on the whole the FZ1000 meets its claims with regards to continuous shooting rates.
The fact that the FZ1000 inherits the same viewfinder as found on the GH4 is certainly a benefit as it's one of the best units on the market. The EVF delivers bright and clear image reproduction as well as offering advanced functionality including manual focus magnification and exposure preview.
The EVF also benefits from a rubberised eye-cup, making it comfortable to use for long periods.
Panasonic Lumix DMC-FZ1000 review – Image quality

Image: The FZ1000's large sensor and reasonably fast lens are good for low-light work
With its 1in (13.2×8.8mm), 20.1-million-pixel MOS sensor, the Panasonic Lumix DMC-FZ1000 is clearly ahead of the competition compared to most other high-end bridge cameras. As we would expect, it delivers high-resolution images with excellent low-light performance as a result of the larger sensor area. Overall, its image quality is very close to the Sony Cyber-shot DSC-RX10, which uses a very similar sensor.
The FZ1000 shows increased dynamic range and reduced levels of noise compared to bridge cameras with standard-sized (1/2.3in) image sensors, and its results are comparable to many DSLRs. Noise levels at sensitivities up to ISO 1600 are perfectly tolerable, and around 2EV better than those of other bridge cameras.
The measured image resolution is at the high end of what you could expect from a 20.1-million-pixel sensor, and the well-controlled noise enables excellent resolution at higher ISO settings.
The Panasonic Lumix DMC-FZ1000 is a substantial bridge camera, with a sharp zoom lens that complements the quality and resolution of the images produced by its larger sensor. Any cameras capable of clearly bettering this model would have to sport larger four thirds or APS-C-sized sensors, and interchangeable lenses.
Panasonic Lumix DMC-FZ1000 review – Resolution
The FZ1000 resolved around 3000 lp/ph at ISO 80 on our test chart, which is excellent. The images were shot at a focal length equivalent to 50mm on a full-frame DSLR, and at f/4 which is the best-performing aperture for the lens. At ISO 1600, the resolution is still high at 2600 lp/ph and is testament to the camera's well-controlled noise levels. At higher sensitivities, image noise reduces the sharpness achievable, with 2200-2000 lp/ph a more realistic figure.
Panasonic Lumix DMC-FZ1000 review – Dynamic range
The 1in sensor with its larger photosites produces great results for the FZ1000. At ISO 80, the peak dynamic range is 12.6EV, and it's still performing well at ISO 1600 with a range of 9.5EV. This is comparable to many DSLRs we've tested with APS-C sensors and means the camera should be capable of recording good detail in a variety of lighting conditions, capturing a wide range of tones in shadow areas, particularly from raw files.
Panasonic Lumix DMC-FZ1000 review – Colour
This 3D graph compares the colour shift from the reference colour to the photographed chart, with the higher the peak the greater the shift from the original colour. In the default JPEG colour setting, colours are well rendered across the range, with red, blue and purple slightly enhanced. Test images display good natural colour rendition with average contrast in standard JPEG mode, and it's possible to fine-tune contrast sharpness and saturation to suit your taste within the Photo Style Menu.
Panasonic Lumix DMC-FZ1000 review – Noise
Both raw and JPEG images of our diorama scene are taken at the full range of ISO sensitivity settings. The camera is placed in its default setting for JPEG images. Raw images are sharpened and noise reduction applied, to strike the best balance between resolution and noise.
The images above have a resolution of 300ppi and are shown at 100% magnification, reflecting a full-resolution print size. As can be seen, it is possible to produce smooth, good-quality images from raw files up to ISO 1600, and the JPEG files with in-camera processing are comparable with noise patterns slightly more visible. At ISO 6400 the raw files have less luminance noise in the shadow areas. I would be very happy to shoot raw and JPEG images using the full range from ISO 80-1600, and then use the ISO 3200-12,800 and extended ISO 25,600 settings as an emergency shot-grabbing measure when light levels are limited.
The grey-card images shown above are JPEG files shot with the Panasonic Lumix DMC-FZ1000's default noise reduction and colour settings applied. The 300ppi images are shown at 100% magnification to reflect the noise that would be experienced when printing an image at maximum size. The results show that the FZ1000 has acceptable, well-controlled luminance noise up to ISO 1600. Luminance noise is more apparent at ISO 3200, but by ISO 6400, both colour and luminance noise are beginning to kick in. The ISO 12,800 and ISO 25,600 settings are significantly worse, but could be usable at a pinch if absolutely necessary.
Panasonic Lumix DMC-FZ1000 review – Our verdict
The bridge camera market has long been one of the most competitive going, and thus for a model to stand out from the crowd it needs to see a reasonable amount of innovation.
Panasonic has managed this trick before with the FZ200's fixed maximum aperture lens, and with the introduction of 4K video capture the FZ1000 also impresses by setting new ground.
Although it's not perfect, with the 4K video capture itself in need of some tweaking and some of the custom functionality in need of work, the FZ1000 is a pleasure to use and takes its place alongside some of the very best bridge cameras on the market.
Panasonic Lumix DMC-FZ1000 – Key features
The Panasonic Lumix DMC-FZ1000 offers plenty of features for both stills and video shooters
CMOS sensor
The 1in type, 20.1-million-pixel sensor is unusually large for a bridge camera, and is capable of recording an impresssive amount of detail.
4K video recording
The FX1000 is the first bridge camera to shoot 4K video, with each frame offering 8-million-pixel resolution. It can also record full HD.
Image stabilisation
Panasonic's hybrid 5-axis stabilisation combines optical stabilisation with electronic rotational correction, which is used during movie recording.
25-400mm equivalent zoom range
The zoom can be controlled by a lever around the shutter button, or a ring on the lens barrel.

OLED EVF
The 2.36-million-dot OLED EVF is large, bright and crisp. It can overlay a range of information, including an electronic level.
Fully articulated screen
The LCD can be angled up or down for waist-level or overhead shooting, or rotated to face forwards.