There has been a lot of debate about the impact of AI on photography and the profession of photography, especially with the proliferation of AI tools now built into Photoshop and other popular photo-editing programs.
For Magnum Photos' latest Square Print Sale, the world-famous agency has teamed up with the World Press Photo Foundation to explore what photography means to their members in the age of AI.
The sale, called Written by Light, is based on the premise that what differentiates photography from AI-generated imagery is the skillful use of light. It runs from now until October 22nd and features more than 75 Magnum photographers and 30 World Press Photo-awarded photographers.
AP caught up with Magnum President Cristina de Meddel (above) to find out more about the agency's attitude to the growing influence and popularity of AI-generated images – and why she's calling for the mandatory labelling of AI images in the wider media.
Magnum Photos clearly felt the need to come up with an 'official' response to AI. How worried are you about the impact of AI on Magnum members and their livelihoods?
We are worried about the impact that a misleading use of AI can have on the already wounded credibility of the media more than anything. We are also aware that the change in the industry is inevitable but do not think that as an agency we are in a weak position – on the contrary.
Magnum has always championed the personal voice and angle of its photographers and creativity is not something that is based on computational speed – which is ultimately what AI is about.
If we were a stock photo agency, we would probably be much more exposed to the upcoming shift in the industry. So, what we are doing is positioning ourselves and supporting the initiatives that are pushing for labelling protocols that could prevent manipulation via imagery.
In the same way that it is mandatory to inform consumers about transgenics in the food they buy, it should be mandatory to inform the audience about synthetic images in the information industry.
Is there an argument that Magnum Photos members should also be embracing AI rather than resisting it? What other steps are you taking to 'defend' traditional photography against the spread of AI?
I honestly do not think there is much we could do to 'defend traditional photography against AI,' and I am also not sure we should freeze what photography is, because photography has been many different things since it was born.
Is the current state of photography the one that should be considered 'traditional? If you asked photographers 50 years ago they would certainly not agree. At Magnum we do not want to raise our voices against the use of AI to create images… our photographers are invited to experiment with it if that is the creative path they choose, but we will always stand for clear labelling and identification of images that were created by a computer and not by the intention, craft and unique angle of our photographers. And even more so when the images are meant to report and have an informative nature.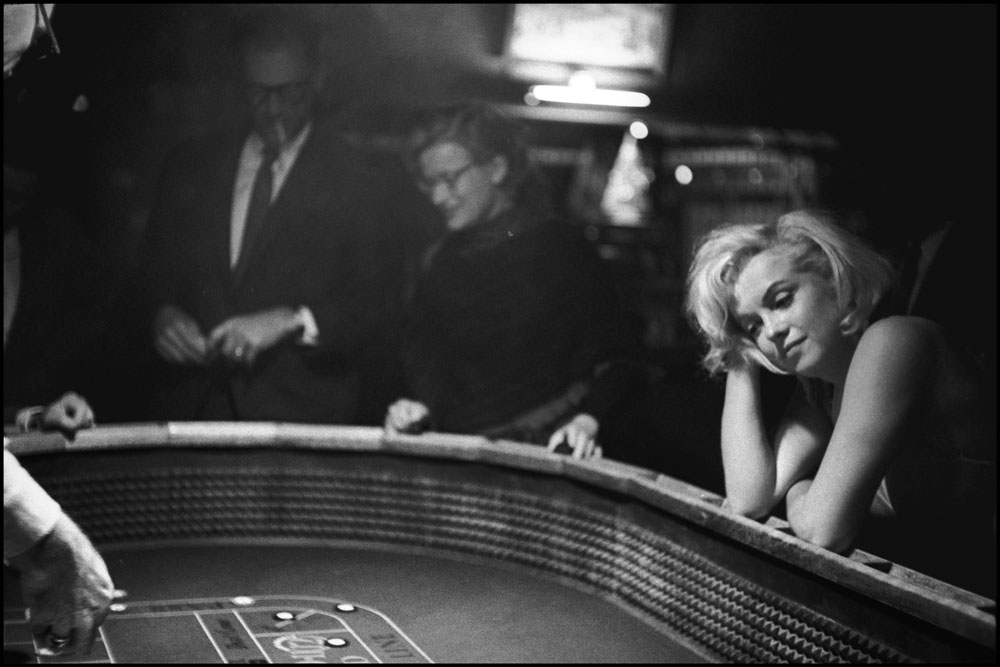 The estates of some very famous deceased photographers have also contributed images. Credit: Estate of Eve Arnold / Magnum Photos
What do you think about the impact of AI on photography? Join the debate on our social media channels. 
---
From Magnum Photos
For the latest Square Print Sale, photographers from around the world explore what photography means to them in the age of artificial intelligence
Magnum Photos partners with the World Press Photo Foundation for their upcoming Square Print Sale: Written by Light, which will take place this fall (October 16–22). More than 75 Magnum photographers and estates are joined by an additional 30 World Press Photo awarded photographers from around the world, and together they seek to celebrate the medium of photography through a collaborative curation of over 100 images.
Inspired by the growing number of conversations around the use of artificially-generated images online and the lack of regulation surrounding text-to-image generators, the curation for this sale — made up of one image by each participating photographer or estate — seeks to celebrate the fundamental difference between the practice of these photographers and AI-generated images: the use of light.
"Through this curation, we want to pay tribute and celebrate what really makes our photographs different from an artificially-generated image," explains Magnum president, Cristina de Middel. "As photographers, we were all, at some point, seduced by light and the possibilities of capturing it in our own unique way. The time feels right to go back to our roots in the practice and reflect on the very origins of our photographic practice, to the camera obscura, and how an image is recorded by the impact of light on a surface."
The result is a collection of more than 100 images that celebrate the act of photography. Some explore the experience of being present and shooting an image — often in incredulous or unexpected circumstances. Others pay tribute to light through moments of transient glory. Alessandra Sanguinetti selects an image titled "The Models," of Argentinian protagonists Guille and Belinda as they pose in front of a white wall with a bouquet of fresh flowers, illuminated by the rays of light coming from the window behind them.
And from Sergio Larrain's archive, a flock of birds is transformed into a pattern of eerie shadows against the grey skies as they burst into flight in Trafalgar Square, London in 1959.
The partnership was inspired by several members of Magnum Photos and World Press Photo who met in the context of a working group around new labeling standards for visual journalism. "We have partnered with Magnum Photos to honor and double down on our support for photojournalism that captures fair and accurate representations of what the photographer witnessed," says Joumana El Zein Khoury, executive director of World Press Photo. "I hope these images will help prompt wider discussions around the differences between AI-generated images and photography."
Guest photographers for this sale include previous winners of the renowned World Press Photo Contest — an annual competition that has been held since 1955 to recognize and celebrate the best photojournalism and documentary photography produced that year.
Awarded in the 2023 Contest for the Africa region, M'hammed Kilito, contributes an image of the very last group of palm trees still standing in what used to be the Tanseest Oasis in southern Morocco, from the long-term project Before It's Gone.
And from Palestinian photographer Fatima Shbair, we see an image of Palestinian children gathering around soft candlelight in Beit Lahia, Gaza during a fragile ceasefire following an 11-day conflict, winner in the 2022 Contest.
Each image will be available to purchase as a limited-edition 6×6″ print throughout the duration of the online sale in October.
---
Further reading
Photographers – don't panic about AI make it work for you
Getty Images launches AI image generator
Latest Photoshop version adds Generative Fill AI tools