Adobe has unveiled new versions of Photoshop Elements and Premiere Elements. These are subscription-free standalone programs, one for still images and one for video, rather than part of the monthly Creative Cloud subscription
Adobe Photoshop Elements and Adobe Premiere Elements have been around for a long time, being more beginner-friendly standalone versions of Photoshop and Premiere Pro, which you can only now get as part of an Adobe Creative Cloud subscription (click here if you are looking for more subscription-free photo editing software). Photoshop and Premiere Elements are the latest Adobe programs to get more AI-powered features, which we summarise below.
Adobe Photoshop Elements 2024
The interface of Photoshop Elements has been freshened up, with more modern fonts, icons, buttons, and colours that are easier on the eye. In addition, you can choose from light and dark mode options.
More significantly, there are a range of new AI-driven features from Adobe, including the ability to select a sky or background with one click for easier editing. Popular one-click edits are also now gathered in one place, enabling you to blur or remove a background, smooth out skin, colourise a photo and more. There is also a new one-click tool for enhancing compressed JPEGs in the Quick Actions panel.
Then there is the Match Colour feature, which enables you to match the colours in your image to an Adobe preset, or the colours in one of your existing images. It's a simple way to experiment with colour grading, in other words.
Feeling artistic? The new AI-powered Artistic Effect option now enables you to add effects inspired by famous works of art or popular art styles. Working with text has been made easier too, and the program now lets you align text horizontally, vertically, or on a path or a shape. You can also warp it and style it with gradients, textures, and patterns.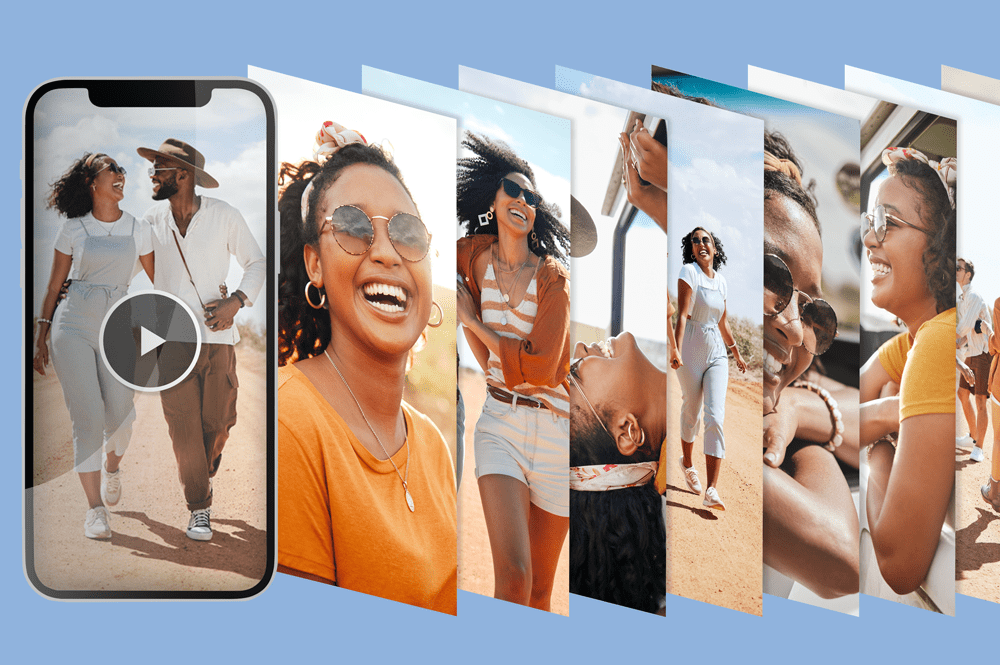 It is now possible to create Photo Reels (above) from your images in Photoshop Elements, each with their own text, effects and graphics, and these can be saved as MP4 or GIF files. You can also access Adobe Stock images from within the Photoshop Elements interface if you need to add extra visual elements to a collage or inspiring quote graphic, for example.
In the mobile version of Photoshop Elements (Adobe Elements Mobile) you can now automatically improve tone, remove backgrounds, fix white balance, and more with one-click Quick Actions. Note this is still at the beta stage, however.
Adobe Premiere Elements 2024
The interface for Premiere Elements has also been spruced up and more powerful colour matching tools added. Another key addition is Highlight Reels (below), an AI-powered feature that automatically creates mini videos from your footage by focusing on motion and close-ups.
The audio tools in Premiere Elements have been beefed up too, with new effects including Reverb, Vocal Enhancer, and DeHummer, all of which are self explanatory.
---
Further reading
How to edit photos – beginners guide to Photoshop Elements
Adobe Photoshop review
DaVinci Resolve vs Premiere Pro