The Google Pixel 7 Pro has been sitting proudly on our list of best smartphones for photographers for a while. We thought it was fantastic – but now the Google Pixel 8 Pro is here, we can see that there's been a number of improvements even to something which is already excellent. Despite that, let's compare the Google Pixel 8 Pro vs Google Pixel 7 Pro in detail.
How much better is it? If you've already got a 7 Pro, should you be considering upgrading? Since the 7 Pro is still widely on sale, you can also save money by opting for the older model too. In this piece, we'll be looking at how the two models stack up against each other to see whether it's worth investing in the more expensive model or not.
It's pretty obvious that the 8 Pro is going to come out as the better model here, but read on to find out just how big those differences are…
Google Pixel 8 Pro vs Google Pixel 7 Pro: Camera specs
Both the Pixel 8 Pro and its predecessor the 7 Pro feature a triple-lens setup, but there have been some improvements to the individual lenses.
For the main lens, both are 50MP 1/1.31" devices, but the newer Pixel 8 Pro has an f/1.67 lens, compared to the f/1.85 lens of the Pixel 7 Pro – it's not a huge difference though, so it's unlikely to have too much of an impact in most scenarios. Both offer a 25mm equivalent focal length.
On both you'll also find a 5x f/3.5 telephoto lens, both having a 1/2.55" 48MP sensor. For some reason, the Pixel 7 Pro's listed equivalent focal length is 120mm, while the newer Pixel 8 pro is slightly shorter at 113mm – though in real-world shooting, the angle of view appears to be more or less the same.
There has been a significant update for the ultrawide lens. For the Pixel 7 Pro we have a 12MP sensor with an f/2.2 lens, whereas now we have a 48MP sensor with an f/2.0 lens – we might therefore see some of the biggest differences using this lens.
You can zoom up to 30x using digital zoom with either the 8 Pro or the 7 Pro.
The selfie camera sees some difference too. The 7 Pro had a 10.8MP f/2.2 fixed focus device, but the 8 Pro has a 10.5MP f/2.2 AF device – so you should see some sharper results.
For video, you get 4K video with either, with the addition of 24fps for the 8 Pro to 30/60fps you get from the 7 Pro. Full HD a range of other video options are also available for both models.
Google Pixel 8 Pro vs Google Pixel 7 Pro: Camera apps and shooting modes
As you'd expect, the native camera apps between these two models are very similar. The Pixel 8 Pro was the first smartphone to feature Android 14, which as part of that, Photo and Video features are now separated in the main app.
You can however upgrade the Pixel 7 Pro to Android 14 if you want that same functionality, so it's not necessarily a difference as such – unless you are happy to stick with Android 13 for some reason.
A big new introduction for the Pixel 8 Pro however is a new "Pro" mode, which is not available on the 7 Pro – it's possible that it could be added at a later stage. With this, you now have the ability to change things like shutter speed, white balance and so on. There's also a new Super Res Zoom which hasn't actually been rolled out yet for any device.
Most of the other shooting modes and so on can be found on both models, such as Night Sight (which includes astrophotography options), Portrait and Action Pan/Long Exposure.
New for the Pixel 8 Pro is the addition of extra editing features, such as Best Take and Magic Editor. With the former, you can swap faces around from a series of group shots to make sure everyone has the best expression and so on. With Magic Editor, you can do things like move objects around make them bigger/smaller in a frame. For now at least, these new features are not found on the 7 Pro – but again, it's possible that an update at some point will bring it to older models.
Google Pixel 8 Pro vs Google Pixel 7 Pro: General image quality
We loved the Pixel 7 Pro, with it producing excellent general image quality. With the main sensor in the new Pixel 8 Pro being similar to its predecessor, we didn't expect a massive jump in quality – and that has proven to be the case.
Overall, images in good light have plenty of detail, good colours and well-balanced exposures. In our tests, the new Pixel 8 Pro seems to move towards "realistic" than the more vibrant look of the Pixel 7 Pro on occasion, but both are great results.
With an upgraded ultrawide, there's some difference that can be seen if you zoom in – there's more detail in shots from the 8 Pro, but this isn't overly obvious if you're just looking at your shots at normal size on your phone.
In scenes where there is some artificial light present, the newer Pixel 8 Pro is better at "correcting" yellowish tones. In our example here, you might assume it's done a better job than the 7 Pro – however the picture from the 7 Pro is probably truer to life. You can control white balance to your own preference if you'd rather, though.
Google Pixel 8 Pro vs Google Pixel 7 Pro: Zoom
With both of these phones having a 5x zoom lens, and both with a 48MP 1/2.55" sensor we might expect results from both to be roughly the same. On occasion, that proves to be the case. However, several times during my test, while thinking I was shooting with the 5x lens with the 7 Pro, it seems the phone had switched to a crop of the 1x lens. This only became apparent when checking the EXIF data after the fact, and you can clearly see there's a big drop in quality when comparing those from the 5x lens of the 8 Pro.
I presume this is because the 8 Pro's telephoto lens has an f/2.8 lens, whereas the 7 Pro's telephoto lens is narrower at f/3.5. Even though the light wasn't low, perhaps the phone has decided it would be better to shoot with the wider aperture 1x lens and crop. If you're only looking on your phone, the difference isn't quite so obvious, but on a computer, it's quite marked.
As this never happened with the Pixel 8 Pro, this is much more reliable for zoom shots – so if it's something you do a lot, it's worth thinking about.
For digital zoom, the specifications are the same – you can go up to 30x with either model. Up to around 10x yields usable results, with slightly better results from the 8 Pro, as we'd expect – but this is only really noticeable if you're examining very closely. At 30x, results are very similar to each other – with neither being anything you'd probably want to use except for a straight record shot.
Google Pixel 8 Pro vs Google Pixel 7 Pro: Low Light
We already thought the Pixel 7 Pro was excellent for low light, indeed, it's one the best you can buy. However, there are some clear improvements you can see with the Pixel 8 Pro, which goes to show that there's always tweaks that can be made.
When shooting with the 1x lens from the Pixel 7 Pro, we can see that there's some lens flare visible, which doesn't seem to be a problem at all for the 8 Pro. The colours from the 8 Pro are also more pleasing, and there's a little more detail in the shadow areas.
The two images from the 7 Pro and the 8 Pro shot using the ultrawide in low light are fairly strikingly different. The colours are oversaturated with the 7 Pro, while the 8 Pro is much more realistic. There's also more detail from the newer phone overall, with much more also visible in the shadow areas.
Using the 5x lens – interestingly, when using Night Sight, the Pixel hasn't reverted to the 1x lens as it did in our zoom test. Still however, the results from the newer phone are much better, with more detail and an overall better exposure.
Google Pixel 8 Pro vs Google Pixel 7 Pro: Macro
The macro mode on either phone works in exactly the same way – it will engage when you bring the phone close to a subject, such as in this case when I was almost touching the beads with the phone's lenses.
Both here are fairly evenly matched, with perhaps a touch more detail in certain areas with the Pixel 8 Pro. The colours seem to be a little warmer from the 8 Pro for some reason in this example, and there's less noise too. These are only really visible differences if you examine closely, so either would make a good choice if you're looking to shoot macro regularly.
Google Pixel 8 Pro vs Google Pixel 7 Pro: Portraits
A dedicated portrait mode is found on both the 7 Pro and 8 Pro, allowing you to create shallow depth of field effects.
With both the 7 Pro and the 8 Pro, you're offered the choice of two focal lengths. You get 1x and 2x with the 7 Pro, and 1.5x and 2x with the 8 Pro. It's disappointing that there's no 3x or 5x option, such as we see with other smartphones like the Samsung S23 Ultra or the iPhone 15 Pro Max.
Also, strangely, the 2x option from the 8 Pro is much wider than the 2x option from the 7 Pro, despite both having a 25mm 1x lens.
The results from the Pixel 8 Pro, aside from being wider, are more natural, with a better drop off from the subject to the background.
You can adjust the focus point and the amount of blur after the fact with either model. It's a shame not to be able to get closer to the subject with the Pixel 8 Pro – but of course you could always physically move closer if you prefer.
It's possible to mix Night and Portrait mode together with either model. With both you get fairly similar results in low light, with the best results coming from the 1x or 1.5x option in either case. The Pixel 8 Pro has very slightly more detail, but there's not a lot in it.
The selfie camera for the Pixel 8 Pro now includes autofocus. That means the results are generally sharper – arguably this is less flattering, but either way, optically at least, it's certainly a better performance.
Google Pixel 8 Pro vs Google Pixel 7 Pro: Video
There hasn't been a lot of changes made to the video specifications between the 7 Pro and the 8 Pro. Both offer 4K video recording, but you now get the option to shoot at 24fps as well as 30/60fps.
Both produce great video results, with good detail, exposure and a video stabilisation system that works well for most everyday uses. An additional stabilisation system, Pan, is available on both devices.
Here, results are pretty evenly matched – with a lack of advanced / pro video options, neither is perhaps something that advanced content creators will be looking towards, but for most ordinary users, both put in a good performance.
Google Pixel 8 Pro vs Google Pixel 7 Pro: Screen and Design
The design differences between these two models are relatively minimal, but there are some things to take note of.
While both have a 6.7" screen, for the Pixel 7 Pro it is a QHD+ LTPO OLED with 3120 x 1440 pixels at 512ppi, with 120Hz and with a maximum brightness of 1500 nits. For the Pixel 7 Pro, it's a 6.7" Super Actua screen with 2992 x 1344 pixels at 489ppi, with 120Hz and a maximum brightness of 2400 nits. So that's a very slight reduction in resolution, but quite a jump in brightness.
Dimensions wise, we've got a very similar design. The Pixel 8 Pro is 162.6 x 76.5 x 8.8mm, compared to the 7 Pro's 162.9 x 76.6 x 7.6mm. However, there is just enough of a difference to mean your old cases might not fit properly.
The Pixel 8 Pro uses Corning Gorilla Glass Victus 2 for the screen, while the 7 Pro has the older Gorilla Glass Victus 1, so potentially the newer model is slightly more scratch resistant. Both have IP68 ratings for waterproofing.
Aesthetically, Google has rounded off the corners more for the Pixel 8 Pro. It looks a little more like an iPhone in design, but it's not a huge difference. Whether you like the old or new design is, of course, up to you.
The visor-like camera housing from the older model remains here for the newer model. One slightly strange new addition for the 8 Pro however is a temperature sensor. This has nothing to do with the camera, but rather you can use it to measure how hot certain things are – such as liquids (it's not approved for human use).
Google Pixel 8 Pro vs Google Pixel 7 Pro: Battery life, charging and storage
These two models are practically identical when it comes to battery life, charging and storage.
The Pixel 8 Pro has a 5050mAh battery, while the 7 Pro has a 5000mAh battery. This very minor bump up has done nothing to affect the quoted battery life of "24 hours" – note that this applies to video playback, not normal real-world usage. In real-terms, we've found that both easily last a usual day (wake up to bed time) unless you're doing something very intensive with it.
Wireless and Fast Charging is available for both devices, though neither come with a charging plug of any kind – just a USB-C cable.
Storage options for both comprise of 128GB, 256GB or 512GB, with no option to expand further.
Google Pixel 8 Pro vs Google Pixel 7 Pro: Price
Google Pixels have always been known for their relatively value compared to other high-end smartphones, particularly those from the big two in the market – Samsung and Apple.
We have see a price hike for the Pixel 8 Pro, with the cheapest price now $999/£999. While this compares very well still with models such as the Samsung S23 Ultra and the iPhone 15 Pro Max, next to the Pixel 7 Pro it's quite a jump.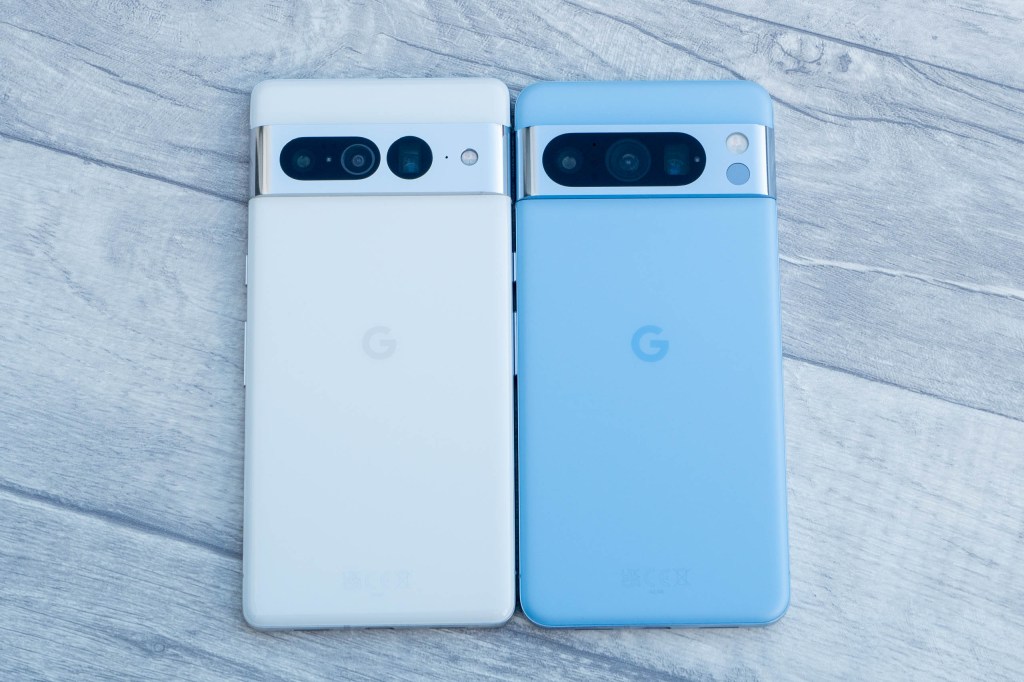 The 7 Pro's starting price is £849/$899, and as it's still on sale very widely – including from Google's own store – it's worth considering if you're looking to save cash, or don't feel you'll need some of the improvements on offer from the newer model.
That said, you could look at it from a longevity point of view – spending the extra money now might see you keep the phone for a bit longer. We are already seeing some price drops for the Pixel 8 Pro too, so it's worth keeping an eye on the latest deals.
Google Pixel 8 Pro vs Google Pixel 7 Pro: Verdict
The Pixel 7 Pro was one of our picks for best smartphones for photographers, and it comes as no surprise that the 8 Pro manages to outdo it, with some noticeable upgrades in certain areas.
However, whether that means you need to rush out and ditch your older phone is another matter entirely. If you're already using a 7 Pro, while you will of course see some improvements, they're perhaps not overly worth paying for, especially if you're on any kind of tight budget.
That said, if you're currently using an older Pixel model, then the jump up will be much more noticeable and therefore more worth it.
You might also want to consider choosing the 7 Pro in the first place if you're coming from either an older model, or a different brand entirely. The 7 Pro is still available for sale, either directly from Google or from other retailers. It makes for an excellent phone and can save you some cash, again, good if you're on a budget.
All in all, although the 8 Pro is obviously the superior phone, both are excellent choices, so it all comes down to how much you want to spend. Which will you be choosing?
Related reading:
---
Follow AP on Facebook, Twitter, Instagram, YouTube and TikTok.