Without the distraction of colour, black and white photography accentuates the textures, patterns, and shapes of buildings. The interplay of light and shadows becomes more prominent, enhancing the visual impact and adding depth to the image. Billy Currie shares some expert tips on how to capture striking images of buildings in black and white. 
Billy came to photography relatively late, as he explains. 'I got my first camera, a Canon DSLR, around 2008, and got to grips with it pretty quickly. In fact, the only reason I bought a camera was to take some images of my dog! But I soon fell in love with photography, especially living in Scotland, where there are so many amazing places to shoot.' Billy was fortunate in that he got to grips with the more technical side of photography relatively quickly.
Why the real magic happens at the editing stage
'I work in IT and am used to computers and logic, so I consider myself to be a fairly technical person. Making the transition to shooting in manual mode for me was actually pretty straightforward. I soon appreciated what a good-quality raw file was and the importance of exposing the image properly, and getting as much detail as possible while preserving shadows and highlights. Once I understand this it all came pretty quickly.
But I was still disappointed with the results I was getting; they just weren't the images I wanted to capture. That made me realise that the camera was only the very first step in making the 'stunning' images I aspired to. I realised that the skill in black and white building photography was very much in the darkroom – even though we are in the digital age, the principles are the same.'
Expanding on this, Billy reckons it only took him a couple of hours to learn how to get an optimum-quality raw file, getting to grips with the histogram and keeping the ISO low. He had something of a 'eureka' moment when he realised that for his architectural photography, the real challenge was making the post-processing as good as possible.
'I was really keen to develop my digital darkroom skills – these were what Ansel Adams used with landscapes back in the film days, and the principles haven't really changed that much. So for me, the raw image is only the beginning – it's what you do with the pixels afterwards that counts. Some photographers would dispute this, but it's worked for me.'
While Billy enjoys other genres, he became hooked on architectural photography after seeing the work of the Dutch photographer, Joel Tjintjelaar. 'Joel's artistic architectural work strongly appealed to me. I was blown away – I'd never seen such interesting pictures of buildings before, with such great post-processing.'
Why modern architecture suits black and white building photography
We hear a lot about learning to 'see' in black & white, and developing a sense of which subjects are instantly suited to stripping away the colour. This is not a skill that comes easily to everyone, however, and Billy is a good example.
'I still find it hard to "see" in black & white. When you strip away the colour from an image using a photo-editing program, all you are left with is shades of dark and light – basically, contrast. So I begin by taking away the colour from an image and then I start playing with the contrast. It either works or it doesn't, so don't beat yourself up if you need to do a bit of experimentation with an architectural image to decide whether it's going to work in black & white or not. Maybe it's because I am more of a logical, technical person rather than an immediately artistic one!'
When it comes to choosing which buildings are suited to black & white, Billy is a big fan of more modern structures. 'Modern architecture tends to have nice lines and not look too busy. Older buildings can feature a lot of decoration, which can be distracting. They often have to be edited in a different way.
As mentioned, my personal black & white style puts a lot of emphasis on contrast, and I find modern buildings lend themselves better to this approach. There's generally more scope with newer buildings.'
As can be seen in the panel on Billy's kit, he likes to keep things relatively simple and another key accessory for him is a good pair of walking shoes. 'When I arrive at a building, I don't just immediately pick one spot and stay there. I spend a bit of time walking around, checking out possible compositions by looking through my camera's viewfinder or turning on the live view on the rear screen.
It's important to keep an open mind at this stage. Sometimes the whole building may be stunning on its own, shot from the front, but with others, a low angle or an angle from the side may look better. I am always thinking of how I can "constrain" the shape of a building through the viewfinder, experimenting with different angles until I've found the one that seems to work best.'
What is the best time of day for black and white building photography?
When it comes to choosing the best time of day to shoot, Billy reckons his particular shooting style and the emphasis he places on really 'working up' the raw file at the post-
processing stage, which gives him a lot of flexibility.
'A lot of other photographers prefer dawn or sunset when the ambient light is balanced, but I am quite happy to go out shooting buildings during the whole day. It doesn't matter to me so much if the light is harsh, as I take the correct exposure to allow me to deal with that light. Certainly, going out in the morning means there are fewer people around, but otherwise I don't limit myself to shooting at certain times. When you can control light and shadow in the digital darkroom, you have a lot more options.'
---
Top tips for better black and white building photography
Darkroom magic
A well-exposed raw file is just the beginning. Effective digital darkroom skills are essential with black & white architecture, particularly when it comes to working with contrast. Film photographers used darkroom skills, so we are simply doing the same in the digital age.
Be square
Try the square format, which really suits a lot of modern architecture. I can set up the square aspect ratio in live view on my Canon DSLR, which makes it easier to choose your subject and angles. Then I crop the raw file to the square format in Lightroom.
Focus on foreground
Don't forget to make use of the foreground in your images, and try to avoid a very conventional, 'tourist' view of a modern building. Include railings, bollards, benches and seats… Street furniture, or even a bus, can give a perfect sense of scale.
Attention to detail
As well as wide-angle shots, include interesting details too – sometimes less is more. A lot of modern architecture features some very visually interesting details. As mentioned in the main feature, walk around a building and thoroughly explore it before starting to shoot.
If you are looking to purchase a wide-angle lens, here are some top recommendations.
Stay subtle
Don't go over the top with your processing effects and learn when to back off. Strong contrast is key to my style, but sometimes extreme contrast can look terrible so don't be afraid to pull it back – this comes with experience. Ask for feedback too.
Know your rights
It's easy to get intimidated by officious security guards, but you are within your rights to shoot a lot of buildings – though care needs to be taken with government ones. See our full guide to street photography and the law. 
---
How to edit black and white building photography
For Billy, effective post-processing is key to getting really stand-out black & white architectural images. He begins by loading his raw images into Lightroom, where he does a basic black & white conversion.
'You are then left with a range of tones, which you can darken or lighten as appropriate. For me, the big skill in post-processing is learning how to increase or decrease contrast, in a way that best suits the image. In Lightroom, I will normally do a very "bland" black & white conversion and actually reduce the contrast as I will work on this later.'
Billy then turns to Photoshop, rather than trying to do everything in Lightroom. 'I begin by masking all the areas of the image that I need to work on individually – the sky, pavement, grass, street furniture and so on. This can take me a few hours, but once I have made the specific masks and saved them, I can fine-tune specific areas of the image as necessary.
'To make a dark area stand out, I will lighten the area behind it, and so on. If there is a flat area on a building, running a gradient through it can radically change how it looks. A gradient is about making one side lighter, the other darker, so for me post-processing is about really understanding contrast and learning how to work with it. Too much contrast can look terrible, and sometimes not enough can work against the image, too – you need to learn how to manipulate dark and light by becoming a master of contrast, working in contrast in the areas of the image you've selected, and the areas around it.'
We have a full guide to making selections and masking in Photoshop here.
Be careful with sharpening and higher ISOs
When it comes to sharpening and using higher ISOs, Billy advises caution. 'For me, if you use a half-decent lens, as well as the optimal camera settings for the best exposure, I find that I don't need to sharpen too much. I have found that when processing a raw file of a building, extra sharpening doesn't always add a significant gain, but it's very easy to ruin an image by oversharpening.'
He's also conservative with his ISO settings. 'I never push the ISO much beyond 200. I always use a tripod and I always use long exposures, so shooting in low light is never a major problem for me. Doing a long exposure often flattens out the light as well, as the sun moves, or goes in and out of clouds A decent dark ND filter helps too.'
Billy's shooting technique also helps to minimise noise. 'I tend to expose an image to the very right-hand side of the histogram so I am capturing as much data as possible, stopping before I clip any whites and blow out the highlights. I will sometimes bracket my images too, and between the three bracketed images, I know I have captured every tone comfortably. So even if I am boosting contrast in areas, I won't be plagued by noise.'
What are the best editing programs for black and white building shots?
Billy tends to find Lightroom and Photoshop offer everything he needs for effective post-processing. 'When I started out, other editing tools such as Silver Efex weren't so developed as they are now, and I still don't tend to use them. When my students use Silver Efex, for example, they tend to be limited by the available filters and presets within the program, and some of them can add a lot of noise. If you can learn to create these black & white effects manually, using Lightroom and Photoshop, you have no limitations at all.'
Check out our get-started guide to black and white photo editing in Lightroom
---
Billy Currie's favourite destinations for better black and white building photography
London
London has some stunning modern structures and I love the Lloyd's Building. All the infrastructure on the outside of the building, and the cables, can generate some fantastic images. The Tower 42 building is another great subject – if you can get underneath with a wide angle lens, you can separate it from the other buildings and get great results.
Glasgow
This is my home town, and the SEC Armadillo and the Hydro are just fantastic – they sit next to each other and provide lots of creative opportunities. The SEC Armadillo is very sharp, with sweeping lines, while the Hydro is much softer. I've also got great images of much smaller and easier-to-overlook buildings in the city, just by walking around.
New York
The beauty of New York is the skyline – there are many places where you can get different views of the whole skyline, and this can top any individual building. It's easy to get lots of different angles on the skyline; you can shoot from Manhattan, for example, or cross the river. The New York skyline is recognisable from every direction, so it's great to try and work it into your shots.
Dubai
This is another unique destination and has the Burj Khalifa, the tallest building in the world. Don't worry if you can't get to some of these destinations, however, as you can often get good images of much smaller, less-famous buildings in a town or city nearer to you. Remember to keep an open mind, and pre-visualise the image by looking through your viewfinder or using live view.
---
What cameras and lenses to use
Canon EOS-1D X Mark II
This DSLR may be a few years old now but I find it does everything I need, with the 20.2MP full-frame sensor delivering detailed images. Before buying this I also used a Canon EOS 5D, so you don't always need the very latest gear. I will probably change to mirrorless at some point, but right now I am happy with my DSLRs.
Minimal lenses
I don't feel the need to carry around a big bag of lenses and find a 24mm prime is fine for most of my modern building shoots. I also like to use a 16mm prime for exaggerating angles. I find these lenses cover a lot of bases for me; I did try using a tilt-and-shift lens and while it was lovely and sharp and sorted out converging verticals, I found it added a slightly different distortion elsewhere. With Photoshop I find I can take away the converging verticals easily, and it saves the expense of investing in tilt-and-shift equipment.
Tripod
I use a tripod as I nearly always shoot at longer exposures. There have been times I've been told by security guards that an area is too busy to set up a tripod, so I also carry around a smaller table-top tripod, enabling me to set up the camera on top of a wall or similar support. I never shoot handheld.
Filters
I have a set of full dark ND filters, rather than using ND grads – a 6, 10 and 16 stop. Between those filters, I find I can work in most conditions, and I have dropped the ISO all the way down to 50 with a 16-stop filter while still getting six or eight-minute exposures. I also find that using a tripod and filters slows you down and makes you more mindful of the framing and effects that you are trying to achieve. If you are standing there for four minutes or so waiting for a long exposure, you don't tend to overshoot so much.
For more tips, see our guide to the best cameras for black and white photography
---
More about Billy Currie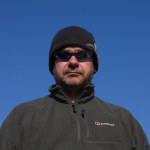 Glasgow-based Billy Currie specialises in black & white architectural photography and emphasises the importance of effective post-processing. Billy won both the UK and International rounds of the EISA Maestro competition in 2015 and runs regular workshops on architectural photography and post-processing. See his Facebook page for more details.
---
Further reading:
---
Follow AP on Facebook, Twitter, Instagram, YouTube and TikTok.