The Panasonic Lumix G100 / G110 now finds itself as the entry-level point into its Micro Four Thirds range. It's aim is to merge creativity with affordability, with a camera that is designed to appeal to the latest generation of users who are just as at home shooting video as they are taking photographs.
At a glance
20.3MP Four Thirds sensor
ISO100-ISO25600 available (extended)
3inch 1.84M dot vari-angle touchscreen
3.68M-dot equiv, 0.73x magnification, electronic viewfinder
49 AF points (contrast detection)
4K video recording
Panasonic Lumix G100 / G110 Features
It will come as no surprise that the G100 features a 20.3MP Four Thirds sensor similar to that used in the older G90, which is no doubt similar, if not the same, as the sensor found in the top-end GH5 and G9.
With Panasonic actively promoting the G100 as being designed for vloggers, the camera has both Full HD and 4K video capture at up to 30fps, albeit with a slight crop. Stop motion and time-lapse options are also available for those who want to get really creative with their moving footage.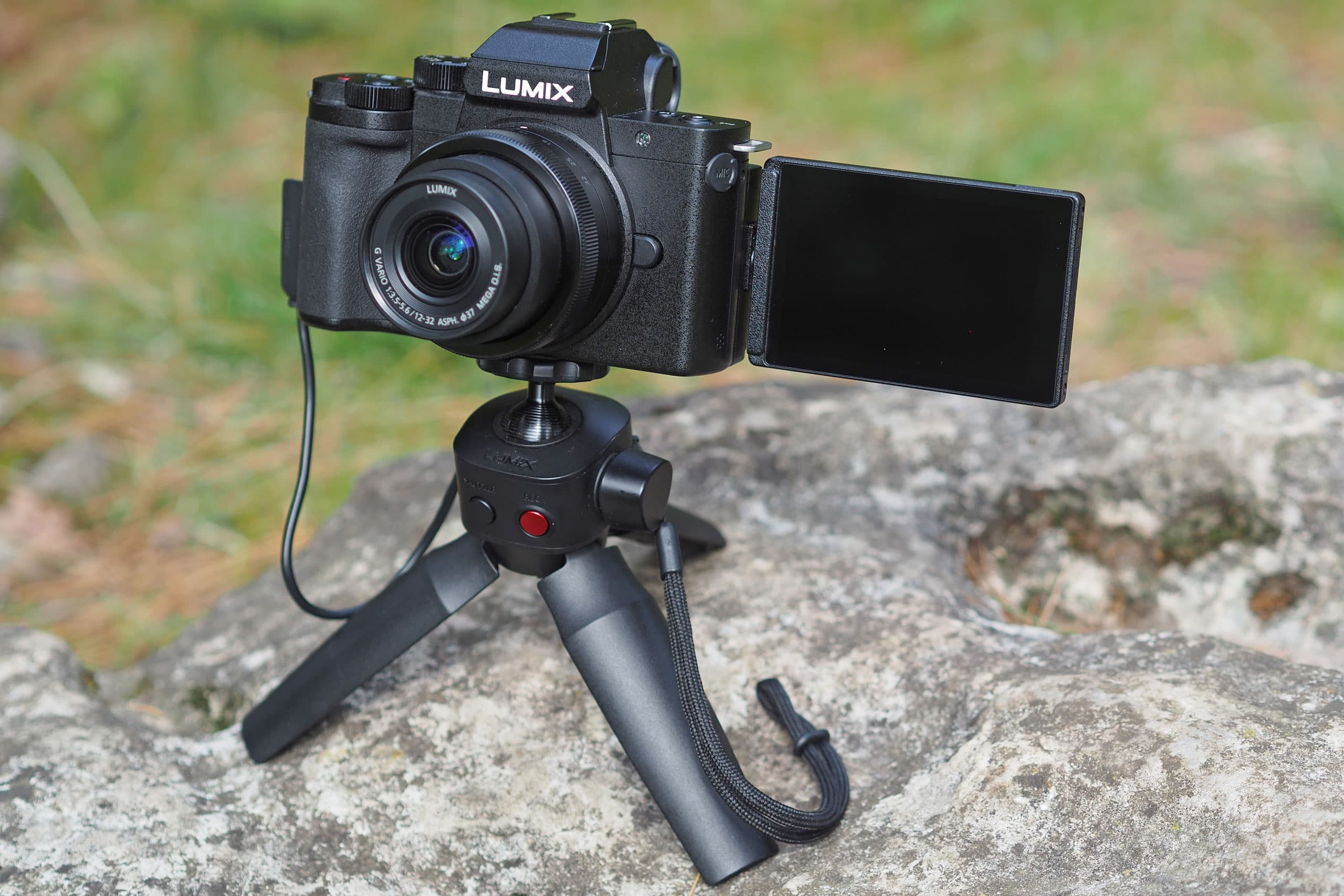 Perhaps the most interesting new feature on the camera is the multiple microphone array, which is powered by Nokia's OZO audio. Originally designed for Nokia's now defunct 360° OZO camera, it enables multiple microphones to be used to capture sound in different directions. The idea is to be able to isolate particular sounds, such as person talking to a camera, from any background noise. In the G100 it works in combination with the Face Detection to focus the sound on the subject talking to camera.
Panasonic also offers the DMW-SHGR1 handle (£89), which can be used either as a table top tripod or a grip for vlogging, with buttons to start and stop video capture.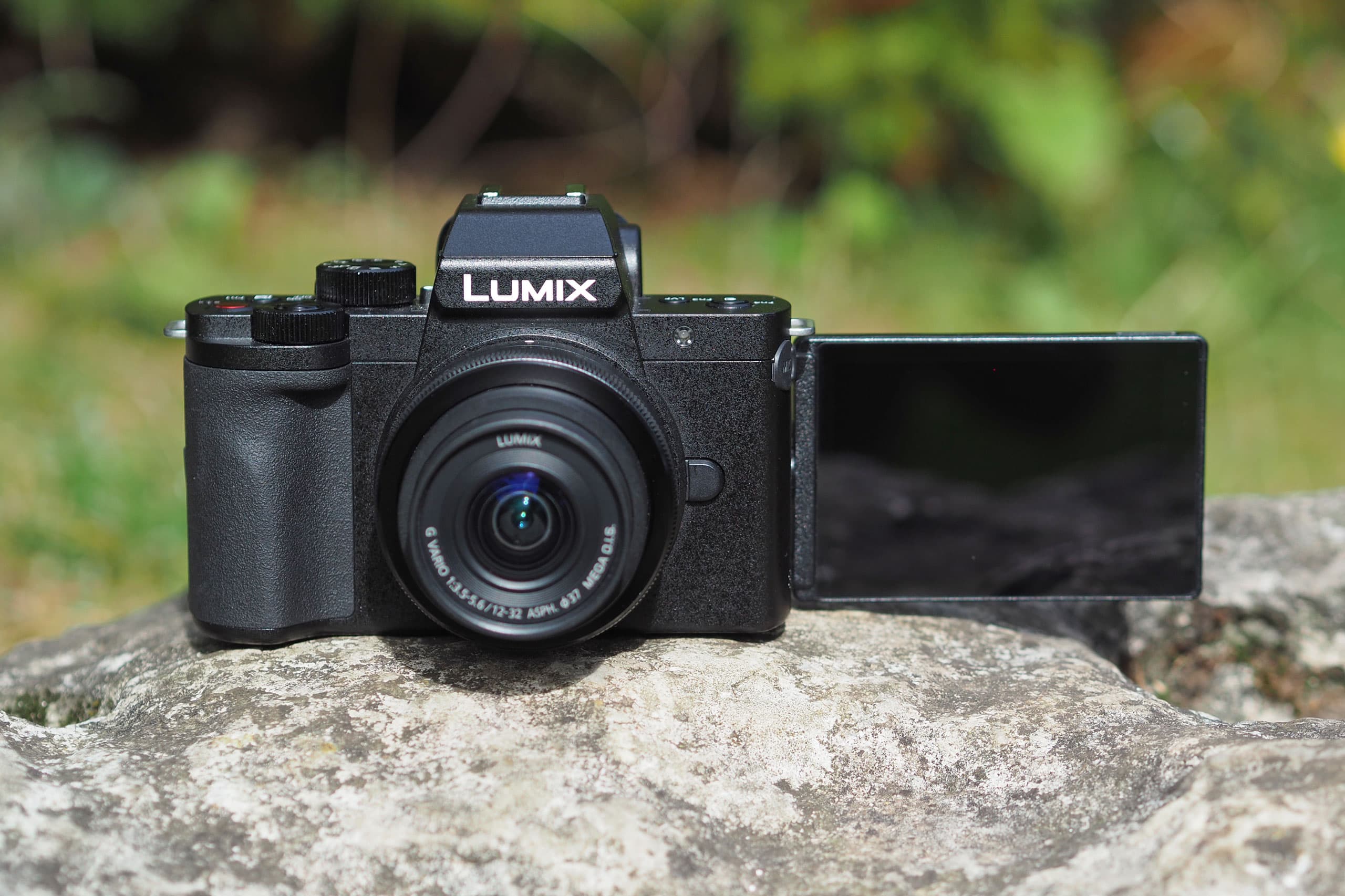 Although the image stabilisation is touted as being 5-axis, this isn't the entire story. The camera has no mechanical sensor shift mechanism, instead relying on 2-axis optical stabilisation in its lenses. An in-camera gyroscope calculates camera movement, which then guides electronic stabilisation when shooting video. This stabilises the image by cropping in to each frame and adjusting its position to counter movement. Whilst it is effective, adding a crop to a 4K shooting mode that is already cropped is far from ideal. At it most extreme, the 4K crop with the highest stabilisation setting is around 1.8x, meaning vloggers will need a lenses wider than the 12-32mm kit zoom to get that arms length shooting distance they are used to. You would expect a camera touted as being for vlogging to have slightly better 4K performance, though it isn't unique at this price point, with the EOS M50 also having a significant crop in 4K.
Interestingly, and no doubt in an attempt to keep size and cost to a minimum, the G100 features a fairly basic shutter mechanism that consists only of a rear curtain. The image capture process is started electronically, with the rear curtain stopping the exposure. This means that flash sync is a rather feeble 1/50th sec, but as this isn't the sort of camera that's likely to be used much with flashguns, it shouldn't be too much of an issue.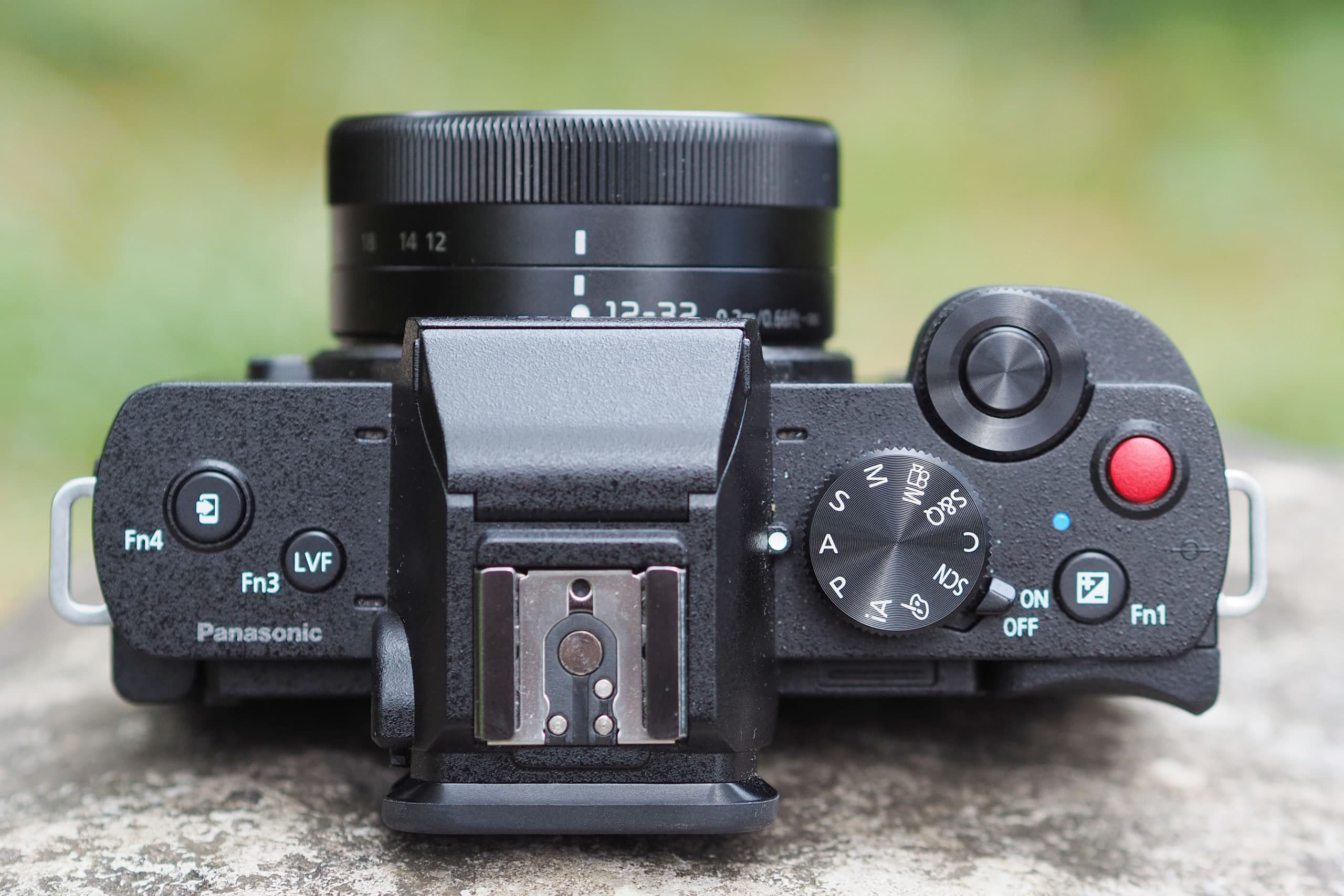 Panasonic Lumix G100 / G110 – Focal Points
Viewfinder – The 3.68m-dot equivalent EVF is extremely impressive, especially at this price point
Battery – Powered by the DMW-BLG10E battery, the G100 is rated for 250 shots per change with the EVF. Engaging the Power Save mode can extend this to 900 images.
USB 2.0 – On the side of the camera there is a Micro USB port that can be used either to charge the camera, or to connect the DMW-SHGR1 grip.
Flash + Flash Sync – As well the tiny pop-up flash which has a guide number of 5.1 at ISO 100, there is a hot shoe. However flash sync is only 1/50th sec
SD CARD – Images are recorded to SD cards, which slot into the battery compartment. But there's no speed advantage to be gained by using UHS-II cards.
Connections – As well as USB-2.0 there is also a 3.5mm microphone socket for audio capture and a Micro HDMI for video output. Sadly there is no headphone socket.
Panasonic Lumix G100 / G110 Build and Handling
Aimed at photographers who may be moving up from a smartphone, and wanting to compete against the likes of the Sony ZV-1 and Canon PowerShot G7 X Mark III compact cameras, Panasonic has made the G100 as small as possible, whilst maintaining as many of features of its predecessors as possible.
The G100 is one of the smallest mirrorless cameras that retains a centrally placed EVF, pop-up flash and a hotshoe. With the Sony ZV-1 launched around the same time, it's logical to compare the two; the ZV-1 is smaller, thanks to its 1inch sensor and fixed 24-70mm equivalent zoom lens. However the Lumix G100 has a larger sensor and Micro Four Thirds lens mount. Being able to select from the huge array of MFT lenses is a real selling point, with there being so much room to grow in to the system.
Panasonic is pairing the G100 in a kit with the 12-32mm f/3.5-5.6mm lens for £679. The beauty of this 24-64mm equivalent zoom is that it is collapsible when not in use, making the partnership ideal for travelling.
Despite its size the camera is comfortable to hold with a decent size grip on the front and a thumb rest on the rear. Is also sports a good array of buttons and dials, with a front dial and rear wheel to control exposure settings, as well as direct controls for exposure compensation and white balance. To access other settings there is an onscreen Quick Menu, which can be easily accessed to change settings such as autofocus or picture style. While there may not be all the buttons and dials of a more advanced camera, there is certainly enough to make it comfortable to use, whilst not being intimidating for those starting out.
A total of four buttons can be reassigned to work as function buttons, but two of these are used to change exposure compensation and to access the quick menu. This leaves the viewfinder switch button and image transfer buttons, Fn3 and Fn4, the most likely for reassignment to the user's preference.
Adding another element to the handling is the articulated rear screen, which is touch sensitive. Its ability to face forwards is great for vlogging and selfies, and in this position, pressing the shutter or record button starts a 3 second countdown timer before shooting, which is extremely useful. For photographers, it also makes shooting at awkward angles easier. As with other touchscreens, it isn't always the easiest to use to change settings. But it's incredibly useful for selecting the AF point, particularly when combined with Tracking AF. Simply touch what you want to focus on and let the camera track the subject as it moves around the frame.
Panasonic Lumix G100 / G110 Performance
Let's get it out the way, the smaller size of the 20MP Four Thirds sensor has a slight disadvantage against its numerous competitors with larger 24MP APS-C sized sensors. Conversely G100 has an advantage over the 20MP 1-inch sensors found in the Sony ZV-1 and Canon G7X III compact cameras.
All of that said, I didn't really notice much difference in terms of detail from the lower resolution, and with most of our media consumption being on screens rather than print these days, the resolution is perfectly fine. I was also pleasantly surprised with the dynamic range.
When editing raw files I had enough flexibility to pull back all but the brightest highlights in an image, and shadow recovery was also good, although with a little more noise than I would expect to see compared to an APS-C size sensor. However, once again it is all relative to how the images will be viewed, which given the intended audience of the camera will mostly be online.
Noise was handled well in JPEG images, and while shooting on a bright sunny day at ISO 1600 the luminance noise was noticeable, the camera did a good job of maintaining as much detail as it could. Although the camera has sensitivities up to ISO 25,600 I would avoid using this or ISO 12,800, and would only use ISO 6400 if I really had to. Although noise is well controlled, there is a noticeable drop of in detail from the luminance noise reduction.
In terms of autofocus I was pleasantly surprised by the performance of the G100. It uses Panasonic's Depth From Defocus system, which works with contrast detection AF. I found it to be responsive in single point AF and worked well with the touchscreen. In continuous AF there was a little bit of hunting back and forth when shooting still images, but for moderately moving subjects, like children running around playing, the Tracking AF mode did a good job of keeping up with the subject. It is similar story when shooting video, with the addition of Face and Eye Detection keeping a subject's face in focus, although with the occasional bit of hunting. Again, for the intended audience and price point it performed acceptably.
Panasonic Lumix G100 / G110 Verdict
The entry-level camera market seems to have been a little stagnant for a while, so it is exciting that we are seeing cameras appear that add new features and break with convention in an attempt to appeal to a younger, social-media savvy market. The Panasonic Lumix G100 comes at a very competitive price, with a set of features that is bound to appeal to those that want the freedom to create moving or still images, using a camera that they can take everywhere.
The image quality for both stills and video is good, without necessarily doing anything revolutionary. The crop when shooting stabilised 4K footage may be deal breaker for some, but overall this is a competent camera that will act as a great entry-point in to the Micro Fours Thirds system.
For stills photographers the camera produces good images from a Four Thirds sensor that we have seen used elsewhere, but it does face some tough competition, for example the Fujifilm X-T200 may be preferable for those who want a larger sensor. Panasonic's own G90 is also an option with built-in stabilisation and more controls on the camera body, for an extra £100, or there's also the Olympus OM-D E-M10 IV. Overall, the G100 is good for those who shoot both photos and video, but there may be better options for specialists in one discipline over the other.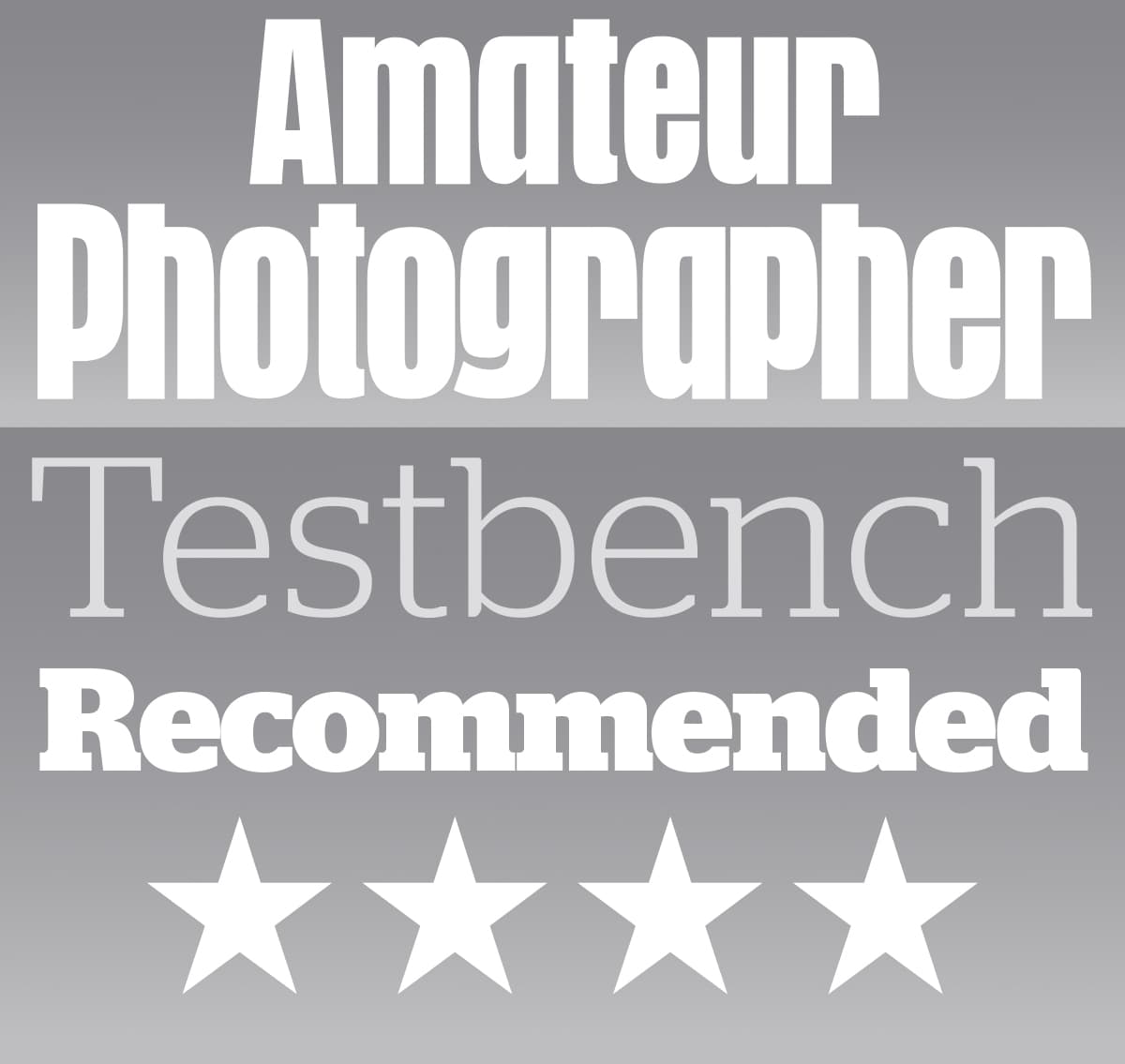 Panasonic Lumix G100 / G110 Full Specifications