The defining characteristic of Olympus and Panasonic's Micro Four Thirds system has always been low size and weight, thanks to the use of a sensor that's slightly more than half the area of the APS-C format, and a quarter that of full frame. But this brings drawbacks with respect to low-light shooting and achieving shallow depth of field with nicely blurred backgrounds. Olympus's response has been to produce three f/1.2 primes in its Pro lens range, whose ultra-large apertures should go some way to offsetting the smaller sensor size. Here we're looking at one of the the best Micro Four Thirds lenses on the market the Olympus M.Zuiko Digital ED 25mm F1.2 PRO, which nestles between 17mm and 45mm optics in this top-end trio.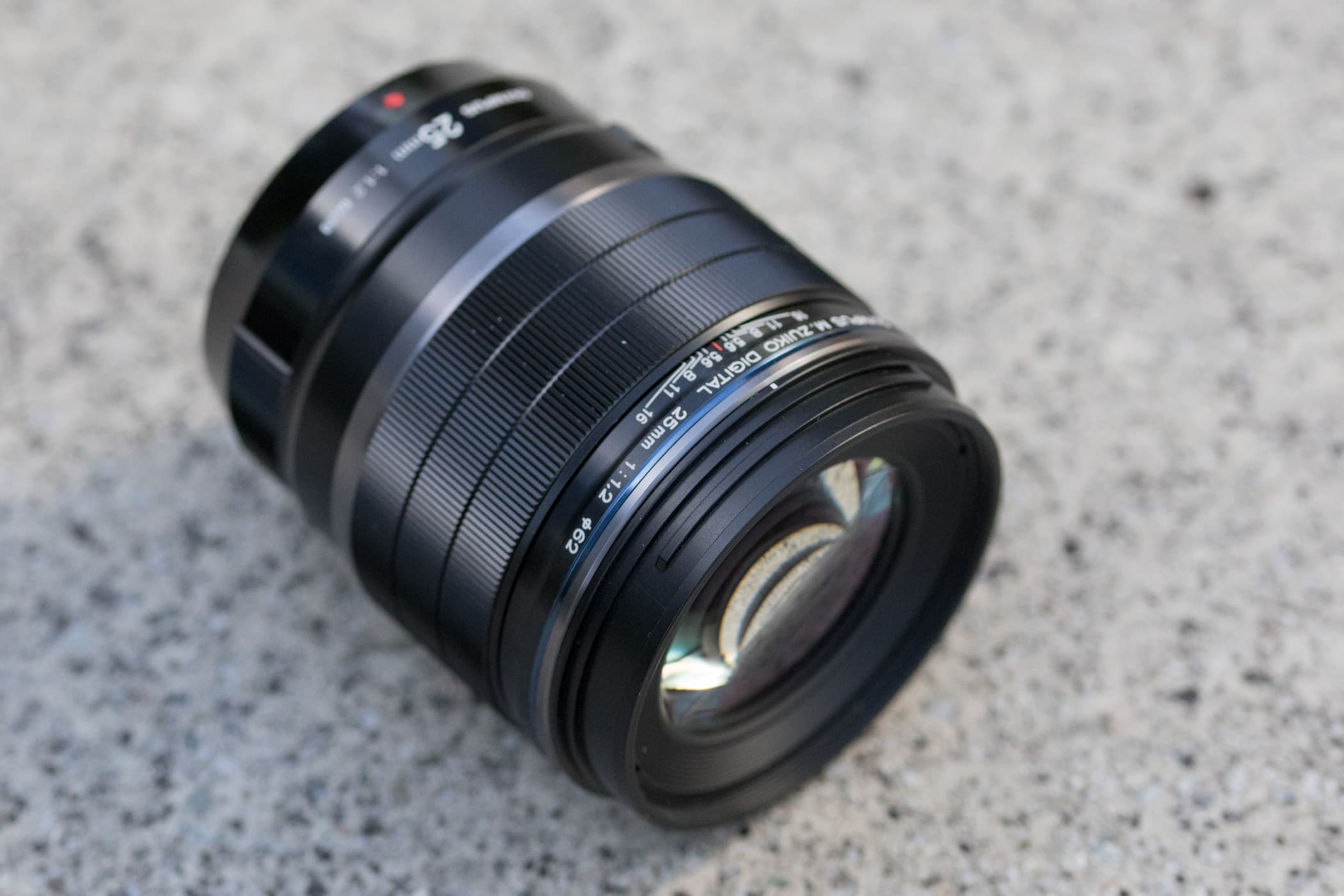 Olympus M.Zuiko Digital ED 25mm F1.2 PRO – At a glance
Price: $1,399 / £799
Micro Four Thirds mount
Aperture range: f/1.2 – f/16
Minimum focus distance: 0,m
Filter size: 62mm
Weight: 410g
Simple optical theory tells us that the Olympus 25mm f/1.2 should provide a similar pictorial effect, in terms of angle of view and degree of background blur, to a 33mm f/1.7 lens on APS-C, or a 50mm f/2.4 on full-frame. But while we fully expect to pay a premium for an f/1.2 optic, its current street price of  $1199 / £1000 stands in contrast to the Canon EF-M 32mm f/1.4 STM or the Nikon Z 50mm f/1.8 S. Both of these promise greater background blur on paper, but cost less.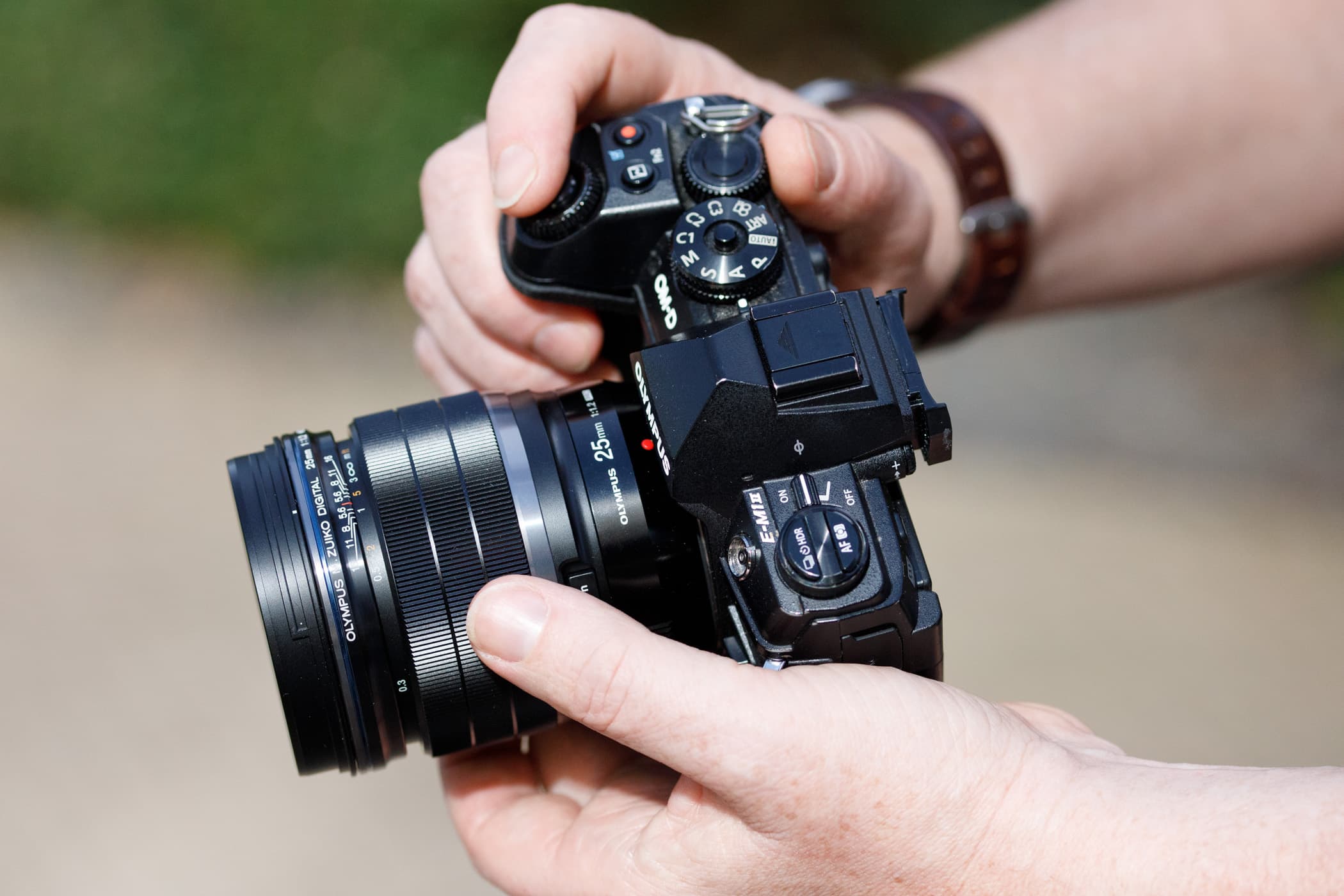 Also lurking in the wings is Panasonic's revamped Leica DG Summilux 25mm F1.4 II Asph, which offers a maximum aperture that's just a one-third stop slower than the Olympus for half the price. So is the 25mm f/1.2 the best that Micro Four Thirds users can buy, or an over-priced trinket?
Olympus M.Zuiko Digital ED 25mm F1.2 PRO Features
It doesn't take much examination of the 25mm F1.2's specification to understand the pricing. Its 19-element, 14-group design is startlingly complex for a 50mm equivalent lens, and includes a whole slew of special glass to combat optical aberrations. Two elements are made from extra-low dispersion (ED) glass, one from Super ED glass, three from high refractive-index (HR) glass, and one from Extra HR glass, while yet another is aspherical in profile. Finally, Z Coating Nano is applied to minimise flare and ghosting. Olympus has always been a highly accomplished lens maker, and here it's pulling out all the stops.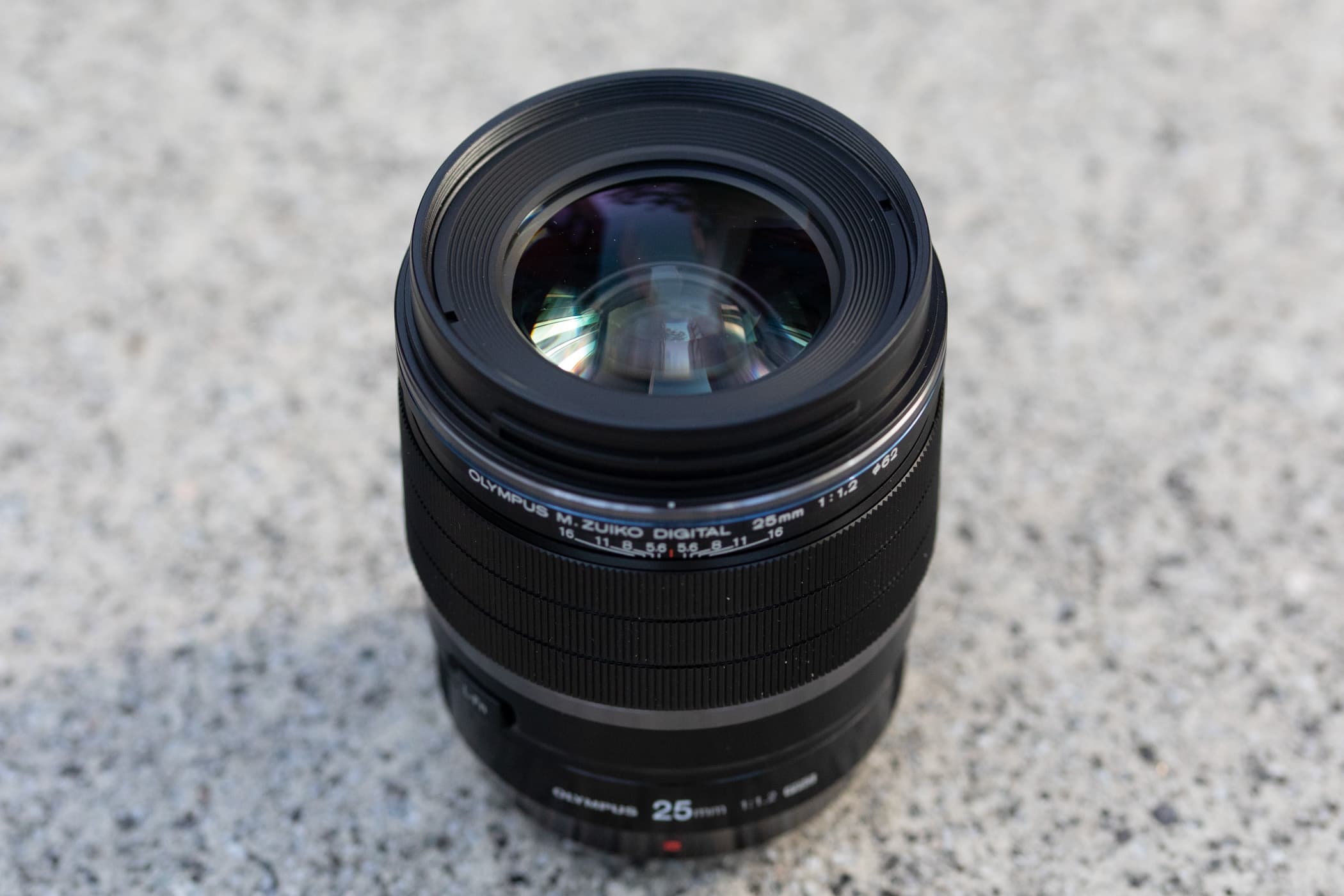 Indeed the f/1.2 Pro lenses aren't just optimised for sharpness, they're also specifically designed to deliver what the company calls 'feathered bokeh'. While this sounds like an incomprehensible buzzword, it refers to an effect whereby blur circles in out-of-focus regions of the image fade in intensity towards the edges, which provides a particularly attractive look. Olympus claims to have achieved this effect by careful control of spherical aberration.
Other features of note include an internal-focus design, with a minimum focus distance of 30cm. Like the rest of Olympus's Pro line-up, the lens also benefits from weather-sealed construction for shooting outdoors in tough conditions. The 62mm filter thread is shared with the other F1.2 primes, and surrounded by a bayonet mount for the deep cylindrical LH-66B lens hood.
Olympus M.Zuiko Digital ED 25mm F1.2 PRO Build and Handling
As part of the Pro range, the 25mm f/1.2 is built to its highest standard of quality. The all-metal barrel construction exudes quality and precision, and feels like it should easily withstand some not-so-gentle treatment. It's designed to be dust-proof, splash-proof and freeze-proof, and I shot with it during a heavy autumnal shower with no ill effect.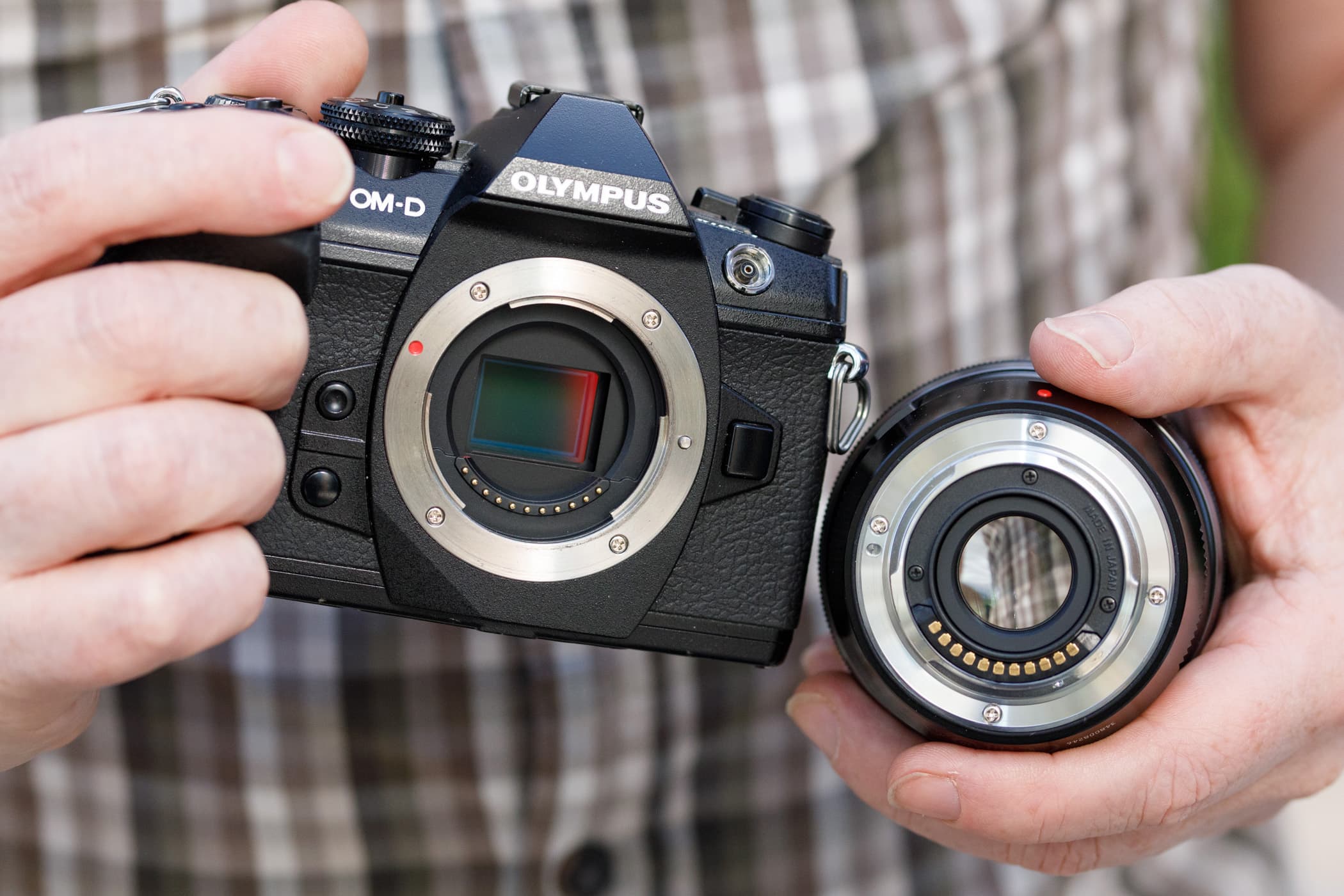 At 70mm in diameter by 87mm in length, and weighing 410g, the 25mm f/1.2 is one of the largest primes in the Micro Four Thirds system, aside from long telephotos. But it still feels nicely balanced on the OM-D E-M1 Mark III, or even the smaller E-M5 Mark III: you just naturally cradle its weight in your left hand. It's also considerably smaller than most contemporary full-frame primes.
Aside from the manual focus ring, the only external control is the L-Fn button on the top left of the barrel, which like on all the Pro-series lenses is placed within easy reach of your left thumb. By default it temporarily disables autofocus, but its function is programmable from the camera body.
Olympus M.Zuiko Digital ED 25mm F1.2 PRO Autofocus
Olympus has designed the 25mm f/1.2 so that focusing is achieved by driving a single thin lens element, and the result is remarkably quick autofocus for a large-aperture lens. The focus mechanism isn't entirely silent, but you'll only be aware of it in a very quiet room. The on-sensor AF system also means that focusing is inherently accurate, in contrast to DSLRs, which usually struggle to focus such fast primes consistently.
Special mention must be given to Olympus's implementation of manual focus. Pulling the focus ring back towards the camera body reveals a distance scale, and gives an experience akin to using a conventional manual lens. However if you leave the focus ring in its forward position and switch to manual on the camera body instead, you can get even higher precision by turning the focus ring slowly.
Olympus M.Zuiko Digital ED 25mm F1.2 PRO Performance
So your hard-earned money buys you a robust, rapidly focusing lens, but what does it bring in terms of image quality? Something quite interesting, it turns out.
This isn't necessarily a lens that's going to excel in sharpness tests, either when pointed at a test chart or a brick wall. It's perfectly capable of resolving fine detail, but the designed-in residual spherical aberration slightly reduces the micro-contrast at large apertures. The practical upshot is that you need to stop down to f/2.8 to get really crisp results when viewing your image files close-up onscreen. At larger apertures, careful use of sharpening controls during raw processing can help with teasing out detail without accentuating noise.
But as I said earlier, Olympus says this lens is all about out-of-focus blur. And once you understand what the firm means by 'feathered bokeh', you start to see it in your images. And then you begin to appreciate its benefits whenever you're shooting at large apertures. Backgrounds simply dissolve away onto a beautiful blur, while still being entirely recognisable. Olympus clearly appreciates that image quality in these situations is about bokeh just as much as sharpness, and has delivered a finely honed balance between the two.
Vignetting, distortion and chromatic aberration
The kinds of optical aberrations that I'd usually expect to see with large-aperture lenses are also kept well under control. Vignetting is particularly low, even wide open, and there's no visible distortion either, thanks to the integration of software correction into the Micro Four Thirds system design. Flare is exceptionally well controlled when shooting into the light, which can often be a weakness of fast primes.
At small apertures there's a little colour fringing towards the corners of the frame as a symptom of lateral chromatic aberration, but it'll usually be automatically processed out in-camera or during raw processing. Some fringing is also visible at large apertures due to longitudinal chromatic aberration, being magenta in front of the focus plane and green behind it, but it's very low for an f/1.2 prime. Overall, looking through my image files shot with the lens, there's a lot to like, and it's difficult to find any significant flaws.
Resolution
Examining our MTF50 results, tested on the 20MP E-M1 Mark II, reveals a lens with a distinctive character. It's not super-sharp wide open, but stop down to f/2.8 and it improves considerably, especially in the centre of the frame. As usual with Micro Four Thirds, the sweet spot for maximum detail is found around the f/4 mark and a stop either side. Close the aperture down past f/8 and diffraction softening becomes marked.
Shading
Despite its large maximum aperture, the lens doesn't show a huge level of vignetting, with just a stop of light falloff in the corners at f/1.2. Stop down the aperture and this reduces to about half a stop at f/2, and to negligible levels at just f/2.8. This is a characteristic advantage of Micro Four Thirds, thanks to the smaller sensor.
Curvilinear distortion
The Micro Four Thirds system integrates software distortion correction into lens design. As a result our chart test reveals a perfect reproduction of its grid pattern, with essentially no measurable distortion. In practice, users will see no sign of curvature of straight lines in normal use.
Olympus M.Zuiko Digital ED 25mm F1.2 PRO Verdict
While Micro Four Thirds isn't the most logical choice for shooting with shallow depth of field, for users interested in this kind of work there's little doubt that the Olympus 25mm F1.2 is the best option available at this focal length. Indeed it's a prime example of how comparing lenses on core specifications alone doesn't tell the whole story. It may not deliver the same degree of background blur as you can get with larger formats, but it goes some way to making up for this by rendering that blur in an especially attractive fashion.
Given its price, this clearly isn't a lens for everyone. For the majority of potential buyers, it's impossible not to conclude that the Panasonic Leica 25mm F1.4 represents better value for money. It's smaller, half the weight and half the price, while the latest version is weather-sealed. But then again, this has always been the way with ultra-fast primes. For those who can afford it and take advantage of its particular qualities and strengths, the Olympus 25mm F1.2 is a pretty special lens.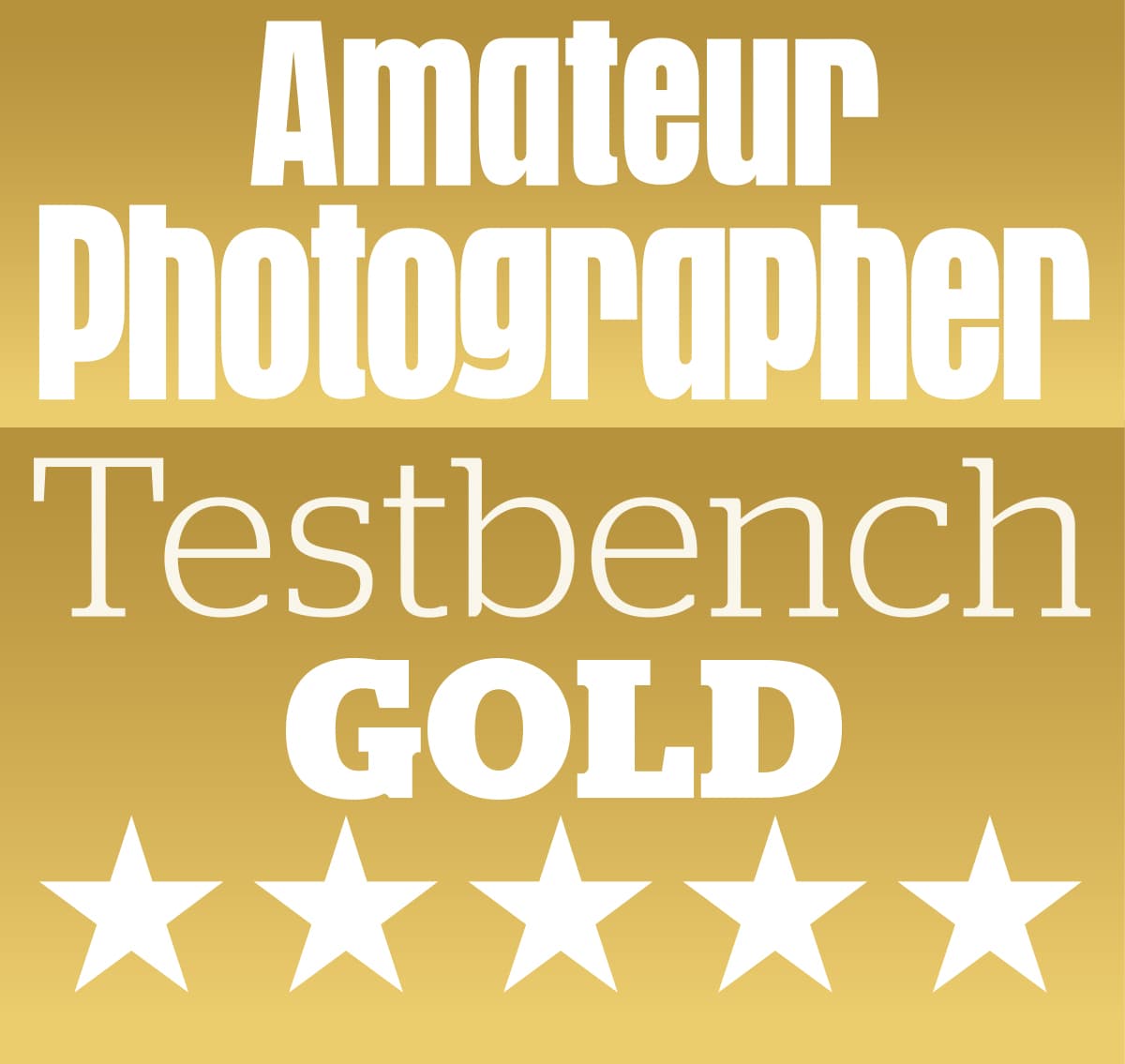 For more options, have a look at our guide to the best Micro Four Thirds lenses. Also check out our reviews of the Olympus M.Zuiko Digital ED 8-25mm F4 PRO, the OM System M.Zuiko Digital ED 40-150mm f/4 PRO and the Olympus M.Zuiko Digital ED 7-14mm f/2.8 PRO
Olympus M.Zuiko Digital ED 25mm F1.2 PRO Specifications
Further reading:
---
Follow AP on Facebook, Twitter, Instagram, YouTube and TikTok