The winners of APOY 2023 Round Three, Macro are in! Here are the top 10 images uploaded to Photocrowd with comments by the AP team and our guest judge
---
More than any other subject, macro photography brings us closer – yes, literally – to the natural world, giving both photographer and viewer an insight into nature's machinations that wouldn't otherwise be possible. It's a highly contemplative practice, too, requiring patience and time as well as knowledge of the subject and its environment. Of course, macro doesn't only have to be close-ups of insects on a leaf – it can be a constructed still life or an inanimate abstract, too. However tiny the subject, it has a story to tell, and we are always full of admiration for the entrants to this category who are skilled in revealing those tales to us.
APOY 2023 Macro Top 10
APOY 2023 Macro Winner
1. Benjamin Salb, USA, 100pts
OM System OM-1, 90mm, 1/100sec at f/8, ISO 200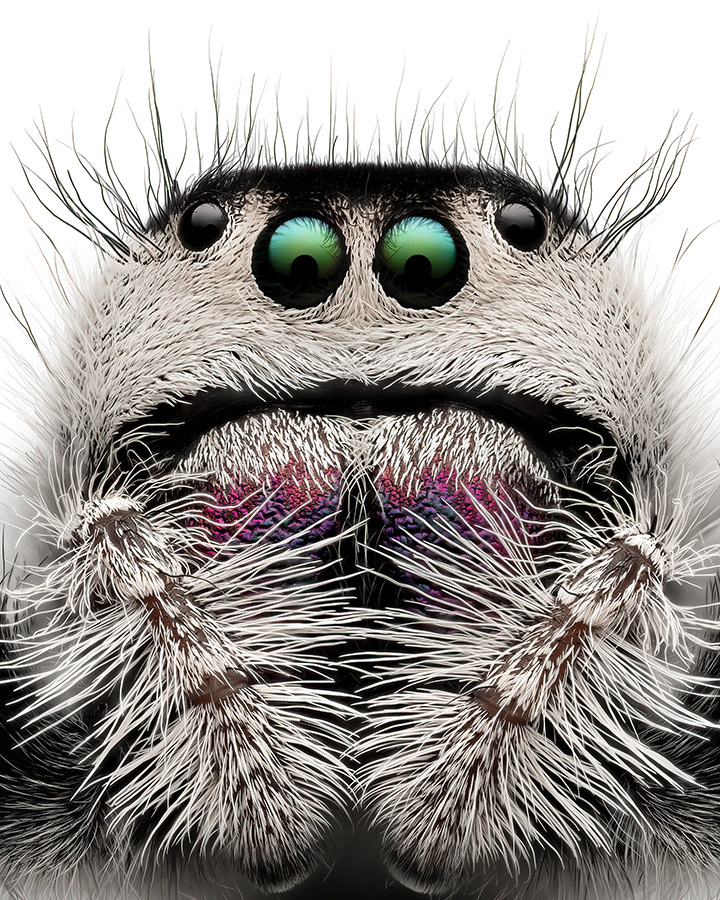 A wonderfully characterful portrait of Dottie, who is Benjamin's pet regal jumping spider (yes, really!). Benjamin's patience, as he waited for her to remain still enough to create a 52-frame stack, is admirable. The result is a superbly detailed study, where every fibre is pin-sharp. Choosing to photograph against a white background means our attention is drawn directly to those incredible green eyes, while there's a fabulous symmetry to the framing. Top-notch work.
2.  Daniel Callejo, UK, 90pts
Sony A7 Mark IV, 105mm macro, 1/100sec at f/5.6, ISO 500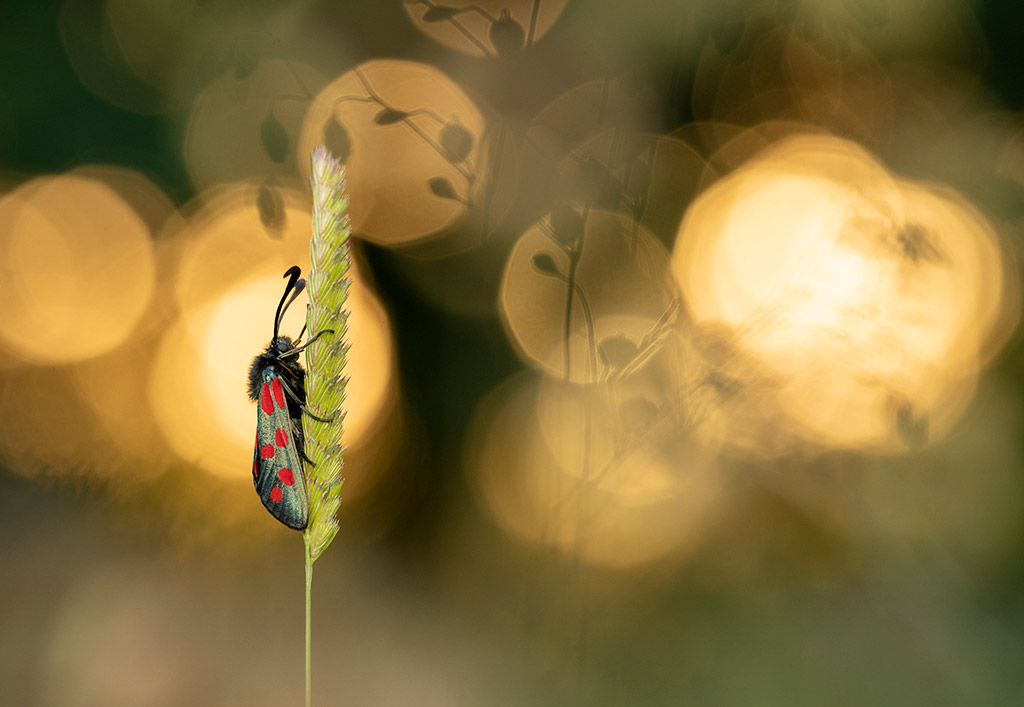 Guest judge Tracy Calder says: 'Locating a six-spot burnet moth shortly after it has emerged has given the photographer plenty of time to compose the image beautifully. Getting down to the moth's level works well, and leaving plenty of space to the right has allowed the bokeh to become as much of a highlight as the insect. The focus is exactly where you want it to be (on the eye and the closest wing), and the depth of field has been judged perfectly (an aperture of f/5.6 has thrown any potential distractions out of focus).
The grass silhouettes are the icing on the cake and give a real sense of the environment the moth lives in. The processing has been carried out sensitively (a touch more saturation might have tipped it over the edge). This image shows a real understanding of the subject and demonstrates what can be achieved in the field with patience and research.'
3. Benjamin Salb. USA, 0pts
Olympus OM-D E-M1 Mark I, 60mm macro, 1/50sec at f/5.6, ISO 200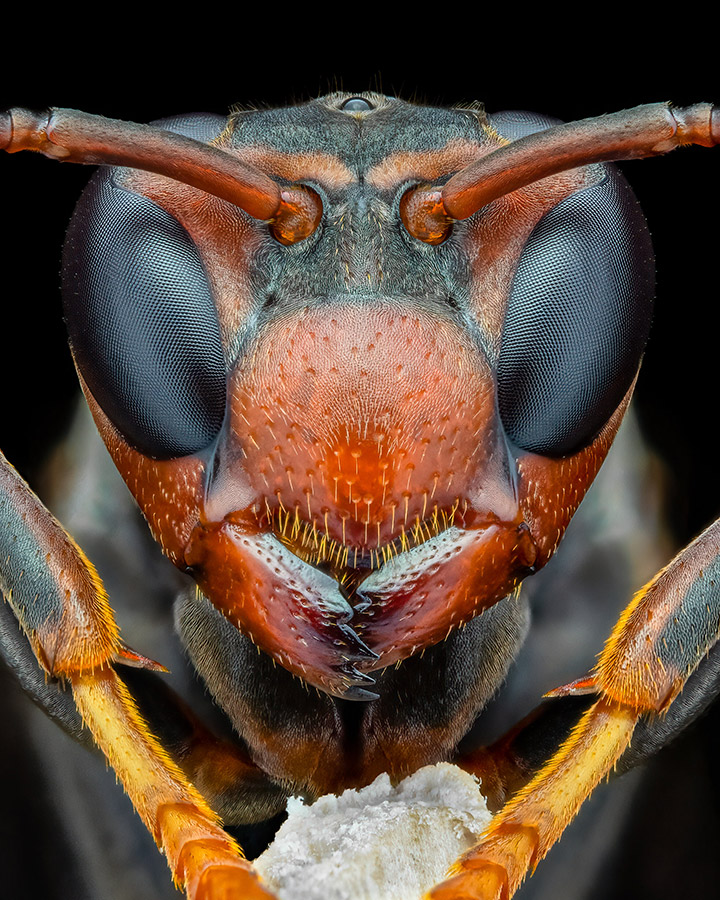 Equally as detailed as his winning shot is Benjamin's study of this metricus paper wasp, which stayed still thanks to cool, early-morning conditions. The stunning orange tones of its face and legs stand out beautifully against the dark background, and photographing straight on means the viewer can fully appreciate the insect's alien-like features.
4. Claire Glover, UK, 70pts
Canon EOS 90D, 105mm, 1/160sec at f/16, ISO 200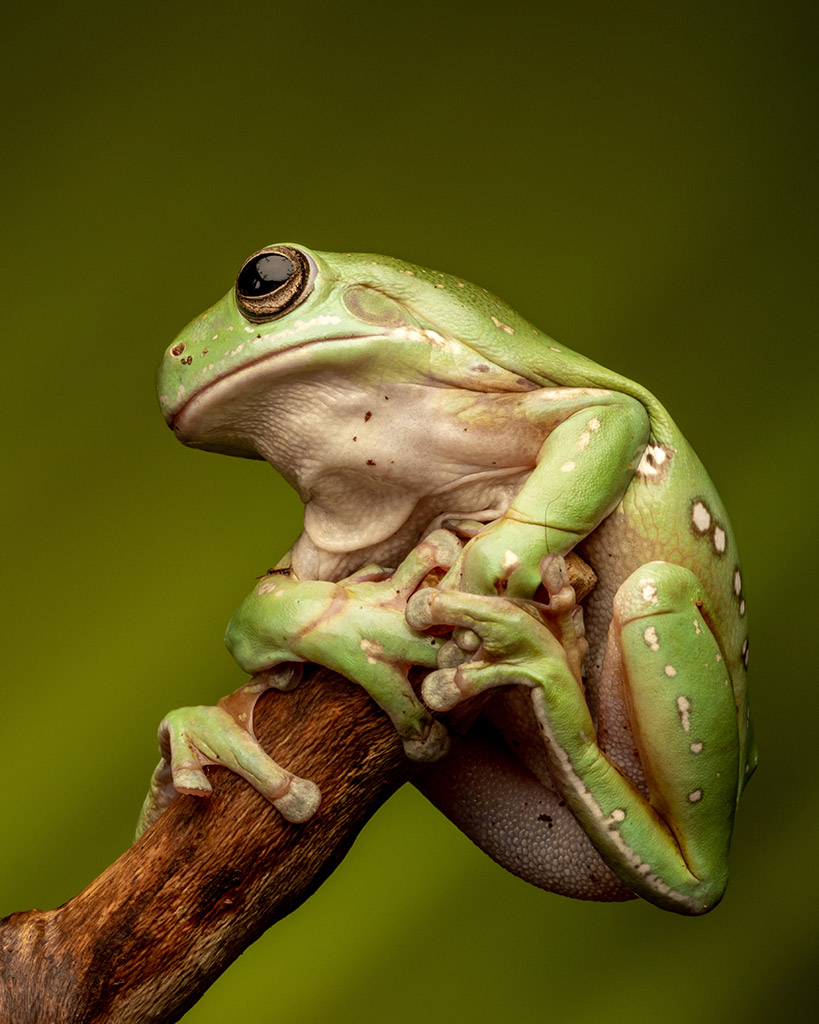 The faintly doleful expression on this tree frog's face is what the judges were first drawn to, and it's easy to create a story behind the reason for it – namely, its rather precarious-looking position at the end of the branch. The tangle of toes shows it clinging on gamely, but the viewer is left wondering just how long that might last. The detail in the shot is wonderful, with the frame being filled with only tones of green and brown. Overall, it's a very pleasing study of the distinctive amphibian.
5. Andy Sears, UK, 60pts
Nikon D7500, 50mm, 1/200sec at f/14, ISO 100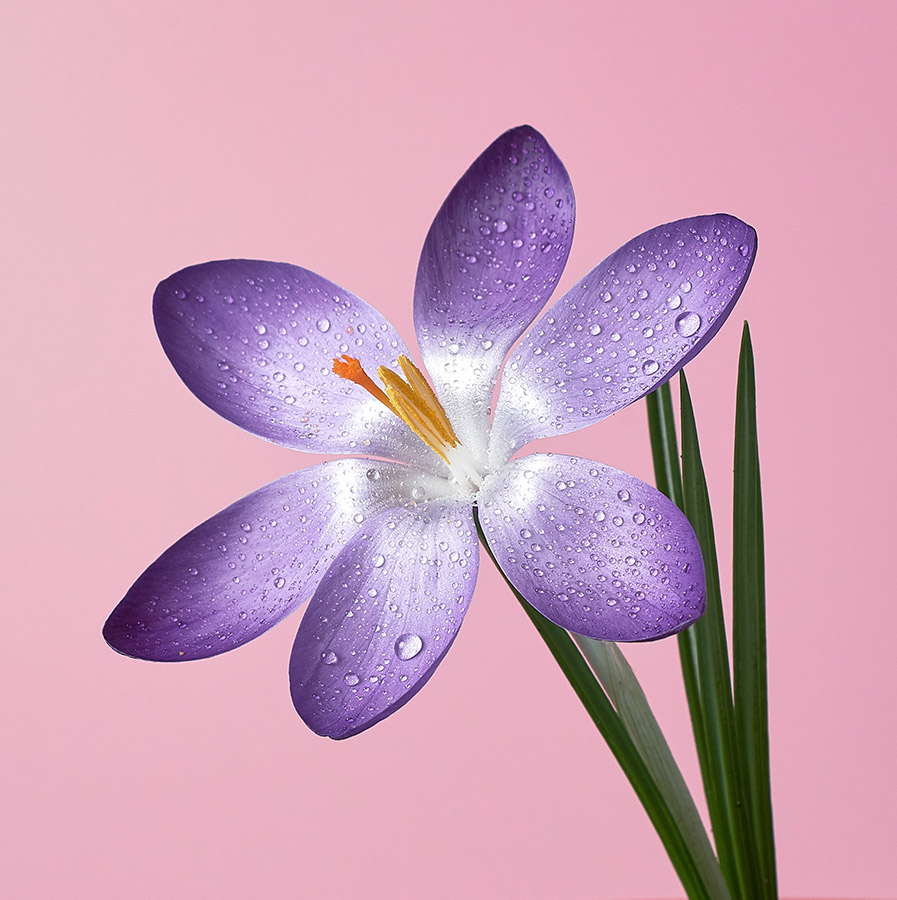 It's unusual to see a crocus fully open like this, and photographing it in a studio setting emphasises the quality of the petals, their smoothness and the detail of the water drops on them. Using a pink backdrop is a pleasing alternative to the usual white, and gives the image an added graphic element. The shadowless nature of the scene means our attention is drawn straight to the yellow centre of the flower, and out from there.
6. Paul Nash, UK, 50pts
Canon EOS 5D Mark III, 105mm, 1/20sec at f/6.3, ISO 100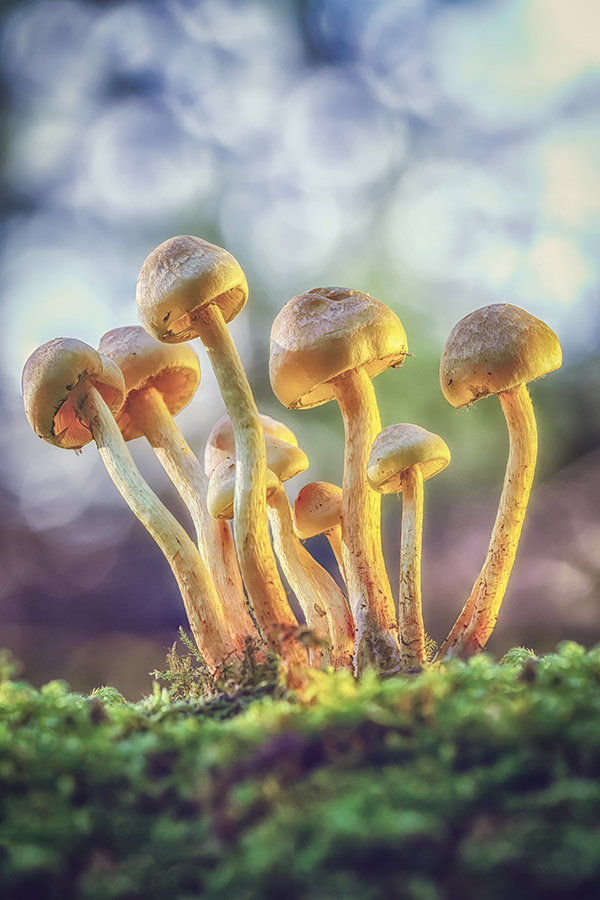 The light that is falling on this group of mushrooms growing out of a mossy log is simply lovely. It gives the whole image a sense of airiness – despite what were probably rather damp conditions. The modelling makes each of the mushrooms really spring out of the frame – an effect that is only enhanced by the gorgeous highlights in the bokeh. The image is pin-sharp exactly where it needs to be, and soft in all the right places, too, ensuring the viewer's attention goes straight to the little huddle of fungus.
Paul's photograph was also the highest scoring camera club entry!
7. Pedro Ajuriaguerra, Spain, 45pts
Sony A7R Mark IV, 2.5sec, ISO 100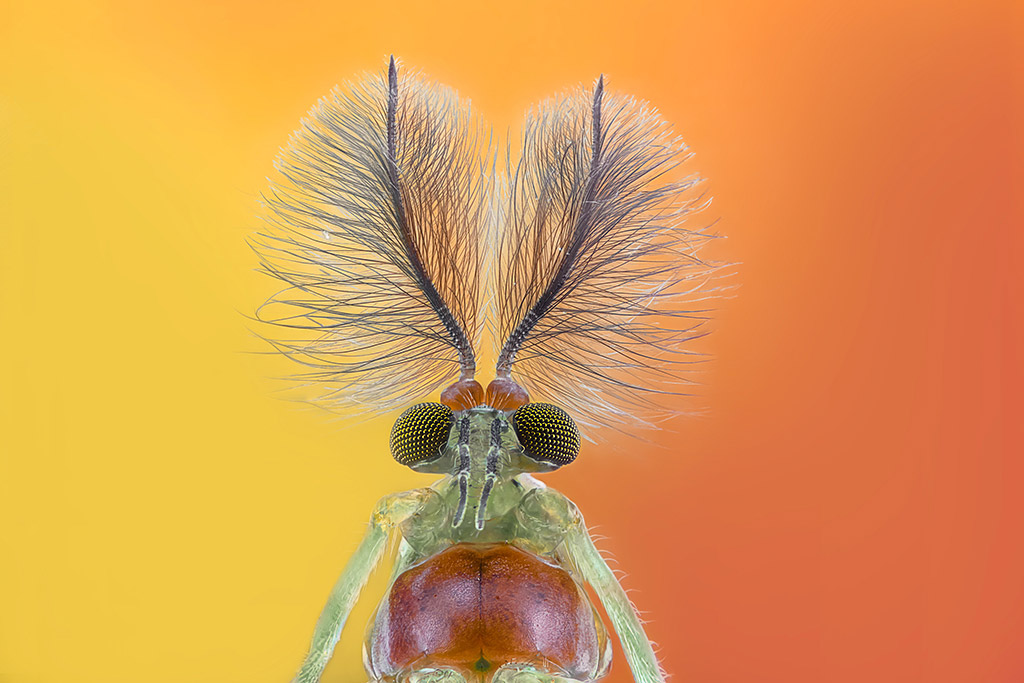 Another stacked shot of an insect – this time a type of non-biting mosquito – that the judges found hard to resist. The feather-like antennae really animate the shot, and the detail in the bulbous eyes has to be seen to be believed. The background, graduating from warm yellow to orange complements the frame extremely well indeed.
8. Sailesh Patel, UK, 40pts
Canon EOS R, MP-E65mm macro, 1/200sec at f/14, ISO 100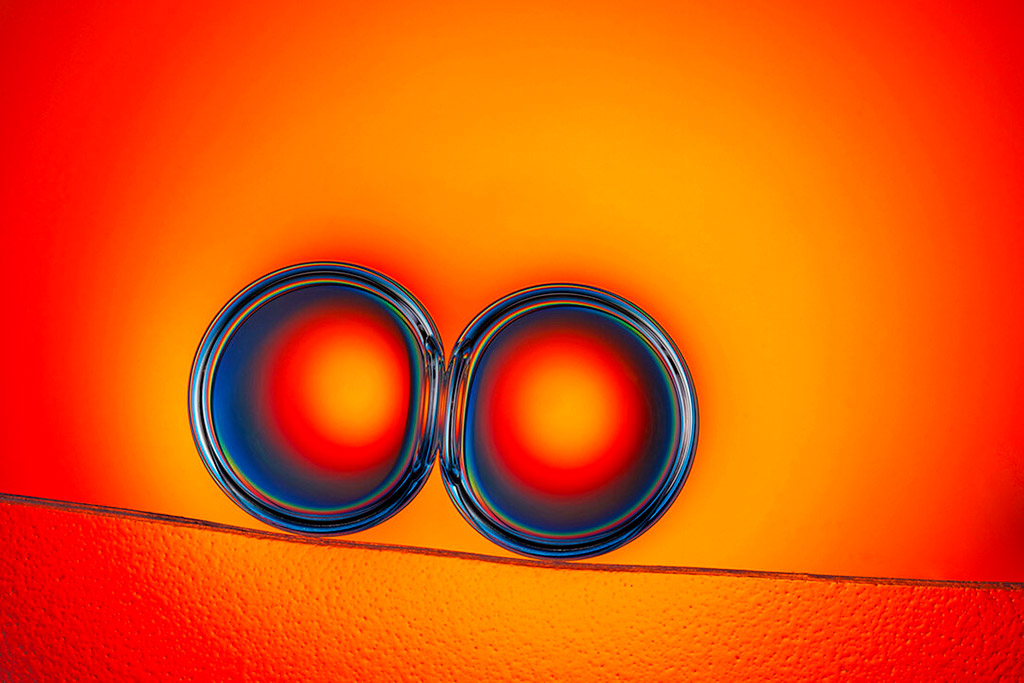 This shot of two oil droplets has been extremely well executed. At first, we might think it's binocular lenses staring out of the frame at us, and then we might imagine it's a pair of wheels rolling down a tightrope. Whatever characteristics the viewer brings to the image, it's a great success, and stands out not just for the simplicity of the approach, but for the vibrant, warm colours, too.
9. John Mihopulos Germany 35pts
Canon EOS R3, 100mm macro, 1/1000sec at f/5.6, ISO 4000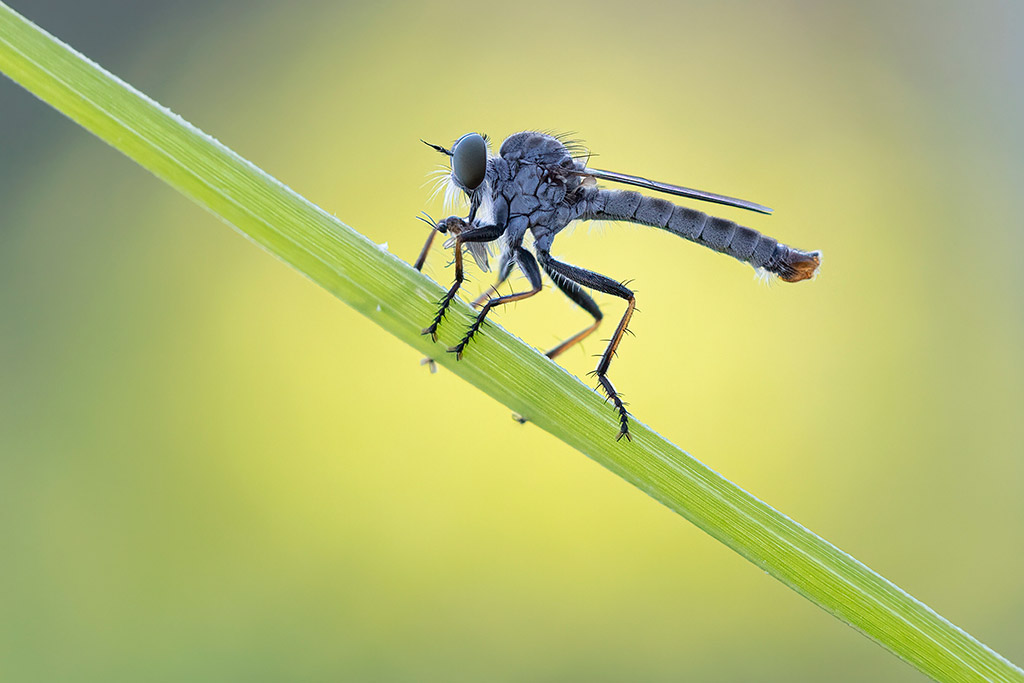 The superb sharpness and detail that John has managed to achieve is a real credit not only to his technical skills but also the beauty of the subject – a common awl robberfly. You can just make out that it has caught a hapless prey, making the shot very well timed, too. Everything down to the thread-like hairs on the fly's legs stands out beautifully against the pale-green background, and the leaf that bisects the frame completes a strongly composed shot.
10. Bogdan Zarkowski, UK, 30pts
Canon EOS 5D Mark II, 100mm macro, 1/50sec at f/8, ISO 50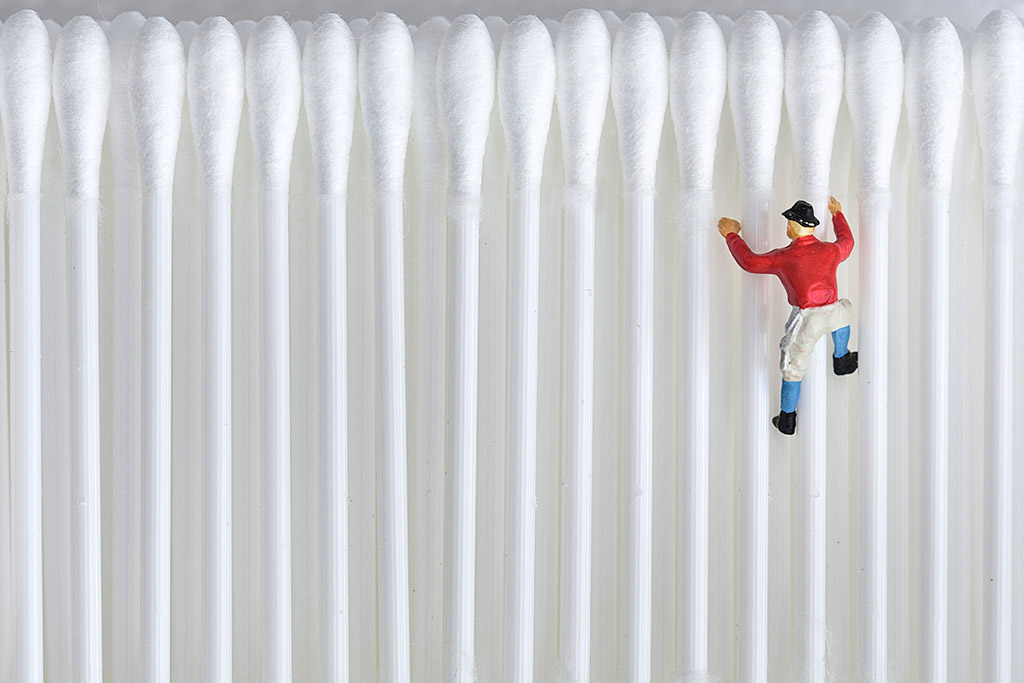 And now for something rather different! We applaud Bogdan's imagination for seeing a box of cotton buds and coming up with this story in miniature. He has placed the little figure in just the right part of the frame, on the thirds, with the perfect amount of space around it. It's cleanly shot and well lit, with no distracting shadows adding unnecessary contrast. A fun and memorable shot.
Miniature photography: How to photograph figurines and lego
---
Young APOY 2023 Macro winner
Gustav Parenmark Sweden 100pts
Nikon D750, 90mm plus Raynox DCR-250, 1/200sec at f/11, ISO 200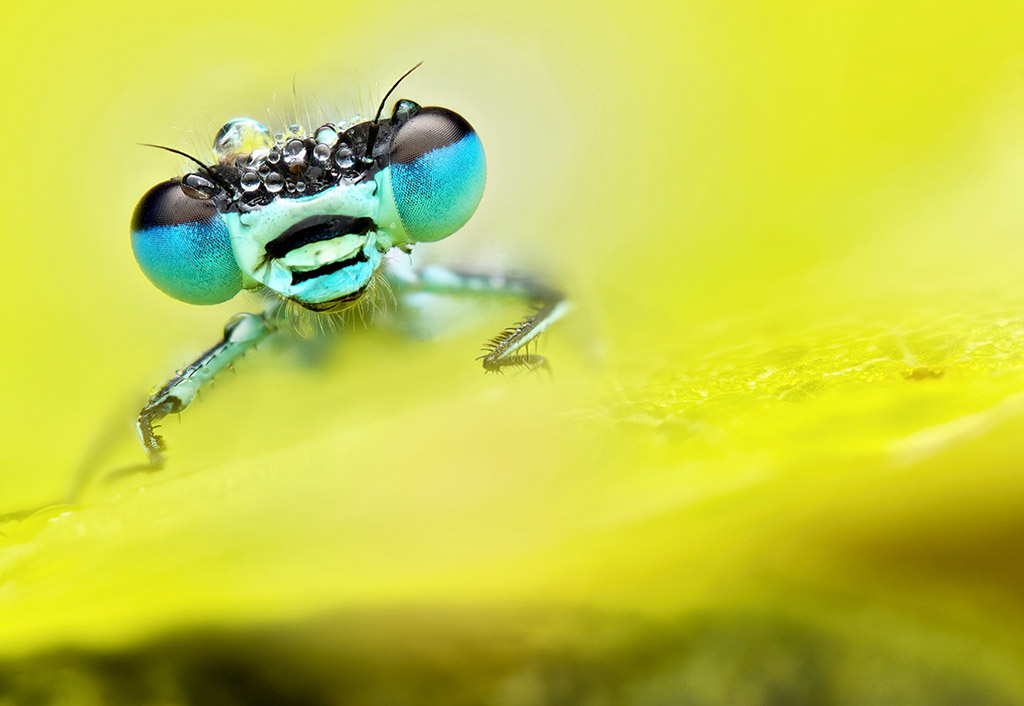 Gustav has scored a hat trick with his image of a blue-tailed damselfly, as he's won the macro category all three years that Young APOY has been running. And deservedly so – it's a gorgeous study of the creature, and fully reflects his passion for the natural world. The water droplets on the insect's head really make the image. Great work.
See the top ten and shortlist from the Young APOY 2023 Macro round.
---
APOY 2023 Camera club competition
Russ Moulding, UK, 10pts
Fujifilm X-T3, 80mm macro, 1/30sec at f/9, ISO 640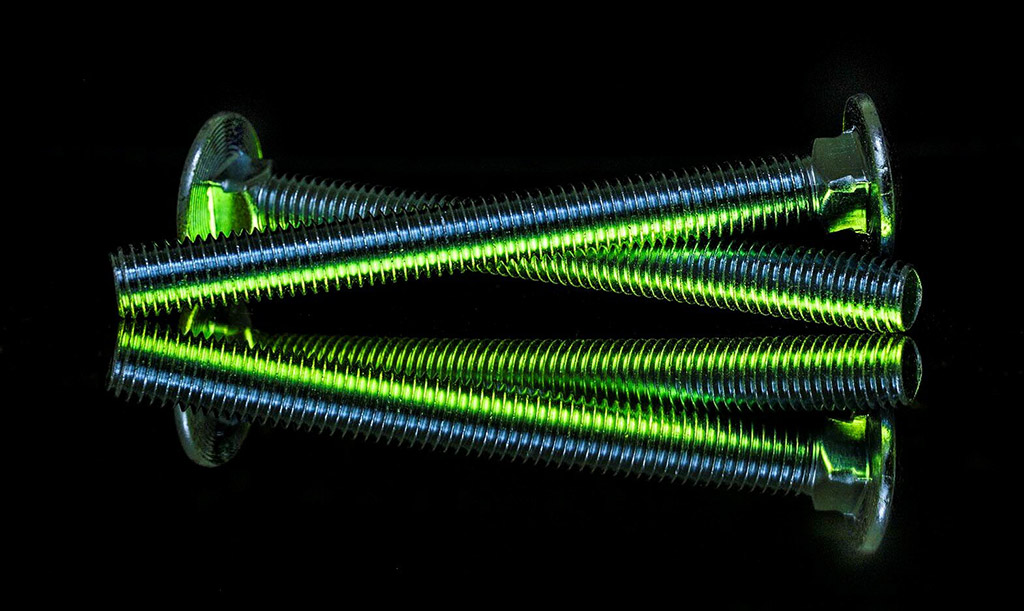 We featured an entry from Launceston Camera Club last month, and had no choice but to do it again this month, to mark their massive leap on the leaderboard, with no fewer than 13 members being shortlisted in this round. Russ is one of them, and his very well executed and skillfully lit image of some simple bolts deserve a special mention.
---
The APOY 2023 leaderboards so far after Round Three, Macro

Three rounds in and the leaderboard is as tight as it often is at this stage in the competition, with only 30 points separating joint first and joint ninth places. And with seven rounds to go, the leaderboard could look quite different by the time the competition concludes. In this round, as Benjamin Salb has two images in the top ten (one of which is the winner), only his highest score counts.
While Young APOY is more spread out, there's plenty of time for change. In the camera club category, Launceston CC have leaped into first place, scoring a superb 130 points in this round alone. Will they be able to keep up the momentum, though? Only time will tell, as they have some keen competition.
See the full leaderboards here.
---
Winning kit from MPB
The gear our winners used can be found at MPB
Taking an impressive first and third place, Benjamin Salb uses Olympus and OM System cameras, and for his winning image he shot with an OM System OM-1. The flagship in the OM System range features a 20MP Four Thirds Stacked BSI Live MOS sensor, up to 120fps shooting and 5-axis in-body stabilisation. It also has a Quad Pixel AF system, with 1,053 cross-type AF points covering the entire sensor. Taking five stars when reviewed in AP, it was described as, 'without doubt… the best Micro Four Thirds camera currently available for stills photography'. It can be found at MPB for £1,739 in like-new condition.
As for macro lenses, Daniel Callejo chose the Sigma 105mm F2.8 DG DN Macro | Art to capture his glorious second-placed image. In another five-star-rated review, it was described as 'an excellent lens that's capable of delivering superb results'. It has a water- and oil-repellent coating on the front element, and dust- and moisture-resistance. Available in both L- and E-mount versions, this lens can be picked up at MPB for between £614 and £644.
In ninth place, John Mihopulos used a Canon RF 100mm F2.8 L Macro IS USM. Its five-star review in AP pointed out, 'Rather than offering the conventional life-size option, Canon has upped the ante, to 1.4x.' The lens can be found at MPB for £1,369 in excellent condition.