David Tipling shares how and when to photograph coastal birds including Red Knot in the Snettisham Spectacular, a world-class wildlife and nature spectacle.
---
There is a place on our shores which hosts one of the world's great nature spectacles, attracting birders and photographers from far and wide: the autumn gathering of red knot (knot). The Wash, a vast tidal bay separating Norfolk from Lincolnshire and bordering the North Sea, attracts over 100,000 of these wading birds, a species that nests in the Arctic. Many use our coasts and estuaries to feed in winter but in autumn freshly arrived from the far north, they gather to take advantage of rich feeding grounds that the mudflats offer.
The spectacle occurs on Spring Tides which have nothing to do with spring, but occur when the sun, Earth and moon are aligned forming a strong gravitational pull creating the highest tides. When these occur the mud and large parts of the salt marsh are inundated, pushing the knot and other waders – notably oystercatchers – to roost on gravel pits on the Norfolk side of the Wash at Snettisham.
This RSPB reserve has a long foreshore overlooking the estuary from where you can watch the spectacle unfold. As the tide covers the mud, huge numbers of birds are pushed ever closer to the edge until eventually vast flocks take to the air and descend on to their roosting banks and islands on the gravel pit. Here the knot form rivers of birds moving restlessly as they surge in tightly packed groups, before eventually settling down until the tide starts to fall. Once mud is exposed, they leave in groups to resume feeding out on the Wash.
When to arrive for the Snettisham Spectacular
This whole cycle stretches across a time frame of around six hours, and it is advisable to arrive at least two hours before high tide to give the best range of photographic opportunity – this will often mean arriving in the dark and being in position as the sun comes up. In more than 30 years of visiting the roost in autumn I still find new ways to photograph; every high tide is different. If there are peregrine falcons lurking ready to hunt, then you may be treated to a spectacular murmuration as they dance in tight flocks over the mud, shape-shifting as they jink and weave to evade attack.
While photographing on the foreshore you may want to use a variety of focal lengths, from a wideangle to a long telephoto lens. Big wheeling flocks can be photographed within the environment of the estuary perhaps using the mudflat pools or the old pier as a foreground to give scale. While a telephoto lens of 500mm or more will allow you to get in close to the birds.
Always be ready for the unexpected. If peregrines are hunting then the knot may without warning explode into the air turning and twisting, so you want to be ready as soon as this happens. I often have lenses set up on two camera bodies during my visits to be able to switch from a short zoom to a long telephoto and vice versa, depending on what unfolds in front of me. Which aperture and shutter speed you choose are important considerations.
If you photograph a large flock close to or on the ground, or in flight, it is always best to use as small an aperture as you can so your depth of field is as big as possible – this will ensure you have most of the birds in a flock in sharp focus. If you use a shallow depth of field, then often out-of-focus birds, especially if they are in the front of the frame, can become a distraction within the image.
How to capture the action
Knot are fast-flying, and when photographing individuals or small groups I would recommend using at least 1/2000sec to freeze their wings. When they start to leave the roost as the tide turns, they fly fast and very low overhead. If you are in the right place, then a wideangle lens can be used to capture small groups. The rush of air and sound from their wings as they skim low overhead is exhilarating.
There are plenty of other species to photograph. Oystercatchers roost in large numbers, offering some different opportunities to the knot. They and redshank are often the first species to arrive to roost. Dunlin, sanderling and ringed plover move in flocks along the foreshore at high tide and can keep you occupied once the knot have settled.
Whether it is wheeling flocks of birds in golden light as the sun rises or the restless movement of tens of thousands of birds packed together on a misty autumnal morning, the Snettisham Spectacular never fails to disappoint. Photographic opportunities abound, it is a place where you can get creative, and you don't necessarily need a long expensive telephoto to enjoy it.
Snettisham visiting information
There is a pay-and-display car park at Snettisham (free to RSPB members) which does get busy on roost days, so it is advisable to arrive early. The walk out to the foreshore where you will find the hides overlooking the gravel pit takes around 30 minutes. Expect to walk around 3 miles. You can expect to see this wonderful spectacle from early August through to November. Although the roost is at its best from early September, visiting in July and August offers the opportunity to photograph many of the knot in their brick-red breeding plumage.
For more information and dates for this autumn's spectaculars visit bit.ly/rspb-snettisham-spectacular-2023
---
Why it works – Knot watchers
This is an image I took some years ago, long before the Covid-19 pandemic, but it has since been used a lot to illustrate social distancing as the watchers in this image are perfectly spaced at around 2 metres apart! I feel the image works well due to the placing of the people and the birds flying above which helps give a balance to the composition. We can see the birds on the foreshore being pushed by the tide to help give context.
I used a fast shutter speed of 1/1250sec to freeze the flying birds and a relatively shallow depth of field at f/4.5 to help isolate the people a little from the birds they are watching. I think helps them stand out more from the background. Snettisham is a great place to illustrate people out enjoying birds too.
---
Five ways to photograph the Knot
Group shots
Although every roost is different, often once the birds have been pushed across the mud by the rising tide, large numbers will often take off together and fly across to roost. This can be spectacular, so I am always ready with a short zoom to capture a sky full of birds.
Dramatic light
Some high tides will coincide with sunrise giving the opportunity if skies are clear to capture some birds in dramatic lighting conditions. Using light and shade can elevate what might be a standard portrait to something much more eye-catching.
Shoot at sunset
A few tides occur in the evening; these attract fewer photographers but can be just as productive. When the sun sets over The Wash, if the skies are clear, it is possible to silhouette the birds against dramatic sunsets and use the sun as part of your composition.
Capture a take-off
Be alert to how the birds are behaving. When at roost if they all suddenly stop moving and look alert, be ready as this behaviour may pre-empt a mass take-off. If you are ready in position and have your camera set up, you'll be able to capture a dramatic image.
Convert to mono
Once the birds are back out on the mud as the tide recedes, flocks may stand in groups. Inevitably you will be shooting into the light, but this can be very photogenic. It also offers some nice opportunities to convert your images to black & white.
---
10 tips for capturing motion blur
Lock down your camera on a tripod or ensure it is rock-solid on a beanbag to eliminate camera shake.
Choose a part of the roosting flock where birds are both moving and stationary, and frame your shot for a pleasing composition.
Select a small aperture, try between f/16 and f/22, to ensure most or all of the birds are in sharp focus from the front to the back of the frame.
Experiment with shutter speeds. Try different speeds, choosing one that is slow enough to give you the movement you wish to portray.
Shutter speeds from 1/8sec and slower are good for a creative effect. One-and two-second exposures can be very effective.
Use a cable release or use the timer or intervalometer on your camera to take pictures, so you don't need to press the shutter button and risk camera shake.
Try shooting in portrait as well as landscape format for interesting compositions. This technique is all about experimentation.
Look for a lone oystercatcher or other species among the flock that you can isolate surrounded by the knot.
Be ready if all the birds suddenly stop moving and look alert – this means they might be about to take off and add drama to your image.
Review your pictures and continue experimenting. Creating pleasing blurs can take many attempts to capture an image that really works.
---
Kit list for photographing the Snettisham Spectacular
Tripod
If you wish to experiment using slow shutter speeds to create pleasing blurs of the knot at roost, when some parts of the flock surge and other birds remain stationary, then a tripod becomes essential for the slow shutter speeds required.
See our pick of the best Tripods.
Cable release/Remote trigger
When shooting at very slow shutter speeds, then a cable release or remote trigger that you can use to fire the shutter without touching the camera is useful in avoiding camera shake.
Teleconverter
There are times when it will be useful to muster as much telephoto power as you can, particularly when photographing roosting birds and if they are being chased by a peregrine over the mud. A 1.4x teleconverter is best to keep picture quality high.
Wideangle lens
Some interesting images can be taken photographing the big flocks within the vast landscape of The Wash. My favoured range is 16-50mm which covers most options.
---
David Tipling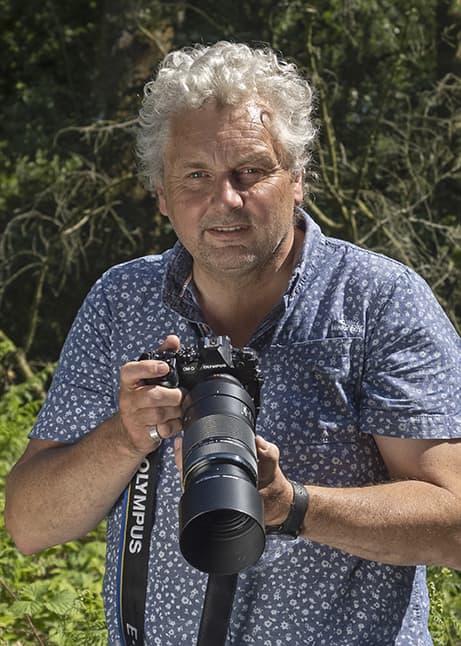 David is a wildlife photographer and author renowned for his artistic images of birds. He is an OM System Ambassador and hosts wildlife photography tours and workshops in Norfolk: norfolkphotosafaris.com. See more of his work at www.davidtipling.com
David will be leading our upcoming Birds of India photography holiday 12-18 November 2023. Take a look at all of our upcoming wildlife photo holidays and join us to improve your skills!
---
Related reading:
---
Follow AP on Facebook, Twitter, Instagram, YouTube and TikTok.