Ahead of its crowning as Photo Community of the Year at the AP Awards, Amy Davies caught up with SheClicks founder Angela Nicholson for International Women's Day to discover more about the group's achievements
---
The founding of SheClicks
Launched in 2018, the SheClicks group has gone from strength to strength. Many of you may have seen the collective's latest exhibition at The Photography Show back in September, with the group also having its own stand at the show for the second year running.
You'll also very likely be familiar with its founder, Angela Nicholson. Former technical editor of this very magazine, you'll still regularly see her reviews and technical articles gracing our pages. I first met Angela when I was working at a different photography publication, and we would later go on to become direct colleagues and firm friends in an industry which was very much dominated by men at the time.
When I learned that she was going to set up a group for female photographers it came as no surprise. As long as I've known Angela she has been a champion for excellent photography, and
she, just like most of us, knew that women had lots to offer the photography world, if only they could get their voices heard – and their photography seen.
It was with that in mind that Angela had the idea to set up the SheClicks Facebook group five years ago. She explains, 'I was conscious that we didn't see that many women in photography magazines. I don't think it was deliberate sexism, it was just that the magazine teams have a network of established photographers that they work with and men are generally much more forthcoming about saying they've done this and that. I knew plenty of women who were also doing great things but were just kind of getting on with it and not shouting about it. I wanted to do something to give female photographers a louder voice and to explain exactly how to get noticed.
'A lot of people that I've heard from seem to think that an editorial team sits down and looks at a whole raft of pictures and selects which ones to choose, but actually, a lot of the time, they will work with what's put in front of them. So it was about giving women that confidence to approach the editors and the commissioners to give everyone a voice.'
Angela is also the founder of Camera Jabber, a photography and camera technology website, so she's no stranger to starting her own brand. However, she felt that an ordinary website wasn't really the right way to go with SheClicks – at least, not in the beginning. Having heard that Facebook groups for female photographers had proved popular in the States, she decided to launch her own here.
'It seemed like the way to go,' she says. 'I'd also spent some time talking to The Photography Show team, who revealed that something like a third of their following on Facebook were women, but if you went to the show at that time, there was no way that a third of the attendees were female. I thought okay – there's something here about how women like to communicate.' So it came to be that in August 2018 – a little earlier than originally planned thanks to having some idle time at home after an accident while on holiday, she hit the button to create the SheClicks group.
Exponential growth
At the time of writing, that very same group has close to 12,000 members. It took off very quickly right from the beginning. 'I thought, given all the people that I know in the industry, we'll probably get to 300 in six to eight weeks, but we did that in something like 24 hours,' she explains. 'It was a little bit of a surprise. I thought we'd start doing webinars when we got to about 1,000 members. I thought that would be some time the following year – but again, we did that in about a month so I thought I'd better get cracking.'
Angela may have been surprised by the reaction, but I knew it would be a success. It was clear that there was an appetite for this kind of group, and speaking to other members of the community, it's obviously a feeling that was shared with many other women. Group member Sarah Longes says, 'It's like coming home, when you didn't even realise you'd left. There's an instinctive understanding and connection with other members, as we all share this same passion.'
Another member, Carole Zimmerman, agrees. 'SheClicks really has made a very positive impact on my photographic journey. I view the members as part of my photographic family as the atmosphere is so positive, friendly and yet has a polite honesty.'
SheClicks webinars, events and meet-ups
An early exponent of Zoom, long before it entered the national lexicon during the lockdowns, Angela has provided SheClicks members with access to a huge host of webinars which are free to attend. They generally feature prominent female photographers or brand ambassadors, all keen to share their skills and expertise with a wider audience. Although the webinars are broadcast live to the group, anyone – regardless of group membership – can watch them afterwards via the SheClicks YouTube channel. It is these webinars which have probably driven the massive success of the group as a whole, as it has become not only an engaging community, but one where everyone can pick up new skills.
It's also with the webinars that Angela has been able to work with brands, manufacturers and retailers, who have helped provide support and resources. 'I thought, one way to get people to present webinars is to go to brands and ask them if they have female ambassadors that could present. That is another part of the reason for SheClicks, it's not just about encouraging newcomers, but it's about championing the women who are already out there, getting them more widely seen and recognised. There's also good evidence that women like to learn from other women, so it's a good way of helping with that.'
Of course, going into the lockdown and already having this firm online foundation meant the group was perfectly placed for further bonding. 'As terrible as the pandemic obviously was,' says Angela, 'it kind of gelled the community in a way. Everybody was at home, doing photography in their gardens and front rooms and so on. The best way to talk about and share that was on the Facebook group. It wasn't so much that it grew massively during that time, but more that it pulled everyone together.'
During the very first lockdown, Angela launched a weekly 'Coffee Morning'. Taking place (online) every Thursday, it became a real lifeline for many – and I count myself among that number – stuck at home, perhaps not having a very good time of it, or just wanting to see a friendly face outside of their own four walls. Such was the success and friendliness of those mornings that three years on, they're still going – a testament to how fond the group is of each other (and Angela), considering that the world has now re-opened up and plenty of other options are available.
That thankfully includes, of course, in-person meet-ups. SheClicks began in earnest to get together in real life as soon as it was legal again. These physical meet-ups allow members of the community to get together, share their love of photography and make new friends. Angela says it always inspires creativity, too. 'Somebody will be taking a photograph, and you'll be standing there thinking, why are you photographing that? Then you get pulled in – and the next thing, you're taking a photograph of it too. Then suddenly there's a conversation and everyone's lying on the ground. It's actually quite a common theme at SheClicks meet-ups that someone will come along and ask if everyone's okay or if someone's been injured because at least one of us will be lying on the floor!'
Influencing others
'Over the years, Angela has dedicated a huge amount of time and energy into the group – and it's important to consider she doesn't do this for purely financial return – it's because she believes in the cause so much. The dedication and commitment she shows is inspiring, remembering she's also holding down a busy career at the same time. She has hosted meet-ups in a wide range of places up and down the country, in an attempt to get out and meet as many SheClickers as possible.
Happily, she's now also finding that members are organising their own events independently of her. 'I love that,' she says. 'I managed to do more events further afield last year – places like Newcastle, Slimbridge and Liverpool, which I often find is the catalyst to get people started. Once two people have met somewhere, then the next time it's three or four, and it builds. That's the whole point of the group – it's about forming support networks and friendships, and also for people to feel a bit safer when they're carrying expensive kit, or perhaps they might want to shoot after dark and so on.'
SheClicks member Sarah adds, 'Being able to lead some of our group around my favourite photography locations has been amazing. Sharing my love of the spaces, the nature and wildlife that
is found there, gives me immense fulfilment and joy. It's been wonderful to see others learning to love a telephoto lens, too.'
SheClicks collaborations
The in-person meet-ups have also seen further collaboration with brands, giving SheClickers the opportunity to try new kit without having to part with cash first. Paula Wilks says, 'Being part of the group gave me the opportunity to try the Lensbaby Omni system. It's a piece of kit that has worked really well for me and has completely changed the direction of my photography. With the encouragement of my fellow SheClickers I've been experimenting and building on the results I've got and my images have become much more creative as a result. I've also presented a webinar to the group, hopefully passing on some of the things I've learned.' Similarly, second-hand retailer MPB has sponsored several of the walks, allowing SheClickers to borrow a piece of kit for the weekend, an opportunity that is clearly hugely relished by those on the meet-ups.
Overwhelming support
Support for the group from the wider photographic community has been overwhelmingly positive. Personally, I remember being wary of any kind of backlash before Angela launched the group, but she tells me, wholly unsurprisingly, that she didn't think about that too much and just got on with it.
'At The Photography Show, for example, people can just come up to you and tell you what they think. There's been very very few negative comments, far outweighed by people coming up and saying what a great idea it is. That's from men, as well as women. Often men will come up with their daughter or partner to encourage them to join. Or they might be alone but have someone at home who they're going to tell about us. That's really, really nice and reinforces the message that this is not about excluding men, but about creating somewhere that women feel comfortable.'
That comfort absolutely is key, and something Angela and I have sadly both noticed is sometimes (not always) missing in mixed-gender groups. She says, 'I saw a lot of times that someone would ask a question and they'd get shot down for asking a "newbie" question, which is something that just doesn't happen in SheClicks. The vast majority of guys are not like that, but for some reason it does come to the fore in those types of groups.'
Of course, that's not to say that the group has been entirely without conflict. 'There will always be issues which are going to strike a chord with certain people and get them worked up, but, I've found that as the group has got bigger, that has happened less. I only actually put rules up relatively recently because I hate that kind of thing and tried to avoid it, but as the group has got bigger I thought we needed to make sure everyone knows what it's about, and it seems to work.'
Members of the group agree. 'I was tentative about showing my work but quickly realised that the other members were not dismissive or judgemental but were encouraging; and if you asked for suggestions, the responses were polite and helpful,' says Carole. Paula's experiences are similar, 'We celebrate everyone's successes. Whether that's winning a prestigious competition or finally mastering manual settings. It has prompted me to try things I wouldn't have otherwise thought of doing. The community has grown to such a size now that whatever the question or specific set of circumstances there's probably someone out there who has dealt with it before and will share their knowledge.'
Representation
During our conversation, Angela and I repeatedly come back to this idea of confidence – or rather a lack thereof – that women seem to suffer from far more than their male counterparts. I ask Angela why she thinks this might be, but she admits she doesn't really know. I offer up the suggestion that it often comes down to 'you can't be what you can't see'. Without representation on the pages of magazines, in camera clubs, in competitions, exhibitions and books, it can be intimidating to enter into what might feel like a closed-off world. I've shared Angela's enthusiasm for shining a spotlight on more female photographers in the pages of Amateur Photographer and I'm proud of the increased diversity the magazine showcases compared to when I joined the team – also back in 2018.
SheClicks has been an enormous part of that as it has helped give many women the impetus to get in touch with us and show off their photography. We're all incredibly busy, facing a cycle of never-ending deadlines, so if someone comes to us with a great idea then we're bound to snap it up. The great thing about it though is that there is, of course, no monopoly on those great ideas – especially not in photography – so increasing diversity has benefits for every reader, as we all get to see so much more of the available talent.
Although there's a wide spread of different genres which pop up on the SheClicks Facebook group, creative photography seems to be particularly prevalent. Angela points out, 'One of the things that struck me when I started SheClicks was that I'd never seen so many examples of this kind of photography together in one place before, things like ICM and layering textures and so on. That kind of work appealed to women, but men weren't necessarily getting to see it and be inspired by it either.
If you can't see it – then you can't try to do it either.' Angela posts regular challenges and incentives for SheClicks members to try their hand at on the Facebook group, which often helps members to not only showcase the fantastic work they've already done, but to step outside of their comfort zone and try something new. Often, members will find that they really love a genre they'd never thought of having a go at before, and others will discover they have a new-found confidence to enter into other competitions and opportunities.
Loud and proud
There have been quite a few moments to be extremely proud of during the past five years of SheClicks, but there are particular highlights for Angela. In 2019 there was a group exhibition in London, with the opening night packed to the rafters with enthusiastic attendees (of every gender) and a wonderful warm reaction from everyone who saw it. The exhibitions continued at The Photography Show (TPS) in 2021 and 2022, with last year's being especially impressive.
'I thought CEWE did a particularly good job of putting it together, so it looked amazing. And, the pride you see in someone's face when they've got a picture selected too. I got a message from someone who we were showing but didn't live in the UK. We took photos and sent them to her and put them on the group. She got in touch to say how much of a boost it had been, and it's easy to forget the impact that has. There are quite a few people who've said it has made them feel confident with their photography.'
Sarah agrees. 'It's one of my proudest moments,' she says. 'The impact that all of our images had as a collection was really powerful. I watched visitors to The Photography Show stop in their tracks as they came upon the images. It really helped that the prints were large! With so many challenge themes and our extensive membership, there was a great range of imagery that had something for everyone. It showcased the versatility of female photographers in a way that isn't often reflected in a single exhibition.'
SheClicks Awards
Another big moment was setting up the inaugural SheClicks Awards, which like our own AP Awards, recognised not only the best equipment and gear out there, but also the work of photographers. They were handed out during TPS 2022, after an extensive judging panel and voting system that took place online. The outstanding achievement award was given to the Mexican photographer Cristina Mittermeier, who set up the International League of Conservation Photographers in 2005, and who, serendipitously, gave a talk at the show. 'I was watching the votes come in and I could see she was pulling ahead,' explains Angela. 'I kept thinking – she's at the show! So when she won, I contacted TPS and told them the secret that she'd won and asked if I could present the award to her on stage.
'Then, at the show, a SheClicker was looking at an exhibition and realised she was standing next to Cristina herself, looking at our exhibition. She introduced herself, and brought her to the stand to meet me. Cristina said how brilliant it was, and how important it was… and I couldn't help but think, "Does she know that she's won our award?" Later I walked on stage to present the award, explained the process of how we had this list, which was really long, but she'd won, and she just lit up. It was so special to give that to her, and walking on stage to present it knowing how much she got the ethos of the group was just brilliant.'
SheClicks: Best Photography Community 2023
Angela's commitment has clearly not gone unnoticed. The win for Best Photography Community at this year's AP Awards comes as a result of public voting, with SheClicks leading the polling from the off. As member Paula says, 'I have been blown away by the positivity of SheClicks, all driven by Angela. The commitment she gives is second to none. Time and again, people comment about how their photographic confidence has been raised and this has resulted in a huge improvement in their work.' Indeed, fellow member Carole credits her win of the Camera Jabber Photographer of the Year competition to the confidence instilled in her to enter from Angela and SheClicks.
It's clear that however much Angela puts into the group, she also gets an enormous amount back. She says, 'The thing I'm amazed by is that I didn't expect to make such great friends. We travel around and have such a laugh. I don't think people realise how much I get from it too. It's really nice when people react that way.'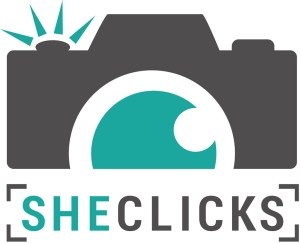 Anyone who identifies as a woman can join the SheClicks Facebook group. You can find out more information by visiting SheClicks.net
---
Featured image: SheClicks members during a meet-up at Bushy Park, Richmond-upon-Thames. Image credit: Angela Nicholson.
Find out why you should join a photography community here.
---