Samyang AF 75mm F1.8 X at a glance:
£474
112.5mm equivalent focal length
Fast f/1.8 maximum aperture
Fujifilm X-mount
Sony E-mount full-frame version also available
Coming hot on the heels of the AF 12mm F2 X wideangle prime, the Samyang AF 75mm F1.8 X is the Korean lens maker's second autofocus optic for Fujifilm X-system cameras. But this one takes a slightly different tack, as rather than adapting an older manual-focus design to AF, it starts with an existing Sony E-mount full-frame offering and reworks it for APS-C cameras. The result is a compact, large aperture, short telephoto prime, whose 112mm equivalent angle of view should make it particularly well-suited to portraiture.
With a launch price of £474, the X-mount lens is notably more expensive than its E-mount sibling, which was introduced at £379 and can now be found for as little as £319. This is despite the fact that it uses an identical optical design. However, the housing has been entirely redesigned, not just with a new mount, but also by the addition of weather sealing.
With this lens, Samyang has targeted an obvious gap among current X-mount offerings, for an affordable portrait lens with a slightly longer focal length than the ubiquitous 85mm equivalent. In this respect, it sits neatly between Fujifilm's XF 56mm F1.2 R WR and XF 90mm F2 R LM WR, both of which also cost almost twice as much. Its closest third-party competitors are all 56mm designs, most notably the excellent Sigma 56mm F1.4 DC DN | C (£379). But does it perform well enough to make it a compelling option for potential buyers?
Samyang AF 75mm F1.8 X: Features
Samyang has employed the same 10-element, 9-group optical design as the E-mount version, including two high refractive index (HR) and three extra-low dispersion (ED) glass elements to combat chromatic aberration. Notably, the firm hasn't employed any aspherical elements, with the aim of producing more attractive bokeh. This is aided by the aperture diaphragm, which employs nine curved blades to give rounded out-of-focus highlights.
Autofocus is driven by a linear stepper motor, with an internal focus design providing a minimum object distance of 69cm. Samyang says the lens is optimized for use on X-Trans sensor cameras to provide 'stable AF performance', which is worth bearing in mind for owners of Fujifilm's entry-level Bayer-sensor bodies, namely the X-T100, X-T200 and X-A series. However, there's nothing to suggest the lens won't work on these models at all.
One attraction of the X-mount redesign is its clearly improved build quality, including the addition of weather sealing. Its 62mm filter thread represents a perhaps unexpected step up in size from the 58mm of the FE model, but makes perfect sense when you consider that it's shared with the AF 12mm F2 X. A Custom mode switch on the side of the barrel provides access to Samyang's new 'Preset Aperture Control' function, which we'll examine in more detail later. A bowl-shaped hood is provided, which reverses snugly for storage but covers the entire focus ring in this position.
Samyang AF 75mm F1.8 X: Build and Handling
Samyang's lenses tend to be relatively small and light, and the 75mm f/1.8 follows this trend. At 70mm in diameter, 69.3mm in length and 257g, it's comparable in size to the Sigma 56mm f/1.4, being about 1cm longer but 23g lighter. This makes it a really nice match to the Fujifilm X-T5 that I used for testing.
Both cosmetically and in terms of build quality, the 75mm is very much like the AF 12mm F2 X. Its barrel is plastic skinned, but has a higher quality feel than the firm's "tiny series" E-mount optics. The metal mount is surrounded by a rubber O-ring to protect against dust and water getting into your camera – one of five seals arranged around the barrel.
As the lens has no aperture ring, this setting is controlled via a dial on the camera body. This works just fine, but it may irk photographers who've come to enjoy using the aperture rings on Fujifilm's XF lenses. On bodies which don't have conventional exposure mode dial, spinning the aperture control dial past the f/22 minimum setting selects automatic control by the camera. This enables use of the program and shutter priority shooting modes, depending on whether the shutter speed dial is set to the A position.
There are just two physical controls. The manual focus ring covers the forward section of the barrel and has a nice grippy texture. It rotates very smoothly and operates 'by wire', so there are no hard end stops to its travel. Then there's the Custom switch, which has two positions marked M1 and M2. On the E-mount lens, this allows the focus ring to be used for changing the aperture, but that's not quite the case here.
Instead, Samyang's new 'Preset Aperture Control' function only works in video mode. Set the switch to M2, and the focus ring will now open and close the aperture diaphragm smoothly, allowing depth of field to be adjusted silently during video recording. Confusingly though, the displayed aperture setting remains the same throughout. You'll probably want to set a fixed shutter speed and exploit Auto ISO to compensate for the changes in light level reaching the sensor.
As you can see in the video above, this function works as described, with the background being smoothly brought into focus by closing down the aperture during recording. But whether this is something you'd actually want to do very often is a different question. I'm not entirely convinced of its real-world usefulness (bearing in mind that Fujifilm cameras already accurately preview DOF before recording). It's certainly not as useful to photographers as the options available with Samyang's E-mount lenses, and has the feel of a function that's been dreamt up to ensure that the Custom switch does something at all. But on a more positive note, Samyang says that 'more functions will be added through firmware updates in the future', so fingers crossed that photographers might get aperture control one day, too.
Samyang AF 75mm F1.8 X: Autofocus
Autofocus is driven by a linear stepper motor, which means it's reasonably fast and quiet, if not entirely silent. It's not going to disturb anybody nearby when you're shooting stills, but focus motor noises can be picked up by the camera's internal microphones when recording video in a quiet room.
Click on any sample image to see the full-resolution version
With static subjects, the lens focuses consistently accurately, even if you place your focus point right in the corner of the frame. Everything works properly with face and eye detection, too, along with the more advanced subject detection options on Fujifilm's latest cameras. This is really important, because in real-world use, the depth of field is so shallow at large apertures that getting accurate focus is the single most important factor in whether your images look properly sharp.
For this reason, many photographers now like to use continuous autofocus combined with eye detection for portraits. But keeping up with moving subjects using AF-C is more of a challenge for the Samyang 75mm. It copes with gentle motion pretty well, but will struggle with anything quicker and more erratic. Using Fujifilm's default Release Priority setting for AF-C, you're likely to get a lot of out-of-focus shots, especially when shooting bursts. I'd recommend switching to Focus Priority, which will slow down the shooting rate considerably with this lens, but should deliver a much higher proportion of acceptably focused frames. In side-by-side tests, I found the Sigma 56mm F1.4 DC DN fared much better in this respect.
Manual focus works quite nicely. By default, the focus ring works in non-linear mode, so that twisting it quickly results in large distance shifts, while slow movements allow precise adjustments. On some Fujifilm cameras, you can switch to linear mode if you prefer (although this affects all the lenses you use). Videographers should be aware that there's quite pronounced focus breathing, with the angle of view narrowing appreciably as you focus the lens closer.
Samyang AF 75mm F1.8 X: Performance
In terms of sharpness, the Samyang AF 75mm F1.8 X behaves as a classic portrait lens. With its all-spherical optical design, it delivers a flattering degree of softness wide open. Low-contrast fine detail such as skin texture gets naturally smoothed away (technically, due to residual spherical aberration), while higher contrast detail such as eyelashes still appear well defined. If you want to tease out a greater impression of sharpness, a liberal dose of Adobe's Texture slider should do the trick.
Stop down the aperture and the lens sharpens up quickly, until at f/5.6 it's a match for the X-T5's 40MP sensor from corner to corner. Go much beyond f/11, though, and diffraction blurring takes the edge off fine detail. However, that may be an acceptable compromise when you wish to attain extended depth-of-field.
It's also worth noting that, like many fast primes, sharpness deteriorates noticeably towards the minimum focus distance. This isn't a macro lens, and there's a reason why you pay a premium for them. Having said that, you can still capture really striking close-ups with painterly out-of-focus blur. Just don't expect the fine detail to look perfectly sharp, unless you stop down the aperture significantly.
As for other optical flaws, there's really nothing much to worry about. In part, this is because the lens is only using the central region of an imaging circle originally designed for full frame. As a result, not only is corner sharpness barely compromised, but both distortion and vignetting are very low indeed, to the point of being practically negligible in real-world shooting.
Ordinarily, Fujifilm cameras correct vignetting automatically in their JPEG output, while raw files include the requisite compensation metadata. But here, the falloff is so slight and gentle that even at f/1.8, you can only really see it by turning corrections on and off in your preferred raw editor. Personally, I'd be far more likely to add a bit of corner shading back into my images.
A little colour fringing can sometimes be visible around out-of-focus high contrast detail at large apertures – a symptom of longitudinal chromatic aberration – but nothing that I'd consider especially troublesome. There's no appreciable fringing in the corners of the frame due to lateral chromatic aberration, which means that overall, you get consistently clean-looking images.
Use the lens carefully, and it'll also reward you with lovely smooth bokeh. As always, it pays to think about what you're doing, and not just assume it'll blur away a messy, distracting background. But if you shoot at a focus distance of a meter or two (as you would for head and shoulder portraits), choose a relatively simple background and separate your subject from it by several meters (at least), you should get attractive results.
Samyang AF 75mm F1.8 X: Our Verdict
In most respects, I think Samyang is on to a real winner with the AF 75mm F1.8 X. I really like portrait lenses in the 100mm equivalent region, as they give a slightly more flattering perspective than 85mm optics, without pushing you as far back from your subject as 135mm lenses. In this respect, it's possibly my favourite option currently available in X mount.
Optically, it delivers pretty much what I want from a portrait lens, too. Wide open, it strikes a great balance between resolving the detail you want, while smoothing away what you don't. Stop down a bit, and it gets impressively sharp all-round. The lack of any problematic colour fringing is a major plus, too, as you don't have to waste time trying to remove it in post-processing.
Design-wise the lens is relatively compact, so you won't mind carrying it around, while the addition of weather sealing is always welcome. Some may consider the lack of an aperture ring to be a deal-breaker, but that's a compromise you often have to make with cheaper third-party lenses in X mount. It's also a shame that the Custom mode switch doesn't provide more useful functionality.
Probably the lens's biggest drawback is its relatively slow focusing in AF-C mode. For many photographers this won't be a problem, but if you're a fan of more dynamic shoots using quick-fire bursts, the Sigma 56mm F1.4 DC DN will likely be a better alternative. However in all other respects, the Samyang AF 75mm F1.8 X is a lovely and affordable portrait lens for Fujifilm X-system users.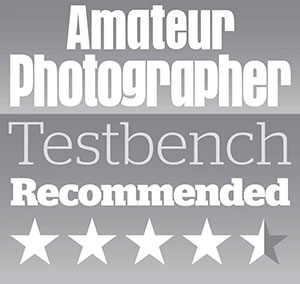 ---
Follow AP on Facebook, Twitter, Instagram, and YouTube.
---
Samyang AF 75mm F1.8 X: Full specifications