OM System OM-5 at a glance
£1199 body only
£1499 with 12-45mm F4 PRO lens
20.4MP Four Thirds sensor
ISO 200-6400 (extended: L64-25600)
30fps shooting
4K 30p video
2.36m-dot EVF
3in, 1.04m-dot vari-angle LCD
Last November my wife and I spent two weeks in Cape Town, South Africa, on our first holiday since 2018. It wasn't her first choice destination but, knowing me very well, and suspecting that Cape Town would be ludicrously photogenic, she agreed to go there subject to certain terms and conditions.
Vaguely aware of all the hours of boredom I have subjected her to over the years for my art I agreed. The small print basically went thus:
This would be a holiday, not a photographic expedition.
We would be doing a lot of walking and some climbing so I had to travel light – a camera and no more than two lenses.
No tripod, apart from a tabletop one.
No getting up at the crack of dawn for photography purposes.
A maximum waiting time of three minutes for me to take a picture.
It's traditional at AP that if someone is going somewhere interesting and photogenic, they take with them a recently launched camera that they haven't used before and write a more personal, experiential feature about it to complement the lab test. When I scanned the list of potential cameras to take along on my holiday, and remembered my contractual obligations, there was one camera that stood out as the obvious companion.
OM System OM-5: Choosing the kit
The OM system OM-5 was specifically designed for exactly the sort of trip that I would be taking. As a Micro Four Thirds mirrorless camera it's small and light in stature, but not in features, and there's an abundance of excellent and equally diminutive Micro Four Thirds lenses to go with it. It would not be a burden to carry on hikes and climbs, and the class leading In-body image stabilisation (up to 7.5 stops!) would make my lack of a tripod less of an issue. The 20MP sensor may be a bit on the low side by modern standards but it was enough for my needs, and if I wanted more the OM-5 boasts a Handheld Hi-res mode capable of generating 50MP images in-camera, or 80MP if used on a tripod. Not bad for a camera that costs less than £1200.
So the body kind of chose itself, but what about the lenses? With Micro Four Thirds being the oldest mirrorless system there is an enormous selection to choose from, bearing not only the Olympus/OMDS name but also Lumix, Leica, Sigma and others. But I decided to keep things simple with a pair of lenses pretty much tailor made to go with the camera: the 12-45mm F4 PRO (the designated 'kit' lens, with an RRP of £599) and its natural partner, the 40-150mm F4 PRO (£799). Both are compact zooms with premium quality optics and the same level of weather-sealing as the camera. With these two lenses I would have every base covered. Ordinarily I'd also take a sneaky fast prime or two for some shallow DOF portraits, but a promise is a promise.
Whenever I fly I carry the same National Geographic backpack as my cabin luggage. It has room for a medium sized camera system, a laptop, and all the things I'll need on my flight – documents, headphones, a book or two. But it isn't how I want to carry my kit once I get to the destination, so I always take a smaller camera bag in my main suitcase. I'd been warned that street crime was an issue in South Africa so I packed my Domke messenger bag, filled with underwear for the flight. It looks fairly tatty and grungy, and with the padding removed it lies virtually flat and weighs almost nothing. It doesn't look like a camera bag and its depth makes it difficult to steal from – ideal for carrying a small kit around in the city. (As it happened, any fears about crime proved unfounded and at no point did we feel unsafe.)
Exploring Cape Town with the OM System OM-5
Our apartment overlooking Camps Bay offered a spectacular view of the famous Lion's Head and down the Atlantic coast, so the first night I set the camera up my Manfrotto tabletop tripod on the patio table and decided to try out the Starry Sky AF mode – a new feature on the OM-5 which can focus on the night sky. On our first full day we took it easy in preparation for what was coming up on day two.
Table Mountain dominates Cape Town, towering 1000 metres over the streets that spread out around its base like a horseshoe, and is visible from pretty much every direction for miles around. So a visit to the top is a must. The easiest option is to take the cable car, but there are multiple hiking routes offering varying degrees of difficulty. We chose the India Venster route, regarded as the most photogenic, but also the most challenging and potentially dangerous one for novices like us, so a professional guide was essential. The weather can change quickly on the mountain, so we were instructed to bring a warm fleece and waterproof cagoule, plus two litres of water each. I took a backpack with a small, zipped section at the bottom which was just big enough for the OM-5 and the additional lens.
We rose at 5am and began our four-hour ascent on a beautiful morning just as the sun was coming up. The route starts off as a steep footpath, but the middle third involves traversing some narrow ledges and a few sections climbing over massive boulders and up some vertical faces with the aid of embedded chains and metal staples set into the rock. I was glad that my chosen camera was not only small and light but that it had a decent handgrip, as well as a thumb grip on the back, as I sometimes had to use it one-handed as I clung to the mountain with my free hand. Indeed I found the ergonomics of the body to be exceptional with all the controls just where you'd want them to be – though admittedly I don't have massive hands. If I did I might think differently.
As we climbed, the clouds began to roll in. While the city below bathed in summer sunshine, we were enveloped by the cool, moist embrace of the famous 'table-cloth' that often visits the top of the mountain and reduces visibility to just a few metres. Rain threatened but never came, though being weather-sealed to IP53 standard I had no worries about whether the camera kit would cope.
We continued our ascent knowing there would be no panoramic views across the Cape when we got to the top. While it was disappointing that we had timed our excursion for the one day during our two-week stay that the top was covered by cloud, there was something zen about the isolation and silence. When we came to a section of the mountain that had caught fire a few weeks earlier, the scorched landscape combined with the fog created an eerie beauty that was very cinematic.
Getting to the point
The next day I was pretty stiff, having tested muscles that I had forgotten I had, so I was glad of the rest before our next big trip, a drive down the Cape Peninsula via Chapman's Peak Drive, regarded as one of the great scenic drives of the world. I attached a GoPro to the windscreen wiper to video the twists and turns of the coastal road as it hugged the side of the mountains. Once we got to Cape Point we chose to bypass the funicular up to the lighthouse at the top of the rock and walk up. This was followed by a half hour clifftop walk along a meandering wooden boardwalk to the nearby Cape of Good Hope – the most southwestern tip of Africa.
Once again I was glad for the light weight of the OM-5 and lenses. The next stop, a few miles up the road was the famous Boulder's Beach penguin colony and I used the 3" vari-angle touch screen on the OM-5 so I could photograph the birds from near ground-level. Like the EVF, the screen resolution isn't class leading (it wasn't updated from its predecessor, the EM-5 III) but at 1037K dots is reasonable and perfectly useable, and I was able to use the touch screen to select one of the 121 cross-type phase detect AF points to focus on individual birds.
Penguins are not very fast moving and of course they don't fly, but if they did I'd have been able to capture them at 30 frames per second using the electronic shutter (or 10fps with C-AF using the mechanical shutter) and I'd have been able to adjust the Continuous AF Tracking to prioritise focusing accuracy or speed.
One of the downsides of small mirrorless cameras is the battery life. The OM-5 claims to be good for over 300 shots but I never took more than that in a day to find out. Although I wasn't given a spare it was handy that I could take the battery from my original PEN E-P1 as a back-up, albeit without the ability to support in-camera USB charging like the native battery. In fact the only time I needed to use my spare was when I woke to find the OM-5 still dead after an overnight charge, and realised that in-camera charging only works when the camera is switched off.
One of the most eagerly anticipated activities of our visit was a trip down to the south-coast town of Hermanus, one of the whale watching capitals of the world. Every year, from June to November, hundreds of Southern Right Whales leave the Antarctic and descend on this sleepy town to mate and give birth. They can often be seen playing just metres from the coastal footpath that curves around the bay. We arrived at 8am to join one of the numerous whale watching cruises that operate in the town.
While my wife had the binoculars I fitted the 40-150mm F4 PRO lens to the OM-5 and waited. Although we had arrived late in the season I was confident it wouldn't be in vain. Sure enough, about a mile along the coast we encountered a female with its calf. The mother lay quite motionless but the calf would periodically pop its head out of the water to check out our boat, and I took a few shots. On the way back a pod of over 100 dolphins decided to race us, leaping in and out of the bow wave and criss-crossing our path and clearly enjoying themselves.
This three hour boat trip was the main reason I brought that lens with me, which is equivalent to 80-300mm on full-frame, but at just 70mm long and weighing just 382g, it was hardly a hardship to carry, so I had it with me most of the time and used it quite a bit. Neither Canon or Nikon have anything quite like this lens in their mirrorless lens ranges at present but, by comparison, Sony's very similar but more expensive FE 70-300mm f/4.5-5.6 G OSS is double the length and almost three times the weight. I'm not sure I'd have wanted to carry that around for two weeks and that, in a nutshell, is why I didn't want to take a full frame camera on this trip.
The 40-150mm F4 PRO lens looks feels and performs exactly like its 12-45mm sibling. Both lenses feature constant F4 apertures and a premium metal, weather-sealed design, and make use of special glass elements to minimise optical aberrations, including aspheric, dual super-aspheric (DSA), high refractive index (HR), super-high refractive index and Extra-low Dispersion (ED) glass. Needless to say, the image quality of both lenses is exceptional.
OM System OM-5: Conclusion
At the beginning of this feature I said I wanted to find out if the OM-5 was the perfect travel camera. In fact I already kind of knew the answer. I have an Olympus OM-D E-M1 Mark II with the 12-40mm f/2.8 and that too would have been an excellent choice, but the OM-5 and the new lenses are even smaller. There are a few minor sacrifices to get to that size, like only having one card slot, but nothing that I can't live without. Indeed the OM-5 has a whole bunch of new tricks that my older camera doesn't have, and I largely didn't use, such as the built-in Live ND filter.
What I wanted was a camera that was small and light, with lenses that are also small and light, that would be enjoyable to use and deliver excellent image quality. Everything else would be just gravy. The OM-5 did all of that, and my gravy boat runneth over with extra features that I didn't really need but could have been useful had this been a more photographic-oriented trip. Indeed had that been the case I would certainly have also taken at least one fast prime so I could get some nice bokeh portraits. One of the company's excellent  F1.2 lenses would have been ideal.
I was very happy with the image quality from the OM-5. I shot everything in RAW and best quality JPEG but to be honest the colour and exposure from the JPEGs was such that I mostly used those to illustrate this feature, and only on a few occasions did I feel I could do a better job by processing the raw file myself. Likewise the AF rarely skipped a beat, and when it did it was mostly because I hadn't selected the correct settings.
In conclusion OM System has created an exceptional camera that is absolutely perfect for those who wish to travel light with a fully-featured camera system, without making any compromises in image quality or performance.
Read our full OM System OM-5 review here.
Why not join us on AP photo holiday to Cape Town in May with Nigel Atherton and Tom Svensson. See full details here.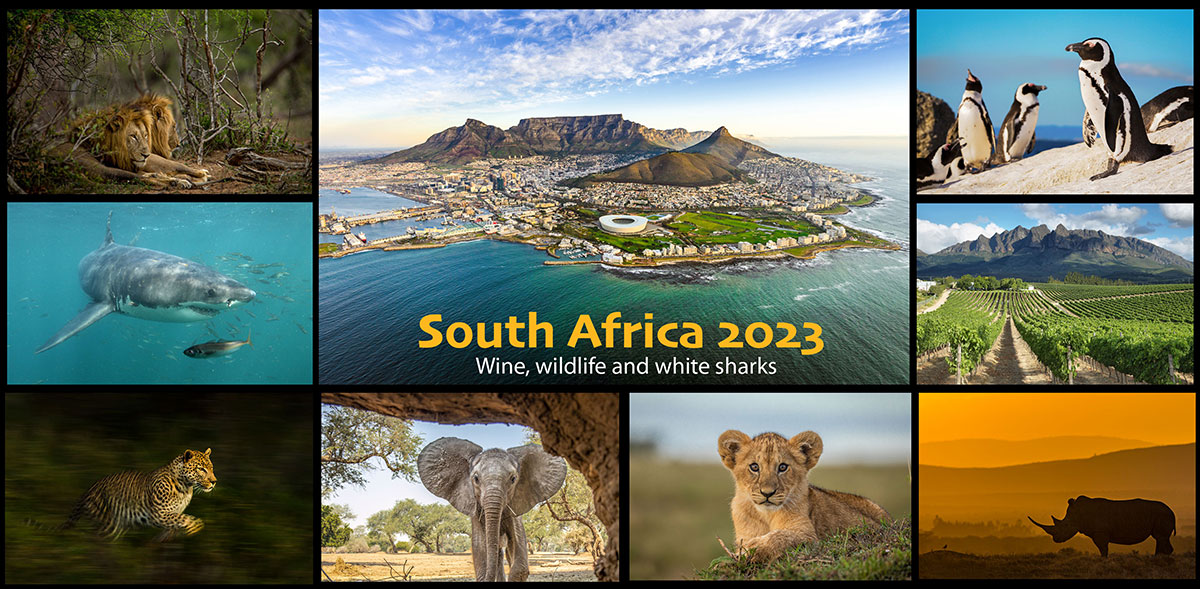 ---