Introduced back in 2014, the EOS 7D Mark II was Canon's high-speed 20MP APS-C DSLR, with 10fps continuous shooting, 65 AF points, weather-sealed, dual memory card slots, and FullHD 60p video recording. If you're looking for a tough and high-speed Canon DSLR with the additional benefit of a 1.6x crop, could the EOS 7D Mark II be the best Canon DSLR for you? Find out in our full review.
Canon EOS 7D Mark II at a glance
$470-560 / £490-520 used, body only
Original new price $1,799 / £1,599 body only
20.2-million-pixel, APS-C sensor
65-point autofocus system
10fps continuous shooting
Dual Pixel AF in live view and video
ISO 100-51,200 (extended)
3in, 1.04-million-dot LCD screen
The EOS 7D series offered features that wouldn't look out of place on Canon's family of pro-level EOS-1 DSLRs including rapid continuous shooting and advanced AF. The EOS 7D Mark II could rattle through frames at 10fps at its full 20.2MP resolution and it employed a really responsive 65-point, all cross-type sensor AF system, making it a sought after machine among action and wildlife shooters. In addition, as an APS-C format camera, action and nature shooters appreciated the benefit of the 1.6x crop factor, where a 300mm focal length lens gave the equivalent view of a 480mm lens.
Bundling all this together into a durable, weather-sealed body makes a very exciting prospect for any enthusiast action photographer who cannot justify the expense of sports and wildlife monsters such as the Nikon D4S or the Canon EOS-1D X. Furthermore, with its used body price in the region of $470-560 / £490-520 the EOS 7D Mark II represents great value, although very good condition samples are thin on the ground.
Canon EOS 7D Mark II: Features
The Canon EOS 7D Mark II features a 20.2-million-pixel CMOS sensor, which Canon describes as new but is probably closely related to the sensor in the EOS 70D. It's an APS-C-sized unit with a 1.6x focal length magnification, meaning a 100mm lens will act as a 160mm equivalent. For users shooting action and nature who rely on long focal length lenses this is a big advantage, as it gives more reach.
The improvement to continuous shooting further increases the camera's appeal to wildlife and sports photographers. As well as increasing the frames per second from the 8fps of the EOS 7D to 10fps, the EOS 7D Mark II has a huge buffer. Providing the card is fast enough, the camera can shoot full-resolution JPEG images until the card is full, and it's also possible to shoot and write a burst of 31 raw images in one go.
Two separate DIGIC 6 processors work together to deliver this very impressive performance. In addition to the speed increase, they should also improve the in-camera JPEG image processing.
An impressive leap forward has been made when it comes to the ISO sensitivity range. The EOS 7D had a rather limited native range of ISO 100-6400 (extended to ISO 12,800), while the EOS 7D Mark II has an ISO sensitivity of 100-16,000, with two extended options of ISO 25,600 (H1) and ISO 51,200 (H2).
On the top of the camera, in front of the hotshoe, is a small GPS module. This can record the latitude and longitude of where an image was taken, along with the direction in which the camera was pointing. There is also an option to track the photographer's location even if they're not shooting. Both functions can be disabled. However, It's surprising that there is no Wi-Fi connectivity on the 7D Mark II.
Canon says the EOS 7D Mark II is likely to be bought not only by photographers looking to upgrade from an entry-level camera, but also existing EOS 7D and pro-level camera owners. For this reason, two card slots, for SD and Compact Flash, have been included.
Full HD 1920 x 1080-resolution video can be recorded at up to 60fps in NTSC and 50fps in PAL. There are also options for 30fps, 25fps and 24fps. Using the HDMI port, it's possible to output uncompressed (4:2:2) video to an external recorder. One useful feature is an improved bulb mode. Instead of needing a cable release to shoot exposures longer than 30secs, you can now specify a time in the menu.
Canon EOS 7D Mark II: Build and Handling
The type of photographer who will use the 7D Mark II is likely to subject it to pretty challenging conditions. It's reassuring, then, to see that Canon has not scrimped on the build quality. The camera body is made of durable magnesium alloy, and weather sealing has been improved over its predecessor, making the 7D Mark II the second-best weather-sealed DSLR in Canon's line-up behind the flagship EOS-1D X.
During my test of the 7D Mark II I subjected it to some brutal weather conditions that gave it a thorough soaking, and it came through without damage. I can confirm first-hand that you can take the camera out in the rain with nothing to fear!
The EOS 7D Mark II's body shape is almost identical to that of the EOS 7D, but the button layout is much more like the EOS 5D Mark III. The Q menu has been moved to the right side of the LCD, and other buttons have been shifted around to accommodate a rate button. This is particularly useful for highlighting the best shots from a burst sequence. The rear dial gains inset touch buttons for changing settings silently during video recording. Also, Canon has opted for a locking mode dial, to help prevent accidental changes.
Making its debut on this camera is a thumb-operated sprung lever, which is centred around the joystick on the rear of the camera. This can be assigned to carry out multiple functions. I found setting it up to toggle through AF area selection options was great when shooting with a long lens. However, when I wasn't shooting in this way, I assigned the lever to be pulled down to give me the option of using the front dial to change ISO sensitivities. It's one of the most useful functions I've seen on a camera. Without taking my eye from the viewfinder, everything was available for me.
Tapping the Q button brings up the quick menu on the LCD screen. From here, there are numerous custom controls and button reassignment options. As standard, the EOS 7D Mark II comes with the longer-lasting LP-E6N battery, although it will still work with older LP-E6 batteries.
LCD/viewfinder
The 7D Mark II's TFT Clear View II LCD has an ample 1.04-million-dot resolution. It's very easy to see and has accurate colour rendition, but I'm disappointed by the omission of both touch sensitivity and LCD articulation. These are both really useful on the EOS 70D, especially for video work.
A transmissive LCD panel is located above the focusing screen, which allows information to be visible through the viewfinder. This can be turned on/off or set up to suit the photographer's needs. I found the dual-axis electronic level to be very useful. Gridlines are available to aid with composition, and various settings, such as focus, drive and metering modes, can be displayed in the viewfinder too.
Canon EOS 7D Mark II: Performance
Autofocus
Where the EOS 7D Mark II shows the most dramatic improvements is in autofocusing, with a remarkable 65 focus points covering a large portion of the frame. What's more, all are cross-type, so they can focus on both horizontal and vertical detail. The centre point even focuses at -3EV, which is essentially moonlight.
The centre point is sensitive to f/2.8, which improves accuracy with fast lenses. Also, for the first time, it works down to f/8. This means it's possible to use a telephoto lens with a teleconverter and still have autofocus, providing the effective maximum aperture is f/8 or larger.
Advanced iTR AF tracking uses image information provided by Canon's 150,000-pixel metering sensor to track subjects across a frame. Like the EOS-1D X and the EOS 5D Mark III, the 7D Mark II has an advanced focusing menu that allows users to configure the AF system for what type of subject they're shooting. In use, I found the continuous focusing worked very well, and the different settings do help to achieve better results.
My first outing with the camera was to shoot an event in the Lightbox club in London. The lighting conditions presented a real challenge for any autofocusing system, but the EOS 7D Mark II performed brilliantly. Using all 65 points, the camera quickly found the right point of focus and the hit rate of sharp shots was very high.
When shooting deer in dense woodland, I opted to shoot with a small cluster of AF points and move it across the frame using the joystick control on the rear of the camera. It made focusing very fast in operation and I got the shots I wanted without fault.
Like the EOS 70D, the EOS 7D Mark II has Dual Pixel CMOS AF, which provides better focusing in video. One improvement over the EOS 70D, though, is its ability to change the AF drive speed for smoother focus pulls. However, the focusing in live view still isn't as fast or decisive as using the viewfinder.
Metering
The EOS 7D Mark II's 150,000-pixel RGB+IR metering sensor provides four options for metering, partial, spot, evaluative and centreweighted average. All these settings give accurate results, striking a good balance between shadow and highlight detail. Evaluative metering is linked to all 65 AF points and I found there were no issues with inaccurate metering when this setting was used in the right situation. For most of my shooting, I rarely needed to switch metering from that setting.
Canon EOS 7D Mark II: Image quality
The Canon EOS 7D Mark II performs commendably in our applied imaging tests, giving good resolution for its 20.2-million-pixel sensor and low noise from ISO 100 up to 1600. As you'd expect, image quality deteriorates at higher sensitivities, but the JPEG output is still pretty good at ISO 6400, although with obvious loss of shadow detail. ISO 12,800 loses most fine detail, and the top settings are best used only when there's no alternative.
Processed raw images give similar results, delivering usable results up to about ISO 6400. As usual, though, the highest ISOs settings are very noisy indeed, and should really only be used when absolutely necessary.
The EOS 7D Mark II performs well with regards to dynamic range, and like other Canon SLRs its highlight tone priority setting can be used to help make the most of this, by expanding the range of tones recorded in the highlights by 1 stop, before they clip to white.
The default colour rendition is perfectly attractive, and Canon offers a range of picture styles for different subjects. These can be adjusted in-camera, and can even be adjusted by the user to suit their personal preferences.
Resolution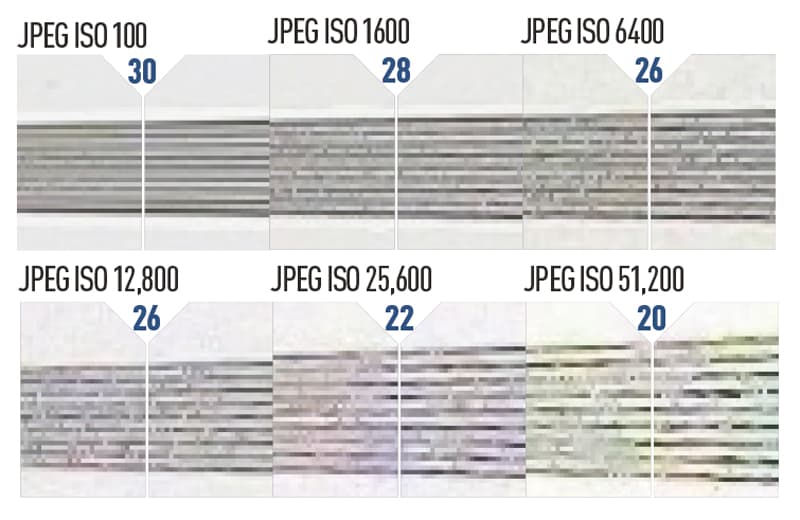 The EOS 7D Mark II resolved around 3000l/ph at ISO 100, with smooth blurring of lines beyond this point and no problems with aliasing or false colour. This holds up to ISO 800, beyond which resolution gradually decreases due to the effects of noise and noise reduction. A reading of 2800l/ph is maintained up to about ISO 3200, and 2600 l/ph to ISO 12,800, but this drops dramatically at the top two settings, to 2000l/ph at ISO 51,200.
Dynamic range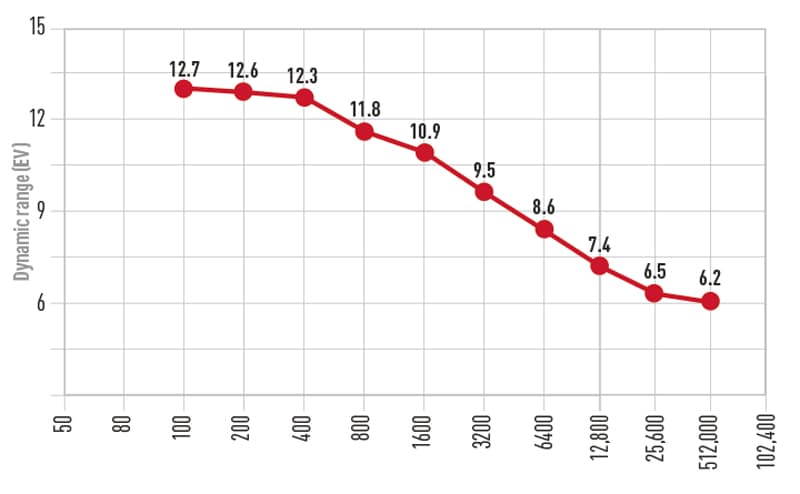 Base ISO dynamic range (DR) is a pretty impressive 12.7EV, according to our tests. But in real-world use the sensor doesn't perform quite as well as these numbers suggest, giving more noise in the shadows at low ISOs than its rivals. The DR initially drops quite gradually as the sensitivity is increased, and the EOS 7D Mark II maintains a creditable performance up to about ISO 1600. Beyond this it falls off more rapidly, with a value of 8.6EV at ISO 6400, and the top two settings give distinctly poor results.
Colour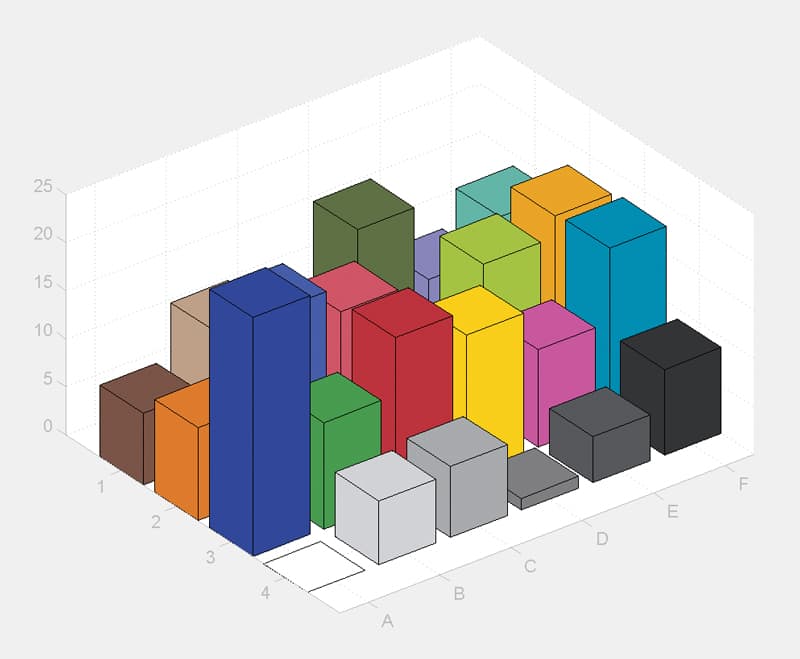 This 3D graph compares the colour shift from the reference colour to the photographed chart: the higher the peak, the greater the shift from the original. In the default JPEG colour setting, Canon offers a moderately contrasty and saturated rendition, with some emphasis on the blues, and to a lesser extent the reds.
In real-world shooting, skin tones in portraits are rendered very well and appear rich and well saturated. There were pleasing, punchy and vibrant colours to be seen in the autumnal leaves in the forest, too.
Noise
The images above have a resolution of 300ppi, reflecting a high-resolution print. The 7D Mark II gives clean, detailed images at low ISOs, with a hint of luminance noise creeping in at ISO 1600. Shadow detail starts to deteriorate noticeably at ISO 3200, and most fine low contrast detail is being lost to noise reduction by ISO 12,800.The top two settings give very murky files, particularly in the darker tones, and are best kept for emergencies only.
In this test we checked out the EOS 7D Mark II's raw files using Canon's free Digital Photo Pro software supplied with the camera. This gives broadly similar images to the in-camera JPEG processing, with very usable results up to ISO 3200 and only seriously deteriorating at ISO 12,800. Again ISOs 25,600 and 51,200 really aren't great.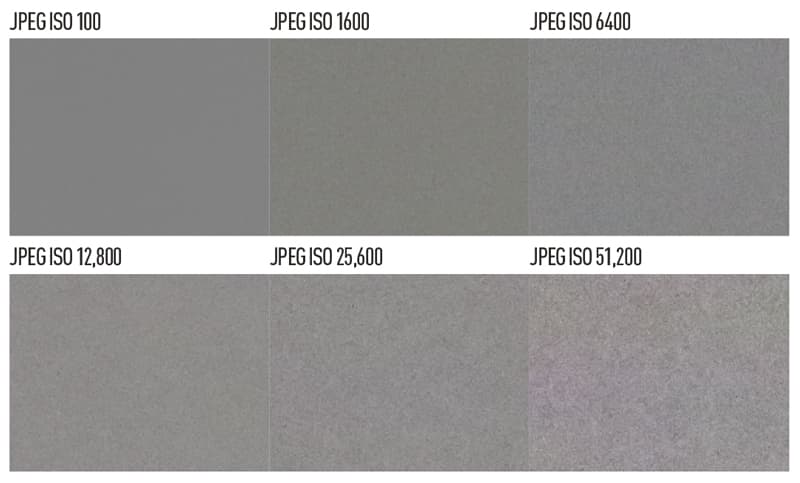 The grey-card images above are JPEG files shot with the EOS 7D Mark II's default noise reduction and colour settings applied. The images are printed at 300ppi to reflect the noise that would be experienced in a high-resolution print. The EOS 7D Mark II delivers clean images at low ISOs, and luminance noise only starts to become visible at ISO 800. This increases monotonously as the sensitivity is increased, but in these shots it doesn't really show very much until the top two settings are reached. Raw files processed using Digital Photo Pro tell a similar story, being usable to ISO 6400 at least.
Canon EOS 7D Mark II: Verdict
The Canon EOS 7D Mark II adds some class-leading specification to its already popular camera. The 20.2-million-pixel sensor gives improved image quality compared to the EOS 7D, with better performance at high ISO settings, although we'd probably avoid using settings north of ISO 6400. However at low ISOs it can't match the ability to recover shadow detail that we see from many of its competitors.
My main gripes about the camera concern what's been left out. There is no touchscreen, no articulation of the LCD and no Wi-Fi connectivity, which is disappointing. However, for the target audience of the wildlife and sports photographer, these features may not be a priority.
Where it truly excels is in its build, handling and autofocusing system. The body is solid, it feels good in the hand and the button placement makes sense. The addition of the thumb lever coupled with the additional viewfinder information displays makes settings easy to change without even needing to take the eye from the camera.
Canon's 65-point autofocus system is fantastic, locking on and tracking subjects very quickly, even in challenging conditions. It's great to see a professional-grade autofocusing system inside an enthusiast camera. Likewise, the ability to shoot at 10fps, with a very respectable buffer, was once the preserve of only top-end DSLRs costing thousands of pounds. The addition of Canon's Dual Pixel AF provides improved autofocus in video, too.
In all, Canon has made a very capable action camera for the enthusiast photographer. Its original new body price was £1,600 so it was one of the most expensive APS-C cameras on the market at the time, but it was also one of the best, which makes it worth picking up as a second-hand bargain. Its used body price is around $470-560 / £490-520. Given the outdoor nature of its owners, the best advice is tto search for a better condition sample that has seen less action.
Canon EOS 7D Mark II: First Look
The Canon EOS 7D's reign as the flagship in Canon's APS-C DSLR lineup finally comes to an end as the firm announces its successor: the Canon EOS 7D Mark II.
With this camera, Canon placed the emphasis very much on speed and focusing accuracy. The EOS 7D Mark II boasts two DIGIC 6 image processors, which allows it to shoot at up to 10fps without making any sacrifices in resolution.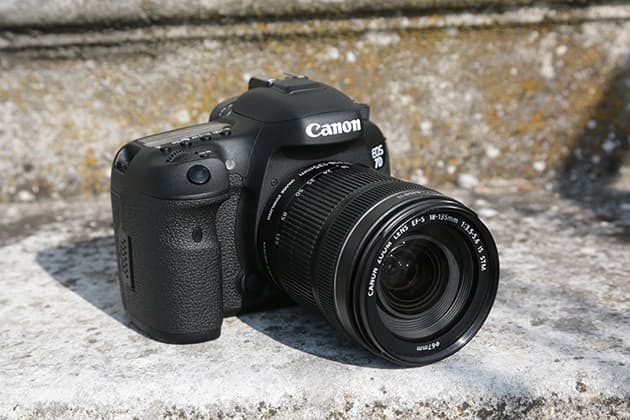 The rest of the camera is able to keep up with this improved speed too – we haven't yet been able to test the write speeds of the Canon EOS 7D Mark II, but Canon claims it will be able to shoot 31 Raw files at 10fps before hitting the buffer, and that it'll be able to shoot JPEGs indefinitely (or at least until your card fills up).
The EOS 7D Mark II receives a boost in resolution over its predecessor – unsurprising given the five-year gap between them. Its APS-C CMOS sensor boasts a pixel count of 20.2MP – identical to that of the EOS 70D.
It also comes sporting a viewfinder with 100% coverage of the frame, which can overlay additional shooting info such as white balance if the user desires, and features a levelling guide for straight shots.
A 150,000-pixel RGB+IR metering sensor has also been added for even more accurate exposures.
The Canon EOS 7D Mark II is capable of recording movies in M in Full HD (1920 x 1080), with a choice of frame rates from 24p to 60p, and features a dedicated stereo mic input. It uses Dual Pixel CMOS AF technology for video focusing, borrowed from the EOS 70D
Autofocus
High burst speed needs top-notch autofocus to complement it, and it appears that Canon has outdone itself with the EOS 7D Mark II's 65-point AF system.
Whereas previous Canon AF systems have featured 19 cross-type AF points, in the EOS 7D Mk II every single one of these AF points is cross-type. The centre point offers dual cross-type focusing at f/2.8.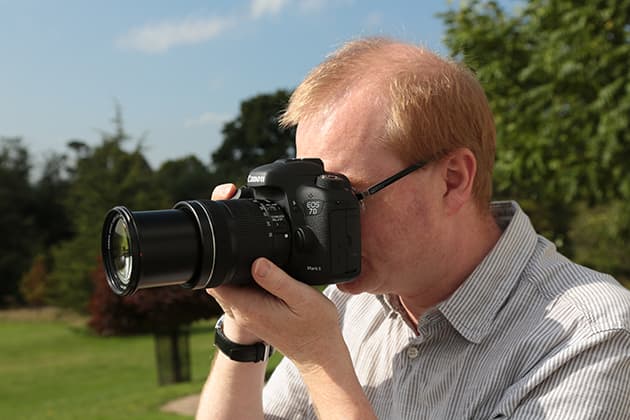 The autofocus system on the EOS 7D Mark II pulls in a fair few features from other Canon DSLRs. It inherits the latest generation off AI Servo II from the EOS 1DX, and improves on the acceleration and deceleration tracking of moving subjects.
It also borrows the six autofocus 'case studies' – AF settings that correspond to specific situations – from the EOS 1DX and EOS 5D Mk III.
An AF selection lever allows the user to switch between AF modes without moving away from the viewfinder – a welcome addition that should make shooting a good deal more fluid.
Design and build
Design-wise, Canon hasn't made great strides on the original EOS 7D. The 7D Mark II looks and feels very similar to its predecessor. However, there are a few refinements in the physical design that are worth looking at.
The EOS 7D Mark II has weather sealing, which Canon says is second-best to the EOS 1DX. The dimensions have also been altered slightly from the EOS 7D, allowing the EOS 7D Mark II to accept the optional BG E-16 battery grip.
While it's nice to see a built-in interval timer and dual card slots – one SD, one CompactFlash – it is a bit of a shame that we aren't seeing a touchscreen on the EOS 7D Mark II. A vari-angle screen would have been nice too, rather than the fixed version we've ended up with.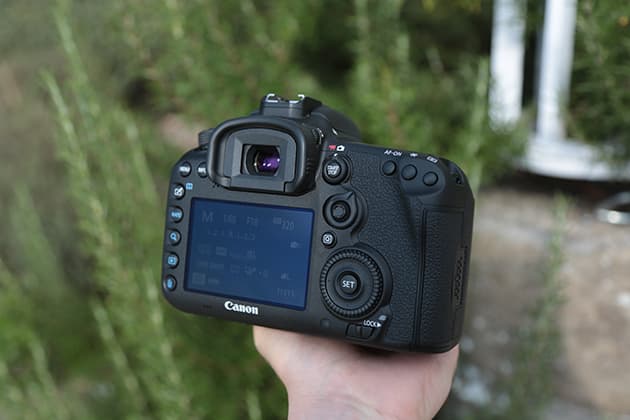 More surprising though is the lack of built-in Wi-fi functionality. It was, to be honest, rather odd even in 2014, and while the EOS 7D Mark II can be used with the WFT-E7A II / WFT-E7B II wireless file transmitter, expect to pay a whopping $849 / £840.
The Canon EOS 7D Mark II was priced at $1,799 / £1,599 body only when it was launched in 2014.