Would you let your doctor diagnose you by jumping on Skype? What about using your smile to access your bank account?
It might feel like a frivolity that photographers love to hate – but rather than dying out, a new report commissioned by Sony Mobile has discovered that the selfie might actually be making itself even more ingrained in our culture in the future – and not just for fun.
It's no secret that the selfie is a beyond-popular worldwide phenomenon. On average, UK adults take around 24 selfies a month. Over 91% of under-24s admit to taking them, and over half of over-50s – but the numbers for both are on the rise. 65% of men take them regularly, and 75% of women. As smartphone numbers have boomed over the last 10 years, holding out our arms and smiling our screens has become a collective piece of modern body language. And with the ever-more ambitious development of smartphone cameras, perhaps it isn't all that surprising that innovators are finding new opportunities to put them to use.
The study, which includes consumer surveys conducted by OnePoll, explores a few professional and personal realms in which scrabbling for decent lighting and leering into our front-facing cameras might be all the rage in the years to come.
_______________
Medicine
What happens if you need a check-up but don't have direct physical access to a doctor? Improvements in common camera technology mean that high-quality, true-to-life shots are easier to achieve than ever before. Before long, according to the report, high-resolution selfies could reliably be used as a convenient method of getting an initial check-up. For example, good images of the skin could help doctors remotely diagnose rashes, warts or even skin cancers. Indeed, already, one in five UK adults would rather see a doctor via a selfie or video-call before heading into the doctor's office – young men in particular.
This would obviously be helpful for people living in low-density population areas where the ability to visit a doctor on a whim might be restricted, but would probably also benefit those in the heart of the city – remote, quick check-ups could offer significant potential to improve health for everyone, by aiding with early diagnoses and encouraging people to take a more proactive interest in their own well-being. In financial terms, both of these might also keep long-term healthcare costs down.
Looking further ahead, though it's still in its early stages, the effectiveness of medical AI has been progressing rapidly in the last couple of years, and is still accelerating. Intelligent machines could one day take a lot of the preliminary work out of the hands of doctors, by advising whether or not a doctor should be consulted based on the selfie shared.
_______________
Security
Facial recognition already plays a role in identification today, and will almost certainly become more important going forward. A quarter of 25-34 year olds are already interested in using selfie-based technology to access their bank accounts, for instance. According to the report, at the core of the security question is simplification. As more and more of our lives are stored in hackable, online databases, the need for easy but secure methods of accessing our private spaces – without being forced to remember increasingly complex User IDs and passwords – is growing.
It is likely to go further than just basic facial recognition using selfies, too – a particular gesture or facial expression might be required for specific functions. For instance, two users could shake hands while under the watchful eye of their cameras to authenticate a transaction between them. Compared to the ease with which hackers can guess incredible numbers of simple passwords within very short spaces of time, this could prove more secure in the future.
In years to come, just smiling at your phone while in your front garden could unlock your door.
_______________
Shopping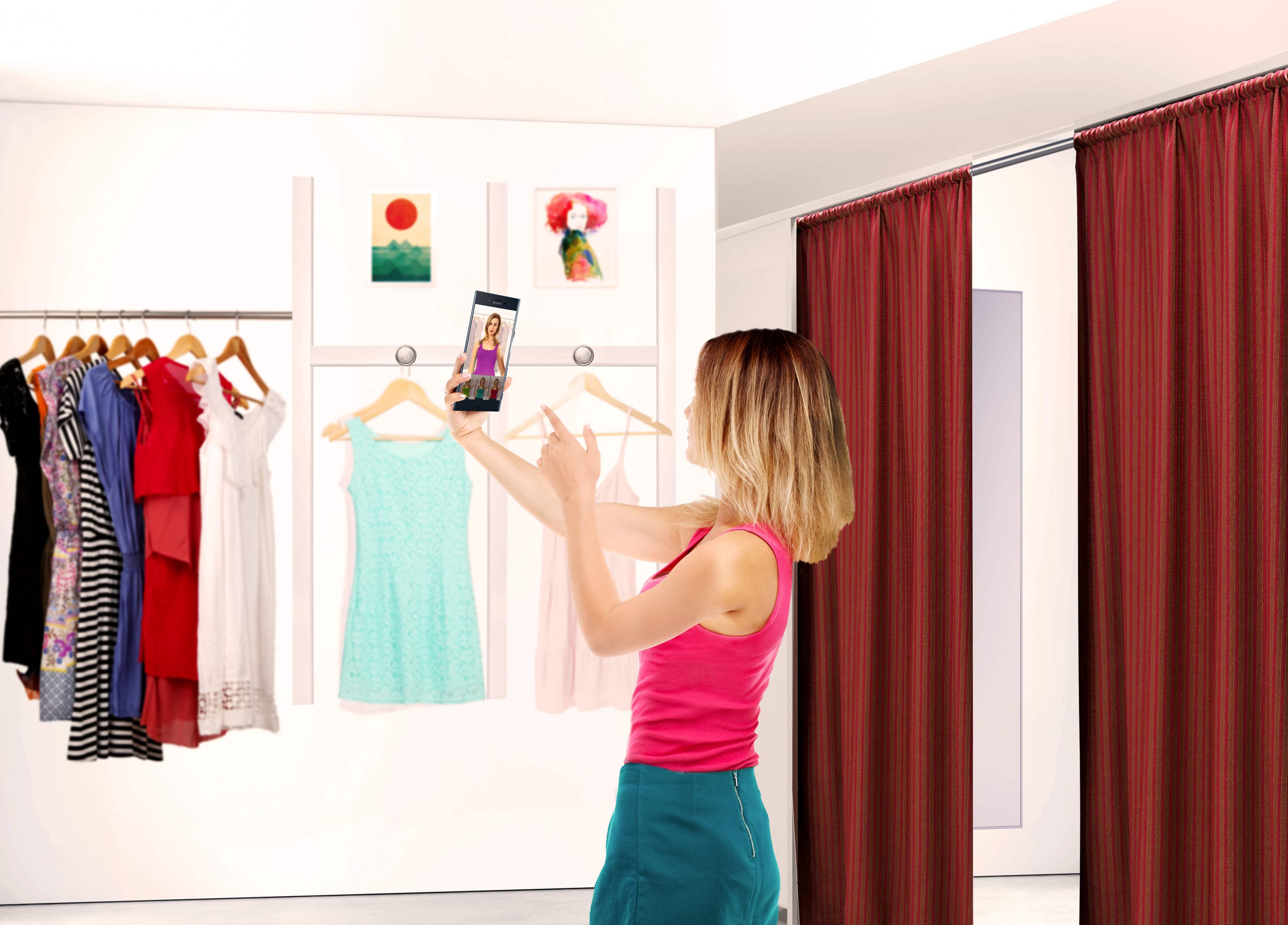 In much the same way that selfie-recognition software could be useful for financial institutions, the technology could be used for gifting personally-tagged discount cards, vouchers, tickets and travel-cards, reducing the need for clutter.
There's also the potential to harness to selfie to streamline or entirely create personalised retail experiences – smartphone users could snap themselves wearing something in a dressing room and watch as an algorithm suggests similar or complimentary clothes from the same (or even another) shop to complete the outfit. There's even the potential for applications to intelligently edit selfies to realistically display what we'd look like wearing a certain set of clothes. Already, shoppers can already use their phones to see competitor offers – even if the retail chains don't like it. A virtual selfie could take this to the next level.
Alternatively, retailers could use selfies that capture our body dimensions to tailor specific clothes for us, to be delivered at our convenience. Perhaps wearing an ill-fitting shirt will one day be a thing of the past.
_______________
Dating
Definitely one of the weirder potential applications of the future selfie. Dating apps are more popular than they ever have been worldwide, and the trend looks only set to increase over the next few years. Most involve being matched with another individual the service decides we'd find attractive and compatible – though sometimes it seems as though the method this is decided through is a mystery. But selfies could be used to identify if someone finds another attractive by analysing their body language in short bursts of video – be it pupil dilation or facial expressions – and it is suggested that this could be used for more intelligent matchmaking.
_______________
Speaking about the reseach, Michio Maruhashi, Marketing Strategy at Sony Mobile, said: "The project has given us a real sense of how selfies have evolved, and why they could be set to transform so many different sectors.
"At Sony Mobile we face the dual task of designing smartphones that make consumers' lives easier today, while keeping an eye on what the future holds and being part of driving innovation and change. We have always seen photography as being a key function at the heart of the smartphone and have already advanced front camera technology in our Xperia XZ for superior quality photos, so it's incredibly exciting to find that consumers are ready to embrace selfies for such a wide range of future uses that enhance our everyday lives."
---
Further reading: