Whether you're in need of a new tripod, a better ball head or simply want to look after your set of sticks, there's something for every scenic shooter in this comprehensive round-up…
---
See our updated guide to the best tripods!
---

Manfrotto 190GO MT190GOC4
£239 l www.manfrotto.com
Manfrotto's 190-series has great heritage and this MT190GOC4 carbon fibre tripod is the lightest, most compact offering in the 190 range. It's a 4-leg section tripod that weighs 1,350g, can be extended to a maximum height of 147cm and folds down to 45cm.
It'll happily support up to 7kg and the twist locks ensure the legs have no protruding parts and can be quickly loosened or locked with 90° rotation. The legs can be set to four leg-angle positions and its clever built-in 90° column mechanism lets users swing the centre column horizontally for low-level shots in a matter of seconds.
Note the price is for the tripod only so you will need to budget an extra £100 for a good-quality ball head.
Sirui K-10X ball head
£97 l en.zssirui.com
There are many reasons why landscape photographers swear by using ball heads. Not only do they allow us to move the camera freely to find the perfect composition, they're fast to use, and – if you buy a good one like the Sirui K-10X – extremely stable.
It comes with separate locking knobs for the main ball and the independent panning base, with an embedded friction-setting control on the main locking knob.
The quick-release platform has three bubble levels, and a safety interlock post to stop your camera inadvertently sliding off the head. It weighs 390g and is beautifully engineered. You'll struggle to find a better ball head for under £100.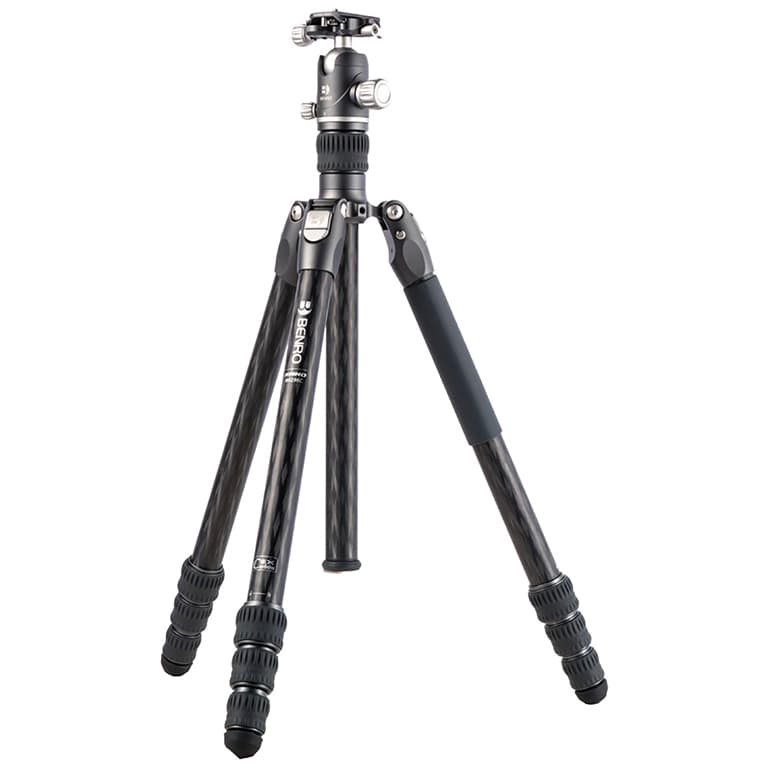 Benro Rhino 24C tripod with VX25 head
£249 l www.benroeu.com
This carbon fibre tripod and ball head kit offers remarkable value for money. The gunmetal finish gives the tripod a modern look and the legs, which can be widened to three angles, reverse fold around the head to keep it compact. It has a folded length of 49cm, supports loads up to 18kg and comes with a set of spikes that can replace the chunky rubber feet to provide improved grip on rocky or icy ground.
The ball head is the Arca-type and features a PU50X QR plate with a useful release plate safety lock. It picked up our Gold Award when we reviewed it and we found it offers plenty of leeway for shooting landscapes on uneven ground thanks to its impressive maximum working height (168.5cm).
Manfrotto 327RC2 Joystick Head
£179 l www.manfrotto.com
This joystick head from Manfrotto is a different take on your average ball head. Unlike a ball head that requires you to loosen its main control knob before the camera can be repositioned, the 327RC2 features a handle-based lock release lever. Squeeze it and it frees the head, allowing you to intuitively adjust the camera's position.
When you're happy with the new position or orientation of your camera, simply release the lever and it'll securely lock into position. It's a great bit of kit and is highly recommended for landscape photographers who'd like a fast and convenient method of positioning their camera with minimum fuss. The smaller, lighter and cheaper version is the Manfrotto 324RC2 (£119).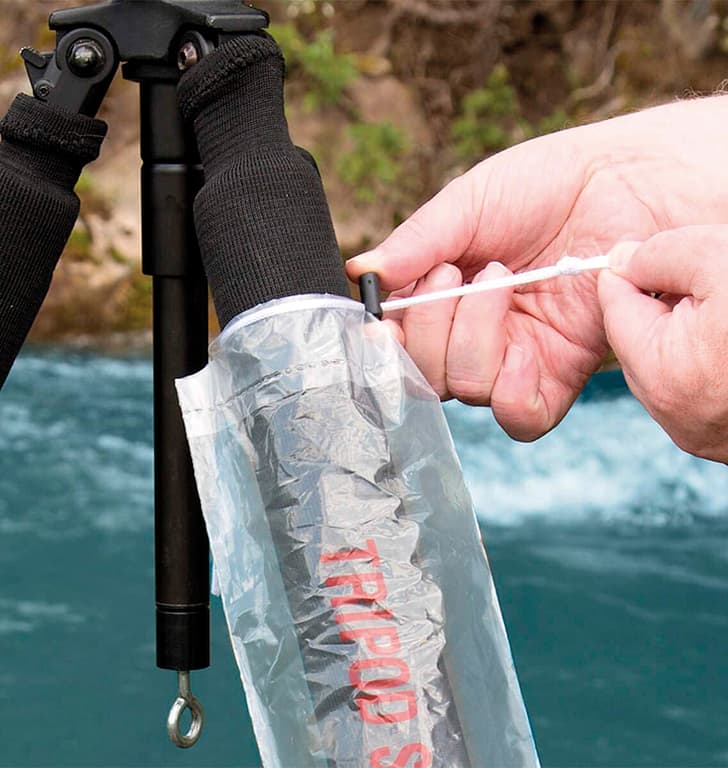 Op/Tech Tripod Sleeves
£16 l www.intro2020.co.uk
Choose a good-quality tripod and it should last you many years. Mistreating it or exposing it to harsh environments day after day can drastically reduce its lifespan and this is where Op/Tech's tripod sleeves come in.
Good for when you're shooting in rivers, the sea, snow or on sand, they pull over the tripod leg and tighten with a drawstring. The reinforced bottoms offer added protection when shooting on abrasive surfaces and they can be conveniently rolled up and tucked into a pocket when finished with.
They're designed to fit tripod legs up to 7cm in diameter and 116cm in length.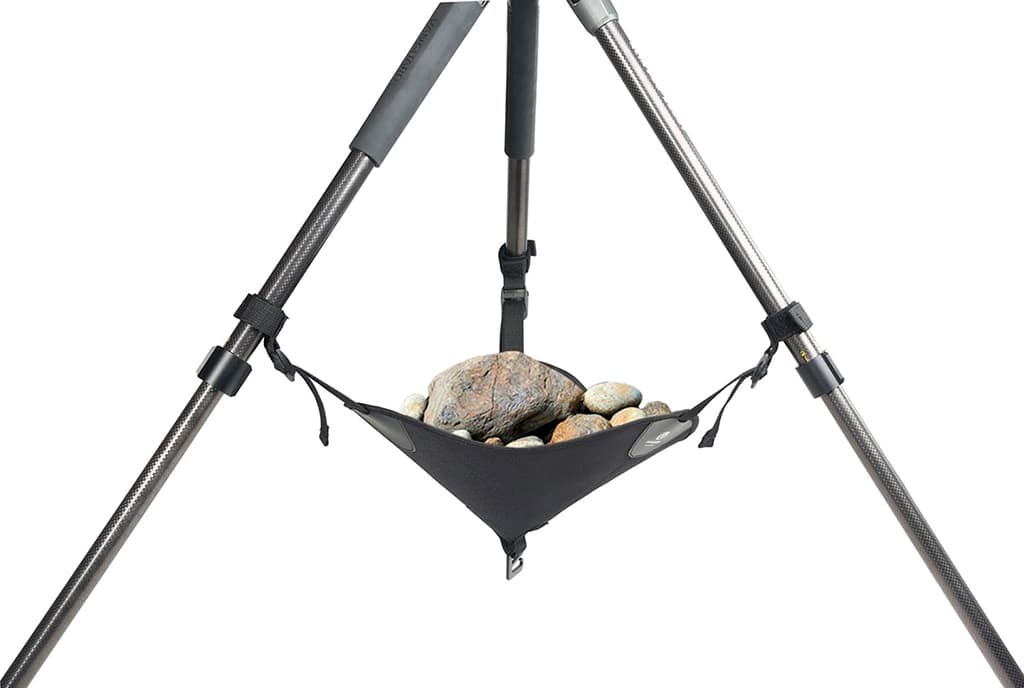 Vanguard Alta Stone Bag
£20 l www.vanguardworld.co.uk
Shooting landscapes in strong winds can call for some additional weight to be added to your tripod to minimise vibrations and improve stability. If your tripod doesn't feature its own centre column hook to attach some additional weight, or maybe you fancy a handy shelf to keep essential accessories accessible whilst shooting, Vanguard's Alta Stone bag is a good purchase.
Made from durable polyester, it easily attaches to the legs of any tripod through Velcro loop fasteners and can be loaded with rocks, stones or whatever heavy items you can find. It has a hook underneath that allows additional weight to be added.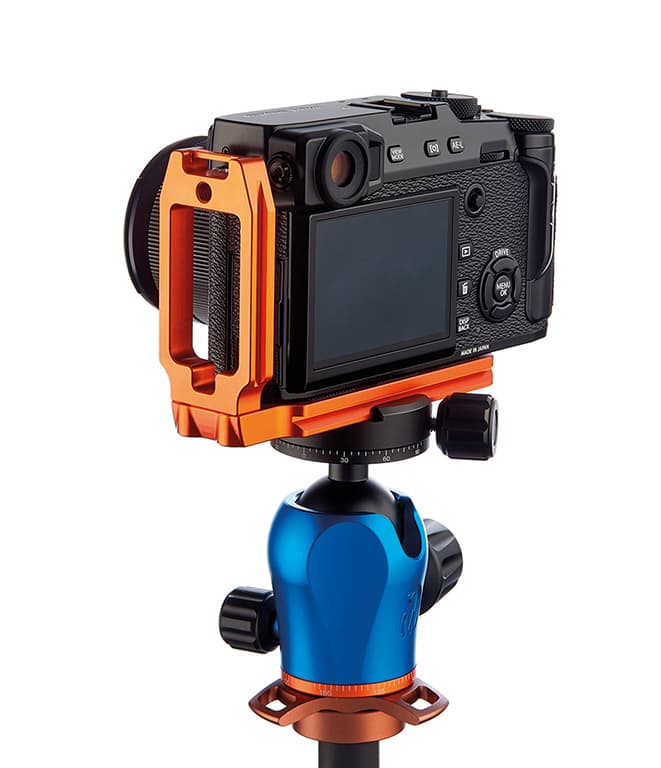 3 Legged Thing QR11-L Universal L Bracket
£45 l www.3leggedthing.com
An L Bracket is an invaluable tripod accessory. As well as allowing us to quickly and easily switch between landscape and portrait shooting orientations, they ensure the camera is mounted centrally above the tripod's pivot point, not off to the side, which can result in an unbalanced set-up.
The QR11-L's base provides compatibility with standard Arca Swiss clamps and tripod heads, and can be used with a wide range of DSLR and mirrorless cameras (check the website for compatibility). There are options to attach wrist, neck and sling straps, plus there's a larger QR11-FB version for photographers who own cameras fitted with battery grips.
Gitzo GT1532 Mountaineer Series 1 Carbon eXact
£499 l www.gitzo.com
This tripod provides the exquisite build quality, rigidity and stability you'd expect from a high-end product that fetches a high price. It's very much aimed at photographers who demand nothing but the best and are willing to pay a premium for it. The legs can be effortlessly spread to three angles, the soft screw locks allow for incredibly fast set-up and an upper disk ensures a solid connection with whatever head you decide to use.
It extends to a maximum height of 158cm, has a closed length of 62cm, weighs 1.33kg and supports a maximum load of 10kg. Tripods for landscape photography don't come much more desirable than this. With care and respect it'll most likely last your lifetime.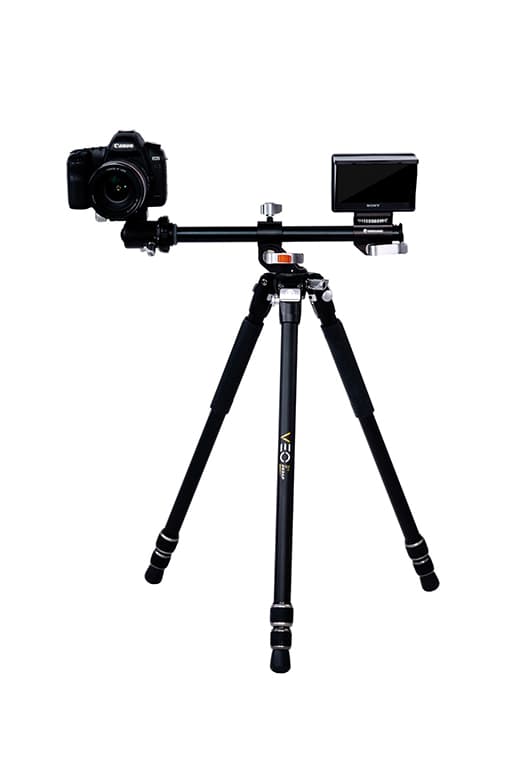 Vanguard VEO 3+263AB
£229 l www.vanguardworld.co.uk
Vanguard's VEO3+263AB is a fine example of a 3-section aluminium all-in-one tripod that's supplied with a well-made Arca compatible ball head. Its standout feature is its innovative multi-angle central column arrangement that lets you swing it from vertical to horizontal in an instant.
A VEO MA+1 adapter is also included, making it possible to support a second camera or additional kit when the centre column is used horizontally. It extends to an impressive 172.5cm, has a load capacity of 15kg and weighs 2.5kg. If you're willing to spend a bit more we'd recommend choosing the carbon fibre version that's 400g lighter and costs £299
---
Further reading
---
To read more articles like this one subscribe to our print magazine today. You'll save money every week and enjoy having each issue delivered to your door! Click here