Want to find one of the best cameras for beginners? Whether you're shopping for yourself or someone else, you're in luck – we've done the hard part for you, and picked out the absolute best cameras for beginners on the market right now, based on our extensive experience testing and reviewing them. For learning the principles of image-making and growing into a confident photographer or videographer, these are the cameras to choose from.
That's an important aspect of a beginner's camera that often gets forgotten – there's no sense spending money on a camera you're going to have outgrown within months, however cheap it may be. A good beginner's camera should be easy to get to grips with, yes, but it should also offer depth of control – not to mention image quality – to the point where you'd be happy using your beginner's camera for a good few years. And when it does come time to move on, the ideal beginner's camera should have a solid upgrade path, allowing you to keep using any lenses you've picked up along with it.
As such, we're focusing on interchangeable-lens cameras for this guide, as we feel they offer the best experience for those who are committed to improving and developing their image-making. If you feel a compact camera (i.e. one with a fixed lens) might be more your speed, then check out our guide to the best compact cameras.
So other than a good selection of lenses, what else does a good beginner's camera need? Here's a quick rundown before we get into it.
How to choose the best camera for beginners
A good beginner's camera should offer a degree of manual control, so that you can understand how the different settings affect the final image. It's important to think about sensor size as well; in this guide, we're dealing with APS-C and Micro Four Thirds as these are generally the options beginners will go for. APS-C sensors are larger, which improves image quality, but they also require larger, pricier bodies to house.
There's also the type of camera to think about – DSLR or mirrorless? DSLRs are generally hardier, have better battery life, and can field an optical viewfinder; however, mirrorless cameras are more portable, and tend to have more sophisticated autofocus and video options. See our guide to DSLRs vs mirrorless for a complete run-down of the differences.
Video features are also something you may want to look at. Do you want the option to shoot 4K video? Then there's also the autofocus system the camera uses, as well as its maximum burst speed (measured in frames per second). Both of these are important if you want to shoot fast action or wildlife. If, however, you prefer to shoot landscapes or portraits, you may want to prioritise sensor resolution, measured in megapixels.
It's a lot to take in, but don't worry. Drawing on the expertise of our review team, we've clearly explained the strengths and weaknesses of every camera on our list. So, no matter what kind of subjects you want to capture, there should be the right beginner's camera here for you.
If you're buying for a younger person, or child, have a look at our guide to the best cameras for kids and teenagers. We also have guides to the best DSLRs and the best mirrorless cameras if you already know which type you want. 
---
Canon EOS R10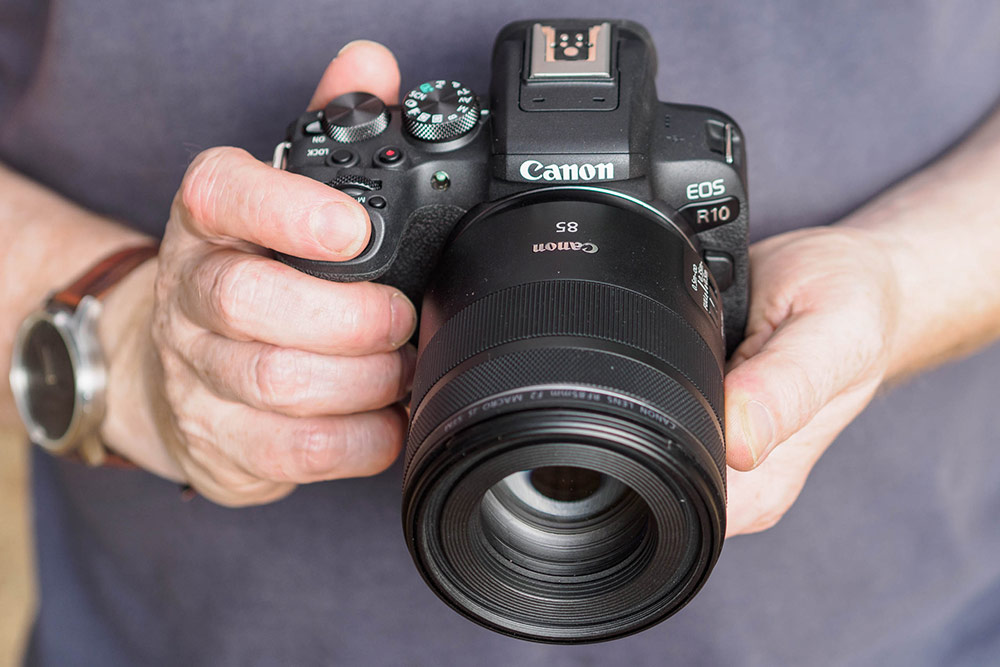 At a glance:
Mirrorless camera
24.2MP APS-C sensor
Canon RF/RF-S lenses
4K video
£999/$1099 with 18-45mm lens
To help people jump into its fast-growing EOS R line of mirrorless cameras, Canon introduced a couple of smaller, more affordable models into the line in 2022. While the EOS R10 is on the expensive side for a beginner's camera (and you'll find plenty of more affordable options further down this list), it's an excellent investment for anyone who wants to dive seriously into image-making.
It has an APS-C sensor, which is smaller than the full-frame sensor of the bigger EOS R cameras, but it uses the same lens mount. This means you can take advantage of all the excellent Canon RF lenses that it is currently pouring its R&D budget into – the range is small right now, but we can only expect it to grow as time goes on (which is not something we can say for the DSLR EF lenses, or for the poor, sad EF-M mirrorless range).
In our review, we praised the EOS R10 for its satisfying handling and reliably excellent image quality. We just have to hope that Canon has learned its lesson from the ill-fated EOS M series, and keeps introducing native RF-S lenses to suit this camera's smaller sensor.
Pros:
Lightweight, with great controls
Fantastic upgrade path
Can take EF/EF-S lenses with mount adapter
Cons:
Limited native RF-S lens range
Viewfinder a little small
Read our Canon EOS R10 review.
---
Canon EOS 250D / Rebel SL3
At a glance:
DSLR
24.2MP APS-C sensor
Canon EF/EF-S lenses
4K video
£639 / $749 with 18-55mm IS lens
If you prefer the good-old clunking shutter of a DSLR, then the Canon EOS 250D is one of the best entry points. Positioned between the entry-level EOS 2000D and mid-range EOS 850D models, the 24.2MP EOS 250D is Canon's smallest DSLR and comes with some key features not found on the EOS 2000D.
These include Canon's Dual Pixel AF technology that speeds up focus performance when the camera is in live view, 4K video recording, plus a vari-angle touchscreen LCD display. The intuitive control layout makes it easy to use, while Canon's guided user interface helps beginners learn the main settings. If you're considering the 1300D/2000D but have a little more to spend, the 250D is well worth a look.
Pros:
Dependably excellent image quality
Very lightweight
Loads of lenses to choose from
Cons:
No weatherproofing
9-point AF system has aged
Read our Canon EOS 250D / Rebel SL3 review.
---
If you're new to photography, check out our Improve Your Photography series, which is designed to guide you from the very basics of photography, as well as improve your photography, with guides on:
You'll also find guides to portrait, macro, street, landscape photography and more, so once you've had a look at what cameras are best for beginners, make sure you bookmark our Improve Your Photography series.
---
Fujifilm X-T30 II
Fujifilm X-T30 II at a glance:
Mirrorless camera
26MP APS-C X-Trans CMOS sensor
Fujifilm X lenses
4K video
£769 / $899 body only
Fujifilm's X-T30 II updates the popular X-T30, and what's impressive about the Fujifilm X-T30 II is that it features the same impressive 26MP APS-C X-Trans CMOS sensor as Fujifilm's flagship cameras. This means you get excellent image quality, great noise performance, and for those that like manual controls, the camera gives direct access to camera settings. There's also 4K video recording, and a range of Fujifilm X-Mount lenses available. You also get a metal camera body, and high-speed shooting, so that you're not likely to be limited by this camera in any way.
Pros:
Gorgeous JPEGs straight from camera
Satisfying manual controls
Stylish, high-quality construction
Cons:
On the pricier end for entry-level
Annoying Q button placement
Read our Fujifilm X-T30 II review.
---
Nikon D3500
At a glance:
DSLR
24MP APS-C CMOS sensor
Nikon F lenses
Full HD video recording
£449 / $649 with 18-55mm VR lens
Nikon's entry-level DSLR is a solid performer, providing excellent image quality from the 24MP DX-format sensor, aided by a proven 11-point autofocus system. There's an easy-to-use Guide Mode for beginners, along with full manual control for more-advanced users. Bluetooth connectivity allows images to be transferred to a smartphone for sharing on social media. The Nikon D3500 provides a redesigned body compared to the D3400, with a deeper, more comfortable handgrip and improved battery life rating for only a little more money.
Pros:
Useful guide modes for beginners
Excellent battery life
Generous 24MP resolution
Cons:
Not weather-sealed
Basic 11-point AF system
Read our Nikon D3500 review.
---
Nikon D5600
At a glance:
DSLR
24MP APS-C CMOS sensor
Nikon F lenses
Full HD video recording
£649 / $799 with 18-55mm VR lens
Positioned above the D3500 but below the D7500, the 24.2MP Nikon D5600 is an upper-entry-level DSLR. As such, it comes with some additional and enhanced features over the D3500, including a larger and sharper 3.2in, 1.04-million-dot vari-angle LCD display (compared with the D3500's fixed display) that also provides touchscreen control. In addition, the D5600 gets 39 AF points compared to the D3500's 11 AF points. The D5600 also features Wi-Fi and Bluetooth connectivity along with a time-lapse movie mode.
Pros:
Articulated touchscreen LCD
Has mic input for video
Can shoot time-lapse in-camera
Cons:
AF can struggle with moving subjects
No 4K
Read our Nikon D5600 review.
---
Olympus OM-D E-M10 Mark IV
At a glance:
Mirrorless camera
20MP Four Thirds sensor
Micro Four Thirds lenses
4K video recording
£699 / $799 with 14-42mm lens
Based around a 20MP sensor, the Olympus OM-D E-M10 Mark IV mirrorless camera offers excellent JPEG image quality with extremely attractive colours. The design is stylish and the ergonomics are well laid-out, while extremely effective in-body stabilisation keeps pictures sharp. You also get a good set of useful advanced features and the camera is supported by a fine set of small, affordable Micro Four Thirds lenses. You'll also find the camera offers Wi-Fi and Bluetooth connectivity, as well as 4K video recording. With In-Body Image Stabilisation, it offers great value for money.
Pros:
Bright, punchy images full of character
Small and enjoyable to use
Has advanced features to dig into
Cons:
No mic socket for video
Smaller sensor impacts raw image quality
Read our Olympus OM-D E-M10 Mark IV review.
---
Panasonic Lumix GX880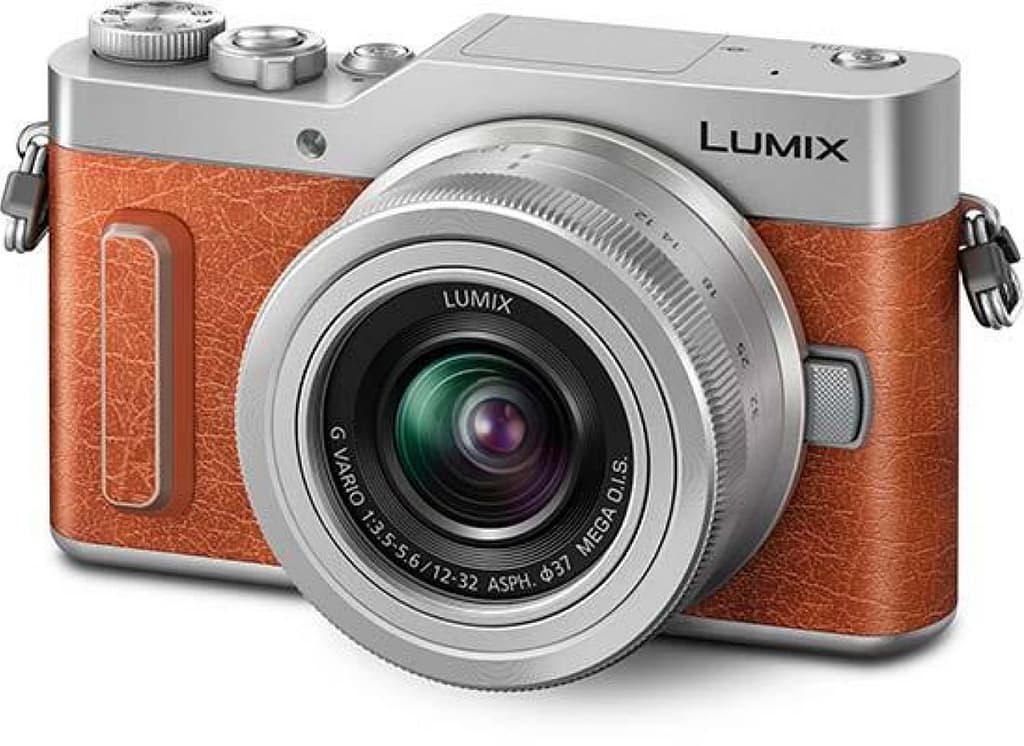 At a glance:
Mirrorless camera
16MP Four Thirds sensor
Micro Four Thirds lenses
4K video recording
£349 with 12-32mm lens
The GX880 is an entry-level mirrorless camera built around a 16MP Micro Four Thirds sensor. Designed to be easy to use, the GX880 is nonetheless equipped with a good range of features, including 4K video capture and Panasonic's 4K Photo mode. While it lacks an electronic viewfinder, the tiltable 3in, 1.04-million-dot rear LCD display provides touchscreen control, and can be flipped upwards by 180° for easy selfies. The tiny 12-32mm kit zoom is a perfect match for the small body.
Pros:
Super-tiny and pocketable
Useful 4K Photo modes
Touchscreen makes for intuitive operation
Cons:
No viewfinder
Some may find it too small
---
Panasonic Lumix GX80/GX85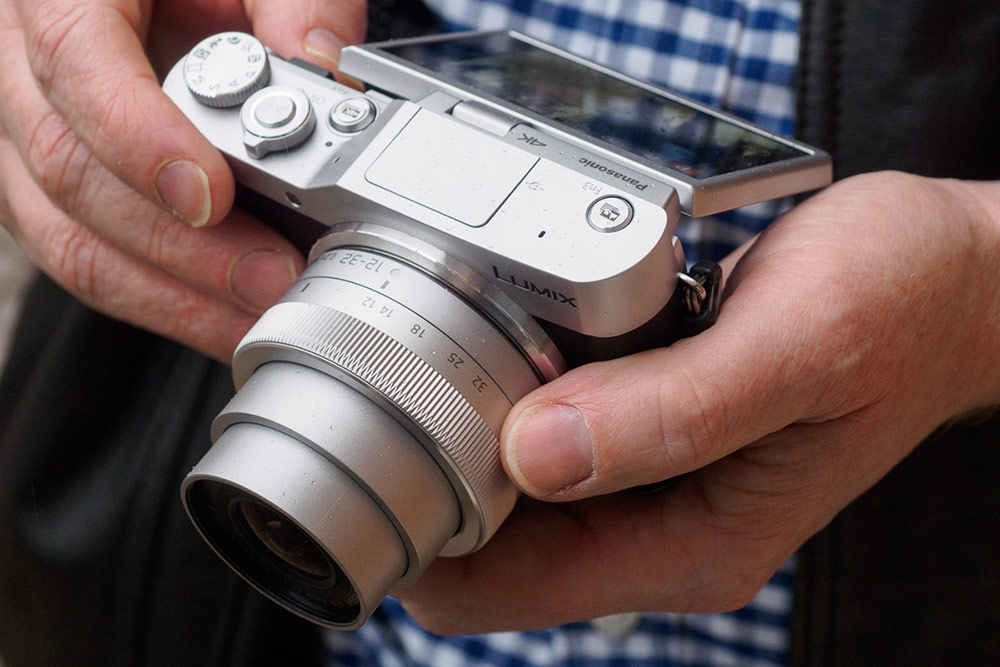 At a glance:
Mirrorless camera
16MP Four Thirds sensor
Micro Four Thirds lenses
4K video recording
£399 with 12-32mm lens; $597 with 12-32mm and 45-150mm lenses
This small but well-featured mirrorless camera is built around a 16MP Micro Four Thirds sensor. It has built-in 5-axis image stabilisation, 4K video capture, a 2.76-million-dot electronic viewfinder, a 1.04-million-dot tilting touchscreen and 4K Photo mode that facilitates the extraction of 8MP still images from 4K movie footage. Small and portable, and usually bundled with a tiny retractable zoom lens, the GX80 is a well-rounded camera that's attractively priced.
Pros:
Very effective stabilisation
Shoots quietly (great for street/wildlife)
Stylish rangefinder-esque design
Cons:
Viewfinder sometimes exhibits 'rainbow' effects
Aging autofocus system
Read our Panasonic Lumix GX80 review.
---
Pentax K-70
At a glance:
DSLR
24MP APS-C CMOS sensor
Pentax K-mount lenses
Full HD video
£699 / $578 body only
Pentax has gained a deserved reputation for producing cameras that provide great value for money, and the entry-level K-70 DSLR is no exception. Built around a 24.2MP APS-C CMOS sensor, notable highlights are a large, bright pentaprism viewfinder with 100% coverage, full weather sealing and an in-body image-stabilisation system – none of which you'll find on the K-70's direct rivals from Nikon and Canon. Other features include ISO sensitivity of ISO 100-102,400 and 6fps continuous shooting. For the price, it's easy to recommend.
Pros:
Gorgeously bright viewfinder
Effective stabilisation
Tactile handling experience
Cons:
LCD screen not touch-sensitive
Autofocus struggles with moving subjects
Read our Pentax K-70 review.
---
Sony Alpha 6000
At a glance:
Mirrorless camera
24MP APS-C sensor
Sony E lenses
Full HD video
£499 / $648 with 16-50mm PZ lens
Released in 2014, the 24.3MP Sony Alpha 6000 is best thought of as a slightly less advanced, yet significantly cheaper, alternative to the more recent Alpha 6300 and Alpha 6500 models. While it lacks 4K video, the Alpha 6000 still has some solid features, such as its hybrid autofocus system that combines 179 phase- detection AF points and 25 contrast-detect ones for almost instant focus lock, plus ISO sensitivity of ISO 100-25,600, up to 11fps continuous shooting and Wi-Fi/NFC functionality. There's also a built-in electronic viewfinder and tilting rear screen.
Pros:
Impressive autofocus and burst mode
Solid viewfinder
Loads of excellent E-mount lenses
Cons:
No 4K
Feels unbalanced with big lenses
---
Once you've chosen your camera from these options, you may want to look at some of the accessories that can help you get the most out of your kit, so make sure you have a look at the Top 10 Essential Camera Accessories for beginners.
---
Have a look at more buying guides here!
---