The winners of APOY 2023 Round Eight, Wildlife, are in! Here are the top ten images uploaded to Photocrowd with comments by the AP team and our guest judge.
Almost without fail, wildlife is the strongest round in APOY. Competition is fierce and the standard is exceptionally high. We see entries that feature everything from the tiniest insect to the most majestic of the big cats, and whether they were shot in the back garden, a zoo or on safari, all are considered. This makes it an extremely tricky category to judge, and it can also be a very subjective category, possibly more so than any other: one judge's first-placed image might not even be commended by another. It's also important for the judges not to be swept away by the drama of a subject simply because it might be more 'exotic'.
Our top ten images this round are united by their superb execution, observation and timing skills on the part of the photographers, and overall excellence. We hope you enjoy them as much as we enjoyed judging them.
APOY 2023 Wildlife Top 10
APOY 2023 Wildlife Winner
1. Steve Santel USA 100pts
Canon EOS R5, 600mm, 1/4000sec at f/4.5, ISO 125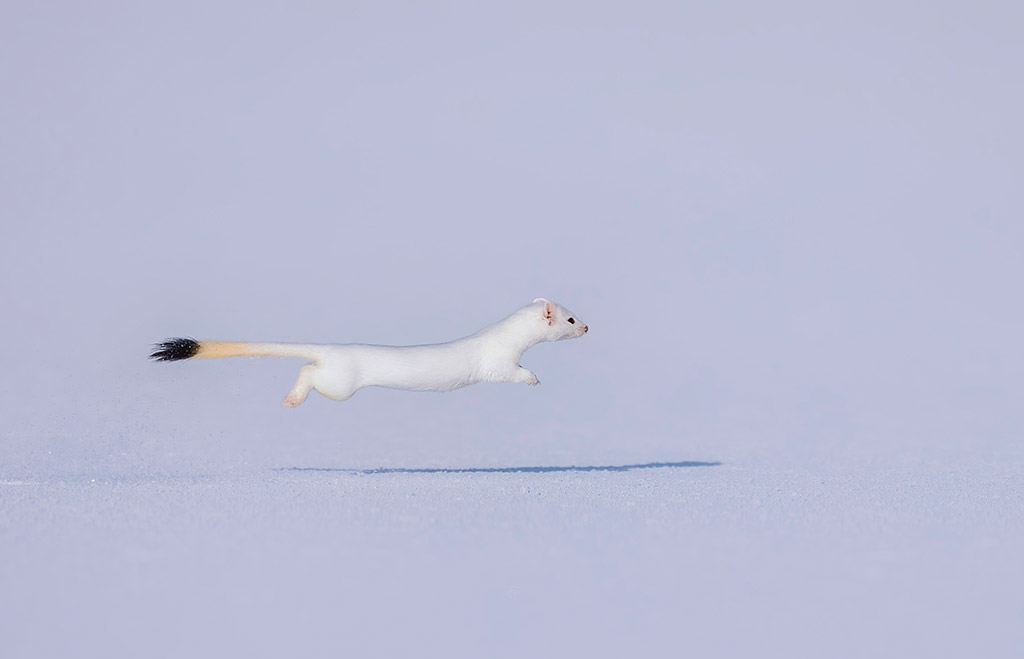 A great deal of photography relies on immaculate timing, but no genre more so, perhaps, than wildlife. It's Steve's superb timing skills and anticipation that make this shot a winner. Capturing the long-tailed weasel at full stretch, suspended in mid-air, is no mean feat, and the sheer intensity of its mission gives us an idea of how difficult its existence must be – especially given what is clearly a pretty hostile environment. An apparently simple image that has plenty of hidden depth, and a worthy winner.
2. Graeme Youngson UK 90pts
Fujifilm X-T5, 90mm, 1/1000sec at f/2, ISO 125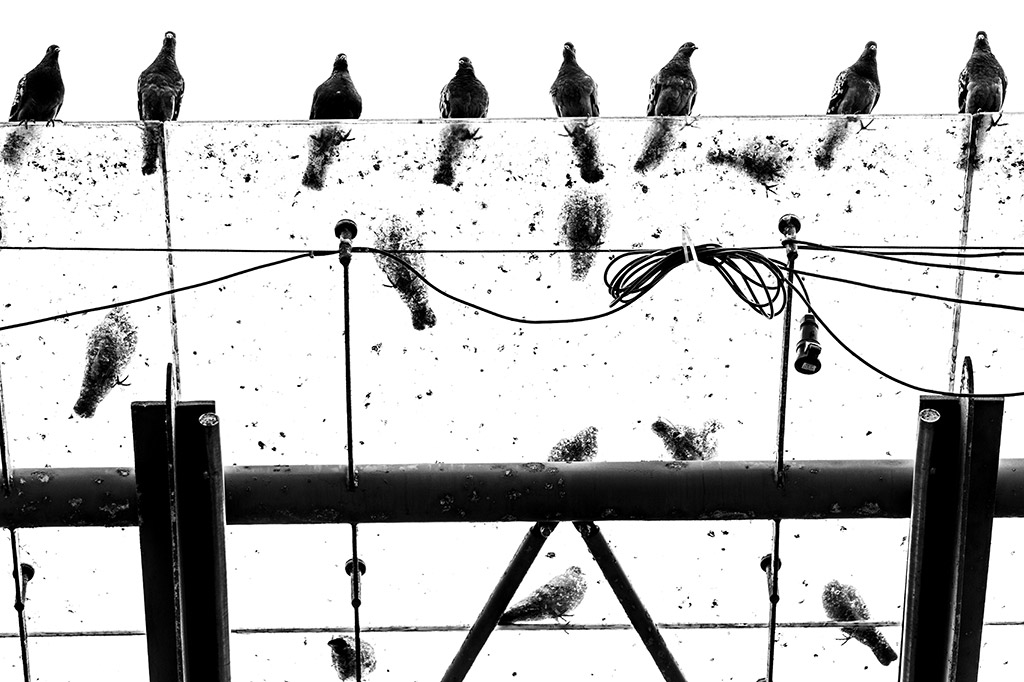 Guest judge Keith Wilson says: 'Pigeons. Yes, pigeons! For me, this picture of a posse of pigeons roosting on a bus shelter on a wet day in Glasgow, is a standout entry. As soon as I saw it, I knew it would be in my top ten. Why? Well, unlike so many of the wildlife photographs received, this photo by Graeme Youngson may not be spectacular, but it is highly original. It offers an unusual perspective on one of the most ubiquitous subjects of our city streets. The way the lines of the glass panels of the shelter divide the frame symmetrically helps strengthen the overall composition. And converting to black and white suits the gritty tone and weather conditions of the location. This image also serves to remind us that you don't have to travel abroad to get a memorable wildlife photograph. Simple, original and very effective.'
3. Lewis Newman UK 80pts
Nikon Z 9, 300mm, 1/2000sec at f/3.2, ISO 250
With this outstanding shot by Lewis, it's the glorious golden light breaking through the mist that takes the breath away. The viewer can almost 'feel' the stillness, broken only by the stag slowly and regally making its way through the water. We need no more information than the silhouette of those magnificent horns to know what it is we're looking at, and we can also hazard a guess as to the environment. The simple composition, adhering to the rule of thirds, is all that's needed here – anything 'cleverer' would have reduced the impact. Beautiful and memorable.
4. Eric Browett UK 70pts
Nikon D500, 16-85mm at 16mm, 1/250sec at f/18, ISO 200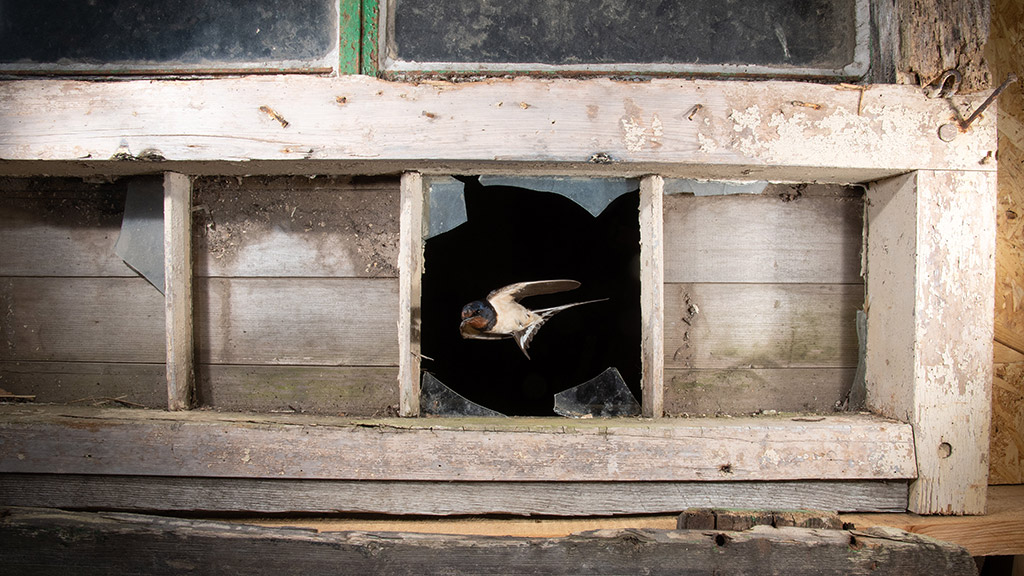 Fantastic use of a remote release by Eric, whose persistence was rewarded with this fabulous shot of a swallow emerging from a farm building. He's set up the shot to give the viewer a sense of context and an understanding of the bird's habitat. A wide focal length is less usual in wildlife photography, but works extremely well here.
5. Nick Clayton UK 60pts
Canon EOS 7D, 500mm, 1/320sec at f/5.6, ISO 400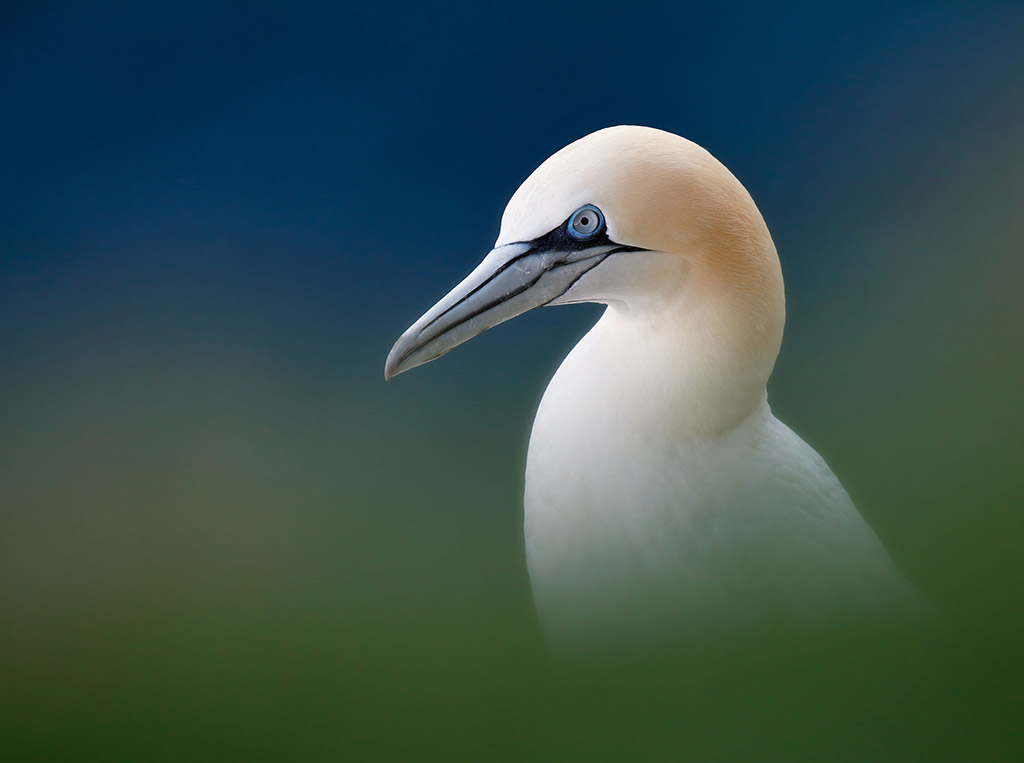 Here we have a classic and beautifully executed animal portrait. Our attention goes straight to the bird's blue eye, before taking in the characteristic peachy-yellow head and white plumage. Depth of field has been managed beautifully, with the gradation of blue to green providing the perfect background.
6. Michael Burlak USA 50pts
Nikon Coolpix P1000, 300mm-equivalent, 1/100sec at f/4.5, ISO 400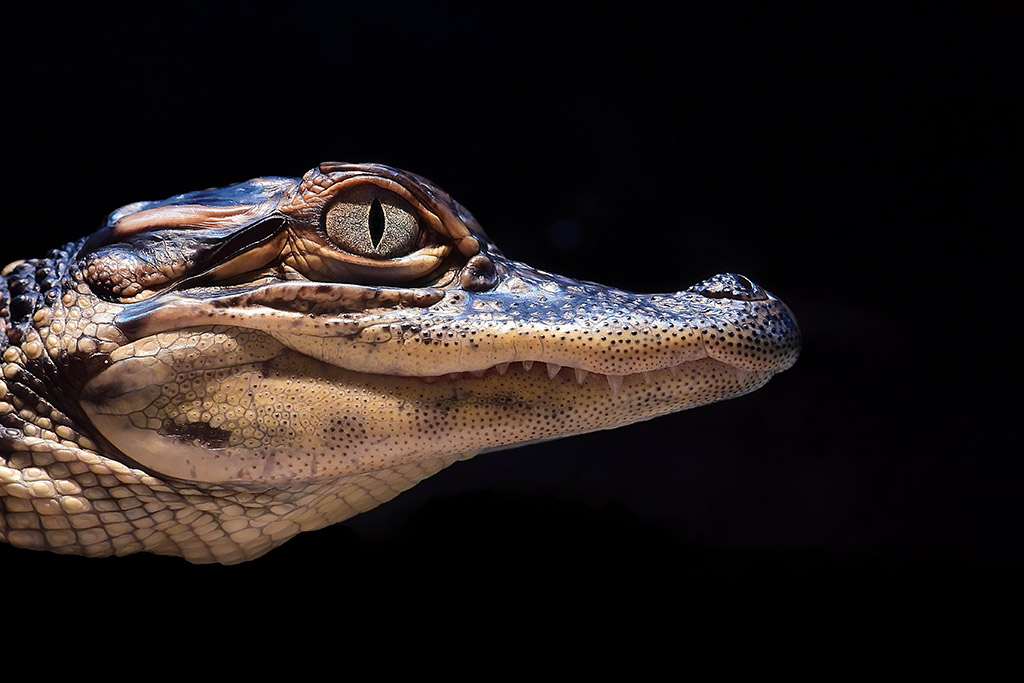 Again, we have a wonderfully executed animal portrait here, which stands out for its simplicity. The perfect profile view pulls us towards the young crocodile's inky-black pupil, and then down towards its shapely snout, before taking in those tiny teeth that will, in time, become potentially deadly. The variety within the texture of the scales and skin is beautifully detailed and what looks like overhead light has been skillfully managed. There are no blown highlights to detract from the overall depth and detail of the croc's head. Nice work.
7. Josip Miskovic Italy 45pts
Unknown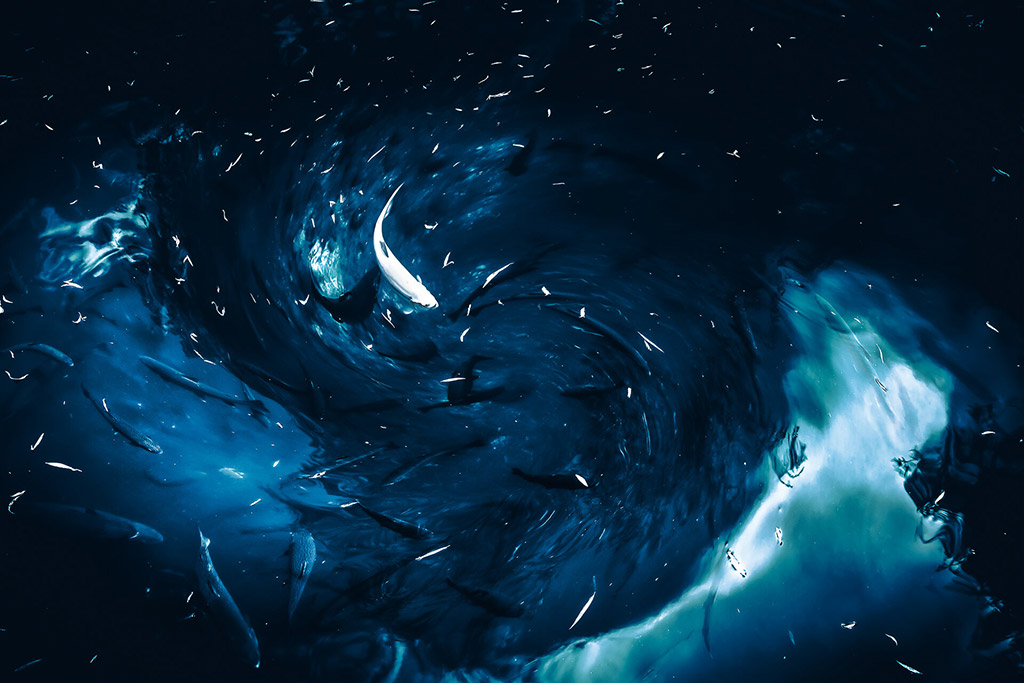 Josip's epic image makes us feel as if we're being pulled into some alternate reality, or the fish sucked into a vortex. It's a semi-abstract composition that requires
a little time and attention, but that's part of its strength. There's nothing really to give us a sense of place or context, and despite the different sizes of fish, there's little to offer any sort of idea of scale, either. It's quite dizzying to absorb. Josip explains that he converted the original dirty green colour to blue, which was an excellent decision on his part, and only serves to emphasise the other-worldliness of the scene.
8. Giles Thurston UK 40pts
Sony A7C, 70-200mm at 200mm, 1/160sec at f/11, ISO 100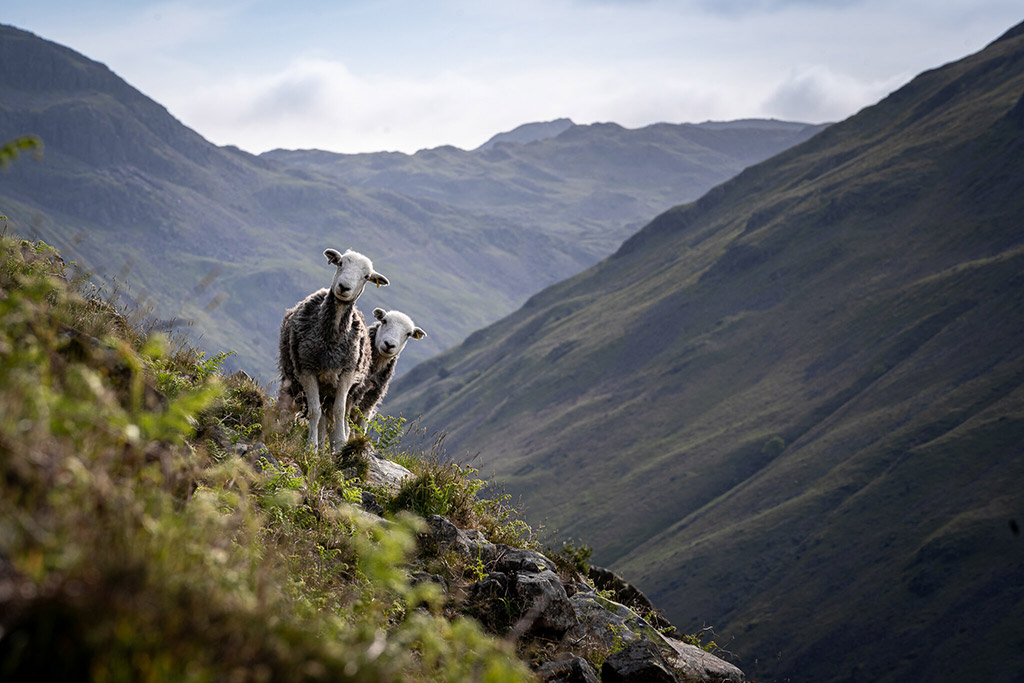 Giles found himself on the side of a mountain for the purpose of photographing a running event, when he turned to find these two curious sheep peering at him. This image demonstrates he has a keen ability to respond quickly to an unexpected moment, with a humorous and engaging result. What makes it work so well is not only the angle of the sheep and their expressions, but also the fact that those angles are reflected in the folds in the receding hillsides. The low angle emphasises the scale, too. It's an altogether charming shot.
9. Richard Coulstock UK 35pts
Canon EOS 5D Mark IV, 180mm macro, 1/320sec at f/8, ISO 800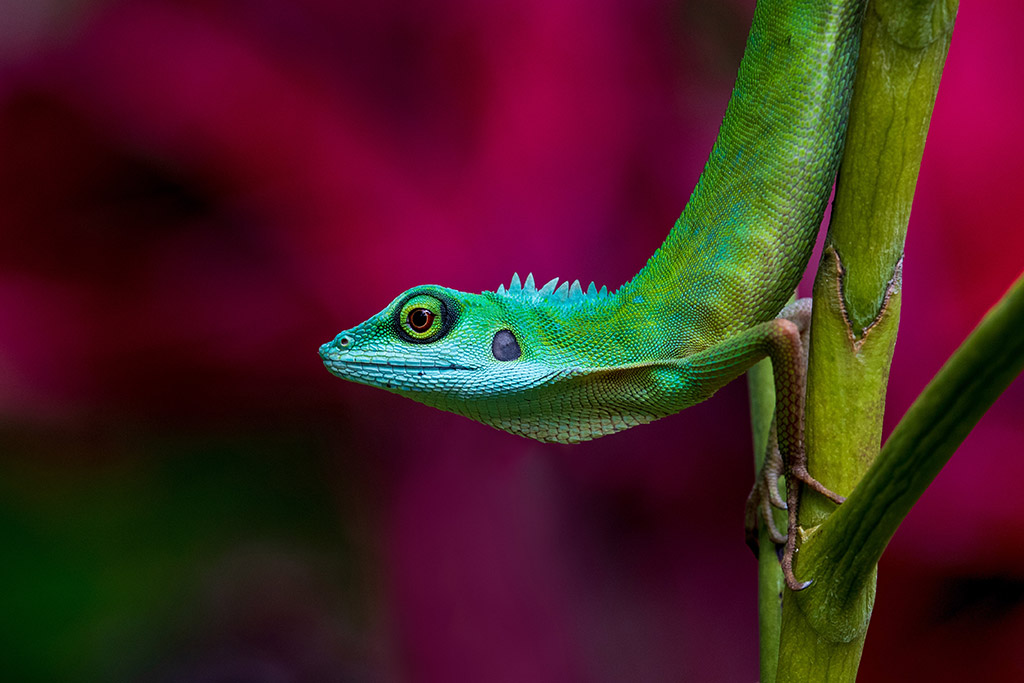 It's the popping contrast between those vibrant green and pink hues that first catches the eye with this image, which was taken in the Singapore Botanic Gardens. But then we are taken straight to the green-crested lizard's brightly coloured eye, the sharp points of its crest, and the tiny detail in its scales. The composition is confident, and the judges liked that Richard hadn't felt pressured to include the lizard's whole body in the frame; what he has chosen to photograph is enough for us to get a picture of the creature and its surroundings. Nicely done.
10. Alistair Waddell Germany 30pts
Nikon D7000, 90mm macro, 1/5000sec at f/8, ISO 400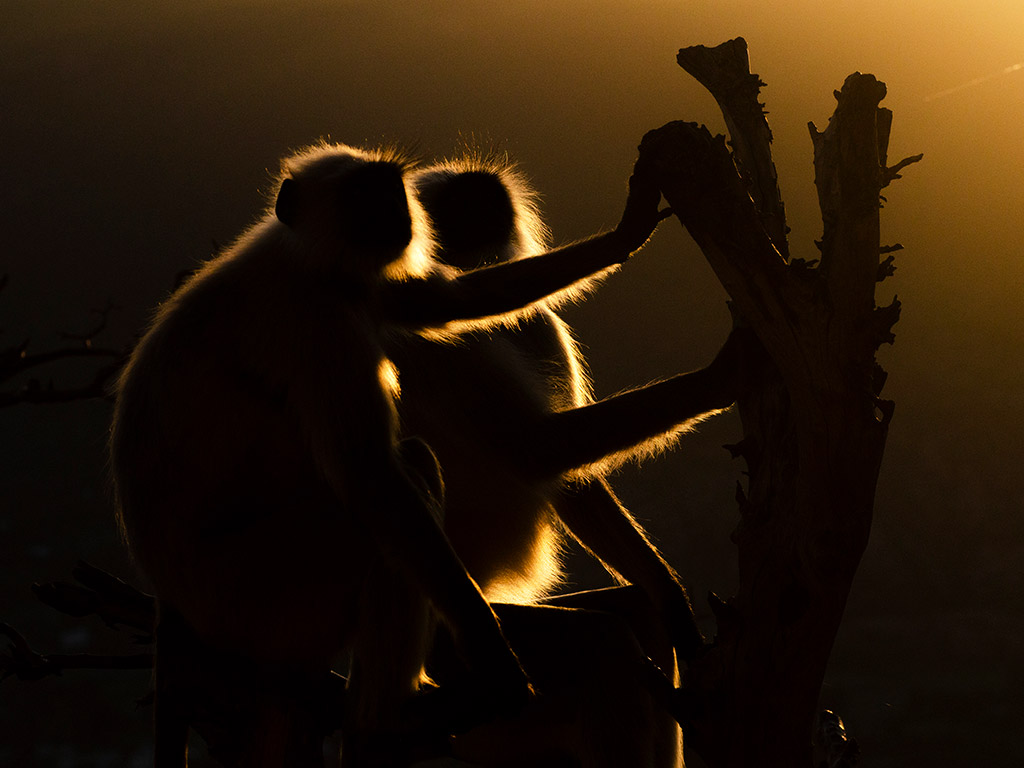 Photographing these monkeys in silhouette, with only the early-morning light giving us a sense of the animals, has worked very well here. The texture of the monkeys' fuzzy fur is what we first take in, followed by their long limbs and the bare bark of the tree they're sitting in. It's been processed well, too, with no blocked-up dark areas, and just the right level of control of the highlights.
Young APOY 2023 Wildlife winner
Jessica Humphreys UK 100pts
Nikon D850, 70-300mm at 80mm, 1/200sec at f/7.1, ISO 640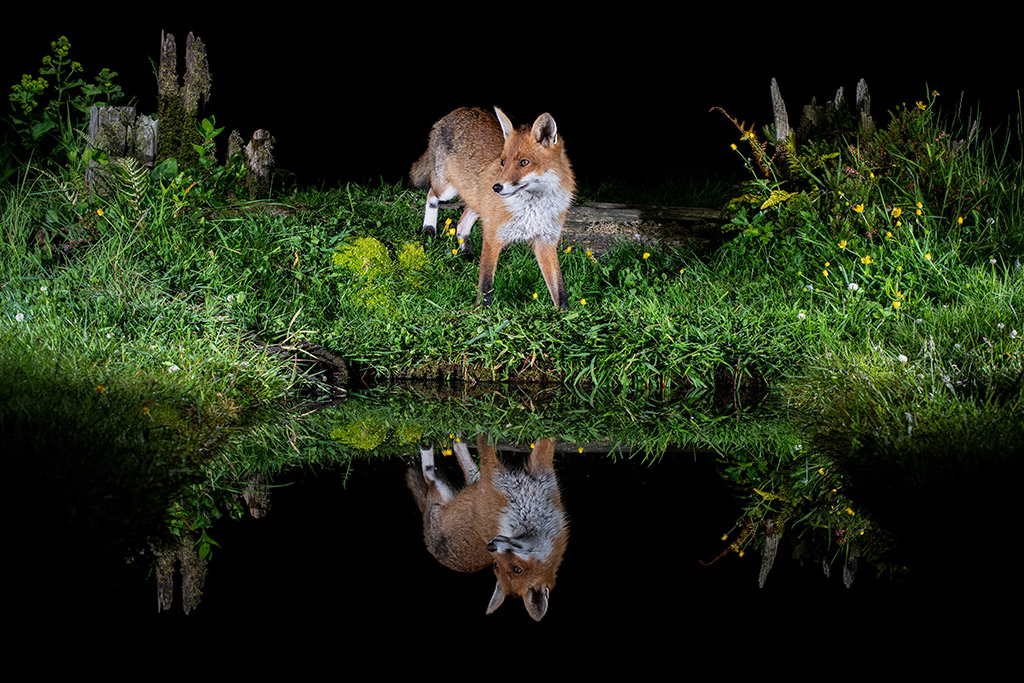 Jessica has demonstrated skill, patience and technique to capture this superb image. Her hours-long wait by the water paid off handsomely, when this fox appeared. She timed her exposure extremely well, capturing both fox and reflection immaculately. We feel she has a promising future ahead of her.
See the Young APOY 2023 Wildlife top ten
---
Gillian Moon UK 10pts
Unknown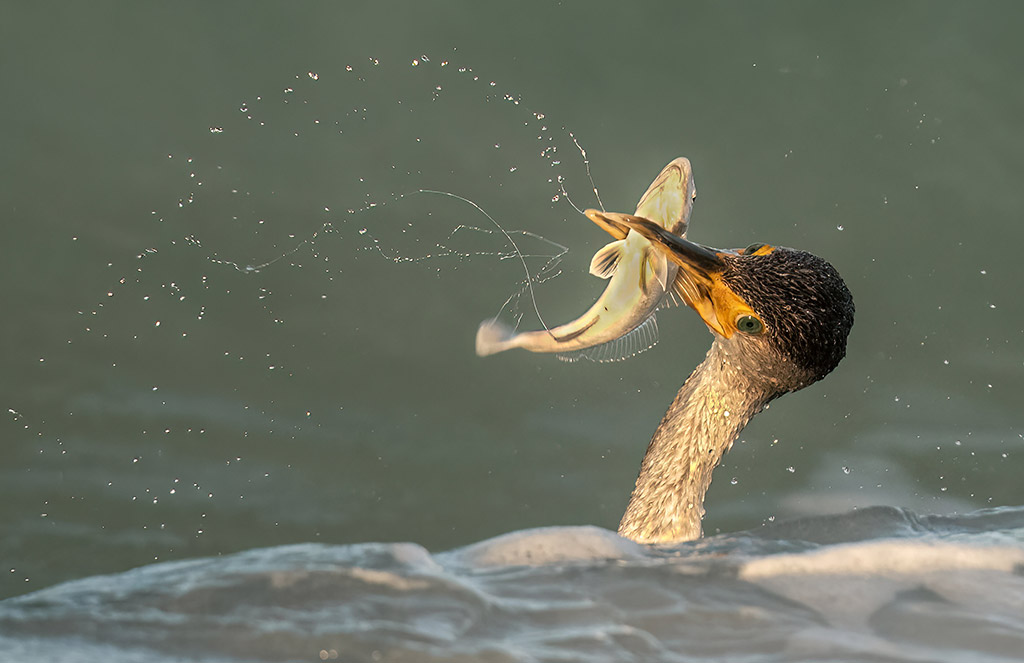 An excellent action shot by Gillian, who represents Chorley Photographic Society with her entry. There's so much to like about the split-second timing here, from capturing the separation of the unfortunate fish from the emerging cormorant to the curving lines of water droplets. The soft light is lovely, too, giving a subtle dimension to the image that wouldn't be there in flatter conditions.
---
The APOY 2023 leaderboards so far after Round Eight, Wildlife
As seems to happen almost every month, we have a new name at the top of the leaderboard. Graeme Youngson is a regular entrant to APOY each year, and this time he's made it to the top, thanks to his unusual pigeon shot. It caught the eye of all our judges, not least guest judge Keith Wilson.
Yousef Naser Mohamed has kept his position at the top of Young APOY, and with only two rounds to go, it looks pretty clear (and, to be fair, has done for some time) who's going to win the camera clubs competition! But there's still all to play for in the overall competition, and we expect even more leapfrogging on the leaderboard over the next two rounds.

See the full leaderboards here.
---
Winning kit from MPB
The gear our winners used can be found at MPB.
Taking second place, Graeme Youngson used a Fujifilm XF 90mm F2 R LM WR lens for his shot. Constructed of 11 elements in eight groups, this lens has seven aperture blades, a minimum focusing distance of 60cm and a full-frame-equivalent focal length of 137mm. When reviewed in AP, it received five stars and was described when used wide open as 'really sharp and free from any worrying optical flaws, while the bokeh and out-of-focus areas are delightful for portraits'. It can be found at MPB in excellent condition for £554.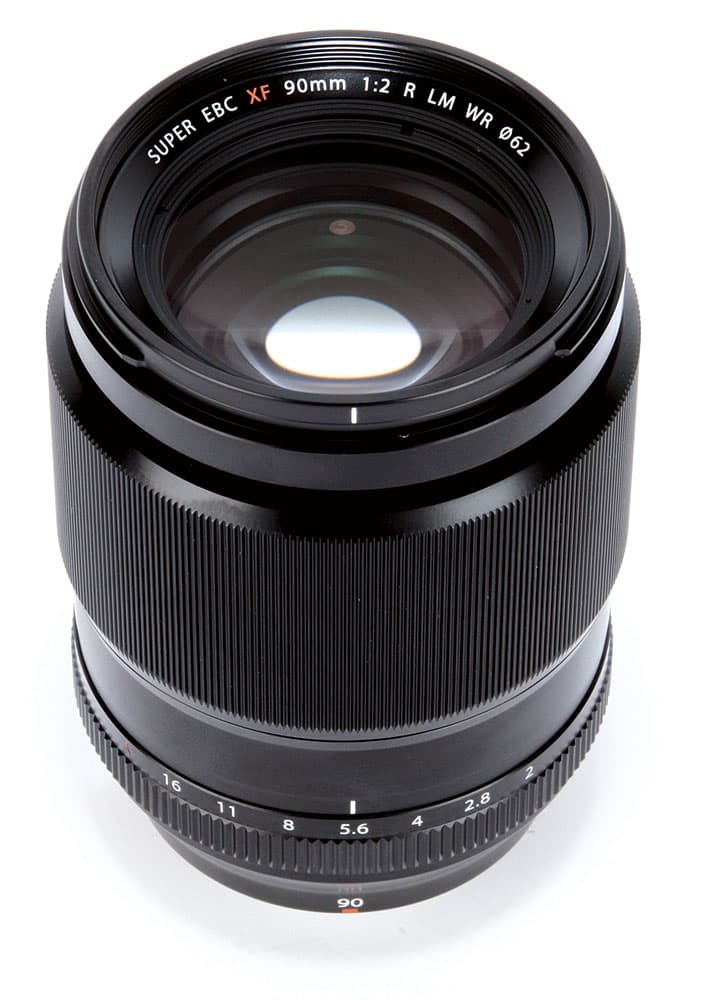 In fourth place, Eric Browett shot his action image using a Nikon D500. This APS-C DSLR features a 20.9 MP DX CMOS sensor, a 153-point phase-detection AF system and an ISO range of 100-51,200. When reviewed in AP, the magnesium-alloy body was described as having a 'bombproof feel to it' and its optical viewfinder as 'one of the best we've seen on an APS-C DSLR'. It's available at MPB for £1,059 in excellent condition.
In eighth place, Giles Thurston shot with a Sony FE 70-200mm F4 G OSS. When reviewed in AP, this premium lens was described as giving 'excellent levels of sharpness throughout the zoom range, with exceptionally sharp detail captured, when shooting wide open at f/4'. The review continued: 'Impressive macro ability really does make this lens all the more versatile, and the compact size and light weight makes it a joy to use.' Find this lens at MPB for £759 in like-new condition.
To browse the extensive range of stock at MPB, visit www.mpb.com
See more of the best cameras and budget telephoto lenses for wildlife photography
---
APOY 2023 Round Ten is now open for entries! Submit your best low light photographs here.
Best photography competitions to enter
Further reading:
---
Follow AP on Facebook, Twitter, Instagram, YouTube and TikTok.