The winners of APOY 2023 Round Six, Architecture are in! Here are the top 10 images uploaded to Photocrowd with comments by the AP team and our guest judge
Around 84 per cent of the UK's population lives in urban environments. As such, the vast majority of us are surrounded by architecture in all its myriad forms – be that a view of a 1930s suburban street or the sight of an ultra-modern city skyline, all glass and steel. Despite architecture being for human use or habitation, it's rare to see an architectural image that features the presence of humans. That presence is, however, very much implied, and gives many of the images an eerie, almost cinematic feel. Laura Allegri's winning image in this
round is an exception to this norm, as is Hugo Salvador Garcia's first-placed shot in Young APOY – and perhaps that's what made those photographs stand out.
APOY 2023 Architecture Top 10
APOY 2023 Architecture Winner
1. Laura Allegri, Italy 100pts
Canon EOS M50 Mark II, 15-45mm at 15mm, 1/200sec at f/6.3, ISO 200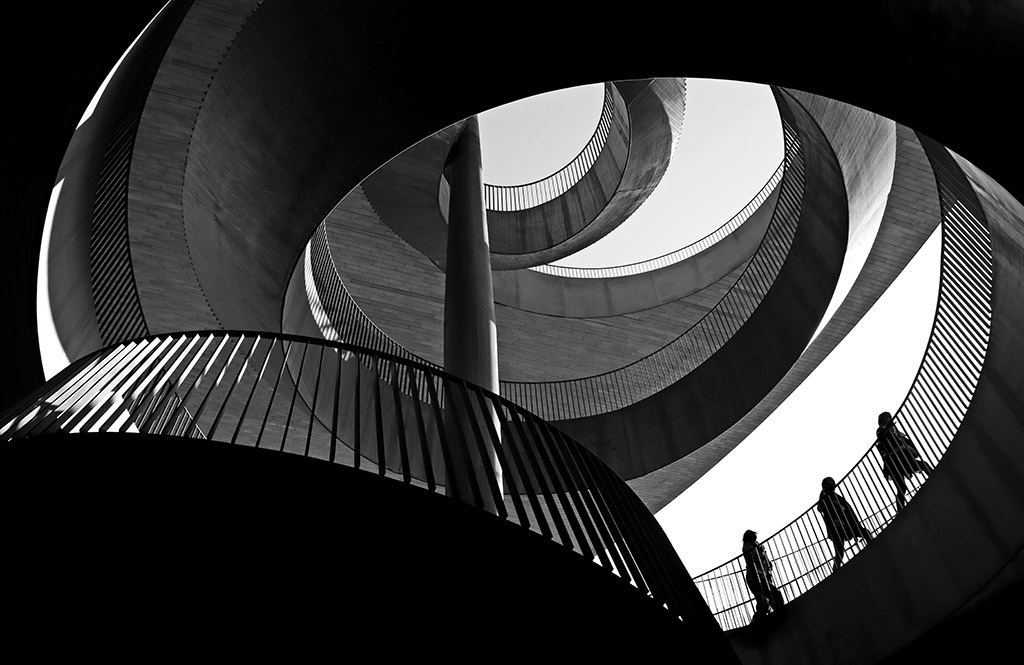 Guest judge Sharon Tenenbaum says: 'This image epitomises a remarkable architectural shot, encompassing multiple crucial aspects. The captivating circular forms, artfully layered with varying tones and light, immediately draw my gaze. The photographer's choice of black & white amplifies the emphasis on these shapes and their intricate structure.
Noteworthy are the three individuals, skilfully captured in the lower two-thirds of the frame, that spectacularly exemplify Cartier-Bresson's 'Decisive Moment'. Additionally, beyond their photogenic quality, they provide a focal point, impart a sense of scale to the structure, and effectively convey the structure's purpose as a pedestrian ramp. In totality, the image harmonises numerous elements that define an outstanding architectural photograph.'
2. Roberto Crucitti,Cambodia 90pts
Canon EOS 7D Mark II, 10-22mm at 22mm, 1/30sec at f/5, ISO 100
Not a curve to be seen in this super-precise composition. There isn't a line out of place, and it's been perfectly framed from left to right and top to bottom. The transition from darkness to light is a hugely important part of this image, too. There's just enough detail in the deeper tones on the left, while the paler ones are delicately rendered. The more time you spend allowing your eye to be drawn into this frame, the more you feel as if you're part of an Escher drawing. Clever, subtle and complex.
3. David Boam, UK 80pts
Fujifilm X-T5, 10-24mm at 13mm, blended image of 2mins (sky) and 1/30sec (foreground) at f/8, ISO 125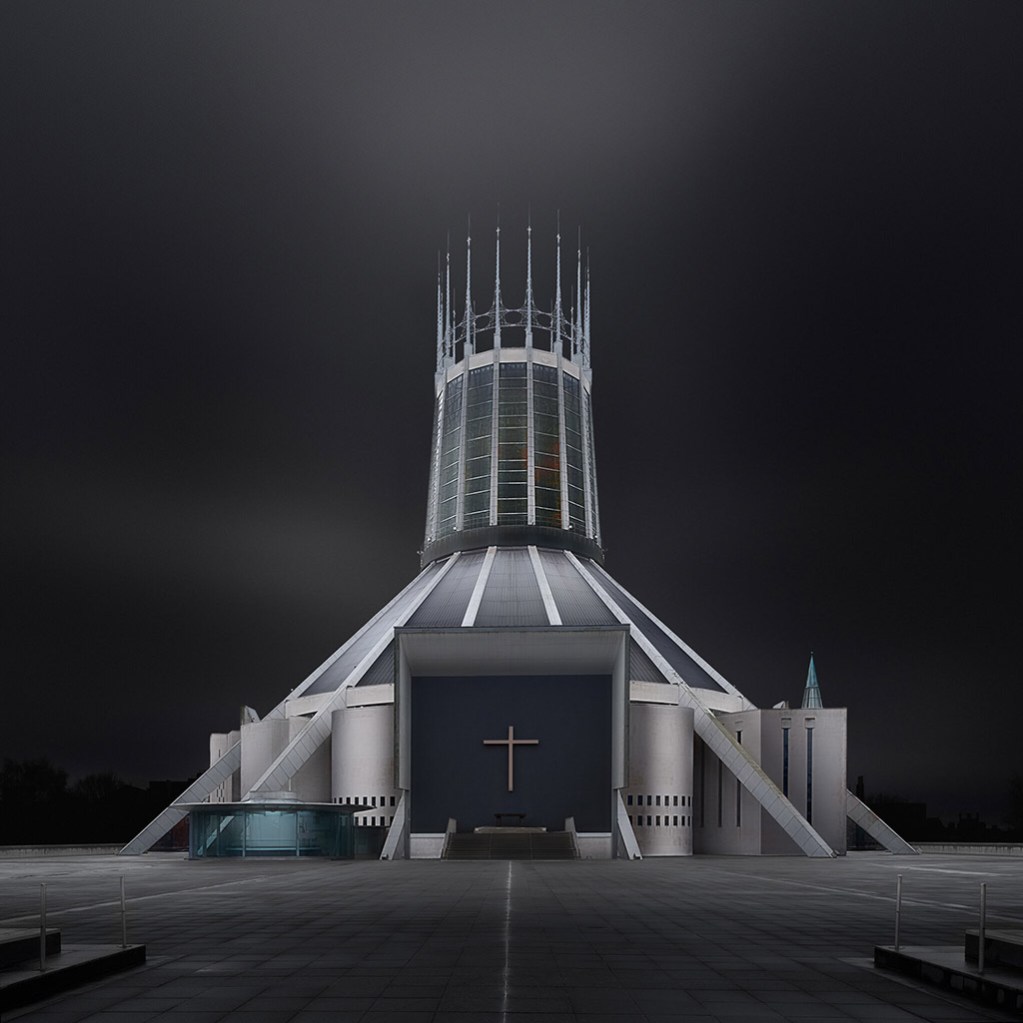 David has cleverly managed to give Liverpool's Metropolitan Cathedral an extra-terrestrial appearance. It would have been easy enough to photograph this edifice in dramatic light, but David's more creative approach and vision has ensured a far more memorable, stylish result, in which the viewer's gaze is drawn straight to the entrance and then up via the spires into the sky. The slick processing – where he did all the processing in B&W then laid the original colour version over the top – adds to the hyper-real effect. A memorable and confident image that deserves its third place.
4. Alan Edwards, UK 70pts
Fujifilm X100F, 23mm, 1/2400sec at f/5.6, ISO 400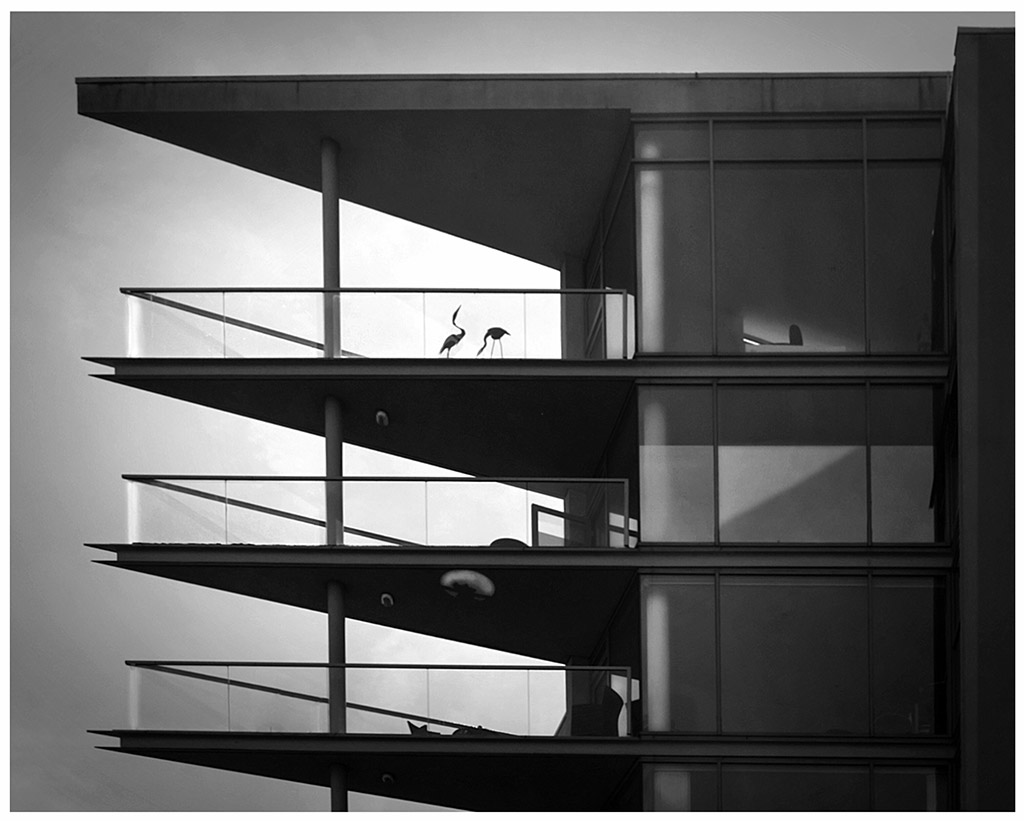 With an image that works extremely well thanks to its B&W conversion, Alan has composed so that the model flamingos are in exactly the right spot, silhouetted against the completely plain sky. Our eye goes straight to them, and then around the image that is made up of little more than multiple triangles and rectangles. The stripe of light down the edge of the glass balconies to the left adds depth. Altogether very well executed indeed.
5. Carol Hoffecker, USA 60pts
Sony A7 Mark III, 24-105mm at 29mm, 1/3sec at f/11, ISO 200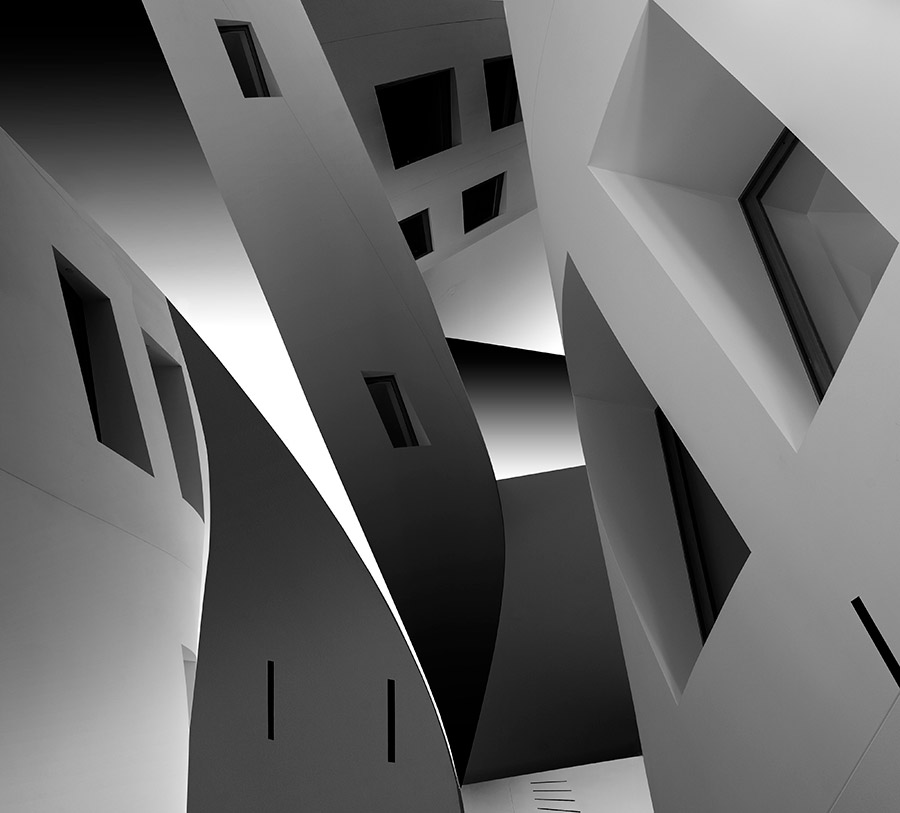 Carol's ultra-processed approach leaves the viewer feeling as if they've accidentally wandered into Gotham City. She has cleverly combined numerous different elements of a university building in Ohio and brought them together in a complex but coherent whole. An intelligent and imaginative composite.
6. Cliff Spooner UK 50pts
Canon EOS 5D Mark III, 24-105mm, 1/500sec at f/11, ISO 100
A rare colour entry! We loved the simplicity of Cliff's shot, with just two opposing hues and its combination of curves and rectangles. It's full of texture, too, and the water means we know we aren't just looking at a one-dimensional scene. He was absolutely right to leave the darker beige patches – presumably where water from the pool has splashed onto the surrounding tiles. To have removed them in post-production would have rendered the image too pristine.
7. Neville Morgan UK 45pts
Olympus OM-D E-M5 Mark II, 12-40mm at 40mm, 1/2000sec at f/5.6, ISO 200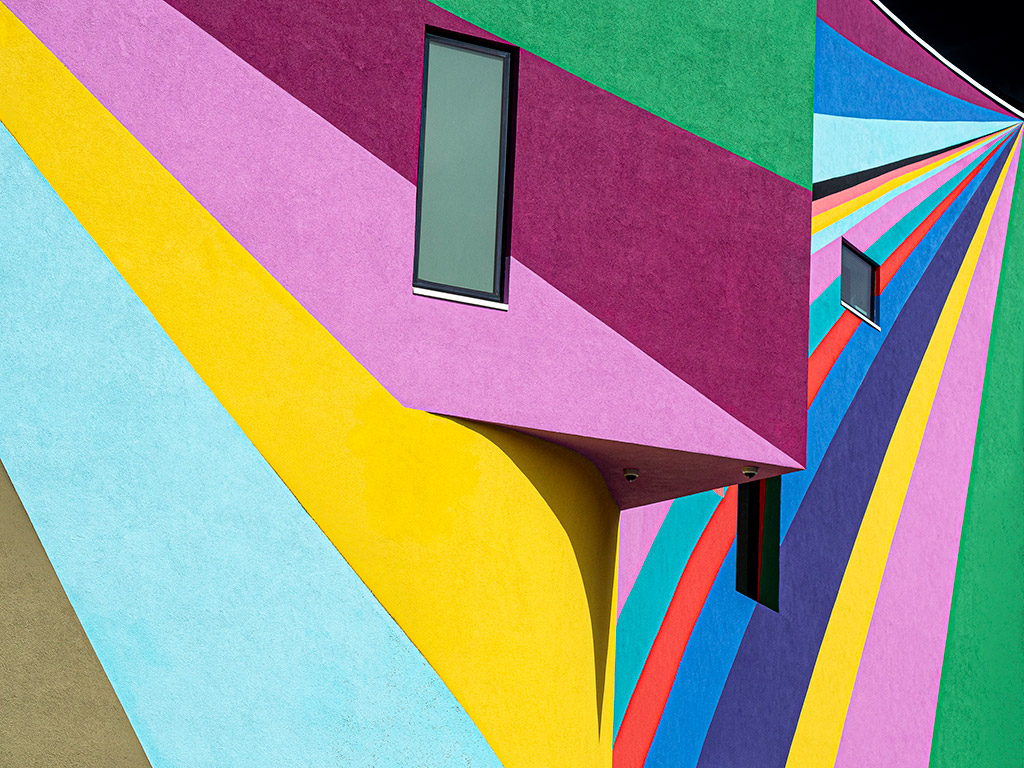 Like a still from Yellow Submarine, this shot is all about colour in the same way as others have been all about black & white. A building such as this (the Towner – an art gallery in Eastbourne) is clearly designed to be photographed, but Neville has composed with care and control. Every element is immaculately placed within the frame – right up to the rainbow of colours converging at a point in the top right of the rectangle. The triangle of black, also top right, is a small but crucial part of the image, as is the placement of the rectangular windows, which give context and mean we know we are looking at a building rather than something that's purely abstract.
8. Boris Bekelman, Israel 40pts
Camera details unknown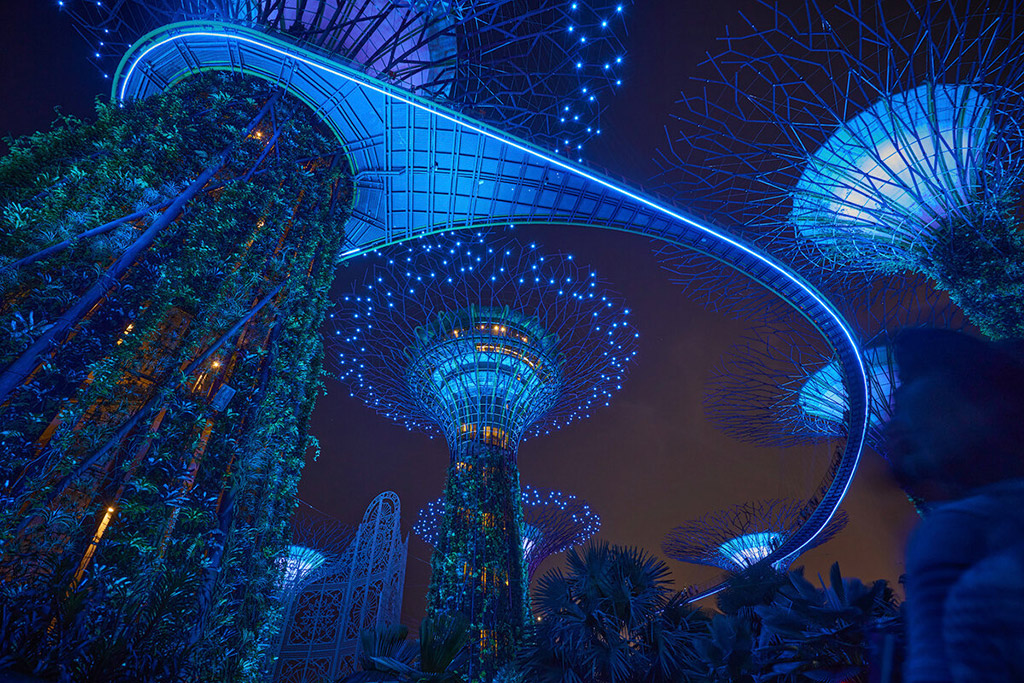 Night is a great time to venture out in search of architectural photographs. Very often, the artificial light they're bathed in bring them to life in a way that daylight alone can't always achieve. In the case of Boris's image here, the balance of the blue of these structures in Singapore's Garden by the Bay against the orange of the city's lights is well achieved, with a hint of green giving another dimension. He's composed thoughtfully, with the curve taking the viewer's eye in a sweep from top left to bottom right. The 'Supertree' in the top right of the frame anchors the scene and ensures our eye doesn't wander out.
9. Iakovos Draculis, Greece 35pts
Nikon Z 7II, 24-70mm at 70mm, 1/200sec at f/9, ISO 250
Here we have an excellent juxtaposition, with New York's power station in the foregound set against the Manhattan skyline – including the Freedom Tower – in the background. The black & white processing gives it a vintage feel, even though we know we're looking at a 21st-century scene. The short telephoto has compressed the scene to just the right level, with the shapes and sharpness receding in a very pleasing way.
10. Alfons Olle Coderch, Spain 30pts
Nikon D5300, 155mm, 1/1000sec at f/8, ISO 200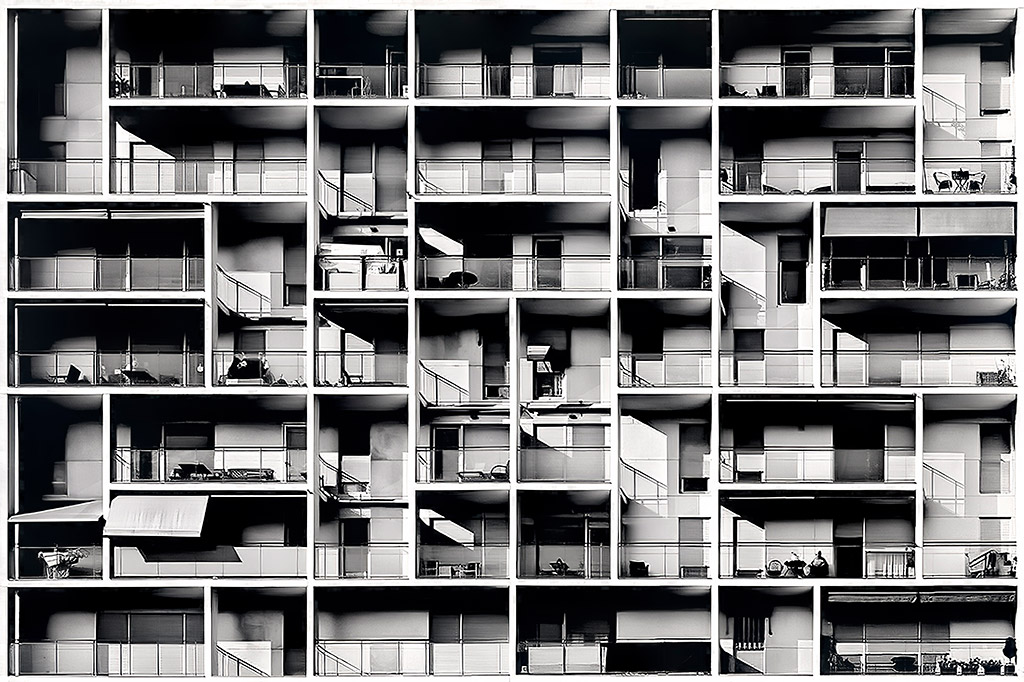 A viewer could spend a very long time indeed with this frame, creating a vignette or a story for every window in it. It's almost like a modern remake of Hitchcock's Rear Window. The image works beautifully in black & white, making it more than simply a shot of an apartment block. We suspect that colour would have been too busy and confusing. Precise and fascinating – we love it.
---
Young APOY 2023 Architecture winner
Hugo Salvador Garcia, Spain 100pts
Fujifilm X-T30 II, 18-55mm at 18mm, 1/125sec at f/5, ISO 160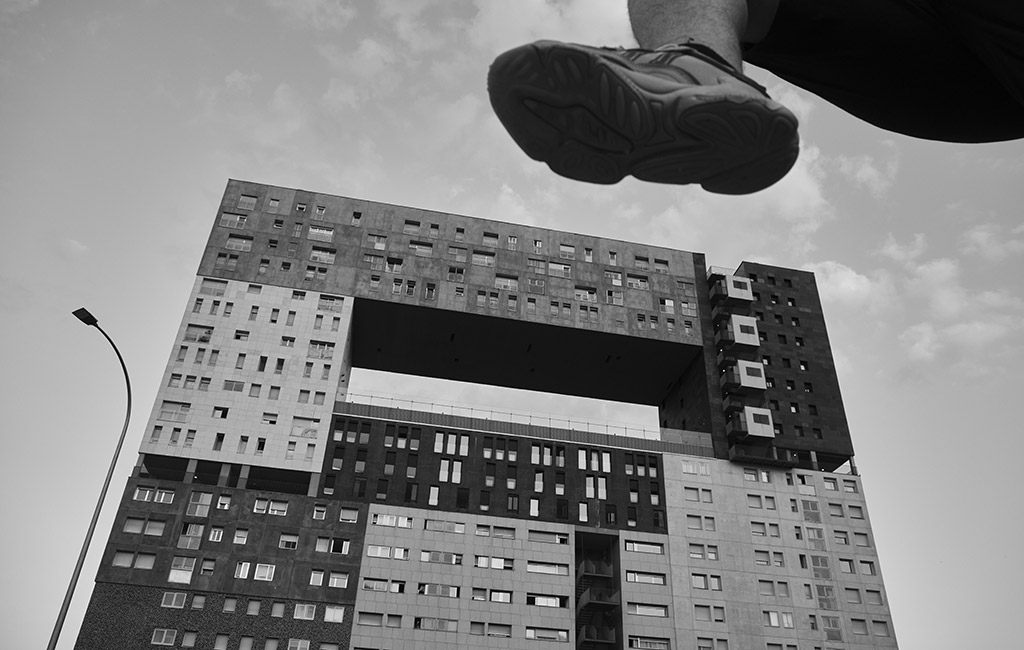 The judges were immediately grabbed by the human element in Hugo's cleverly composed shot, which plays with our sense of perspective and scale, and gives the image a sense of the surreal. Without the view of the trainer sole, the picture would have been somewhat unmemorable. With it, it's a clear winner.
See Young APOY 2023 Architecture top 10 here.
---
APOY 2023 Camera club competition
Kim Benson, UK 10pts
OM System OM-1, 40-150mm at 62mm, 1/100sec at f/8, ISO 8000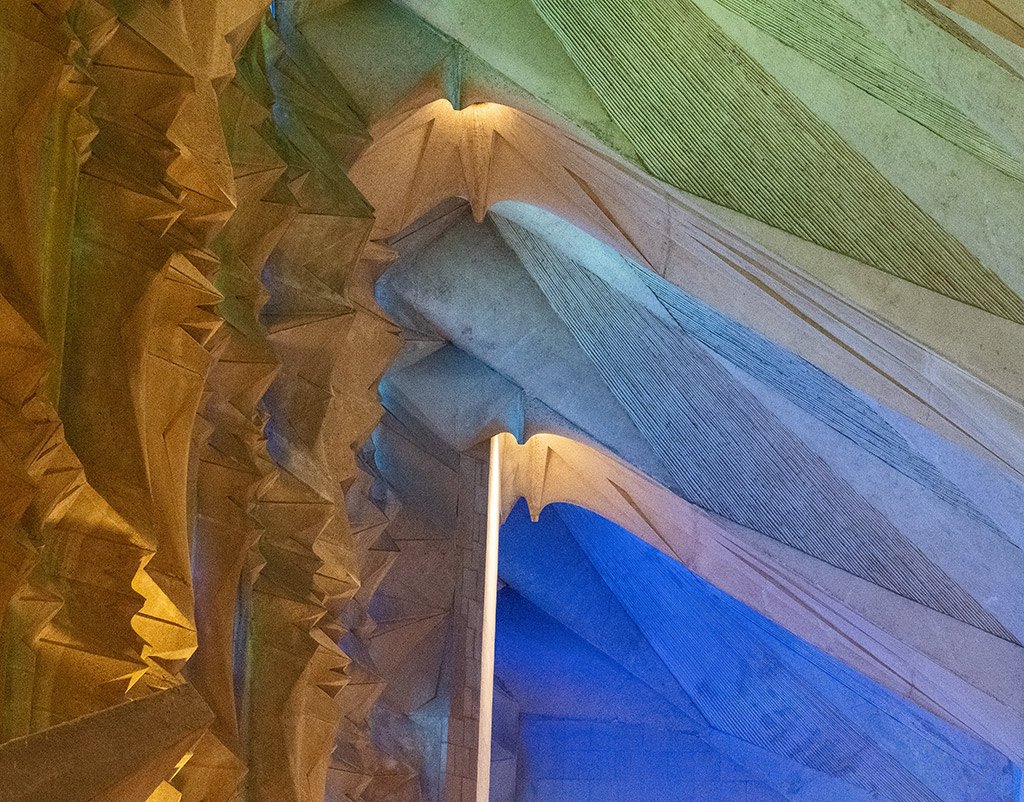 Kim has captured a glorious range of contrasting tones in this frame. Although it's an abstract, many viewers will be able to tell it was shot in Barcelona's Sagrada Familia, giving a sense of place despite it being all about shape and colour. Kim earns ten points for Kidlington Photo Group with this shot.
---
The APOY 2023 leaderboards so far after Round Six, Architecture
Out of nowhere, regular APOY entrant Laura Allegri has leapfrogged the entire leaderboard into first place, thanks to her winning shot that captured the eye of all our judges. This demonstrates just how open this year's competition is, with plenty of scope for change over the next four rounds to come.
In Young APOY, there's a little more spread between first and tenth spots, but not by much. With rounds as varied as Street, Wildlife, Action and Low Light still to come, almost anyone could make their way to the top. In camera clubs, Launceston appear to – once again – have an unassailable lead, but who knows? It's never over until it's over.

See the full leaderboards here.
---
Winning kit from MPB
The gear our winners used can be found at MPB
Coming in at first place in this month's Young APOY category, Hugo Salvador Garcia used a Fujifilm X-T30 II for his quirky black & white shot. This camera features the same 26.1MP APS-C X-Trans 4 CMOS sensor as in the X-T4, and the same image processor, plus it's capable of shooting up to 30fps with the electronic shutter. It was described in AP as having 'exceptional image quality', and can be found at MPB for £809 in like-new condition.
Taking fifth place, Carol Hoffecker used a Sony FE 24-105mm F4 G OSS. Receiving five stars when reviewed in AP, it is constructed of 17 elements in 14 groups, is dust- and moisture- resistant, has nine aperture blades that ensure out-of-focus backgrounds are rendered attractively, and delivers superb corner-to-corner sharpness throughout the focal range. It's described in AP as 'the best-judged general-purpose zoom Sony has yet made'. This lens can be bought at MPB for £769 in like-new condition.
In seventh place, Neville Morgan captured his colourful scene using the top-of-the-line Olympus M.Zuiko Digital ED 12-40mm f/2.8 Pro, the manufacturer's top-of-the-line standard zoom. In our review, we described the 24-80mm-equivalent lens 'a solidly built and precisely engineered workhorse' that delivers 'impressive levels of sharpness at f/2.8'. This excellent lens can be found at MPB for between £359 and £464.
To browse the extensive range of stock at MPB, visit www.mpb.com
---
APOY 2023 Round Eight is now open for entries! Submit your best wildlife photographs here.
Best photography competitions to enter
Further reading:
Fine art architecture photography guide
Master black and white building photography
Master minimalist architecture photography
---
Follow AP on Facebook, Twitter, Instagram, YouTube and TikTok.