Adobe's new Super Resolution Mode can dramatically improve the detail on images taken with older digital cameras. Martin Evening reveals more
Over the last few years Adobe has made much use of machine learning artificial intelligence (AI) when adding new features to its software products. We saw this first with improved Auto image adjustments, followed by the new Neural filters in Photoshop. The Camera Raw team have now made use of machine learning to update the Enhance feature which includes a new Super Resolution option that can quadruple the pixel resolution of any supported raw image.
Currently, the updated Enhance feature is only available in Camera Raw, but it's anticipated this will be added to the next new feature release of Lightroom.
Getting started
To access in Camera Raw, either go to the More Options menu or right mouse-click on the image preview to open the Context menu.
The Enhance Preview window now includes a Super Resolution option, where the enlarged detail preview lets you toggle between Enhanced and Without Enhance views. When you click to apply an enhancement this generates a new DNG version. It is not a quick process, which is why it is best to apply selectively to just those images you feel might benefit from being scaled up in size. Let's look at a few examples of this feature in use.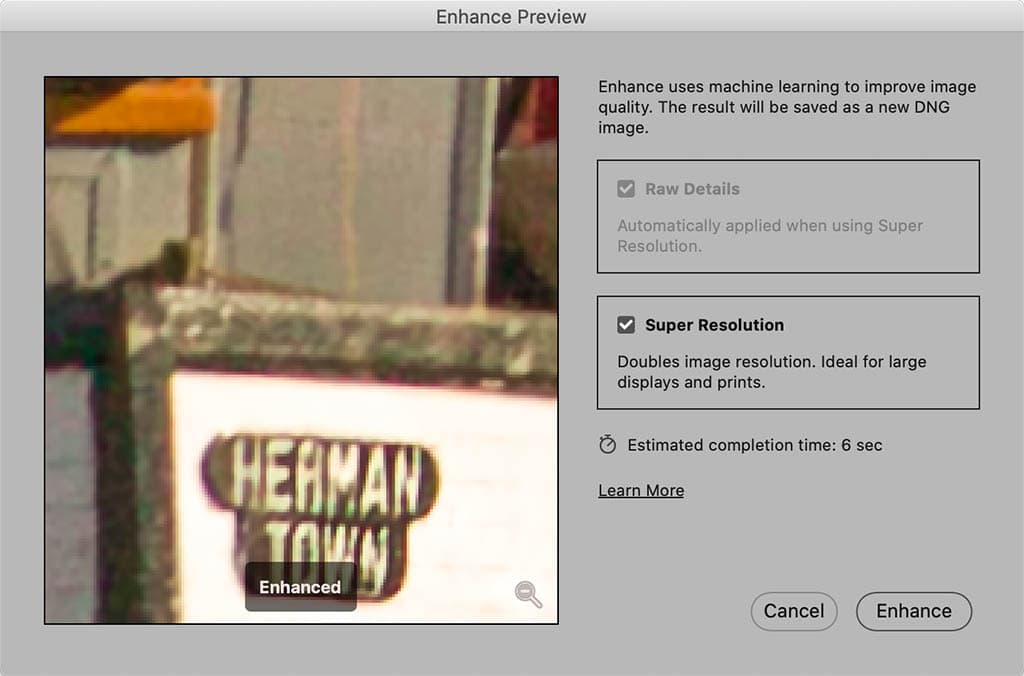 Increasing the number of megapixels
The original image here was captured using an 11Mp Canon EOS 1Ds camera.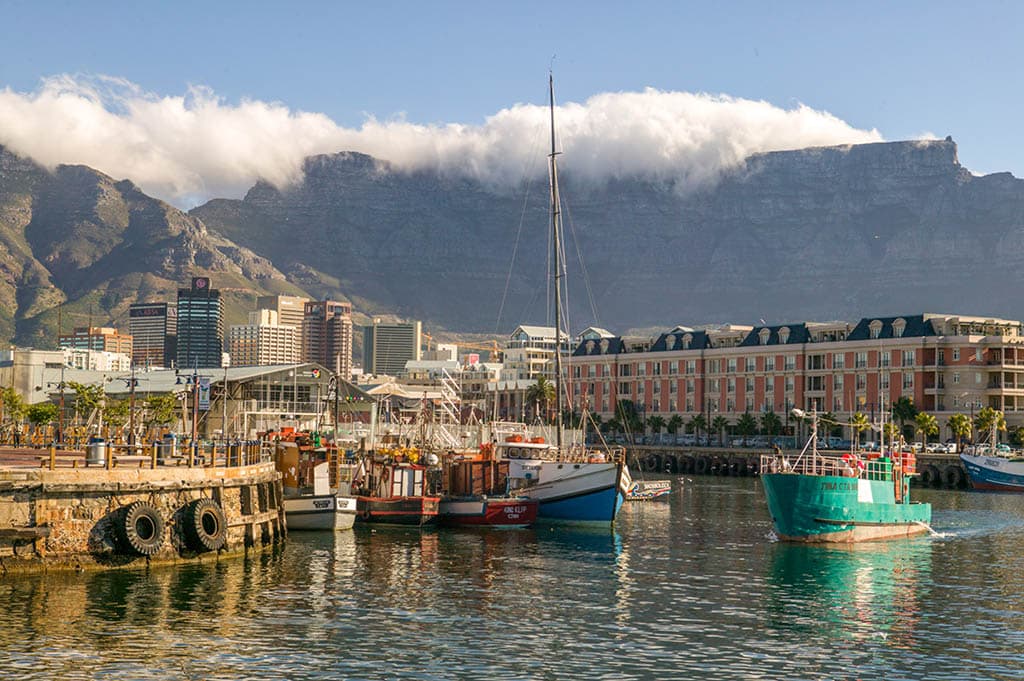 In this example I used the Super Resolution feature to enlarge the image by 200%, turning an old 11Mp capture into a 44 MP raw DNG file. You can see the level of detail around the zoomed in tyre.
With this particular photo the detail enhancement was quite incredible. Even without adjusting the sharpening settings, the enhanced DNG version looked like a modern day 44Mp capture.
Enlarging a heavily cropped photo
This tightly cropped photo was shot using a 42Mp Sony A7rII.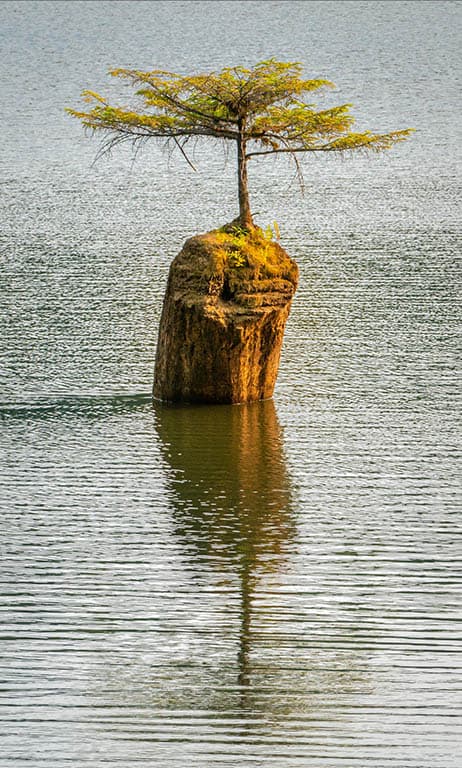 However, after cropping the file size was reduced to around 9.5Mp. By enlarging the cropped photo using Super Resolution the enhanced raw file version measured 38Mp.
That was almost the same number of pixels as the uncropped version. But it is not all about the number of pixels, the fine detail in the leaves and twigs were noticeably sharper.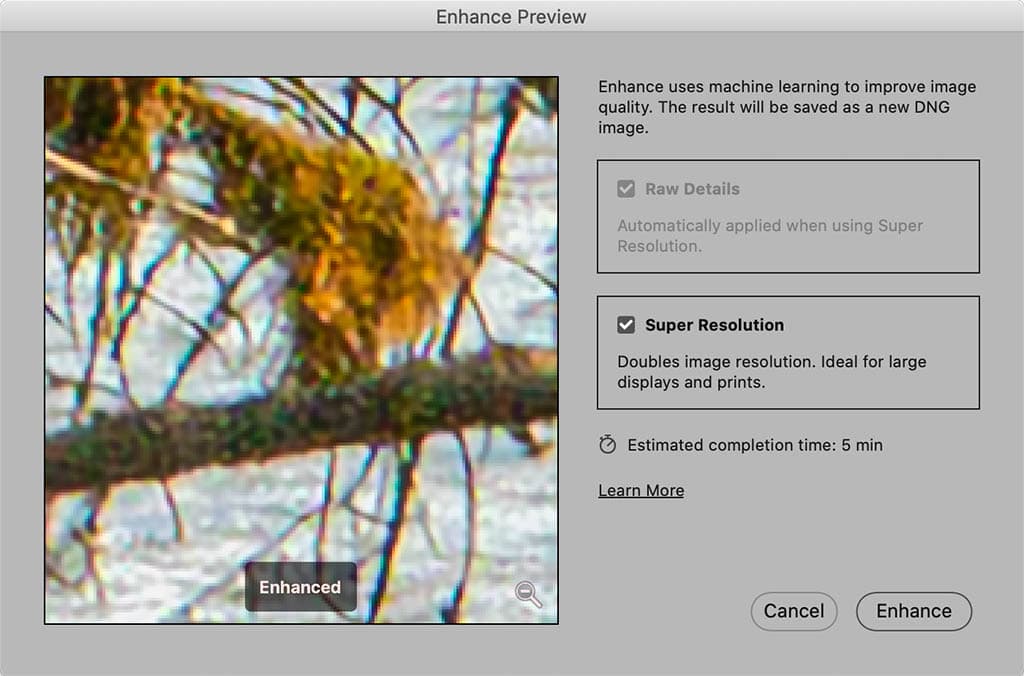 This meant I could now print this photo to any size I wanted, which I could not have done before.
Enhance raw details
The Camera Raw Enhance feature can also be used to improve the raw details, without enlarging. To do this, check the Raw Details box only in the Enhance Preview dialog.
Now, with most photos this may not make much of a noticeable difference. Certain images will benefit though. For example, this 400% close-up view of bluebell flowers was photographed using a Fuji X-E2 camera. Worm-like artefacts can be seen in the before version.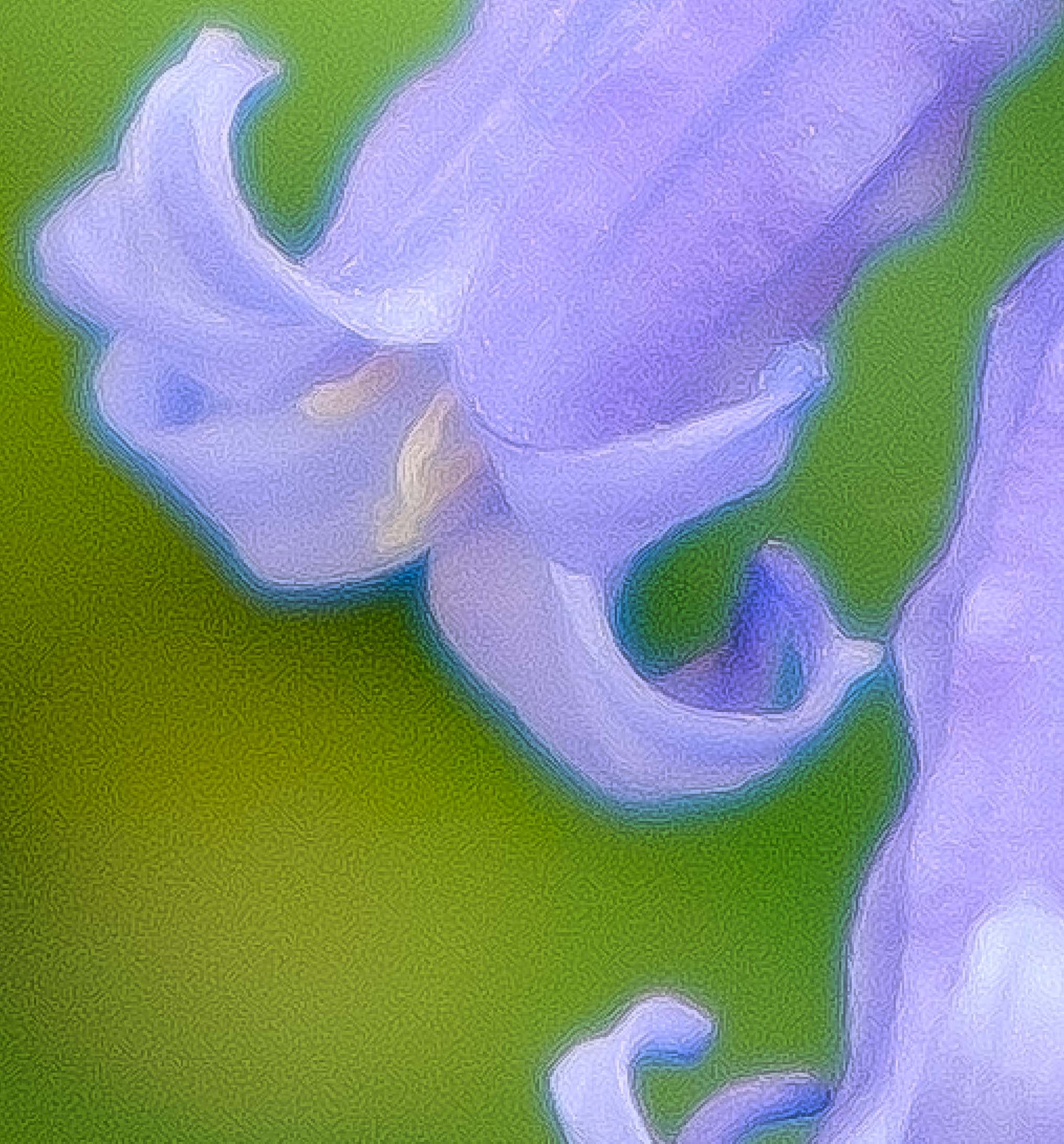 By enabling the Raw Details option I was able to smooth out these artefacts while still preserving the image detail and texture.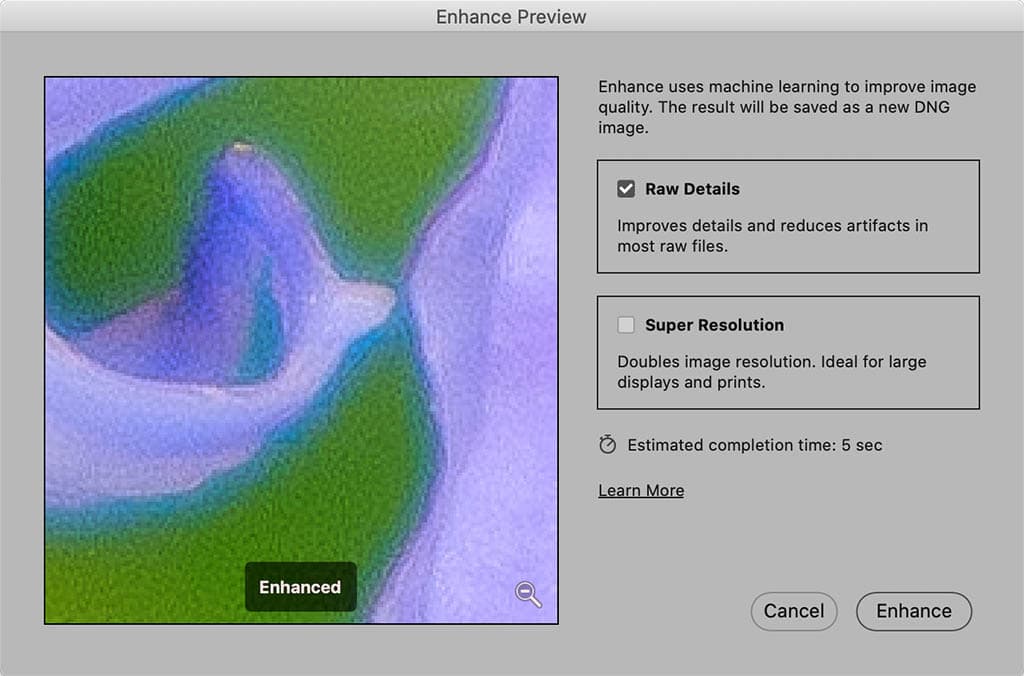 Conclusion
The original Enhance Details feature in Camera Raw and Lightroom promised so much. Yet, Enhance Details failed to impress in all except a few select images where improvements could be seen. The new Super Resolution feature is something else though.
Just about every photo I processed ended up appearing more detailed compared to regular interpolation methods. I did notice with one image that the sky had unwanted added texture after being processed. Otherwise, Super Resolution has given a new lease of life to some of my older images.
It can be considered a fiddle to have to select the Enhance option from the More Settings, or the context menu, then wait 10 seconds for the enhanced image to process. On the other hand this is not a process you will want to apply to every image. Not all photos need to be enhanced this way. But for those that do, the results can be amazing!
---
About Martin Evening
Martin worked for many years as a professional studio photographer in London. He currently works mainly as a writer reviewing photographic kit, as well as writing about photography and software. An acknowledged expert in Adobe Photoshop and Lightroom, Martin has written to date, 24 books about these two programs. In 2008 Martin was inducted into the NAPP Photoshop Hall of Fame at Photoshop World, Las Vegas. See his website.
---
To read more articles like this one subscribe to our print magazine today. You'll save money every week and enjoy having each issue delivered to your door! Click here