From selecting a model to avoiding prying eyes, Trevor and Faye Yerbury have more than 30 years of experience shooting fine art nude images. Read their tips below.
---
My wife Faye and I have been photographing figure studies for well over 30 years, and sometimes we are asked why. The answer is simple: I am the fourth generation to run the Yerbury family business, which was founded by my great-grandfather in 1864.
During the 1920s and '30s my grandfather, Edward, photographed the female nude and exhibited it in international salons worldwide, winning many awards for his work. We have several of his original prints hanging in our home.
I had always admired his classical approach but it wasn't until Faye and I got together in the late 1970s that I began to truly experiment with art-nude work, and we have continued to develop our style ever since. We work as a team, developing ideas, scouting locations and carefully selecting the most suitable models to work with.
Selecting a model for your fine art nude photographs
It's important to establish a relationship with your model. One of the things we look for is someone who is willing to take direction. It always amazes us when we see footage of shoots where the model is given little to no direction by the photographer. He or she simply clicks away as the model goes through a standard routine of poses.
This kind of approach is not for us. We want a model who understands what we are looking for and who will respond positively to direction. That's not to say that the model can't use her creativity to improve our original concept, but it's imperative that prior to shooting she is given direction and an explanation of the intended final image.
Read more on how to work with models here.
Finding locations
It's important to do a recce of any potential locations before a shoot. We work in a variety of environments: urban, city, woodland, beach and architectural ruins. No matter what or where the location is, the safety of our models is of paramount importance.
We love to work in ruined buildings where you can use the roughness of the stone to offset the texture of the model's skin. These settings offer plenty of scope for shots full of emotion.
Sometimes you get lucky and the perfect location is suggested to you. Following one such lead we found ourselves in a derelict church in Edinburgh. We were fortunate enough to have soft light streaming through the windows on all four sides. This image was taken 30 years ago using my 10×8 Wista camera and my grandfather's 12in Goerz Dagor lens.
Explore nature…
Woods and forests also make great locations for art nude photography. Models usually enjoy working outdoors and prefer this to the confines of the studio. Having said that, you still need a model prepared to help interpret your vision.
The shot of Christiane on the fallen log is a prime example of a model willing to go that extra mile. The log was covered in wet moss with creepy- crawlies running all over it, but Christiane still managed to lie on it long enough for me to make several exposures before she simply had to get off!
One of our favourite locations is the beach. The sea, sky and sand provide an ever-changing backdrop. However, we tend to work mostly in Scotland, so the weather window can be quite short for shooting. Despite the challenges, when it all comes together you can create some truly magical images.
Because the light is less harsh and there are fewer people about, early morning and late afternoon are usually the best times for shooting at the beach.
…and cities
We also love to work in cities and we run a number of photography workshops in Venice, Edinburgh, Copenhagen, Vancouver, Malta and London, to name just a few. We are very careful not to offend members of the public and always take great care where we work, with someone on hand close to the model with a robe at all times.
In Venice we often visit St Mark's Square around 6am when, save for a few street sweepers and photographers waiting for the dawn light, the place is often deserted. As a result, we can usually work for around 40 minutes in relative ease and without disturbance.
Styling for a fine art nude shoot
When you're shooting an art nude, it's imperative that you check the hand and foot positions; no part of the body should be pressing on anything, particularly the breasts. Hair must be styled to suit the image. In fact, you need to get this aspect right before you think about releasing the shutter. Having a hairstylist with you can greatly improve the results. One crucial aspect is to be respectful of the model's personal space at all times – especially when working with a new model.
The importance of pre-visualising
The key to success is knowing the look of the image you want to achieve in advance. We ask the model, in her robe, to rehearse the pose until we are confident about how it will look. When it is safe to continue, the model will disrobe allowing us to make a few pictures. The model will then cover up and keep warm while we move to the next location. It's not about continuous shooting; it's about pre-visualising an image and then executing it quickly.
The picture of the model posing at the pillars was taken on the steps of the Royal Scottish Academy in Edinburgh at around 8 am. It was taken nearly 30 years ago with a Hasselblad and 150mm lens. Faye was behind a pillar with Alison's robe, ready to cover her up.
Choice of equipment
When it comes to equipment, the pictures featured in this article were shot with everything from a large format 10x8in plate camera to a Nikon DSLR. We both use Fujifilm cameras – me a Fujifilm X-Pro2 with a 56mm lens and an X-Pro1 that I had altered to shoot infrared, and Faye uses a Fujifilm X-T1 and X-T2 with either a 16-55mm or a 56mm lens.
The equipment you use is just a method of recording your vision, so don't get hung up about makes and models. We carry an old reflector with us, and generally rely on natural daylight. We certainly never use additional lighting for outdoor work.
When it comes to post-production, we love and encourage simplicity. We are not experts in Photoshop. Our images are downloaded in Bridge and the work we carry out is close to the adjustments we might have made in a traditional darkroom. We use an Epson Pro 3880 to print our normal work, with Fotospeed Platinum Etching or NST Bright White paper being our selected art paper.
When images are being prepared for collectors or galleries, we make our own platinum-palladium prints up to A2 in size. In the near future, we are planning to produce larger works using the platinum-palladium vintage process that I was known for in the 1980s.
When things go wrong
The weather is often our main obstacle. Much of our work is UK-based, with particular emphasis on Scotland where the weather can vary from hour to hour. We have learnt to live with the uncertainty and to remain as flexible as we can. At times the most dramatic weather can create the most interesting images. We once took a model to the Isle of Mull for four days of shooting but came away with nothing save for a couple of fun images taken during breaks in the rain. One of these images has remained on our wall ever since. Sometimes it's the experience and company that counts.
---
Trevor & Faye's top fine art nude tips
Experiment with different materials
Very soft organza, or silks of pastel tones, can add a new dimension to your pictures. Material can be wrapped around your model, used as a veil or encouraged to blow in the wind when it creates fluidity and movement when combined with slow shutter speeds.
Move your feet
Do not take multiple images from the same position. Walk around the model to get different looks. You may vary the height of the camera by standing on ladders or hills. Lying or kneeling on the ground will also provide a different perspective by making your model look taller.
Check out the location
Always be on the lookout for new locations. Once you have chosen your spot, check what time of day the light will be best. Make sure you select the right model for the location, too. Think about skin tones, for example. Ensure the location is safe for everyone involved in the shoot.
Direct the model
Direct the model as much as possible, but make sure that she is comfortable with your ideas. When you are happy with what you've got, you can let your model add her own creative ideas. It's important to respect your subject's personal space, especially when working with someone new to you.
Hire a stylist
Consider using a hairstylist. They can make a good image a great one. They can also help with make-up. It can be an advantage to have a third person along to arrange materials in a particular way. Flimsy, floaty material slips off easily and a stylist or helper can fix things while you wait to shoot.
Create your own style
Never blatantly copy someone else's work. We can all be inspired by other photographers and artists. Inspiration can send you off in interesting directions, giving you ideas and pictures in your mind you can work on. However, be known for creating your own style.
---
Fine art nude photography – Kit list
Trevor's kit
Trevor uses a Fujifilm X-Pro2 with a 56mm lens but occasionally uses his X-Pro1 which he has converted to shoot infrared, which can work well. He has also used Hasselblads, Nikons, and a 10×8 Wista plate camera.
Faye's kit
Faye shoots with a Fujifilm X-T1 with a 16-55mm lens or an X-T2 with a 35mm or 56mm lens. She loves the results she gets from both cameras. Faye and Trevor use wrist straps with their cameras.
Reflector
The Yerbury's use a reflector that's about 20 years old to provide just the right amount of light, create a glow, or kill shadows. They also have a round reflector, as they can't both use the old one at the same time!
Accessories
A selection of fabrics to use as veils or wraps, or for draping or sitting on, is useful. Trevor and Faye also take a dressing gown for the model. It's a good idea to also pack hair grips, hairbands and brushes.
See the best cameras and best lenses for portraits here.
---
Trevor and Faye Yerbury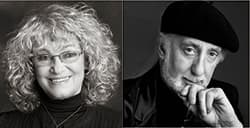 Trevor is a fourth-generation photographer who has received many accolades during his career, including fellowships from three major photographic bodies. In 2014 he received a lifetime achievement award from the industry and was invited to become a Fellow of the Royal Photographic Society.
Faye was a lecturer in hairstyling and make-up before meeting Trevor in the late 1970s. She has become a well-respected photographer and stylist, and the pair has won countless awards for portraiture, classical nude, wedding and avant-garde work. Faye is represented by the Unlimited Grain Gallery of Rotterdam. Visit www.yerburygallery.com.
---
Further reading:
Top fine art portrait photography tips
Fine art landscape photography
How to make photography a successful career
---
Follow AP on Facebook, Twitter, Instagram, YouTube and TikTok.