It's almost here, the long awaited Photography Show 2021! Happening in real life, at the NEC, Birmingham, UK. In what's looking like Europe's biggest photography show, here you'll find all the information you need to make the most of the show.
What is it?
The Photography Show is normally an annual show for both trade and public visitors, however previous years were unable to go ahead due to covid restrictions, and were run online instead. Now that covid restrictions have eased, they are now back to happening in person at the NEC, Birmingham. At the show you'll find 150+ photography and video brands, free talks, a super stage (tickets available for £12), masterclasses, galleries, and more.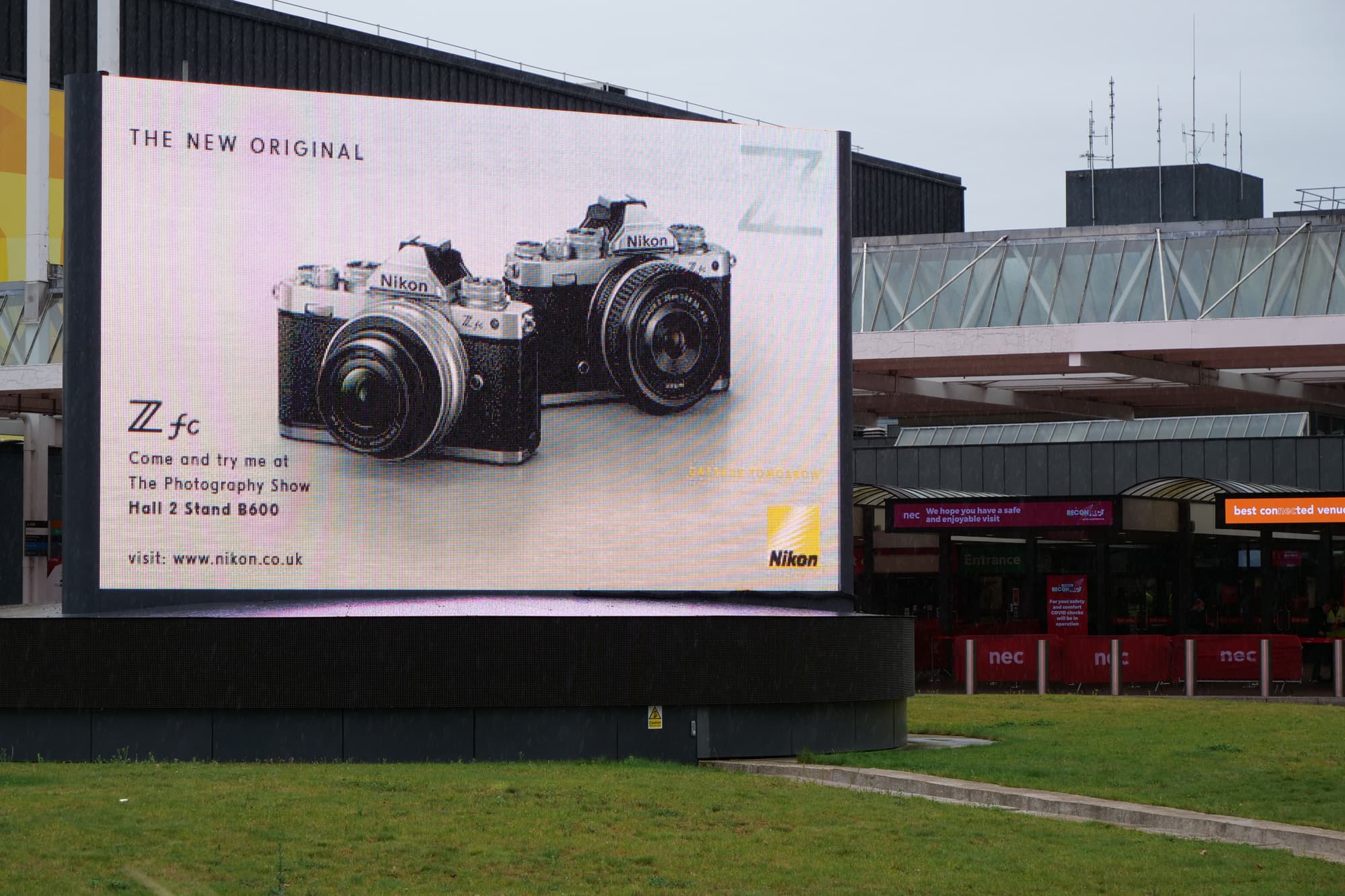 When and where is it?
The Photography Show is happening 18-21 September 2021, in halls 2 and 3 at the NEC, Birmingham which can be found at North Ave, Martson Green, Birmingham, B40 1NT. If you're driving you'll find on-site parking available for £16.
Tickets for The Photography Show are available from £11.95 for a day pass when booked in advance, for Students or those over 60, and there's also the option of free entry on the Tuesday as part of Students day. Professionals can register for a free pass.
Where can I find the Amateur Photographer stand?
– What show offers do you have available?
Visit us at Stand N600 next to Canon, where you'll find our latest magazines, and more. When you subscribe to Amateur Photographer you can take advantage of the exclusive show offers not available anywhere else, including a FREE signed copy of Jeremy Walker's Landscape book!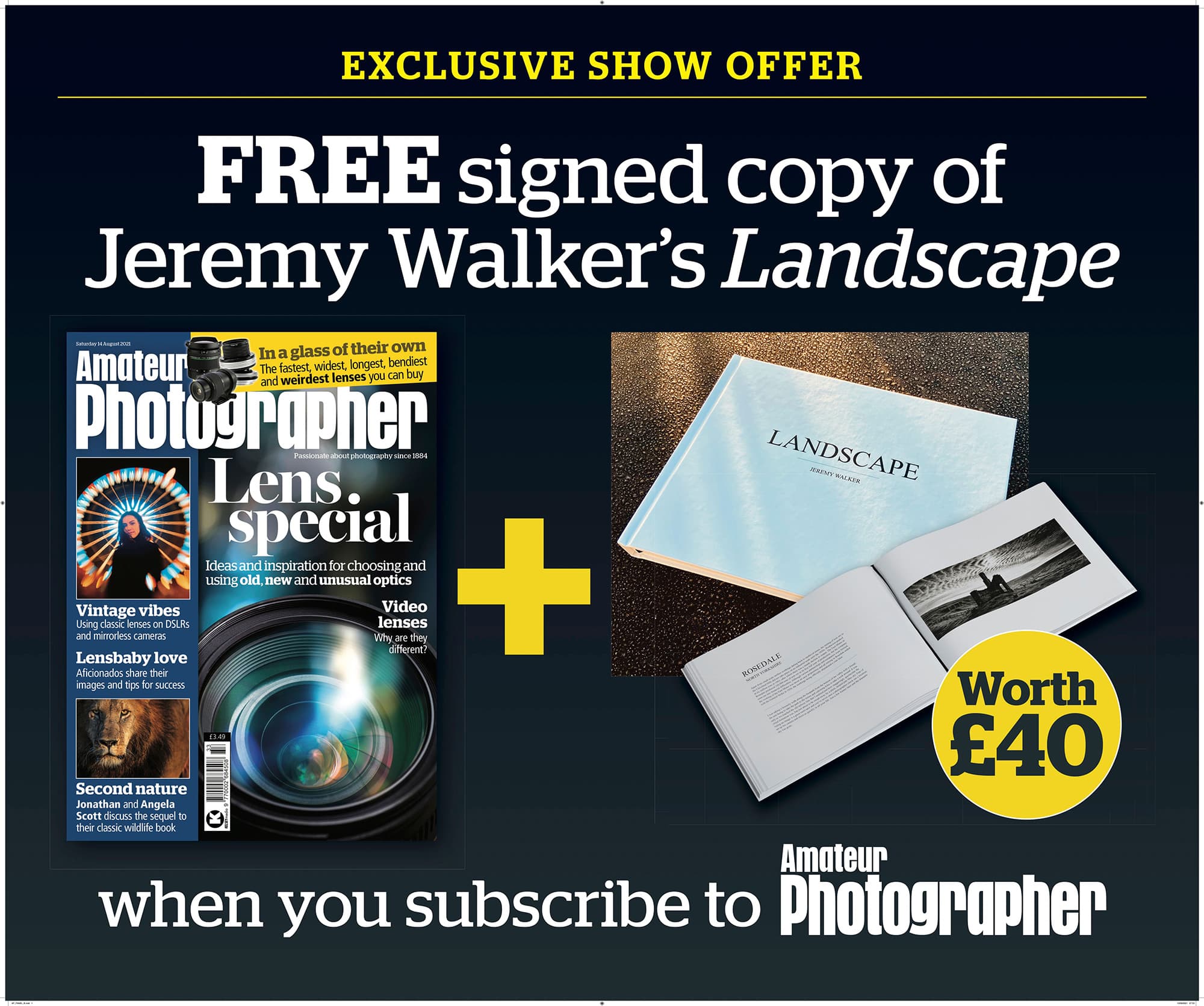 Also be sure to visit the stand to enter our exclusive competition to win a photo holiday with Tesni Ward and Zoom Tours, subject to terms and conditions.
More show offers!
Be sure to have a look at the special offer from Cameraworld when trading in your kit!
What can I see at The Photography Show?
You can see the latest Canon EOS R3 and new lenses, Fujifilm's new GFX50S II and new lenses, new Vanguard bags and tripods, and the latest kit from Sigma, Nikon, Olympus, Sony, and more!
But if you can't make it, don't worry too much, as we will be bringing you coverage of the show every day on this website, as well as our social media channels: Facebook, Instagram, and Twitter.
What talks can I see at The Photography Show?
There are a variety of free talks, run by The Photography Show, as well as from manufacturers like Nikon, and Canon, so be sure to have a look at the main stands to see who's talking, and when they are on.
There are also a number of live industry talks and workshops happening, plus a fantastic line-up of established and upcoming stars on the Super Stage. Here's a selection of what's on and we recommend you check out:
Saturday 18th
Nick Pilgrim – Creating content: To add value or generate business? The Studio, Hall 3 11:00 – 11:40
James Ritson, Affinity Photo – Astrophotography stacking and retouching. Editing & Post-Production Suite 12:45-13:15
Brian Lloyd Duckett – 10 Killer tips for street photography. Shutter Street 13:30 – 14:00
Alan Hewitt, Fujifilm – Contextual Wildlife Photography. Behind the Lens Theatre 16:00 – 16:40
Sunday 19th
Paul McKay, Analogue Wonderland – The relevance of analogue. G600 11:00-11:30
Tesni Ward – Leading with Lightroom. Editing & Post-Production Suite 11:15-11:45
Peter Dench – Hunting for photo stories during the pandemic. Shutter Street 12:30-13:00
Karl Holtby – The art of composition. Behind the Lens Theatre 13:00 – 13:40
Edd Carr, Northern Sustainable Darkroom – Sustainable Photography. G600 15:00-1530
Monday 20th
Mike Kus – The pocket photographer. Behind the Lens Theatre 14:00 – 14:40
Holly Gilman – Creative and experimental photographs and darkroom techniques. G600 15:00-15:30
Imran Azam – How to film and edit on your smartphone. Editing & Post-Production Suite 16:15 – 16:45
Verity Milligan – The art of seeing. Shutter Street 11:30-12:00
Tuesday 21st
Tracy Calder – Close-up and macro photography: 30 common mistakes and how to avoid them. Behind the Lens Theatre 11:00 – 11:40
Tony Harner – Using photoshop on an iPad for beginners. Editing and Post-Production suite 11:15-11:45
Rehmat Rayatt – Mindful photography – tools for wellbeing. Shutter Street 12:30 – 13:00
Super Stage (£12 per session)
Charlie Phillips – The Forgotten Photographer. Saturday 18th, 15:30 –  16:45
Mark Power – Landscapes of the imagination. Saturday 18th 13:15-14:30
Olivia Arthur – Culture, people and machines: Documenting humans. Sunday 19th, 15:30 – 16:45
Rankin – Fashion, Film, philanthropy and flora. Sunday 19th & Monday 20th, 13:15-14:30
Brooke Shaden – Creating impactful art. Tuesday 21st, 13:15-14:30
Alongside galleries showcasing SheClicks, UKBFTOG, The Comedy Wildlife Photography Awards, Street Photography International Awards, Solo Single Subject and Fujifilm's PrintLife.
Plus, many more.
What else should I know before going?
The Photography Show have a whole section on Covid, making sure you're kept safe when visiting the show, with the Covid pass being checked on entry to the show. As with other public spaces it's recommended you keep your hands clean, wear a mask, and follow any other government guidance.