Advertising feature
Spending a lot of money on a new camera or lens is a serious business and you don't want to end up with something unsuitable. Avoid any buyer's remorse by taking up Canon's try before you buy opportunity with a 48 hour test drive – and it's free.
You'd think buying a camera or lens is straightforward, but we all have different expectations, needs and of course we all differ physically. What's right to one photographer is not so right to another, so whether it's your first or your hundredth new camera or lens, getting it right takes time and there's always going to be some uncertainty.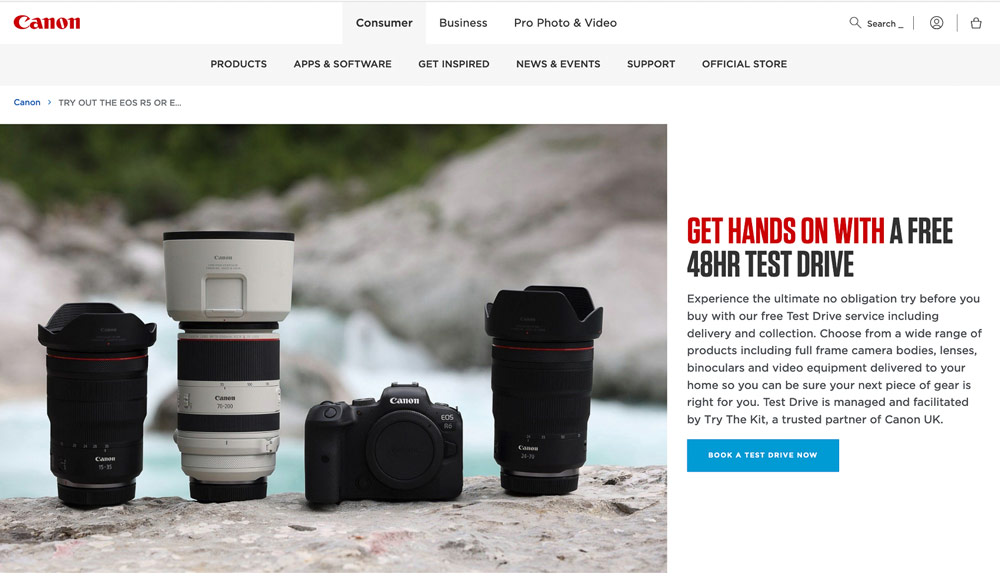 With Canon's Test Drive service, however, you can try your intended purchase in real-life photo situations with support from experts if you need it – and at no cost to you. The Test Drive service is a no obligation, try before you buy programme run by its trusted partner, Try The Kit Ltd.
It gives photographers, movie makers and content creators, whether Canon owners or not, the chance to try a wide range of camera bodies, lenses, binoculars and accessories completely free for 48 hours and that includes courier delivery and collection.
All you need to do to qualify for a free loan is provide a deposit to secure your booking and this is refunded in full when the loan kit is returned to Try The Kit Ltd.
Photographers new to Canon, and existing Canon users, qualify for free 48 test drive. If after the free 48 hour period you still need to take a few more test pictures, the loan can be extended by up to seven days for a small daily fee.
To make the most of your test drive and ensure everything is correctly set-up, support is available with Canon's Live Chat team. For details of how Canon's Test Drive service works click here or go straight to booking a Test Drive by signing up for a user account.
The Try The Kit website also has a live gear availability facility, so you can instantly check if the required loan item is available for your preferred dates.
---
Canon Test Drive: the details
What Canon equipment you want to trial depends on where you currently sit in your photographic journey and Canon has products for all levels.
If you are new to mirrorless
If your background has been with smartphones, compact cameras or DSLRs, moving to mirrorless is a logical progression but if you are unsure of their benefits, taking a free test drive is sensible.
Canon has APS-C format and full-frame mirrorless models available for loan to non-Canon Club members and those who are Canon Club Tier 1 members. The APS-C models on offer include the EOS R10 and the EOS 50, while full-frame offerings come in the form of the EOS R8, EOS R and EOS RP.
The EOS R upgrader
You might have already taken your first step on the Canon EOS R ladder. Indeed, you might have been an early adopter and bought an EOS R and having enjoyed the experience you're keen to take the next step. Full-frame options to check out include the EOS R5 and EOS R6 Mark II which is a superb model to bear in mind if your output includes stills and video.
As an existing Canon owner a good first step would be to join the Canon Club, register your kit and see what tier membership is available to you. Tier 2 and Tier 3 members have a much greater choice including top-end models such as the EOS R5 and EOS R3 and of course that is matched by tempting selection of top-end optics. To join the Canon Club and check out the benefits, click here.
The DSLR to mirrorless switcher
Canon has been market leader in the DSLR camera market for many years so if you've cut your photographic teeth here, you will be fully aware of the brand, the reliability of its photo kit and the quality of its glass.
Forsaking one camera type and moving to something different is not to be taken lightly and while mirrorless cameras aren't hugely different once you get used to them, the move remains a seriously big leap of faith.
The free 48-hour Canon Test Drive gives you the opportunity to sample the delights of live image previews, advanced autofocus and rapid shooting with a silent shutter, with a wide choice of cameras to try.
The aspiring full-framer
Shooting full-frame format opens up new avenues of photography and if you love producing the best possible quality images and making big enlargements of your best shots, this is the format for you.
Canon has a strong line-up of full-frame models to consider, with the pro-oriented EOS R3 at the top of the pile and the EOS R5, one the most capable 45-MP cameras in existence.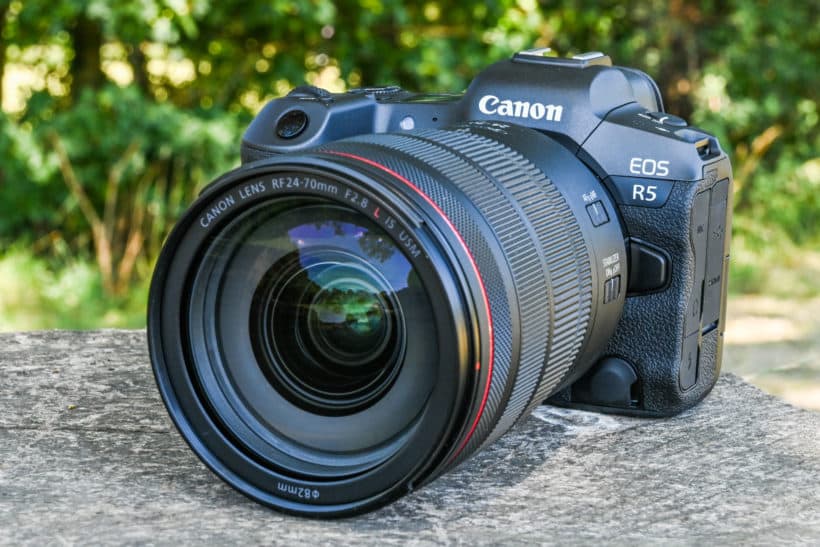 While full-frame cameras can be bulkier and so too are the lenses, having a larger sensor does pay dividends especially if you shoot a lot in low lighting using high ISO speeds.
The lens builder
Lenses are your eyes and what type of optics you need depends on what subjects you enjoy photographing. So, for example, action and nature photographers need the pulling power of a long focal length lens to get good-size images of distant subjects.
Lenses such as the RF 100-500mm F4.5-7.1 L IS USM and the awesome RF400mm F2.8 L IS USM are available to Canon Club Tier 3 members and have proved invaluable for such work.
If your imaging is more general, RF 24-70mm F2.8 L IS USM will appeal or if your ambition is to travel as light as possible without compromising on image quality, then the RF 24-240mm F4.5-6.3 IS USM superzoom is sure to appeal.
---
To conclude, if you're thinking of buying a Canon product, whether you know what you want or don't, the offer of a free loan via Test Drive seems too good to turn down. Here are the links again:

Canon's Test Drive
Try The Kit 
---
Further reading
Best Canon mirrorless cameras in 2023
Best Canon mirrorless lenses in 2023