In the midst of a new exhibition celebrating Dorothy Wilding, founder and chair of the Hundred+ Heroines initiative Del Barrett speaks to Amy Davies
Starting life as an RPS initiative in 2018 to celebrate the centenary of (some) women getting the vote, Hundred+ Heroines, which started out as a celebration of contemporary women photographers with the involvement of the Royal Photographic Society, is now an entity of its own. Recently, it opened a brand new city-centre location in Gloucester.
Its inaugural main exhibition celebrates the life and work of Dorothy Wilding, a hugely successful early-to-mid-20th century photographer whose portraits of the royals were used to illustrate postage stamps – and who also happened to be from the city.
As well as the Wilding show there's a host of other things to see at the Heroines Quarter, found at the top level of the Eastgate Shopping Centre. Contemporary work, archival work and community projects can all be found, as well as regular workshops, screenings, talks and informal gatherings. People are welcome to pop in to the centre to peruse the repository of photography books they have available, have a coffee and a chat and discover more about the work of the group.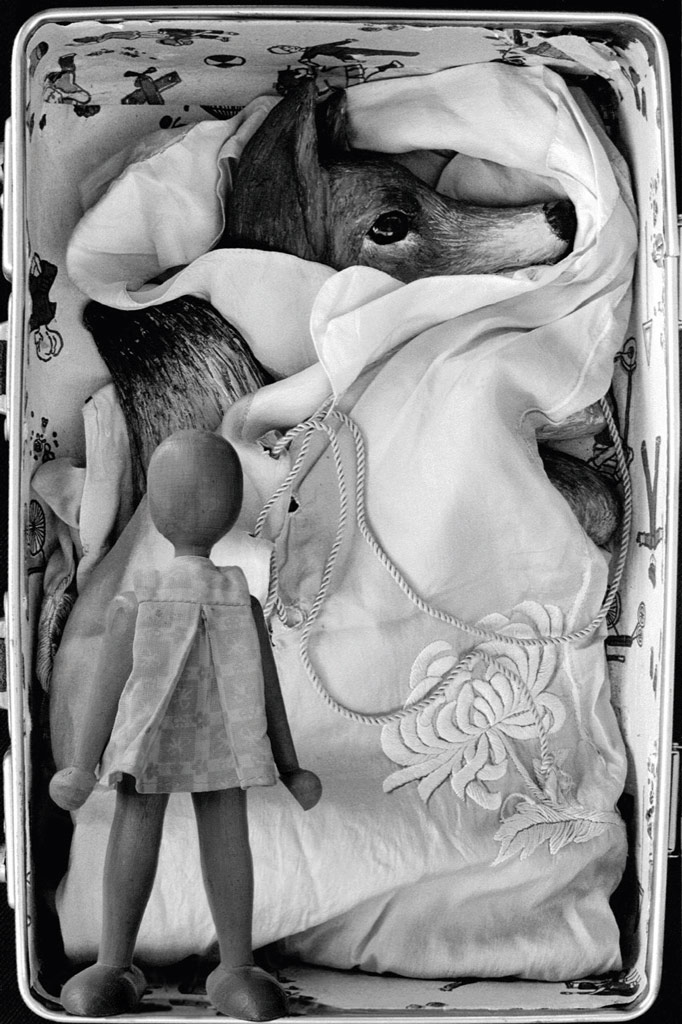 Also on show at the moment is a contemporary exhibition called Skin Deep by Paola Peredes, while there's also archival material from several of the Hundred Heroines, including Jane Hilton's work with the sex workers of Nevada, Yan Wang Preston's project on the Yangtze River, Tessa Traeger's camera, Marcia Michael's book and more besides.
The first complete archive that Hundred Heroines+ acquired was of German-born photographer Elisabeth Buchmeyer Lewis, who photographed Britain in the '60s and '70s – her archive is a fantastic social record of the time. It's housed inside a 'pod', which has been decorated to look like a 1970s living room. There's also another pod which is dedicated to art and activism, with members of the public encouraged to join in with their own protests and slogans. 
If all that isn't enough – or you just can't get along to Gloucester itself – the Hundred Heroines website is packed to the rafters with virtual exhibitions and information to take in.
How did Hundred+ Heroines start?
Originally, the Hundred Heroines initiative aimed to find 100 contemporary women photographers in 2018. The RPS turned to the public to find these practitioners and was deluged with responses, ending up with over 1,300 nominations. It was only supposed to be a year-long initiative to coincide with the 1918 anniversary, but it was pretty obvious that it needed to be more than that. And so, believing in the project so passionately, Del decided to separate entirely from the RPS and launch the Hundred+ Heroines in its own right, and it's still going strong today.
Del admits, however, 'It'd be nice to say one day it won't be needed – but then the museum will still be needed so people in the future can come and laugh at the foolishness of inequality, where only 3% of exhibitions were by women. We're here for a few years anyway, so we're not going anywhere just yet.'
It seems like there is still a lot of work to do. 'Men still command huge amounts of money in terms of sales,' says Del. 'After the 2018 anniversary, more people came to be interested in running exhibitions with women in, or trying to make sure there was better balance.
But, I think post-Covid and with various economic problems, I'm picking up that we're going largely back to the big male names, because they generate money. That's why it's important to keep reminding people. I am always disappointed on International Women's Day that there's a big fuss about women artists, but for one day of the year. We're not for Christmas, we're for life! Similarly, I was a bit disappointed that there were so many initiatives in 2018, which I thought were brilliant, but then it felt like, right, pack that away, the boys are back.'
That said, it's undeniably true that there are several women-only or women-advocating groups around at the moment, many of which AP has featured many times. There's SheClicks, UKBFTOGs, Fast Forward Women in Photography, Women Photograph and probably more besides. 
What is unique about Hundred+ Heroines?
At a time when there are lots of such groups operating in the photography sphere, Hundred+ Heroines stands out for several reasons. First of all, it's the only group of its kind to have recognised charitable status – which apart from anything else is a boon for funding opportunities.
Secondly, unlike other groups, Heroines are only decided on by a set criteria of merit, which has been carefully based upon the Charity Commission's RR10 guidance on artistic merit in museums and art galleries. There's a panel, the members of which have been chosen based on academic qualifications and/or professional experience relevant to photography and the visual arts.
Any potential nominee must have made a significant contribution – or the potential to make a significant contribution – to the practice of photography; have produced a consistent body of work that demonstrates clear potential for international reach and recognition; and lastly, must be heroinic in some way – i.e. has performed courageous and noble acts or is admired for her great qualities or achievements. In other words, it's certainly not easy or straightforward to become an official Heroine.
'Of course, the main difference is that we are a museum, and the others aren't,' Del explains further. Why Gloucester? 'I've lived near here all my life and I've always been very disappointed at the lack of cultural offering. It's also a really good place to get to for lots of people – it's easy from Bristol, Birmingham, Cardiff, and London is just 1 hour and 40 minutes on the train. We were able to get a good deal on the space here, and so far the reaction has been good.'
What is the '+' in Hundred+ Heroines?
As well as the original 100 Heroines elected in 2018, another 100 were elected 'to declare our independence as it were, and hence the plus in our name'. There was also a public vote to elect 100 historical female photographers, with a place on the list determined purely by the number of votes received, rather than the strict criteria of merit that contemporary living photographers must achieve. Of those 100 historical figures, Tish Murtha – who died in 2013 – received the most votes. 'We don't restrict that to 100 though,' explains Del. 'If there are any women with an interesting story, they can be included in that historical online archive – in fact we add to that all the time, I discovered a new one just yesterday.'
The plan is for another 100 contemporary figures to be elected in a few years' time, too. 'The jury last time were looking for sustainability, so there were quite a lot of people who'd had one really good body of work, but the panel wanted evidence that they were able to sustain that. So, in a few years' time it would be good to revisit that.'
Hundred+ Heroines and inclusivity
Despite all the attention of course being on women, Del is keen to emphasise that the work they do with community groups is inclusive to everyone. The Heroines Quarter includes several initiatives for the wider public to join in with, such as a project to photograph every street in the city – anyone can participate, regardless of gender. 'I think again that's where we're different,' explains Del. 'Though we're promoting world-class women photographers, we're encouraging everybody to appreciate their work and get involved, as well as getting into other art forms – for example collage has been really popular.'
The Heroines Quarter will also be hosting a series of arts events called Gloucester Lates, where the quarter stays open later than the shopping centre. The idea is that they are run for young people, by young people, giving local artists and creatives the opportunity to showcase their own work and empower others through carrying out workshops. When I point out that the space they already have is nice and big, Del couldn't disagree more – she'd like it to be even bigger, and has even grander plans than that. 'I want to take over Gloucester – make it the leading arts and culture centre of the West Country.'
For now, and into the near-future, the focus remains on Dorothy Wilding. I'm intrigued to know what the next exhibition might be, and Del doesn't disappoint with her answer. 'Well… I live in a fantasy world really, for the one I want to do we'd need quite a lot of funding, which we're currently trying to raise. We're good at responding quickly, but I've got a couple of ideas. One might be, based on Dorothy, looking at some of the historical LGBT work – so it might be a sort of "Friends of Dorothy" type of thing.'
If you find yourself looking to fill an afternoon, there's a lot to recommend a visit to the Heroines Quarter in Gloucester. It's open Thursdays to Sundays, or you can book an appointment to visit outside normal opening hours.
---
About Dorothy Wilding
Born in Gloucester in 1893, Dorothy Wilding found success with studios in both London and New York. Much of her best-known work centres on the Royal Family, including those which ended up being used on postage stamps for the newly crowned Elizabeth II. Early in her life, Wilding had ambitions to either be an artist or an actress, but after being discouraged by her family, took up photography instead. She trained with the American portrait photographer Marian Nielson, as well as working as a retoucher in Bond Street, later setting up her own studio in New Bond Street.
Her first portraits of the royals came in 1929, when she photographed Prince George, the younger brother of King George VI. A double portrait taken of George VI and his wife, Elizabeth Bowes-Lyon, was used as a 1937 Coronation issue stamp, and also led to Wilding being awarded a royal warrant to be the official photographer to a king and queen at their coronation – the first woman to achieve such a status.
Wilding opened a studio in New York in 1937, and it was during her time in the US that further sittings with prominent royal family members were also undertaken, including the famous Elizabeth II stamp photographs. The stamps were used in Britain between 1952 and 1967, and were also used in Canada.
A string of other famous faces sat for Wilding during the 1920s and 1930s, including Noël Coward, Vivien Leigh, Aldous Huxley, Nancy Astor, Douglas Fairbanks Junior, Ivor Novello and fellow photographer Cecil Beaton. Wilding also became well-known for her photographs of nudes and dancers.
Wilding published an autobiography titled In Pursuit of Perfection in 1958. She died in 1976, aged 83.
Dorothy Wilding: 130 Photographs, in association with Sisters of the Lens and the National Portrait Gallery, is running until 23 May.
---
Further reading
Grants for women documentary photographers
International Women's Day 2023: top women photographers to follow
---