Above: a video of the protest has been posted on the BBC Look North Facebook page
Amateur photographer Bob Riach was stopped by a security guard outside Princes Quay shopping centre on 23 October.
He was taking night-time shots of the centre at around 8pm, from a paved area outside the building – land that the shopping centre said it owns.
Riach said the guard told him: 'You are not allowed to take photographs of this building. We are on "security level 3".' The photographer said the guard specifically referred to concerns over an attack from the terror group Isis.
A video posted on the BBC Look North Facebook page appears to show a small group of photographers gathered outside the centre last night, taking pictures with cameras mounted on tripods, seemingly in protest at Riach's treatment.
In the video, one of the protesters says: 'We are down here to protest on behalf of a gentleman who was on Look North last week, who was told to move on.
'Chill out. It's not that bad. We are not terrorists. All we want to do is take pictures and enjoy our hobby – that's it.'
Rob Deyes, one of those who took part, said that the 'peaceful protest' began after a discussion about the Princes Quay incident on a local Facebook group.
Deyes, who lives in Hull, today told Amateur Photographer (AP): 'We were approached within minutes by a security guard, although I think he was a little shy to make an issue [of the protest].'
Deyes said the group felt the protest had the 'desired effect' and participants were happy with the outcome.
He added: 'The old docks around Hull are always an attractive subject for night photography, with all the modern buildings, shining neon [lights], dockside street lights and ornate buildings.'
Photo credit (above): Rob Deyes
Last week, Austin Mitchell MP, a photo rights campaigner, said fears of a Mumbai-style terror attack in the UK must not be allowed to interfere with photographers' rights to take pictures in public places.
Speaking to AP, Mitchell said: 'I think there is a kind of jitteriness at the moment about security and about individual terror attacks.
'It's silly because the man stopped in Hull was using a tripod and a professional camera… And because we are the most photographed nation on earth with security cameras all over the place…
'We are all carrying mobile phones and photographing each other, so alarm now about security would, itself, be ridiculous.'

AP is still seeking comment from Princes Quay shopping centre following repeated requests made over the past few days.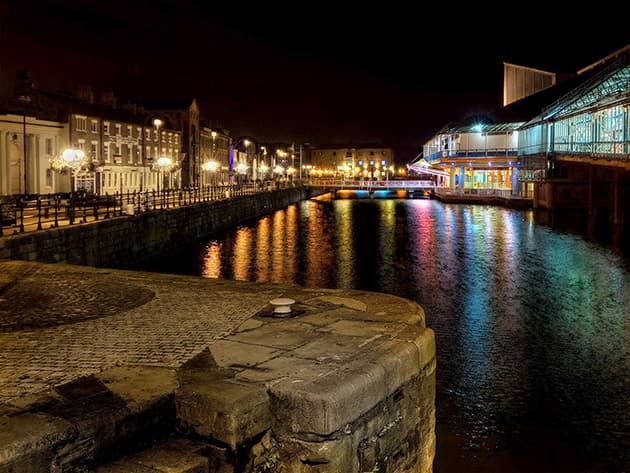 Photo credit (above): Rob Deyes